This Peppermint Cracker Toffee is ridiculously easy and delicious. Crisp, buttery toffee topped with white chocolate and peppermint candy! Give it as a gift this Christmas or keep it all to yourself.
Love Peppermint desserts? Bake up some Chocolate Peppermint Cookies for the holidays this year. Or whip up some easy, no bake Peppermint Puppy Chow.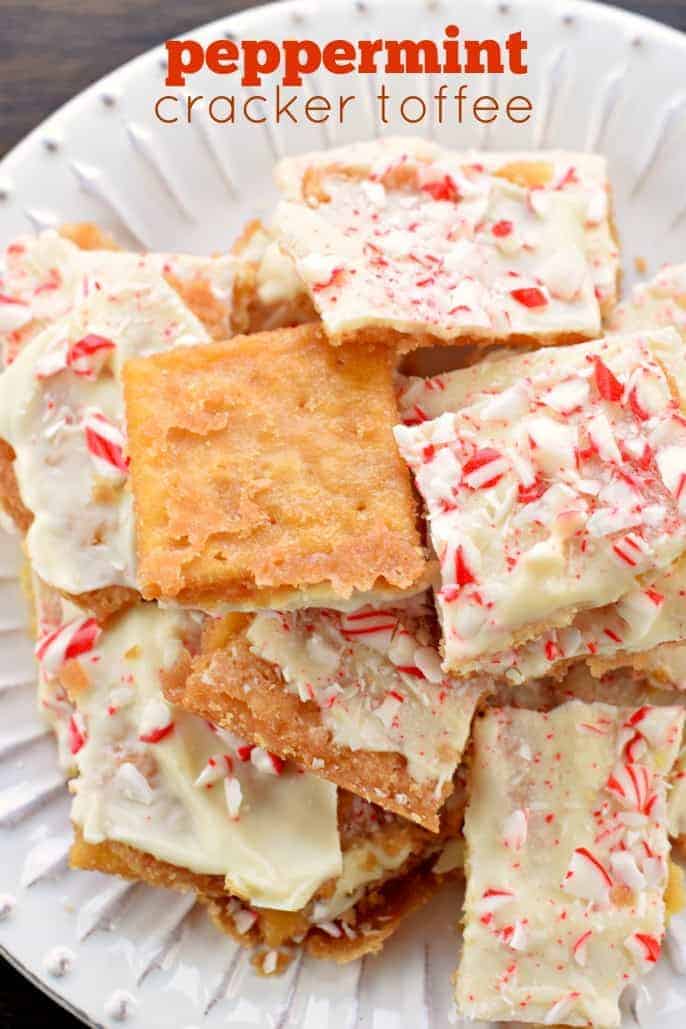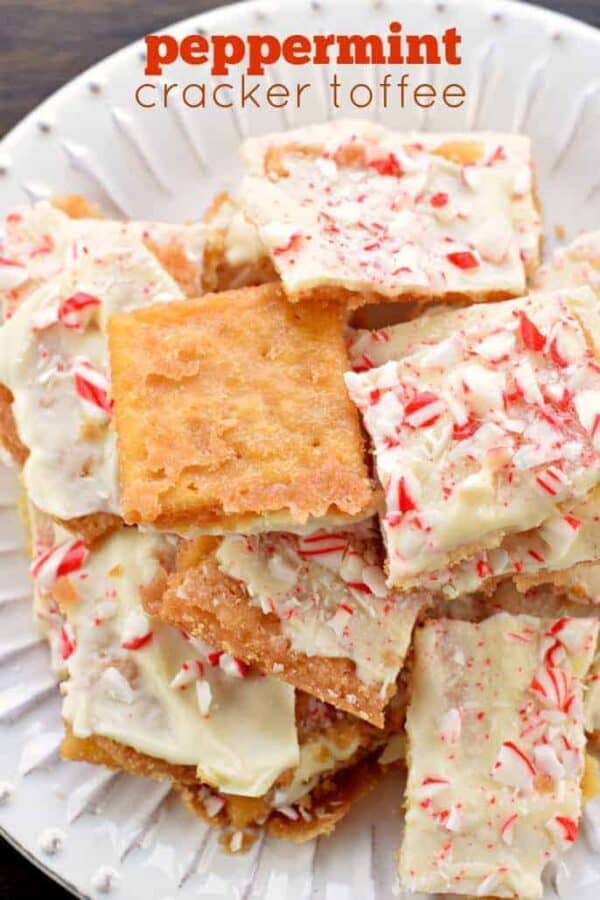 Peppermint Desserts
I have a confession to make: sometimes I eat the treats I make for other people.
Every Christmas, I like to make a variety of homemade candies and cookies to give as little gifts to teachers, friends or others in my life who deserve some extra sweetness this time of year. I'll include favorites like Candy Cane Fudge and Easy Chocolate Truffles, and I'm always looking for more ideas for changing things up.
Sometimes, though, a recipe turns out so darn delicious that I can't stay out of the container. Before I know it, I've eaten the whole batch and it's time to make another to ACTUALLY give away! Such is the story with this Peppermint Cracker Toffee.
It's sooooo good.
I used my favorite Saltine Toffee recipe as a starting point, and instead of topping it with pecans and chocolate, I opted for white chocolate and crushed candy canes! It's similar to my Christmas Crack but with a cool peppermint twist.
So take my advice and go ahead and double the recipe right from the start. Everyone needs to try this toffee!
If you love this delicious treat, be sure to try our graham cracker toffee next!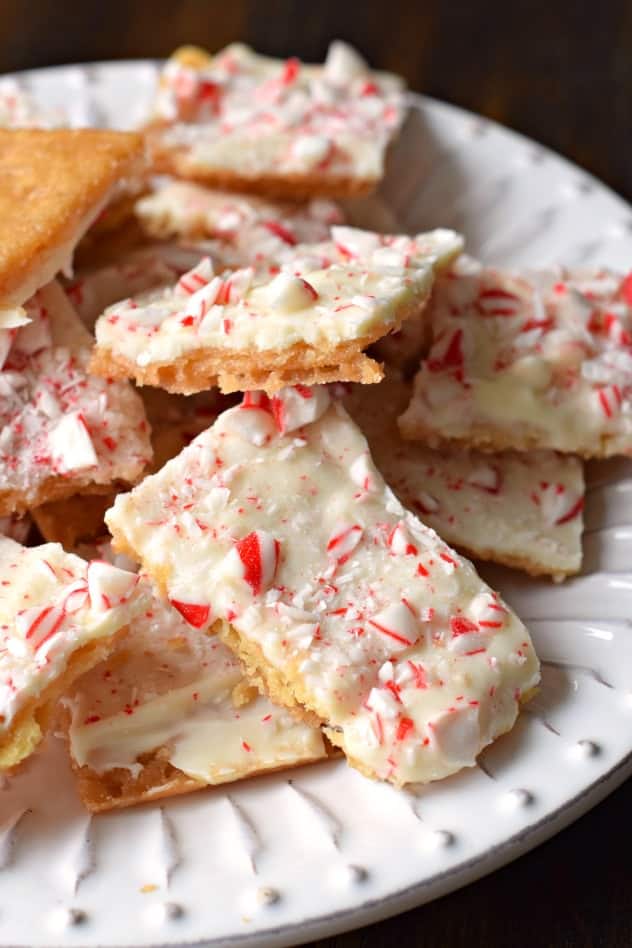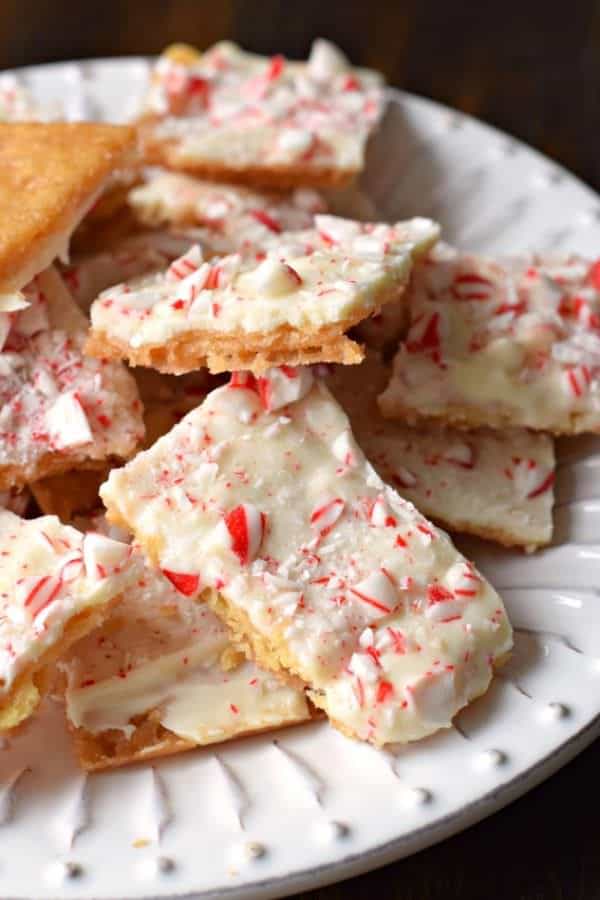 Ingredient Notes
Saltine crackers – The original salted crackers are the perfect base for all kinds of cracker toffees!
White chocolate chips – You can also sub white chocolate bars broken up into small pieces (just make sure it's equal to 11 oz.).
Candy canes – The perfect use for any candy canes that get crushed on their way home from the store or the party. To crush into fine pieces, place them in a ziploc bag and run over them a few times with a rolling pin.
Step by Step Instructions
STEP 1. Prepare the crackers
Line 40 saltine crackers on a 15 x 10 x 1-inch baking sheet making sure to space them evenly so they're ready to go.
STEP 2. Heat butter and sugar
.Melt butter in a pan over the stove, then add the sugar. Bring the mixture to a rolling boil while stirring then immediately remove it from heat.
STEP 3. Bake the toffee
Pour butter mixture over crackers, slowly, making sure that all the crackers have been covered in butter .Bake this for about 10 minutes. You want to make sure that the crackers look brown and caramelized.
STEP 4. Add the chocolate and peppermint
Sprinkle your white chocolate chips over the crackers. Allow to sit for a few minutes to let the chocolate melt. Using a spatula, spread the melted white chocolate evenly and immediately add the crushed peppermint.
Once the white chocolate has hardened, break into pieces and store these in an airtight container at room temperature for up to 5 days. ENJOY!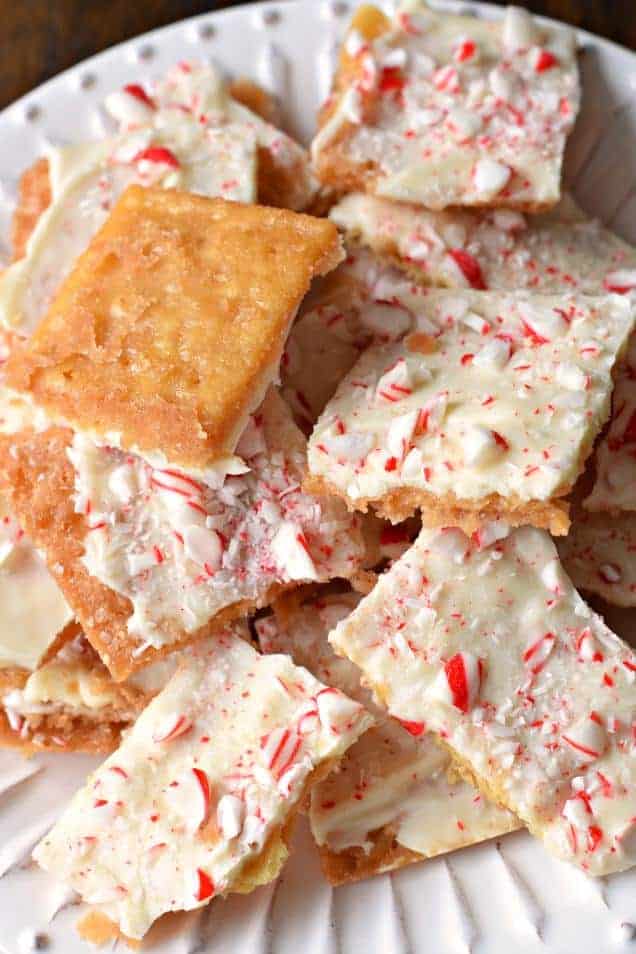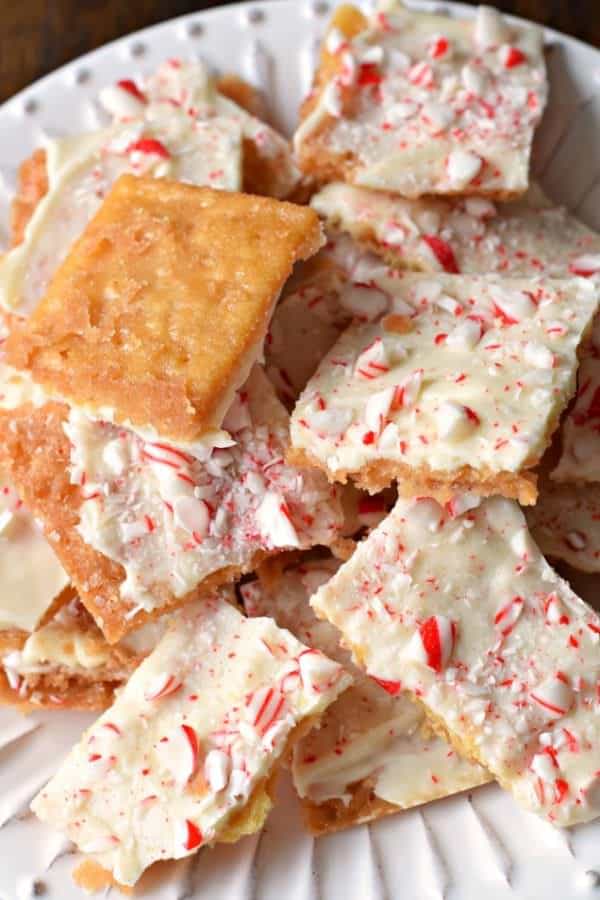 Recipe FAQs
How do you keep the crackers from sticking to the pan?
The best way to prevent sticking it to line your pan with parchment paper before adding the crackers.
If you don't have parchment paper or are still having trouble with sticking, try removing the crackers from the pan before they're totally cooled and hardened. Use a metal spatula to transfer them to a counter top lined with foil or a wire rack to finish hardening.
Can this be made with regular chocolate?
Yes, this recipe totally works with milk chocolate or dark chocolate to make a chocolate-peppermint toffee! I find the white chocolate version to be prettier but both taste delicious.
Do you need a candy thermometer to make this toffee?
No, one of the reasons I love making cracker toffee so much is that no candy thermometer is needed. Just make sure to bring the butter and sugar to a full rolling boil before removing it from the heat.
Just be careful with this Christmas toffee: it's downright addictive!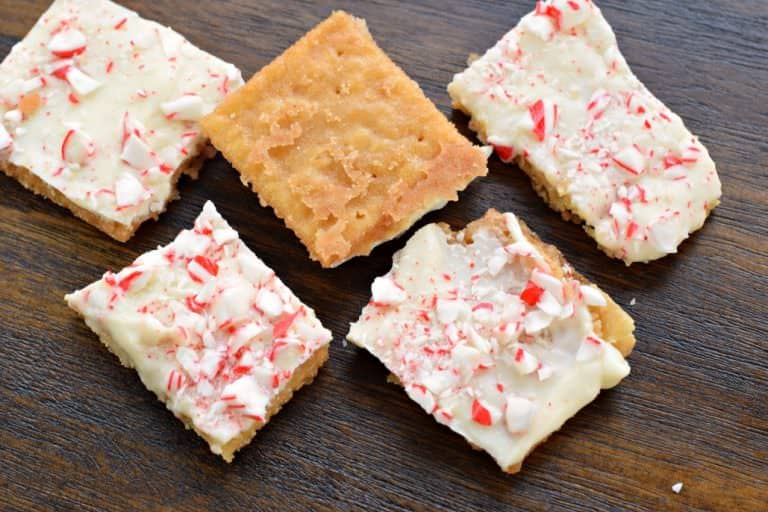 More Holiday treats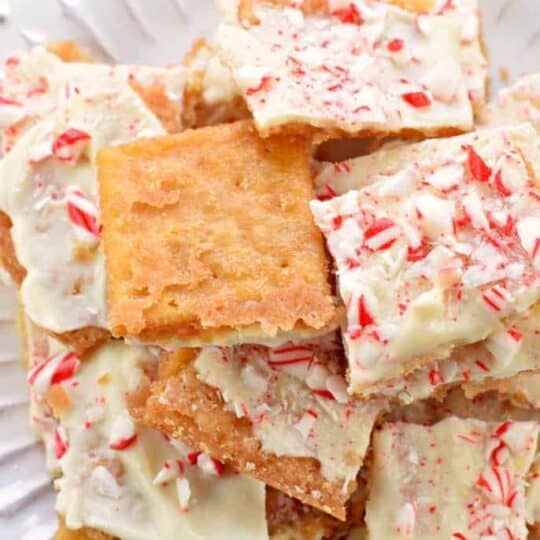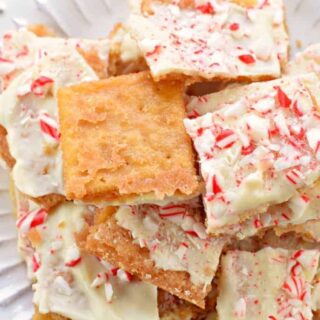 Peppermint Cracker Toffee
This Peppermint Cracker Toffee is ridiculously easy and delicious. Crisp, buttery toffee topped with white chocolate and peppermint candy!
Ingredients
40

saltine crackers

1

cup

unsalted butter

1

cup

granulated sugar

1

package

white chocolate chips

11 oz

6

candy canes

crushed (about 1/2 cup)
Instructions
Line a 15x10x1-inch baking sheet with the saltine crackers. Set aside. Preheat oven to 375°F.

In a small saucepan over medium-high heat, melt butter. Add in sugar and bring to a rolling boil, stirring constantly. Once it begins to boil, remove from heat.

Pour over saltine crackers. Place in a 375°F oven for about 10 minutes, until crackers are browned and caramelized.

Sprinkle with white chocolate chips and allow to sit for several minutes (until they melt). Spread with a spatula evenly over crackers and immediately sprinkle with crushed candy.

Allow chocolate to set and store in airtight container for up to 5 days.
Notes
**to prevent the crackers from sticking to the pan you can line it with parchment paper, or remove them using a metal spatula before they harden completely (placing them on a piece of parchment on your counter, or on foil on your counter)
Nutrition
Calories:
118
kcal
,
Carbohydrates:
12
g
,
Protein:
1
g
,
Fat:
8
g
,
Saturated Fat:
5
g
,
Polyunsaturated Fat:
0.4
g
,
Monounsaturated Fat:
2
g
,
Trans Fat:
0.2
g
,
Cholesterol:
14
mg
,
Sodium:
37
mg
,
Potassium:
30
mg
,
Fiber:
0.1
g
,
Sugar:
10
g
,
Vitamin A:
144
IU
,
Vitamin C:
0.04
mg
,
Calcium:
19
mg
,
Iron:
0.2
mg
Crunchy, buttery and sweet with a candy cane twist, White Chocolate Peppermint Cracker Toffee will put you in a holiday mood with just one bite.