The BEST Peppermint Bark recipe is made with good quality chocolate, and dipped to perfection. You'll love this Christmas treat for yourself or to give as a gift!
Love peppermint? Try our easy no bake peppermint cheesecakes! Perfect for a last minute dessert!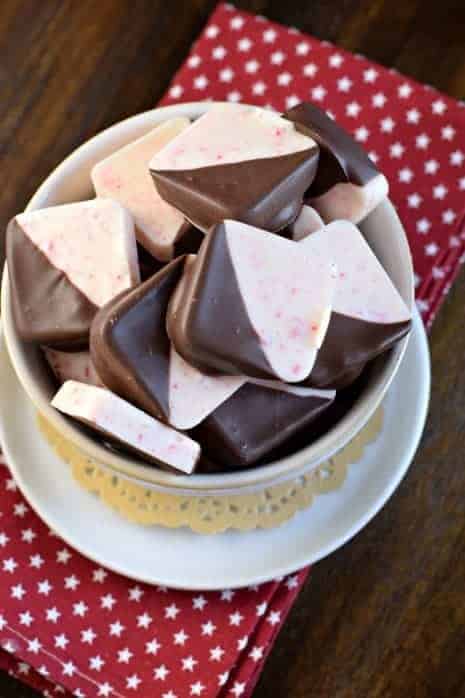 Sometimes it's the easiest treats that get the best responses.
When it comes to Peppermint Bark recipes there are so many choices out there…want to know why this one is the best?
Good quality chocolate truly makes a difference. Since the white chocolate and dark chocolate are the star of the show…choose wisely.
Super cute and professional thanks to my use of my favorite silicone brownie pan (you may have seen it used with my English Toffee and Mint Chocolate Chip Brownie Bites).
No sticky peppermints stuck to the top. Today's recipe incorporates all the peppermint IN the white chocolate, which makes this treat last longer too!
Hopefully you're ready to start making batches of this Peppermint Bark. It's perfect for gift giving, wrapped in cellophane bags or in mason jars with ribbon!
What you'll need for Peppermint Bark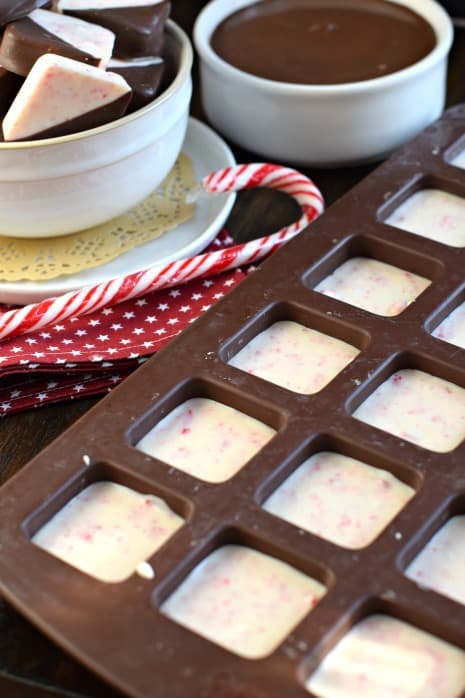 White Chocolate and Dark Chocolate. I use Ghirardelli melting wafers. Not only do they melt easily, and don't need to be tempered, but they taste amazing too!
For one batch of bark, you'll need 10oz bag of Ghirardelli white chocolate melting wafers and 1/2 a bag (5 oz) of Ghirardelli dark chocolate melting wafers. Most large grocery stores sell them next to the chocolate chips (or you can use my links and purchase them on Amazon. I do make a small commission if you use my link, so thank you!).
Peppermint Candy Canes. I used 6 candy canes and crushed them in a ziploc bag with a rolling pin.
You can also use starlight mints or they now sell bags of candy canes that are pre-crushed!
Silicone Brownie Pan. While you can absolutely spread out the white chocolate peppermint mixture on a piece of parchment paper until it hardens like I did with this trio of Christmas Crack candy, using a silicone brownie pan makes them perfect little squares.
The advantage to using this pan, is unlike the traditional "spreading" way, your chocolate doesn't separate when you add it to the white chocolate layer.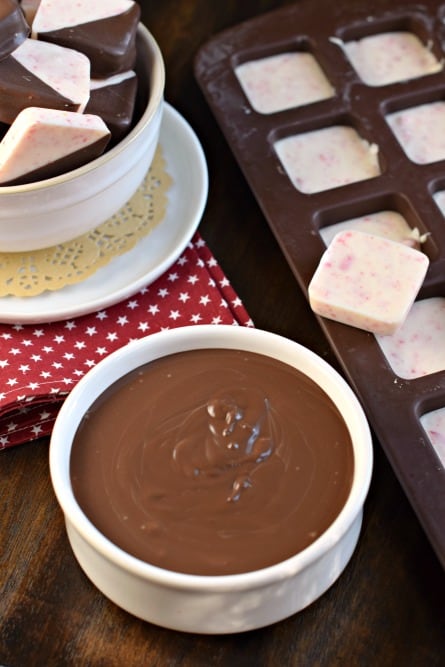 How to Make Peppermint Bark
STEP 1. Melt white chocolate.
In a microwave safe glass bowl, melt white chocolate wafers for 90 seconds, stirring every 30 seconds until smooth.
Fold in crushed peppermint candy canes.
Using a 1 Tbsp metal scoop, drop scoops of bark into a 24 cavity silicone brownie pan. Allow to set, about 15 minutes.
STEP 2. Melt dark chocolate.
Melt the dark chocolate in a glass bowl for about 60 seconds, stirring every 30 seconds until smooth.
Once the white chocolate peppermint candy has hardened, remove from silicone pan (they just pop right out).
Dip one corner of each candy in the melted chocolate and place on a piece of parchment paper to set.
Store in airtight container for up to two weeks.
How long does Peppermint Bark last?
If made using the brownie silicone pan, you can keep this peppermint bark in an airtight container for up to two weeks!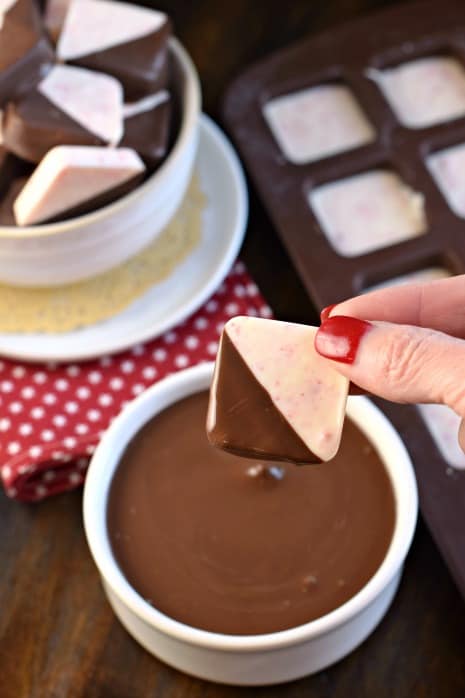 Why use the silicone pan?
Lasts longer
Less sticky
Chocolate Layers don't separate
Peppermints are not affected by humidity
Do not freeze or refrigerate peppermint bark candy. It not only affects the chocolate, but it will make the candy canes sticky and chewy!
Don't have a silicone pan?
Spread the white chocolate and peppermint onto a piece of parchment paper. Immediately spread the melted dark chocolate over the warm white chocolate layer.
This will help the layers not separate.
Allow to set, then break into pieces.
Store in airtight container for up to two weeks.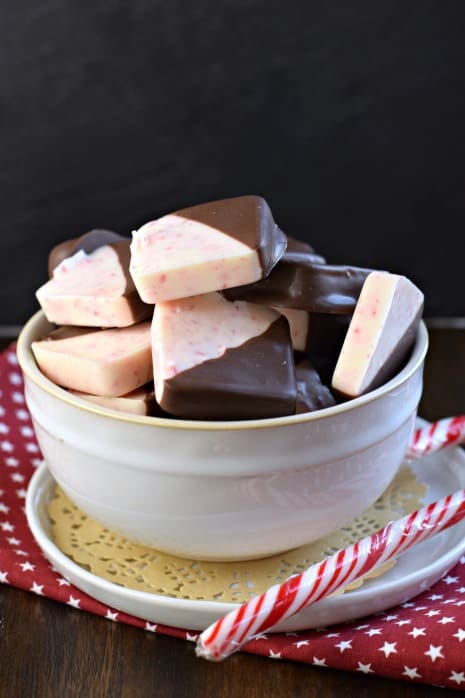 More Holiday treats
Easy Peppermint Bark Recipe is the perfect Christmas candy treat! You'll love sharing this recipe with family and friends!