It's a chocolate candy recipe you can make in your slow cooker! Use this easy Crock Pot Candy recipe to create your own customized sweet treats with just a few pantry friendly ingredients.
Making homemade Christmas candy is so easy! Try this reader favorite Christmas Crack. It's toffee made from crackers! Or give this 3 ingredient Cool Whip candy a try this holiday.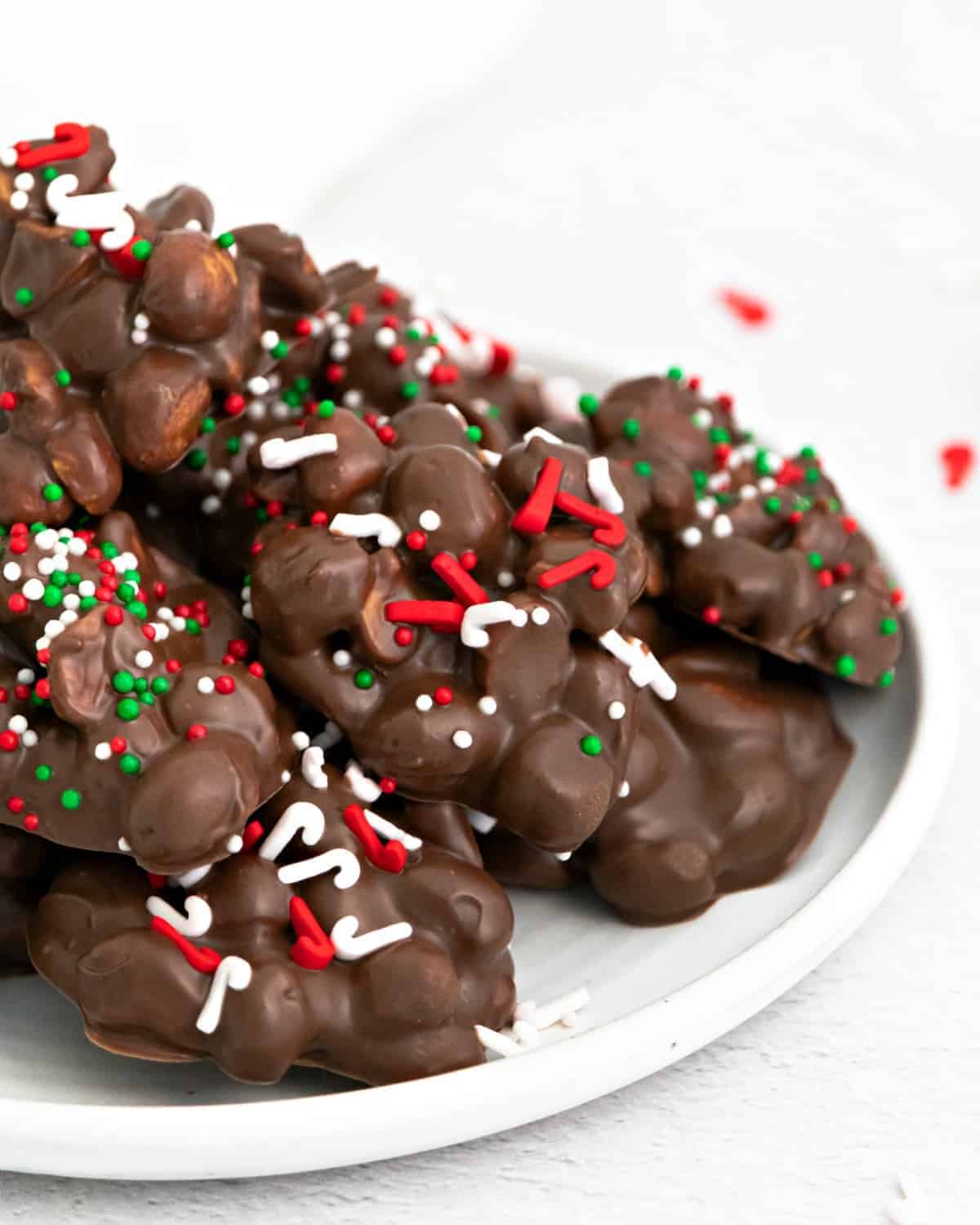 What is Crock Pot Candy
What's more universally loved than candy? I love to make homemade candies to give as gifts, especially around the holiday season.
There's a common misconception that making your own candy always requires special equipment and skill. That couldn't be farther from the truth–with the right recipe, of course!
I've shown you How to Make Fudge, Toffee and even Chocolate Truffles that are just as good (if not better) than anything you'd buy at a candy store.
Today's Crock Pot Candy is another easy recipe to add to your line-up!
Bet you'd never thought of using your slow cooker to make dessert! When you make Crock Pot Candy, you slowly melt chocolate in a crock pot, mix it with nuts, then drop it by the spoonful on to parchment paper.
From here, you can sprinkle it with garnishes like coarse sea salt, sprinkles or more chopped nuts. The chocolate sets into bite-sized candies, perfect for wrapping up as a gift or bringing to the office to share.
Ingredient Notes
Chocolate Chips- Use good quality chocolate chips that you love! Dark chocolate, semi-sweet, white or milk chocolate are all great options.
White chocolate bark – Use the kind labeled "almond bark" or the Ghirardelli melting wafers.
Nuts – The original recipe uses peanuts, but feel free to swap those out for other nuts like pecans, walnuts or almonds.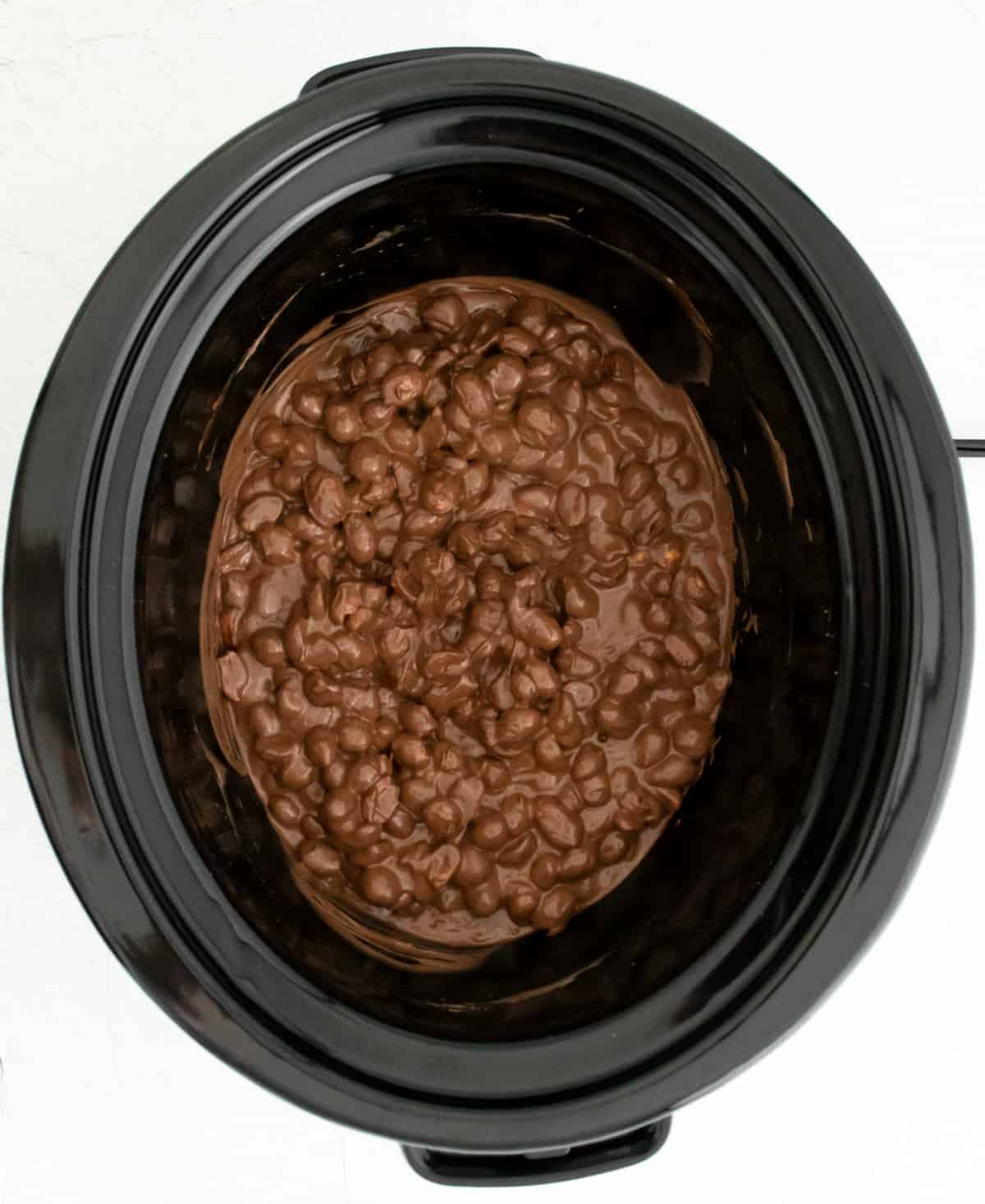 Variations
You can make so many variations of Crock Pot Candy, too. Swap out the chocolate, add caramel, change up the nuts and have fun coming up with your own signature candy creations.
Here are a few ideas to get you started:
Turtle Candies – Swap out the peanuts for pecans or use half pecans and have peanuts. In the last 10 minutes of cooking, swirl caramel bits into the chocolate. Dollop the mixture onto the parchment and add sea salt before the chocolate sets.
White Chocolate Candies – Leave out the semi-sweet chocolate chips and use white chocolate morsels instead! Try cashews instead of peanuts to mix things up; they pair beautifully with white chocolate. Decorate with red and pink sprinkles to make a delicious Valentine's Day treat.
Peppermint – Sprinkle the candies with crushed candy canes to dress them up for the holidays. The peppermint goes will with both the traditional semi-sweet chocolate and the white chocolate variation.
Tips & Tricks
Stirring: Make sure to stir the contents of the crockpot every 30 minutes as it heats. It takes about 90 minutes for the chocolate and bark to melt completely and stirring helps ensure everything gets smooth and combined.
Easy storage: To make these easy to store and serve, drop the melted chocolate and nut mixture directly into muffin tins lined with cupcake liners instead of laying them on parchment. Once they're set you can quickly transfer them to a serving platter, ziploc bags or an airtight container for storing.
Stove Top Method: No Crock Pot? No problem! You can use a double boiler to melt the chocolate and white bark together, then fold in the nuts.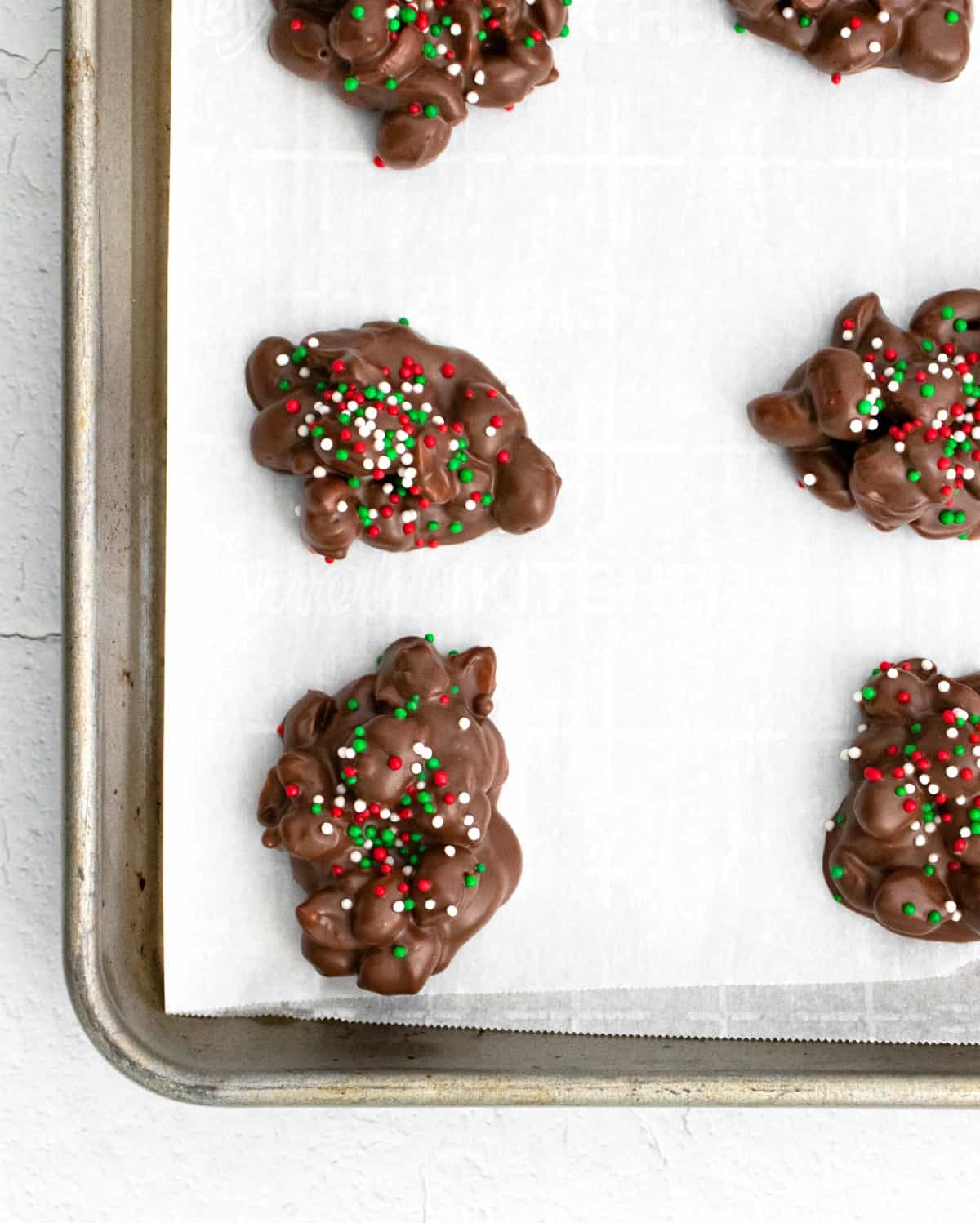 Recipe FAQs
Can crock pot candy be made using the microwave? ;
Yes, you could use white chocolate melting wafers and melt them in a microwave safe dish along with the chocolate chips according to package directions. Mix in the nuts and you're good to go!
How long does Crock Pot Candy stay good?
Stored correctly, the crock pot candy should stay good for up to 7 days.
Can crockpot candy be made without the nuts?
I wouldn't recommend omitting the nuts in this recipe, as it helps give the candies their shape and substance! For a nut free homemade candy, try these Homemade Peppermint Patties or some classic Chocolate Fudge.
More Easy Candy Recipes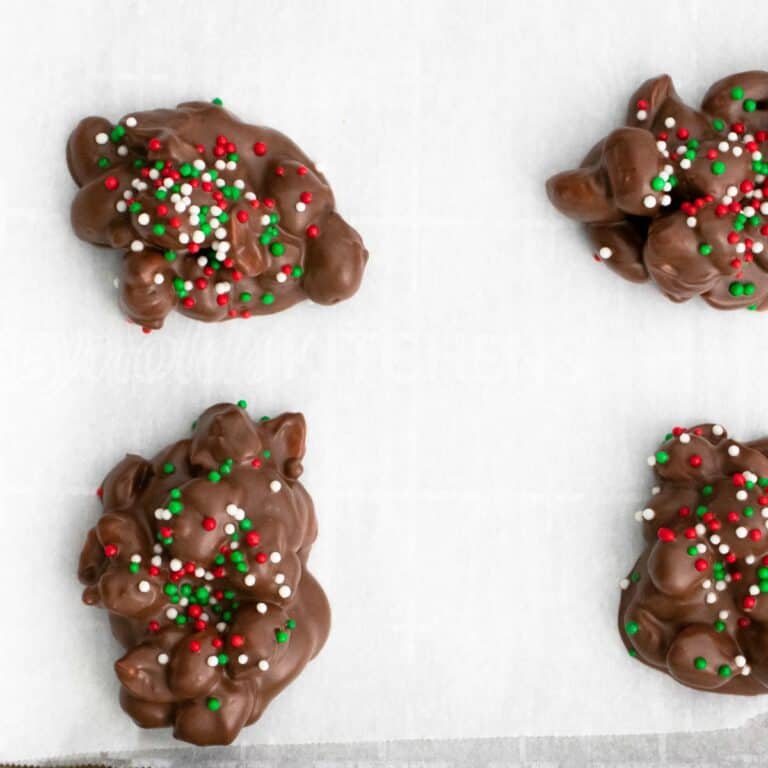 Crock Pot Candy
It's a chocolate candy recipe you can make in your slow cooker! Use this easy Crock Pot Candy recipe to create your own customized sweet treats with just a few pantry friendly ingredients.
Ingredients
2

cups

Roasted, Salted Peanuts

16 oz

2

cups

White Chocolate Bark, chopped

16 oz

1

cup

Semi-Sweet Chocolate Chips

8 oz
Instructions
In the crock pot, combine peanuts, chopped white chocolate bark, and chocolate chips.

Turn slow cooker on low for 90 minutes. Stir every 30 minutes.

When chocolate is fully melted, scoop 1 Tbsp mounds onto a parchment paper lined baking sheet. Immediately add sprinkles or coarse sea salt, if desired.

Allow chocolates to set at room temperature (about 90 minutes). Once set, store in airtight container for up to 7 days.
Notes
Nuts– swap the peanuts for pecans or cashews
White Chocolate– often sold as "almond bark" or Ghirardelli melting wafers.
Chocolate Chips– use what you love. Dark chocolate, semi-sweet, and milk chocolate are great options. or keep the treats white and use white chocolate chips!
Peppermint– top with crushed candy canes or peppermints for a festive holiday treat.
Stove Top– no slow cooker? Use a double boiler to melt white chocolate bark and chocolate chips. Fold in nuts and spoon onto parchment paper.
Storage– for easy storage and serving, scoop chocolate straight into paper mini muffin liners. Allow to set in the liner.
Variations:
Turtles: use half peanuts and half pecans (or all pecans)! Add 8 oz caramel bits (or chocolate caramels) during the last 10 minutes of cooking. They might not melt completely, that's perfect. Spoon onto parchment paper. Top with sea salt or sprinkles immediately.
White Chocolate (Valentine's Day)– Use white chocolate bark and white chocolate chips (omit the semi-sweet chips). Add holiday sprinkles and allow to set. Cashews pair very nicely with the white chocolate. You can even use half peanuts and half cashews for a more budge friendly treat.
Nutrition
Calories:
6
kcal
,
Carbohydrates:
1
g
,
Sodium:
1
mg
,
Sugar:
1
g
Who knew it was this easy to impress your friends and family with incredibly delicious candy? Fire up your slow cooker and make some Crock Pot Candy to share, but be careful: it's so good you might end up wanting to keep it all for yourself!