Saltine Toffee
If you've never tried Saltine Toffee, now is the time! Crispy, buttery, toffee with crackers, pecans and chocolate. So easy to make, too!
Be sure to sign up for my email…new recipes in your inbox!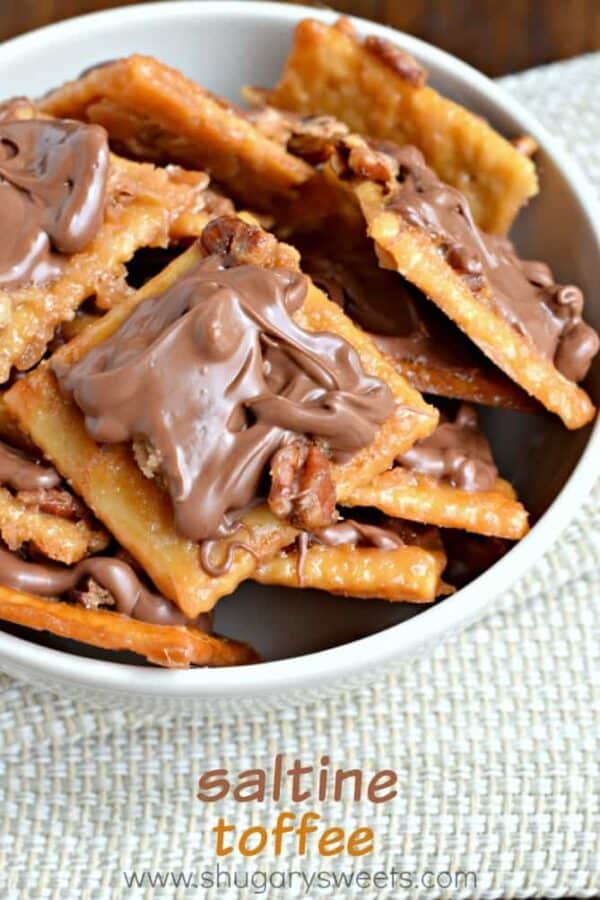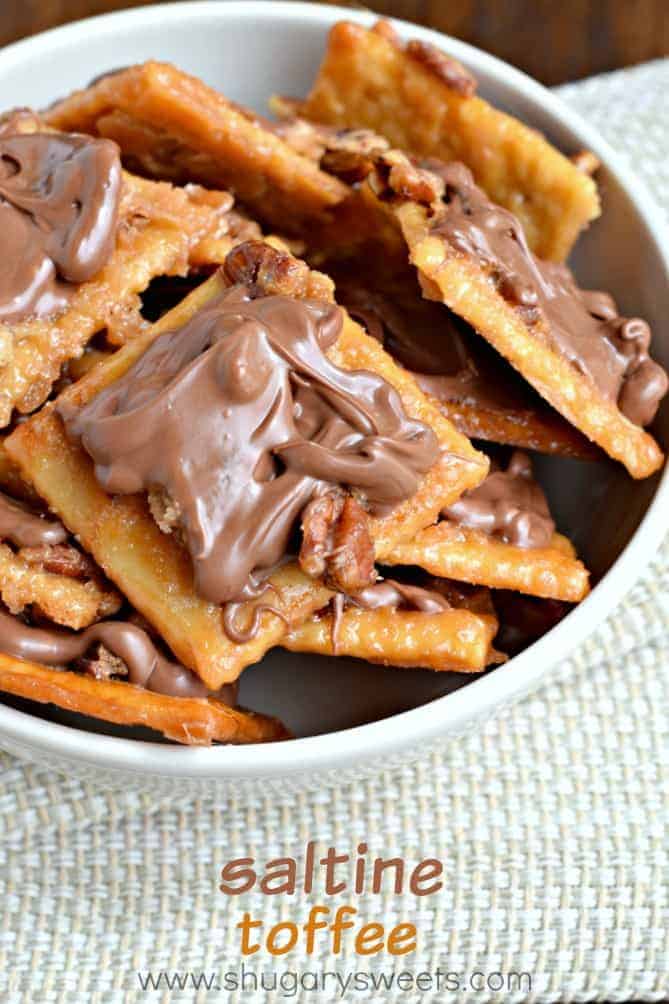 Click HERE to save recipe to Pinterest!
Years ago I remember being at a family reunion and I tried a graham cracker toffee bar. It was amazing and delicious, and I was SHOCKED that the base was a graham cracker. I had to keep eating, bar after bar, for taste testing purposes.
Years later I shared the recipe for those Brickle Bars on my blog. They are still one of our family's favorite treats. And they are so easy too. From the time I start making them until the time I eat them it's less than half an hour!
A big plate of those bars goes fast with my family.
Recently as I perusing pinterest, I saw a photo for "SALTINE TOFFEE." My mouth gaped open (seriously). Why had I not thought to make my brickle bars with saltines???
Well my friends, today, it has happened. I am happy to say the brickle bars can now be made using saltines. And the result is amazing.
The saltines have a saltier base (DUH) than a graham cracker, so the sweet and salty combo shines through on these bars!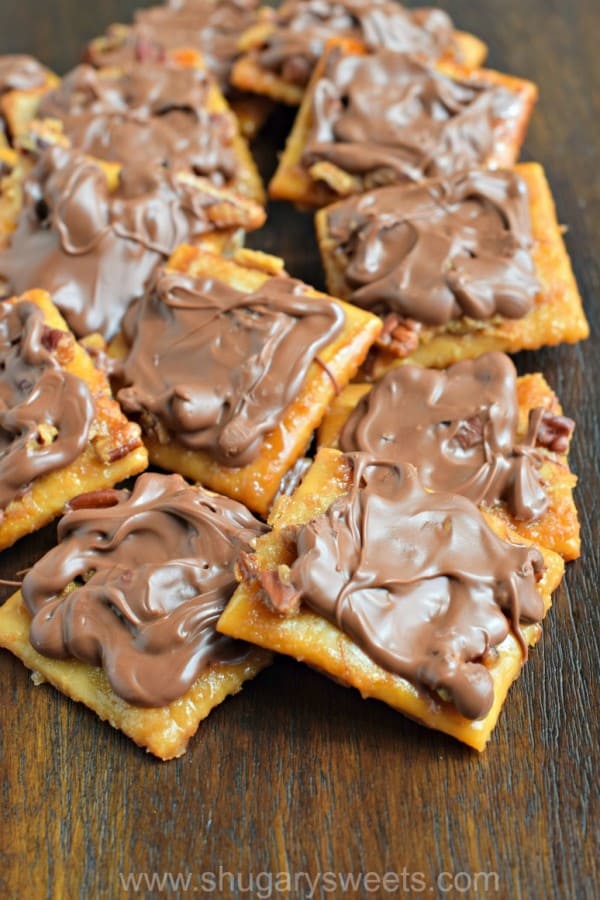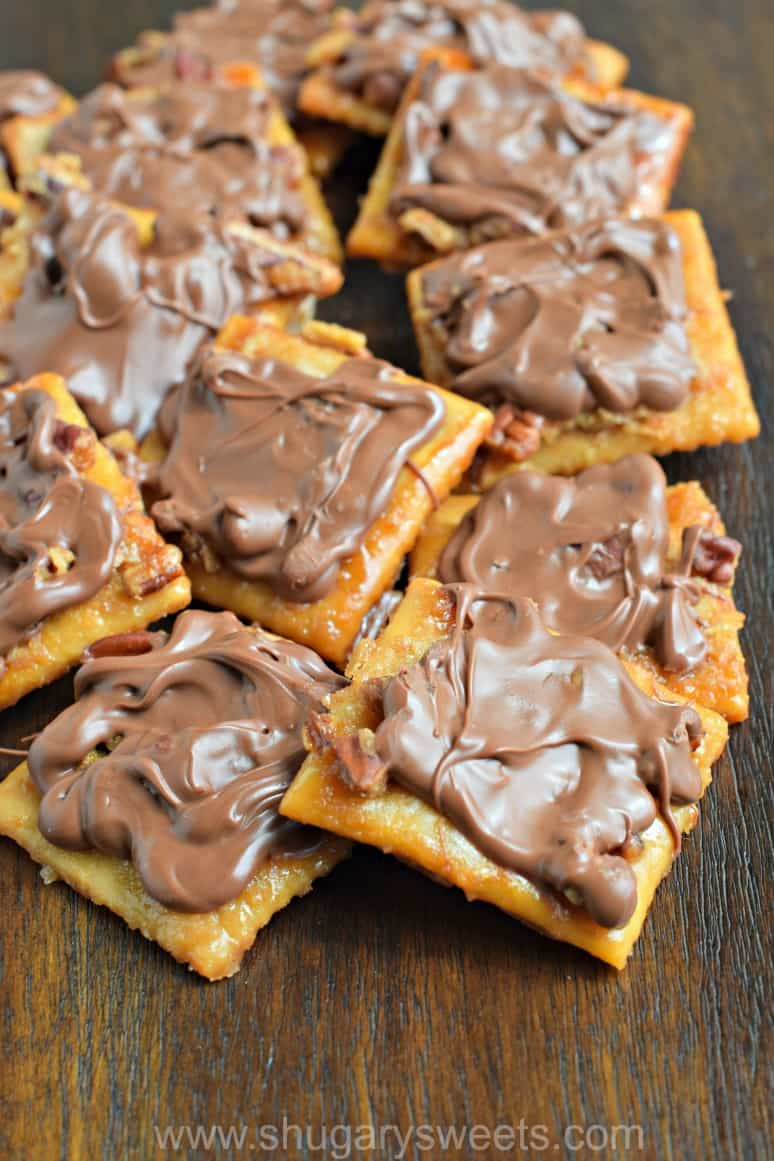 How to make Saltine Cracker Toffee:
Pan melt your butter, then add your sugar. Bring this mixture to a rolling boil.
Line 40 saltine crackers on a 15 x 10 x 1-inch baking sheet.
Pour mixture over crackers, slowly, making sure that all the crackers have been covered in butter
Sprinkle generously with chopped pecans
Bake this for about 15 minutes. You want to make sure that the crackers look brown and caramelized.
Use a small spatula to remove the hot cracker toffee from the pan and place it on parchment paper (or wax paper).
Melt your chocolate chips and spread over each cracker. I pour my melted chocolate into a large Ziploc bag, then snip the corner and drizzle generously over each cracker. Works like a charm.
Once the chocolate has hardened, store these in an airtight container at room temperature for up to 5 days. ENJOY!
If you love today's cracker toffee recipe, here are some more tasty ideas:
Saltine Toffee recipe and video tutorial: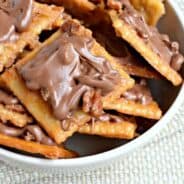 Saltine Cracker Toffee
Yield: 40 servings
Prep Time: 15 minutes
Cook Time: 15 minutes
If you've never tried Saltine Toffee, now is the time! Crispy, buttery, toffee with crackers, pecans and chocolate. So easy to make, too!
Ingredients:
40 saltine crackers
1 cup unsalted butter
3/4 cup granulated sugar
1 cup chopped pecans
12 ounces milk chocolate chips
Directions:
Line a 15x10x1-inch baking sheet with the saltine crackers. Set aside. Preheat oven to 375°F.
In a small saucepan over medium-high heat, melt butter. Add in sugar and bring to a rolling boil, stirring constantly. Once it begins to boil, remove from heat.
Pour over saltine crackers and sprinkle with chopped pecans. Place in a 375°F oven for about 13-15 minutes, until crackers are browned and caramelized.
Remove from oven and using a small spatula, place each piece of toffee onto a sheet of parchment paper on the counter.
Melt chocolate morsels and spread generously over toffee. Allow chocolate to set and store in airtight container for up to 5 days.
MAKING THIS RECIPE? Share it with me on Instagram using the hashtag #ShugarySweets so I can see what you're cooking up in the kitchen!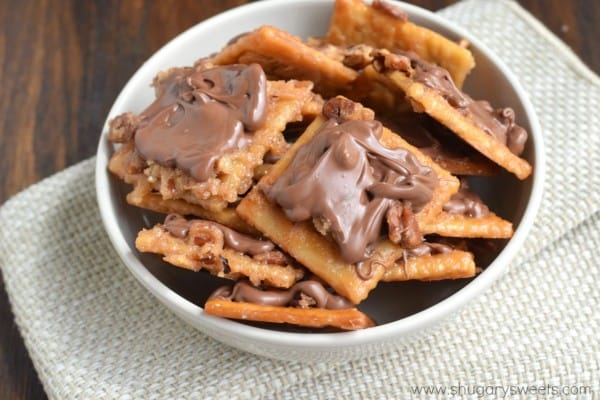 These Brickle Bars are a graham cracker version of saltine toffee: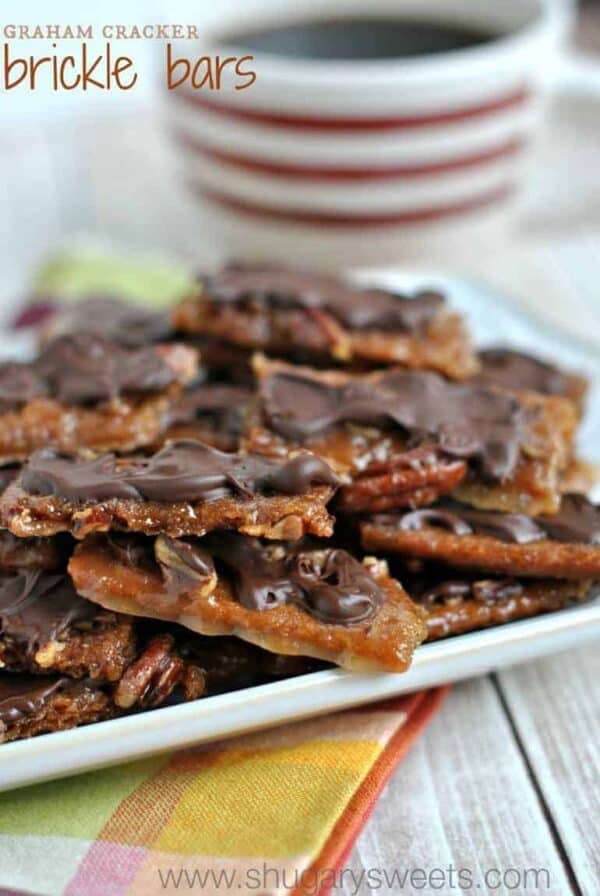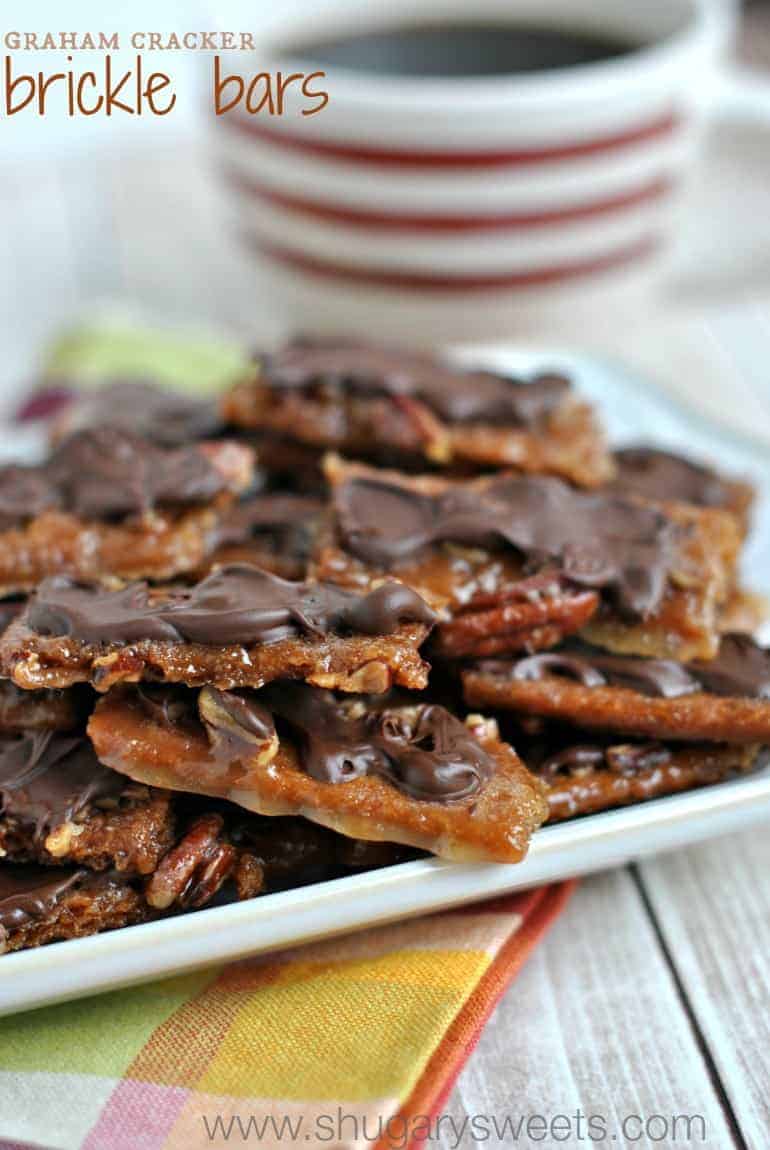 *Today's recipe for Saltine Toffee was originally published on Shugary Sweets on June 10, 2015 and has been republished in May 2018.