S'mores Cracker Toffee is layers of graham cracker toffee, marshmallows, and chocolate. What more could you want in life?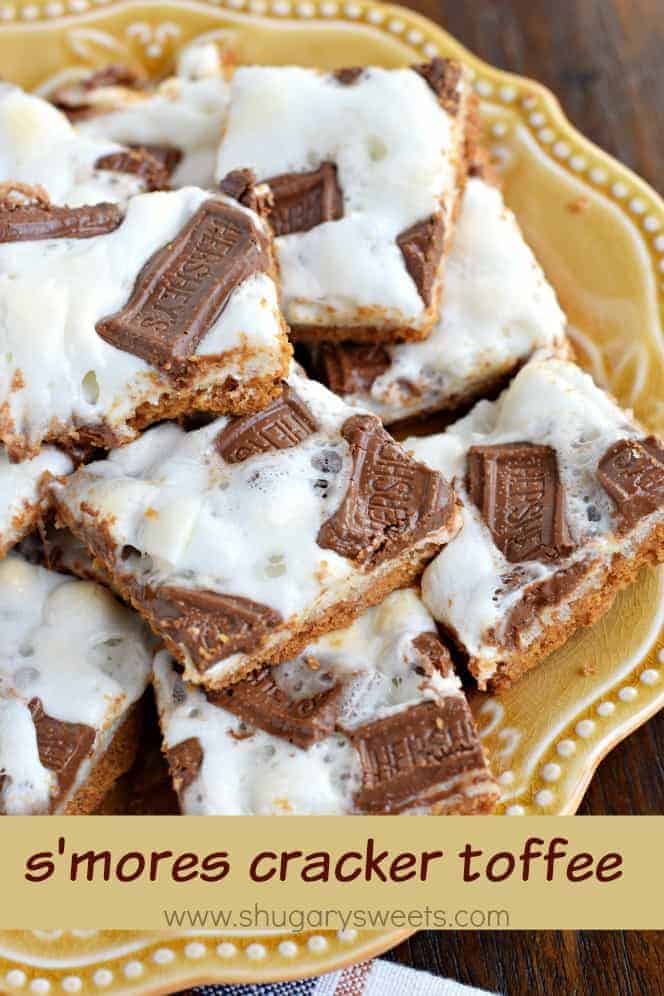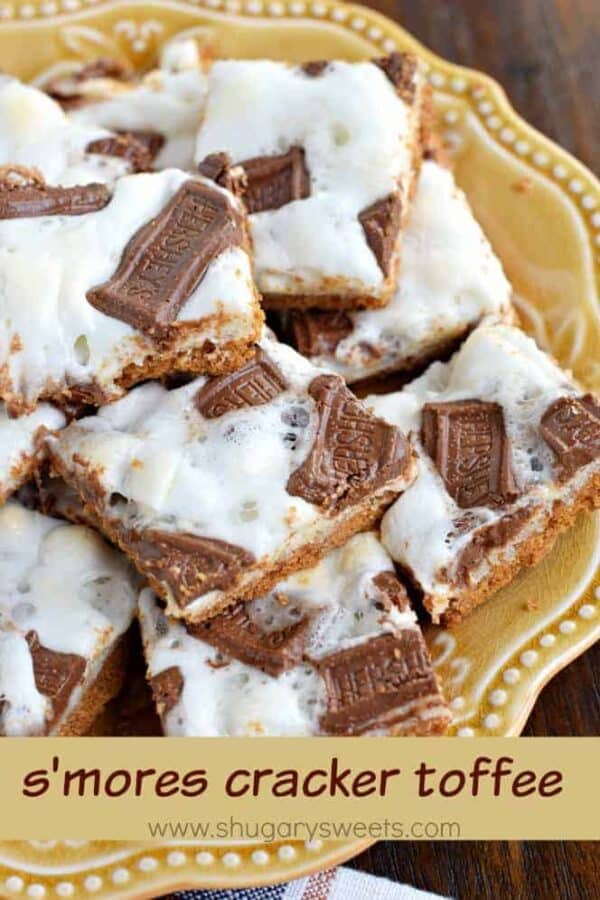 You may have seen this super popular Saltine Cracker Toffee recipe I made last year? Maybe you have already given it a try?!
Well, I'm back with another delicious cracker toffee recipe. And just like these Brickle Bars, I used Graham Crackers for the base!
But, instead of topping these with chocolate and pecans I went with a s'mores inspired treat. These treats get removed from the oven after 10 minutes. You'll then top them with marshmallows and Hershey bars and stick them back in the oven until the marshmallow begins to brown.
Allow them to cool completely before breaking them into pieces. I learned the hard way and burned the tips of my fingers on the hot marshmallow! OUCH.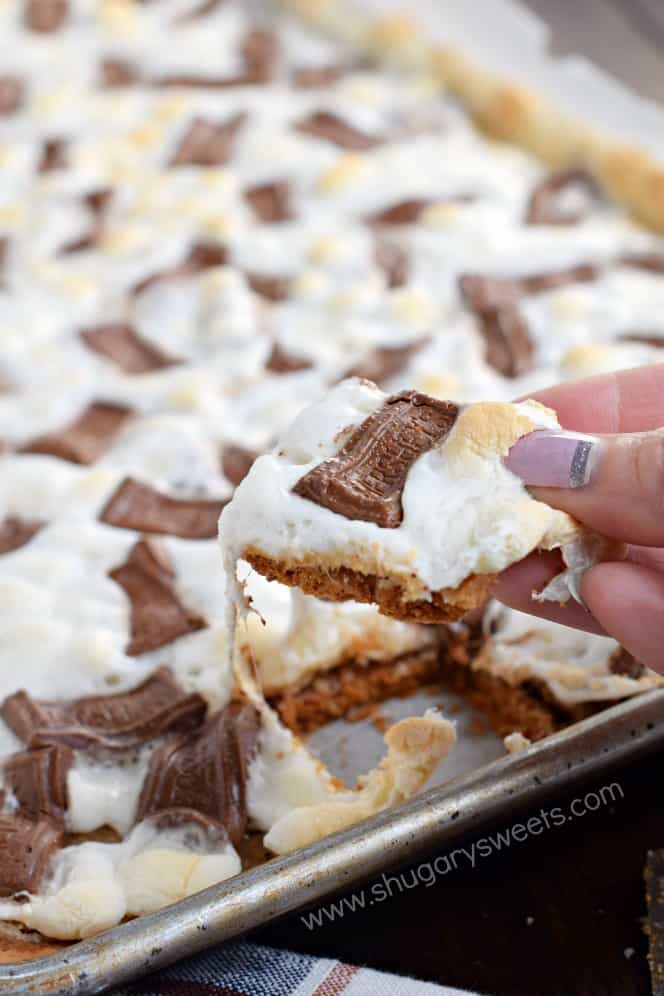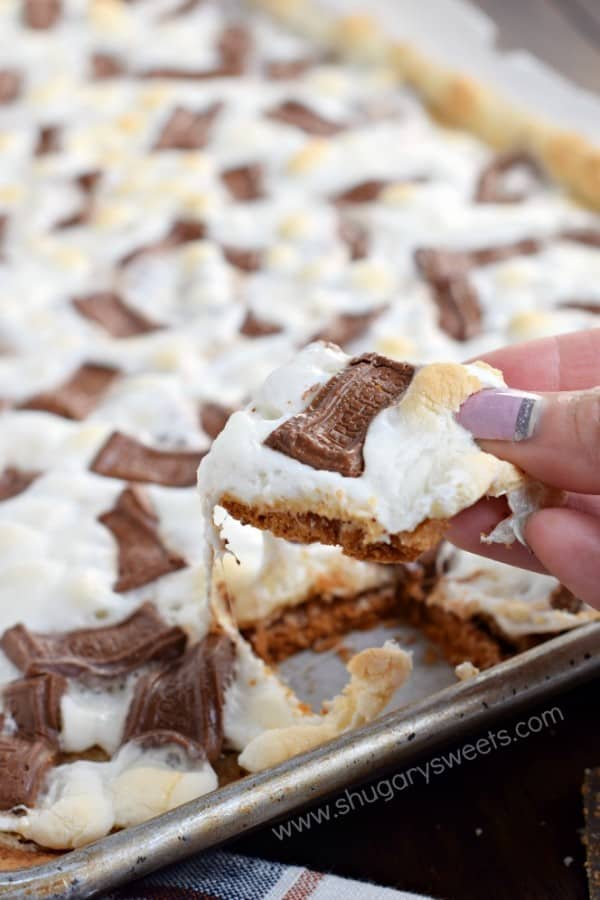 Much like a real s'mores though, right? Don't tell me you've never stuck that hot marshmallow in your mouth and burned the entire roof of your mouth in one bite?!
It's part of the reason I hate outdoor s'mores. I know. I do. I admit it.
The idea of giving my kids a long stick to cook a marshmallow over an open flame is one thing. But when they shove that ball of fire (because we all know it happens to them at least once during the s'mores making process) into my face and say "YUCK IT'S RUINED" and now you have a crying child with a flame thrower in their hand….
Need I go on?
I'd much rather just put them to bed and enjoy sitting by the fire with a batch of this S'mores Cracker Toffee instead.
Hey, I never said I was a perfect mom!
I might even share these with my kids since it makes such a big pan. These are a great treat for a family party or sleepover!
And I think you're going to love the sweet toffee base with the gooey marshmallow and chocolate topping! ENJOY!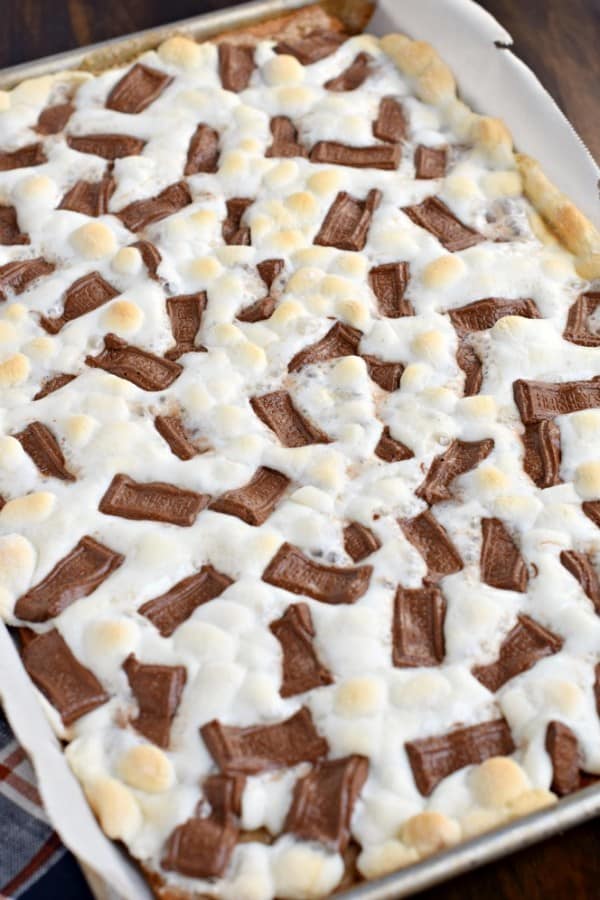 A few quick tips:
Line your baking sheet with parchment paper. This will not only make the crackers easier to remove from the pan, but it will make clean up so much easier!
Allow crackers to cool completely before breaking into pieces. You can either let them cool in the pan, or using the parchment paper, slide the entire pan of toffee onto a wire rack to cool.
Once cooled, use a sharp knife to cut these into pieces. Store in airtight container until ready to eat.
Be sure to check out all my candy recipes on Food Fanatic and print my S'mores Cracker Toffee recipe below!