S'mores Cracker Toffee is layers of graham cracker toffee, marshmallows, and chocolate. Crunchy toffee base with a gooey s'mores topping!
Love easy candy recipes? Readers love our easy peanut butter cups. And of course you must try our chocolate fudge recipe! So easy and good.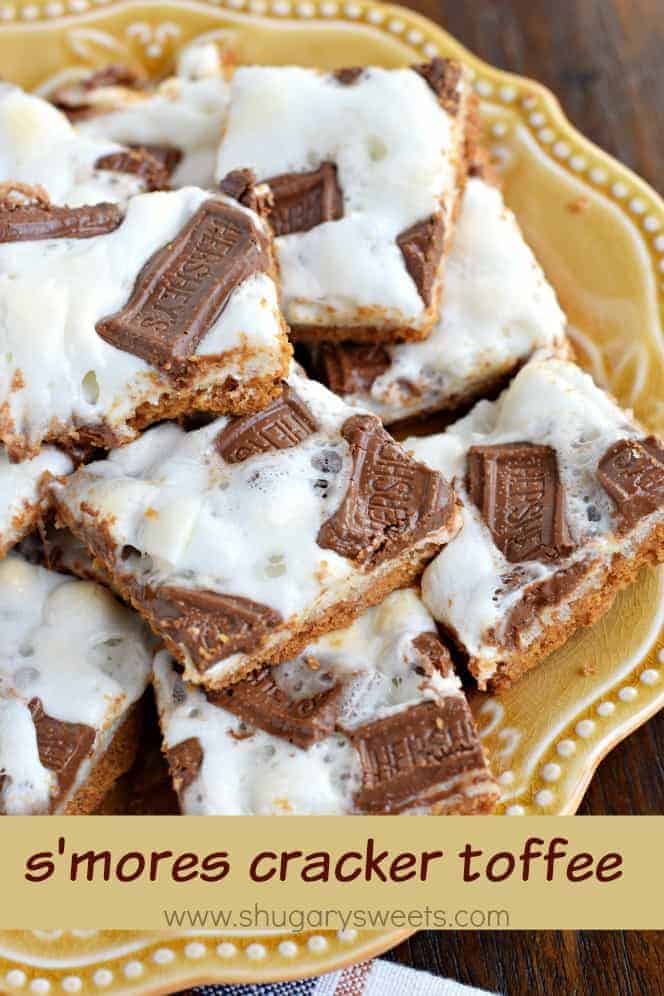 Why This Recipe is Best
This super duper easy cracker toffee recipe combines the best of s'mores with the best of toffee.
It's got a graham cracker base that's topped with a sugary mixture to bake on, then mini marshmallows and pieces of chocolate bars are added to melt perfectly in the final few minutes of baking.
Just 5 ingredients needed to make this toffee!
It only takes 15 minutes to bake – such a quick dessert!
This recipe is baked on a sheet pan and makes enough for 40, so it's a great recipe to share! And it makes a fantastic food gift to friends, family, neighbors, teachers – anyone!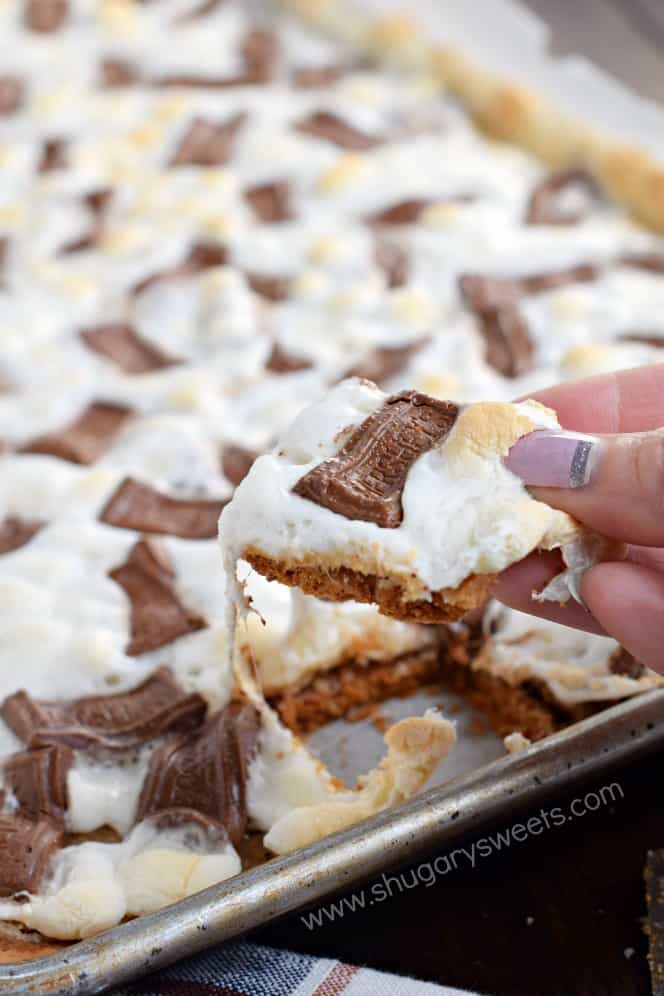 Ingredient Notes
Butter – We always use unsalted butter, but salted will work just fine in this recipe too!
Graham crackers –  Make sure they are fresh, not an opened box from months ago. Stale graham crackers won't result in the same texture. If you love our graham cracker toffee, today's version is stepping it up a notch!
Mini marshmallows – You need a 10-ounce bag of mini marshmallows for this recipe. Big marshmallows are too large and won't work.
Chocolate bars – Use a good quality brand, such as Hershey's. You can also use Hershey's mini chocolate bars instead of the large ones. And feel free to swap in dark chocolate bars if you'd prefer.
Easy Instructions
STEP 1. Prep the crackers. Line a 15x10x1-inch baking sheet with parchment paper. Lay graham crackers in a single layer to cover the bottom. Set aside.
STEP 2. Make the sugar mixture. In a small saucepan, melt the butter over medium heat, then add the sugar and bring to a full rolling boil. Pour over crackers.
STEP 3. Bake then top. Bake in a 350 degree oven for 12 minutes. Remove and sprinkle marshmallows evenly over the crackers then add the chocolate pieces. Return to the oven for 2-4 more minutes, until the marshmallows lightly brown.
STEP 4. Cool then break. Remove from the oven and allow the toffee to cool completely. Then break into bite size pieces and enjoy!
Tips and Tricks
Line your baking sheet with parchment paper. This will not only make the toffee easier to remove from the pan, but it will make clean up a breeze!
Be sure to bring your butter and sugar mixture to a FULL rolling boil before removing from the heat and pouring over the graham crackers.
Allow crackers to cool completely before breaking into pieces. You can let them cool directly in the pan or use the parchment paper to transfer to a baking rack to cool.
Recipe FAQs
Do I need a candy thermometer to make cracker toffee?
No! One of the reasons I love making cracker toffee so much is that no candy thermometer is needed. Just make sure to bring the butter and sugar to a full rolling boil before removing it from the heat.
What can I use instead of graham crackers?
If you're in the UK, you can substitute digestive biscuits for graham crackers. Otherwise saltines or club crackers work great for this recipe, too.
How do I store s'mores cracker toffee?
This graham cracker toffee will stay fresh in an airtight container at room temperature for up to one week.
Can I freeze toffee?
I don't recommend freezing cracker toffee. It tends to lose some of the crunch and snap.
More Easy Dessert Recipes