Peanut Butter Cracker Toffee is crackly, sweet and downright irresistible. Turn crackers into delicious homemade candy with this easy recipe!
Looking for authentic toffee made from scratch? Try our homemade English toffee recipe next! Or give one of our other homemade candy recipes a try!
Why This Toffee is Best
Today's peanut butter toffee is based on my saltine toffee recipe—with a peanut butter twist.
Delicious crunchy toffee texture.
Sweet and salty peanut butter flavor.
Drizzled with peanut butter infused white chocolate.
A 5 ingredient recipe that's ready in 20 minutes!
Using saltine crackers as the base for this toffee eliminates the need for candy thermometers or other special equipment. I love the saltiness of the crackers paired with the sweet candy coating, too!
Give this peanut butter cracker toffee as a gift or keep it all for yourself. You deserve it.
Ingredient Notes
Crackers – Both saltines and club crackers work well for making toffee. For a less salty toffee, graham crackers make a good substitute.
Butter and sugar – These are boiled together to create the toffee candy coating.
Peanut butter – Creamy peanut butter is best for flavoring this toffee.
White chocolate chips – This is melted and combined with peanut butter to make the toffee topping. White chocolate melting wafers or a bar of white chocolate could be used as a substitute.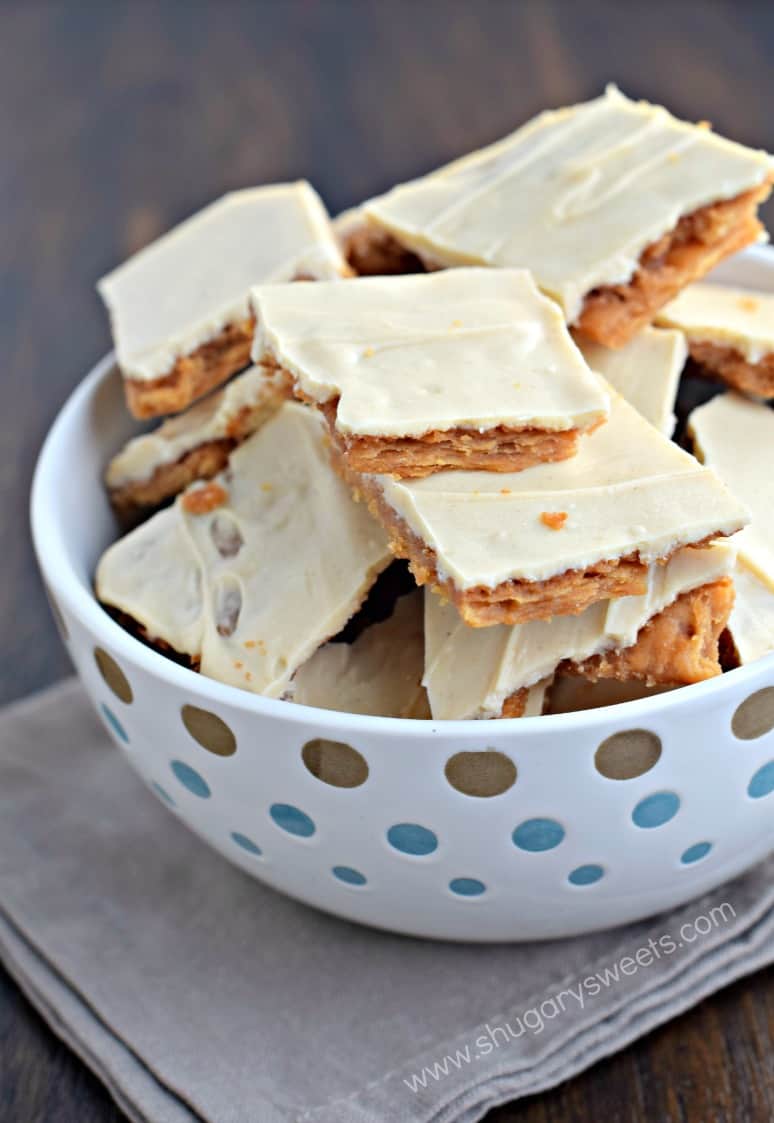 Toffee Tips and Tricks
Line your baking sheet with parchment paper. This will not only make the crackers easier to remove from the pan, but it will make clean up so much easier!
Allow crackers to cool completely before breaking into pieces. You can either let them cool in the pan, or using the parchment paper, slide the entire pan of toffee onto a wire rack to cool.
Once cooled, use a sharp knife to cut these into pieces. Store in airtight container until ready to eat.
Recipe FAQs
Should I use salted or unsalted saltines for toffee?
That depends on how much saltiness you like in the toffee. Unsalted crackers will give the toffee less of a sweet-and-salty flavor. I like the taste of the salt paired with the sweetness of the toffee and white chocolate.
Can I use natural peanut butter in this recipe?
Yes, natural peanut butter will work in this toffee recipe. You may find the toffee becomes a little oilier as it sits. Natural peanut butter does not have stabilizers so the oils tend to separate from the solids.
I don't like white chocolate. What can I use instead?
Milk chocolate chips are another delicious option. It makes the toffee taste like a crispy peanut butter cup! Or use melted peanut butter chips instead for even more peanut butter flavor.
Does saltine toffee need to be refrigerated?
Saltine cracker toffee like this one does not need to be kept in the refrigerator. I store mine on the counter at room temperature. It stays fresh and crispy for days.
Can I freeze toffee with peanut butter?
To freeze this toffee, wrap it tightly in aluminum foil. Place in a freezer bag and store in the freezer for up to 1 month.