Buttery, crunchy saltine toffee with a sweet and tart topping. You'll love the flavor and texture of this Cranberry Pistachio Saltine Toffee recipe!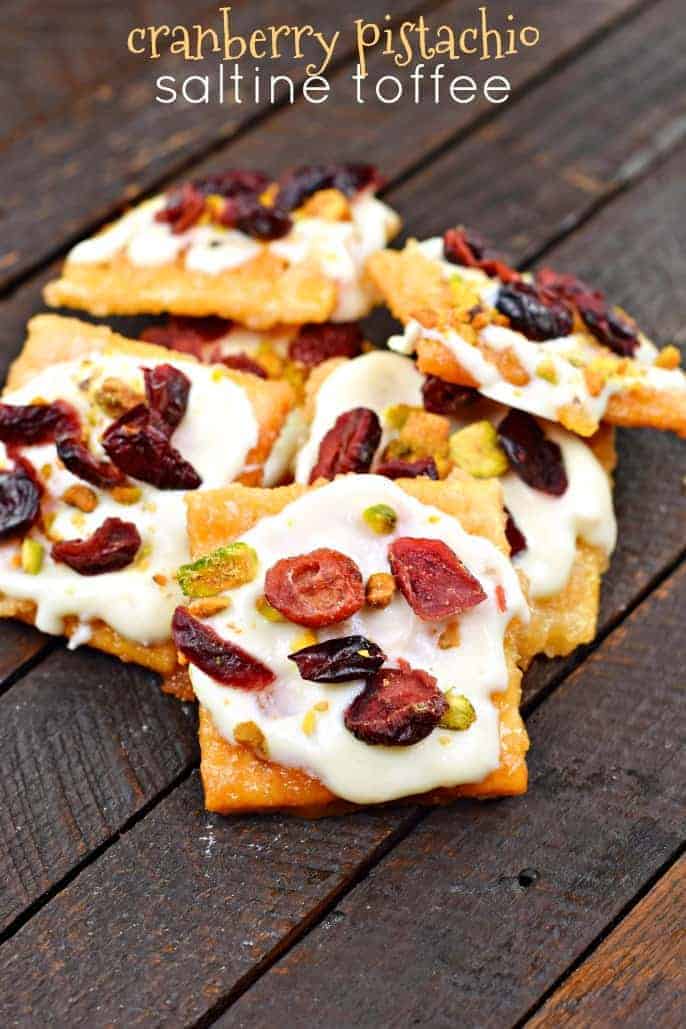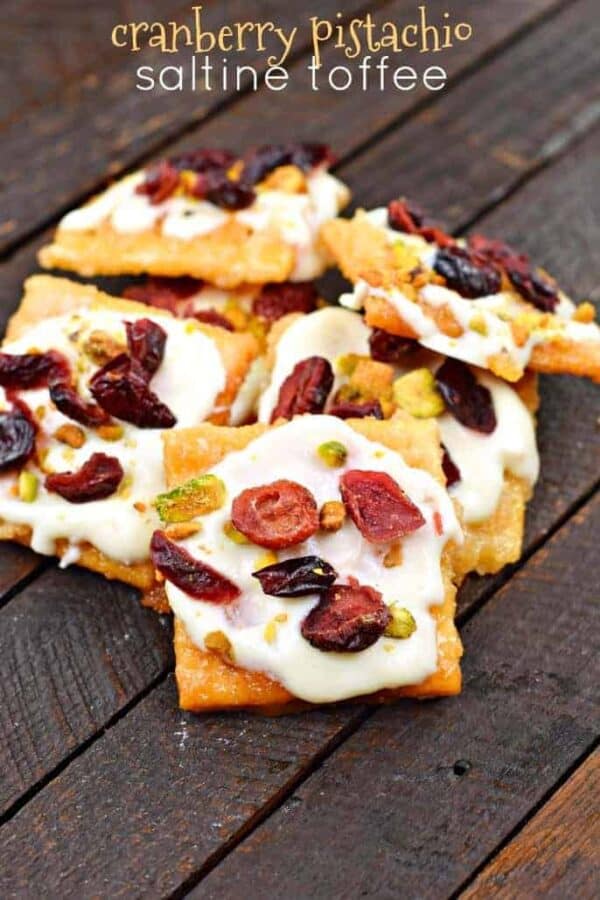 Why this Recipe Works
Creating cracker toffee is so easy. And the possibilities of flavors are endless. You can use graham cracker, saltines, club cracker…and the toppings? So many to choose from.
One of my favorite holiday recipes is this Cranberry Pistachio Biscotti. I love the sweet and tart cranberry paired with the salty, crunchy pistachio. So why not do the same on top of some saltine toffee?
It reminds me of our favorite Cranberry Bliss Bars.
I set to work quickly and it came together just how I imagined! I used melted white chocolate (this is my favorite) as the base for toppings. I think it would be great with dark chocolate too, but maybe not as pretty in my opinion.
If you're looking for more toffee recipes, I've got you covered. You may remember this White Chocolate Pecan Toffee I made a few weeks ago.
So good. You'll also find instructions on How to Make Saltine Toffee. You can't go wrong with these recipes! Unless of course you don't follow my instructions!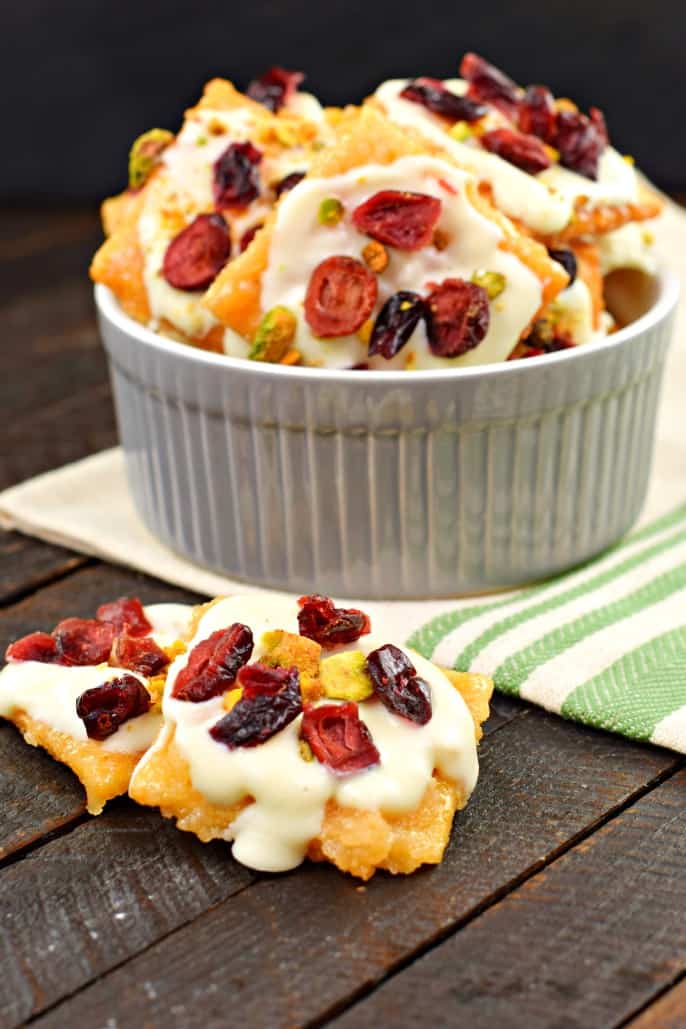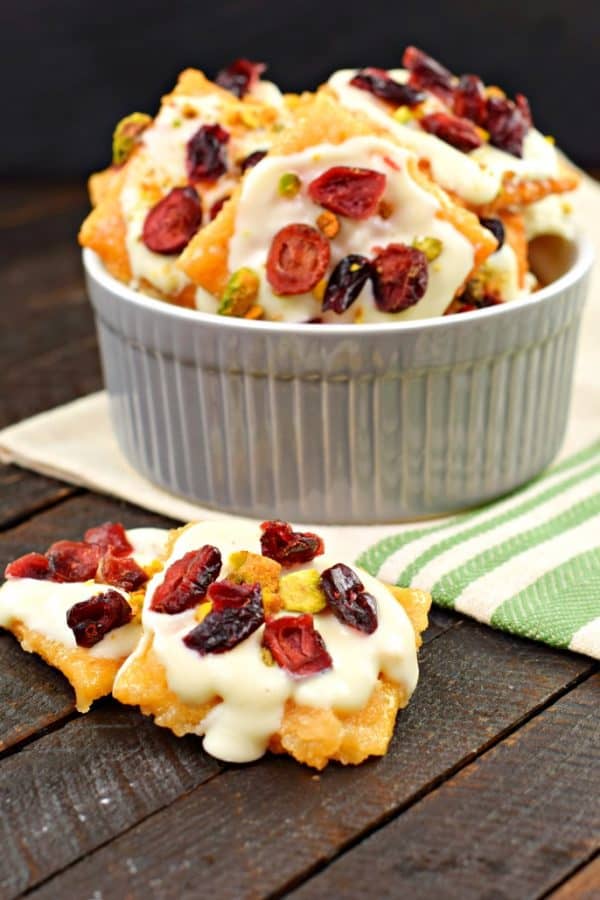 Ingredient Notes
Saltine crackers – The classic salted crackers work best for this toffee.
Pistachios – Make sure they are shelled and chopped
Dried cranberries – I used craisins
White chocolate – The Ghirardelli melting wafers are my favorite for covering homemade candies because they firm up with a soft melt-in-your-mouth texture. Substitute dark chocolate melting wafers if you prefer!
Step by Step Instructions
STEP 1. Prepare the crackers
Place the crackers on a baking sheet evenly spaced apart. I use a 15 inch baking pan to make sure I can fit all the crackers in one pan.
STEP 2. Make the toffee
Heat the butter and sugar in a saucepan until it reaches a rolling boil, then remove the saucepan from heat. Pour the hot butter mixture over the crackers then bake until the toffee is caramelized.
STEP 3. Add chocolate, nuts and cranberries
When the crackers are done baking, melt the white chocolate according to the package instructions. Spread the melted chocolate over the tops of the crackers, then sprinkle on pistachios and cranberries.
Let the chocolate firm up for a few minutes before serving. Enjoy or store covered until ready to eat.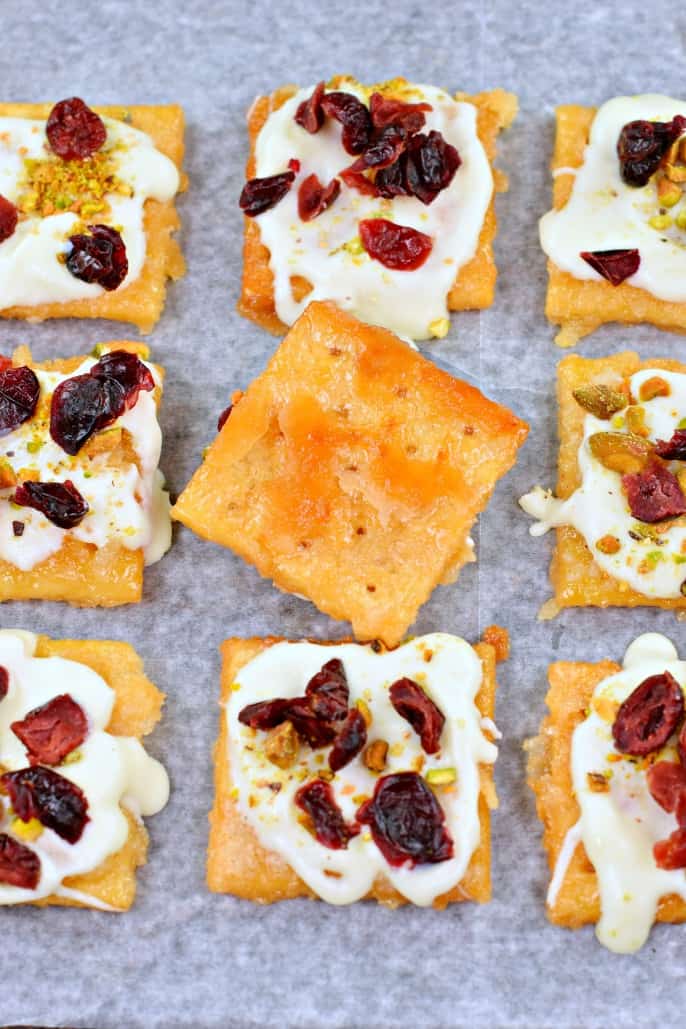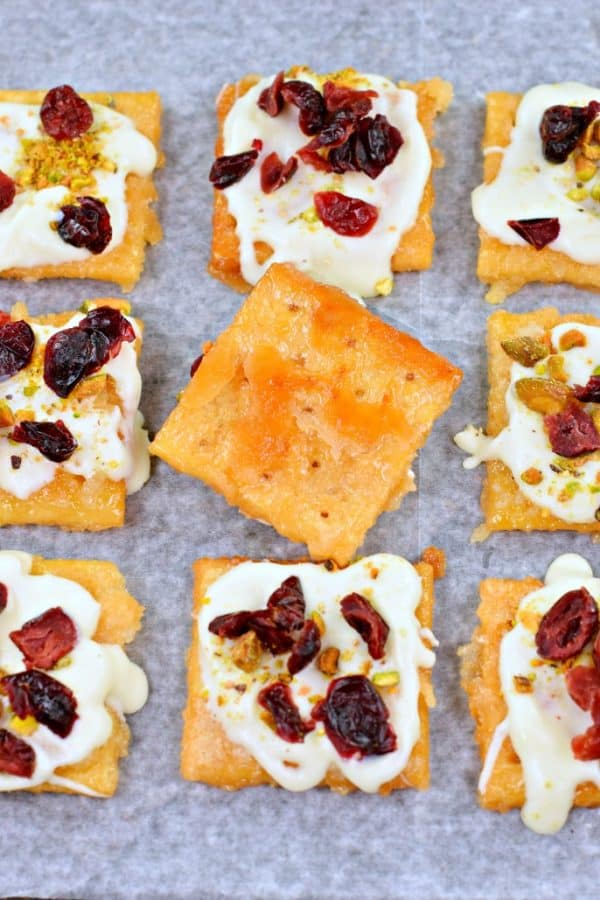 Recipe FAQs
How do you store this toffee?
I keep it in an airtight container on the counter. It'll stay good for about 7 days, but we can never resist eating it all up before then!
Do you need a candy thermometer to make this recipe?
Nope! That's the beauty of saltine cracker toffee! Just get the butter and sugar to a good rolling boil and it'll caramelize perfectly in the oven. So easy!
Can I substitute another kind of white chocolate for melting wafers.
You can sub chocolate chips or other white chocolate but the finished texture won't be quite as smooth. The toffee will still taste delicious though.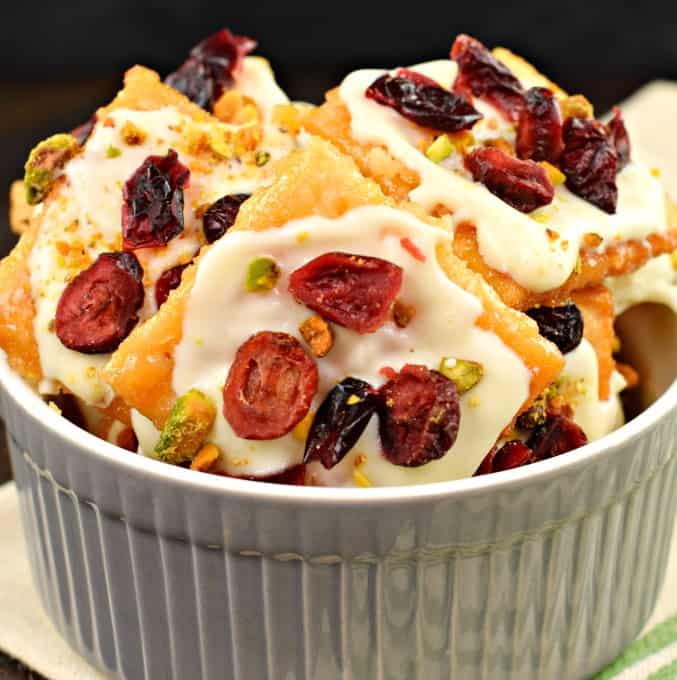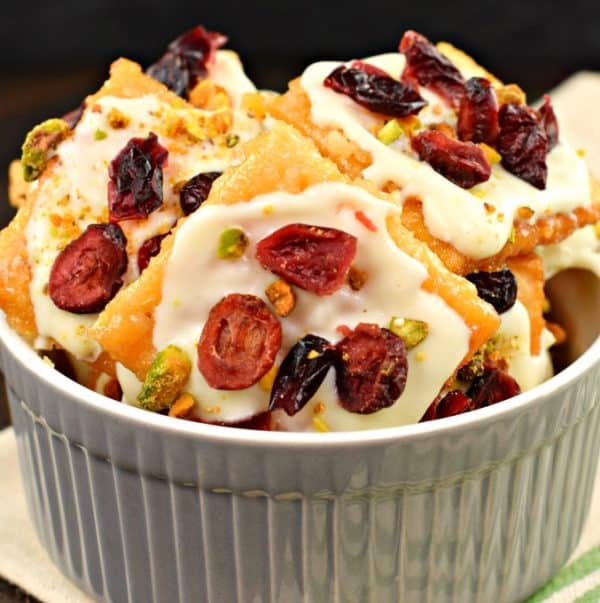 There you go! Easy, beautiful and completely delicious homemade toffee to give as gifts or enjoy as an after dinner treat.
Cranberry Pistachio Saltine Toffee makes the perfect addition to your holiday celebrations!