This crispy, buttery White Chocolate Pecan Toffee recipe is made with saltine crackers! Your family and friends will enjoy this holiday treat as much as you love surprising them.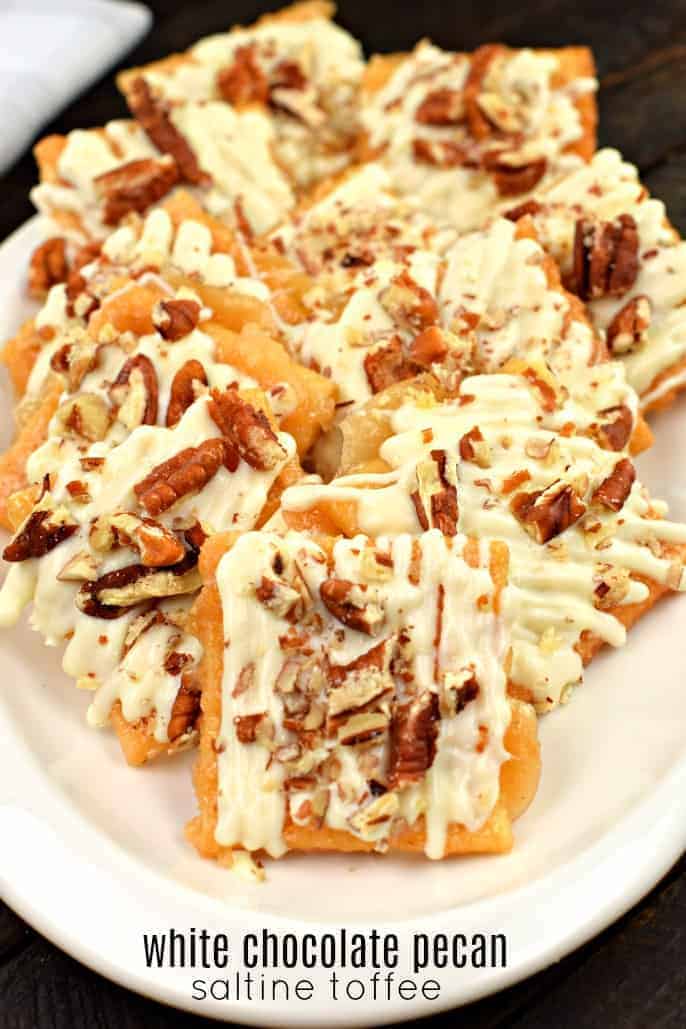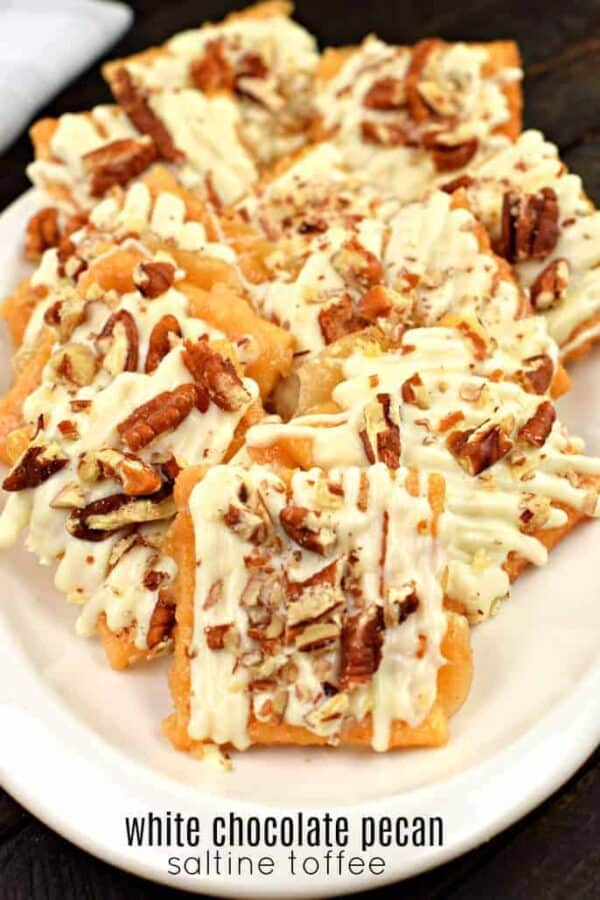 Holiday Dessert Recipe
It's that time of year again when I start cranking out the Christmas treats. If you're new around here, be sure to click around in my archives and check out all my candy and holiday recipes!
I have dozens of holiday cupcakes and cookies here on Shugary Sweets, but what you'll find me giving as gifts this year is my homemade candy.
I have a ridiculous amount of fudge and toffee recipes to choose from. Not including all the new ones I come up with each year, like today's White Chocolate Pecan Toffee recipe!
Last year I made this Peppermint Toffee and I was smitten. I wasn't sure I would love the peppermint candy with the buttery toffee…but I do. Plus it's adorable to add to your cookie trays, and tastes better than Peppermint Bark!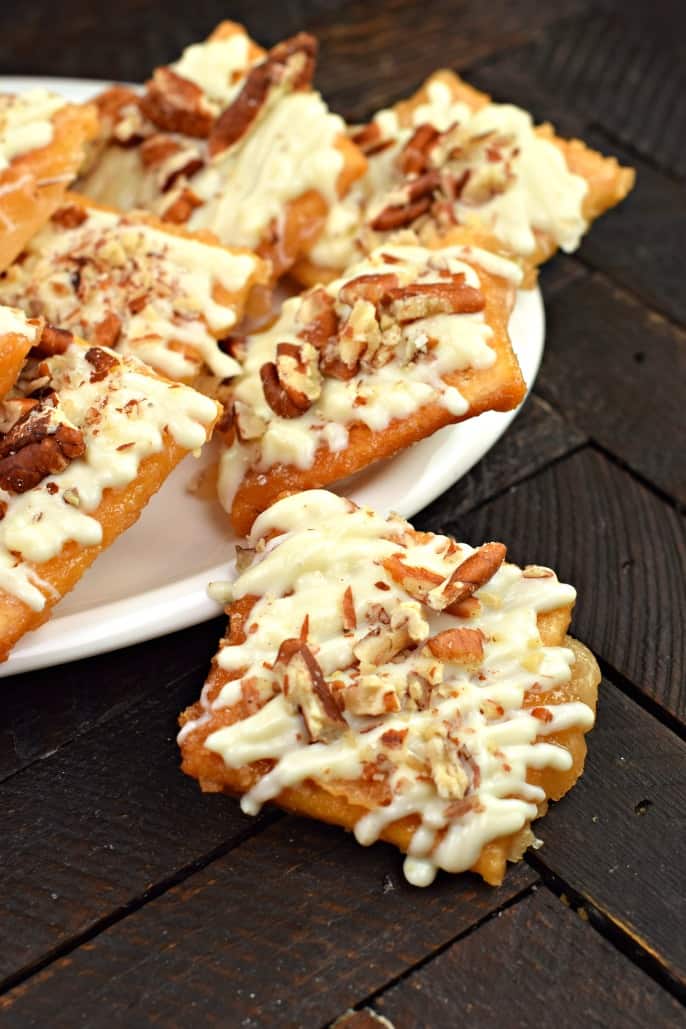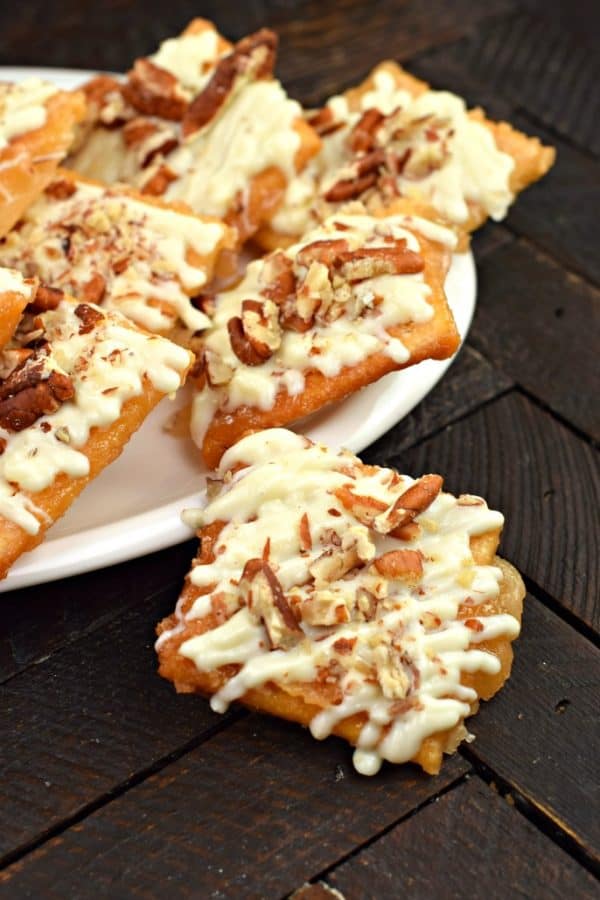 Ingredient Notes
Saltine crackers – The classic salted cracker is best for making toffee.
White chocolate – I use these melting wafers for drizzling over the toffee. They melt easily and create a perfect velvety smooth layer of chocolate once set.
Pecans – Roasted and salted pecans chopped into small pieces. If you need a nut free version, go ahead and leave the nuts off for a delicious plain white chocolate toffee.
Step by Step Instructions
STEP 1. Prepare the crackers
Line a baking sheet with saltine crackers and preheat the oven to 375 F.
STEP 2. Boil butter and sugar
Melt butter in a pan on the stove top, add sugar and bring the mixture to a strong rolling boil while stirring constantly. Remove from heat and pour it immediately over the sheet of crackers.
STEP 3. Bake toffee
Bake the crackers for about 15 minutes, until the toffee is brown and caramelized. Remove the toffee from the oven and transfer to a sheet of parchment paper.
STEP 4. Chocolate drizzle
Melt the white chocolate according to package directions. Drizzle it over the toffee and immediately sprinkle with chopped pecans. Let the toffee rest until the chocolate sets.
Tips & Tricks
Place a sheet of parchment paper over your baking sheet before adding the crackers. This helps prevent the toffee from sticking as the crackers bake.
Store toffee in an airtight container at room temperature for up to 5 days.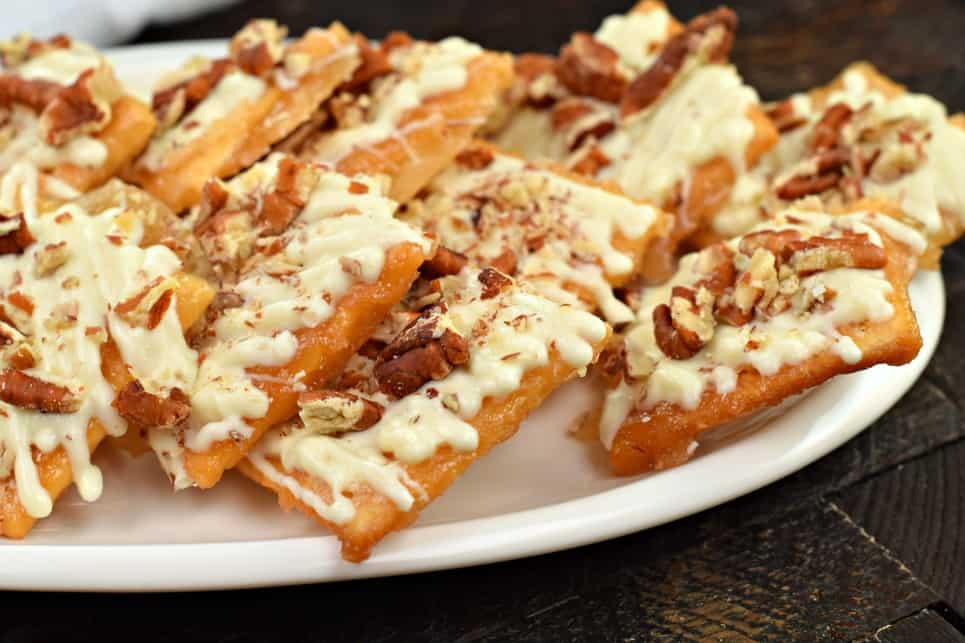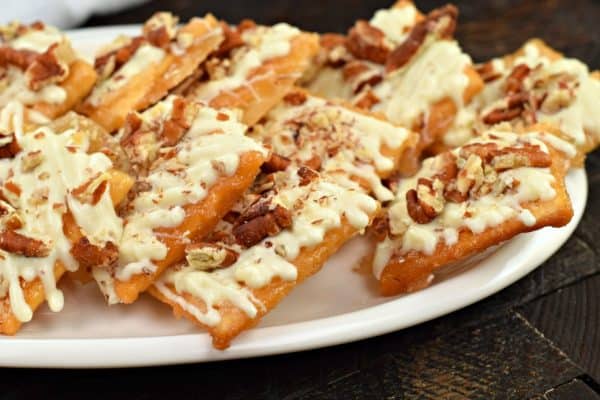 Recipe FAQs
Do you need a candy thermometer to make this toffee?
No, that's why I love this method of making homemade toffee!
Can this be made with dark (or milk) chocolate?
Sure. Any melted chocolate would taste delicious spread onto saltine toffee!
How do you remove the toffee from the baking sheet?
Use a small flexible spatula to scoop the baked toffee off the sheet. It may take a little wiggling to loosen the toffee, especially if you don't line your baking sheet with parchment paper first.
For extra ease of removal, you can also spray your parchment with baking spray prior to adding the crackers.
There you have it! An easy, impressive and completely scrumptious holiday toffee recipe to share with family and friends.
Don't forget to save a few pieces of this White Chocolate Pecan Toffee for yourself!