This crispy, buttery White Chocolate Pecan Toffee recipe is made with saltine crackers! Your family and friends will enjoy this holiday treat as much as you love surprising them!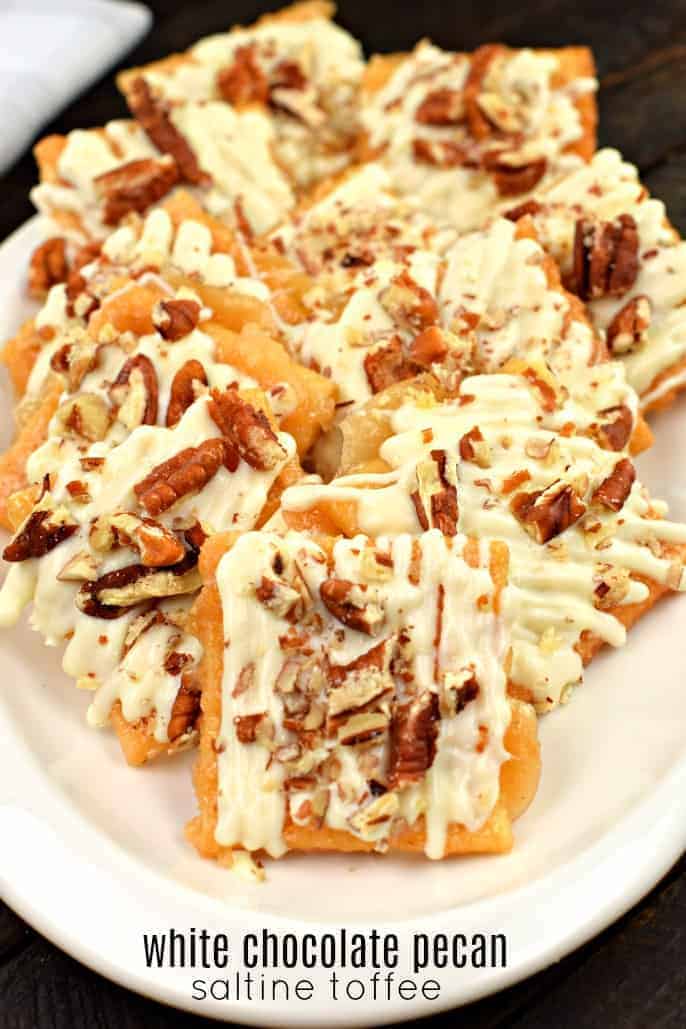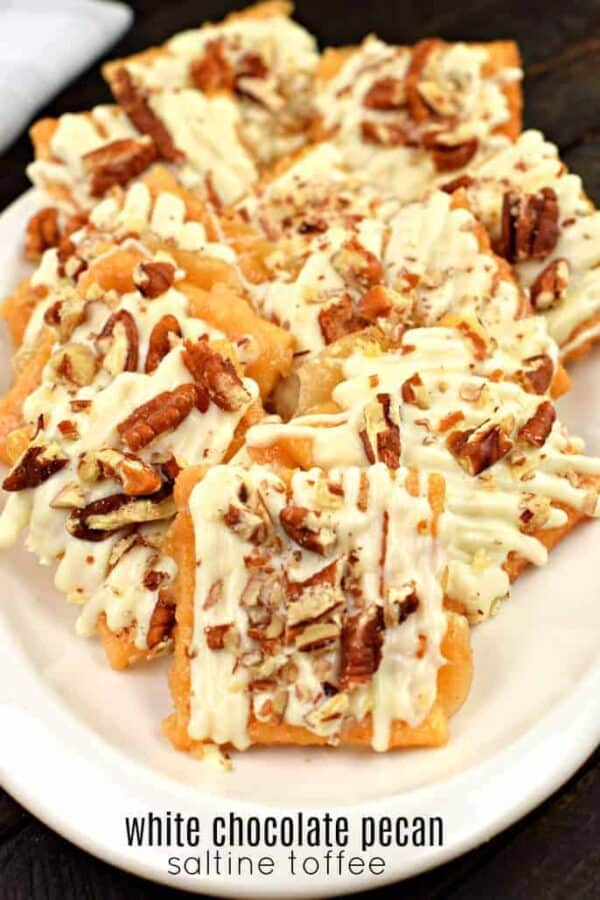 It's that time of year again when I start cranking out the Christmas treats. If you're new around here, be sure to click around in my archives and check out all my candy and holiday recipes!
Today's White Chocolate Pecan Toffee was inspired by our trip to Michigan this summer. We visited so many candy shops, and while YOU may go in to enjoy the treats, I go in for recipe inspiration. I mean, I'm only going to go to Mackinac Island once in my life, I need to recreate those delicious memories to enjoy all the time, haha!
I have dozens of holiday cupcakes and cookies here on Shugary Sweets, but what you'll find me giving as gifts this year is my homemade candy. I have a ridiculous amount of fudge and toffee recipes to choose from. Not including all the new ones I come up with each year, like today's White Chocolate Pecan Toffee recipe! Last year I made this Peppermint Toffee and I was smitten. I wasn't sure I would love the peppermint candy with the buttery toffee…but I do. Plus it's adorable to add to your cookie trays, and tastes better than Peppermint Crack!
I've also made S'mores Toffee, Peanut Butter Toffee, Oreo Toffee, and Caramel Coconut Toffee. As you can see this ain't my first toffee rodeo! When I saw a White Chocolate Pecan Toffee in a candy shop in Michigan, I knew I found my next toffee recipe! And it doesn't disappoint. It's buttery and crunchy and wonderful. I think you'll agree once you make it yourself!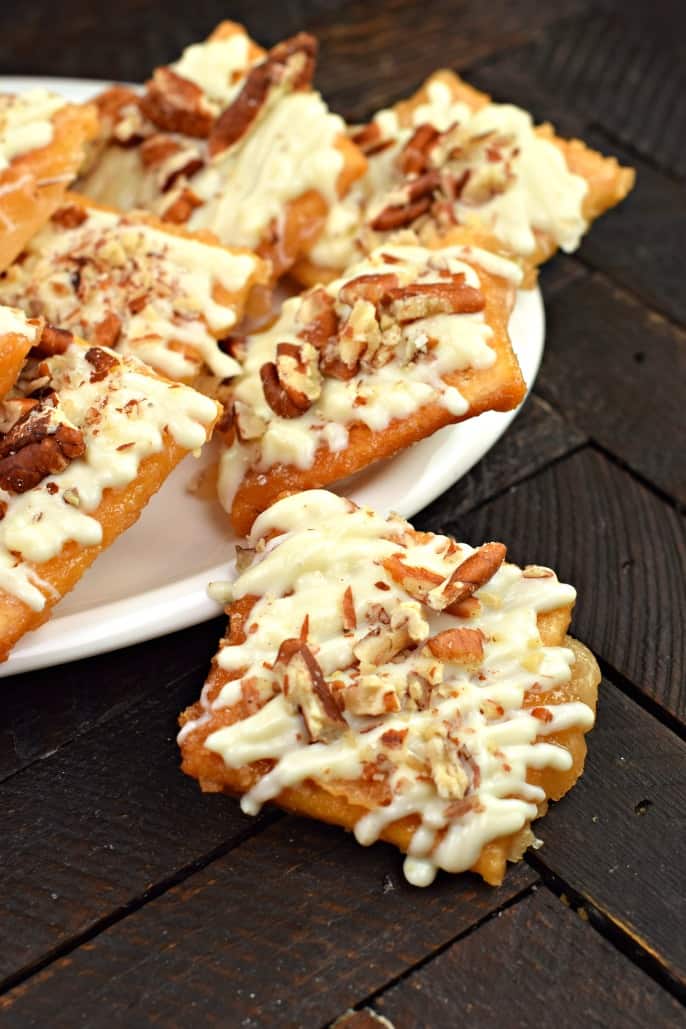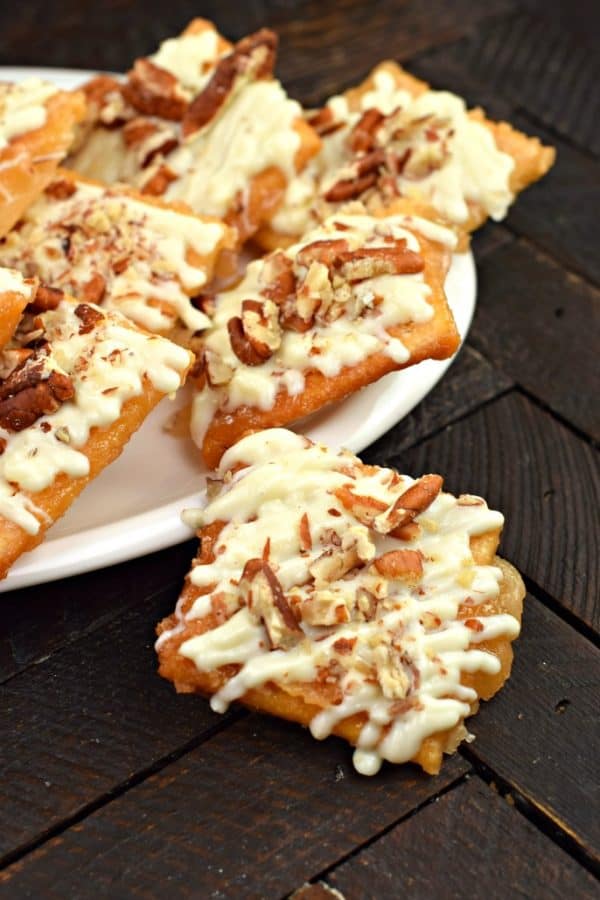 How to make Saltine Toffee:
Line 35-40 saltine crackers on a 15 x 10 x 1-inch baking sheet. Do this first!
Melt your butter in a saucepan on medium heat, then add your sugar. Bring this mixture to a rolling boil.
Pour mixture over crackers, slowly, making sure that all the crackers have been covered in butter!
Bake this for about 13-15 minutes. You want to make sure that the crackers look brown and caramelized.
I prefer to remove them immediately from the pan and let them cool on a piece of parchment paper. I like the perfect square toffee (as you can see with this traditional English Toffee recipe I make).
Once you've placed all your toffee on the parchment paper, melt your white chocolate wafers (I love using the Ghirardelli brand because they melt so smooth and taste delicious). Place your melted white chocolate into a large ziploc bag, then snip off the corner and drizzle GENEROUSLY over each cracker.
Sprinkle immediately with chopped pecans and allow to set (about 15-20 minutes). Store in airtight container at room temperature for up to 5 days.
As you can see, making cracker toffee is super simple. Use my basic Saltine Toffee recipe as your start, and get creative. I also make Brickle Bars which are similar, but use graham crackers instead of saltines. I haven't decided which version I like best yet 🙂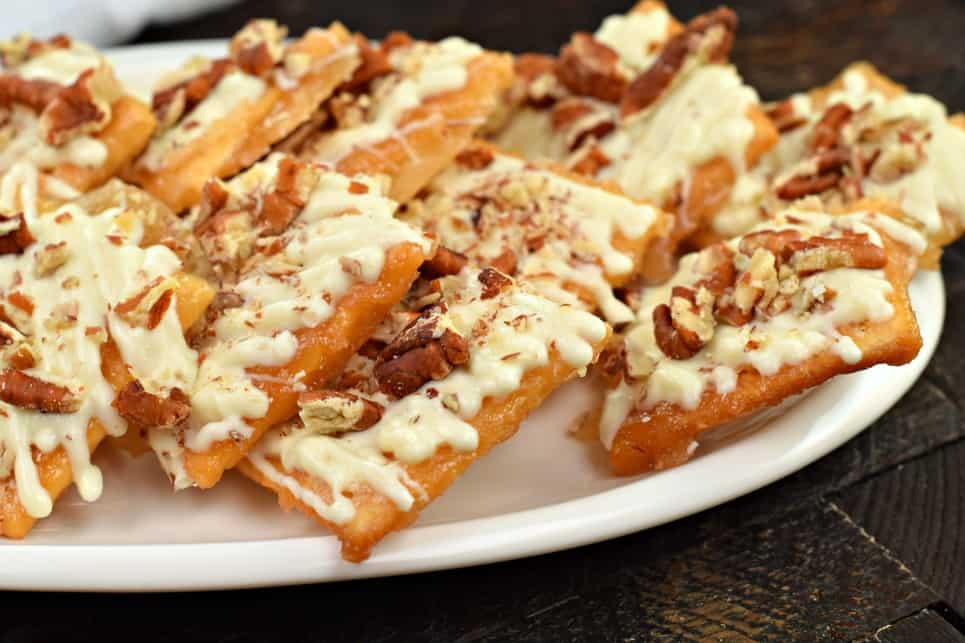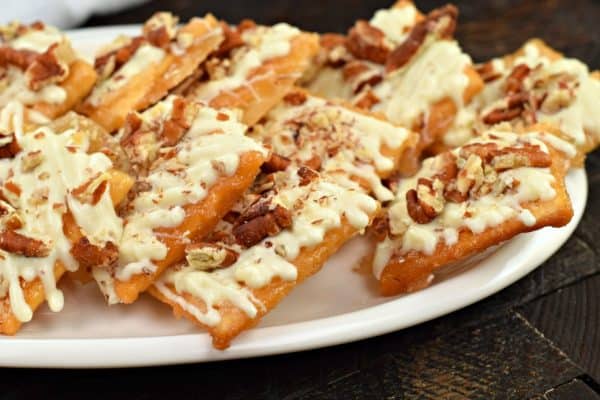 I created a fun little group on facebook and I'd love for you to join in! It's a place where you can share YOUR favorite recipes, ask questions, and see what's new with Shugary Sweets (so that you never miss a new recipe)! If you'd like to check it out, you can request to join HERE.
Connect with Shugary Sweets! Be sure to follow me on my social media, so you never miss a post!
Facebook | Twitter | Pinterest | instagram
Yield: 35-40 pieces
White Chocolate Pecan Toffee
This crispy, buttery White Chocolate Pecan Toffee recipe is made with saltine crackers! Your family and friends will enjoy this holiday treat as much as you love surprising them!
Ingredients
35-40 saltine crackers
1 cup unsalted butter
1 cup granulated sugar
1 cup chopped pecans
Instructions
Line a 15x10x1-inch baking sheet with the saltine crackers. Set aside. Preheat oven to 375°F.
In a small saucepan over medium-high heat, melt butter. Add in sugar and bring to a rolling boil, stirring constantly. Once it begins to boil, remove from heat.
Pour over saltine crackers. Place in a 375°F oven for about 13-15 minutes, until crackers are browned and caramelized.
Remove from oven and using a small spatula, place each piece of toffee onto a sheet of parchment paper on the counter.
Melt white chocolate wafers and spread generously over toffee. Immediately sprinkle with chopped pecans. Allow chocolate to set and store in airtight container for up to 5 days.
Looking for more holiday candy recipes?