Melt in your mouth Christmas Meringue Cookies are the perfect holiday treat. Light and airy cookies with a peppermint flavor, these look so pretty on your holiday dessert plates.
If you love making meringue cookies, be sure to try our easy Chocolate Mint Meringues or Pumpkin Meringue Cookies. Same easy process, with delicious melt in your mouth flavor.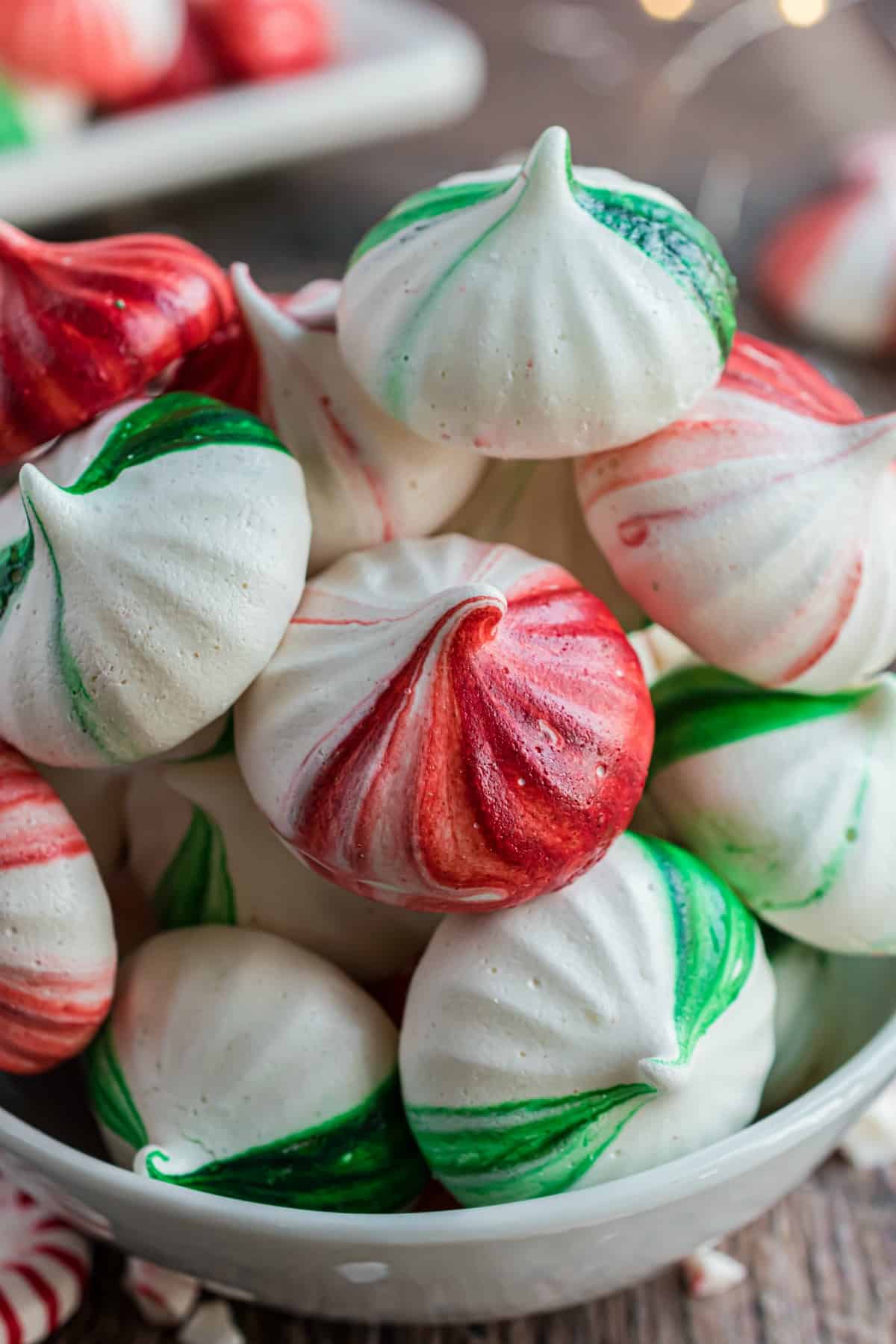 Meringue Cookies
Aren't these meringue cookies adorable?
I originally saw the idea for adding stripes to mint meringue cookies on a Martha Stewart recipe and couldn't wait to give them a try.
As much as I love meringue cookies of all kinds, I don't make them very often outside of special occasions.
Here's why: They are so light with that melt-in-your-mouth texture that it's too easy to eat a whole bowl without feeling full. I can't trust myself to avoid overdoing it!
One upside to eating "accidentally" more meringue cookies than I intended? They are made with egg whites which are an excellent source of protein!
I originally made these around the holiday season and I still love including them on a Christmas cookie tray.
They look beautiful next to decorated sugar cookies and chocolate fudge. Even though they're easy to make, there's something about a meringue that's a little extra impressive!
More Christmas Candy: Peanut Butter Fudge| Almond Truffles
Ingredient Notes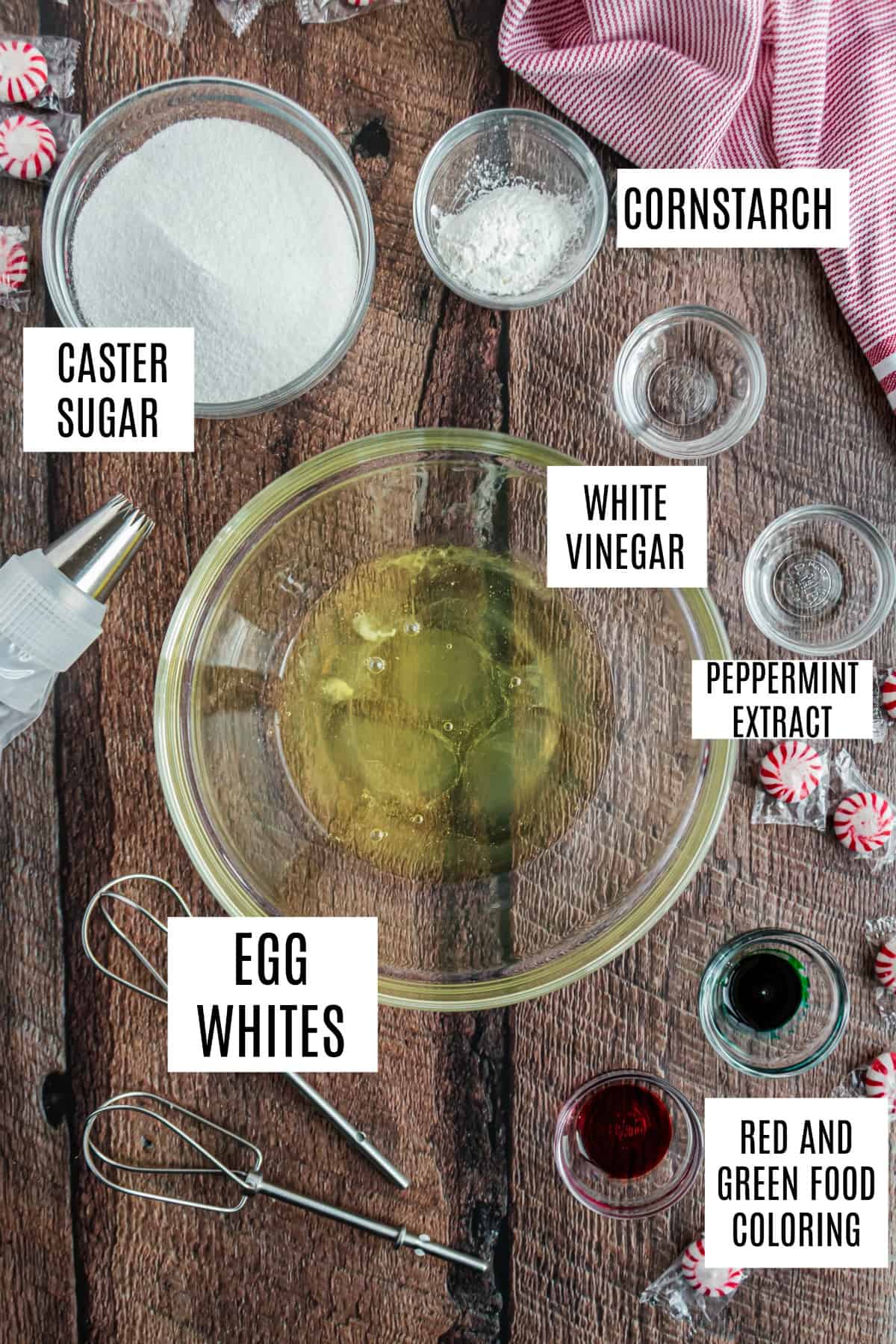 Meringues require very few ingredients, so I usually find myself making them at the end of a baking spree when I'm low on flour.
You don't need any flour or butter to make meringue cookies!
Egg whites – save the egg yolks for homemade lemon curd!
Cornstarch
Peppermint extract -not to be confused with MINT extract, they are not the same.
White vinegar 
Caster sugar –  Not to be confused with powdered or confectioner's sugar. Caster is finer than granulated sugar but coarser than powdered. It's sometimes labeled as "superfine" sugar in the grocery store.
Gel food coloring – I used a combination of red and green to keep with the peppermint holiday theme.
Easy Instructions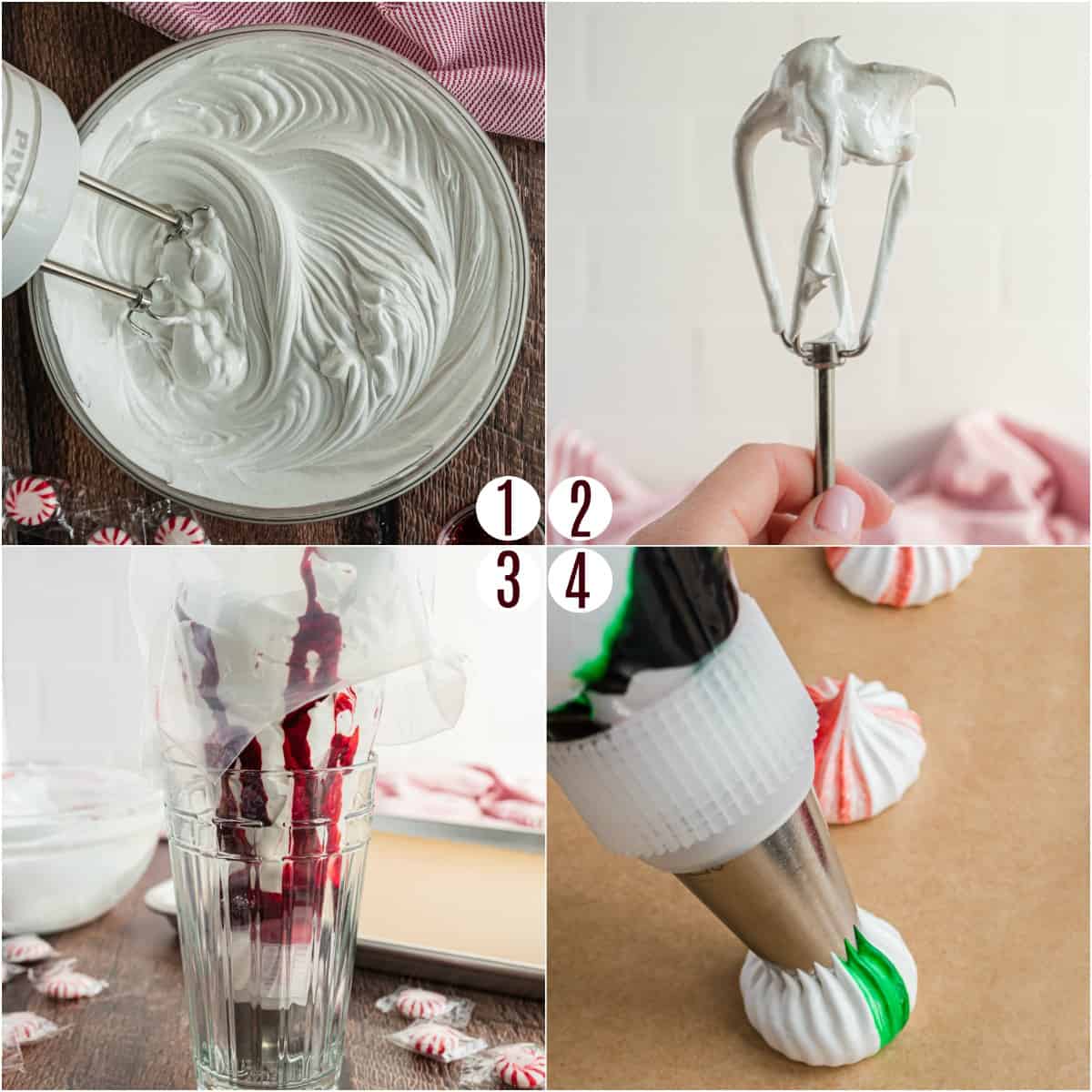 You're going to love how easy it is to make homemade meringue cookies! After beating egg whites and sugar into stiff peaks, you bake them at a much lower temperature than most cookies, creating cookies that are light as a cloud!
STEP 1. Beat egg whites on high until foamy (about 30 seconds).
STEP 2. Add vinegar and cornstarch and beat until soft peaks form (about one minute). Slowly add in the caster sugar, in a steady stream. Add peppermint. Beat for about 4 minutes until stiff peaks form.
STEP 3. In pastry bag with star tip, draw lines on inside of bag with red gel food coloring. Fill bag with half of meringue mixture. Pipe one inch star cookies onto a parchment lined baking sheet. Repeat with other half of meringue mixture and green food coloring.
STEP 4. Place in a 200 degree oven for about 80 minutes, turn oven off and leave in there overnight.
Keep these minty meringues in an airtight container at room temperature up to a week.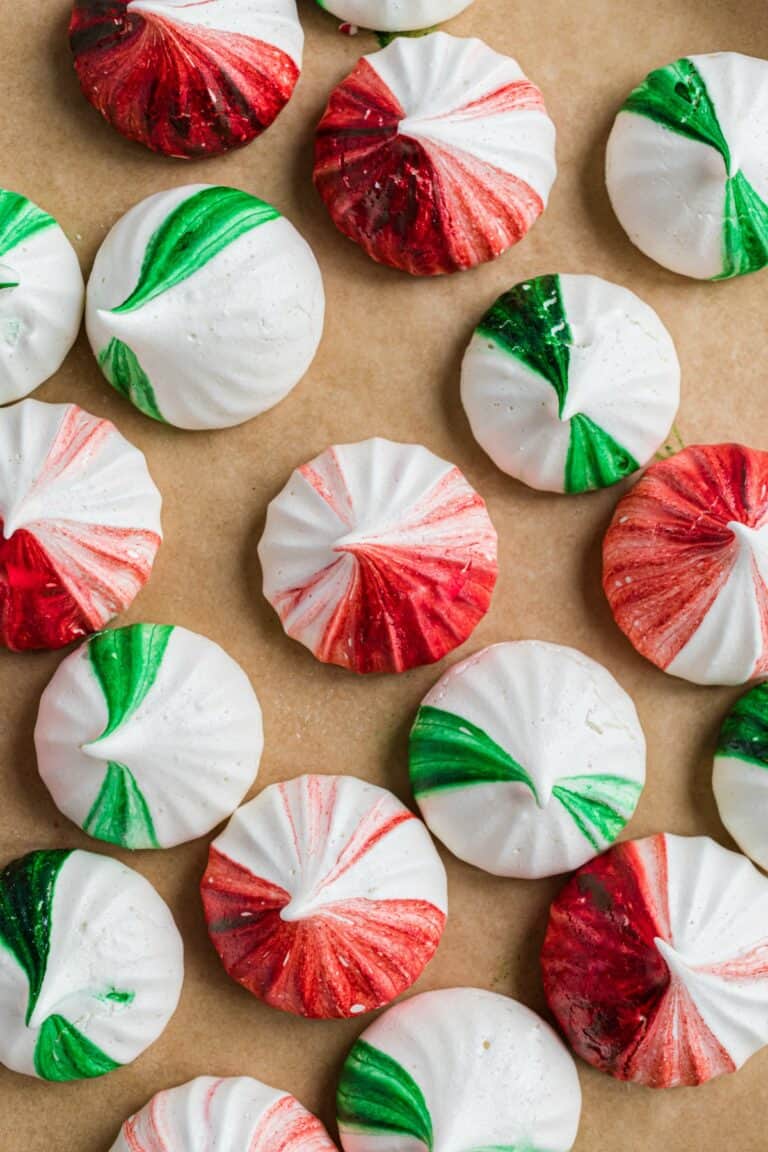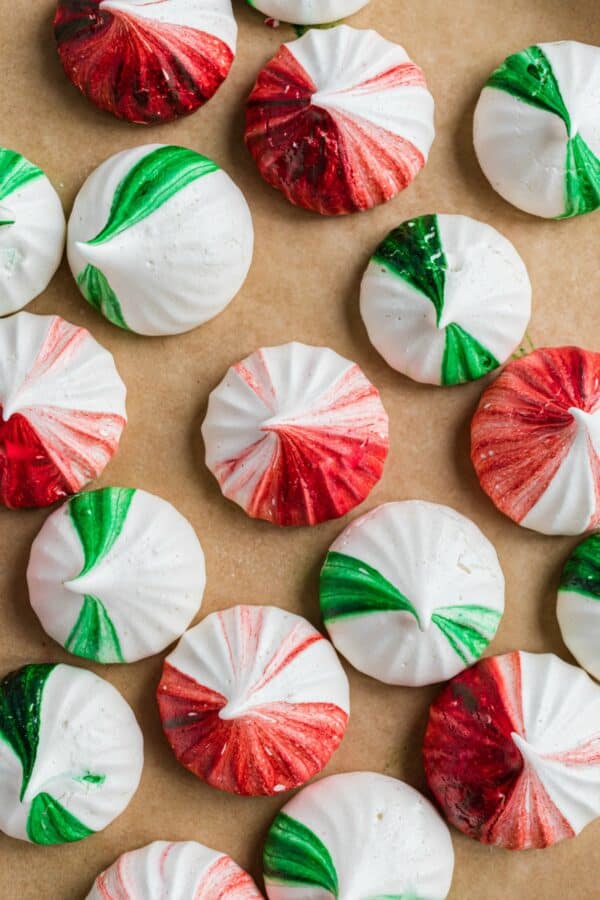 What to substitute for caster sugar
There is no substitute for caster sugar but you can make it yourself from granulated sugar.
If you can't find (or don't have) caster sugar, you can pulse regular white sugar in the food processor for a few seconds until it's made finer.
Do NOT substitute powdered sugar! It's much finer than caster and will not work in this recipe.
Tips and Tricks
While meringues aren't complicated, the technique you use can make or break how well the cookies turn out. Here are some of the tricks I've learned over the years for getting perfect meringue cookies!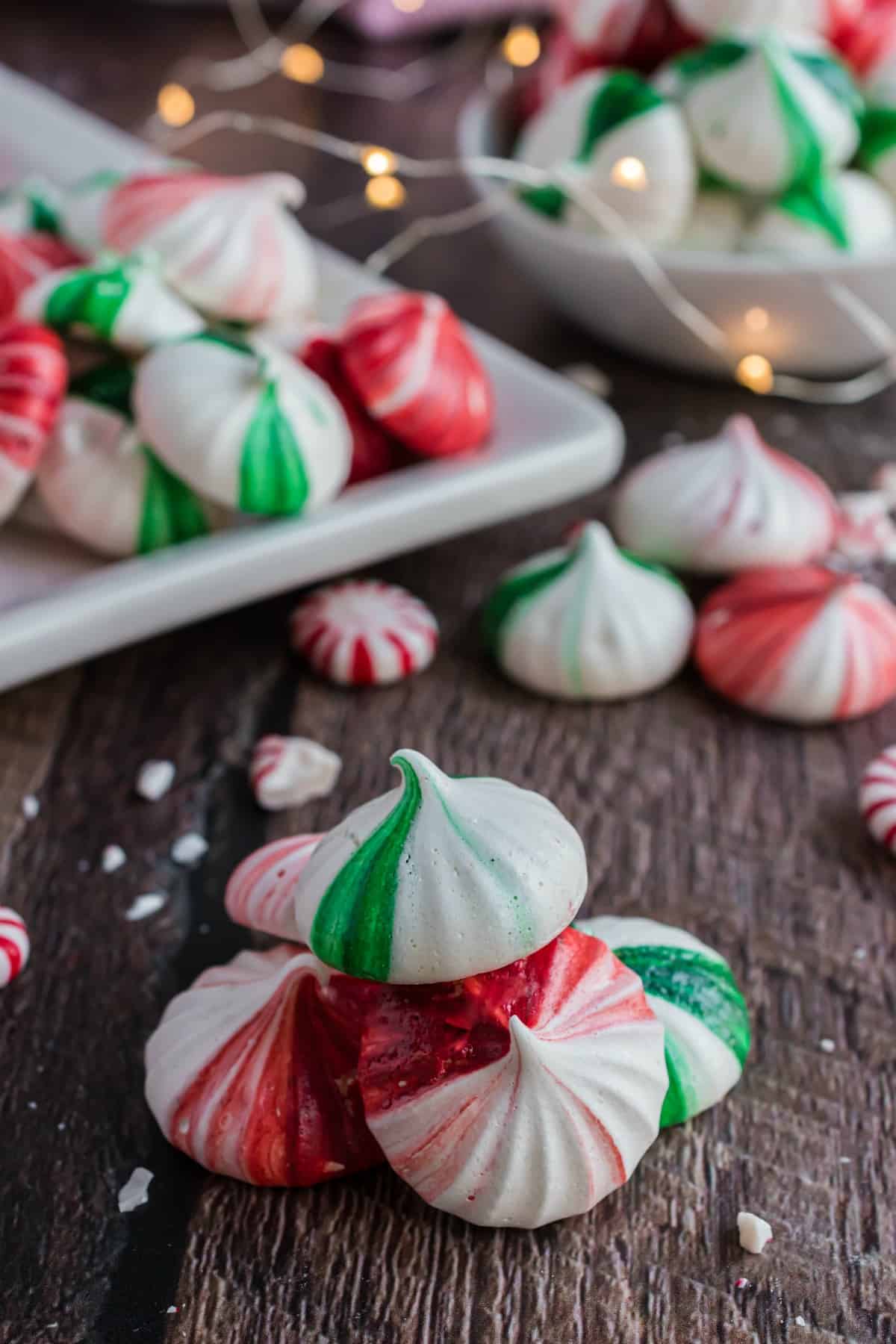 Don't add the sugar too soon. Wait until the egg whites look nice and foamy before adding in the sugar. Adding it too early may mean the meringue doesn't fluff.
Carefully separate the yolks from the whites. This is a time to be extra careful with your egg dividing! Any bit of yolk will make it harder to get the stiffened texture you need in meringe cookies.
Check your oven temperature! If your oven runs hot, be careful here. The idea behind baking these for so long at an ultra low temperature is that they're really drying out more than they're baking in a typical sense. An oven that's too hot will kill the light consistency of the cookie.
Meringue cookies are best eaten soon after baking. Yes, they are good for up to a week but they're BEST eaten within a few hours of getting out of the oven.
Recipe FAQs
How can you tell if your meringue cookies are done baking?
When done baking, meringue cookies will be light and crisp without browning. They will be easily lifted from parchment paper and the bottoms are dry.
Why do my meringue cookies crack?
Meringue cookies will crack if your oven temperature is too high. Be sure to use an oven thermometer for an accurate reading. It can also happen with changes in temperature, so keep the oven door closed and no PEEKING.
How do you store meringue cookies?
Meringue cookies should be stored in an airtight container at room temperature for up to one week.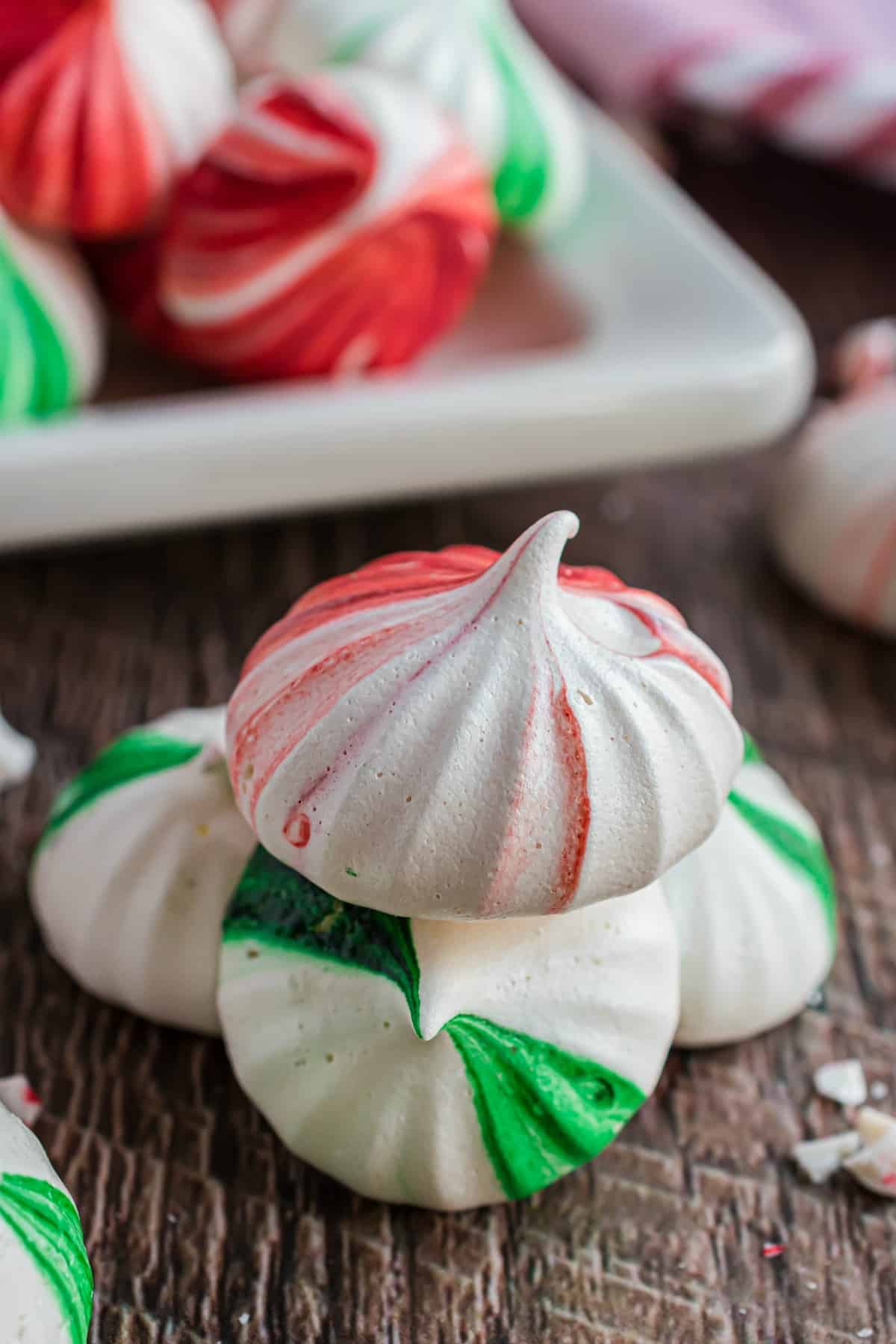 Mint lovers, this meringue cookie recipe is for you! With just a few ingredients and a bit of patience, you can make perfect Mint Meringues right at home. Add these to your holiday baking list or give this recipe a whirl anytime you want a taste of heavenly minty sweetness!