One of my favorite flavor combinations ever: Chocolate Mint Meringue cookies are so easy to make, and so versatile too! Learn how to make the best minty chocolate meringue cookies with this easy recipe.
I can never resist a meringue cookie. Whether it's pumpkin spice meringues or these strawberry meringue cookies, I'm the one heading back to the dessert table for seconds (or thirds).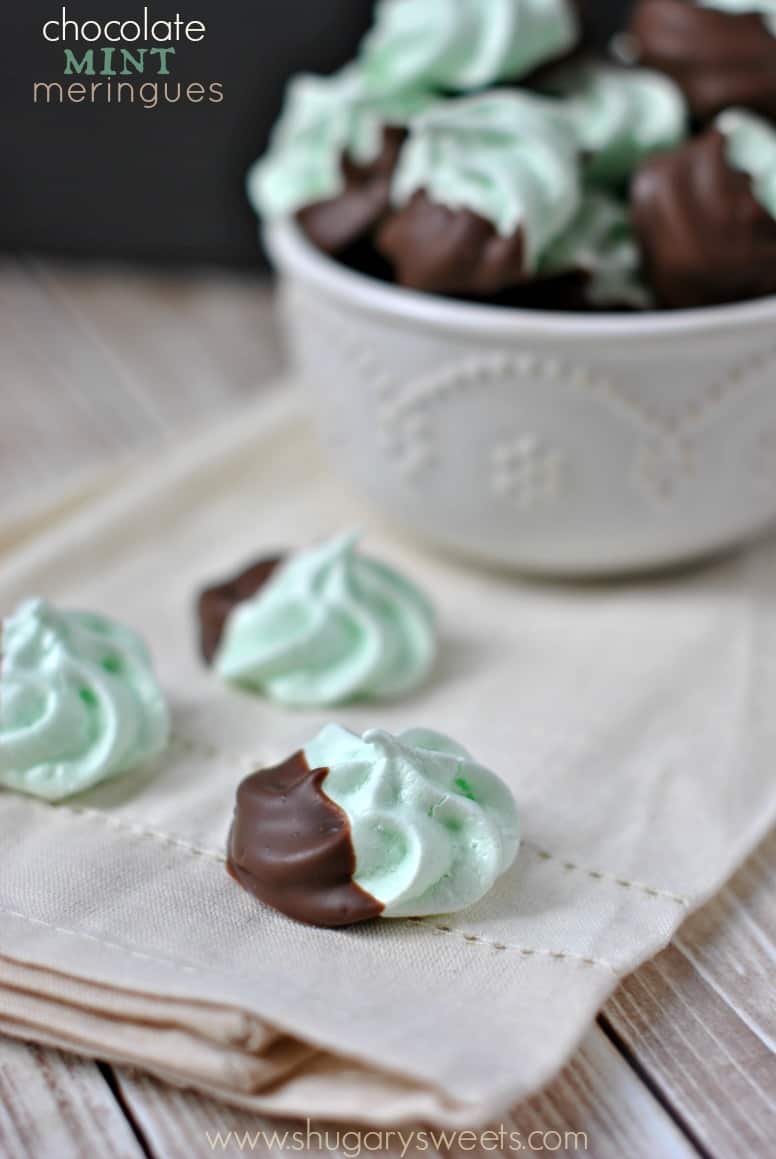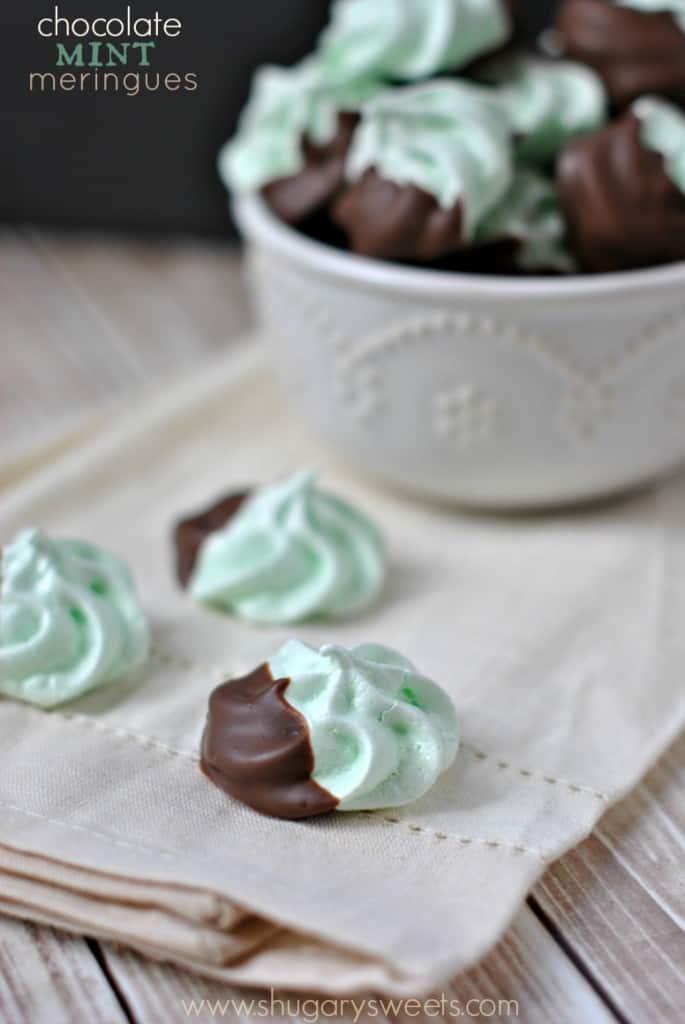 Why These Cookies are Best
You won't believe how beautiful these Chocolate Mint Meringues look on a platter. The contrast of pale green and dark chocolate looks almost too good to eat.
The flavor is similar to an Andes chocolate mint or a thin mint Girl Scouts cookie, only with the shape and texture of a perfect meringue. You are going to be blown away by these cookies!
Try our classic chocolate meringues next! We top them with extra chocolate chips for double the chocolate flavor!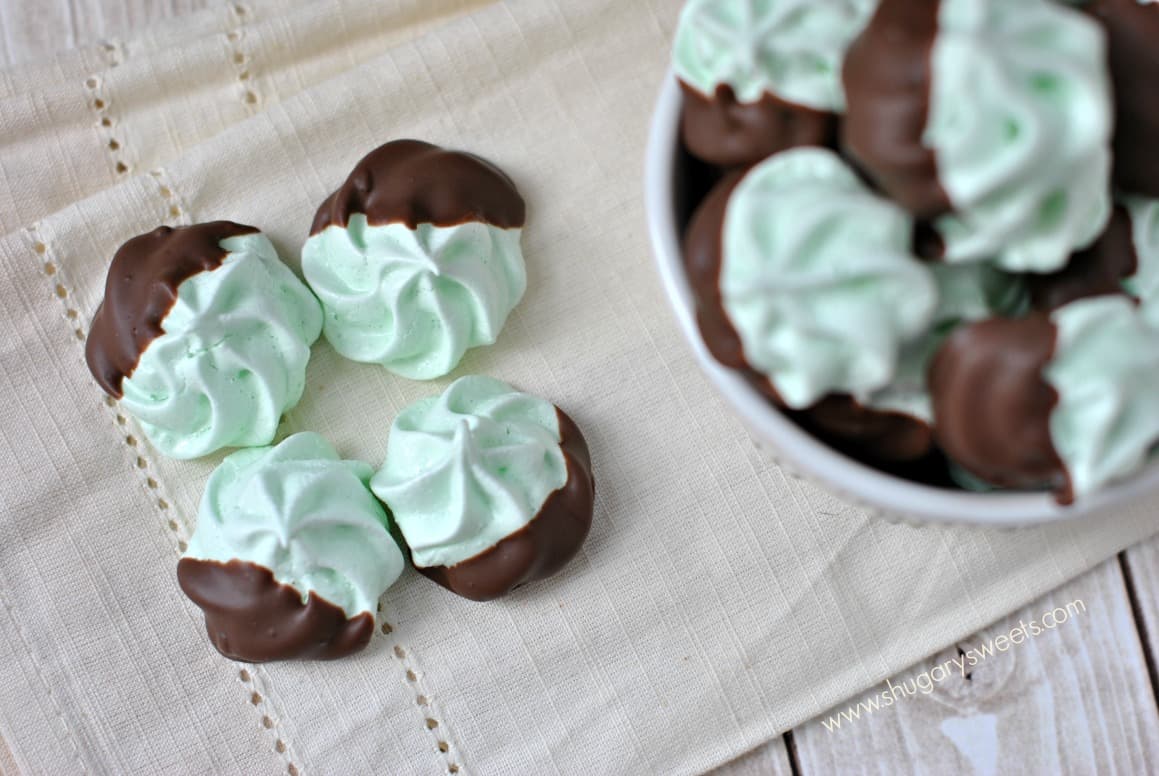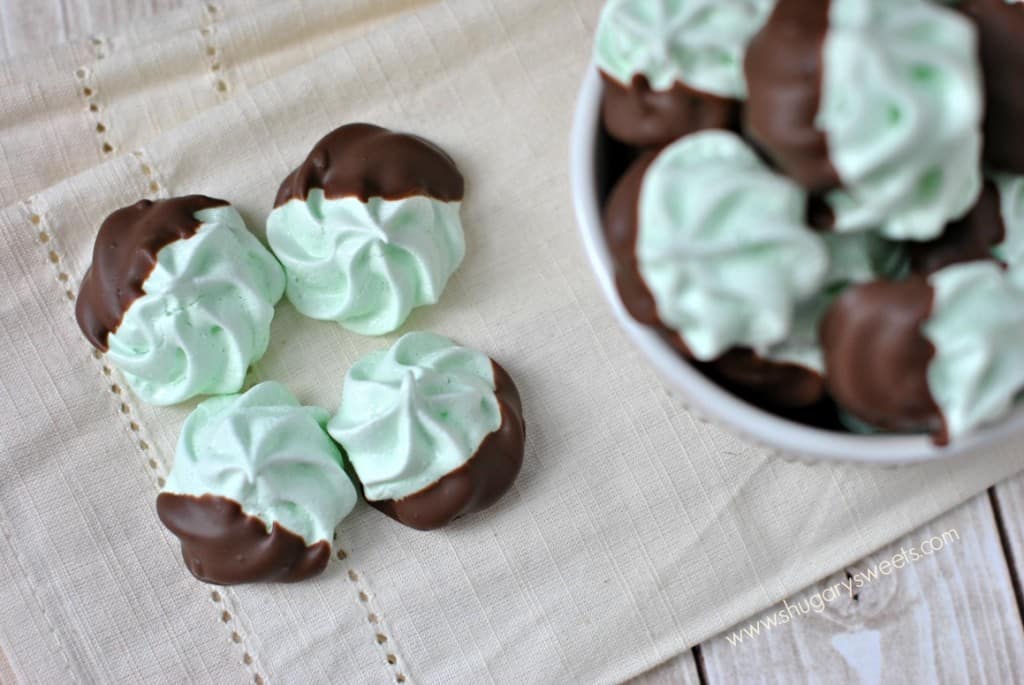 Meringue Ingredient Notes
Making cloud-like meringues a very specific balance of ingredients.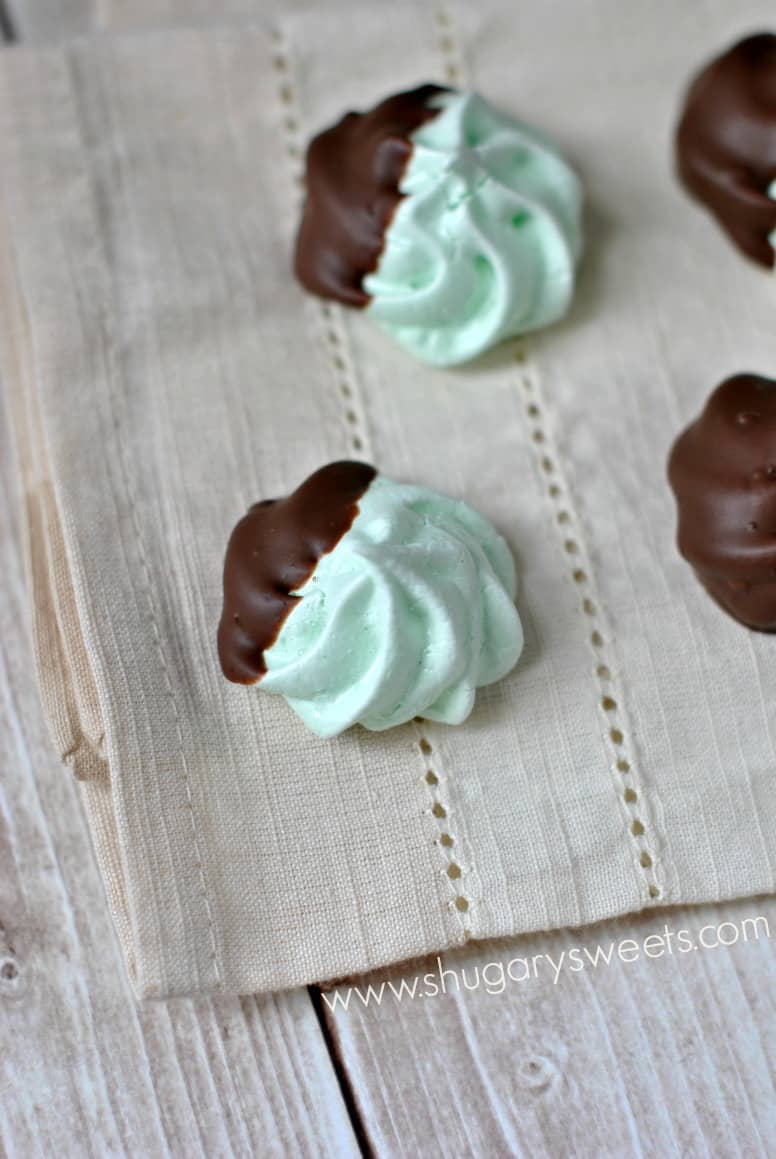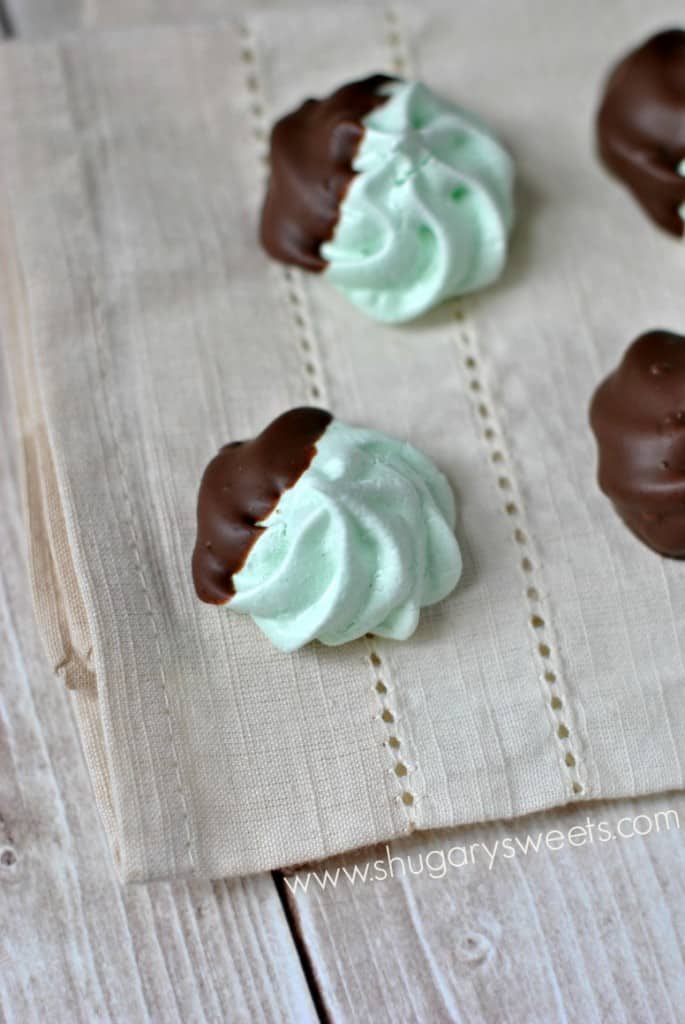 Meringue Tips and Tricks
Recipe FAQs
Why isn't my meringue getting stiff?
Meringue will not stiffen if it's come into contact with excess moisture. If your house is humid or a drop of liquid got in the bowl (whether from a stray yolk or water droplet) you will have a hard time getting stiff peaks. That's why it's extra important to make sure your mixing bowl is bone dry before making meringue.
Can I make these without an electric mixer?
It is certainly possible to make meringue cookies without an electric mixer. Otherwise what would all those generations of pastry chefs have done before the advent of electricity? That said, it is exhausting to whisk meringues by hand without the aid of a high powered mixer. If you try it by hand, make sure to use a heavy wire whisk and get ready for a real wrist workout!
It is also more difficult to incorporate enough air.
That's why I strongly recommend using a stand mixer with a beater attachment or hand held electric beaters for chocolate mint meringues, and all my meringue recipes!
How should meringue cookies be stored?
Store the meringues away from humidity at room temperature. They keep well for about 2-3 weeks depending on the humidity of your home.
Should meringues be kept covered?
This depends on where you live and the humidity levels in your home. I find my meringue stay crisp on the outside for longer if I store them uncovered. If you are in a humid environment, storing them in an airtight container may work better to keep out excess moisture.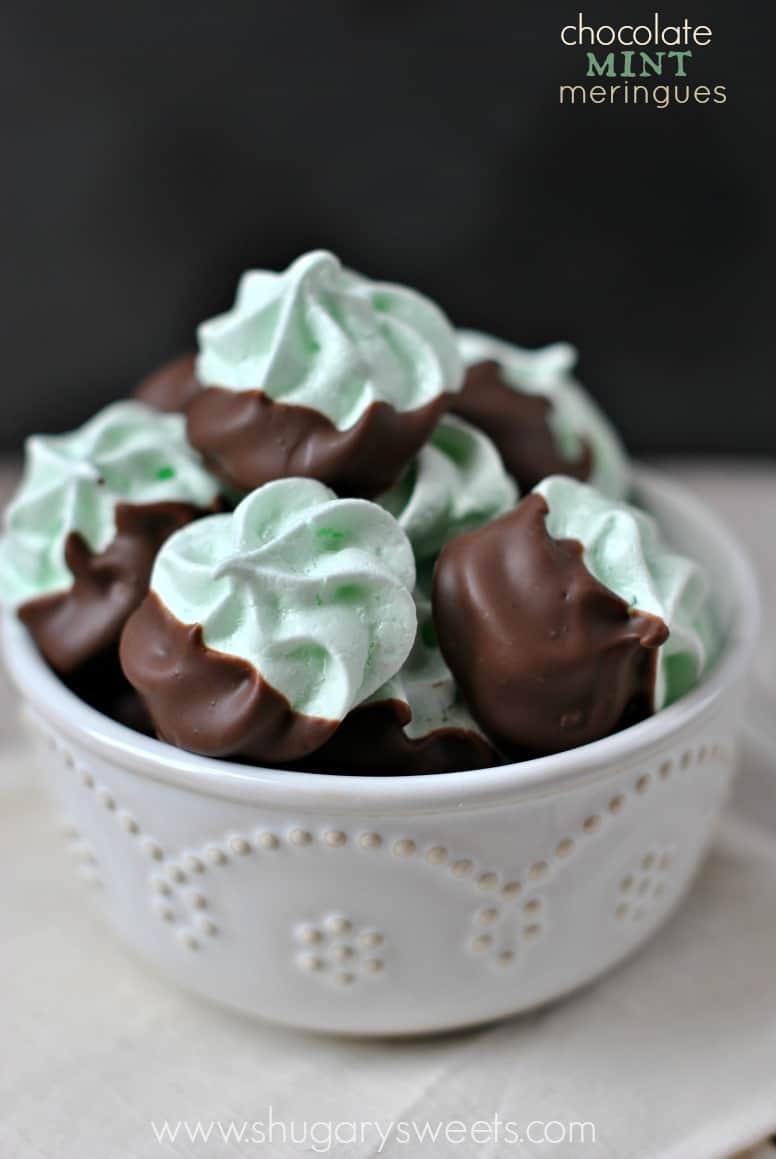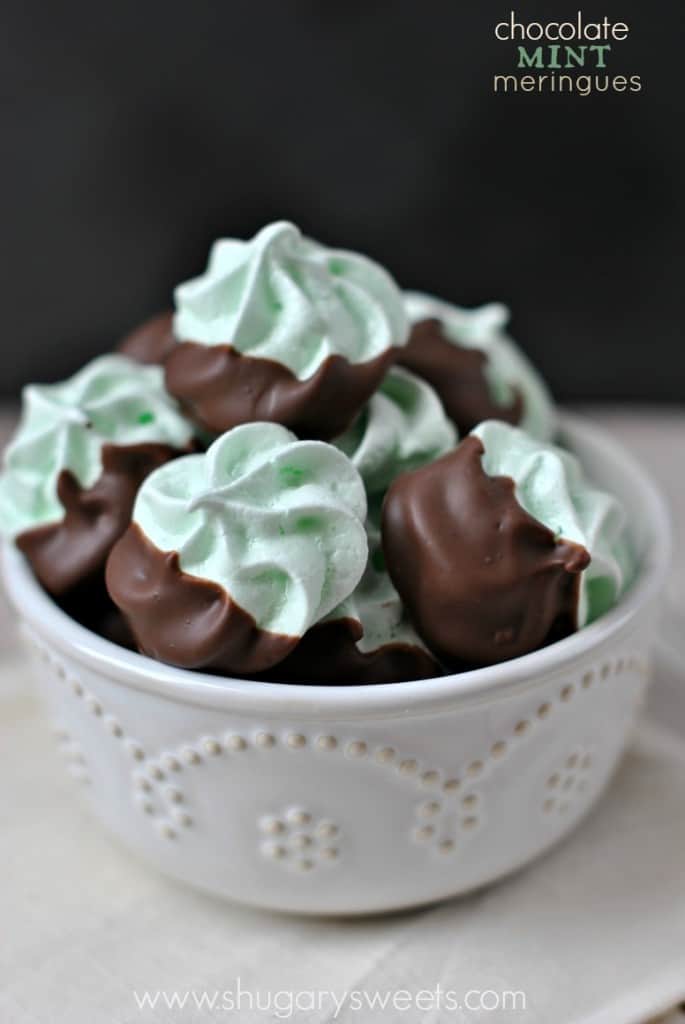 More Cookie Recipes
Chocolate mint meringue are delicious minty chocolate-dipped clouds of cookie bliss. An easy, elegant and satisfying treat!