Strawberry Meringues
Delicious, festive, melt in your mouth Strawberry Meringues dipped in chocolate! My favorite cookie recipe!
Be sure to sign up for my email…new recipes in your inbox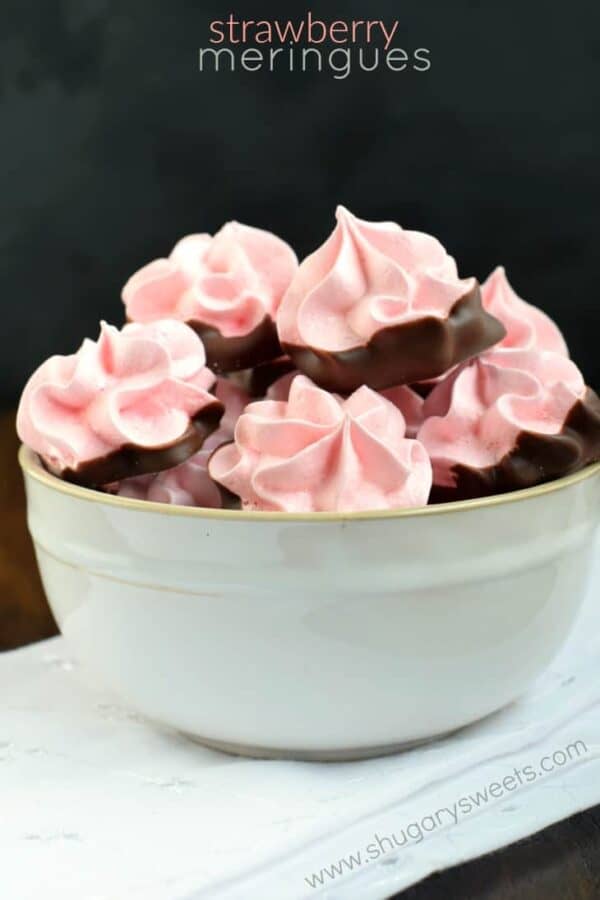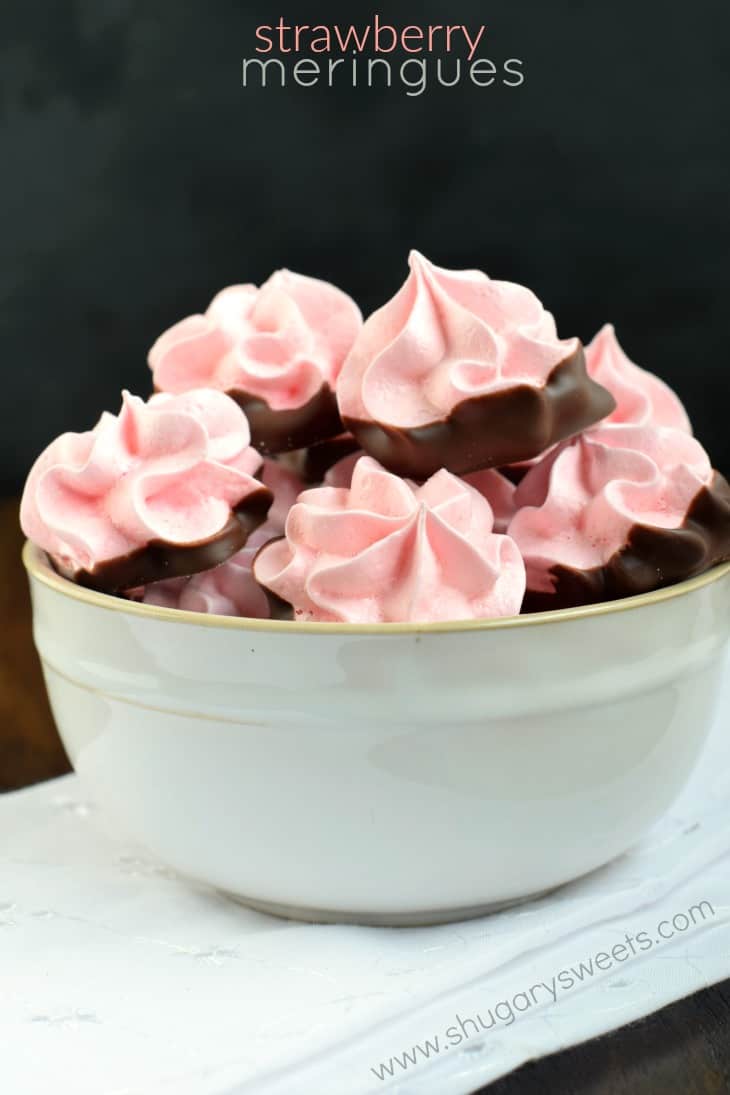 And the award goes to…..
I love movies. I love going to the movies. I love the popcorn I get at the movies. I can see a dumb movie and still have a great time, because I love the experience.
But you know what drives me crazy? All the award shows.
Actors and actresses make more money than the average person. Clearly. Let's set up an example.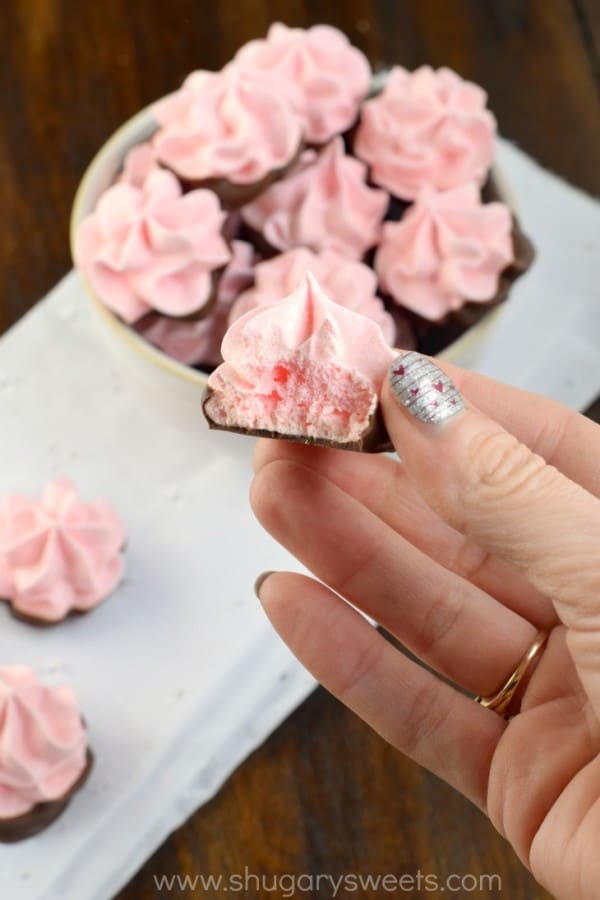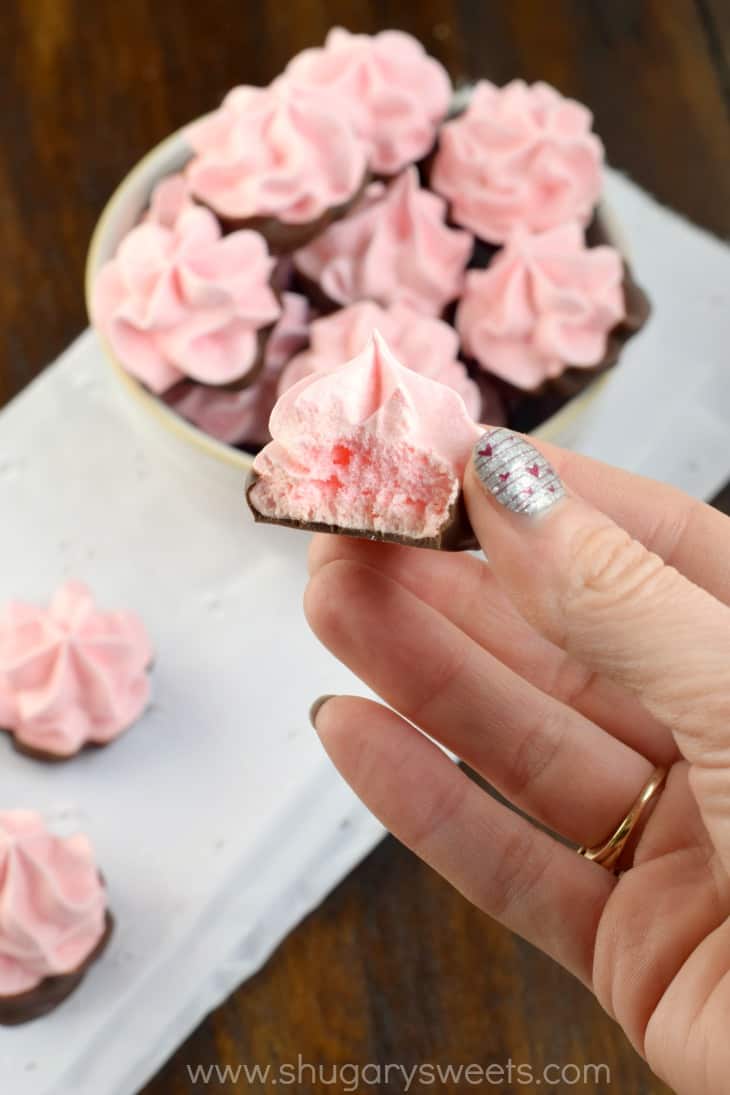 Betty Jo Nurse works 40 hours a week, plus overtime at her hospital job. Caring for people day in and day out. At the end of the year…is she hoping to get an AWARD? Best nurse award? Do we have a TV event for the Nurse of the Year? (because we should….)
Seriously, my point is this. Do away with the awards please. Your award is the fact that you make so much money and your movie was a hit at the box office. Do we really need to see these people dressed up in clothes we can't afford, giving speeches that make us want to barf, and talking about the free swag that costs more than my home?
Okay, I'm a little bitter, haha.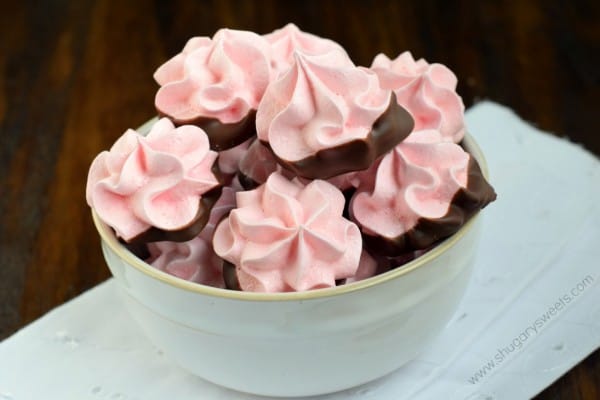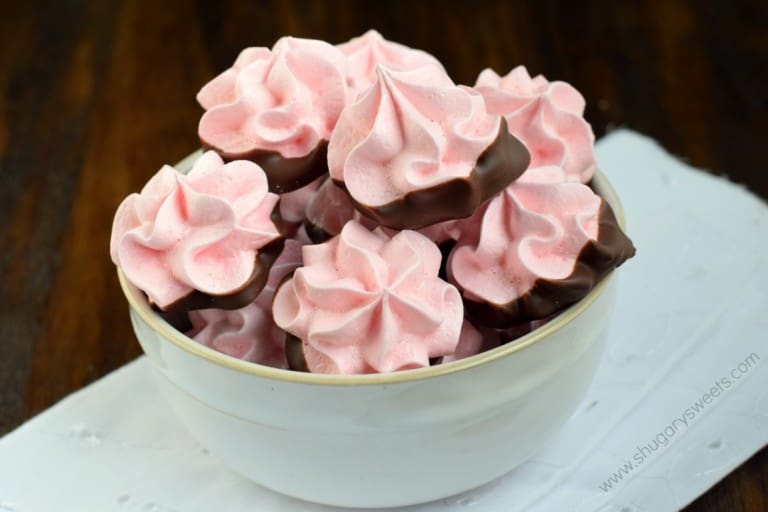 Let's give an award instead for this….Strawberry Meringues.
These are melt in your mouth delicious. The sweet strawberry meringue is finished with decadent, dark chocolate! Of course, I used my favorite Ghirardelli dark melting wafers. They are so smooth, and they melt perfectly EVERY. SINGLE. TIME.
Well, if you're going to have to watch an awards show, I suggest you at least have the perfect treat!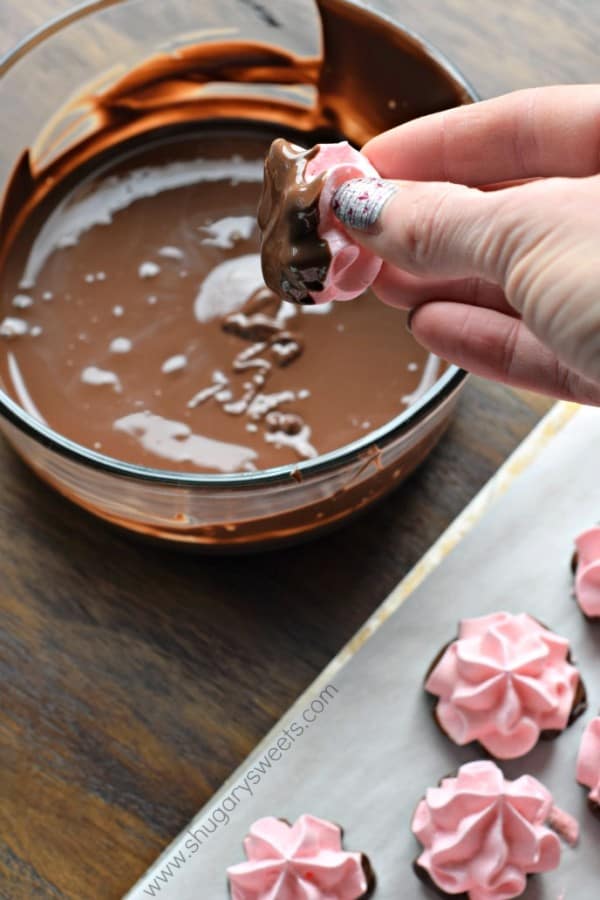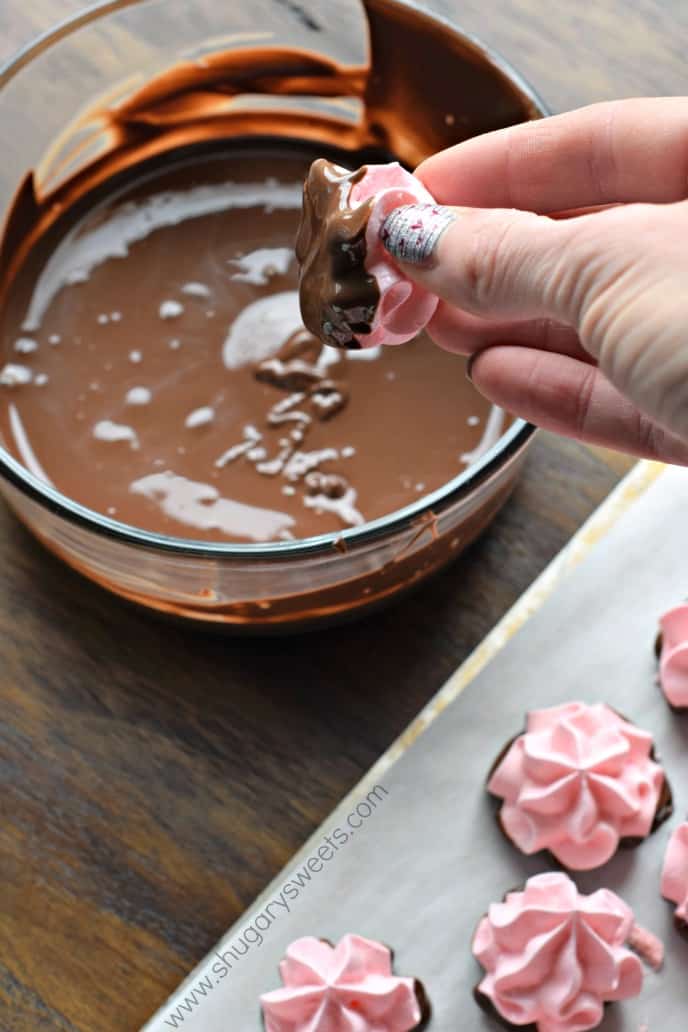 A few tips about making meringue cookies:
Bake them at a low temperature for a long time. I usually do 200 degrees for 90 minutes.
Use parchment paper! Easy to clean up, and mine never get browned bottoms.
Once done baking, turn oven off and let them set in the oven for hours. I usually make them in the evening, then let them sit in the oven overnight.
Don't bake on a humid day. Don't store them when it's humid in your house.
Use JELL-O gelatin powder to add color and flavor (I usually add in a couple tablespoons of the powder).
If using food coloring, add it before beating to stiff peaks. It helps distribute it more evenly. I also find gel food coloring works better than liquid.
Use a pastry bag and tip for swirls and roses. Or use a spoon and drop by tablespoon onto parchment paper. You decide.
Use good chocolate melting wafers for dipping your meringues. It sets up quick and doesn't change the texture of your meringue. (I like Ghirardelli)
I've got a quick video showing just how easy it is to make these Strawberry Meringues!
Connect with Shugary Sweets! Be sure to follow me on my social media, so you never miss a post!
Facebook | Twitter | Google+ | Pinterest | instagram | Bloglovin'
Sign up to receive an email in your inbox for each new recipe: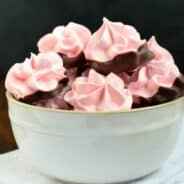 Strawberry Meringues
Yield: 100+
Prep Time:20 minutes
Cook Time:90 minutes, plus 2 hours in oven turned off
Ingredients:
4 egg whites, room temperature
1 Tbsp white vinegar
1 Tbsp corn starch
1 cup granulated sugar
3 Tbsp strawberry JELL-O gelatin powder
8 oz dark chocolate melting wafer, melted
Directions:
Preheat oven to 200°F. Line two baking sheets with parchment paper. Set aside.
In a clean, dry mixing bowl, whisk egg whites with electric mixer until foamy (about 30 seconds).
Add in vinegar and corn starch and continue to beat for about a minute, as soft peaks begin to form.
Slowly add in sugar while mixer is on high, and continue beating while adding in gelatin powder. Beat until stiff peaks form (about 4 minutes).
Fill pastry bags with meringue and pipe onto the parchment paper in swirls (using your favorite tip). Place in oven and bake for 90 minutes. Turn oven off and leave in oven for several hours (or overnight. I prefer to make these in the evening and leave them in until morning.
Once cooked, dip bottoms in melted chocolate. Allow to set, about 10 minutes. ENJOY!
**I find these keep best in an open bowl or cookie jar, not covered. Do not bake if humid.
MAKING THIS RECIPE? Share it with me on Instagram using the hashtag #ShugarySweets so I can see what you're cooking up in the kitchen!


 **There may be affiliate links in this post! By clicking on them, or purchasing recommended items I may receive a small compensation. However, I only recommend products I love! Thank you for supporting Shugary Sweets! See my disclosure policy for more info**