These easy, melt-in-your-mouth Strawberry Meringues are one luxurious cookie. Crisp and airy with a hint of berries and chocolate, this is one of my all-time favorites.
I love the light texture of these cookies. For another flavor, give our chocolate mint meringues a try next. Or try our mud hen bars for another flavorful treat with a crispy meringue topping.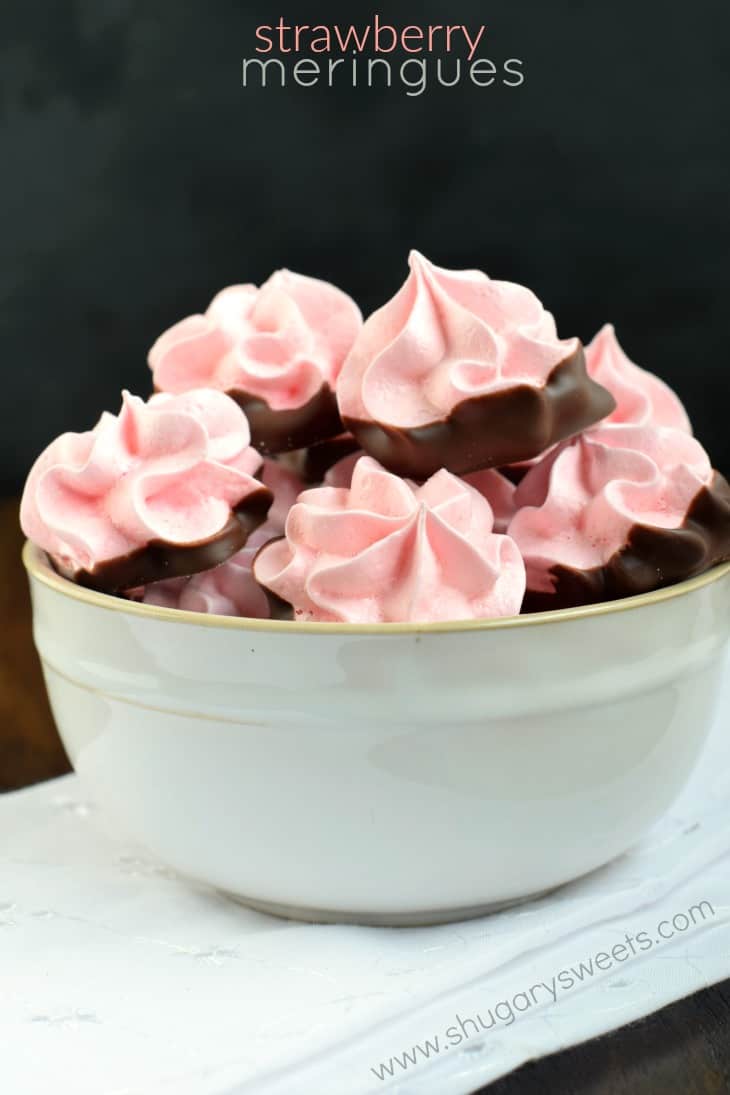 Why You'll Love These Cookies
These adorable meringues turn out rosy pink with minimal effort, and are impressive to see. They're the perfect blend of easy, sophisticated, and delicious. 
These are like the cookie version of dark chocolate dipped strawberries. Perfect for everything from casual get-togethers to formal events.
With only 6 ingredients, these meringues can be in the oven in about 20 minutes.
They're gorgeous. Piping the meringue gives them a beautiful rosette shape. 
No gluten! Meringues don't contain any flour or glutinous ingredients. 
If you love today's strawberry meringues, be sure to try our chocolate meringue cookies next!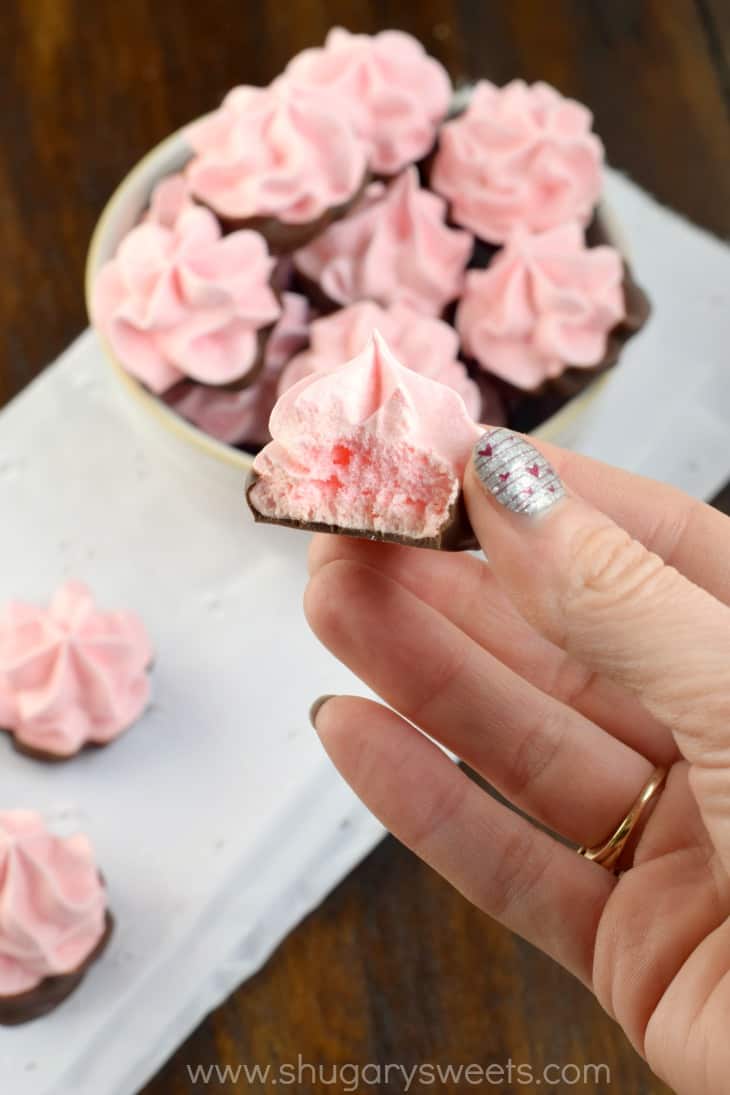 Ingredient Notes
Egg whites – Egg whites create the foundation and structure of this recipe. Using room-temperature eggs enhances their ability to whip into a robust meringue. Save the yolks to make a batch of our easy lemon curd recipe.
Strawberry JELL-O gelatin powder – This adds a pink hue and strawberry flavor to the meringues. It also gives them extra setting power.
Dark chocolate melting wafers – Use quality chocolate melting wafers for dipping your meringues. It sets up quickly and doesn't change the texture of your meringue (I like Ghirardelli).
Granulated sugar – Sugar is another part of the foundation that's necessary for a strong meringue. 
White vinegar – Vinegar creates a more stable meringue by changing the egg white protein structure.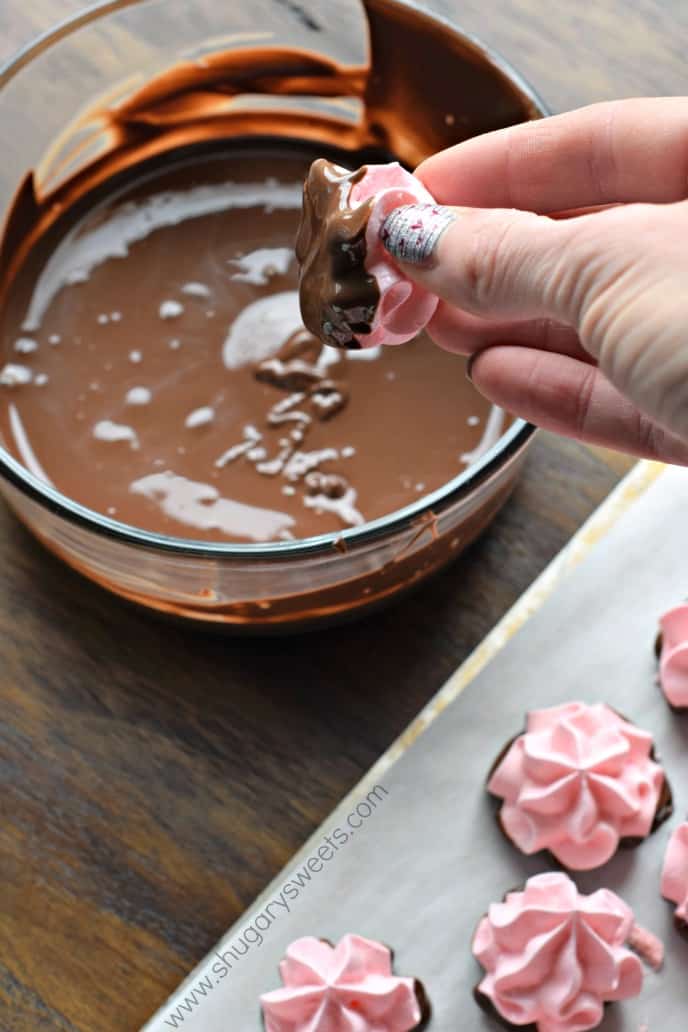 Easy Instructions
Scroll to the end of the blog post for the printable recipe card!
Grab a clean, dry mixing bowl. This is important since any oil or water in the bowl can prevent the egg whites from whipping completely.
Using an electric mixer, whip the egg whites until they're foamy, about 30 seconds.
Add the vinegar and cornstarch to the egg whites. Beat for about a minute until you have soft peaks.
Slowly sprinkle in the sugar while mixing at high speed.
Continue beating as you add in the gelatin powder. Beat until stiff peaks have formed, about 4 minutes.
Place your favorite tip into your pastry bag. A star tip is a classic choice.
Fill your pastry bag about ⅔ full with the meringue. Overfilling your bag makes piping difficult and messy.
Pipe the meringue into little swirls or rosettes on the parchment paper. If you don't have a pastry bag, you can drop the meringue by the spoonful instead.
Bake for 90 minutes in a preheated 200°F oven. Then turn off the oven and leave them in the oven for several hours or overnight.
Once they're fully baked, dip the bottoms in melted chocolate. Let the chocolate set for about 10 minutes. Enjoy!
Tips & Tricks
For easy cleanup, use parchment paper to line your baking pan. It will also help keep your meringues from getting brown on the bottom.
To test how firm your egg white and/or meringue peaks are, lift up the beaters above the surface of the mixture.
Soft peaks will pull up from the mixture into a point, and then fold over back onto themselves.
Stiff peaks will keep their shape, pointing straight up. They may curl over a tiny bit at the very tip, and the mixture will look shiny and thick.
Avoid baking these meringues on a humid day. Extra moisture in the air prevents them from setting and drying out properly.
Do not use sugar-free gelatin for this recipe.
To add food coloring, add it right before adding the gelatin. This helps distribute it more evenly. I also find gel food coloring works better than liquid.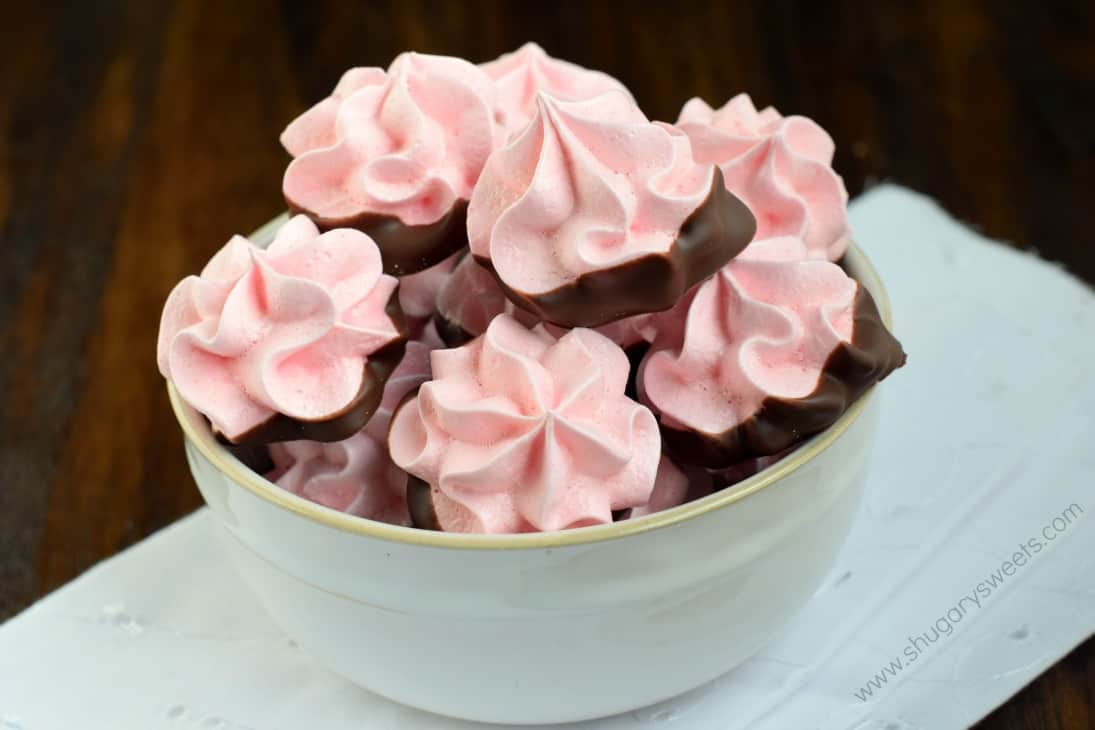 Recipe FAQs
Can I use a substitute for gelatin in this recipe?
Don't want to use gelatin? No problem! 3 Tablespoons of crushed, dehydrated strawberries will also work in place of the gelatin powder.
Can I dip these in white chocolate instead of dark chocolate?
Yes! Feel free to dip these meringues in white chocolate instead of dark chocolate if you prefer. Ghirardelli makes great white chocolate.
How do I store meringue cookies?
Store the finished Strawberry Meringues in an airtight container at room temperature. They can last up to two weeks in a tightly sealed, moisture-free container.
Can I freeze Strawberry Meringues?
Yes! To freeze these meringues, make sure they're at room temperature first. Then store them in one flat layer in an airtight container. They'll last at least 2 months in the freezer. Before eating, allow them to thaw to room temperature. 
More Meringue Cookies