Patriotic Meringue Cookies to celebrate Independence Day! This red, white and blue dessert makes a festive addition to your 4th of July celebrations. Melt in your mouth cookies bursting with fun flavors!
We love any excuse to make treats that celebrate independence. Red, White and Blue Pretzels are another favorite to try this year! Or give our festive white chocolate covered strawberries a try!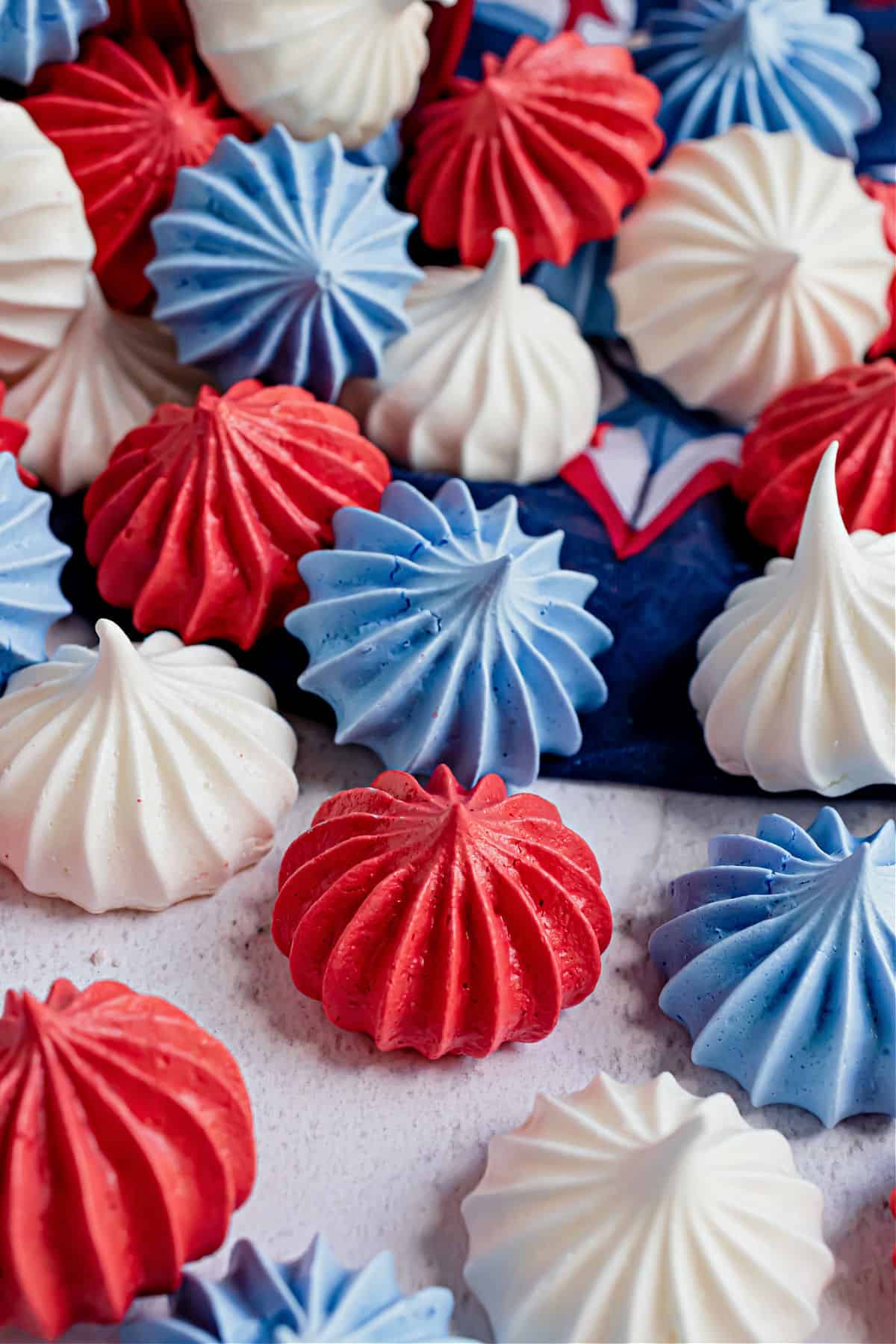 What are Meringue Cookies?
Meringue Cookies are melt-in-your-mouth treats made with whipped egg whites and sugar. They're so easy to make–and EAT!
You can dress them up with all kinds of fun colors and mix in your favorite flavors. We love Minty Meringue Cookies at Christmas and these Pumpkin Spice Meringue Cookies in the fall.
Red, white and blue Fourth of July Meringue Cookies are an annual summertime tradition! Eye popping color and a classic sweet flavor make these a must try.
You can even make them days in advance! How cool is that?
Looking for more ideas? Check out our list of 4th of July desserts! And don't forget to try our Red White and Blue Cupcakes too!
Ingredient Notes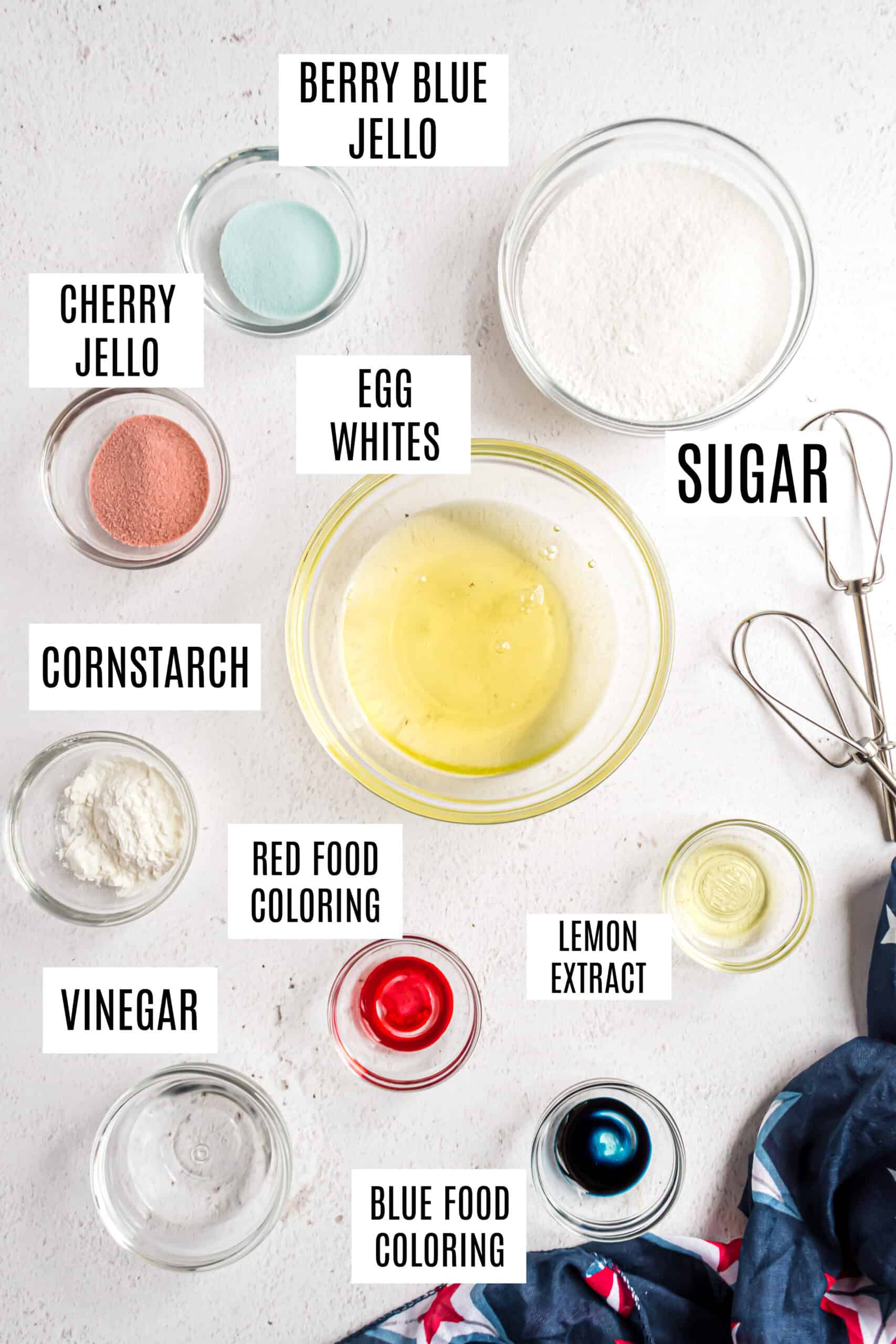 Very few ingredients are needed to make meringue cookies! Perfect when you're low on butter and flour!
Egg whites. Separate the whites from the yolk and let them come to room temperature. Save the egg yolks for homemade lemon curd!
JELL-O mix. We use cherry and berry blue gelatin powder for flavor and added in some gel food coloring to achieve these fantastic colors. You could skip the gelatin, just use the lemon extract and food coloring too.
Caster sugar. If you can't find caster sugar, process granulated sugar in a food processor until fine. Sometimes you'll find it labeled as "superfine" sugar. But it's NOT powdered sugar.
Vinegar. Vinegar allows the egg whites to form a more stable foam!
Cornstarch. Adding cornstarch to meringue helps the cookie stay soft in the center with an outer crunch!
Easy Instructions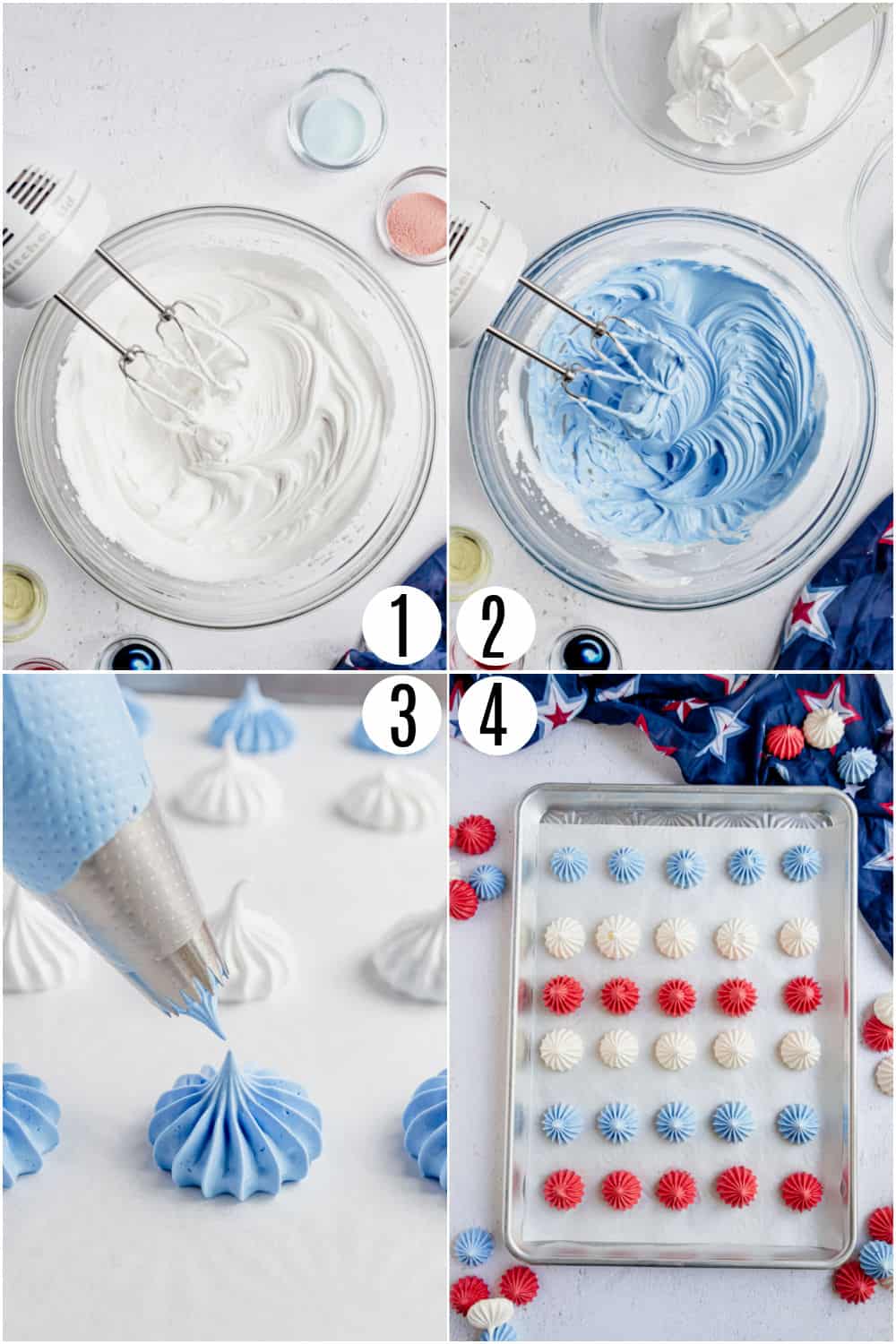 STEP 1: Beat egg whites
Add egg whites to a clean mixing bowl. Beat until foamy, then add the vinegar and cornstarch. When soft peaks form, add the sugar a little at a time.
Beat vigorously until stiff peaks form. This takes about 5 minutes.
STEP 2. Add the colors.
Divide the meringue equally into three separate bowls. To one bowl, beat in red JELL-O with red gel food coloring. To the second, beat in the blue JELL-O with blue gel food coloring.
Add lemon extract to the third bowl. Keeping this bowl of meringue white.
STEP 3. Bake
Pipe the meringues onto a parchment lined baking sheet using frosting bags.
Bake for 90 minutes at 200 degrees F. Turn off the oven and let the meringue sit in the oven for at least 6 hours to harden.
PRO TIP: I make them in the evening and let them sit in the oven overnight.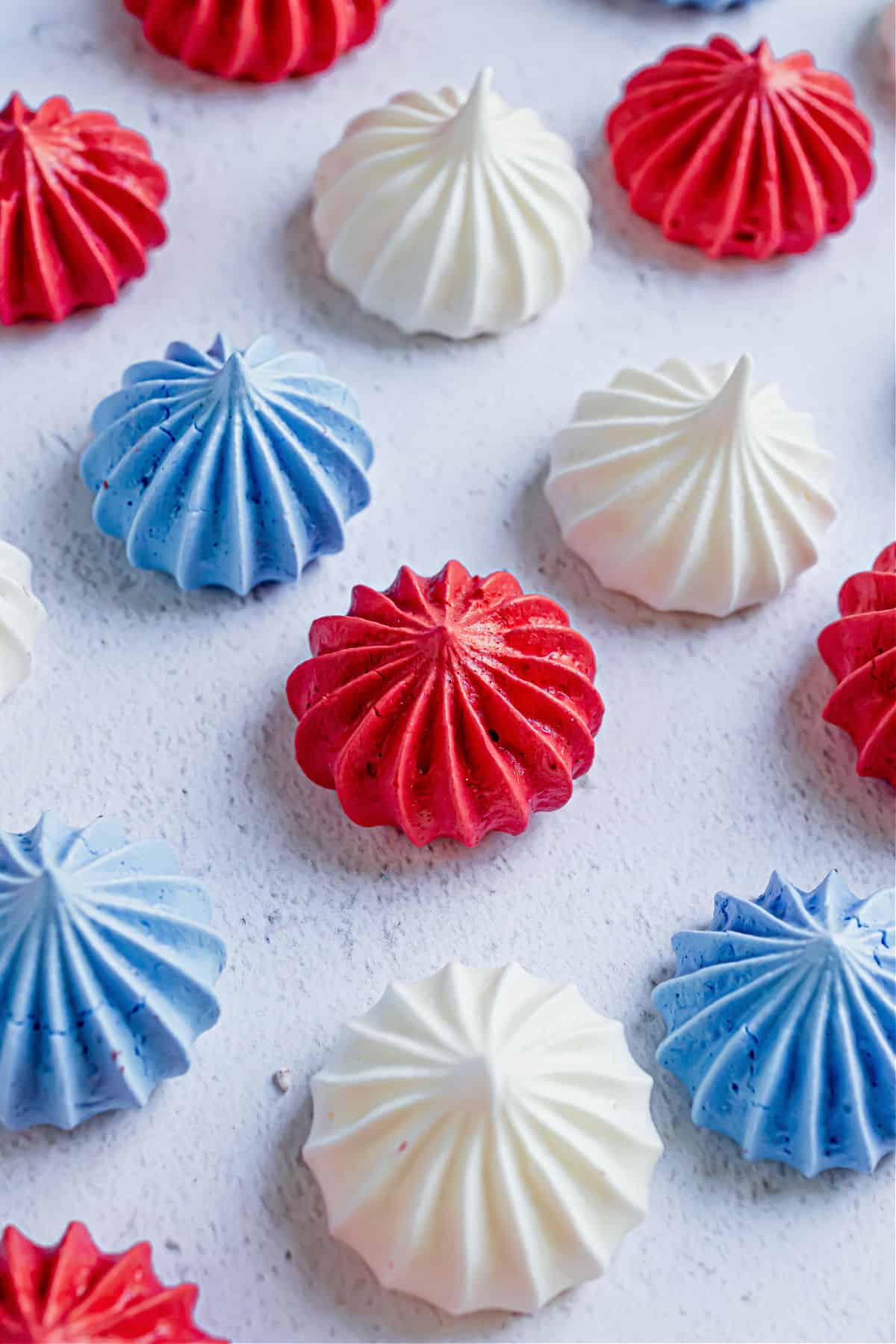 Tips and Tricks
Make overnight. I usually bake the meringues in the evening then leave them to harden overnight. The next day you'll wake up to ready-to-eat meringue cookies!
Storing. Transfer hardened 4th of July Meringue Cookies to an airtight container or ziploc bag. Store for up to 1 week.
Divide egg whites carefully. Meringue recipes are a time to be extra precise when separating egg whites from the yolks. Even a tiny bit of yolk will make it more difficult to whip the meringue into stiff peaks.
Use a clean, dry metal bowl. Make sure your bowl is completely DRY before adding the ingredients!
Use an oven thermometer. Most home ovens do not give accurate temperature readings. To ensure the meringues bake to the perfect consistency, buy an oven thermometer to check that the temperature is a perfect 200 F.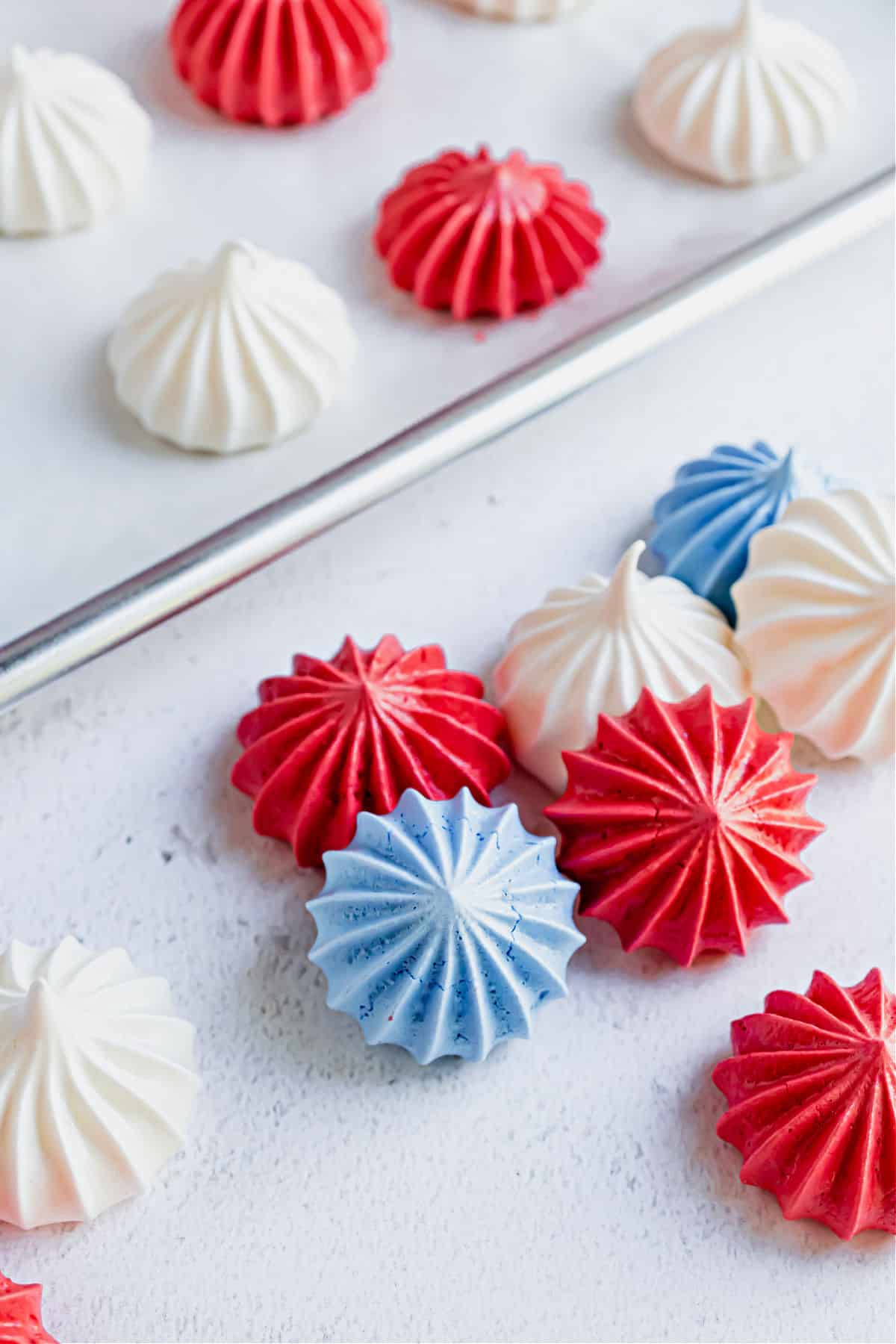 Recipe FAQs
Can I make these with different flavors of JELL-O?
Yes, we chose cherry and berry blue to create 4th of July Meringue Cookies. However, you can make these with any instant gelatin powder you like for different colors!
Why did my meringue cookies crack?
Meringue Cookies tend to crack when the oven is too hot. Double check your temperature with an oven thermometer before baking.
How do you get a perfect point on the top of meringue cookies?
I use a frosting bag fitted with the star shaped tip. Pipe the meringue onto the baking sheet, pulling it upward at the end to form the pretty pointed tip.
More Holiday Recipes
Homemade meringue cookies are even better in red, white and blue. Bring these along when you go watch the fireworks this Fourth of July!