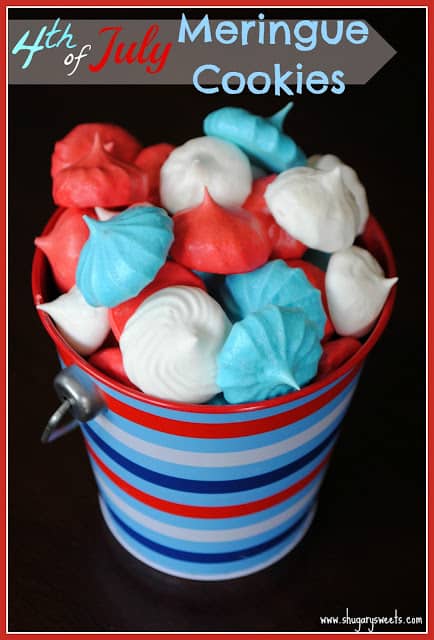 Have I mentioned before how easy and delicious meringue cookies are to make (and eat). They just melt in your mouth. And you can make almost any color and flavor combination of meringue cookies.
These are perfect for any summer celebration. Plus you can make them days in advance, how easy is that?
Just be sure to keep them stored in an airtight container (I use Ziploc freezer bags).
Want more Meringue cookies ideas? Check out these great recipes…
4th of July Meringue Cookies
Ingredients
4 egg whites, room temperature
1 Tbsp vinegar
1 Tbsp corn starch
1 cup sugar (I like to use caster sugar, see note)
1 Tbsp cherry Jello mix (powder)
1 Tbsp berry blue Jello mix (powder
1/2 tsp lemon extract
Instructions
In mixing bowl (that is completely clean and DRY), beat egg white until foamy (about 30 seconds). Add vinegar and corn starch and continue to beat for another minute until soft peaks form. In a slow stream, add sugar. Beat for about 4-5 minutes until stiff peaks form.
Divide mixture into thirds. Beat in red Jello to one third, blue jello to second, and lemon extract to third. Line baking sheets with parchment paper. Fill pastry bags with meringue (one color in each bag) and pipe using a star tip.
Place baking sheets in 200 degree oven for 90 minutes. Turn oven off and leave meringues in oven for 6 hours, or overnight, to harden. I usually make these in the evening after dinner, and leave in overnight. Package in airtight container (or Ziploc).
Notes
**If you can't find caster sugar, process your granulated sugar in a food processor to get it extra fine.