These Red, White and Blue Cupcakes are made with a simple white cupcake base and filled with sprinkles! We topped these patriotic cupcakes with blue vanilla frosting!
No Independence Day celebration is complete without a few red, white and blue desserts. You can bet I'll be making some 4th of July Meringue Cookies again this year!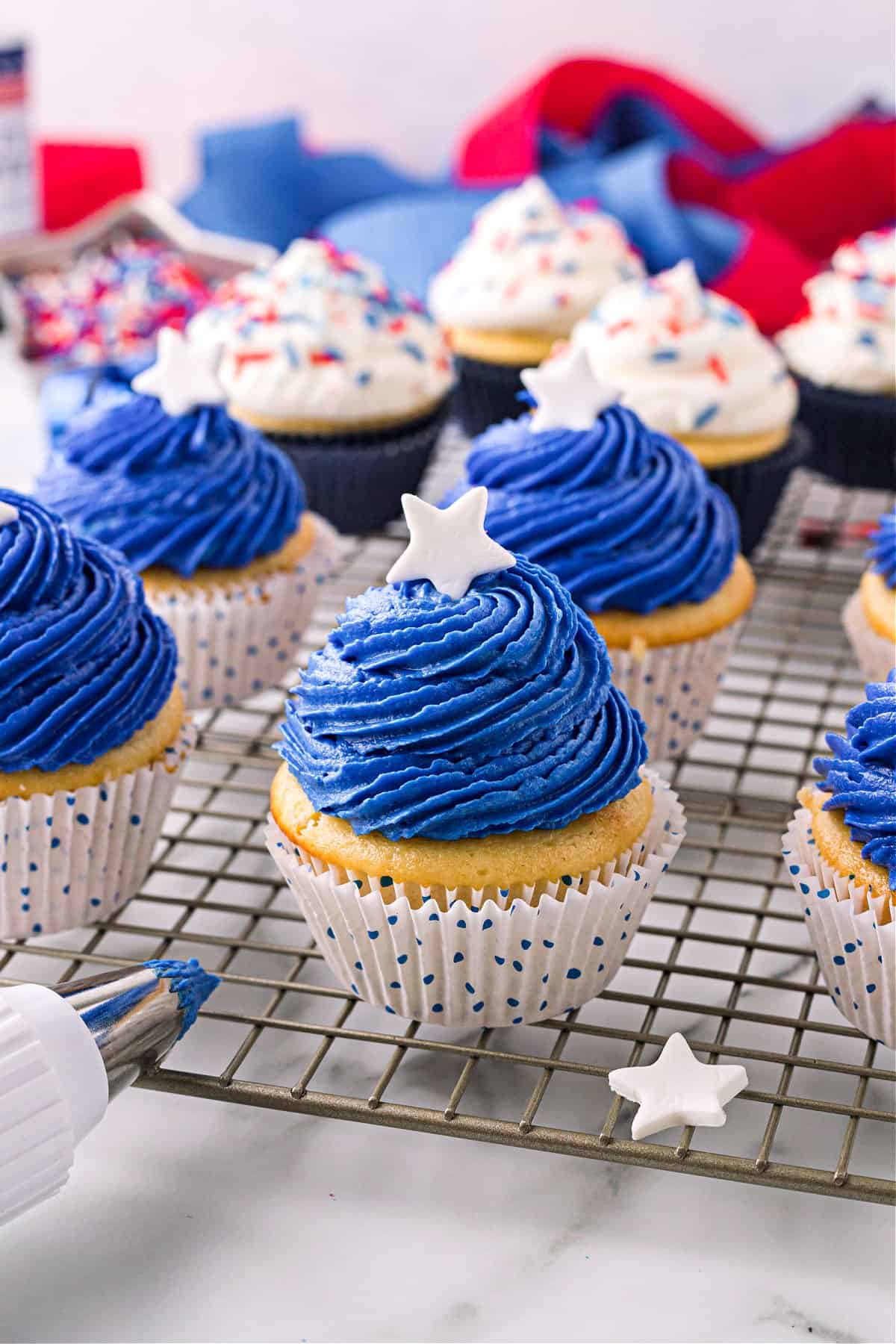 Why These Patriotic Cupcakes are Best
On the outside, these 4th of July cupcakes look like regular white cupcakes with red, white and blue frosting. Then you take a bite and the center explodes like a firework made of sprinkles and mini M&Ms.
After baking, the center of each cupcake is hollowed out to make room for the "surprise inside".
You are going to LOVE enjoying these red, white and blue cupcakes while you watch the fireworks this Independence Day weekend!
Be sure to make our easy flag cake recipe next!
Ingredient Notes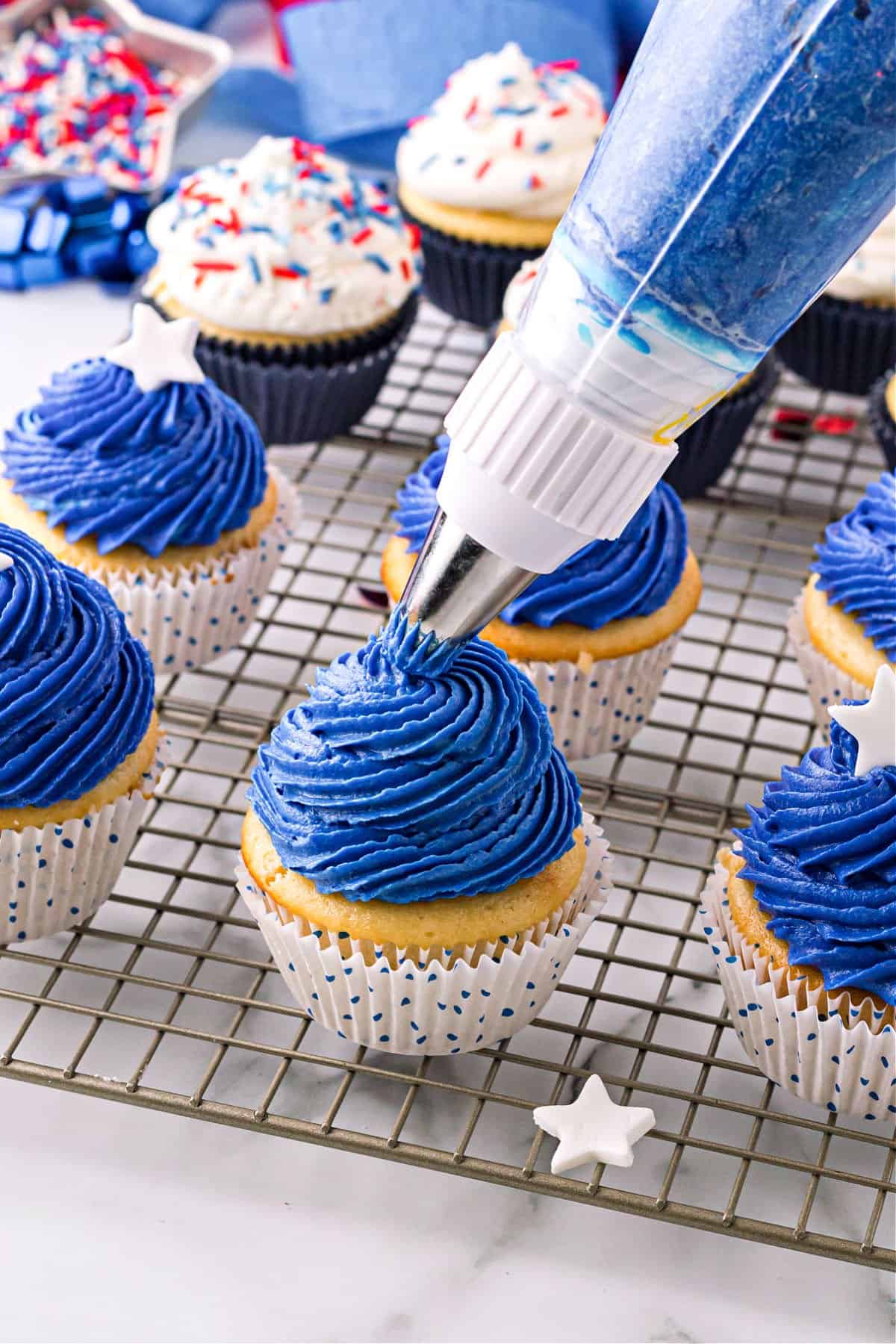 I use a few key ingredients to make these cupcakes stand out from the crowd.
PRO TIP: You can also make these with a white cake mix and canned frosting that you tint blue. Easy peasy.
Tips and Tricks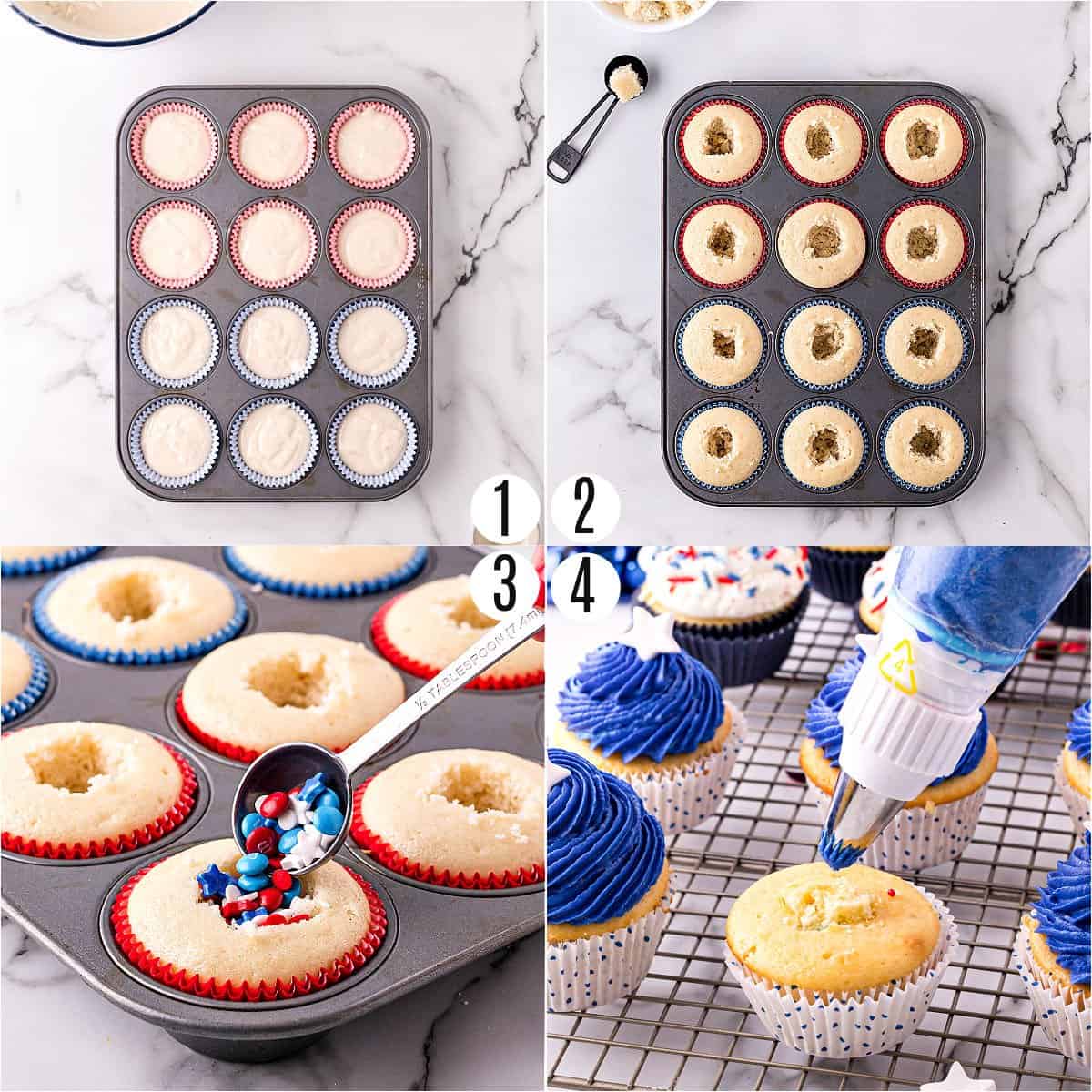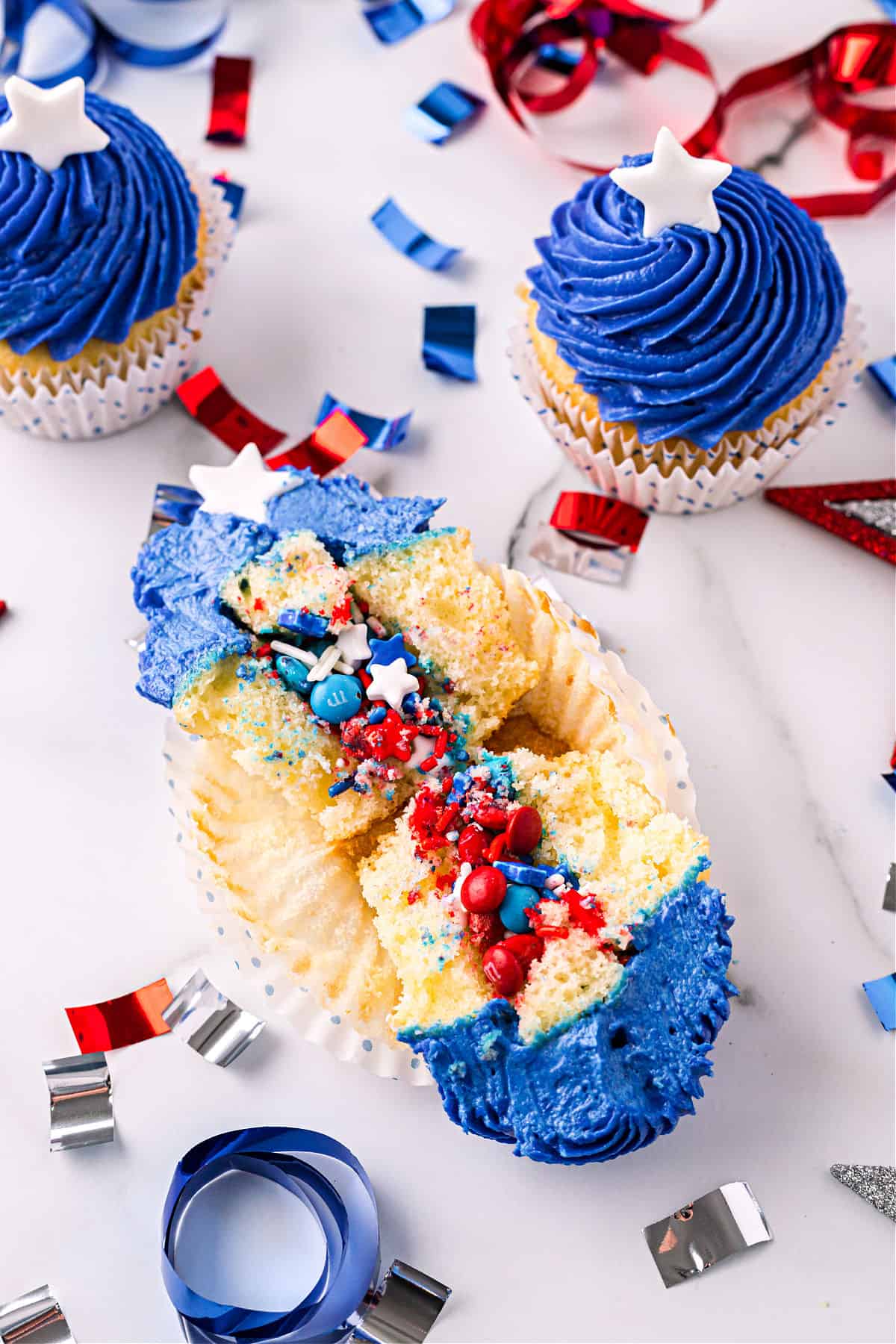 Recipe FAQs
How do I store these cupcakes?
Store the frosted red, white and blue cupcakes in an airtight container at room temperature. Enjoy within 3-5 days.
What can I use if I don't have a frosting bag?
A ziploc plastic bag with the corner snipped off works perfectly in a pinch! Spoon the frosting into a bag, snip off about 1 inch of the corner and pipe away.
Can I make this without food gel?
The food gel is entirely optional in this recipe. You are welcome to leave it out and top your cupcakes with plain vanilla frosting instead. The appearance won't be the same as the ones in my pictures but, trust me, they taste AMAZING regardless.
What it my cupcake tops don't fit back on the cupcakes?
After you remove the center of the cupcakes, you might fight they break or refuse to neatly fit back over the center.
Don't stress. You're going to cover the tops with frosting so it's 100% okay if the tops are a little bumpy or crumbly. Just do your best!
Can I freeze cupcakes?
Yes, you can. I recommend freezing the baked cupcakes before adding the sprinkle center and frosting.
Store cupcakes in the freezer in freezer safe bags. Let them thaw, then proceed with the instructions for filling and frosting.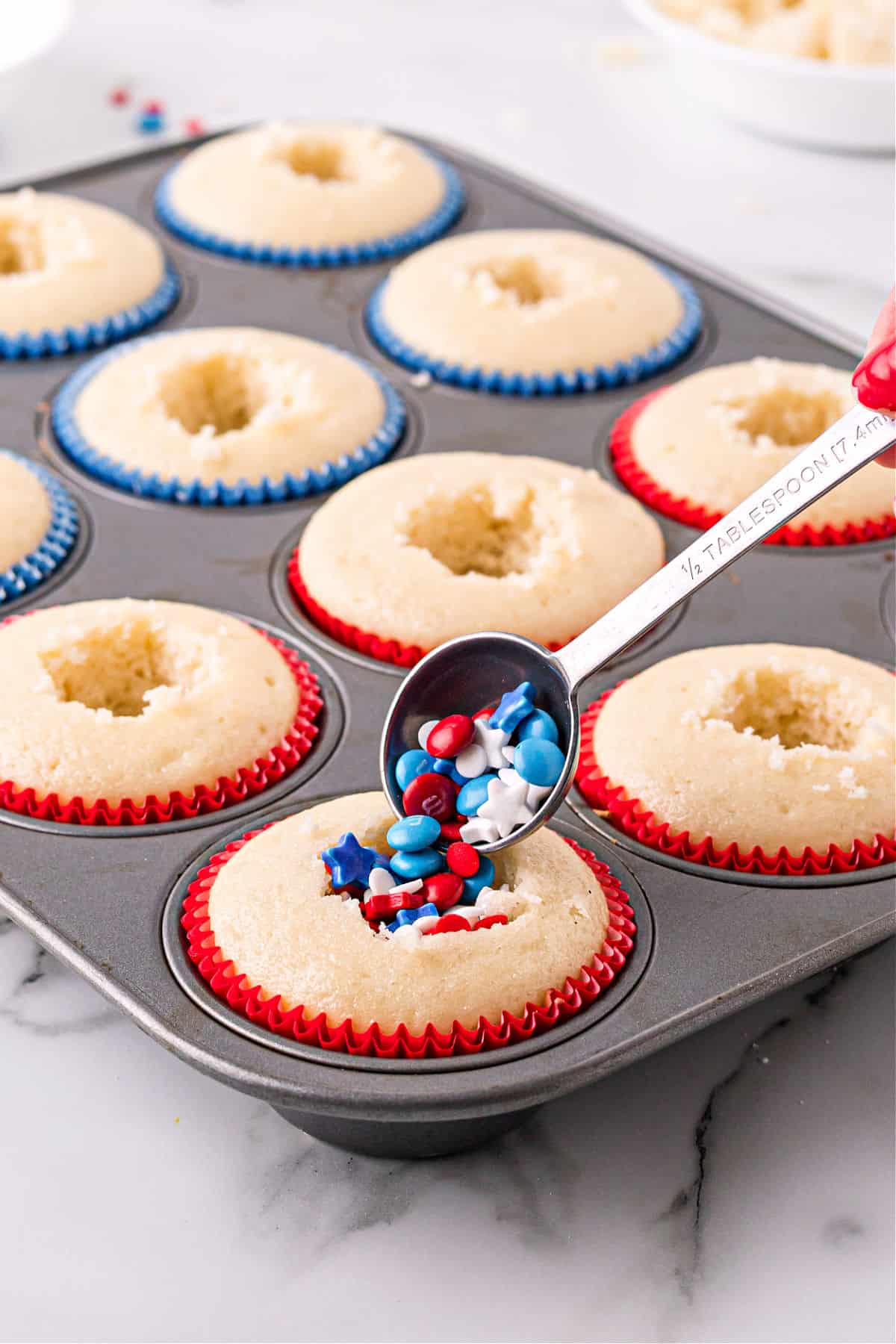 More Easy Holiday Desserts
Make Red, White and Blue Cupcakes a new family 4th of July tradition with this fun, easy recipe!