A cold slice of Icebox Cake is just what you need when the the temperatures climb. It's even better when your cake tastes like s'mores!
We love easy s'mores treats. These mini s'mores pies are a huge hit, no bake and ready in no time! Or give our favorite smores dip a try next.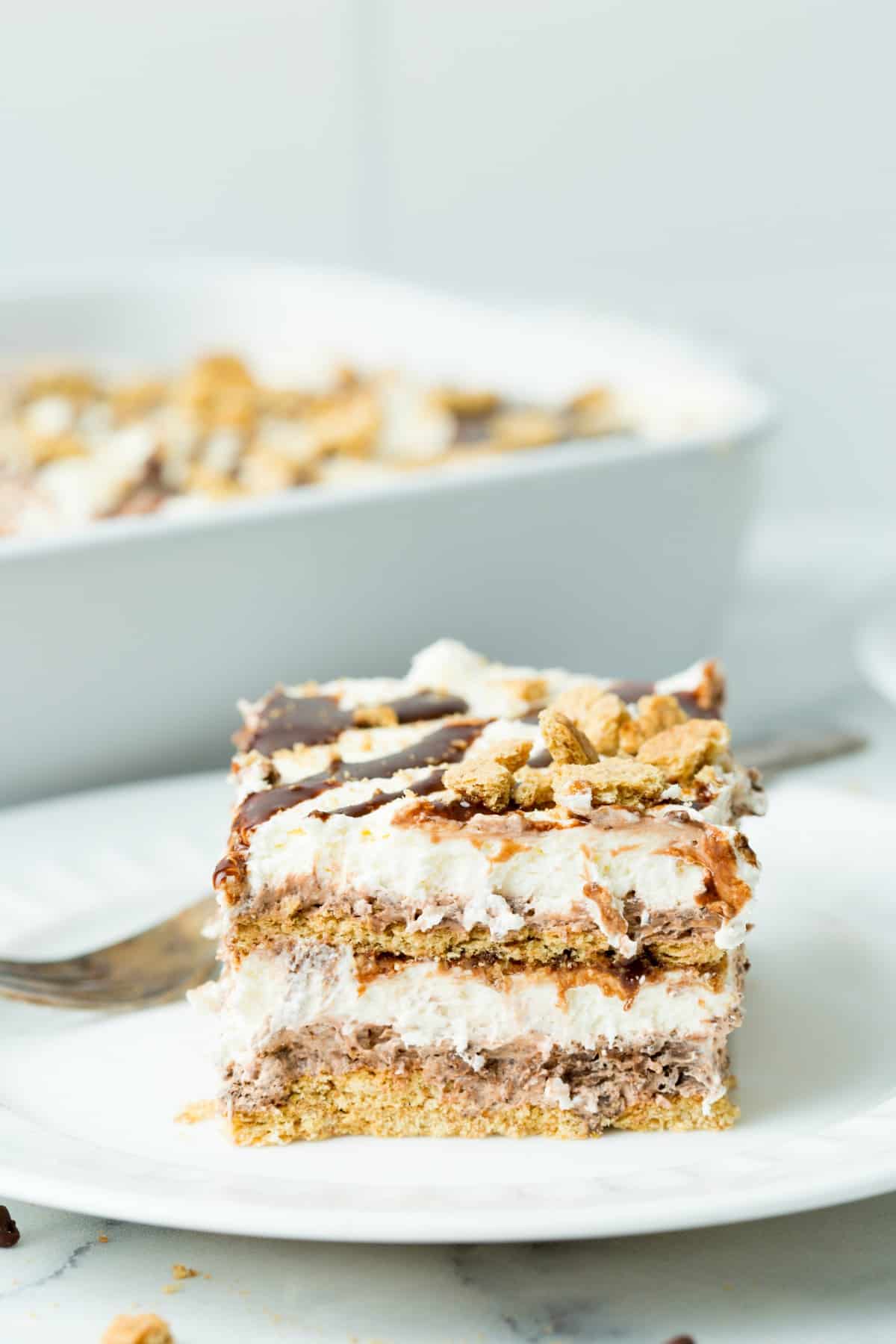 Why this Recipe is Best
Other people are all about the warm brownies or hot apple pie. But me?
I love COLD desserts. There's something about a chilled cake or bar that makes lots of flavors taste better to me.
So, naturally, I'm a big proponent of Icebox Cake!
I've been eating (and making) Icebox Cakes since childhood and I never get sick of them. After sharing my original Chocolate Eclair Cake, you've asked for more ideas for these easy no-bake desserts.
What is an Icebox Cake?
Icebox Cake is, you guessed it, a cake that sets up in the fridge–or, once upon a time, in the icebox.
It's not a cake made from the usual eggs-sugar-butter-flour batter. Instead, you make Icebox Cake by layering graham crackers or cookies with cool whip and other fillings like fruit or candy.
This Chocolate Chip Lasagna and this Pistachio Eclair Cake are both delicious examples of icebox cake.
Even my homemade Banana Pudding recipe is an example of a no bake icebox cake!
Today's cake is inspired by another favorite summertime dessert: S'mores!
The filling includes layers of chocolate cool whip, marshmallow fluff and graham crackers, all drizzled with extra chocolate syrup.
It's easy enough for kids to help make and always a hit! Plus, no need to heat up the oven with this dessert. No bake cake recipes are must-haves for summer!
S'mores Icebox Cake Recipe
Here's how I made this no-bake S'mores cake.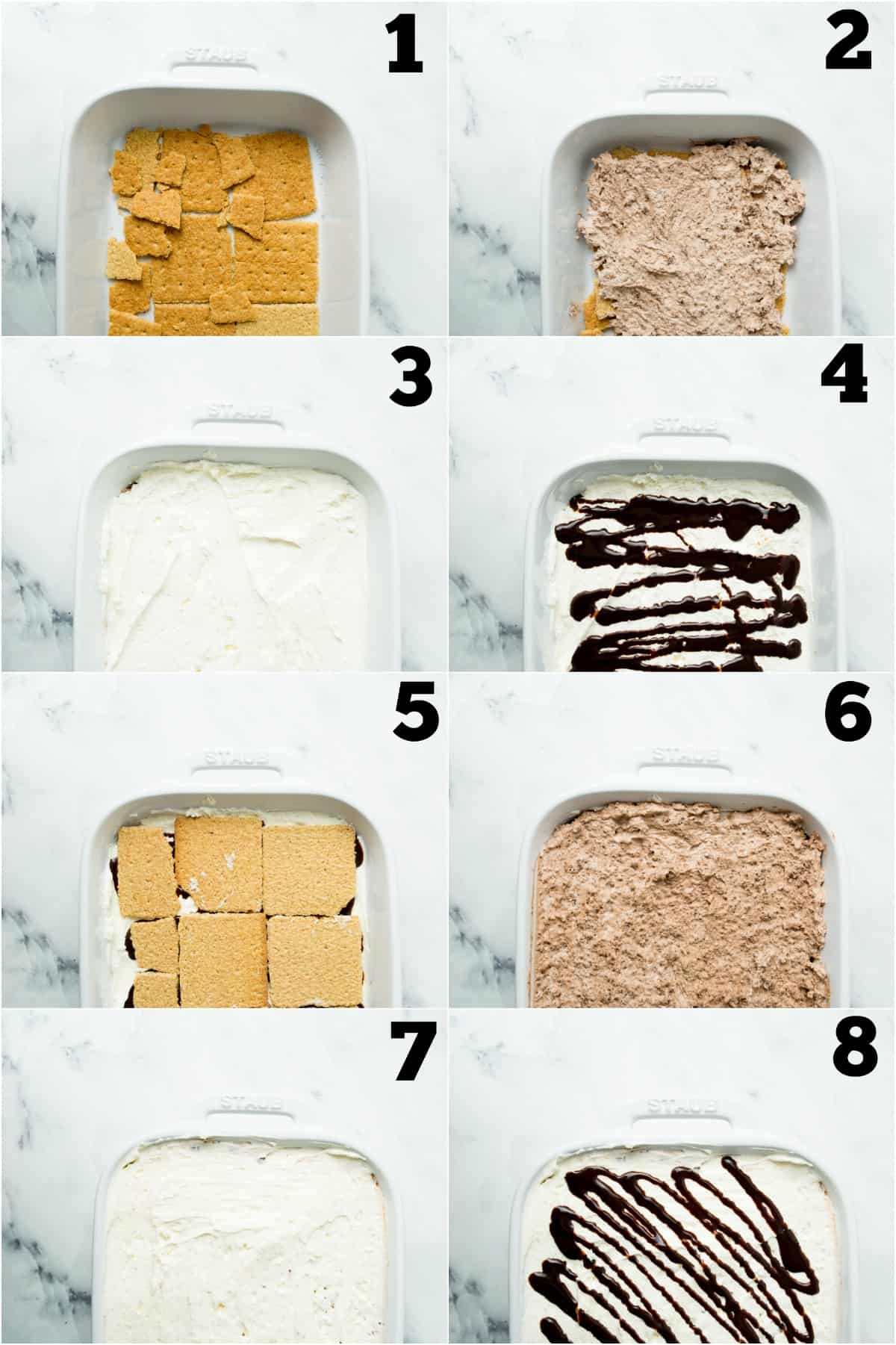 STEP 1. Make the cool whip filling
Heat heavy cream on the stove with instant chocolate pudding mix. Stir and whisk together until no lumps remain. (will be very thick)
Remove from heat and then add the pudding to 8 ounces of the cool whip. Use a rubber spatula to combine, then set aside.
STEP 2. Make the marshmallow cream
In a stand mixer or bowl, beat together the marshmallow fluff with heavy cream until it's slightly fluffy.
Add the cream cheese to the fluff mixture and beat until combined. Fold in the remaining 8 ounces of cool whip.
STEP 3. Layer, layer, layer
Line the bottom of a casserole dish with graham crackers. It's fine to break the crackers into smaller pieces to make them fit. You want the bottom to be completely covered.
Then, layer half of the chocolate cool whip mixture on top of the graham crackers, followed by a layer of half of the fluff mixture, and finally a drizzle of half the chocolate sauce. Repeat one more time.
STEP 4. Chill
Refrigerate the cake for at least 4 hours (covered or uncovered is ok). Just before serving, crunch a couple graham crackers and sprinkle them on top.
Slice and serve! All the great taste of S'mores, none of the camping, fire or mess.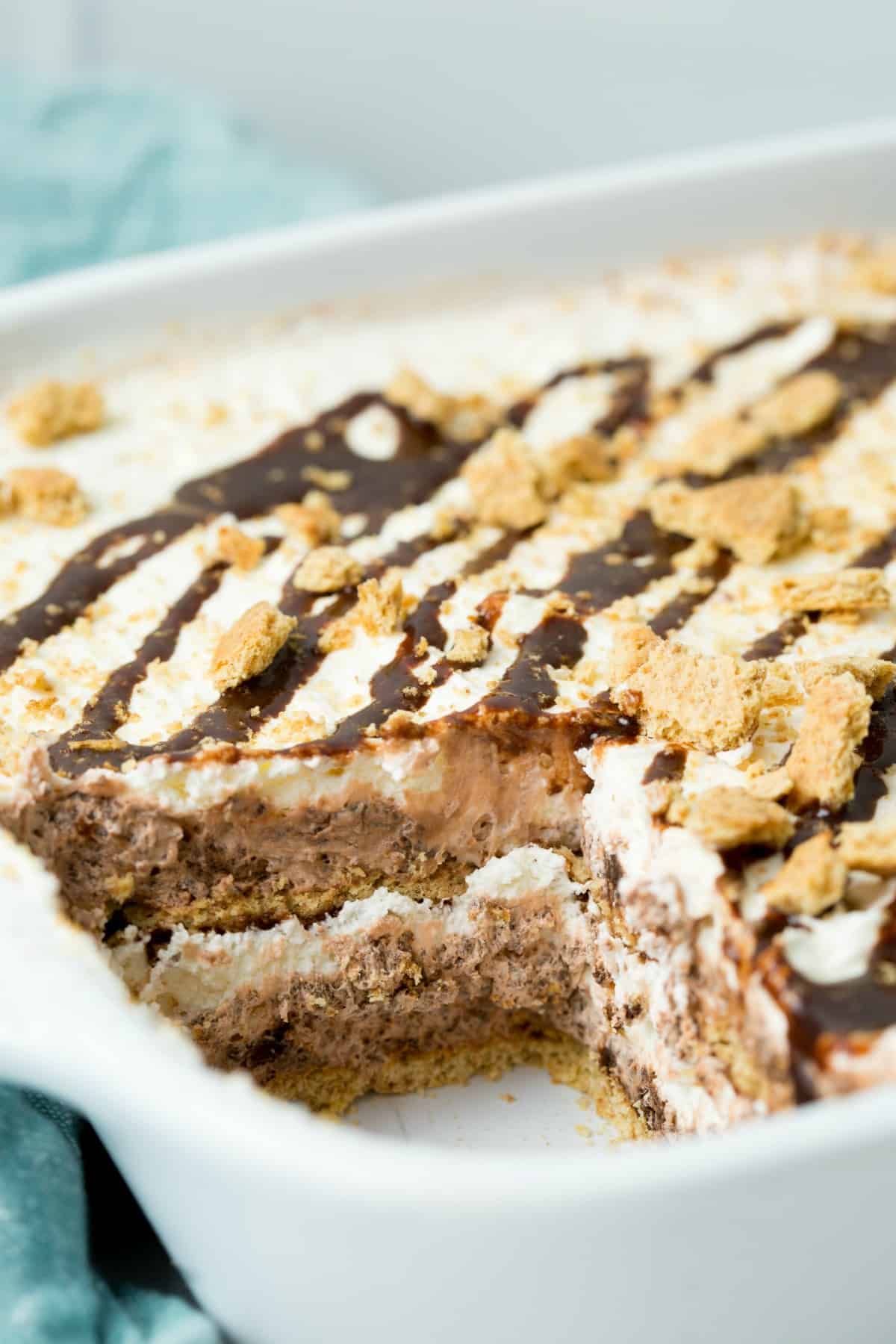 Substitutions Ideas
Not in the mood for S'mores? Try some of these other takes instead.
Using this basic recipe, there are tons of flavor substitutions you can try. Swap out the pudding flavors to try your own combinations, substitute the chocolate syrup for caramel, use chocolate or cinnamon graham crackers instead of regular. . . you get the idea.
I always opt for regular ol' cool whip from the tub when I make icebox Cake.
If you like making your own stabilized whipped cream, that will work in this recipe too. Just make sure it's stabilized and not regular whipped cream! Normal whipped cream will not hold up here and your cake will end up soupy instead of setting into a slice-able cake.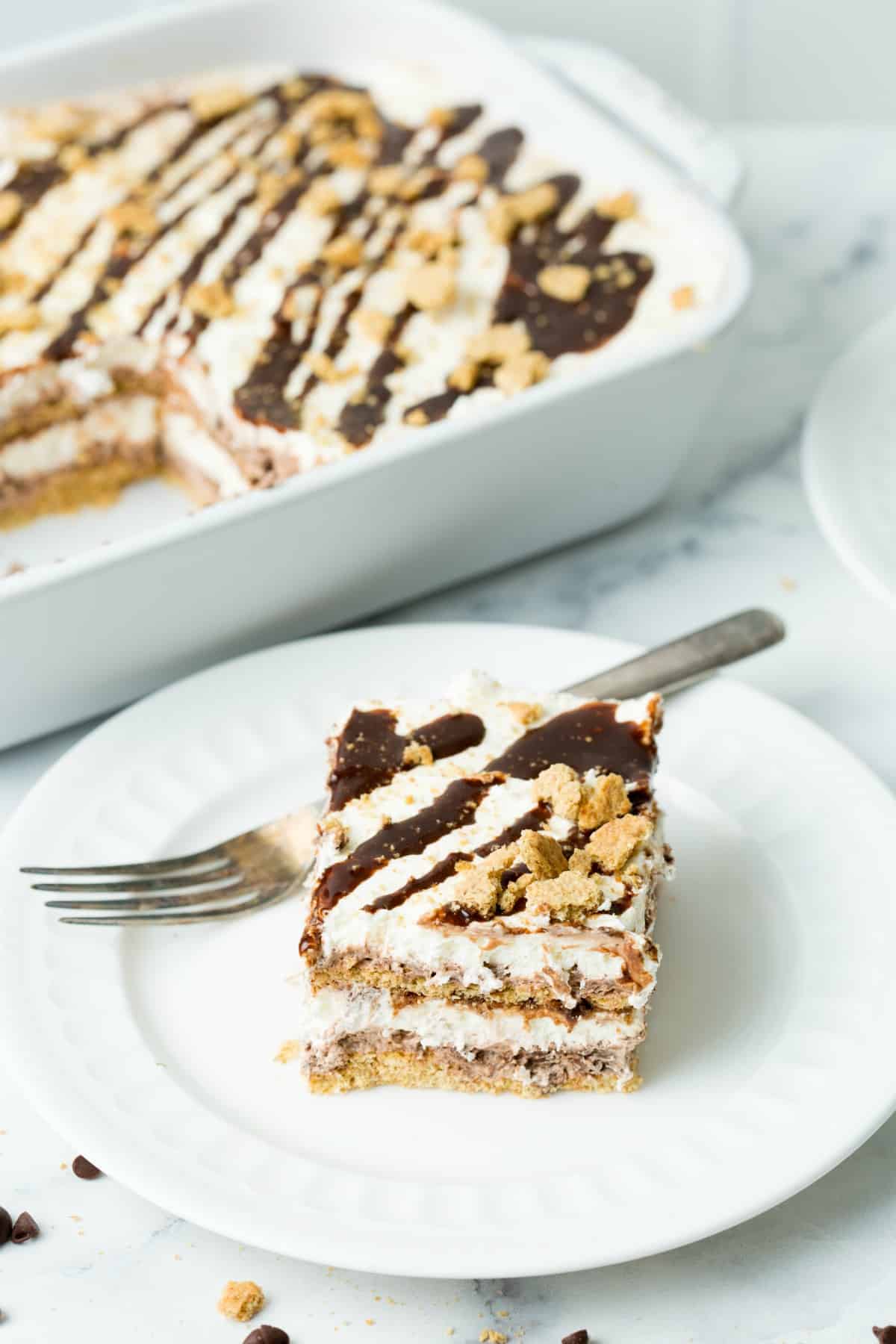 How to Store
This cake can definitely be made in advance. It keeps well covered with foil or plastic wrap in the fridge for up to 2 days before serving. I recommend foil so that no one else spots the cake and tries to eat it before you're ready to serve it!
Leftovers can be kept for a week or so in the fridge, too. You'll lose a little crunchiness in the graham crackers as time goes on but it still tastes good!
You can also freeze icebox cakes, but the graham crackers do lose some of the texture after thawing in the refrigerator.
I enjoyed a slice of my S'mores Cake with a big glass of dalgona coffee. Talk about an afternoon pick-me-up!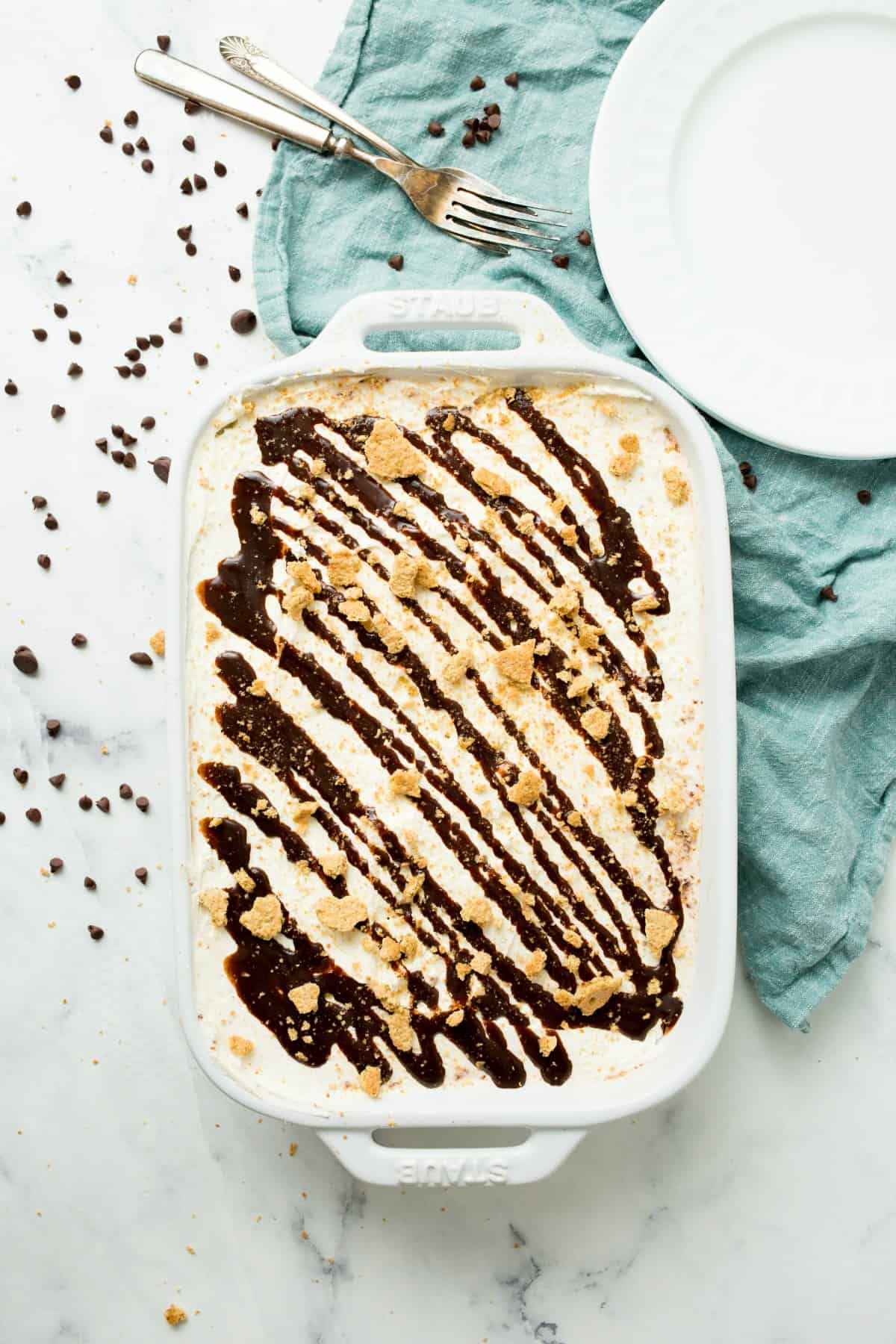 More Easy Dessert Recipes
As a summer treat or a fabulous dessert any time of year, Icebox Cake is a no-bake dessert that's hard to beat. Easy enough for a weeknight but festive enough for a special occasion, Icebox Cakes need to be in everyone's baking (or, rather, no-baking) repertoire.