This quick and easy S'mores Dip is made with only 3 ingredients and the perfect indoor dessert. No fire pit needed for these gooey S'mores!
Our readers (and my family) are obsessed with easy treats. These mini s'mores pies have 5 ingredients and are no bake. Or give our gooey s'mores cookies a try next.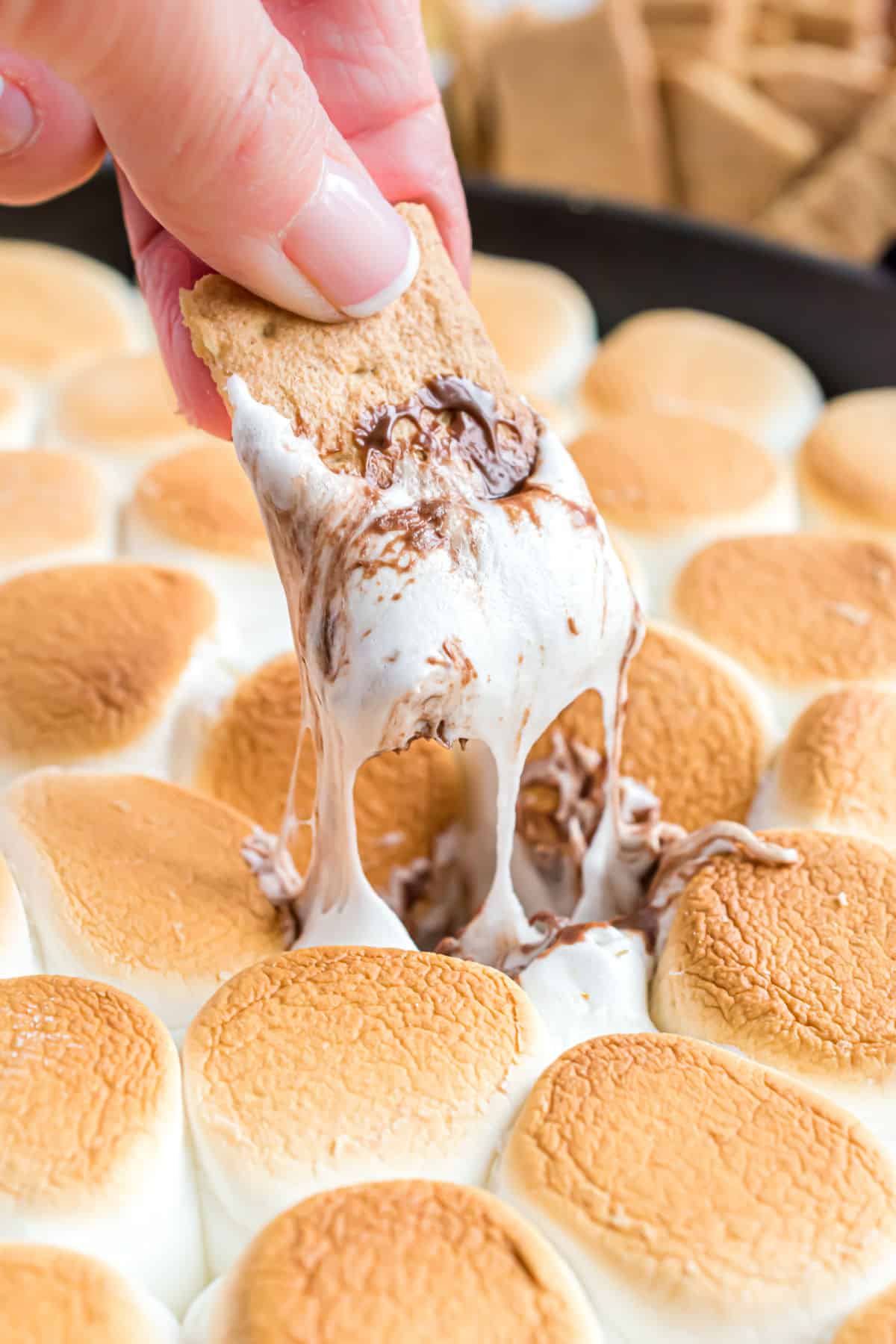 Why this Recipe Works
The classic campfire treat is easy to enjoy any time of year when you turn it into a dip! This S'mores Dip is baked in the oven for an easy treat the whole family will devoir.
Ooey-gooey s'mores taste.
No fire pit or skewers needed.
Makes enough for a crowd.
An easy 3-ingredient dessert!
Take it a step further and use our homemade marshmallow recipe to give these the ultimate flavor! Love chocolate and marshmallow? Be sure to try our mississippi mud cake recipe.
How to make indoor s'mores (dip)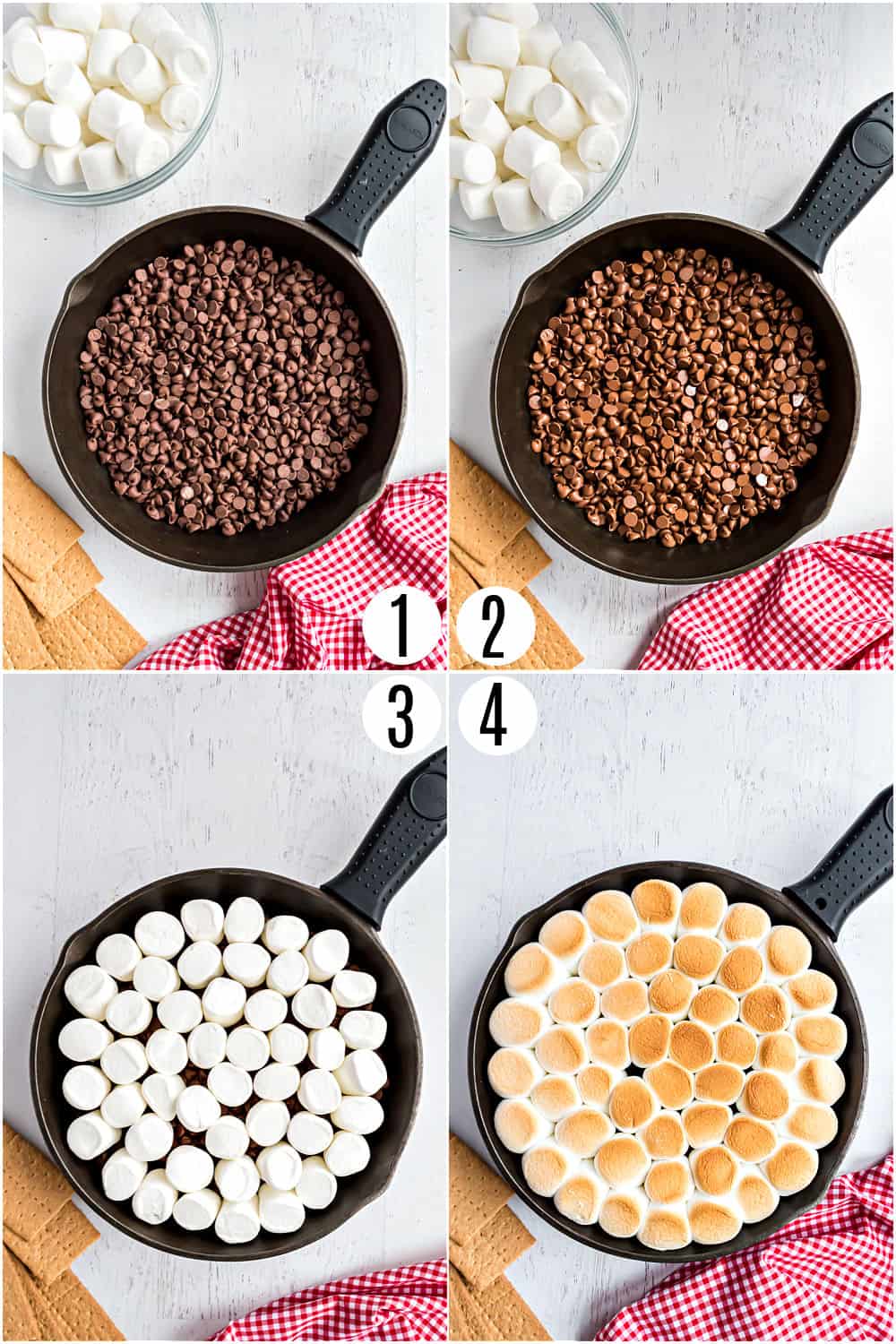 If you love making indoor s'mores, this dip is for you. Easy and ready in minutes.
First, heat milk chocolate chips in the oven until melted. We used a 9 inch cast iron skillet.
Now, arrange marshmallows on top. Return the skillet to the oven and bake for a few more minutes, until the marshmallows are softened and toasted on top.
Serve S'mores Dip warm with plenty of graham crackers for dipping!
Substitutions
Use this easy dip recipe as a canvas for changing up the flavors!
Feel free to use semi-sweet chocolate chips or dark chocolate morsels if you prefer those flavors.
Want a peanut butter dip? Try peanut butter chips in place of the chocolate OR use half chocolate morsels and half peanut butter. chocolate + peanut butter + marshmallow? Yes, please.
If you don't have chocolate chips, you can also use a chocolate bar broken into bite size pieces. Hershey bars are the classic choice! I also love Dove milk chocolate for 'smores.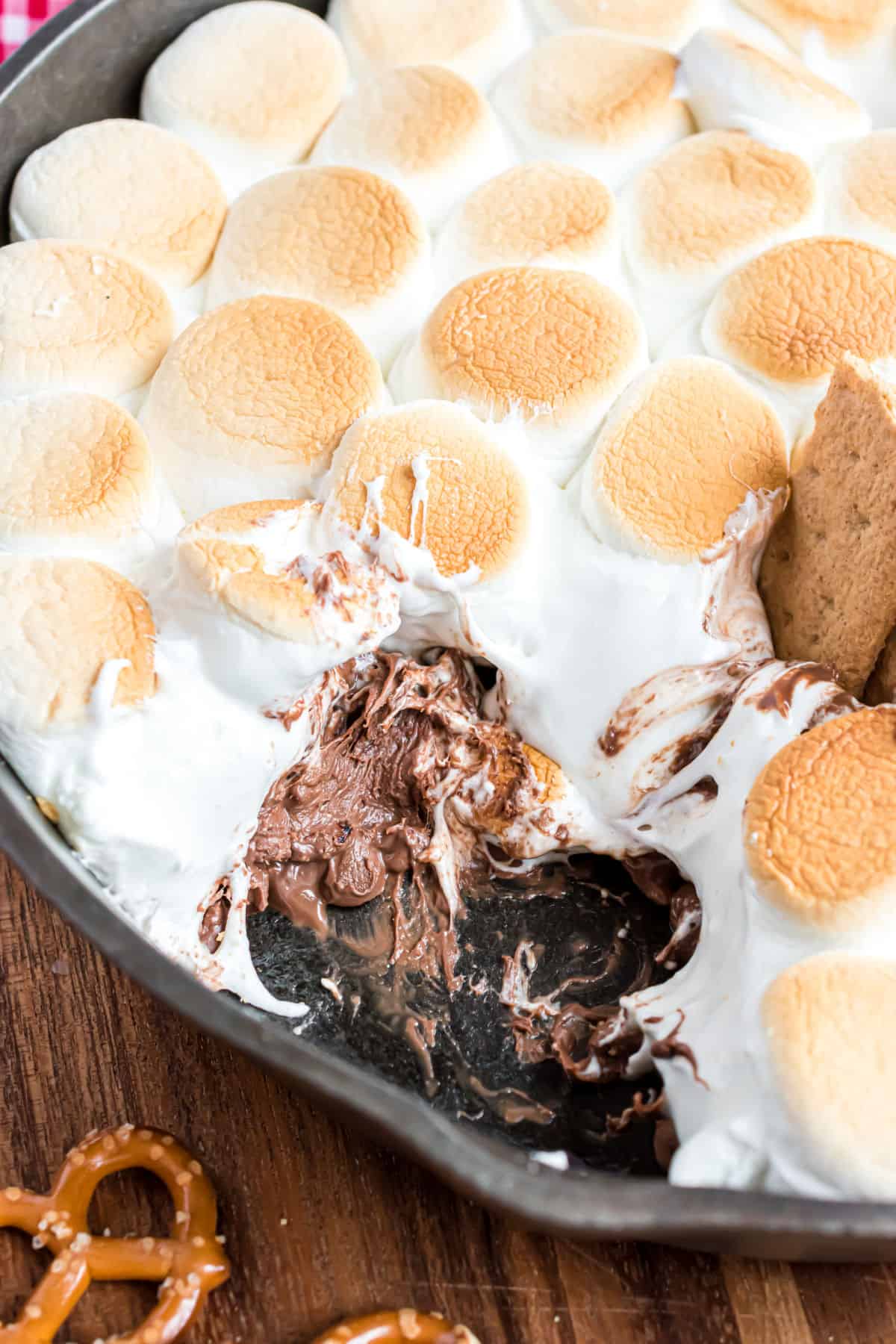 Serving Suggestions
Graham crackers are the obvious and delicious choice for this fondue. Marshmallows, chocolate and graham crackers were made for each other.
Plain honey, cinnamon and chocolate graham crackers are all a hit with S'mores dip. We also enjoyed dipping pretzel sticks, apple slices, and animal crackers into the dip.
Scoop homemade cinnamon sugar tortilla chips in the dip for a fun twist!
Recipe FAQs
Can I make this recipe with mini marshmallows?
You can absolutely make S'Mores Dip with mini marshmallows. Use enough miniature marshmallows to fully cover the chocolate.
Can this be served at room temperature?
This indoor S'mores Dip is best served warm within one hour of preparation. After an hour, reheat the dip in the microwave for about 30 seconds to soften it up again (on plates) or in oven.
I don't have a 9-inch skillet. What kind of baking dish can I use instead?
An 8 or 9 inch square pan or even a pie plate would work beautifully for this dip recipe.
Can I make it in the microwave instead?
You can make this dip in the microwave, but the results aren't quite the same. The microwave will soften the marshmallows but not toast them. If you want a true toasty s'mores flavor, the oven is the way to go!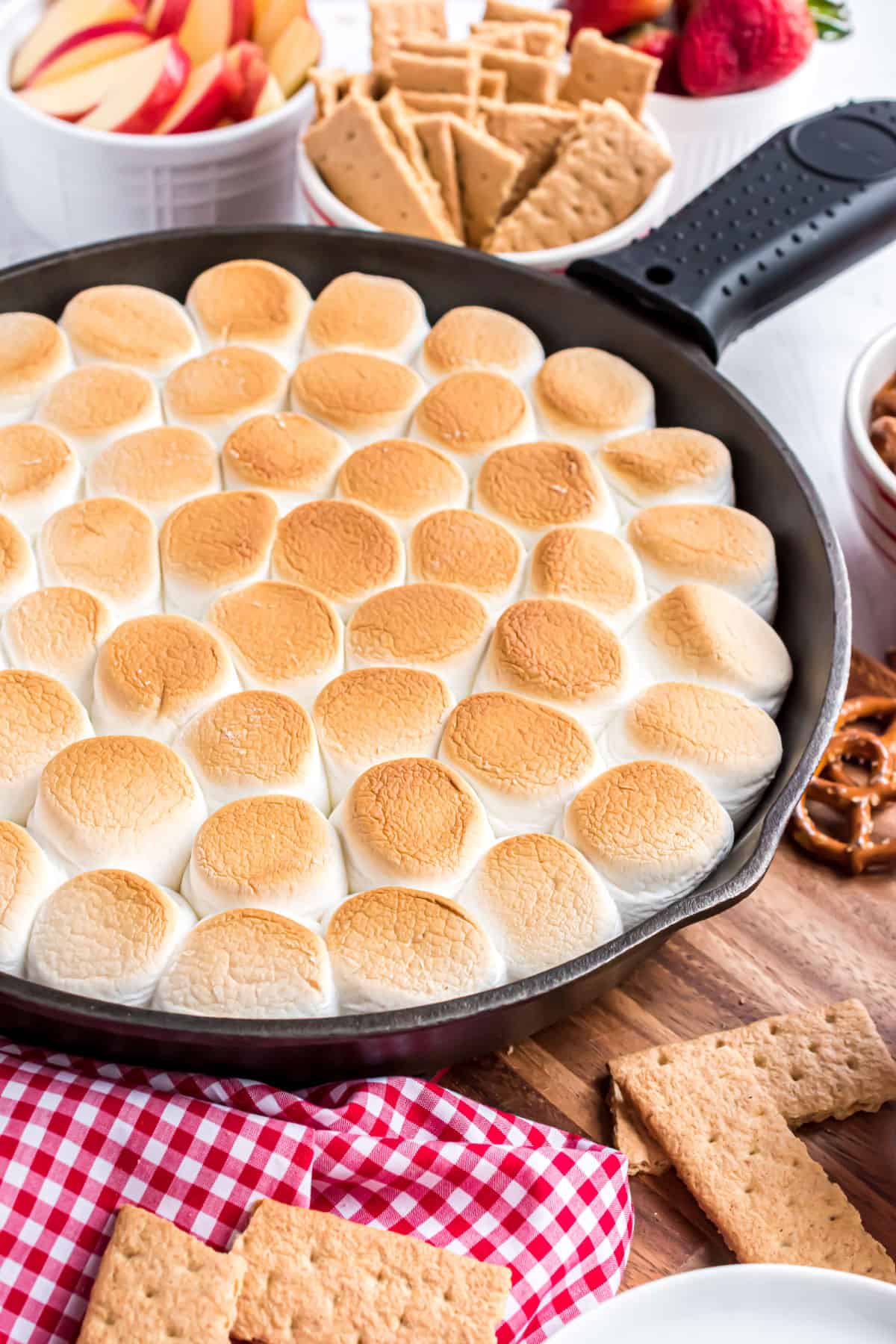 More Potluck Recipes
This easy 5-minute, 3 ingredient party dip will knock your socks off! S'mores Dip is the fast fuss free way to enjoy s'mores all year long.