Baked Cinnamon Sugar Tortilla Chips – baked until crispy and covered with cinnamon sugar! These sweet and crunchy chips make a perfect vehicle for scooping all your favorite fruit salsas and dessert dips.
If you love Sopapillas and Churros this recipe is for you! Sweet cinnamon and sugar in a delicious crunchy chip!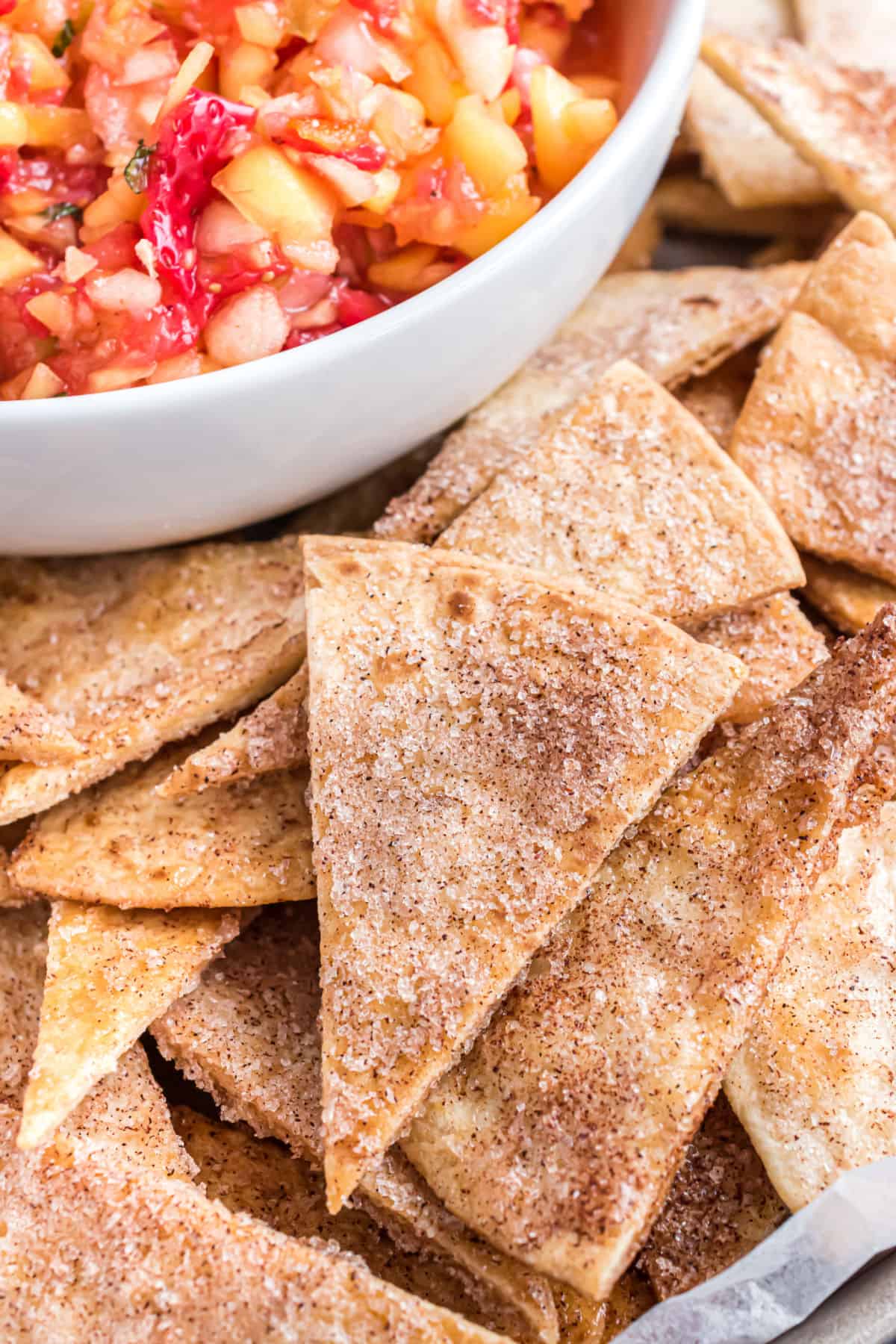 Cinnamon Sugar Tortilla Chips
Turn ordinary tortillas into buttery, flaky cinnamon chips with this easy recipe!
Corn tortillas may make the best salty tortilla chips, but flour tortillas really shine when paired with something sweet.
I started making these chips to serve with my Fruit Salsa Recipe. The sweet cinnamon sugar is the perfect balance to the tangy juicy fruit!
All it takes is brushing flour tortillas with melted butter and covering them with cinnamon sugar. Bake them for a few minutes and they come out amazingly flaky and golden brown.
After making cinnamon chips several times, I also discovered they're delicious with all kinds of sweet dips. You can serve these with Cannoli Dip or peanut butter dip.
There are an amazing addition to a party, as an appetizer or dessert! You can easily double the recipe to feed a crowd.
My personal favorite way to eat Baked Cinnamon Chips? Covered with vanilla ice cream and caramel sauce for an incredible sundae dessert!
Ingredient Notes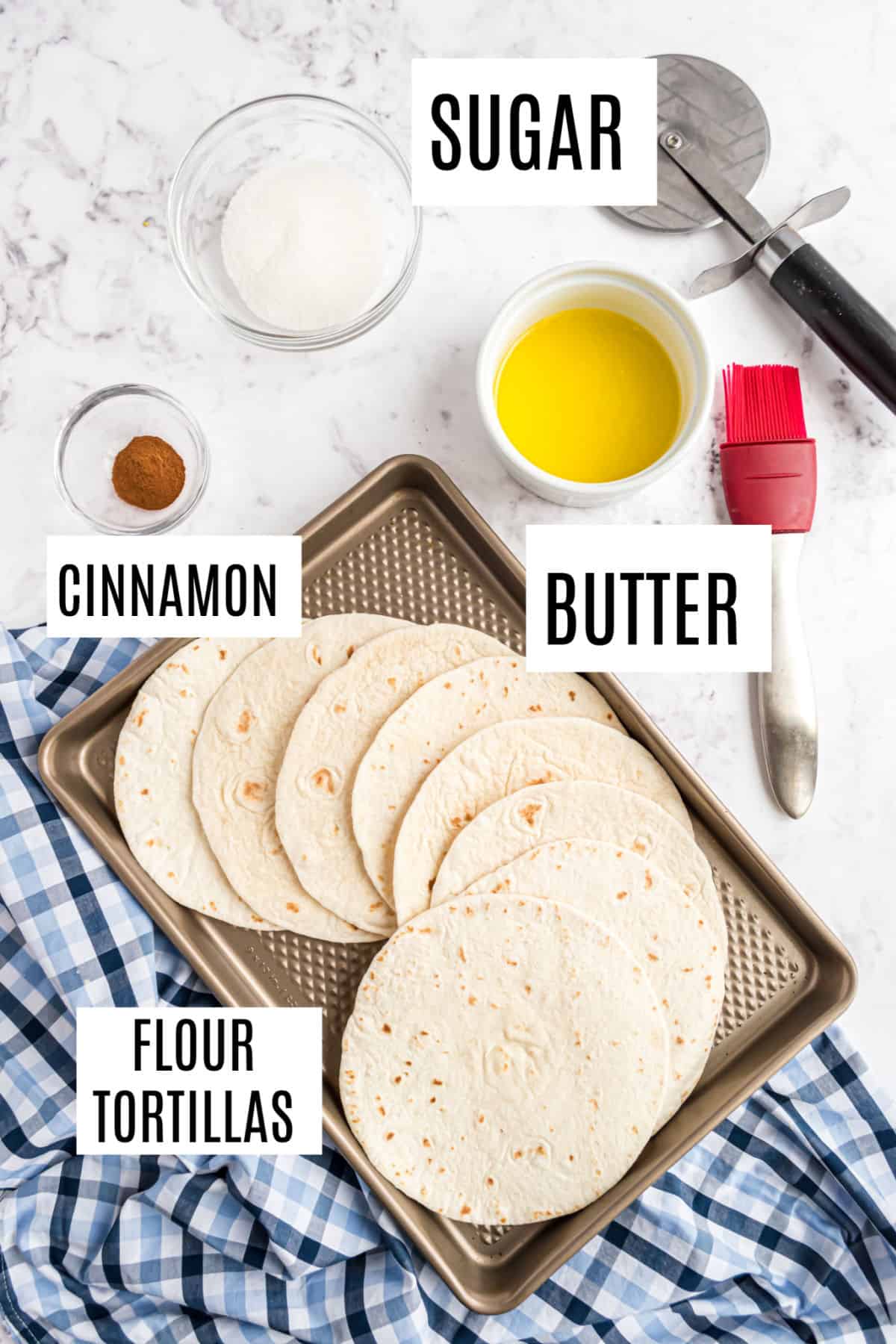 These Baked Cinnamon Chips only require FOUR ingredients!
Flour tortillas. I use the taco sized tortillas to make easy to cut into wedge shapes.
Butter. Unsalted is best. I find salted butter adds too much salty flavor to these chips.
Cinnamon. Any kind of ground cinnamon works well.
Sugar. I use regular granulated ("white") sugar in this recipe. Vanilla sugar would be a great flavorful addition!
Tips and Tricks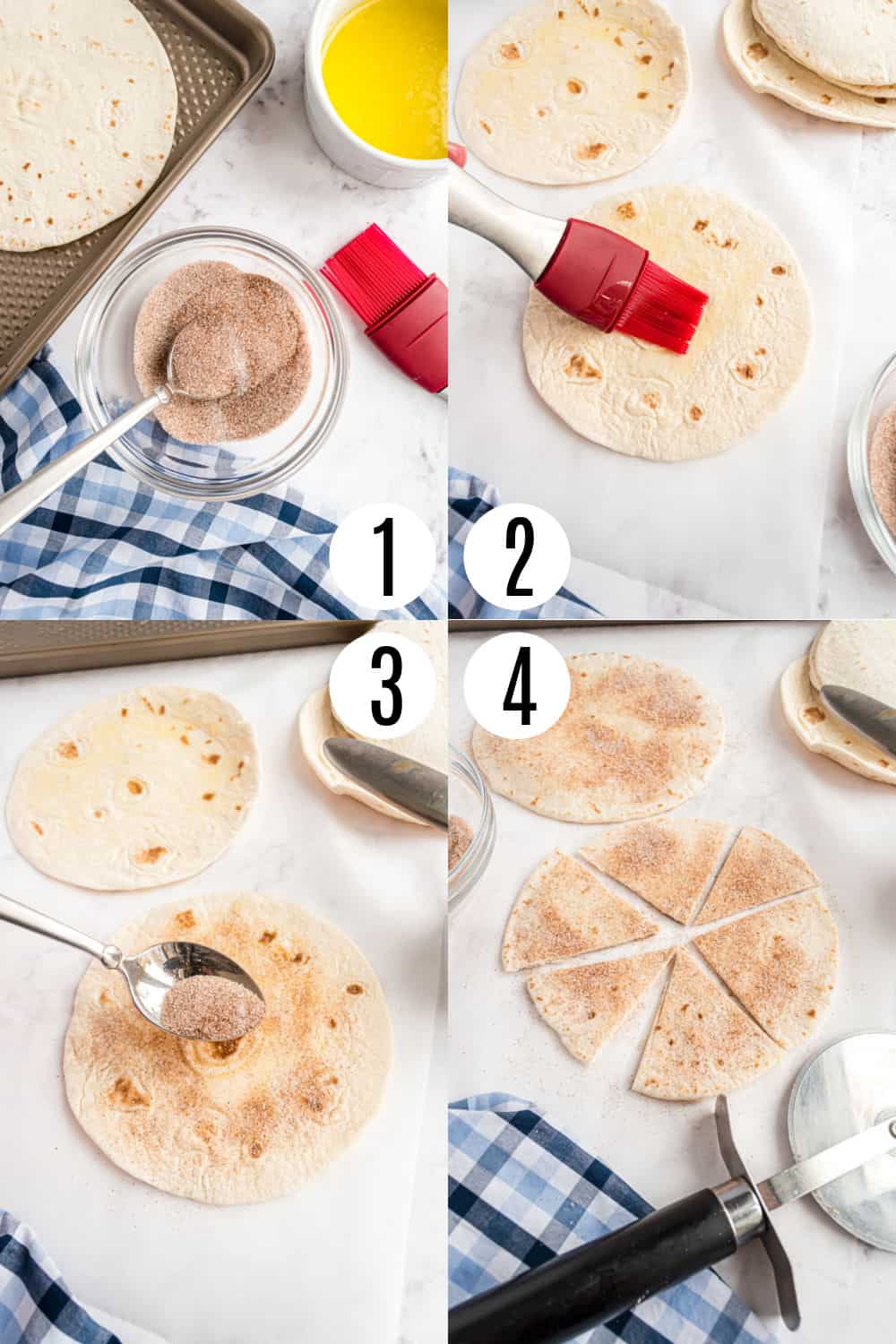 Brush tortillas with unsalted butter that's been melted. Then sprinkle with a generous amount of cinnamon sugar.
Use a pizza cutter to cut the tortillas into wedges.
Space in a single layer on the baking sheet for even baking and crispiness!
If doubling the recipe, use two baking sheets to ensure the chips don't get overcrowded.
Store leftover chips in an airtight container for up to 3 days. If they begin to soften, toss in the oven to crisp them up for several minutes.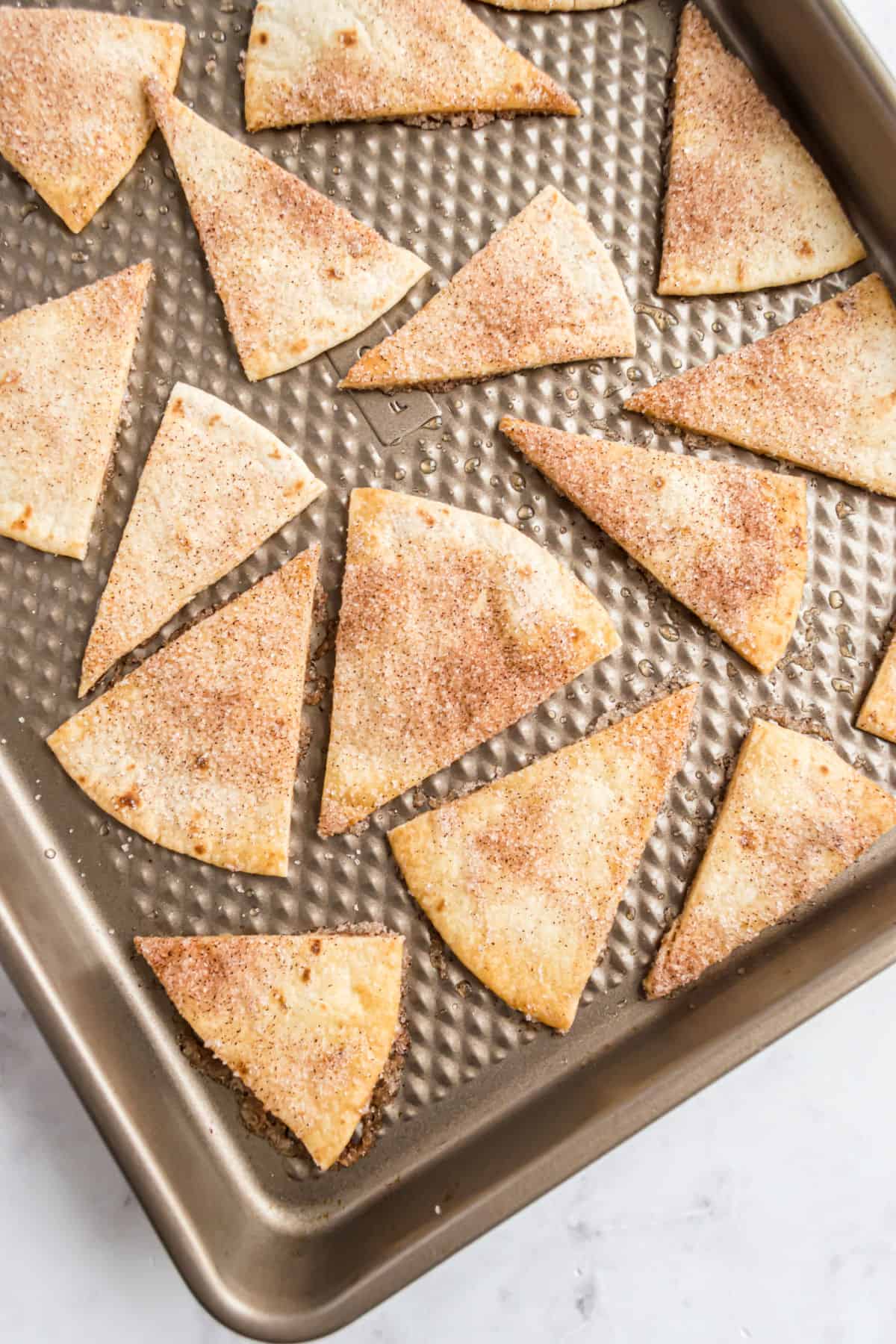 Recipe FAQs
Can you fry cinnamon tortilla chips?
Yes, you can fry cinnamon tortilla chips instead of baking, if preferred. I would pan fry in a layer of vegetable oil until crisped and golden brown. Transfer fried cinnamon chips to paper towels to drain the excess oil.

Why did my cinnamon chips burn?
The cinnamon sugar on tortilla chips can easily burn and blacken if left in the oven for too long. These will also get crispy faster on darker baking sheets. To prevent over browning, check the chips after 7 to 8 minutes in the oven. Your chips may take more or less time than mine depending on factors like oven temperature accuracy and the thickness of your tortillas.
Can cinnamon tortilla chips be made with corn tortillas instead?
Yes, you can make this recipe with corn tortillas instead. Corn tortillas tend to be more delicate and may require less baking time to get crispy. Corn tortillas tend to not be as sturdy for dipping either, which is why I prefer flour tortillas for this recipe.
What goes well with cinnamon chips?
Enjoy these chips with all kinds of sweet dips! You'll love them with Pineapple Salsa or this Butterscotch Cheese Ball. I've even eaten used them to scoop up plain whipped cream. Baked Cinnamon Chips are even sweet and buttery enough to be enjoyed on their own, straight out of the bowl!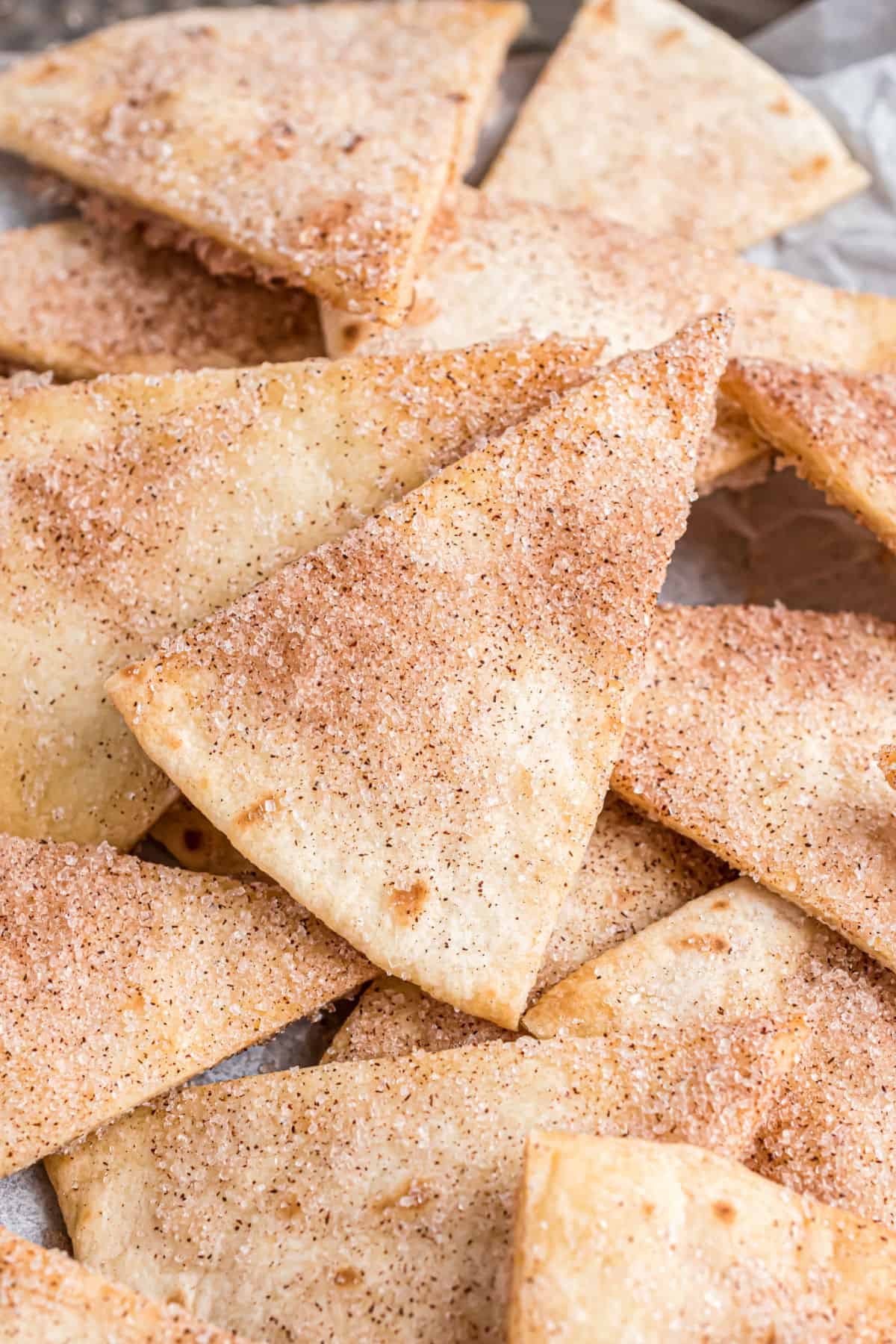 More Easy Dessert Recipes
You'll love making homemade baked Cinnamon Tortilla Chips for all your sweet snacking needs. Make a double batch if you're feeding a crowd–these disappear fast!