Oreo Peanut Butter Dip is an easy, creamy spread perfect for dessert or as an appetizer. With only 4 ingredients you can whip it up in minutes for your next party!
Love creamy sweet dip recipes? Try our decadent Cheesecake Dip for your next party. Or give this classic Cannoli Dip recipe a try!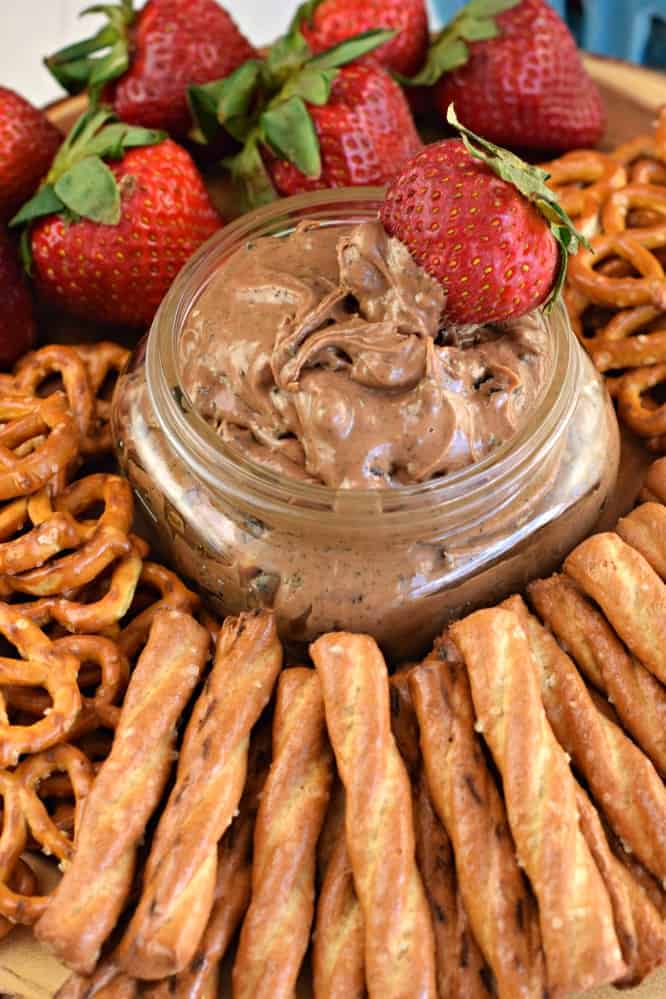 Easy Creamy Dip
There are times in your life when it's totally acceptable to eat peanut butter from the jar.
I also found out recently that some people dip Oreos in peanut butter. I've always been a fan of dipping Hershey bars in peanut butter.
Well friends, I'm giving you the best of everything.
Oreo Peanut Butter Dip.
Only 4 ingredients for this decadent, delicious, chocolate peanut butter treat.
What you choose to dip in THIS spread is completely up to you. My family loves strawberries, pretzels, and crackers…but a spoon is perfectly acceptable too!
Serve this as an appetizer or a dessert!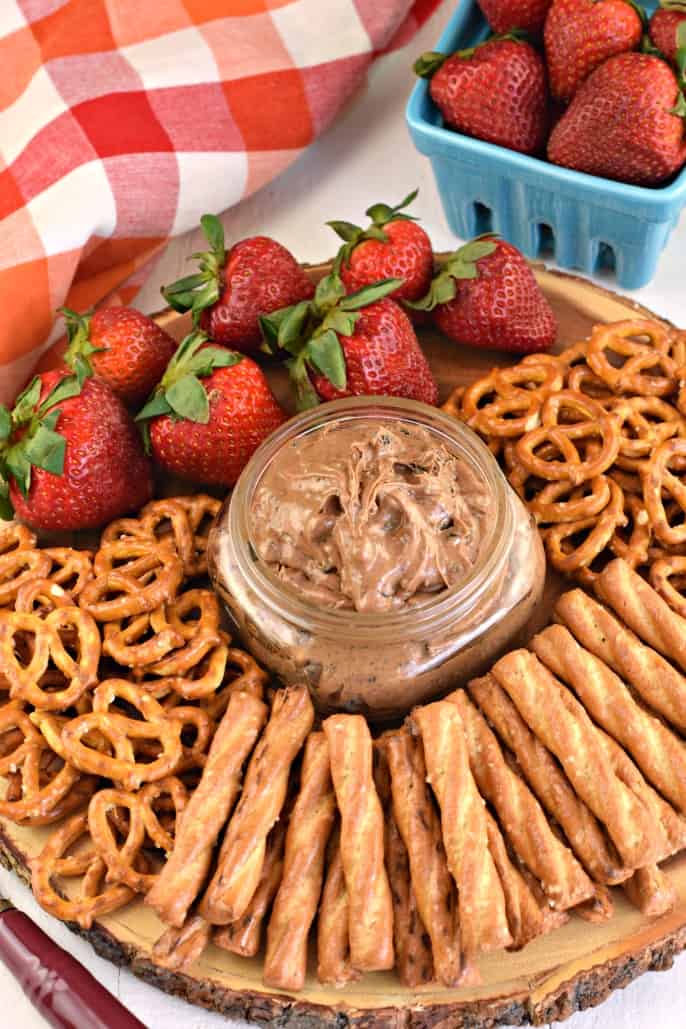 Only 4 Ingredients
This recipe has 4 ingredients. Super easy, right?
Peanut Butter. Whether you choose creamy or crunchy peanut butter is your choice, both turn out amazing. I only suggest you not choose a natural version that has too much oils (or if you do, make sure you REALLY stir it up good).
Nutella. You could stop right there and I'd be in heaven. This chocolate hazelnut spread is the perfect complement to the nutty peanut butter.
White Chocolate. For today's delicious recipe, you'll melt the white chocolate with the peanut butter and nutella. Don't like white chocolate? Milk chocolate works great too!
Oreos. You can't have an Oreo Peanut Butter Dip without them. Crush them up with a rolling pin in a ziploc bag. So many flavor options here too. Choose any style Oreo cookie you love!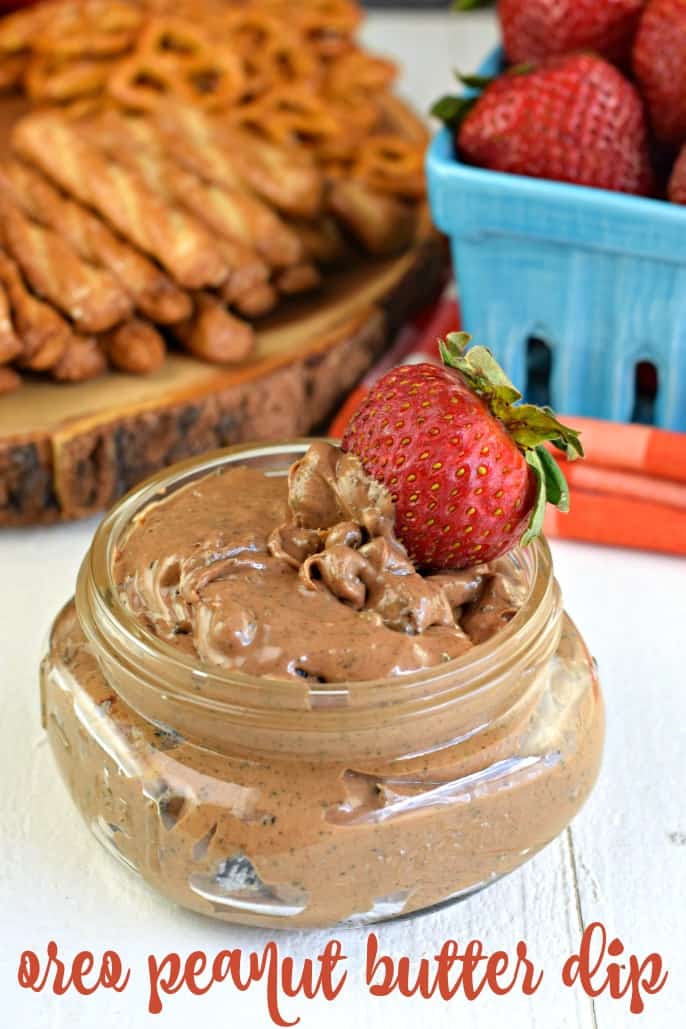 Easy Instructions
To make the dip, add the peanut butter, Nutella, and white chocolate chips to a microwave safe bowl. Heat for one minute.
Stir and heat for additional 15 second intervals until everything is melted and smooth (stir after each interval).
Fold in the crushed Oreos and refrigerate for at least 30 minutes. Serve and enjoy.
For best results, allow dip to come to room temperature before serving.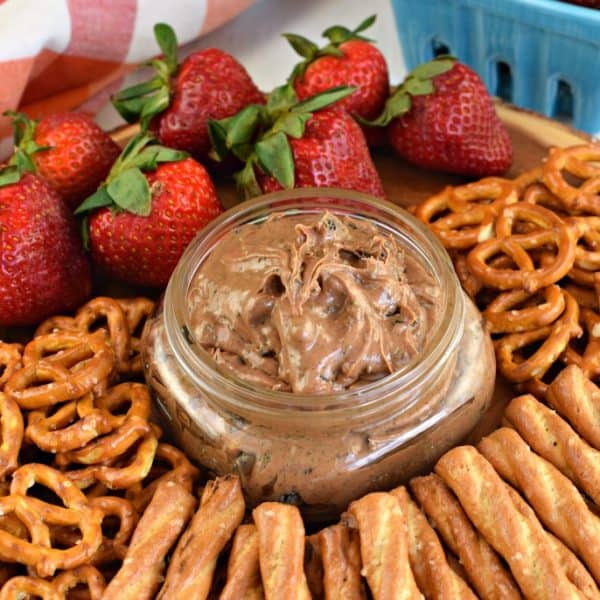 What to serve with Oreo Dip
So many things make great dippers.
Sweet: Graham crackers, More oreo cookies, Shortbread Cookies, Nilla wafers, Strawberries, Apple slices, and/or Teddy Grahams.
Salty: Pretzels, Crackers, Pretzel crisps, Pringles. Or make a batch of homemade cinnamon tortilla chips!
How long does Oreo Dip last?
Keep in a sealed jar in the refrigerator and this Oreo Dip can last up to a week.
I haven't tried to freeze this dip, but if you do, let me know.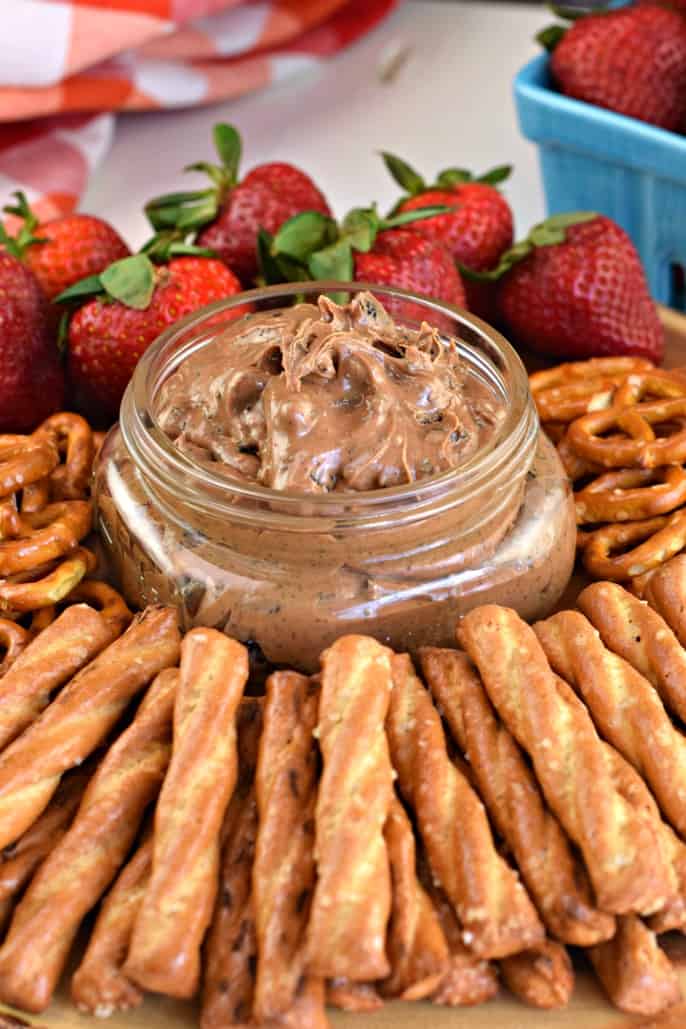 A delicious recipe for Oreo Peanut Butter Dip made with PB, white chocolate, Oreos and Nutella. Grab a spoon and dig in!