If you love sneaking bites of cookie dough, this Reese's Peanut Butter Cookie Dough Dip is decadent and drool worthy. Serve it up with pretzels or apples and watch it disappear!
Love sweet dips? Try our favorite Cannoli dip for a twist on a classic Italian dessert. Or give this Funfetti dip a try with fruit and cookies!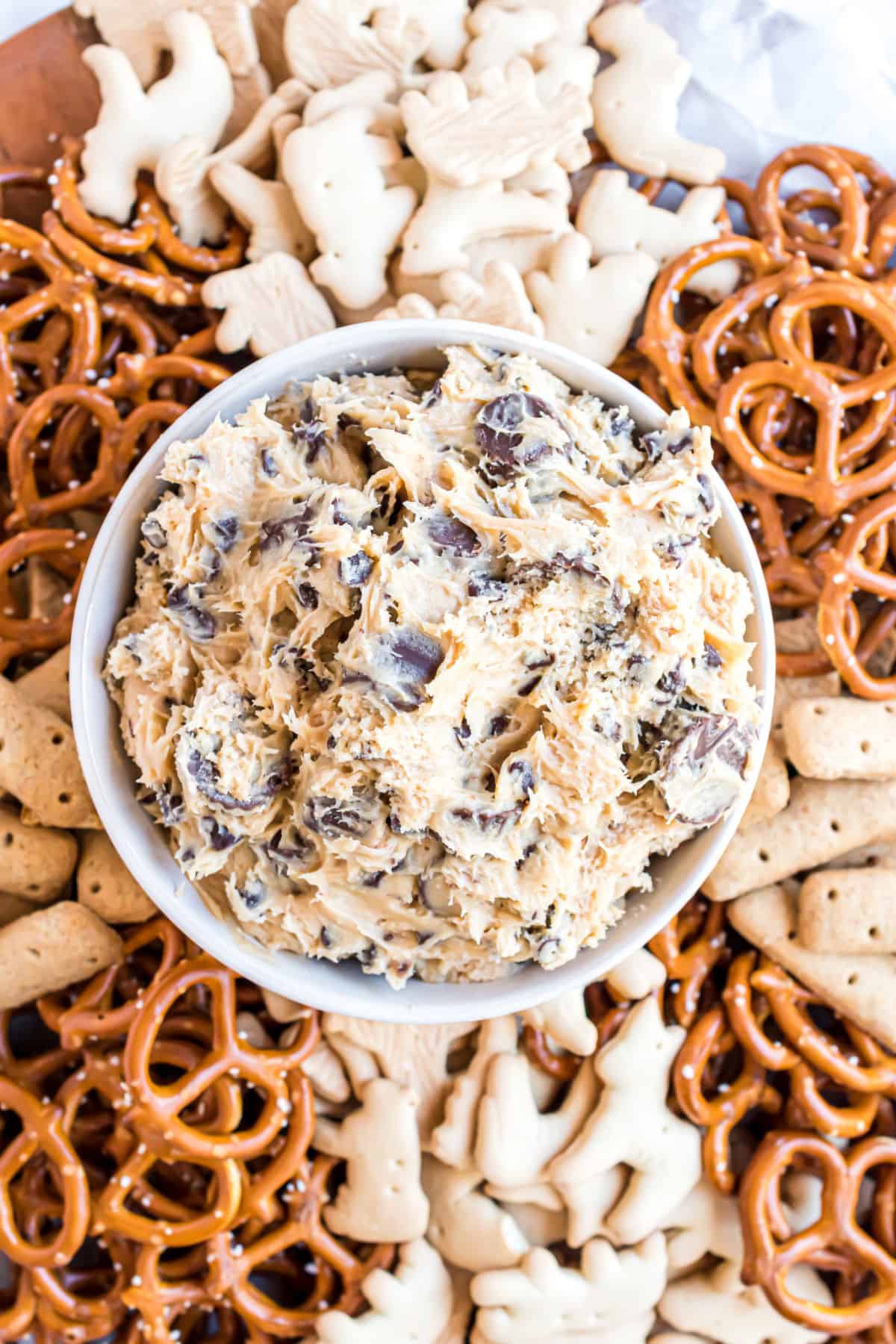 Why this Recipe Works
I've got an insane recipe for you today. Reese's Peanut Butter Cookie Dough Dip!
This dip has it all:
chocolate
peanut butter
cookie dough
All mixed together for the ultimate decadent scoopable dessert.
Peanut butter cookie dough dip gets its soft, creamy texture from cream cheese. Beaten with powdered sugar, it provides the perfect base the Reese's bits and chocolate chips.
You end up with an amazing contrast of smooth and chunky textures to deliver all that great chocolate-peanut butter flavor to your mouth.
Scoop it up with pretzels and graham crackers or Nilla wafers. It takes a lot of willpower to resist just digging into the bowl with a spoon!
If you can't resist eating the cookie dough when making Peanut Butter Cookies, this dip is created for you!
Ingredient Notes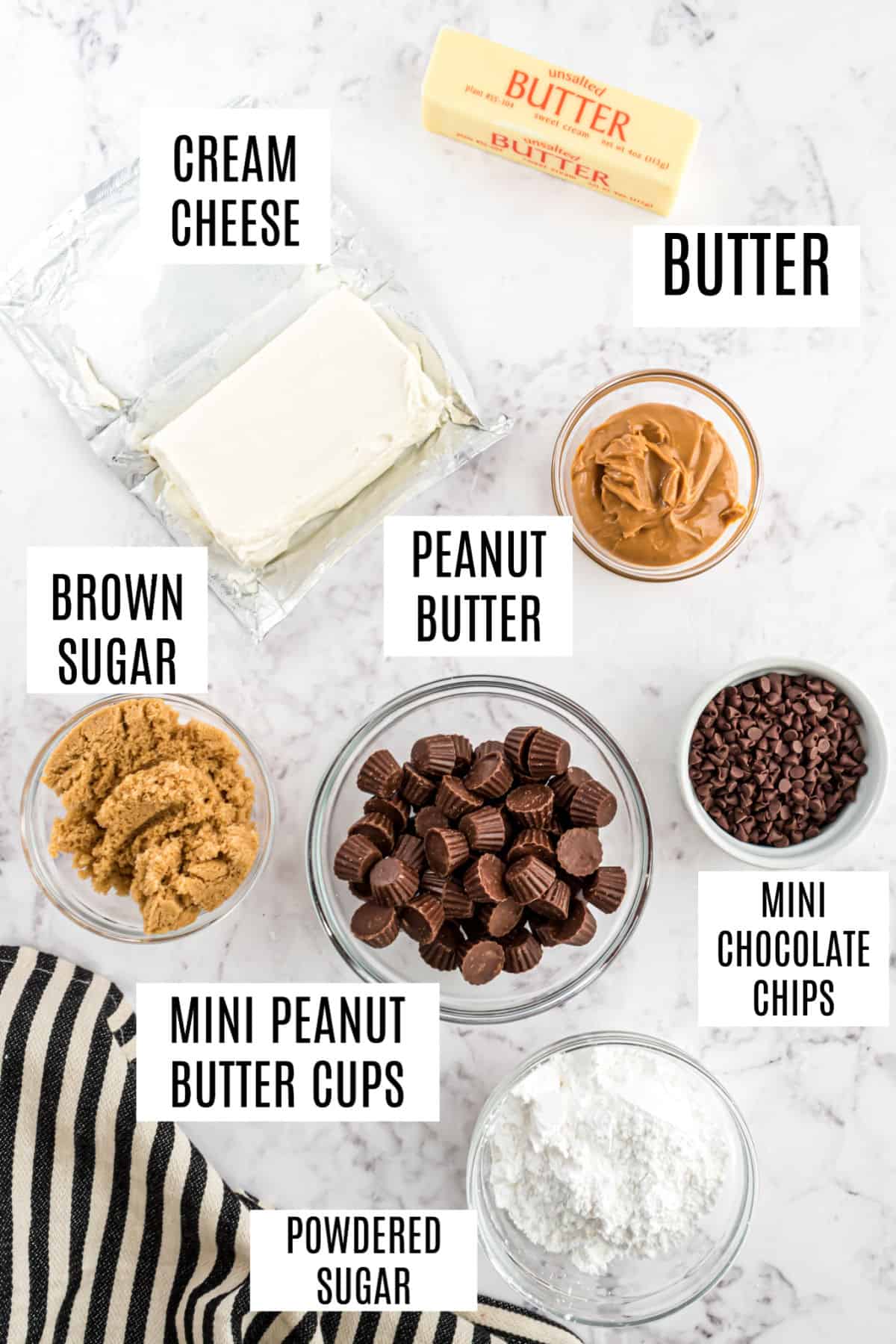 Chances are you have most of these ingredients already in your pantry! Stock up some Reese's and you'll be ready in minutes.
Peanut butter. Smooth creamy peanut butter works best.
Reese's Peanut Butter Cups. I used the mini peanut butter cups. Full sized Reese's chopped into bite sized chunks will work too.
Chocolate chips. I prefer the texture of mini chocolate chips in the dip, however regular chocolate chips are fine if that's all you have.
Cream Cheese. Make sure it's softened first!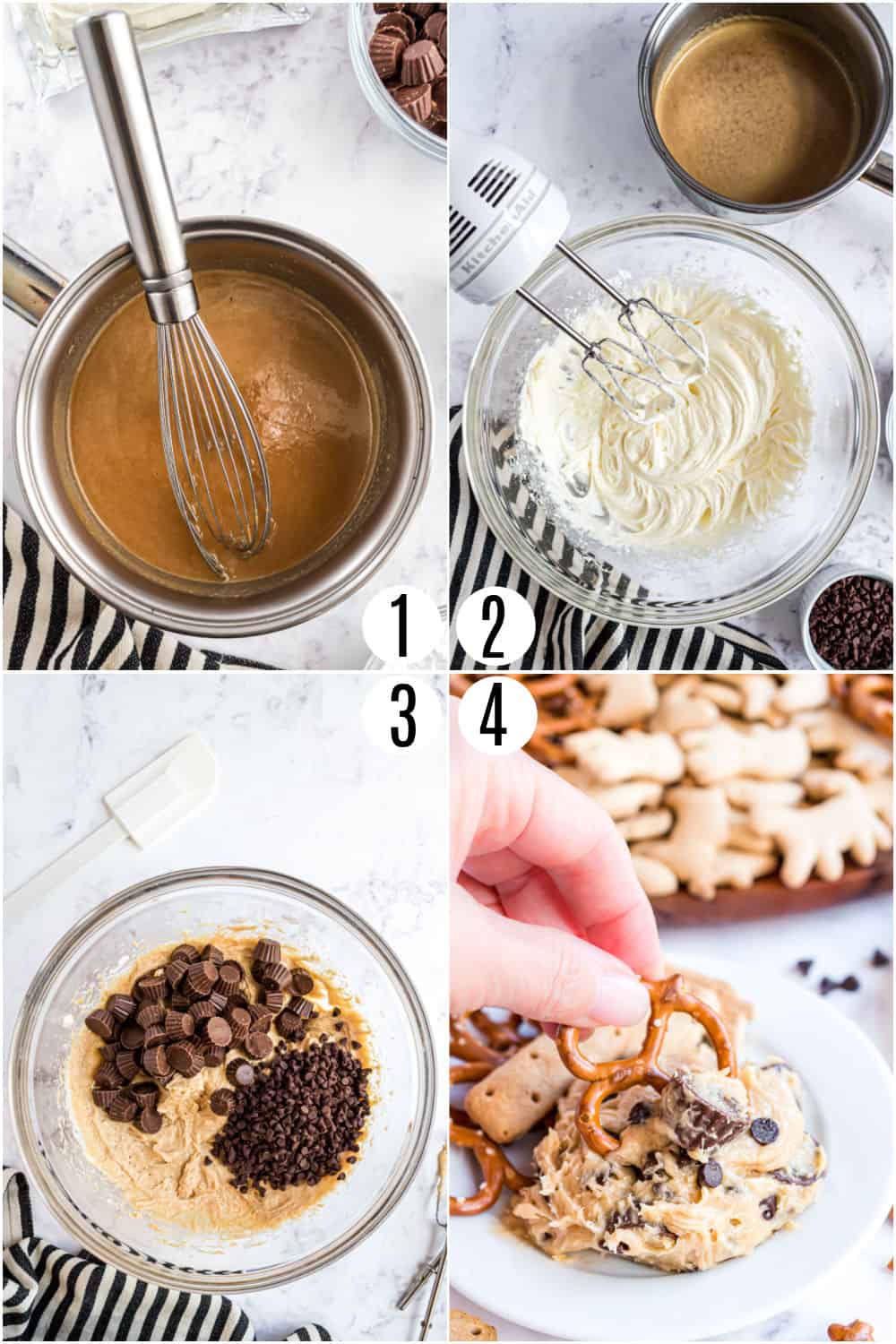 Tips and Tricks
Light brown sugar is best to keep the dip a lighter color and help the peanut butter flavor shine through. You mix this with peanut butter and butter while warming on the stove.
Let the butter mixture cool completely while you beat together cream cheese and powdered sugar. Only add the butter mixture to the cream cheese once its fully cooled.
Add Reese's and mini chips at the end. Be sure all the other dip ingredients are well combined, before mixing in the candies.
Serve immediately OR store in the fridge. It's delicious room temperature or chilled!
Recipe FAQs
Can I use salted butter instead of unsalted butter?
Yes, salted butter will work just fine in this peanut butter cookie dough dip recipe.
Why is my Cookie Dough Dip a darker color?
The dip may turn out darker if you use dark brown sugar. If the brown sugar mixture is still warm when you beat it into the dip, it will also cause the chocolate to melt into the dip a bit. This can result in a darker brown color.
What do you serve with cookie dough dip?
This Peanut Butter Cookie Dough Dip is amazing with all kinds of dippers. Pretzels, animal crackers and graham crackers are my favorite! Nilla wafers and apples are delicious choices too.
Can this recipe be made ahead of time?
Yes, you can make this dip up to 2 days in advance. Keep in the fridge until ready to serve!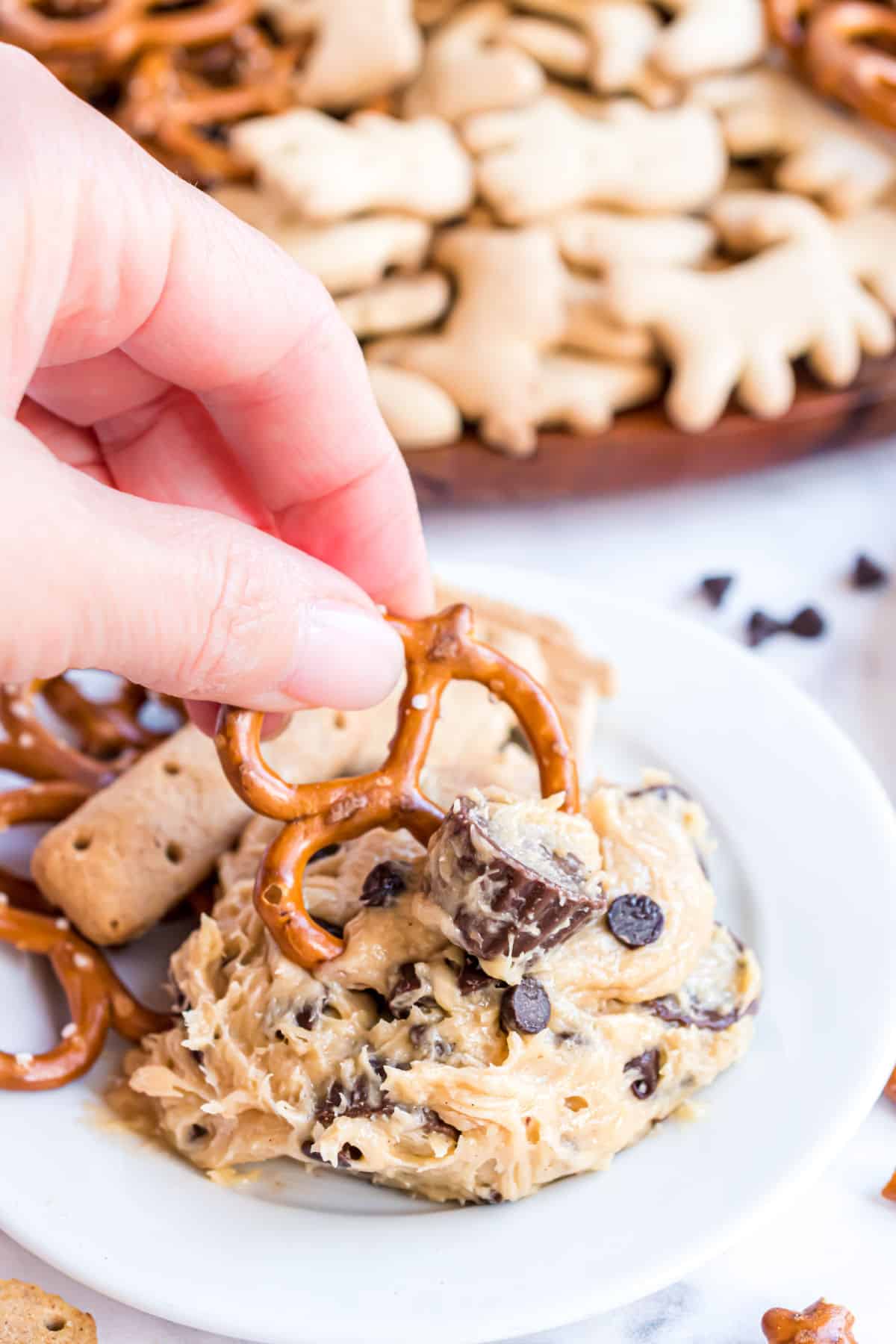 More Game Day Recipes
Chocolate Oatmeal Cream Pie Footballs: classic Little Debbie pies with a chocolate twist. Shape them into footballs and they will be irresistible at your party!
Slow Cooker Barbacoa: why not make your own burrito bowls? Try my recipe for barbacoa and cilantro lime rice! Add guacamole, salsa, cheese, lettuce and tomato and everyone is pleased!
Want another easy dinner idea? Make a big Taco Pizza. Feel free to use packets of pizza crust mix. It's all about the toppings here…
Taco Snack Mix: easy, no bake chex mix with a taco flair (goes great with that Barbacoa theme)! A big bowl won't last long enough though, it's quite addictive.
Jalapeno Corn Dip: every party needs a dip. Not the person, but the edible snack that keeps you going back for more!!
Parmesan Artichoke Bread: one of my favorite recipes to serve to a large crowd. So easy to make too!
And of course, in my house, it's not a party unless there is a tray of fudge! Peanut Butter Fudge would be perfect for any party!
Don't forget the football shaped Peppermint Patties. So easy and fun!
A sweet dessert dip like this Reese's Peanut Butter Dip would be a hit at any Superbowl party! Don't wait to grab a bite–it'll disappear before you know it.