With festive sprinkles and a classic white cake flavor, Funfetti Dip will make your next birthday party even sweeter. Grab some fruit slices and animal crackers and get ready to dip!
If you love sweet dips be sure to try this classic Cheesecake Dip recipe! Everyone loves it! Or give this sweet Oreo Peanut Butter Dip a whirl. So much fun.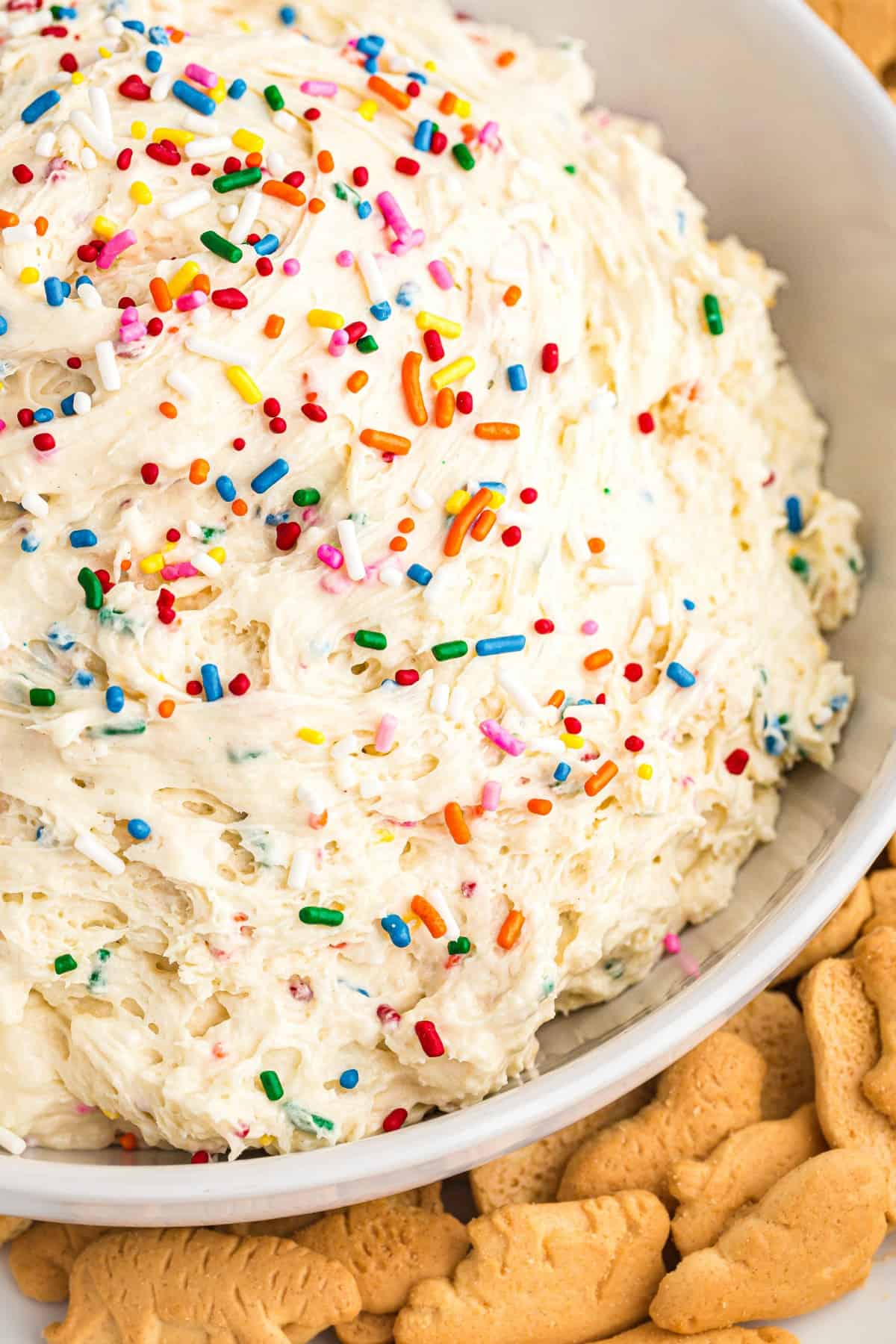 Why This Recipe Works
Remember Dunkaroos from the '90s? You got a package of cookies with a side of frosting to dip them into. Total sugar rush, total kid heaven.
The Cake Batter Dip recipe I'm sharing today is a reminiscent of Dunkaroos with some sprinkles thrown in.
Using white cake mix, cream cheese and cool whip, you make a luscious dip that tastes like cake batter.
Fold in some sprinkles and you have a colorful and festive dessert that's ideal for a party. Even if it's just a party of one. Everyone's day could use some sprinkles.
Love sprinkles? Try our icebox cookies with sprinkles too!
Why make cake batter dip?
This has all the great taste of a classic birthday cake, no baking required.
Chances are good that I hold the world title for "Number 1 Dip Fan".
Just about everything is better in dip form, from Pepperoni Pizza to BLTs.
Dessert is no different.
I've been making Cannoli Dip for years and everyone loves when it shows up on the dessert table! Same goes for this delicious Cookie Dough Dip!
This Funfetti inspired dip is the latest to get rave reviews from my family.
Sweet dips are a nice change from the usual party foods. You'll have fun trying them with different dippers . . .and the look of pure joy on a person's face when they taste a dip like this one for the first time!
Dips also bring everyone around a table to share, making them my favorite when we're having a family holiday or birthday celebration.
No one can disappear to their own corner. . .lest they miss out on getting their fair share of Cake Batter Dip!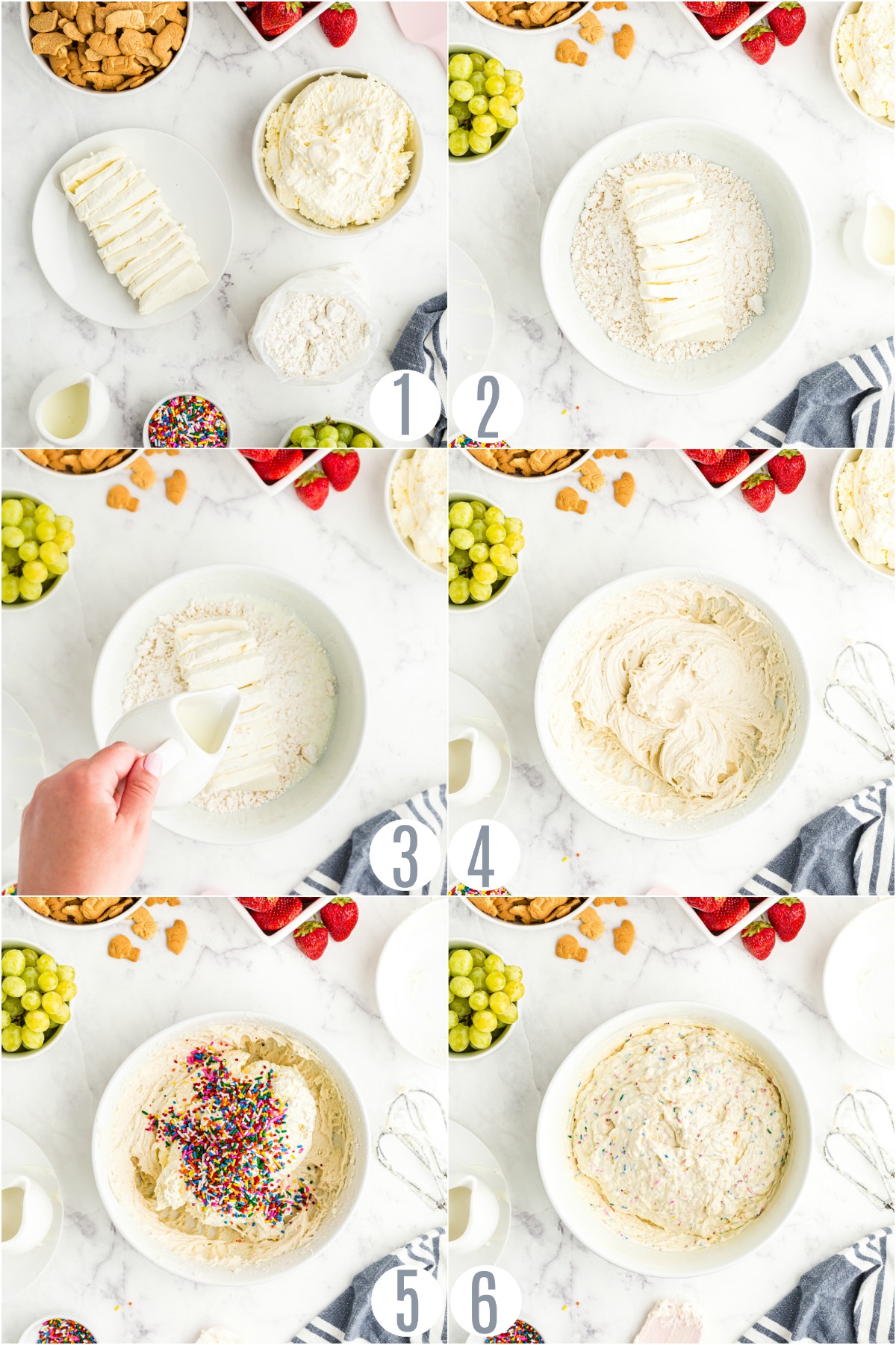 How to Make Cake Batter Dip
Made with actual cake mix, this dip is cake and frosting all in one!
PRO TIP: Before starting, you can heat treat your cake mix in minutes!
To make it, start by beating cream cheese and milk with a box of white cake mix. An electric mixer or beaters work best for this!
Then, fold in a container of cool whip (or your other favorite whipped topping) and the sprinkles.
Serve this right away with your preferred dipping mechanisms or stash the Cake Batter in the fridge until you're ready to serve it.
Substitutions
Funfetti Dip – You can swap the plain white cake mix for Funfetti cake mix too! Even more sprinkles = even more fun. Try swapping out for a box of chocolate cake for a rich, decadent dip!
Yogurt – For a creamier dip that's less thick, swap the cream cheese for vanilla yogurt. It also lightens up the dessert a little bit, especially if you use low fat yogurt–but I just like it for the different texture it adds.
Whipped cream – Not into cool whip? You can substitute homemade whipped cream here with good results. It'll be a little less fluffy than if you use stabilized whipped topping but still tastes great.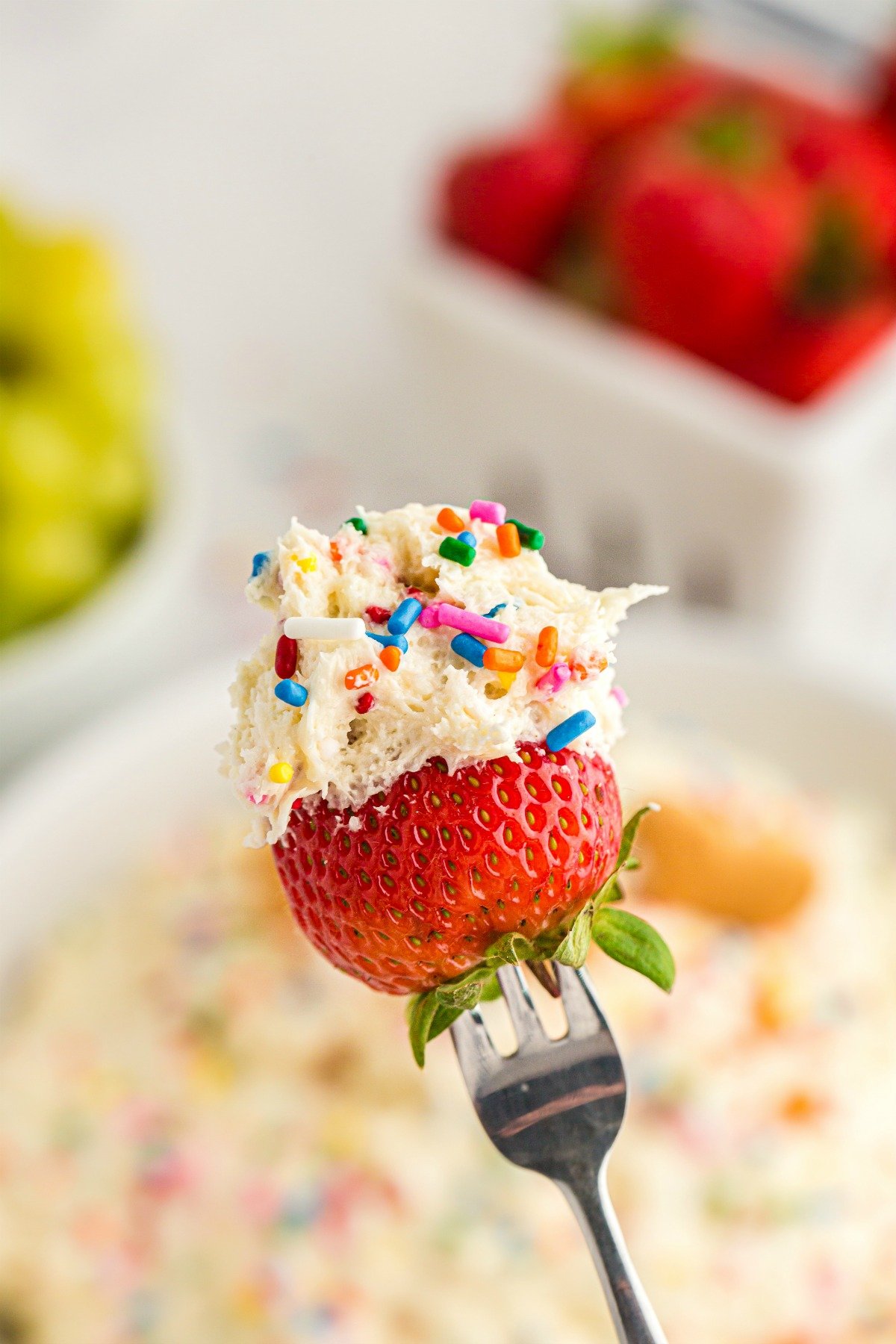 Dipper Ideas
Dunkaroos just came with cookies, but your imagination doesn't need to be so limited.
You're going to want to dunk EVERYTHING into this dip. (Especially your face, but that sounds messy so I don't recommend it!)
Here are a few of my favorite things to scoop up Cake Batter Dip:
Fresh fruit – especially strawberries!
Graham Crackers
Animal Crackers
Teddy Grahams
Vanilla Wafers
Oreos
And if you run out of things to dip into it, go ahead and just grab a spoon.
How to Store
This dairy based dip should be kept in the fridge when you're not eating it. It'll keep well for about 3 days.
When serving it out of the fridge, let it rest on the counter about 15 minutes before serving.
This will allow the dip to soften enough to scoop, dip and spread.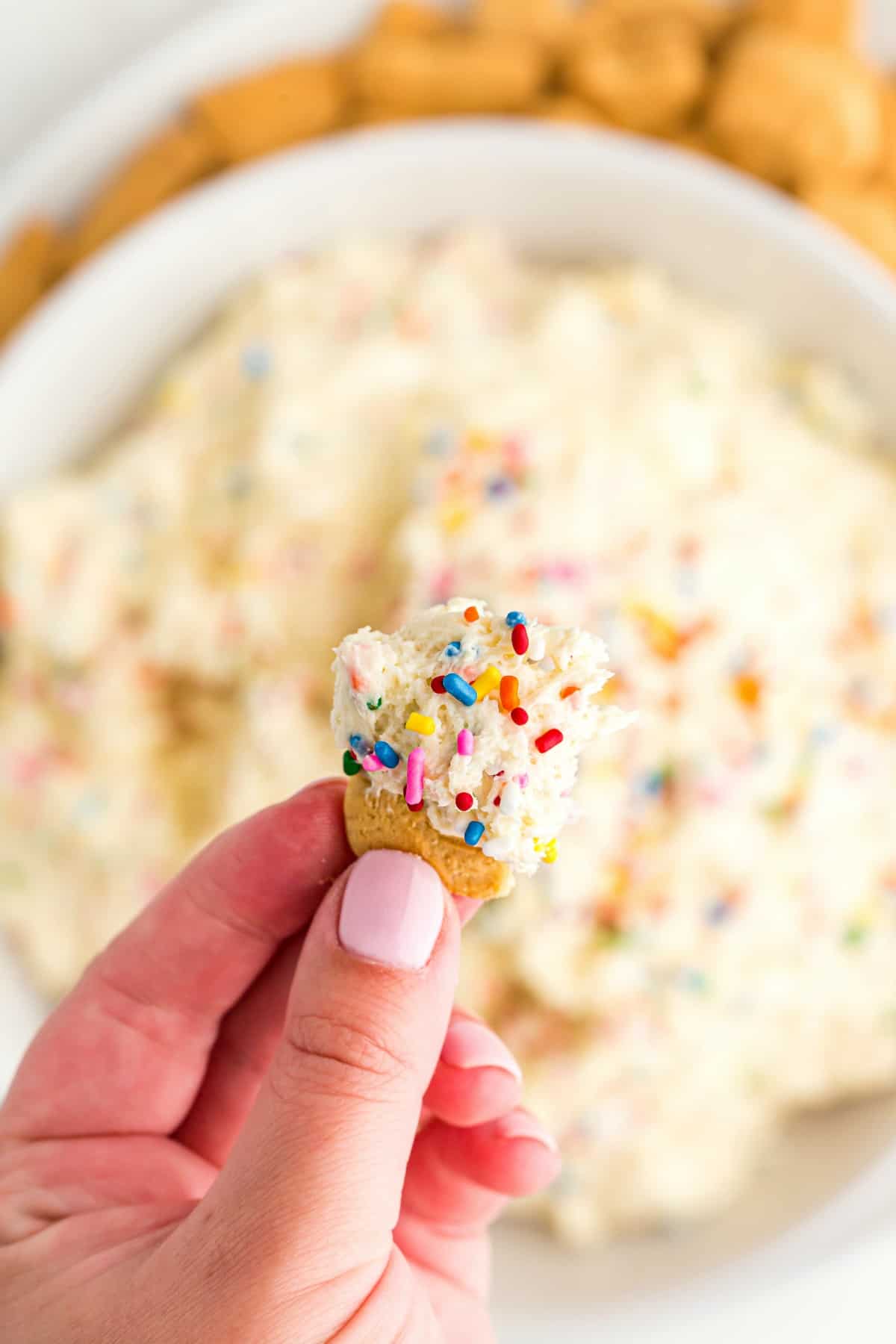 Tips and Tricks
If you're keeping this in the fridge before you serve it, you may want to add a few more sprinkles on top right before you put it on the table. In the fridge, the sprinkles may "bleed" color.
A hand held mixer can be used for beating the cream cheese and cake mix, if you don't have an electric stand mixer.
Multi colored jimmies are my preferred time of sprinkle to use in Cake Batter dip. They hold their color well and give it that "birthday cake" look. You can also use nonpareils. I don't recommend sugar sprinkles here.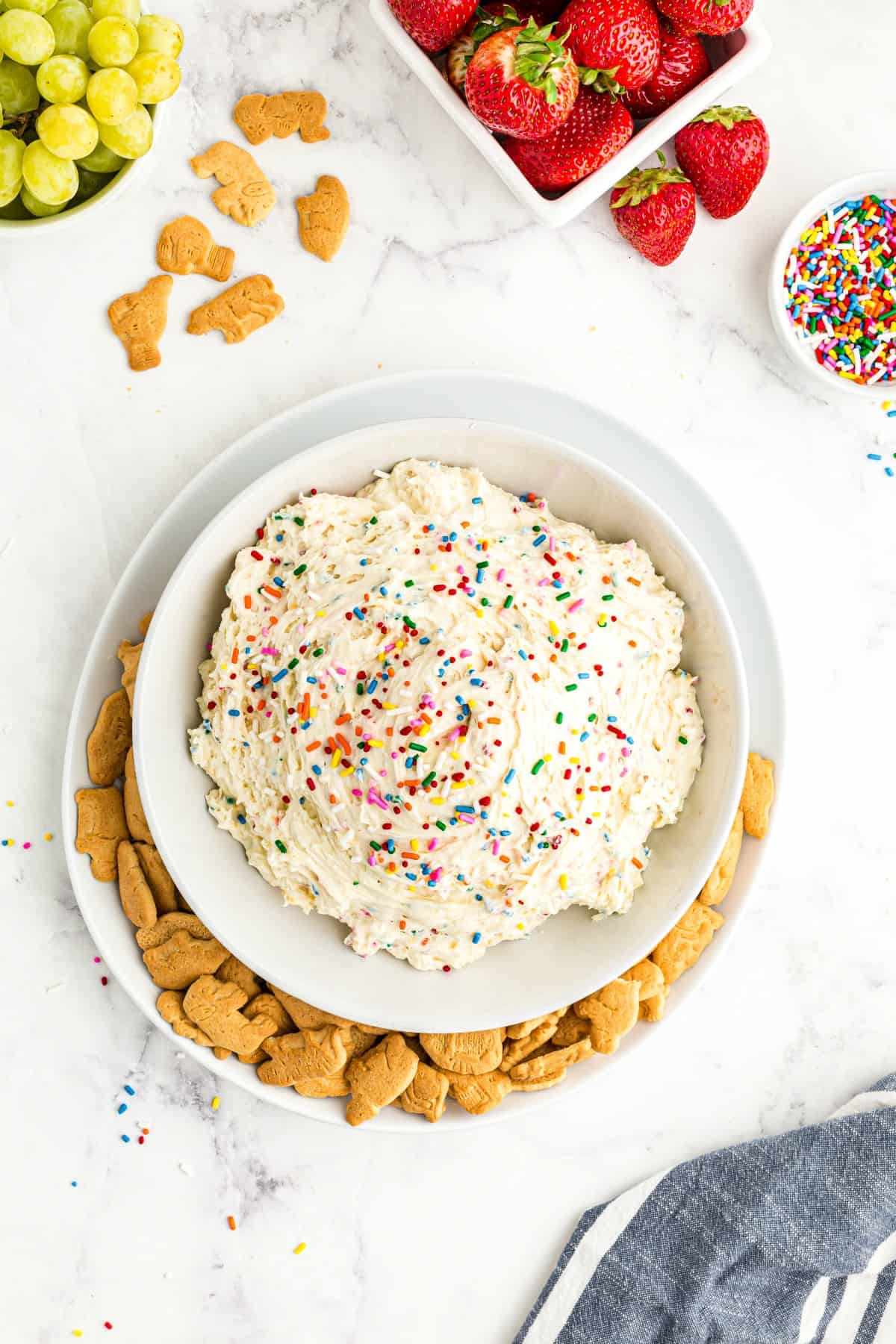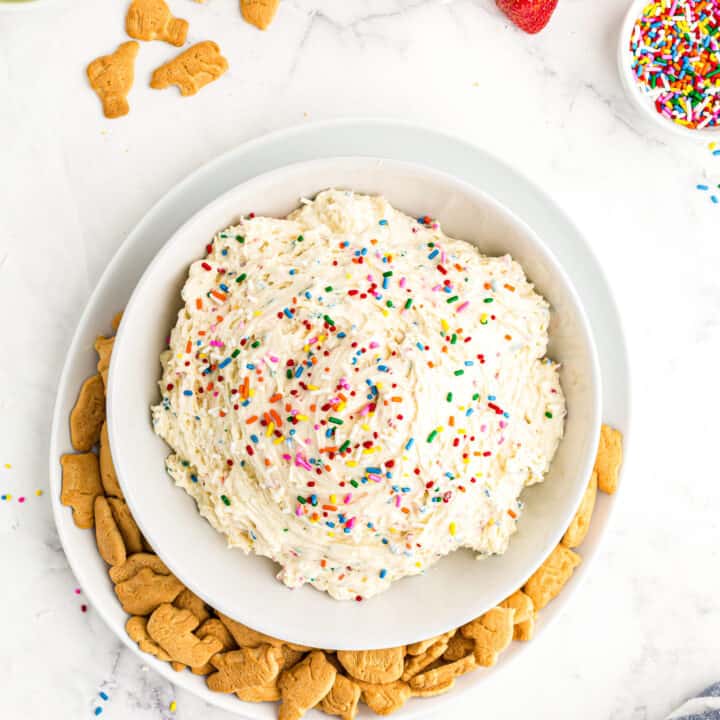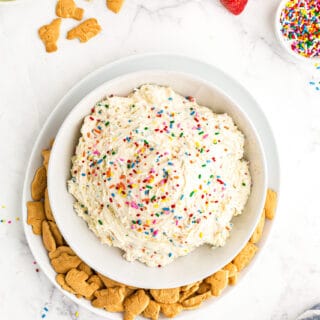 Funfetti Dip
With festive sprinkles and a classic white cake flavor, Funfetti Dip will make your next birthday party even sweeter. Grab some fruit slices and animal crackers and get ready to dip!
Ingredients
1

package

cream cheese, softened

8 oz

1

box

white cake mix, unprepared

15 oz

⅓

cup

whole milk

1

container

Cool Whip, thawed

8 oz

Sprinkles
Instructions
Combine cream cheese, cake mix, and milk with a mixer until creamy (hand mixer or electric is fine).

Fold in Cool Whip and sprinkles.

Serve immediately or refrigerate until ready to serve.

Serve with your choice of fresh fruit, Teddy grahams, animal crackers or vanilla wafers.
Notes
Swap out the white cake mix for a box of funfetti cake mix!
Make it creamier (less thick) by using vanilla yogurt instead of cream cheese!
Lasts up to three days in refrigerator. Can be made ahead of time, but let it set out about 15 minutes before serving, so it's softened.
Add the extra sprinkles on top upon serving, as they may "bleed" a little bit in the refrigerator.
Swap out Cool whip for homemade whipped cream.
Nutrition
Serving:
0.33
cup
,
Calories:
143
kcal
,
Carbohydrates:
29
g
,
Protein:
2
g
,
Fat:
2
g
,
Saturated Fat:
1
g
,
Polyunsaturated Fat:
1
g
,
Cholesterol:
2
mg
,
Sodium:
269
mg
,
Sugar:
16
g
I can't wait for you to try this fun recipe and share it with your family. It's impossible not to smile when you have a bowl of Funfetti Cake Batter Dip in front of you.