Icebox Cookies are filled with colorful sprinkles and buttery vanilla flavor. Make these ahead of time and store in your refrigerator or freezer until ready to bake! Delicious cookies fresh from the oven.
Sprinkle refrigerator cookies are as delicious as they are eye-catching. Like Funfetti Cookies, these are packed with beautiful color! Our soft ricotta cookies are topped with fun sprinkles too!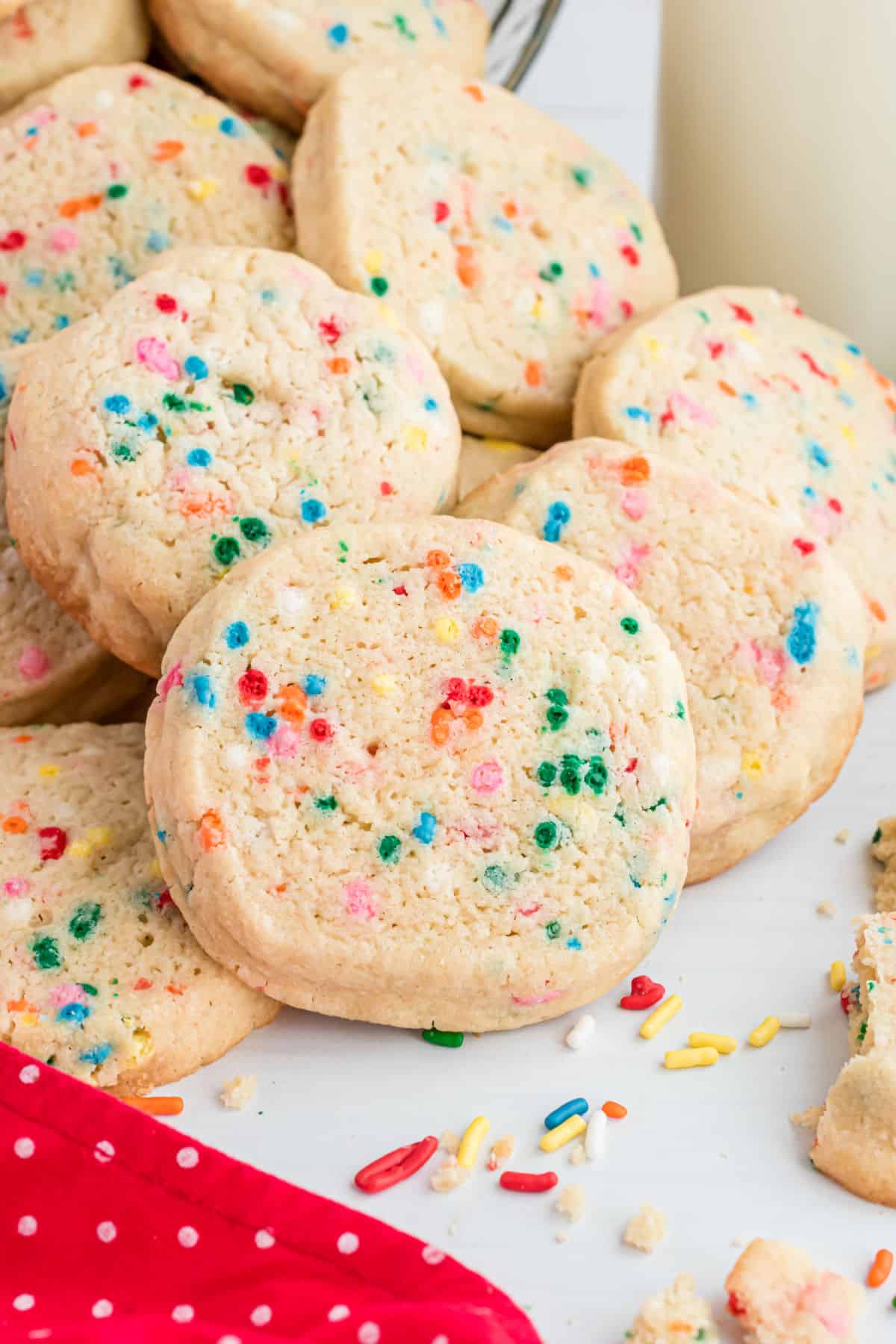 Why this Recipe Works
Wondering what refrigerator cookies taste like? They're similar to a butter cookie or a shortbread cookie with a melt-in-your mouth crumb.
The secret to perfectly shaped slice-and-bake cookies is chilling the dough well.
With this recipe, you can make the dough ahead of time and stash it in the refrigerator for up to 3 days.
Slice the chilled dough, bake and eat!
There's no frosting or decorating required, since the sprinkles are baked right in!
Or store the dough in freezer for longer storage, up to 60 days.
That said, if you prefer a softer cookie, you can reduce the baking time a bit. The texture will be more similar to sugar cookies, but not as chewy.
It's so easy to adapt these cookies for your preferences–and they're perfect for any occasion. Try our cinnamon roll cookie recipe for a unique slice and bake treat!
Ingredient Notes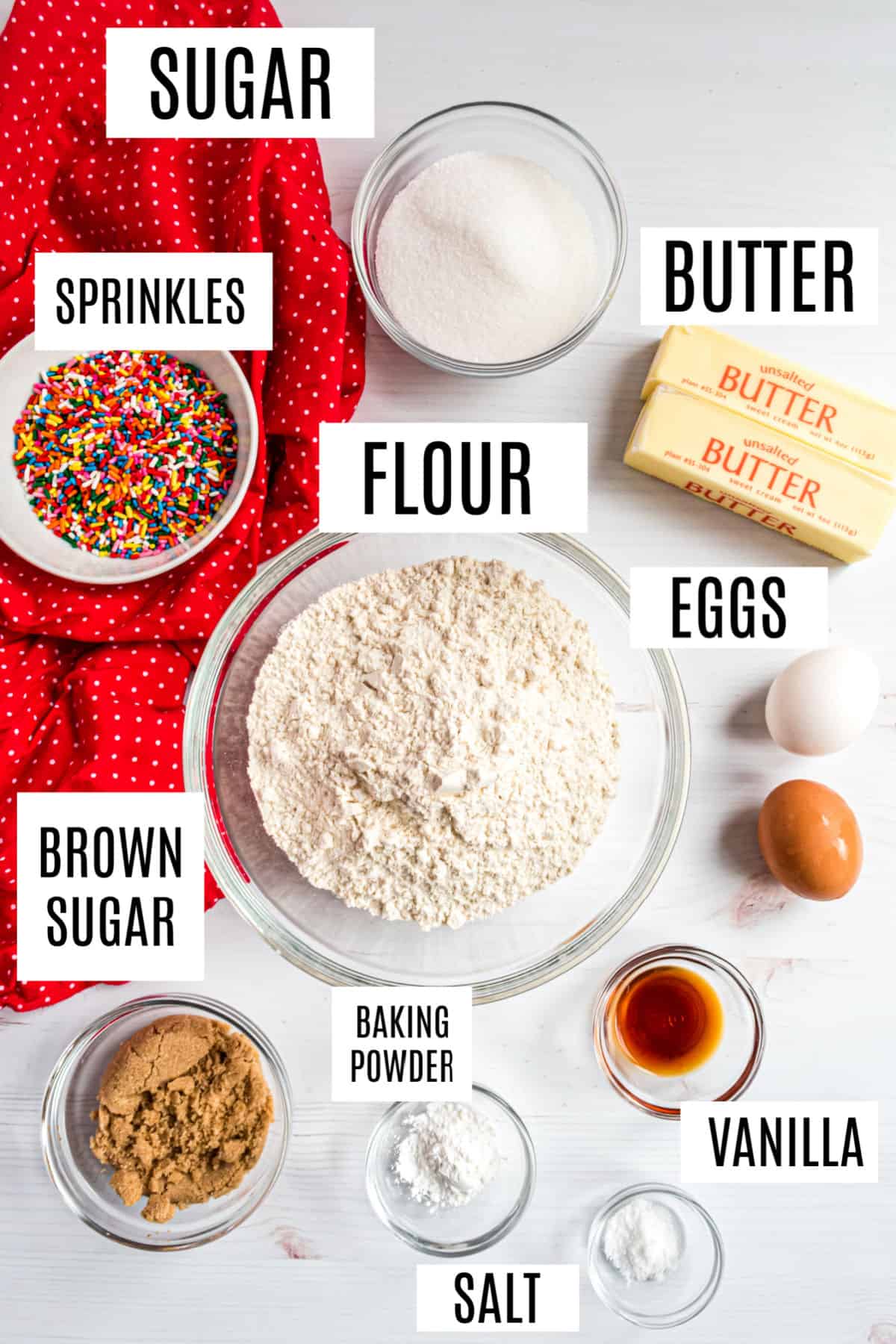 Butter. Use unsalted butter for best results. These cookies are all about the butter and vanilla flavor, so don't skimp!
Vanilla. A pure vanilla extract is best. You can use my homemade vanilla extract or another great quality vanilla for delicious results.
Sprinkles. I used rainbow Jimmies here. Any color combination of Jimmies (the long rectangular sprinkles) works. Avoid nonpareils as they tend to bleed into the dough.
How to Make Icebox Cookies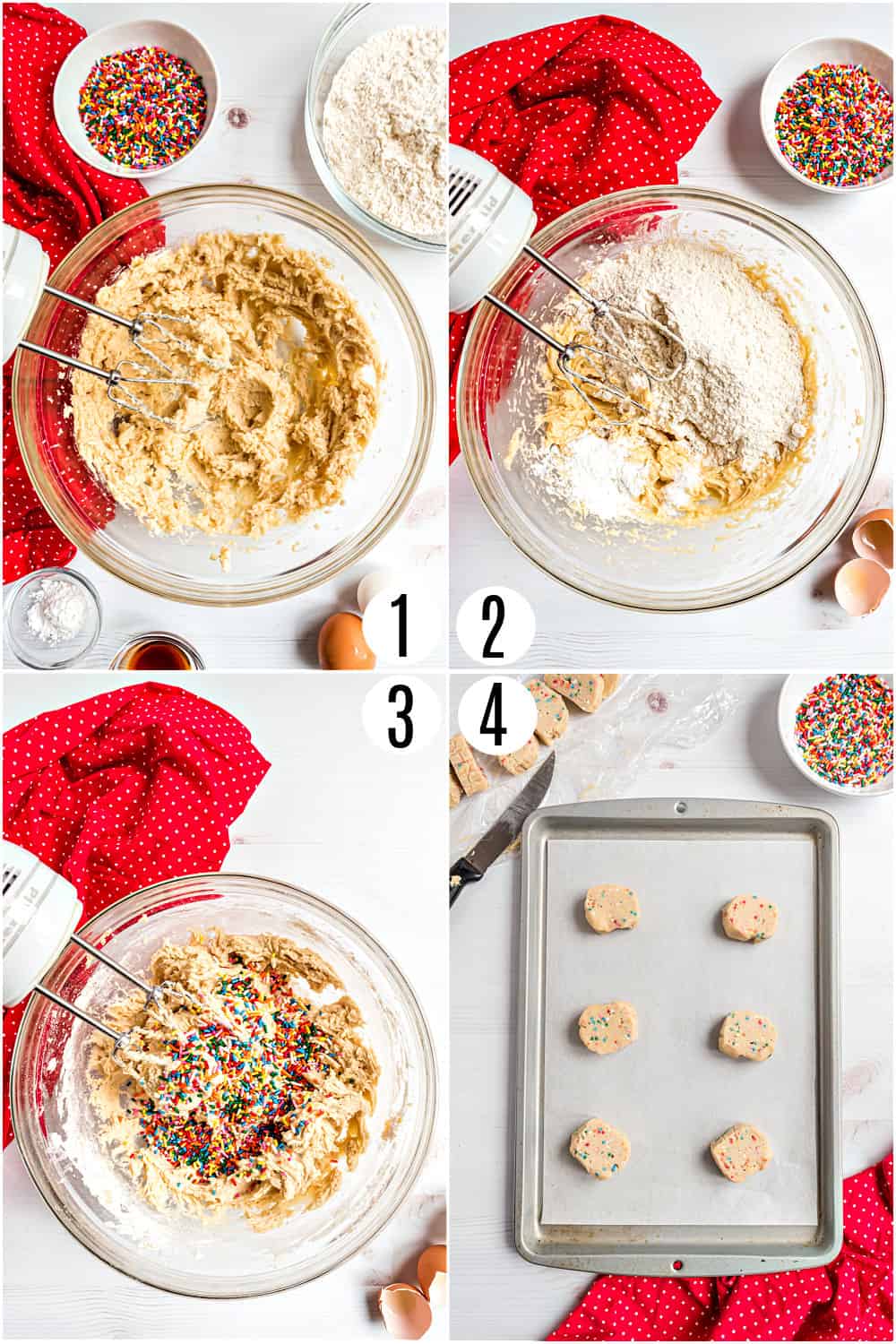 STEP 1. Combine wet ingredients
Beat butter and sugars together in a large bowl. Add eggs and vanilla.
STEP 2. Add dry ingredients
Mix baking powder, kosher salt and flour, then fold in sprinkles until just combined.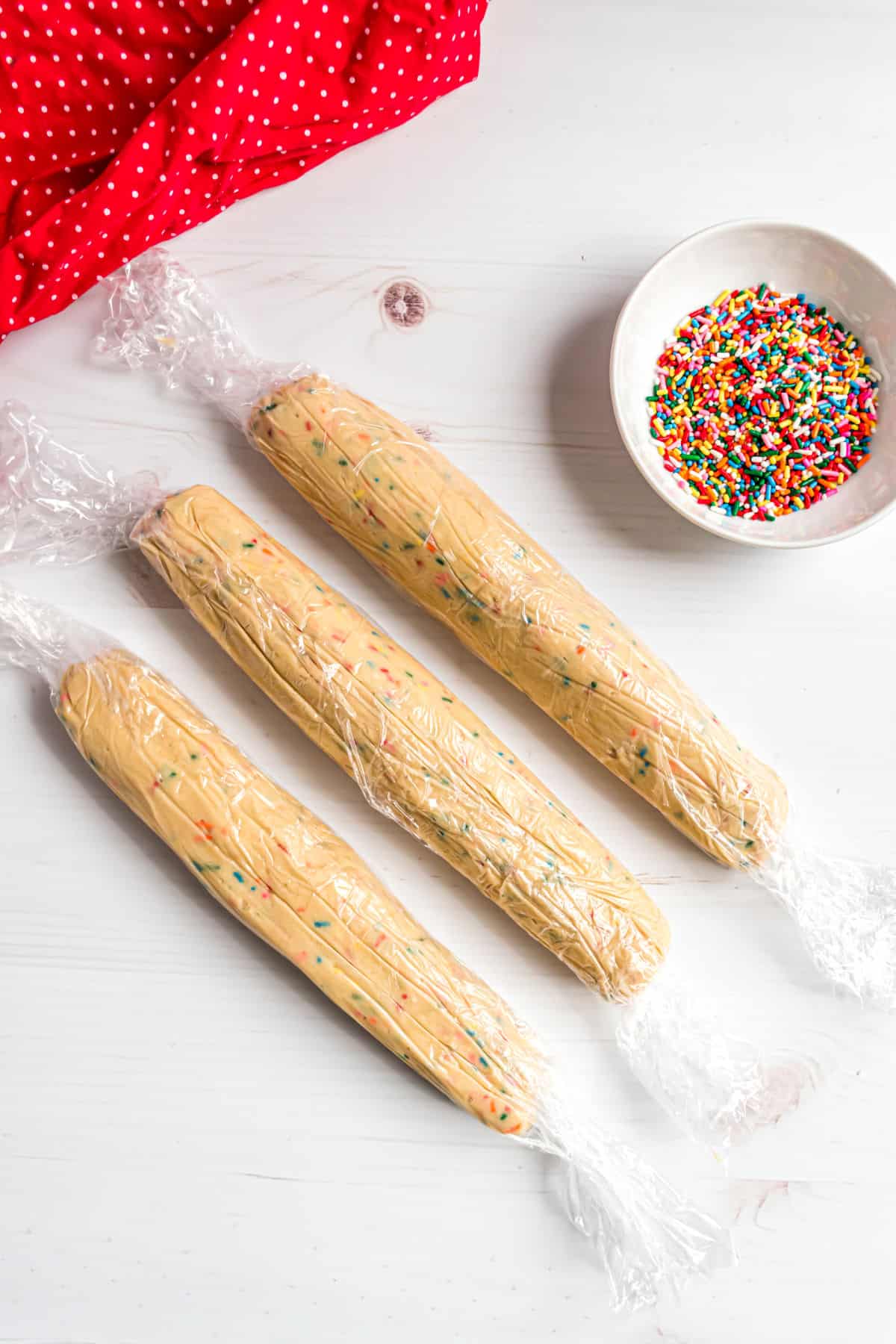 STEP 3. Chill
Divide the dough into 3 portions and wrap in plastic wrap, shaping into a log. I make my refrigerator cookies about 2 inches in diameter.
Place the dough logs in the fridge and chill for at least 4 hours.
STEP 4. Bake
Preheat the oven to 375.
Slice the chilled dough into slices a quarter inch thick. Place the slices on a parchment lined baking sheet. Bake for 9 – 11 minutes.
Let the cookies cool for 5 minutes on the baking sheet. Then transfer them to a wire rack to finish cooling.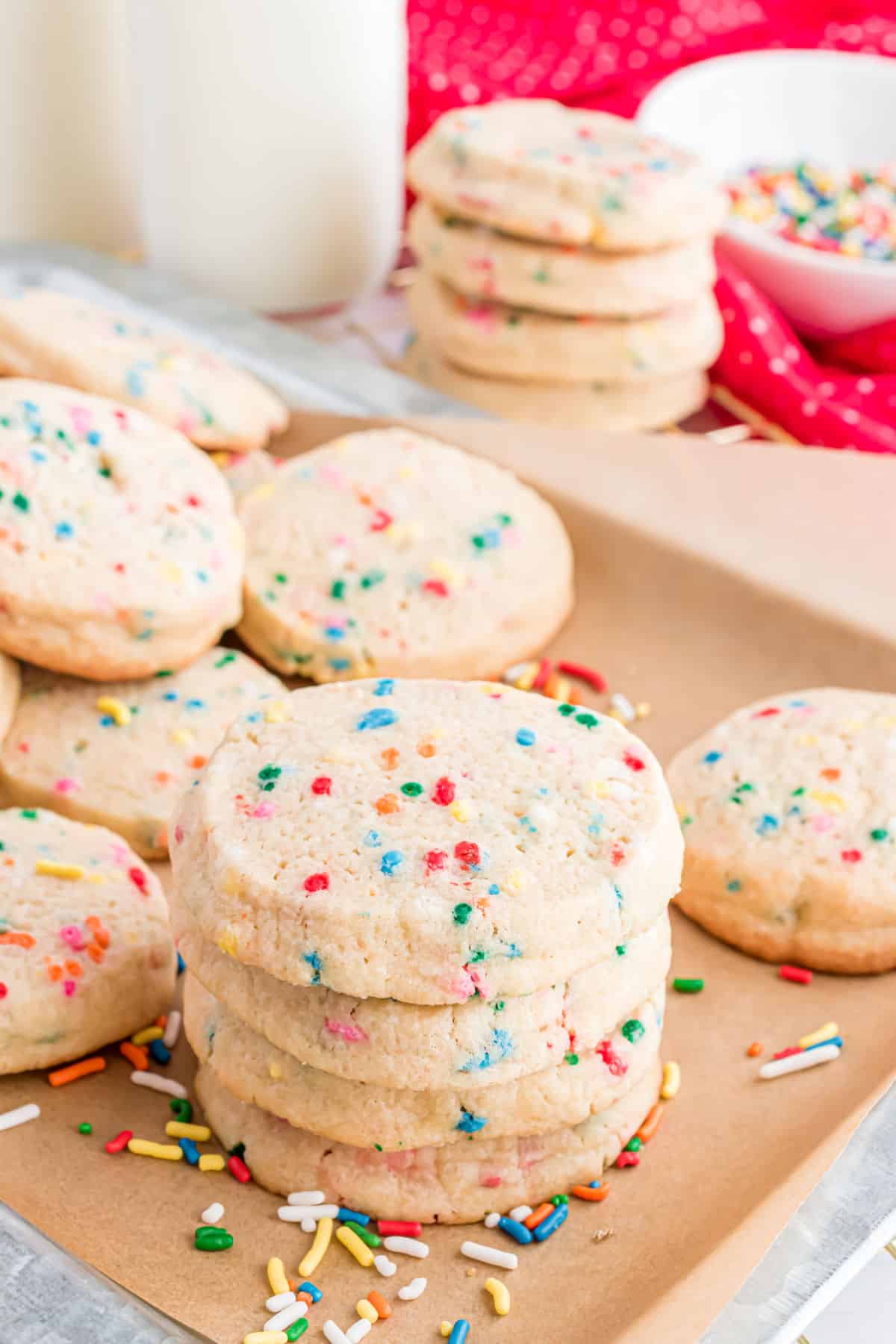 Tips and Tricks
Substitutions: Swap out the granulated sugar for Vanilla Sugar for a richer vanilla taste. Or try substituting other extracts like almond or lemon to change up the flavor!
Add zest. Adding lemon zest or orange zest to the cookie dough brightens up the flavor! Try our lime swirled iceboox cookies for a delicious twist.
Watch baking time: These cookies turn from golden to brown quickly. If you like a "shortbread" style butter cookie, remove them when lightly browned–around 11 minutes. For a softer cookie, remove them from the oven between 9 and 10 minutes.
Sprinkles: Mix up the sprinkles colors for different holidays! I love rainbow colors for birthday parties.
Add icing. Make a batch of red white and blue icebox cookies by adding a thin glaze with sprinkles on top!
Freeze Cookies. Use my tips on how to freeze cookie dough for later.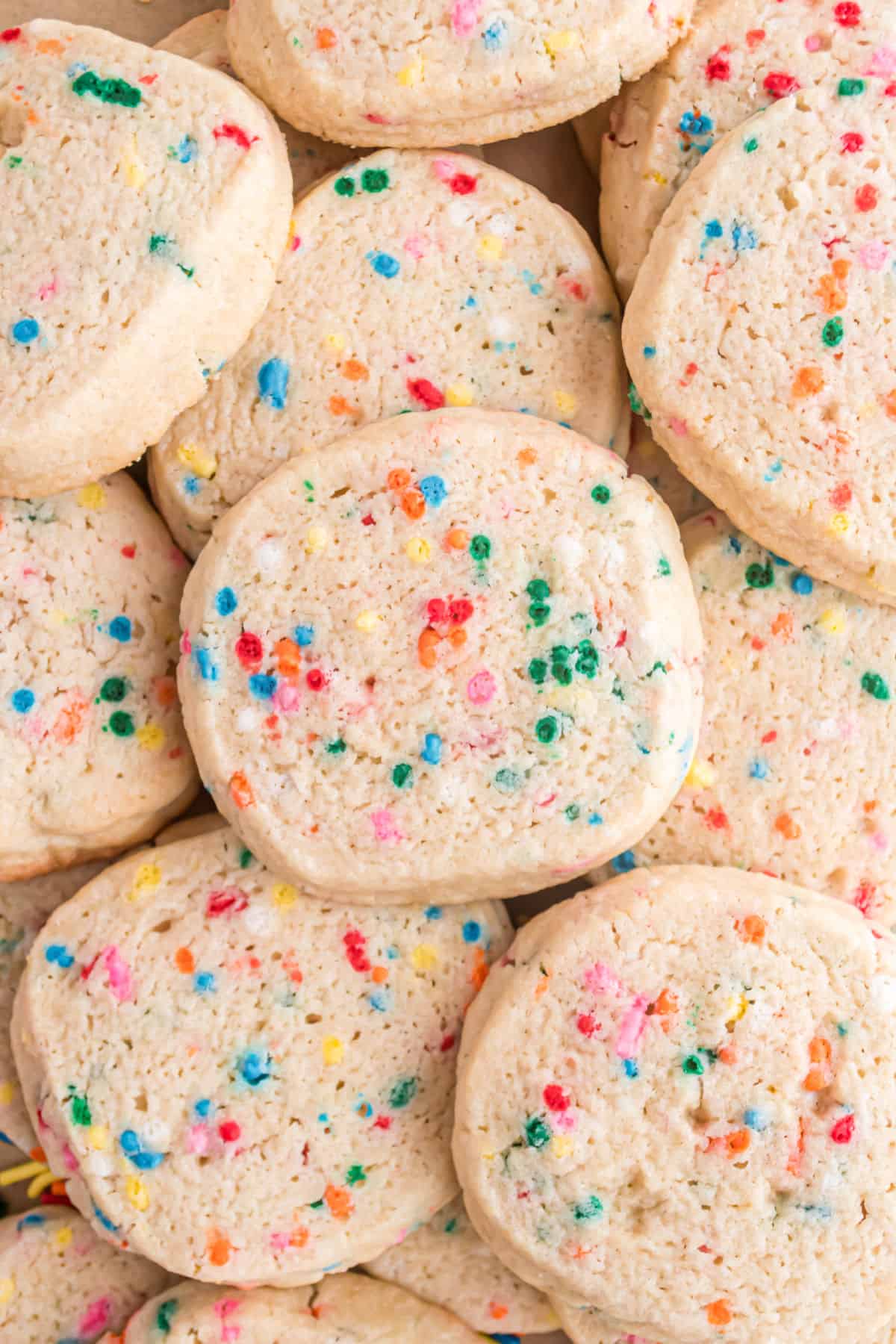 Recipe FAQs
Can you freeze baked refrigerator cookies?
Yes, you can transfer baked cookies to freezer bags and keep in the freezer for up to 2 months.

Can you freeze refrigerator cookie dough?
Yes, you can freeze the dough for up to 2 months. Unbaked dough should be wrapped in plastic, then placed in freezer bags before freezing. Let thaw in the fridge before slicing and baking OR bake from frozen. You'll need a very sharp knife to slice frozen dough. You will also need to add several minutes of baking time, if baking the cookies from frozen.
Can I make this without sprinkles?
Yes, refrigerator cookies can be made with or without sprinkles! You can even swap the sprinkles for mini chocolate chips or finely chopped nuts.
How long do you have to chill refrigerator cookie dough?
You should chill this dough for at least 4 hours for best results. It'll keep well in the fridge for up to 3 days.
Simple to make with delicious results! Refrigerator Cookies are just like your favorite store bought slice and bake cookies–but better because they're made from scratch!