Red, White, and Blue Icebox Cookies are a make-ahead dessert you'll love for your summer parties and picnics. Decked out with star sprinkles and a sweet lemon glaze, these treats are ready for independence day!
Looking for more Fourth of July desserts? These Red White and Blue Rice Krispie Treats are perfect for nibbling while you watch the fireworks.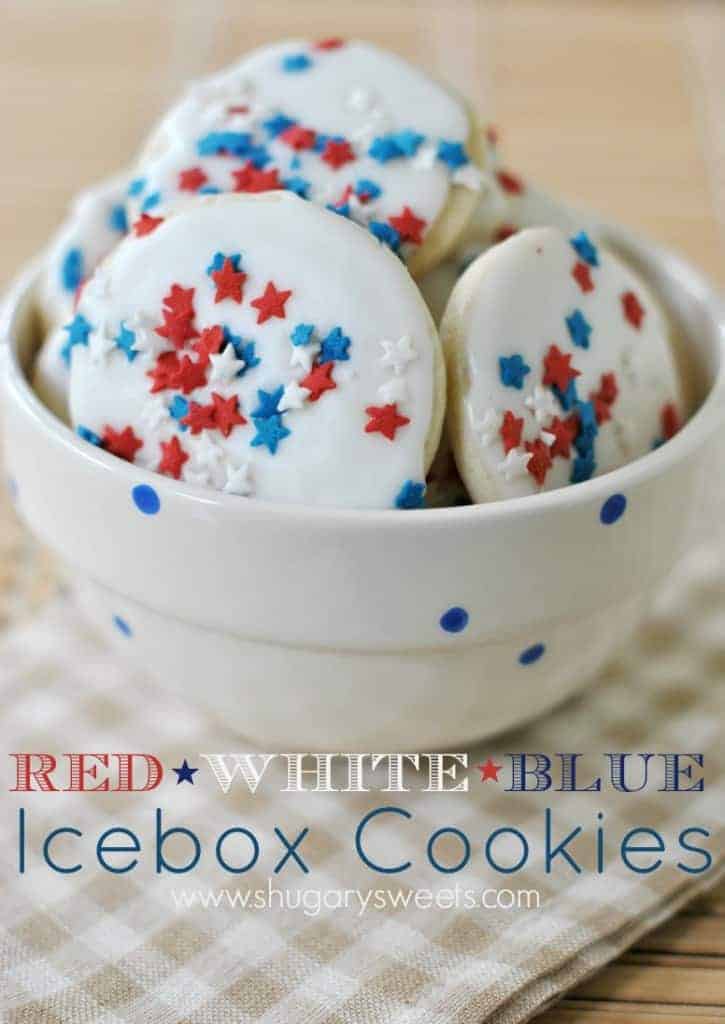 What Are Ice Box Cookies
Ice Box Cookies are sugar cookies baked from frozen or chilled dough. Bake the dough in advance and store in in the freezer ("ice box") until you're ready to slice and bake.
Keeping a tube of ice box cookie dough on hand means you can bake fresh cookies at a moment's notice! They offer all the convenience of slice 'n' bake cookies with the unbeatable taste of cookies made from scratch.
Today's Red, White and Blue Icebox Cookies are decked out for a Fourth of July celebration. I added a little lemon glaze for a summery touch and, of course, plenty of festive sprinkles!
Ingredient Notes
Unsalted butter. Salted butter can be used instead if that's what you have available.
Vanilla sugar. Granulated sugar infused with vanilla bean gives these cookies an amazing flavor. Learn how to make vanilla sugar to enhance all your favorite baked goods!
Lemon extract. It gives a tangy flavor and citrus aroma to the sweet ice box cookie glaze.
Sprinkles. I used these star shaped sprinkles to make red, white, and blue ice box cookies with a patriotic flair.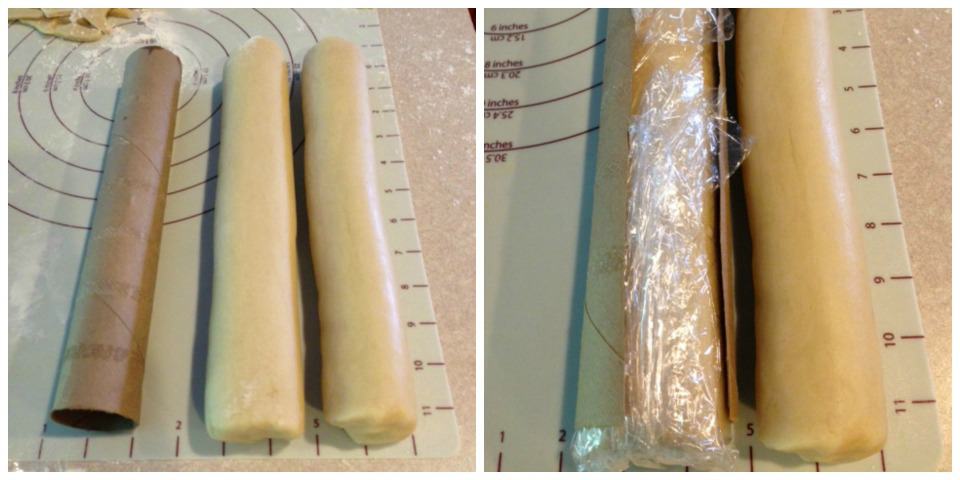 Make the Glaze
It's the glaze on these ice box cookies that makes them so summery and delicious!
The glaze takes just a few minutes to make, after the cookies have been baked and cooled.
Whisk together powdered sugar, milk and lemon extract. Now dip the tops of the cookies into the glaze. Spoon your sprinkles onto the glaze then let it set for a few minutes.
Tips and Tricks
Freeze dough in a paper towel tube. Cut the tube in half and place half of the rolled up wrapped cookie dough in each one. The dough will freeze into a perfect log shape.
Keep frozen until ready to bake. You do not need to thaw ice box cookie dough before baking. Use a sharp knife to slice the frozen dough into rounds, then bake immediately!
Be careful not to overbake. The cookies will quickly turn from golden brown to overdone. If you like your cookies remove these cookies from the oven between 9 and 10 minutes, before turning golden brown. If you prefer a shortbread style butter cookie crumb, leave them in for about 11 minutes.
Store at room temperature. After baking and decorating, ice box cookies can be stored in an airtight container on the counter.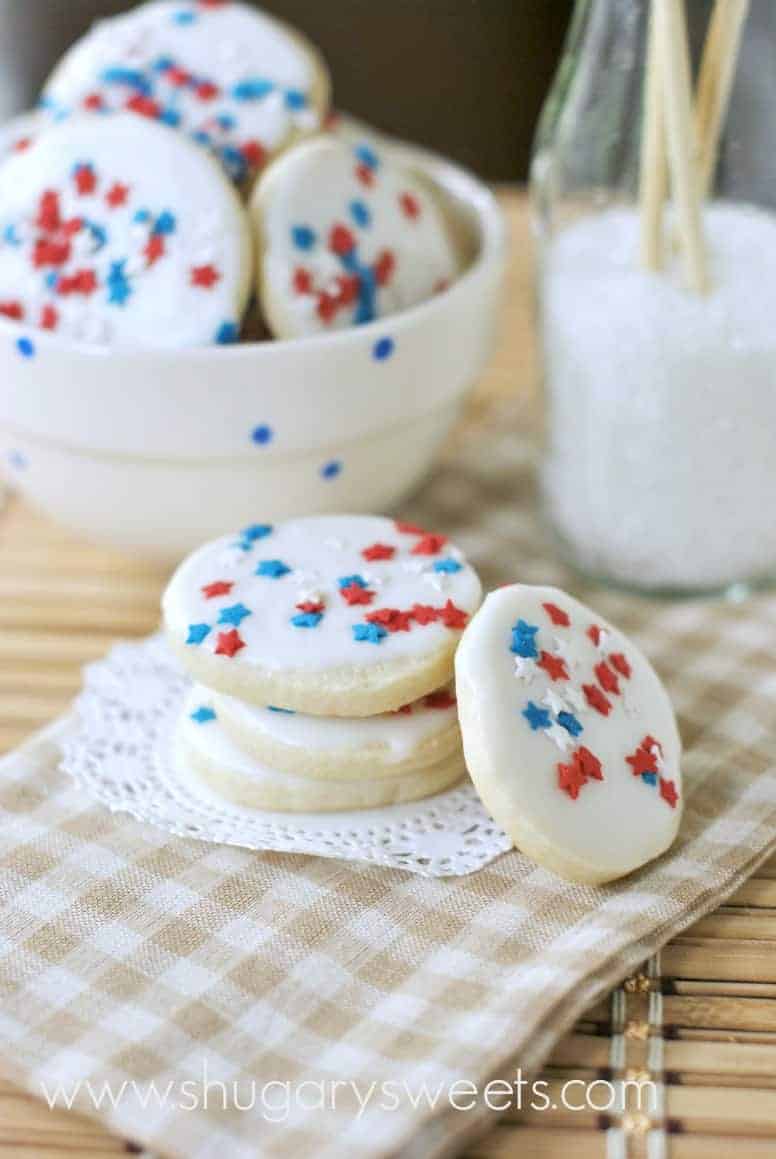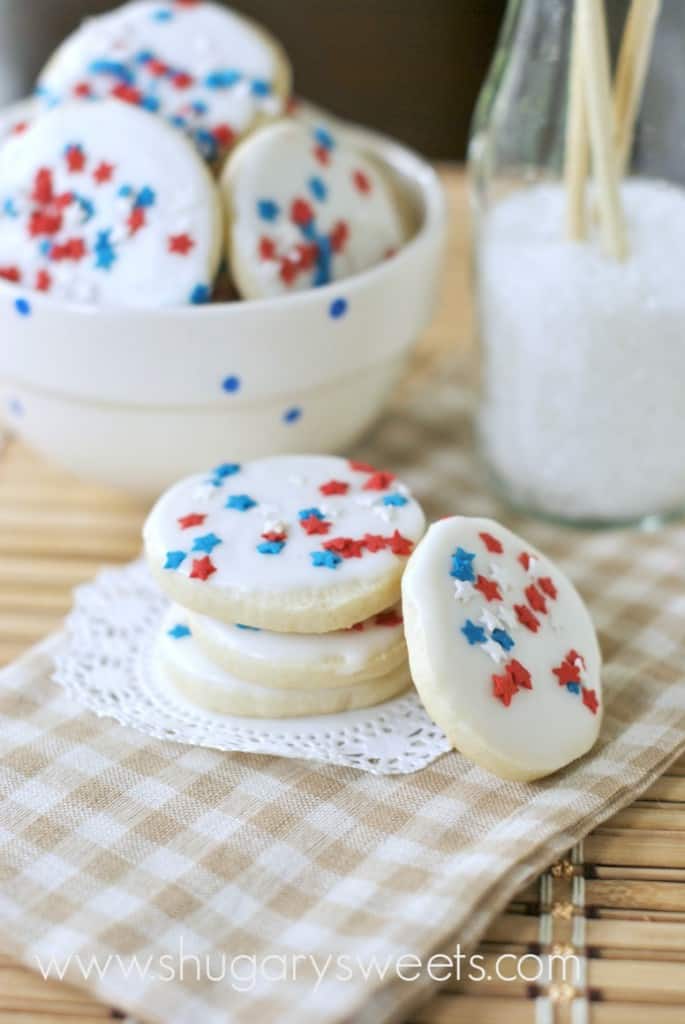 Recipe FAQs
What can I use instead of vanilla sugar?
You can make these cookies with regular granulated sugar instead. Add a teaspoon of vanilla extract or a few vanilla bean seeds to replicate the delicious flavor of vanilla sugar.
Can I make these without freezing the dough?
You can make these without freezing the dough. Instead, chill the dough in your refrigerator or freezer for at least 30 minutes before slicing and baking.
How long does ice box cookie dough keep in the freezer?
The dough for these red, white and blue icebox cookies can be stored in the freezer for up to 2 months. Make sure to double wrap the dough in plastic wrap before freezing.
Can I freeze baked ice box cookies?
Yes, you can freeze ice box cookies after baking, if you like.
To freeze, transfer the unglazed cookies to an airtight freezer safe container. Keep frozen for as long as two months.
Dip the thawed cookies in lemon glaze and add the sprinkles before enjoying!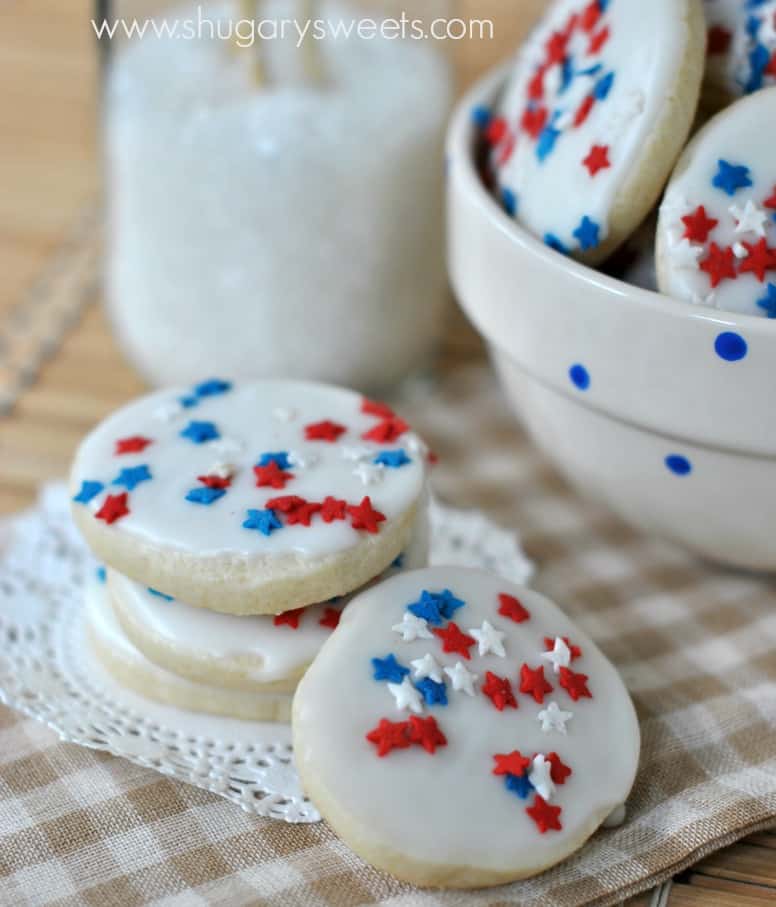 More Easy Dessert Recipes