Elevate your baked goods with this recipe for homemade Vanilla Sugar! Infused with aromatic vanilla from whole beans, vanilla sugar makes your favorite desserts even more delicious.
Learning how to make vanilla sugar is a baking game changer. I've been doing it for years and it's high time I share my method with all of you! Once you've mastered vanilla sugar, learn how to make vanilla extract with my easy recipe!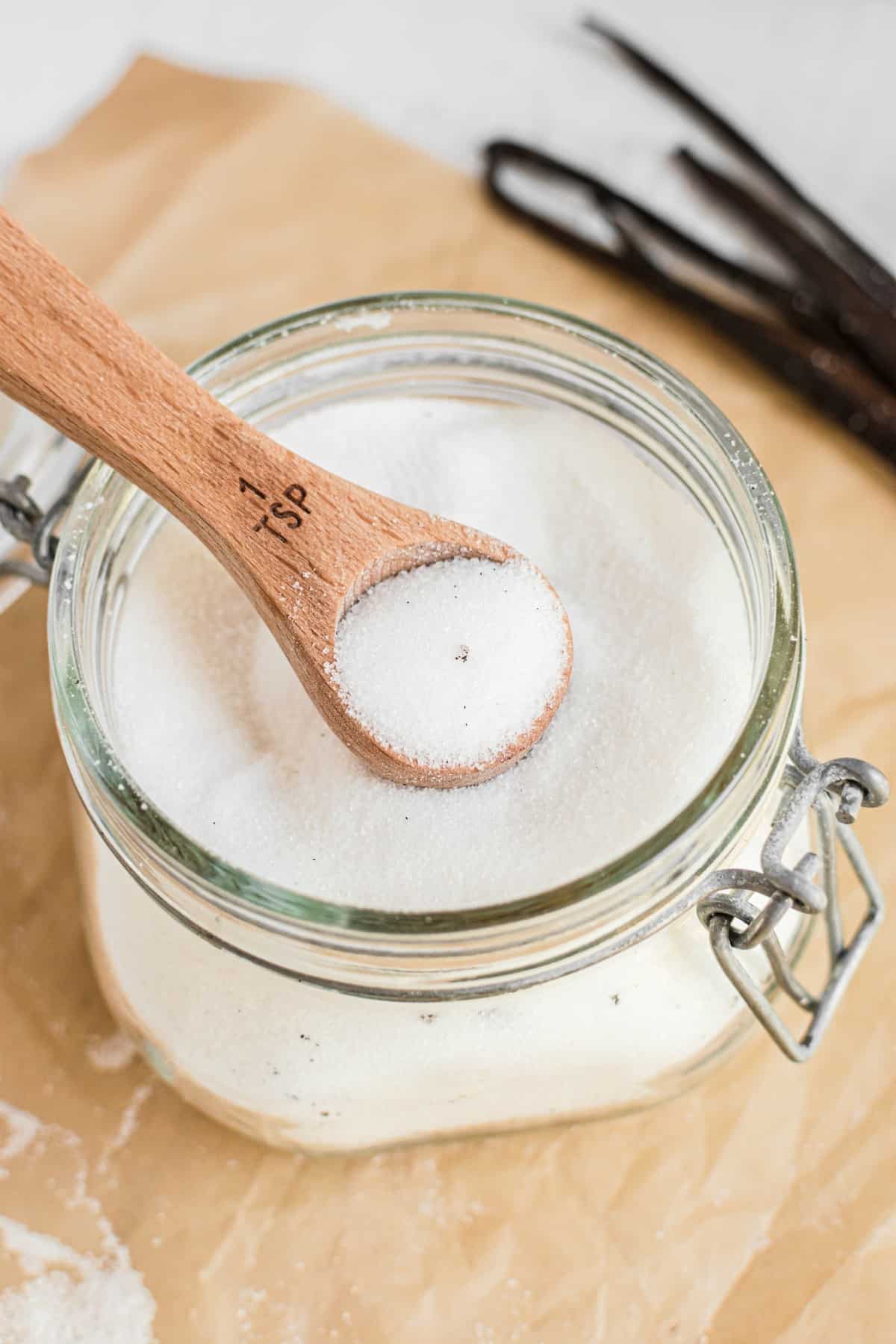 What is Vanilla Sugar?
Vanilla Sugar is just regular sugar that's given a vanilla flavored upgrade!
You let a jar of granulated white sugar "marinate" with a whole vanilla bean until every bit of the sugar carries the fragrance and flavor of vanilla.
When you have vanilla infused sugar on hand, you can use it in cookies, cakes and other baked goods where you'd usually add vanilla extract. The depth of flavor it adds is incredible!
Best of all, it takes virtually no effort to make vanilla sugar. All you need is time and a little bit of patience.
Add a cut vanilla bean pod and its seeds to sugar and let it sit for at least a week before using. That's it!
Ingredient Notes
This recipe is all about one magical ingredient: vanilla beans.
Did you know that vanilla actually comes from orchids? Pods filled with vanilla seeds are harvested from the flowers, dried and aged.
We should all hope to age as beautifully as a dried vanilla bean, am I right?
Without them, we'd have no vanilla ice cream, no vanilla fudge and everything from birthday cake to coffee creamer would taste a lot flatter.
That's a lot of power in one little bean!
You have a few options when it comes to variety of vanilla beans. Different types of beans will lend different flavor notes and characteristics to your vanilla sugar.
Types of Vanilla Beans
Madagascar Vanilla, also called bourbon vanilla, is one of the easiest vanilla beans to find.
If you see vanilla beans on the shelf and the variety isn't labeled, it's probably a Madagascar vanilla bean.
It has a buttery, creamy taste that's characteristic of the vanilla treats you know and love. Always a good choice for making vanilla sugar!
Mexican Vanilla Beans are also common.
It has a bolder flavor than Madagascar type and even a little bit of smokiness.
Sugar made with Mexican Vanilla Beans will bring the vanilla taste right to the forefront of whatever you put it in.
Indian Vanilla and Tahitian Vanilla beans are other good options.
They have a little more of a rich, chocolate-like flavor than the other two.
If you have options, choose the beans that have a glossy exterior and are firm to the touch but not brittle. They shouldn't look shriveled or dry. Make sure to keep the whole vanilla beans sealed and away from heat and light until you're ready to use them!
Recipe FAQs
Can you substitute vanilla extract for vanilla beans in vanilla sugar?
Unfortunately no. The beans (and the pods) are what give this vanilla sugar it's rich taste.
Is vanilla sugar the same as granulated sugar?
When used in baking, you can substitute vanilla sugar 1:1 for granulated sugar. It gives a rich vanilla flavor to all your baked goods. It can also be used to sweeten coffee.
How do you scrape a vanilla bean pod?
Slice your whole pod lengthwise down the center. Hold the end against a cutting board and use a knife to gently scrape the seeds downward. They should easily come out of the pod and fall to the board. I recommend a dull knife as opposed to a sharp one so you don't break the seeds.
Tips and Tricks
When you buy vanilla bean pods, they'll either come whole (uncut) or already sliced in half.
Make sure to scrape the seeds out of the pod first and then add both seeds and pod to the sugar. The scraping step helps release more of the tantalizing vanilla fragrance.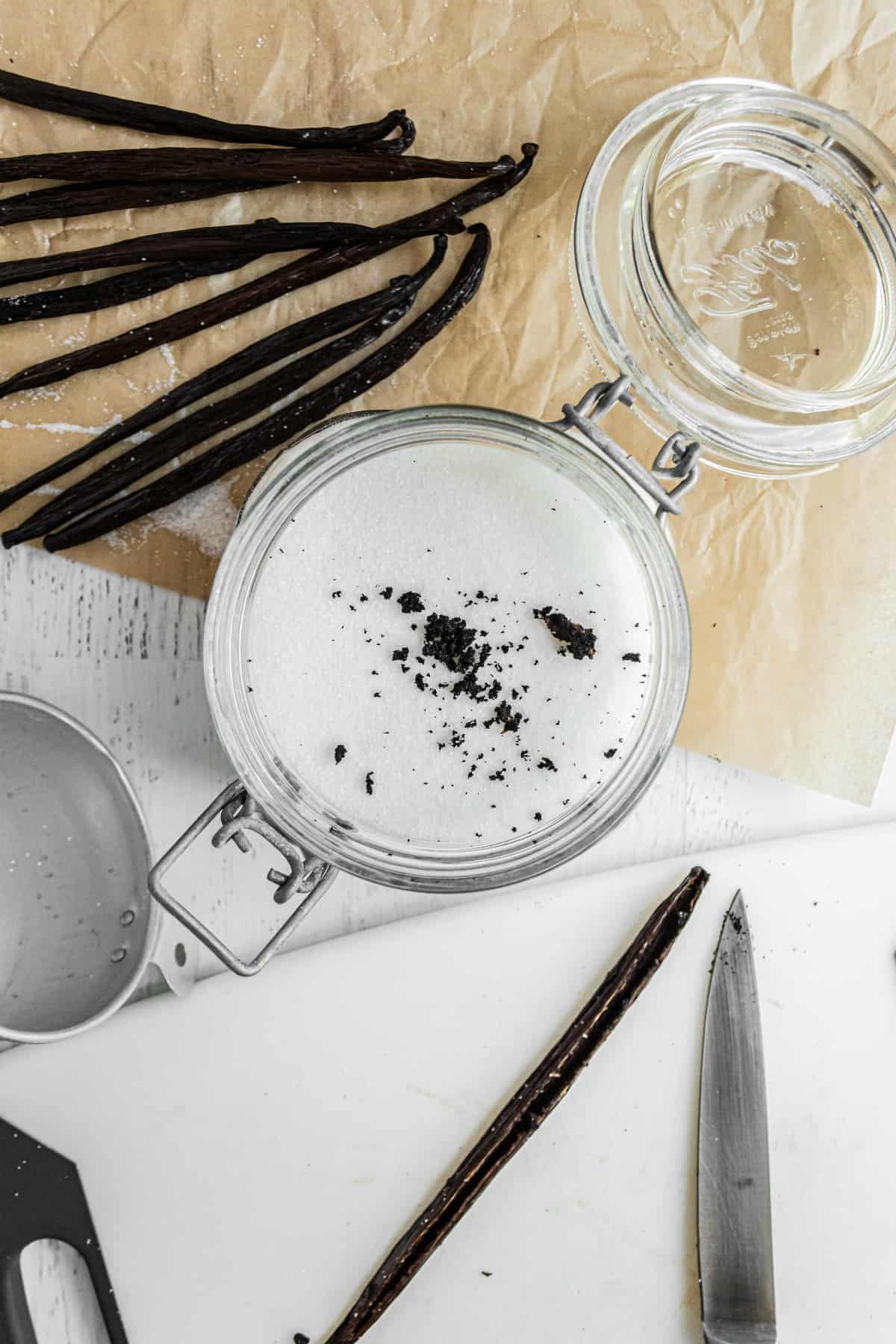 How to Use Vanilla Sugar
This sugar is just the ticket for adding a hint of vanilla flavor to a recipe without the heaviness of liquid extract. You can also use it along with fresh vanilla beans or extract for absolute vanilla heaven.
Vanilla Sugar is a key ingredient in this delicious Swedish Almond Cake. I've also used it in place of regular granulated sugar in Sugar Cookies Recipe, Vanilla Bean Fudge and Vanilla Bean Cupcakes.
You can use Vanilla sugar anywhere you'd use regular white sugar. . . but any guesses how I use it most?
Coffee. A spoonful of vanilla sugar makes an ordinary cup of coffee taste like a special treat.
When I don't have time to make a fancy latte or creamer, but want something more than plain coffee, a teaspoon of vanilla sugar more than does the trick.
It's also wonderful in black tea and hot cocoa!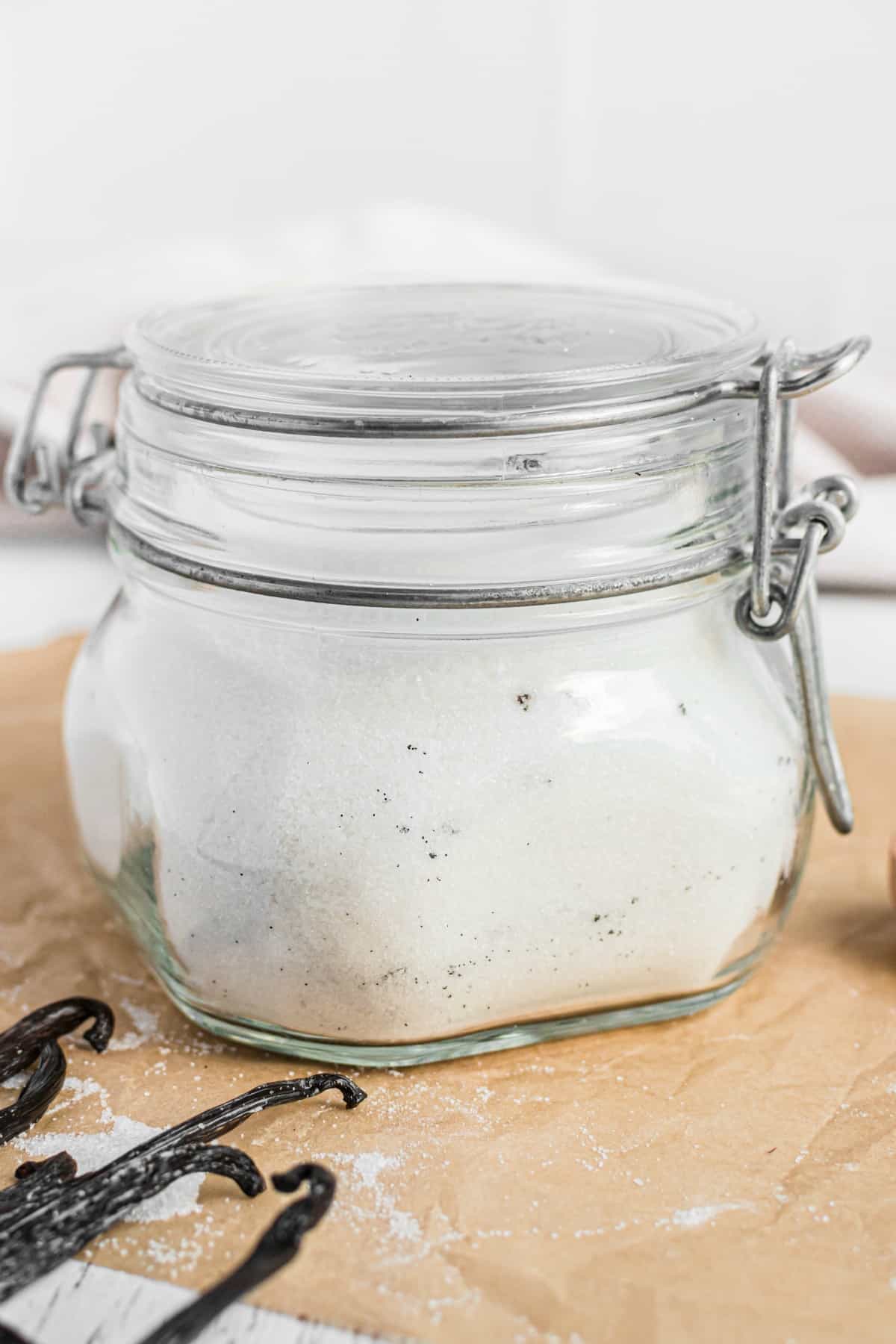 Storing Vanilla Sugar
It's important to keep your vanilla sugar sealed and away from heat and light. Store it in a mason jar with a tight fitting lid in a dry place.
You can keep adding to your vanilla sugar jar, too. Every time I use a vanilla bean in a recipe, I toss the leftover pod into my vanilla sugar jar. Add more granulated sugar as needed.
I find that the longer sugar mixes with the vanilla beans, the richer and more fragrant it tastes. Now that refilling my sugar jar is a habit, I never run out of this nifty ingredient!
Recipes you can add Vanilla Sugar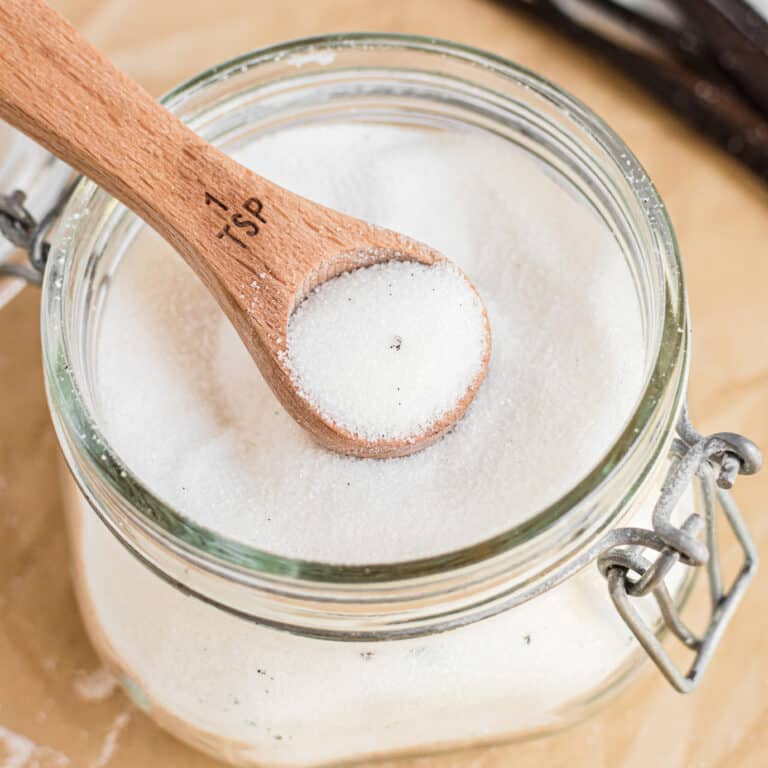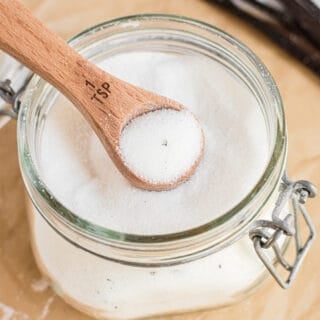 Vanilla Sugar
Elevate your baked goods with this recipe for homemade Vanilla Sugar! Infused with aromatic vanilla from whole beans, vanilla sugar makes your favorite desserts even more delicious.
Ingredients
2

cups

granulated sugar

1

vanilla bean pod

scraped
Instructions
Add sugar to a small mason jar.

If vanilla bean is uncut, slice it down lengthwise and scrape the seeds. Add both the seeds and the whole bean pod into the sugar jar. Seal tightly and give it a shake.

Let sugar sit for at least one week.

Use as you would regular granulated sugar.
Notes
Store the vanilla bean sugar in a mason jar or other airtight container at room temperature.
You can keep refilling the sugar jar 2-3 times using the same bean pod. Shake the jar and let sit each time. Once you no longer notice vanilla bean seeds in the sugar, replace the pod.
Nutrition
Serving:
1
tsp
,
Calories:
48
kcal
,
Carbohydrates:
13
g
,
Sugar:
12
g
Believe me when I tell you that buying a real vanilla pod and waiting a week is well worth it. Try this vanilla sugar recipe and taste the difference for yourself.