Chocolate Chip Cookie Dough Dip tastes like cookie dough and is totally safe to eat. Easy no bake recipe. Whip up a batch of this chocolate chip cookie dough dip and enjoy as a yummy dip or alone with a spoon!
Everything is better with chocolate chips! This Chocolate chip banana bread is perfect moist, and slightly sweet thanks to the chocolate chips. Our reader's are obsessed with these Chocolate Chip Sandwich Cookies!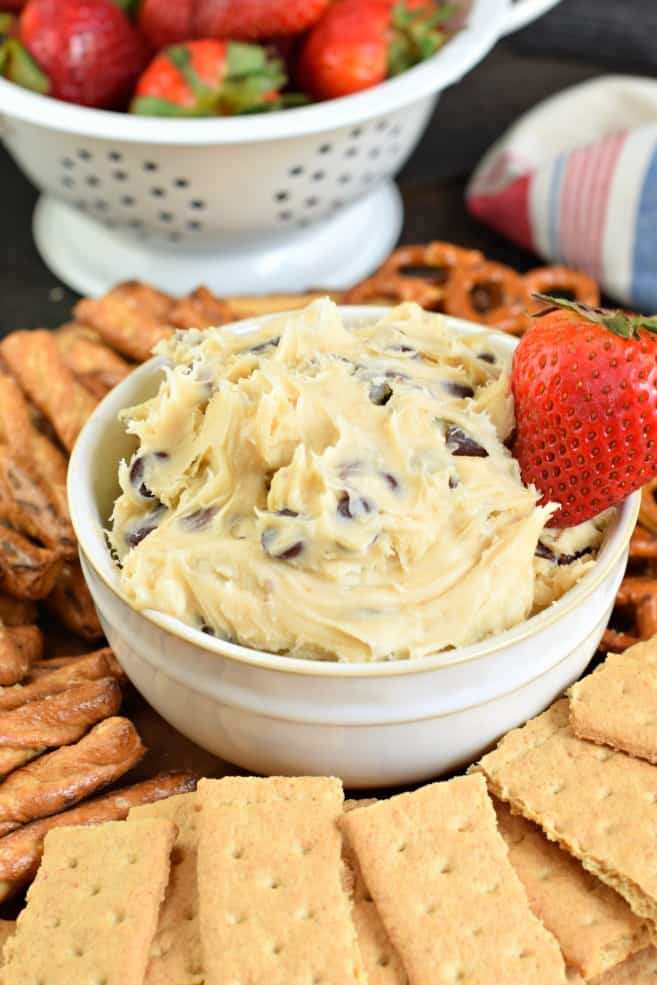 Why this recipe works
I love to eat chocolate chip cookie dough by the spoonful. I know we aren't supposed to eat raw cookie dough, but I'm a bit of a risk taker.
This dessert dip is so yummy and tastes like cookie dough!
It's also egg free and flour free, so you can eat it safely.
Cream cheese and butter replace some of your basic cookie ingredients to make this yummy cookie dough dip. 
Add some of your favorite mix-ins to make a fun party dessert.
FAVORITE DIPS: Cannoli Dip | Funfetti Dip | Cream Cheese Fruit Dip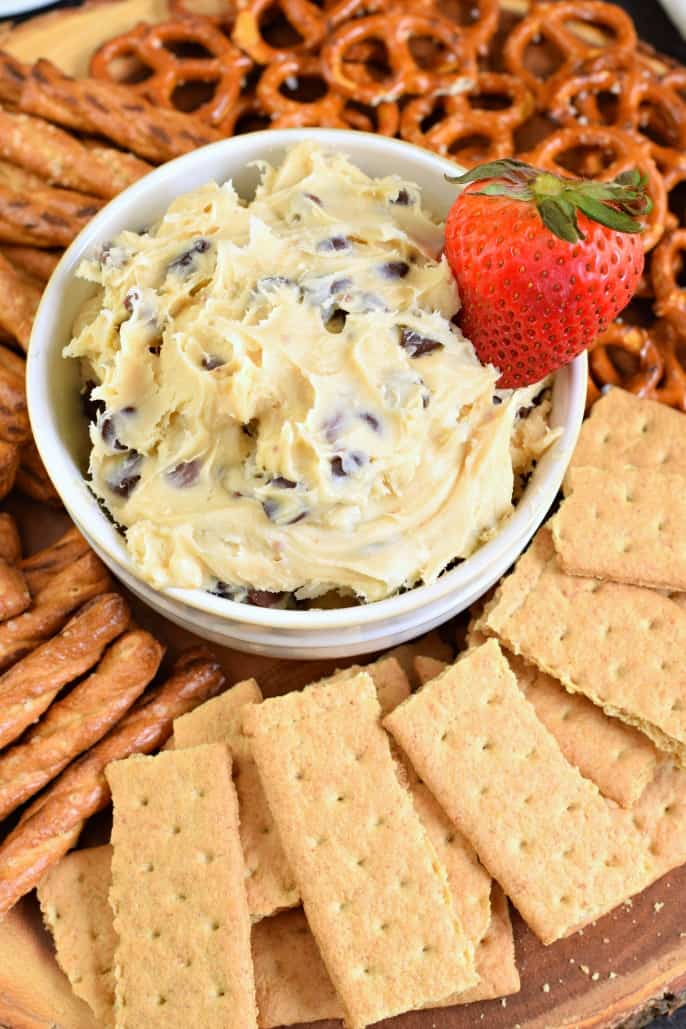 How to Make Cookie Dough Dip
This cookie dough dip only takes about five minutes to make. So grab your ingredients and let's get started!
Make Cookie Dough. Melt butter in a small saucepan over medium heat. Add in brown sugar and whisk until sugar dissolves. When the mixture starts to bubble, set it aside to cool. Whisk in vanilla extract.
In a large bowl, mix together the cream cheese and powdered sugar until creamy. Add in the cooled butter and sugar mixture.
Add in mini chocolate chips.
Serve this dip with pretzels, animal crackers, graham sticks, whatever you wish. This dip is delicious!
Tips and Tricks
You can customize your mix-ins for this cookie dough to your tastes. I prefer using milk chocolate chips and mini milk chocolate chips, because that's how I make my chocolate chip cookies, but you could just as easily add in white chocolate chips, peanut butter chips, butterscotch chips, nuts, or candy bits like sprinkles, M&M's or Reese's Pieces. Whatever mix-ins you like in your baked cookies is probably what you will like in this cookie dough dip.
Some cookie dough dips call for raw flour, which can be heat treated for extra caution. This recipe doesn't use flour, so it's one less step and no need to worry about food safety.
Since this recipe doesn't have raw eggs, it is safe to eat as is, but don't try to bake this dough into cookies. If you have a craving for baked cookies, check out all of my cookie recipes. There are many to choose from and they are absolutely delicious!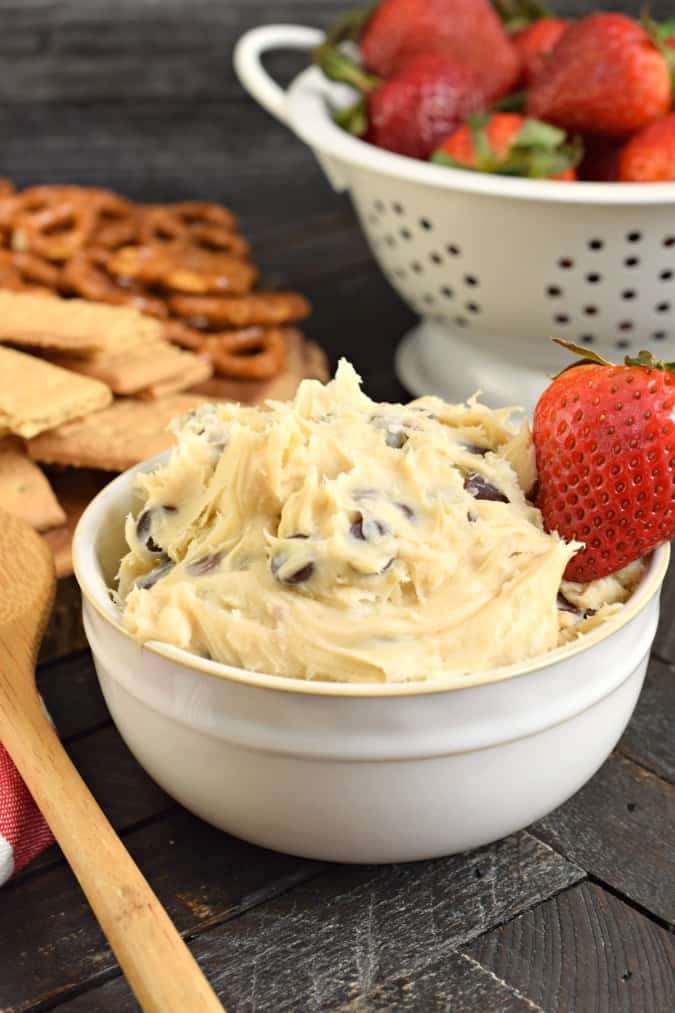 Storage Tips
You can make this cookie dough dip in advance and store it in the refrigerator for up to five days.
If you store it in the fridge, let it sit out at room temperature for about 30 minutes before eating it since it tends to firm up in the refrigerator. Then your dip will be creamy and spreadable.
You can also freeze this recipe for about three months if you want to save it for later. When you're ready to eat it, let it thaw completely before eating.
Serving Suggestions
This is one of my favorite dessert recipes to bring with me to a party. You can also have it as a dessert or a sweet afternoon snack. Here are some things you can serve with it/use for dippers:
Crackers- Animal crackers, graham crackers, even club crackers go great with this cookie dough dip!
Pretzels- Whether you choose pretzel sticks, pretzel thins, or pretzel twist, you'll love that sweet/salty taste.
Cookies- Oreos, Nilla Wafers, Butter Cookies, Shortbread Cookies, and Nutter Butters are all great "dippers" for this sweet spread.
Fruit- Apple slices and strawberries are our favorite fruits to pair with today's cookie dough dip recipe.
A Spoon- Simple. Rustic. Perfect.
Chocolate Chip Cookie Dough Dip recipe made in under 10 minutes. Perfect served with cookies, crackers, and fruit!