White Chocolate Cookie Dough Fudge is an easy homemade fudge with a twist! Velvety smooth white chocolate is packed with chunks of cookie dough. What's not to love?
Once you learn how to make fudge, you can whip up all kinds of tasty flavors! Peanut Butter fudge is definitely a classic, but have you tried our Butterfinger Fudge yet? So tasty!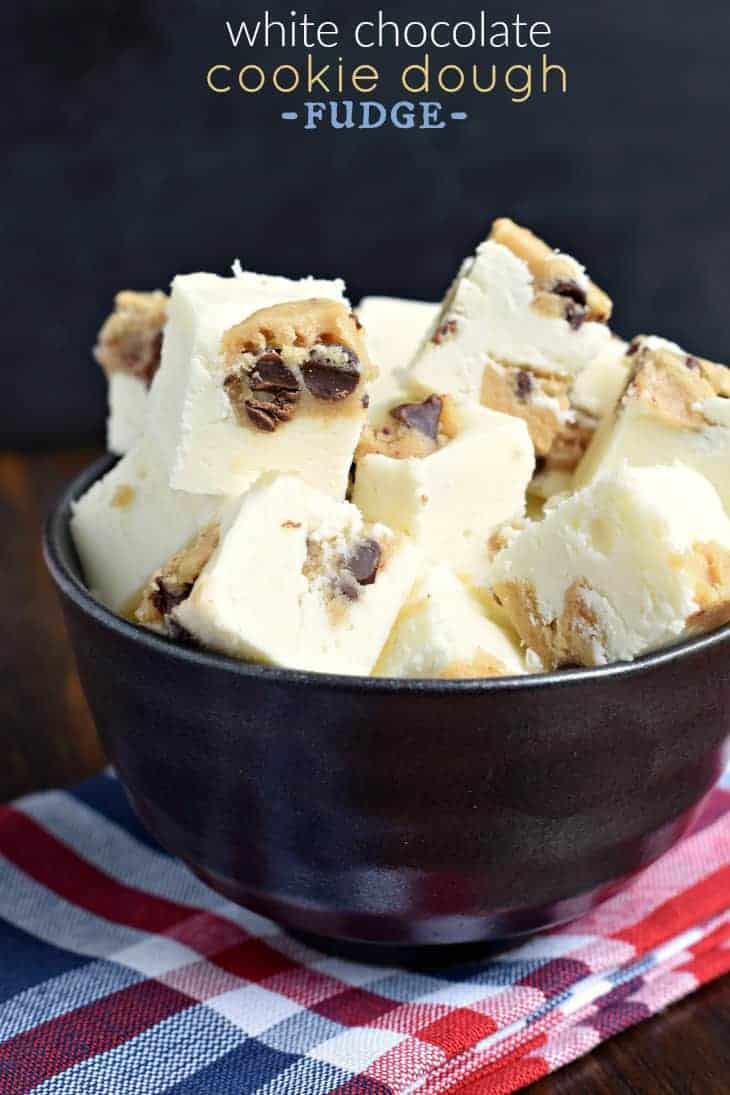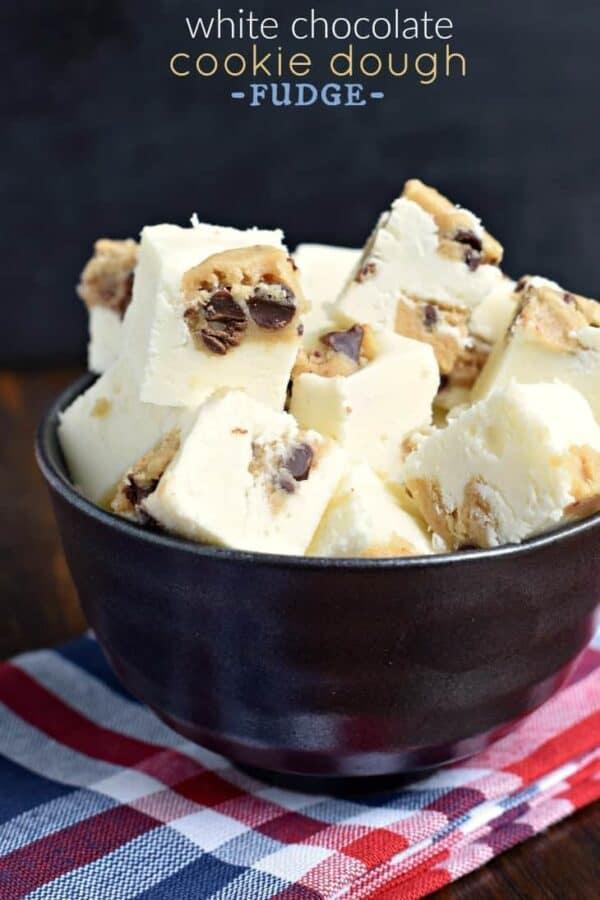 Why this Fudge is Best
You saw this coming from a mile away, right? I mean, this Chocolate Cookie Dough Fudge was such a hit, it was only a matter of time before I made a White Chocolate version!
If I'm being entirely honest, I think I prefer the white chocolate version!
No candy thermometer or special tools required!
Rich white chocolate flavor with a velvety smooth texture.
Chunks of chocolate chip cookie dough in every bite.
Don't get me wrong. Chocolate fudge is AMAZING. But the white chocolate really allows the cookie dough to shine through.
Why not make both versions?
If you love milk and cookies, this cookie dough fudge is bound to make you very happy indeed.
Ingredient Notes
Marshmallow creme – Also called "fluff", this gives the fudge its perfectly soft texture.
White Chocolate Chips – I like the flavor of Ghirardelli brand or another high quality white chocolate in this fudge.
Chocolate chip cookie dough – You can use the homemade dough from this Chocolate Chip Cookie Dough Truffles recipe here or freeze a tube of store bought dough.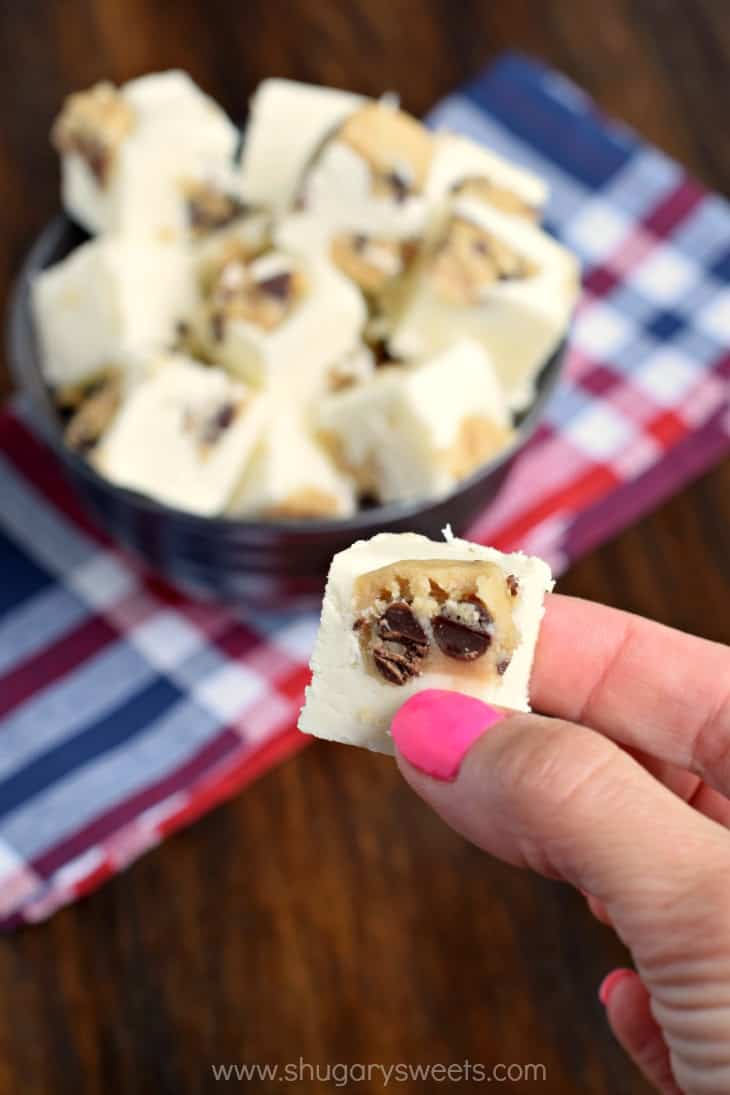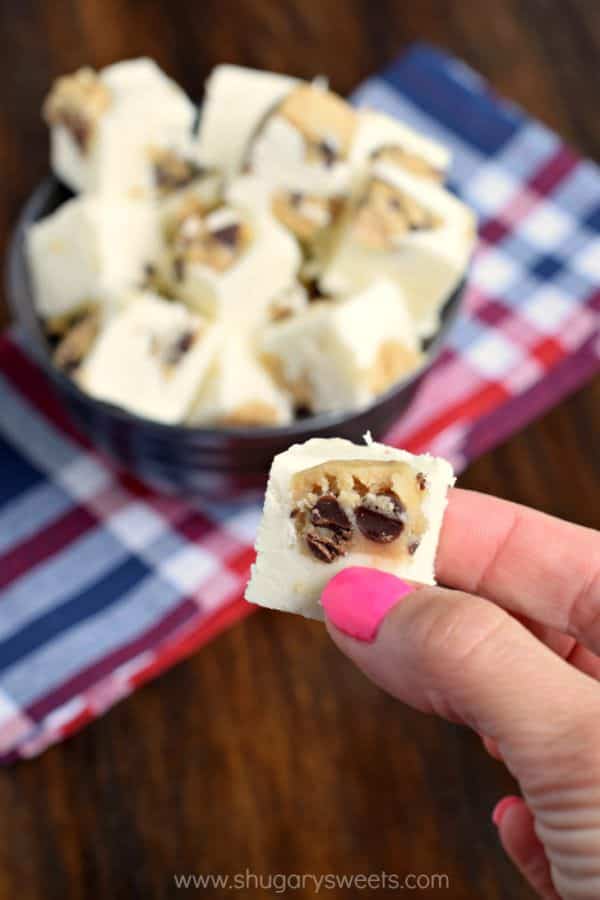 How to keep fudge fresh
As I explained in my guide for how to make fudge, You can store fudge in an airtight container for about 2 weeks in your fridge or at room temperature.
But don't cut it all at once. It's stays fresher if you keep it wrapped tight and uncut (which is why you cut as you need it).
You can do so many things to change this recipe to make it your own. Use any flavor cookie dough. Think of the possibilities here…peanut butter, macadamia nut, oatmeal raisin, and more!
Add in a different flavor chocolate chip (I used white chocolate, but change it up with peanut butter chips, or milk chocolate, or dark chocolate).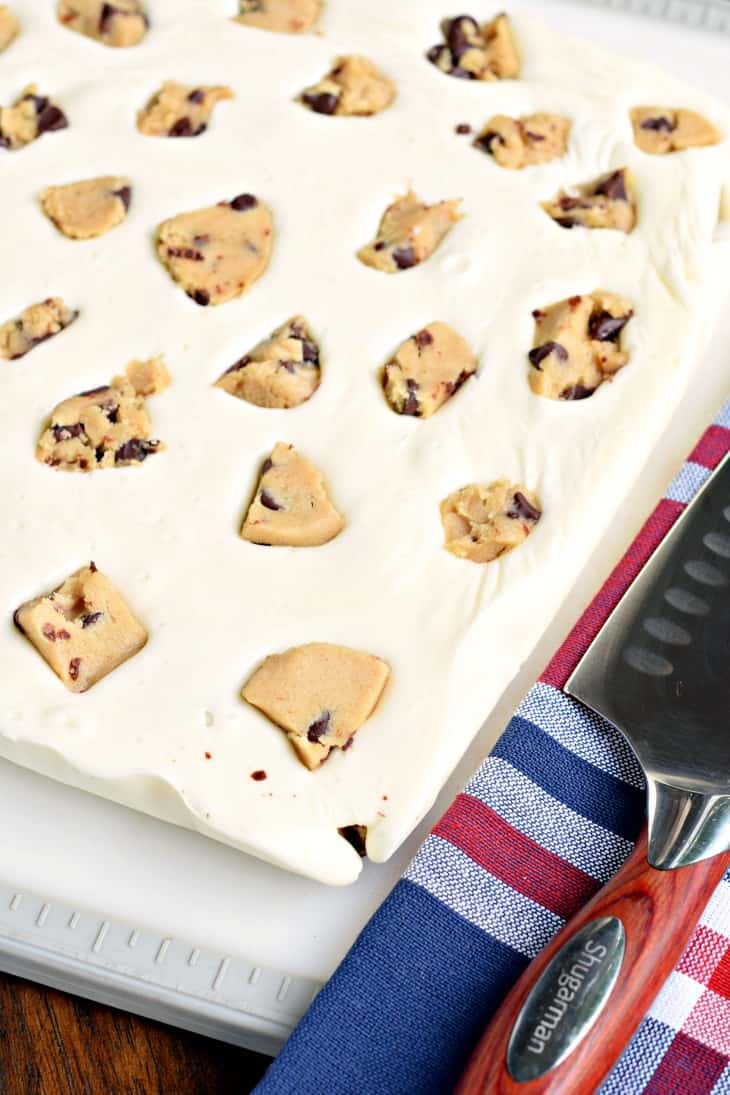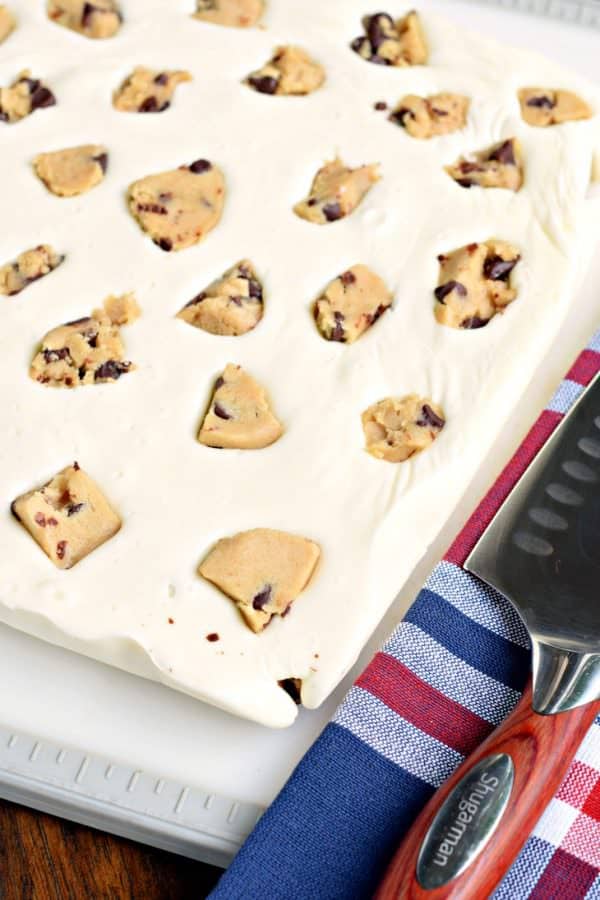 Tips and Tricks
Bring to a rolling boil. The heavy cream mixture needs to cook at a full boil for 4 minutes to achieve the right consistency. Stir it constantly while it cooks.
Mixing in cookie dough: Crumble half of your frozen cookie dough over the bottom of the baking sheet first. Then pour the fudge mixture on top and press the remaining chunks of dough on top.
Use frozen cookie dough. The fudge mixture will be warm when you pour it over the dough. If the dough isn't frozen, the cookie dough will spread and get gooey. Frozen dough will thaw to a soft and edible texture.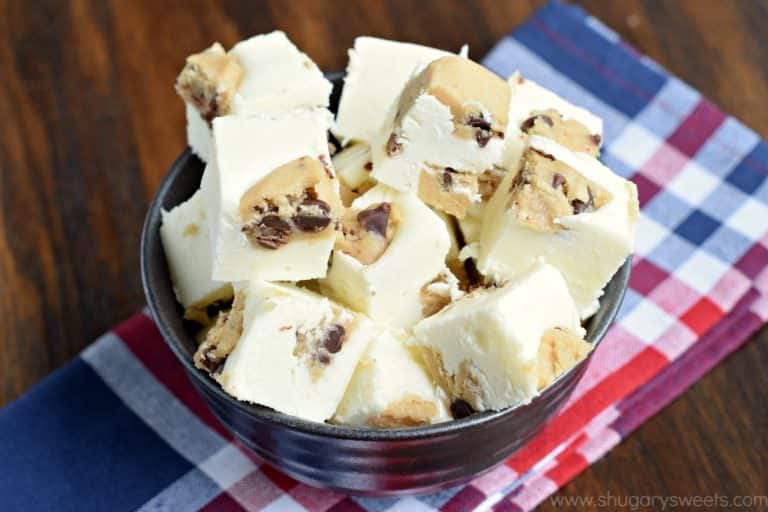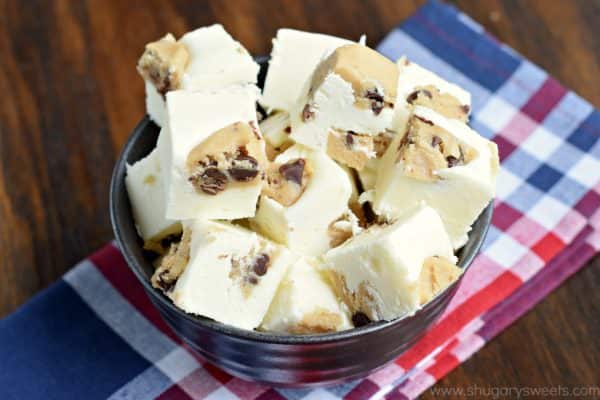 More Cookie Dough Recipes
The only thing better than homemade fudge? Homemade fudge with COOKIE DOUGH! This White Chocolate Cookie Dough Fudge is easy to make with decadently delicious results.
This recipe was recipe originally posted July 28, 2016