Chocolate Chip Cookie Dough Cupcakes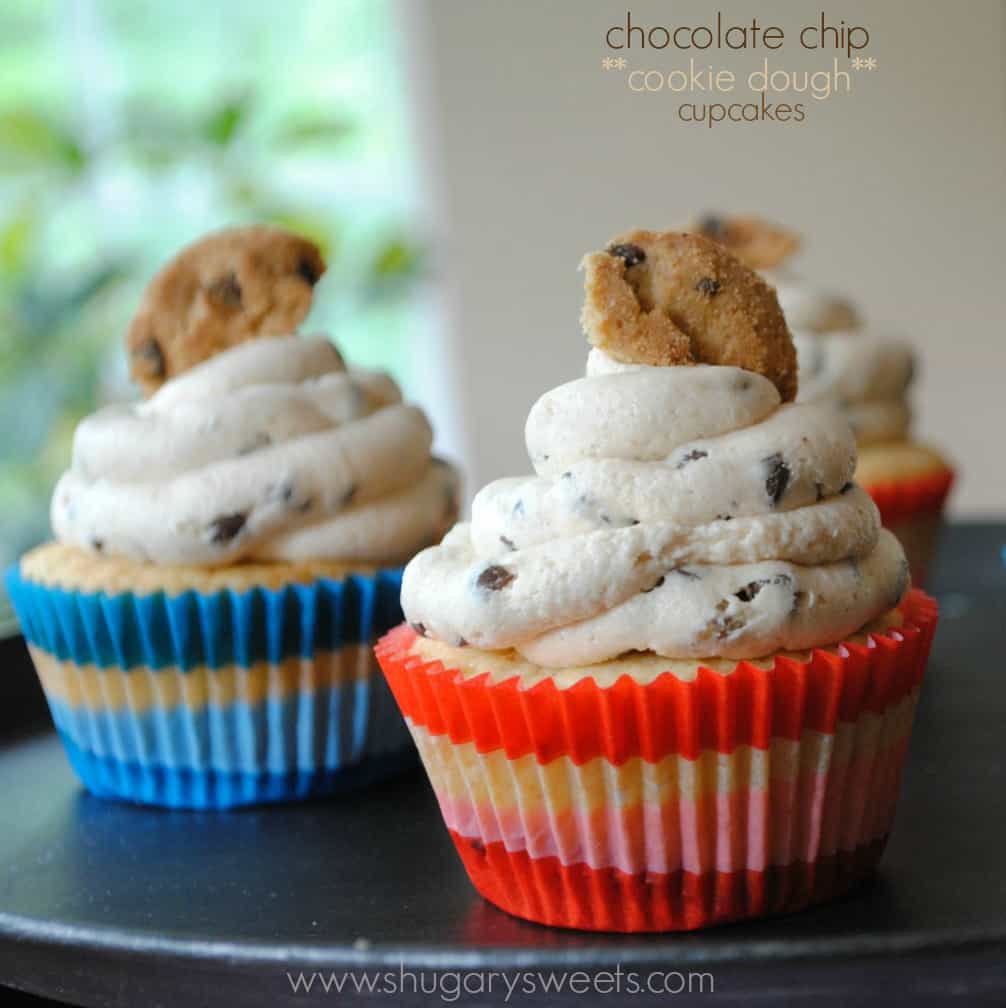 My husband's favorite cookie is chocolate chip. I find it only fitting that today, on Father's Day, I share this chocolate chip cookie dough cupcake.
I am so blessed. My husband is the best father to our 4 children. He not only is able to help our son with high school math, but he teaches our 3 daughters how a boy should treat a girl, through example. He also doesn't complain (much) when he comes home and the house is a wreck, dinner is furthest from my mind, and the laundry has piled up. He even lets me control the remote, most of the time.
Could be because he comes home from work and can eat one of these delicious cupcakes?
My mom always told me that she hoped I would marry someone as wonderful as my dad. And I did.
So, to my dad, I also want to say, HAPPY FATHERS DAY! I'm so proud to be your daughter 🙂 Thank you for teaching me many things (and not yelling, too loudly, when I was learning how to drive and drove over that big rock in the driveway….remember that one?). You're the best Dad a girl could have!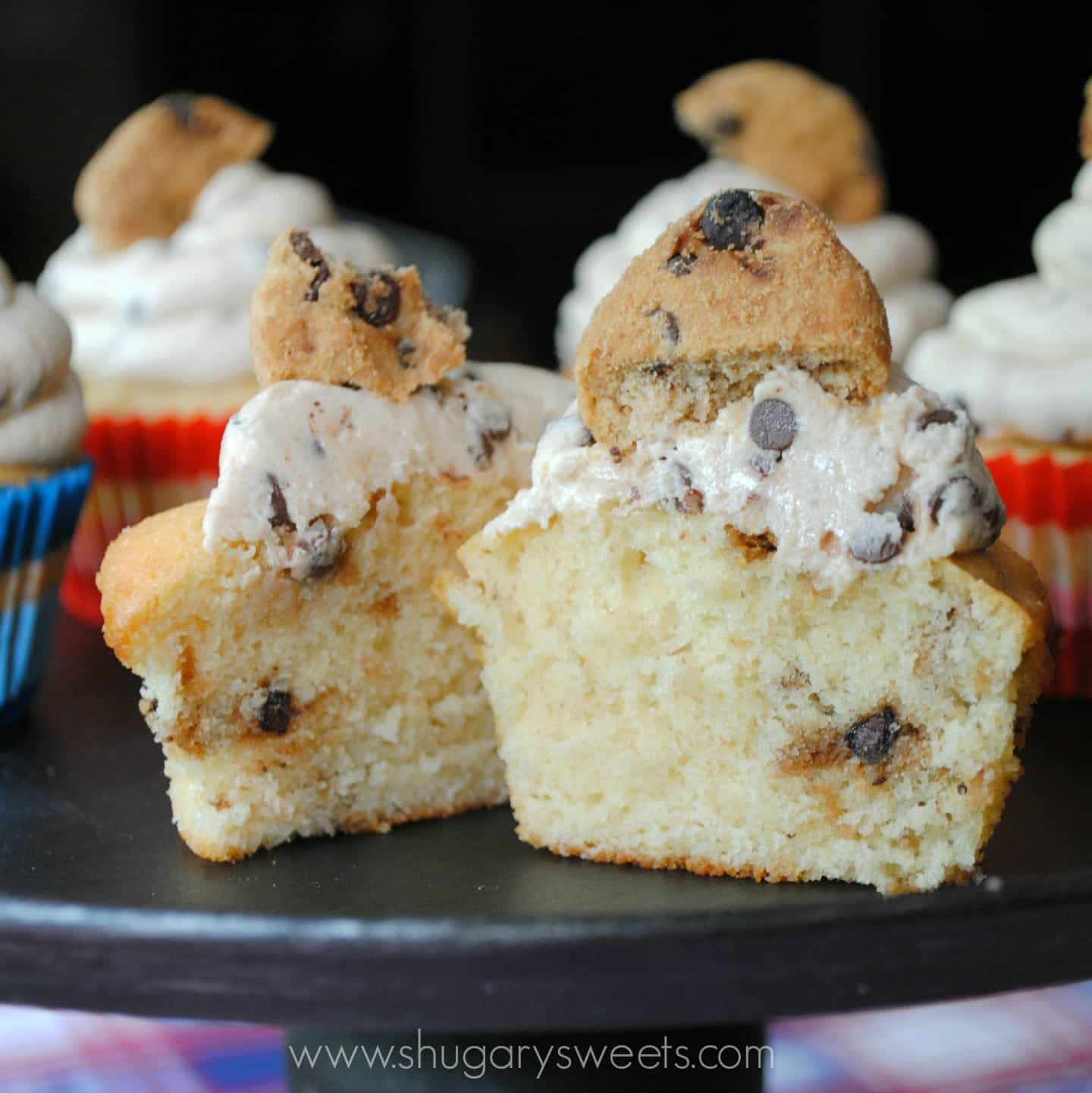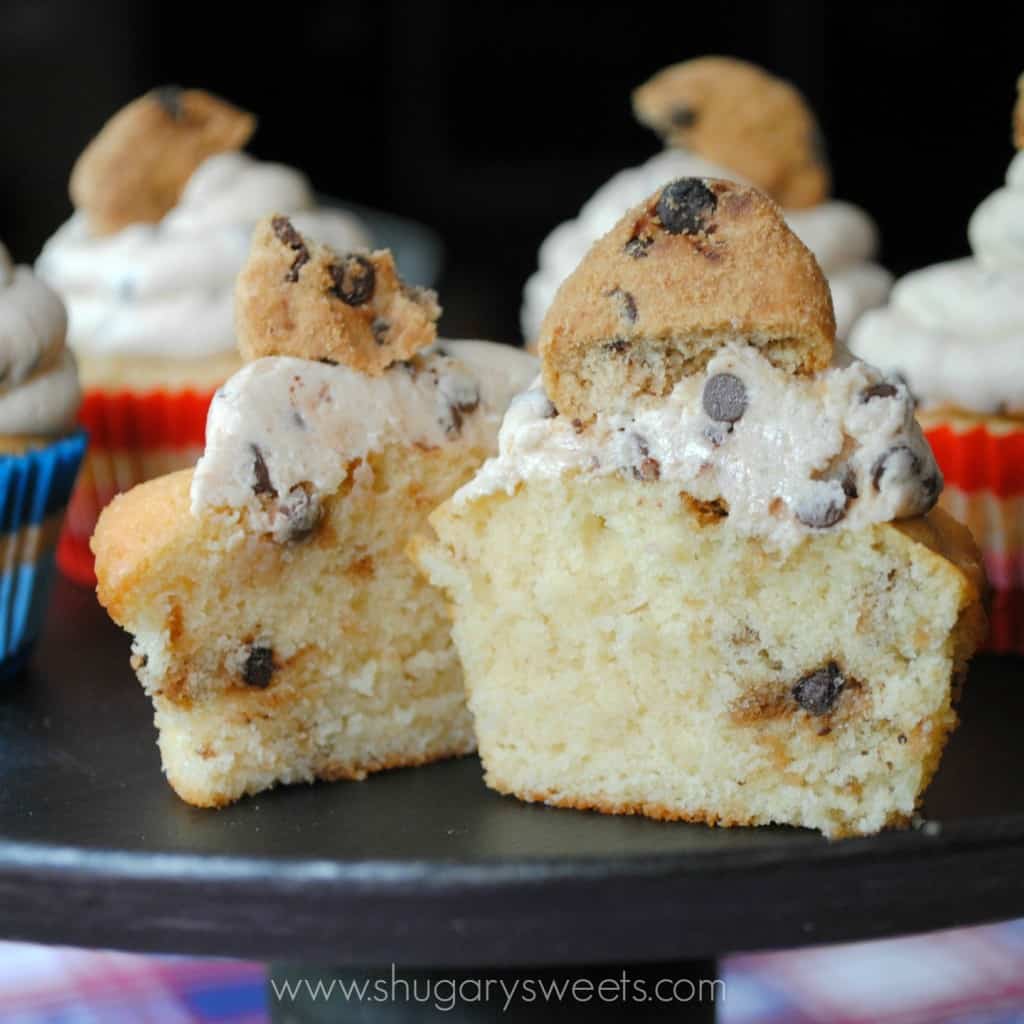 Check out my Pinterest Boards:
Yield: 24-30 cupcakes
Chocolate Chip Cookie Dough Cupcakes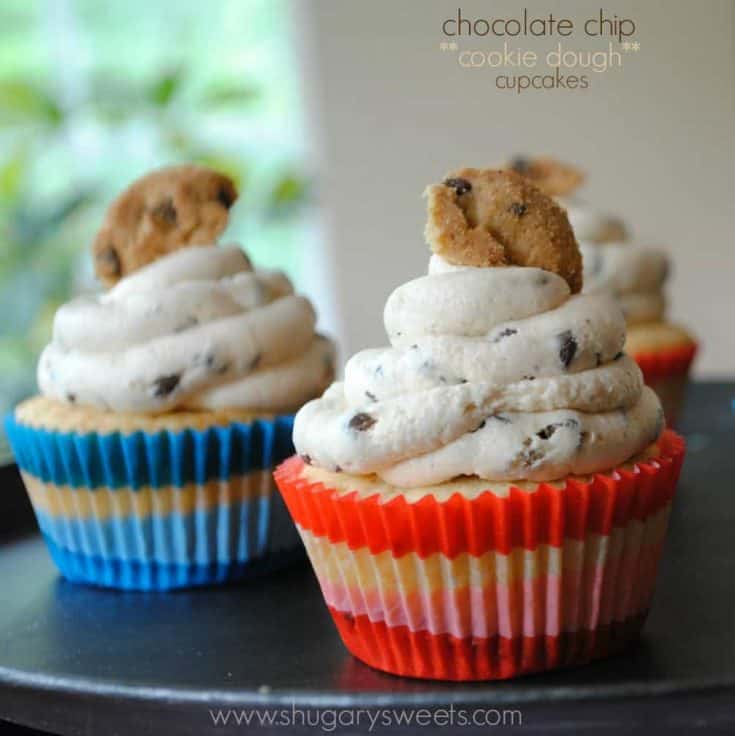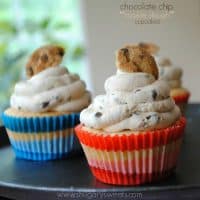 Ingredients
For the Cupcakes:
1 cup butter, softened
2 cup sugar
4 eggs
1 tsp vanilla extract
1 cup evaporated milk
2 1/2 cup flour, sifted
1 1/2 tsp baking powder
1/2 tsp kosher salt
1/2 tsp baking soda
15 Chips Ahoy original cookies, chopped
For the Frosting:
1 cup butter, softened
3/4 cup brown sugar
1/4 tsp kosher salt
4 cup powdered sugar
2 tsp vanilla extract
2-3 Tbsp evaporated milk
1 cup mini chocolate chips
14-15 mini Chips Ahoy cookies (for garnish), broken in half
Instructions
For the cupcakes, preheat oven to 350 degrees.
Beat butter with sugar until smooth and fluffy (about 3 minutes). Add in eggs, one at a time, beating after each addition until fully combined. Beat in vanilla extract.
In small bowl, sift the flour, baking powder, salt and baking soda together (very important). Add flour mixture, alternating with evaporated milk, in about 3 additions.
Do not overbeat. Fold in chopped cookies. Fill cupcake liners about 3/4 full and bake 20-25 minutes. Allow to cool 15 minutes in pan, remove and cool completely on wire rack.
For the frosting, beat butter, brown sugar and salt for about 3 minutes until fully combined. Beat in powdered sugar, vanilla and milk. Continue to beat for about 3-5 minutes until fluffy. Add chocolate chips. Pipe onto cooled cupcakes and garnish with half of a mini chips ahoy cookie. Enjoy!