Chocolate Chip Cookie Dough Cupcakes with cookie dough frosting are a delightful spin on traditional chocolate chip cupcakes. Perfect for any cupcake or cookie dough lover in your life!
Speaking of cookie dough, have you tried these Chocolate Chip Cookie Dough Truffles yet? They're irresistibly delicious!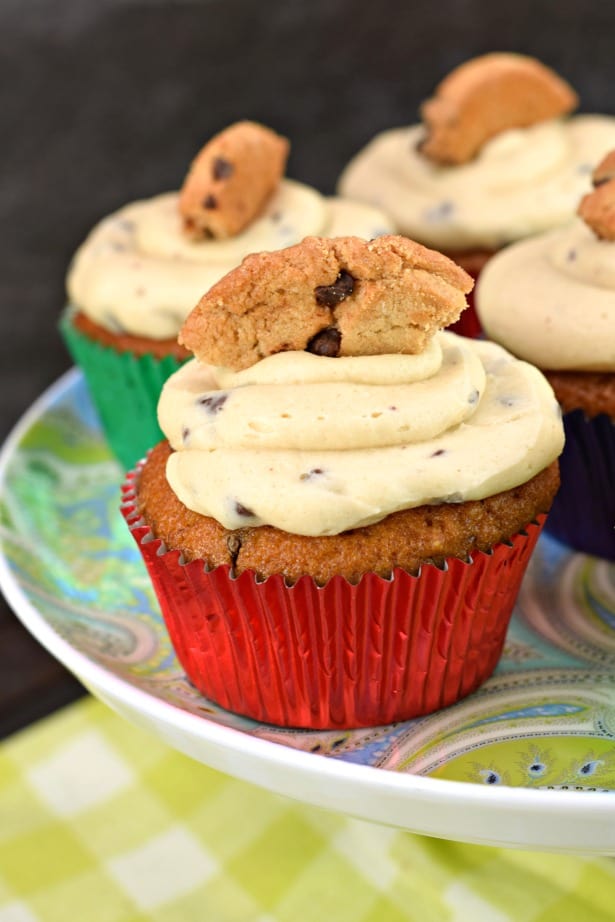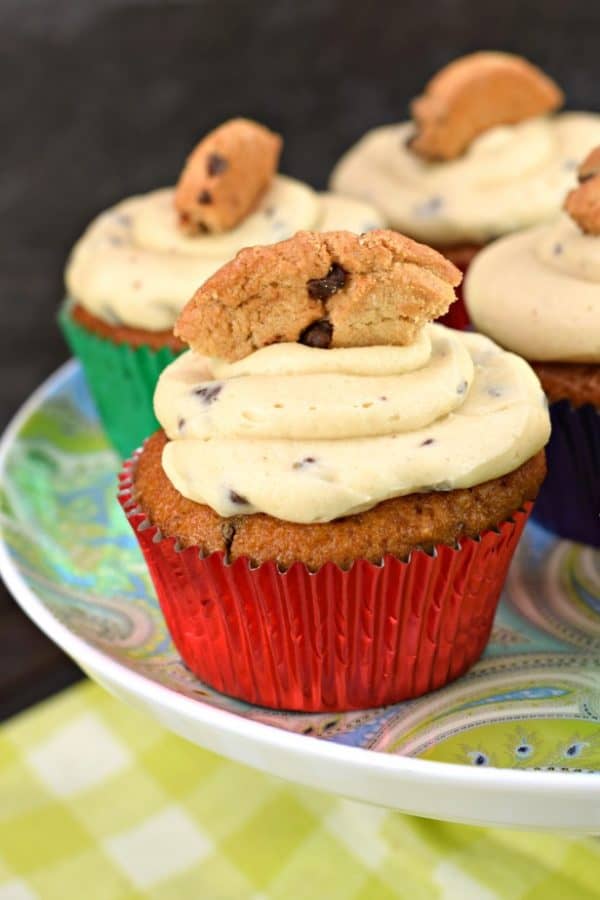 Why These Cupcakes Are Best
Can't decide between chocolate chip cookies and cupcakes? This recipe is the best of both worlds.
Moist, fluffy chocolate chip cupcakes.
Chips Ahoy cookie pieces in every bite.
The cookie dough frosting tastes just like chocolate chip cookie dough!
The ultimate cupcake recipe for cookie dough lovers.
Today's cookie dough cupcakes are just begging to be enjoyed with a big glass of milk!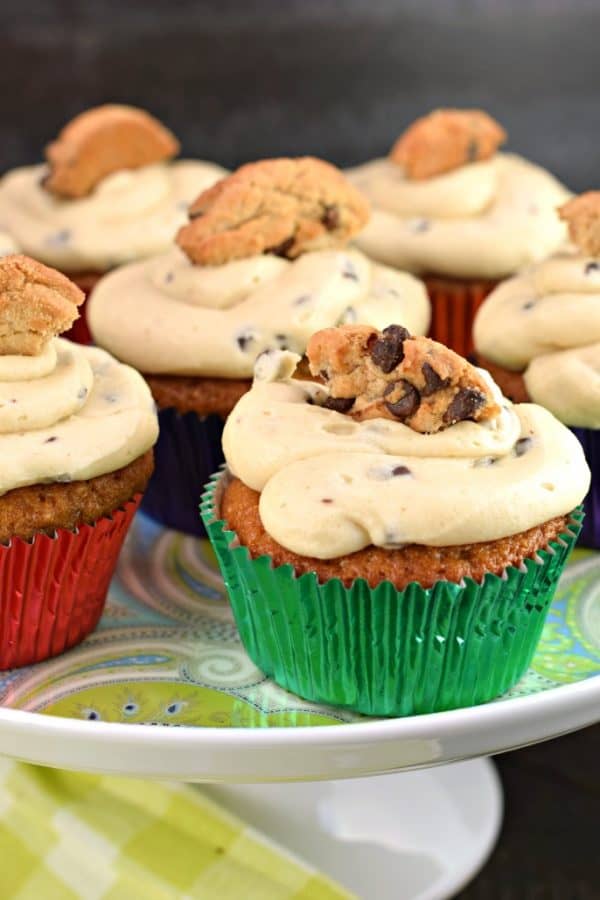 Ingredient Notes
Chips ahoy cookies – These are the perfect store bought cookie for these cupcakes because they're soft but don't fall apart in the batter. We use the original cookies for the cupcake batter and the mini ones as a garnish.
Evaporated milk – We use this to give moisture and richness to the cupcakes. It's also used to thin the frosting to a spreadable consistency.
Mini chocolate chips – Use semi-sweet, milk chocolate or any variety of mini chocolate chips you like to eat!
Vanilla extract – A good quality pure vanilla extract is essential for that familiar cookie dough flavor and aroma. We love baking with homemade vanilla whenever possible.
Unsalted butter – Baking with the unsalted variety gives you more control over the saltiness and final flavor of your baked goods. You can use salted butter instead; just omit the added kosher salt in the recipe.
Kosher salt – Without it, your cupcakes will taste flat and bland. Here's why kosher salt is best.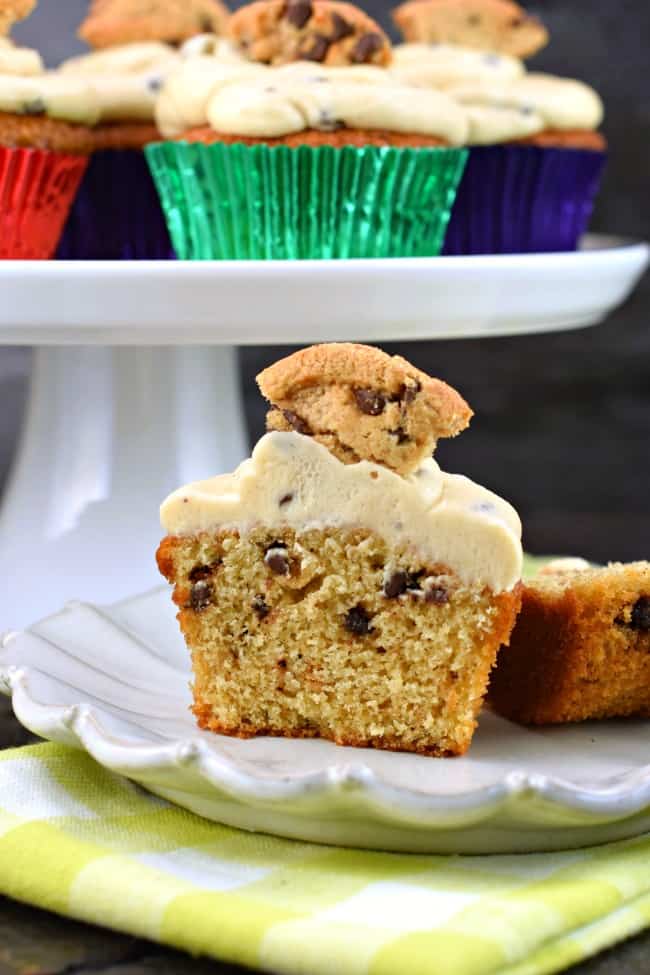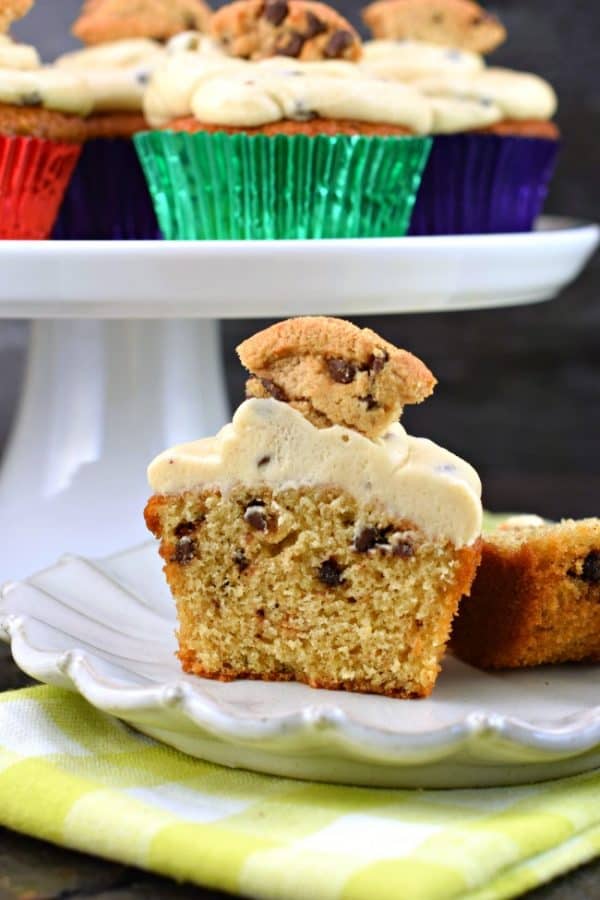 Tips and Tricks
Don't completely crush the cookies into crumbs for the cupcakes. You want there to be small cookie chunks.
Skip the cookies altogether in the cupcakes and just use chocolate chips if you don't want that crunchy texture.
While normally you can skip the "sifting" of the flour, today's recipe is very important to do that step. It keeps the cupcake light and fluffy!
Beat the cookie dough frosting ingredients together well for a creamy texture and delicious taste. The longer you beat it, the fluffier it gets!

Recipe FAQs
How do I store these cupcakes? Do they need to be refrigerated?
The cupcakes do not need to be refrigerated.
Store the chocolate chip cookie dough cupcakes in an airtight container at room temperature and enjoy within 3 days for best taste.
Can I make the cupcakes with different kinds of cookies?
You can use any brand of chocolate chip cookies in this recipe, even homemade cookies!
The recipe would also work with other cookie flavors for a different taste, like double chocolate chip cookies or white chocolate chip cookies.
Can I freeze cupcakes?
You can freeze the cupcakes before adding frosting. Thaw them at room temperature before adding frosting and the cookie garnish on top.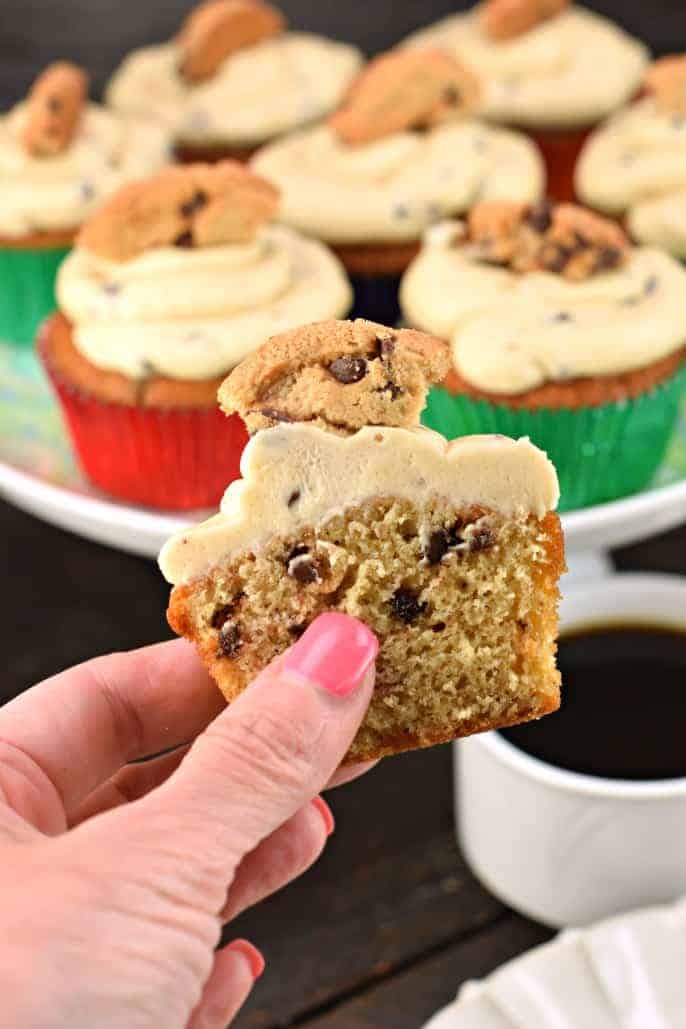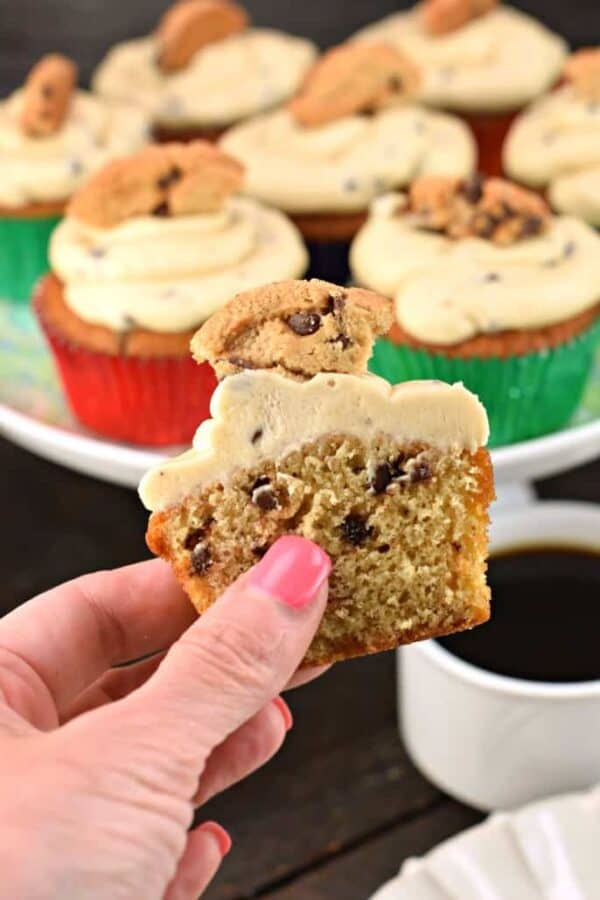 Chocolate Chip Cookie Dough Cupcakes are moist, sweet, dangerously tasty cupcakes packed with cookie dough flavor!