Rich chocolate cupcakes topped with a creamy Mint whipped cream frosting . So light, so refreshing, Grasshopper Cupcakes are the perfect after dinner treat!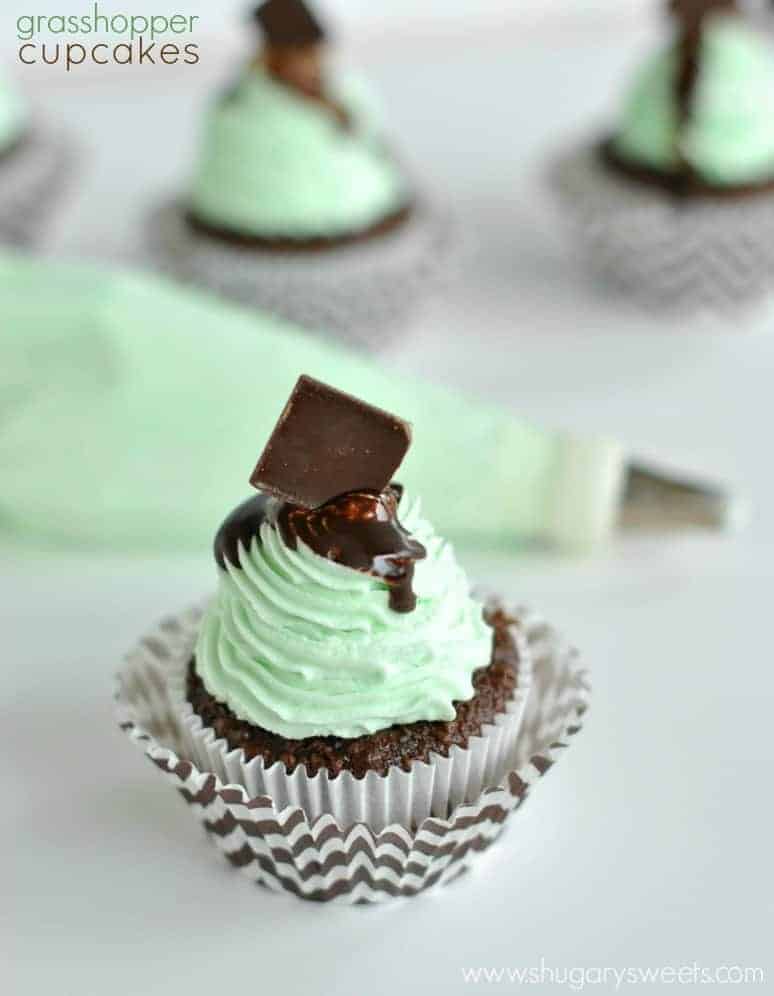 What are Grasshopper Desserts
No, I didn't put grasshoppers in these cupcakes! Grasshopper desserts get their name from the pale green color of mint frosting set on a chocolate base.
Every mint lover gets excited when they see the word "grasshopper" on the dessert list.
For these Grasshopper cupcakes, I piped cool minty frosting on dark chocolate cupcakes! You can also use this frosting on everything from brownies to layer cakes to fudge.
Not only does this frosting look beautiful contrasting with the dark chocolate, it tastes simply wonderful!
Lighter texture similar to whipped cream
Not overly sweet
Perfect for cakes and cupcakes
Creamy and sweet with just the right amount of mint to cool it off, grasshopper frosting is the perfect topping for all your chocolate treats.
Ingredient Notes
Heavy cream – Use real heavy whipping cream for rich flavor and ideal frosting texture.
Mint extract – Make sure to use mint extract NOT peppermint. Mint extract is a combination of spearmint and peppermint.
Green food coloring – I use the gel type of food coloring. You only need a tiny bit to turn the frosting light green.
Chocolate syrup – Optional, but gives the frosting a pretty touch! I use the same chocolate sauce I use for topping ice creams.
Andes Mints – Again, these are technically optional but I love them and they make the cupcakes look extra special too.
For the cupcakes, I made Chocolate Cupcakes with dark cocoa powder. Go ahead and use your favorite cupcake recipe or even a box mix!
The star of these cupcakes is the Grasshopper Frosting so you really can't go wrong.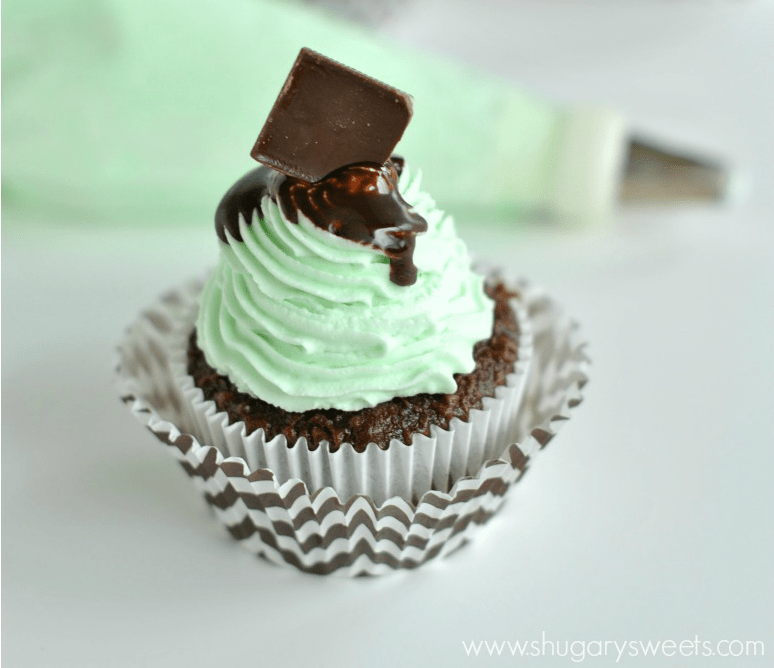 Step by Step Instructions
STEP 1. Bake and cool a dozen chocolate cupcakes
STEP 2. Beat heavy cream in a bowl until thick.
STEP 3. Beat in powdered sugar, mint extract and food coloring. Continue beating until the frosting is thick and and everything is fully combined.
Frost the cupcakes using a flat spatula or pipe on with frosting bags. I used Tip 32 on my frosting bag to make the cupcakes in these photos.
Drizzle a little chocolate syrup over each cupcake and place an Andes mint candy on top before serving!
Recipe FAQs
Can this be made without the food coloring?
Yes–it won't be green, obviously, but it will still taste minty and delicious.
How do you store this frosting?
Keep any unused frosting in an airtight container in the fridge.
Store the frosted cupcakes covered at room temperature for
How much frosting does this recipe make?
As written, this recipe will make enough to frost 12 cupcakes, a 2-layer 8 inch cake or one 13 x 9 pan of brownies. Of course, this depends on how much frosting you like on your desserts!
Can you double this recipe?
Absolutely. As long as you have a big enough bowl and strong electric beaters, the recipe should double just fine.
More Easy Mint Desserts
Are you ready to give this Grasshopper Frosting a try? Whether you spread it on a cake, sandwich it between chocolate cookies or pipe it on to cupcakes, you're going to love this out-of-the-box dessert topping!