Mint Chocolate Chip Cookies are a perfect St. Patrick's Day treat! This easy recipe features creamy mint filling sandwiched between chewy chocolate chip cookies. Dip them in white chocolate and sprinkles for even more fun!
If you love homemade cookie sandwiches, try these classic Chocolate Chip Sandwich Cookies next. Or give our classic whoopie pies a whirl.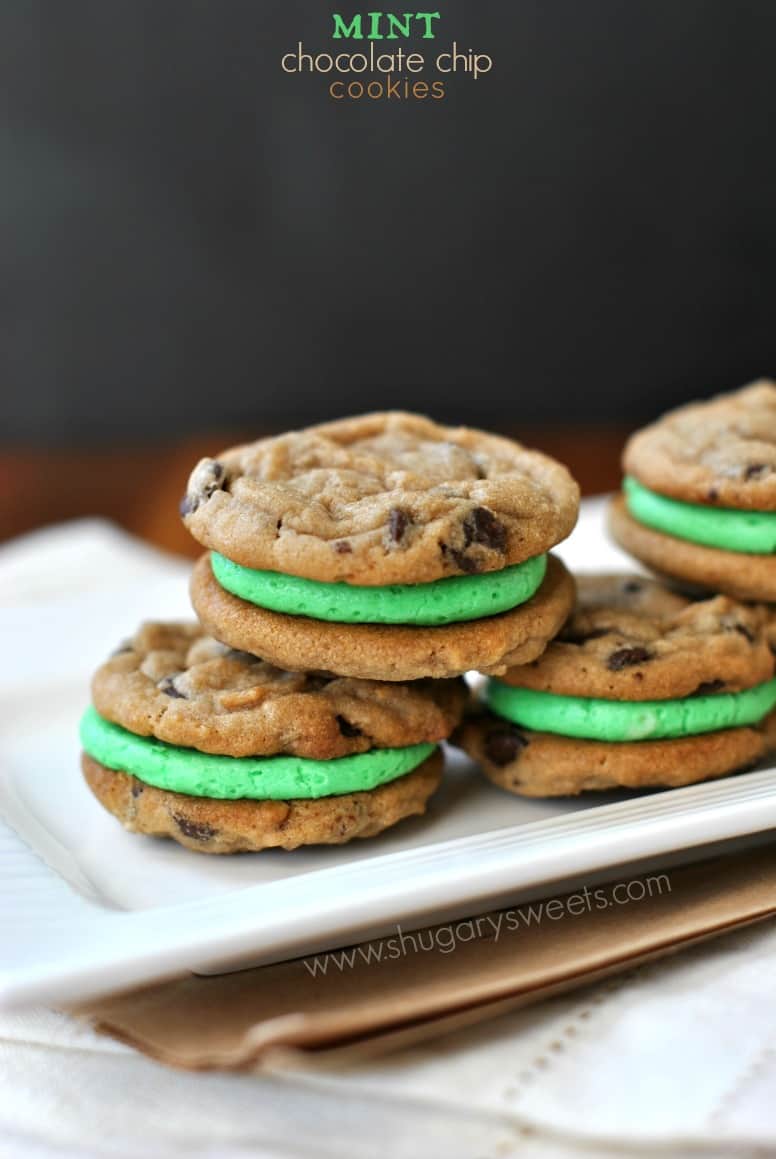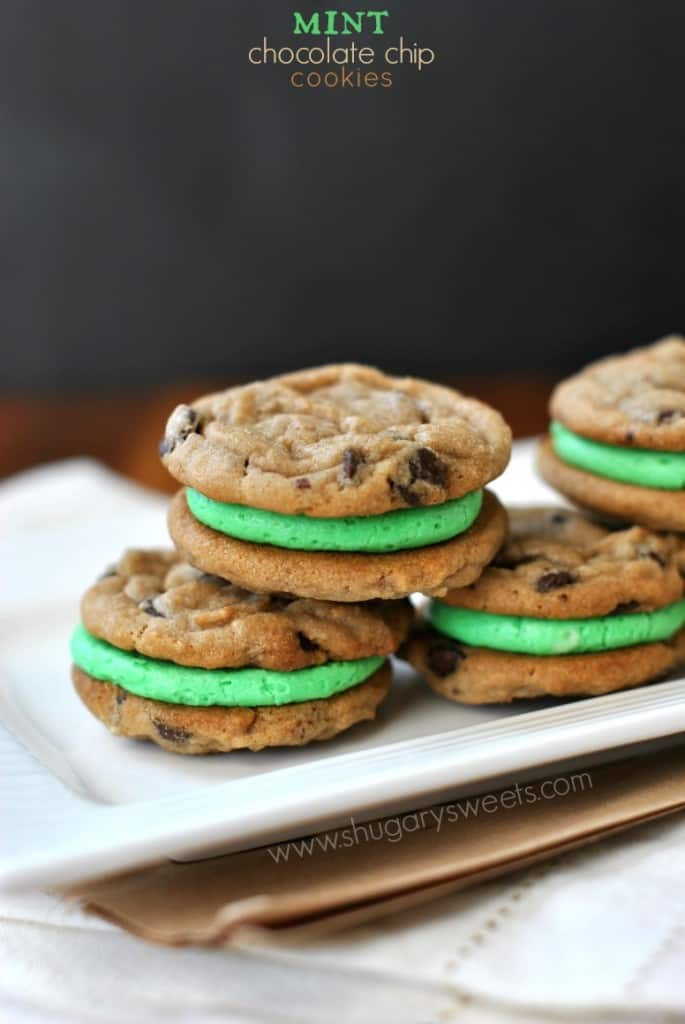 Why this Recipe Works
When it comes to chewy chocolate chip cookies, sometimes you just want a shortcut.
This recipe uses refrigerated cookie dough OR homemade. Your choice!
Cookie Sandwiches are held together with a mint buttercream filling.
Eat them as is or dip in white chocolate and sprinkles for a holiday treat.
There's a reason refrigerator cookies are so popular. They are soft and chewy and easy to make too.
Today, we gave them a makeover with a sweet, minty buttercream filling!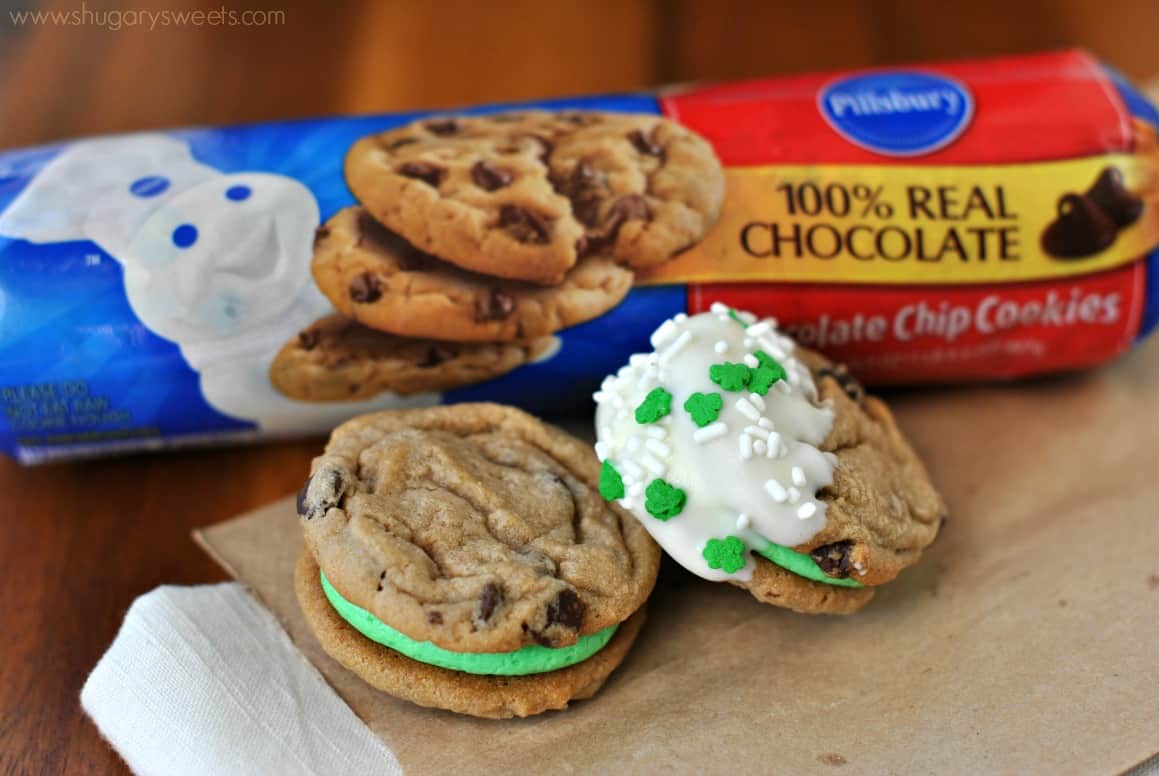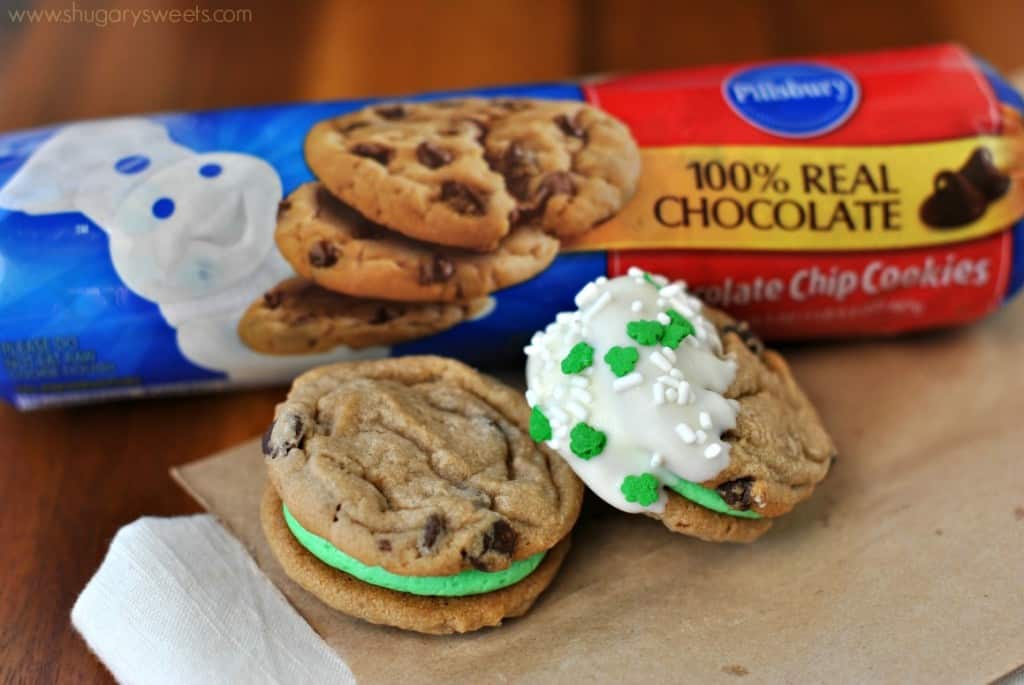 Ingredient Notes
Cookie dough. As noted above, you can't beat the convenience of popping open a tube of ready made cookie dough. I use Pillsbury brand, but any brand you like will do. Or swap it for homemade!
Green food coloring. A couple of drops of food gel is all you need to give the filling an eye-catching mint green color.
White chocolate melting wafers. If you want to add a white chocolate finish, you can't beat melting wafers! The melted chocolate sets up smooth and shiny in no time at all.
Peppermint extract. Use pure extract (not imitation flavor) for the best minty flavor.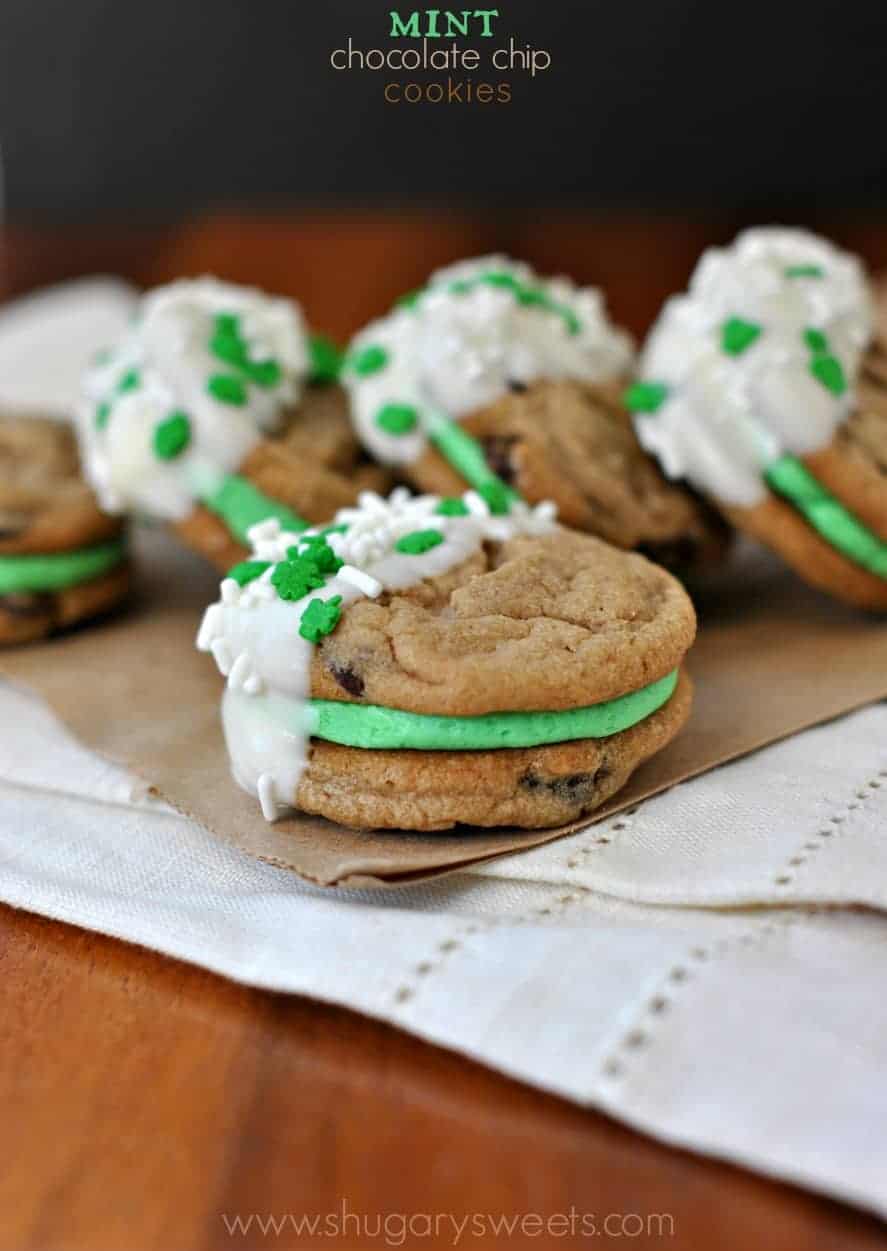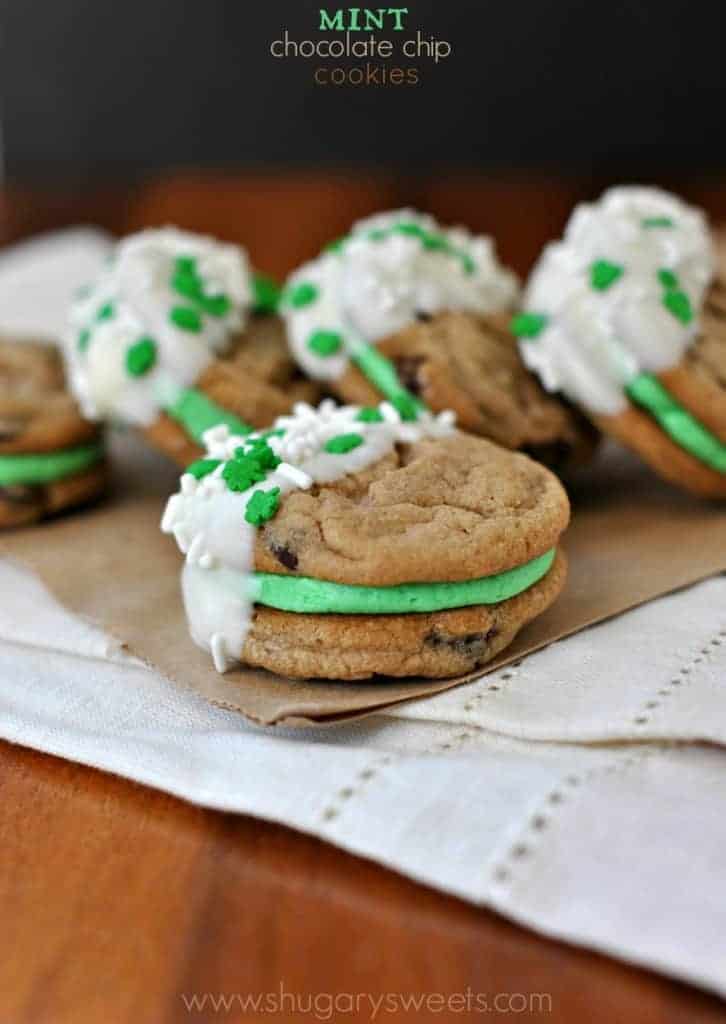 Easy Instructions
Start by baking your cookies.
I used a 1 tablespoon cookie scoop to make mini cookies. While the cookies are cooling, make the frosting.
Buttercream mint filling.
Making this mint buttercream is easy as can be. You just beat softened butter with the mint extract, powdered sugar and other ingredients until fluffy and smooth.
Then, pipe a little frosting between two like-sized cookies. Stick them together and you have the best ever cookie sandwiches!
Oh my word these are delicious.
I used this easy cookie dough in these Oreo Stuffed cookies, too remember how fun these are?
Tips and Tricks
White chocolate dip: Melt chocolate wafers according to package directions. Dip one side of each cookie sandwich in the white chocolate. Immediately garnish with green sprinkles.
Sprinkle options. I used cute shamrock sprinkles to make these St. Patty's Day themed. You can use any color or variety of sprinkles you like here!
Storing. Store Mint Chocolate Chip Sandwich Cookies in an airtight container for up to 1 week. No need to chill.
Recipe FAQs
Do I need spearmint or peppermint extract for these cookies?
The buttercream flavor is best when you use peppermint extract. Spearmint has a sharper flavor that can be too intense for some.
How many sandwich cookies does this recipe make?
I got 20 sandwiches out of this recipe because I scooped the cookie dough into smaller portions than usual when baking.
If you make the cookies more a typical size (2 tbs scoops), you'll get fewer cookies.
This recipe doubles well too. Just grab an extra tube of cookie dough and double the buttercream!
Can I put this mint buttercream on other cookies?
You sure can! If you love chocolate and mint together, try swapping the regular chocolate chip cookie dough for a batch of Chocolate Chocolate Chip Cookie dough instead.
It would also be tasty spread onto these Chewy Sugar Cookies.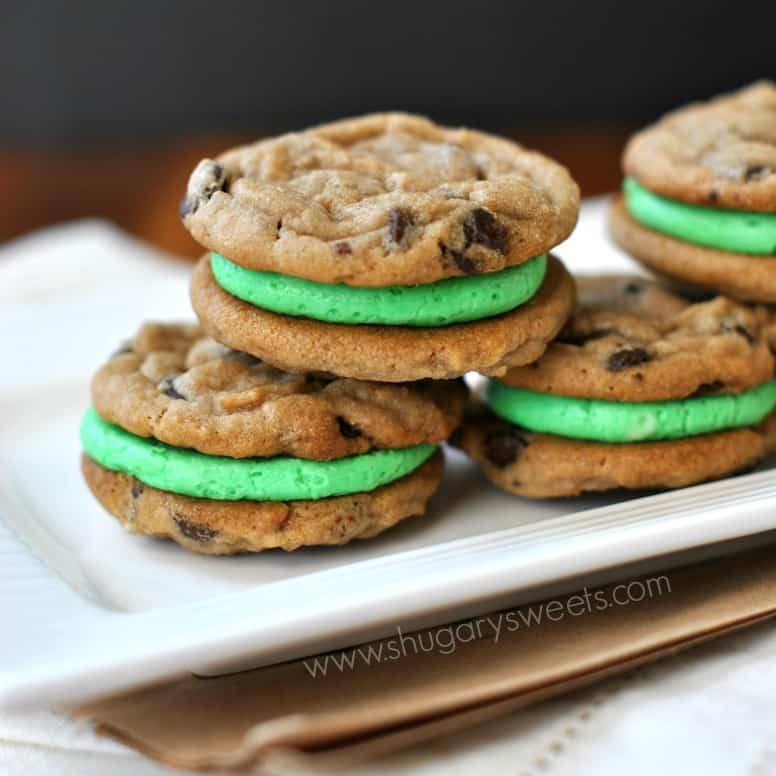 Mint frosting and chocolate chip cookies together are unbelievably delicious! These are the best mint chocolate chip cookies you'll ever taste.