Rich chocolate frosting sandwiched between chewy cookies is a chocolate lover's dream. Try this recipe for Chocolate Chip Sandwich Cookies next time you need a dessert that's just as decadent as a chocolate cake but even easier to serve!
If you love sandwich cookies, be sure to try our delicious Chocolate Whoopie Pie Recipe!! Or give these Funfetti Shortbread Sandwich cookies a whirl tonight.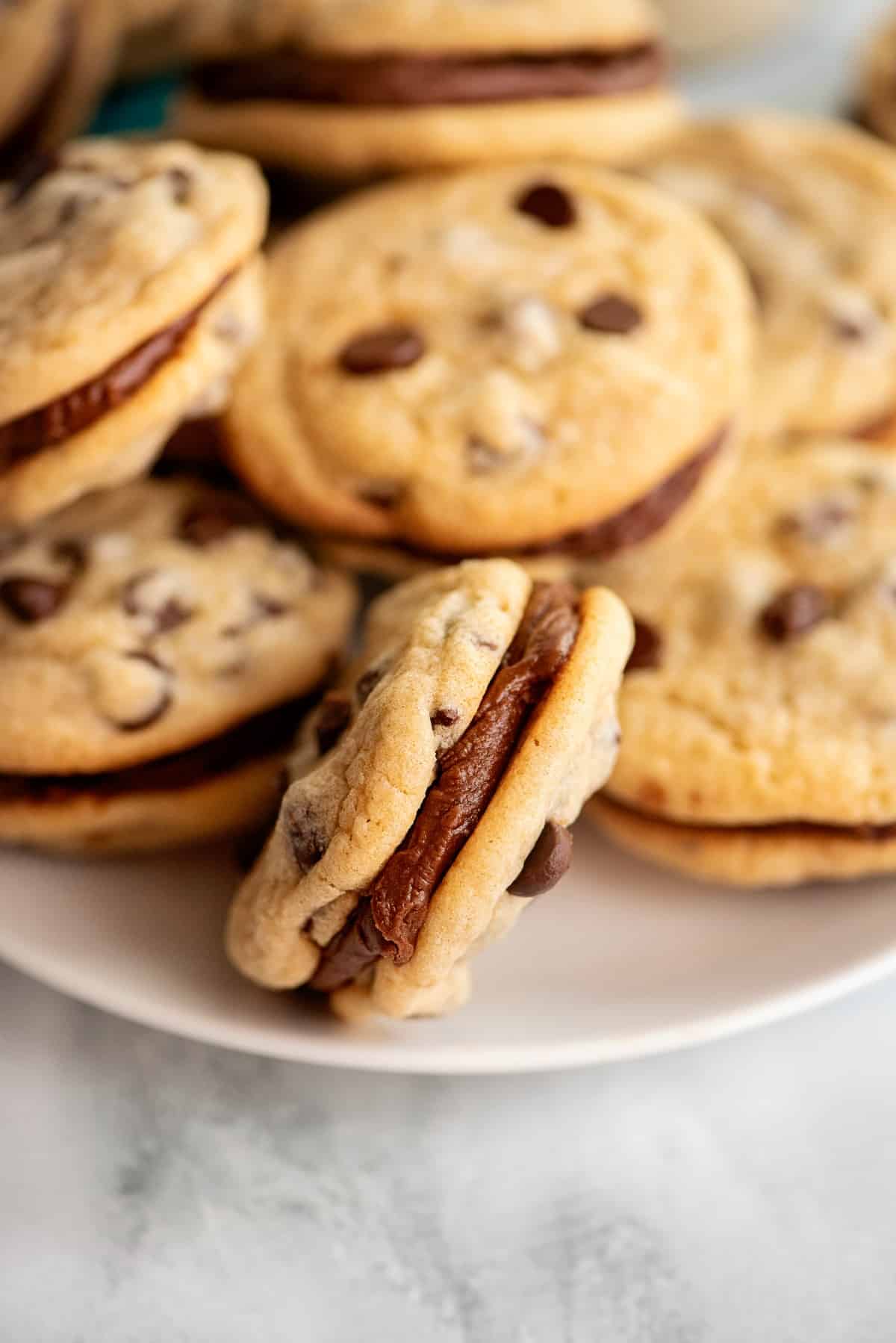 Why this recipe works
What's better than a chocolate chip cookie? TWO chocolate chip cookies!
What's better than two chocolate chip cookies?
Two chocolate chip cookies held together by a generous layer of sweet chocolate frosting.
Turning cookies into cookie sandwiches is an easy way to make them extra impressive.
Plus, you get two cookies in one. More cookies is always a good thing, am I right?
My first few times making sandwich cookies, I just made chocolate chip cookies like usual then put the frosting between them. It tasted good but, as tends to happen with drop cookies, the edges were uneven.
No two cookies fit together quite right so they didn't look as pretty and satisfying as I was hoping.
I solved that problem the next time (and the next time and the next ) by using my spatula to tap the edges of the cookies into a round shape, while they're still hot and soft from the oven. Doing this turned them into perfectly round cookies ready to get smooshed together with some frosting!
Speaking of frosting, I cannot adequately describe how delicious this chocolate filling turned out. I added a bit of coffee to bring out the chocolate flavor and have zero regrets.
If you're a chocolate lover like me (and a frosting lover), this is a must-try recipe! Your mood cant help but get a boost from this combination of rich chocolate and chewy cookies!
Ingredient Notes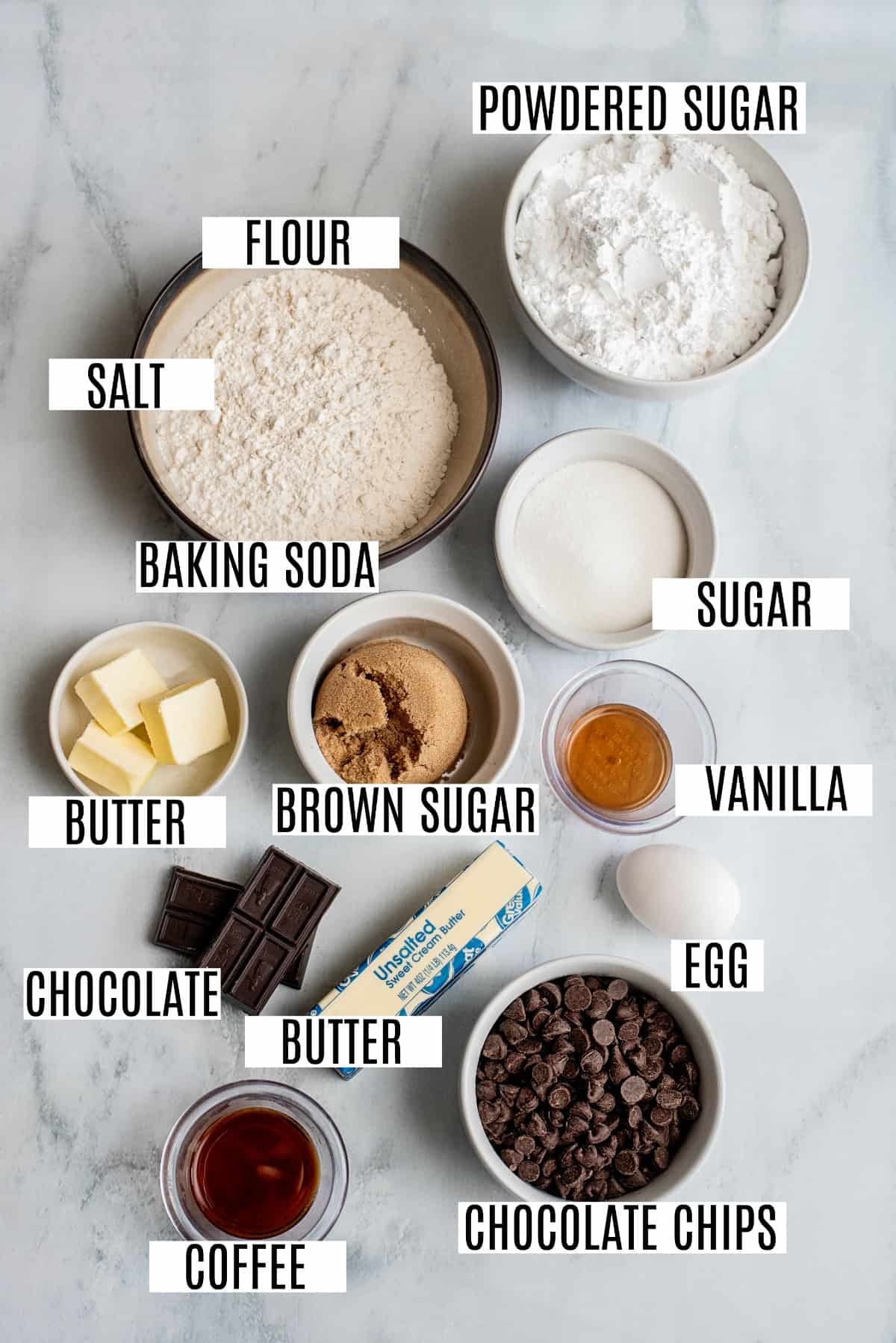 A few of the ingredients needed for Chocolate Chip Sandwich Cookies.
Chocolate chips – I used the traditional semi-sweet morsels for the cookies. If you prefer milk chocolate or dark chocolate, go for it!
Unsweetened baking chocolate – In bars or squares, not cocoa powder. This goes in the frosting to make it so smooth, creamy and chocolatey!
Coffee – The coffee brings out more of the deep flavor of the chocolate. You can substitute milk or cream if preferred. Brew yourself a cup of hot coffee to enjoy while you bake and set aside a few tablespoons to use in the frosting.
Step by Step Instructions
STEP 1. Make the chocolate chip cookie dough
Use a hand mixer or a stand mixer to beat the butter until smooth and fluffy, then add the sugars, egg and vanilla and mix. Add the dry ingredients to combine and fold in the chocolate chips.
Use a tablespoon or a cookie scoop to scoop the dough onto a parchment-lined baking sheet.
STEP 2. Bake
Bake for 10 – 12 minutes until the edges start to turn golden brown.
Remove and let cool on the baking sheet for 5 minutes. This is where you can use your spatula to push the edges of the cookies into a rounder shape before they set.
Transfer the cookies to a wire rack to finish cooling. Meanwhile, making the chocolate frosting filling.
How to Make the Chocolate Filling
It's time to talk about the most important part: making the frosting!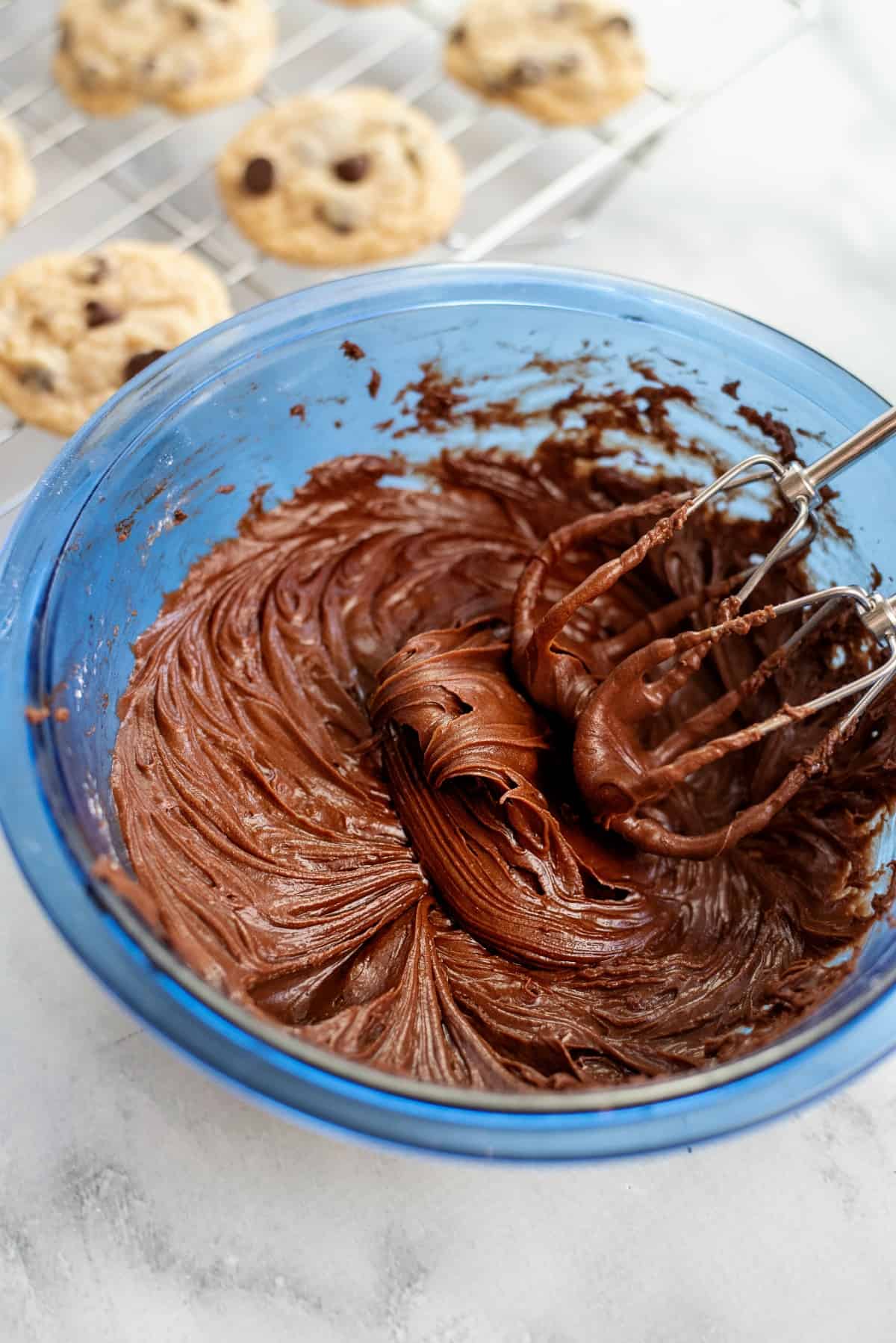 STEP 1. Melt the butter and chocolate
Place the baking chocolate and butter in a small bowl. Microwave for 30 seconds. Give it a stir, then return to the microwave for another 15 seconds.
Stir and repeat as many times as needed until the butter and chocolate are melted and fully incorporated.
STEP 2. Add remaining ingredients
Beat the chocolate mixture with powdered sugar, vanilla extract and the coffee until smooth.
I recommend adding the coffee a tablespoon or so at a time, then adding more as needed. I like a thicker frosting for this so it doesn't ooze out of the sandwiches too much.
Your kitchen will smell pretty amazing by now. Resist the urge to spoon the frosting straight into your mouth from the bowl! I promise it's even better on the cookies!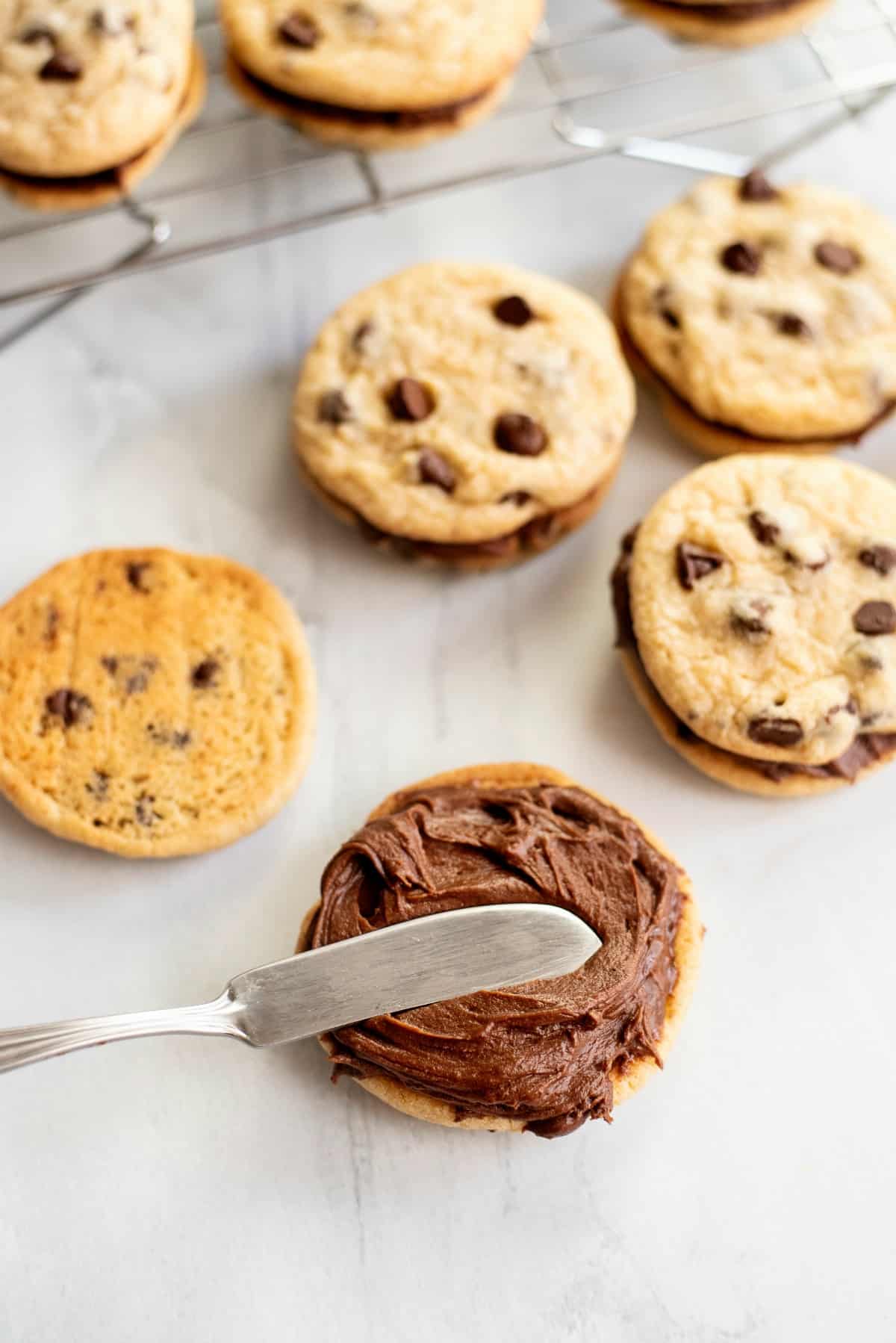 STEP 3. Assemble the sandwiches
Spread one tablespoon of the frosting on the underside of the half the cookies. Top with the remaining cookies to form sandwiches. They're ready to serve right away!
Recipe FAQs
Why is my chocolate frosting runny?
If your chocolate frosting is runny, you may have added too much coffee or milk or not enough powdered sugar. It's easy to fix! Just add a little more powdered sugar, a tablespoon at a time until it thickens to your preferred consistency.
Can I substitute chocolate chips for unsweetened chocolate in frosting?
I wouldn't recommend this. Substituting chocolate chips for unsweetened chocolate will make the frosting cloyingly sweet and throw off the flavors. You need the powdered sugar to create a fluffy, smooth frosting and unsweetened chocolate pairs best with that in this recipe!
How do you store chocolate chip cookie sandwiches?
Store your Chocolate Chip Sandwich Cookies in an airtight container in the fridge OR at room temperature. They taste good cold, too!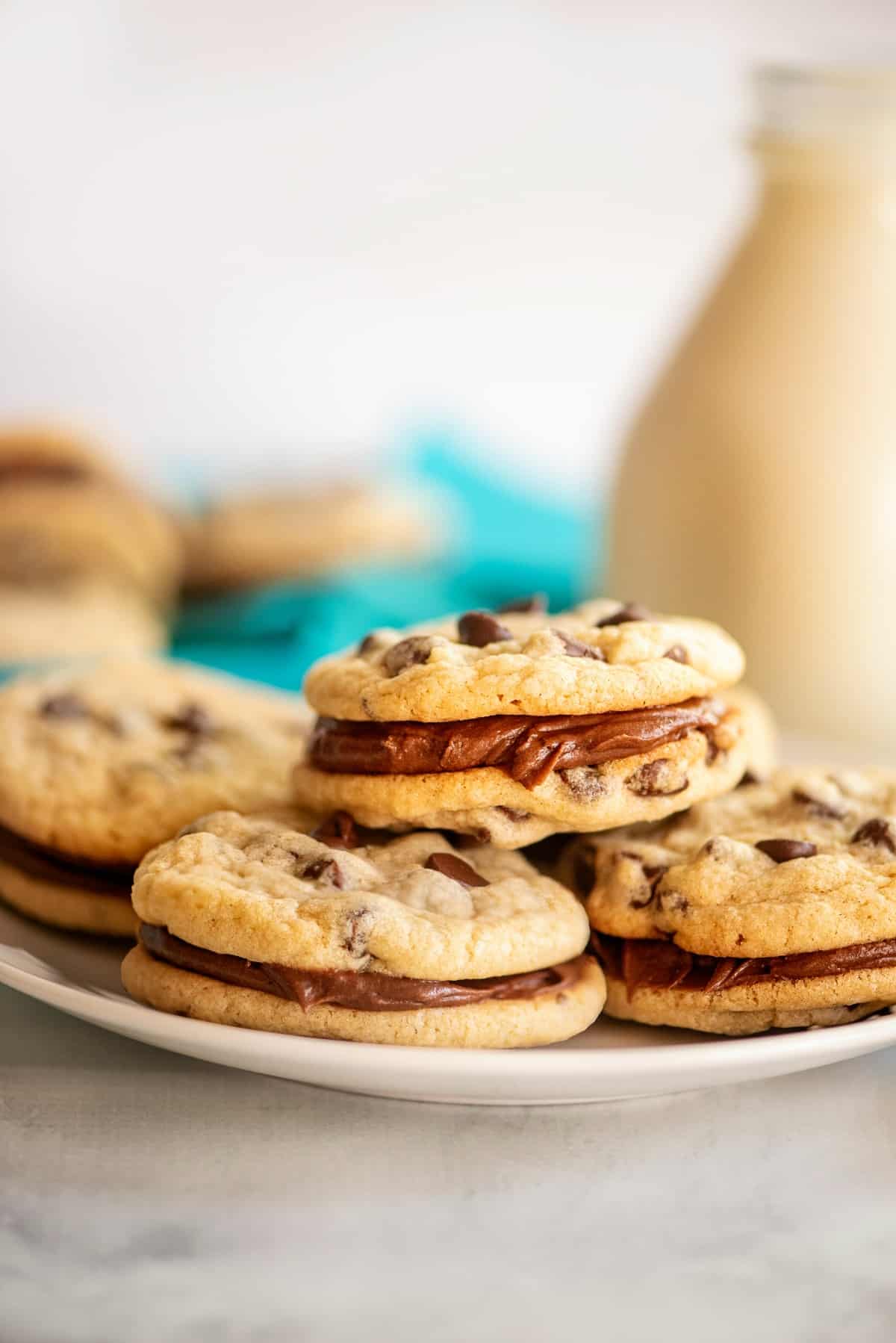 More Easy Dessert Recipes
Pour a glass of milk or a cup of coffee, and go make these Chocolate Chip Sandwich Cookies! Don't forget to set aside a few for yourself before the kids eat them all.