I'm pretty sure it's a well known fact that sprinkles make everything taste better. These Funfetti Shortbread Cookie Sandwiches are no exception to that rule! Filled with sprinkles, these are sure to go fast!
Be sure to follow me on Bloglovin'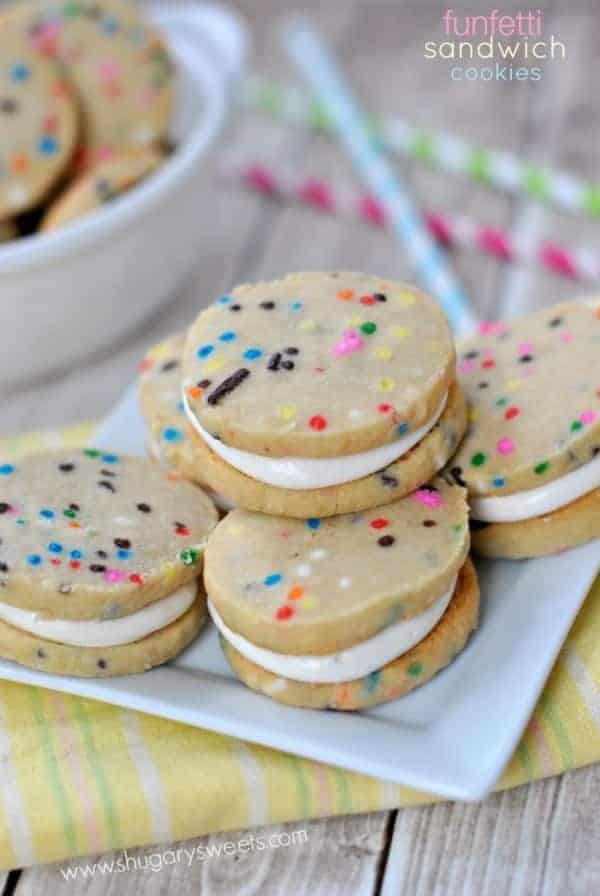 I love baking shortbread cookies. They are so buttery and flaky. The perfect grown up cookie!
Add some sprinkles and they become totally kid friendly too! I filled them with a creamy cookie filling that adds a little extra sweetness. Shortbread cookies are not traditionally super sweet cookies, so this filling doesn't put these over the top at all. Just brings them up to the rim!
There's something about sprinkles that makes me smile. No matter the day, no matter the circumstances, sprinkles have a way of bringing cheer. Rainy days don't even hold a candle to some sprinkle cookies!
The best thing about shortbread cookies is you can make them in advance and freeze the dough. I like to roll my dough into a log shape and wrap it in plastic wrap. I then use an empty paper towel tube, sliced down lengthwise, to hold the roll of wrapped dough. This helps it keep it's shape in the freezer. When you're ready to bake the cookies, remove from the freezer, unwrap, slice and bake. Add a few minutes extra if the dough is frozen. Or you can thaw the dough overnight in the refrigerator. I usually bake it straight from the freezer (and add extra time).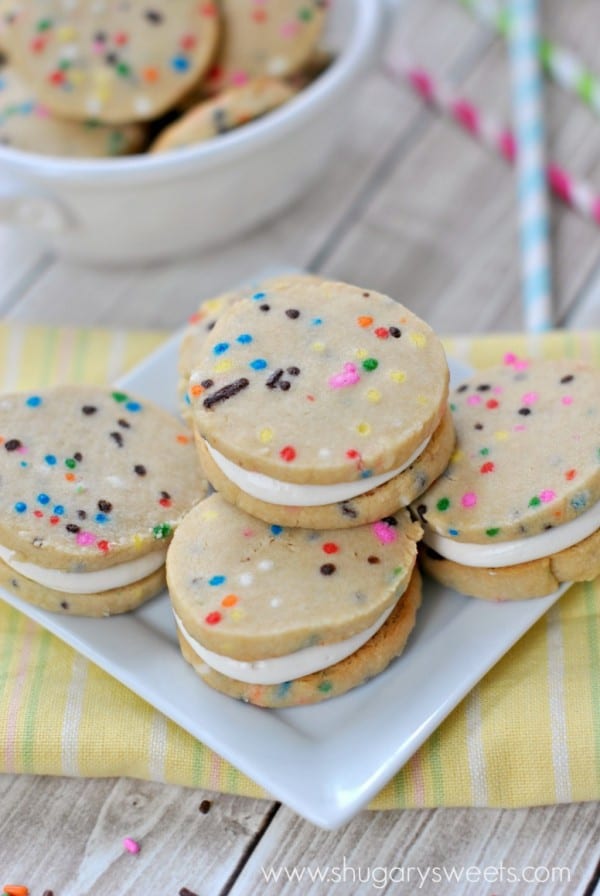 It's perfect to keep several flavors on hand in the freezer for those last minute cookie emergencies. You know the ones. Unexpected coffee guests? Sweet tooth cravings? Emergency lunch snacks for the kids! Frozen cookie dough to the rescue!
Don't want the filling? These are still delicious shortbread cookies!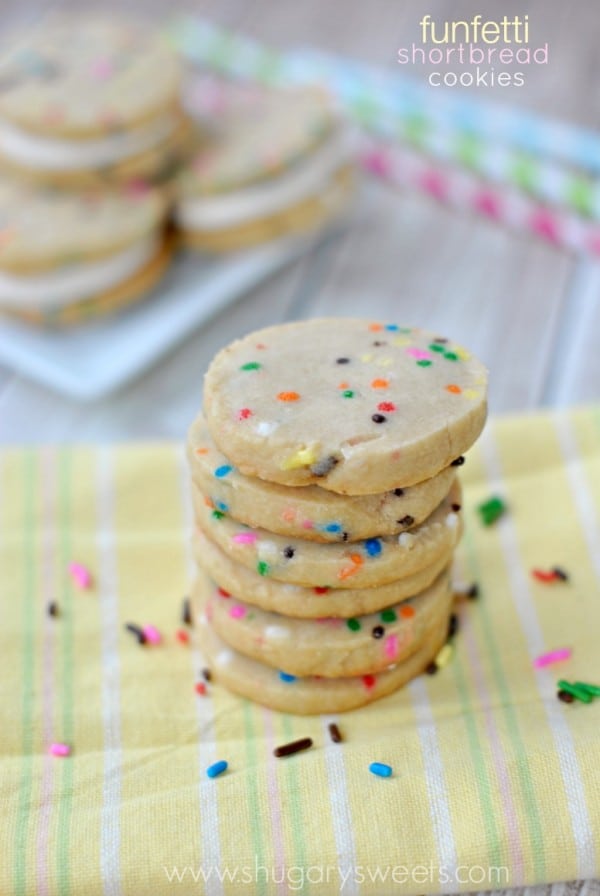 Connect with Shugary Sweets! Be sure to follow me on my social media, so you never miss a post!
Pinterest | instagram | Bloglovin'
Yield: 36 cookies
Funfetti Shortbread Cookie Sandwiches
Ingredients
For the cookie:
1 cup unsalted butter, softened
1/2 cup powdered sugar
2 cup all-purpose flour
1/2 tsp kosher salt
1/2 tsp butter flavoring (optional)
1/2 cup sprinkles (I prefer to use the jimmies/logs)
For the filling:
3/4 cup marshmallow cream (Fluff)
1/4 cup unsalted butter, softened
1/2 tsp vanilla extract
1 Tbsp heavy cream
1 cup powdered sugar
Instructions
For the cookies, cream together the butter and sugar until fully combined. Add flour and salt until well blended. Add butter flavoring and sprinkles.
Lay a large piece of plastic wrap on the counter. Drop dough into wrap and shape into a log.
Wrap up in the plastic wrap. Slice an empty paper towel tube lengthwise and place dough in tube. Freeze for 30 minutes (or longer).
Straight from the freezer, slice thin and place cookies on parchment paper lined baking sheet. Bake in a 350 degree oven for 10-12 minutes. Cool completely. Store in airtight container. If desired, add filling.
For the filling, beat marshmallow cream with butter, vanilla, heavy cream and powdered sugar. Beat for about 3-4 minutes. I put this in a small ziploc bag and cut off the corner.
Pipe onto center of each cookie, top with second cookie. ENJOY.
Notes
I use butter extract to enhance the flavor of these cookies. Totally optional.
Love SPRINKLES? Here are a few of my favorite recipes with Sprinkles!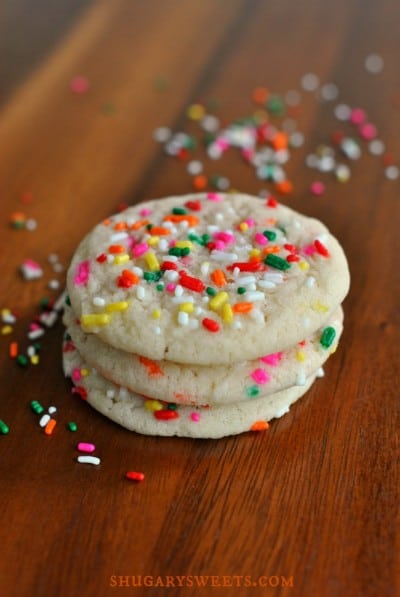 Funfetti Sugar Cookies. Simple, chewy cookies with sprinkles!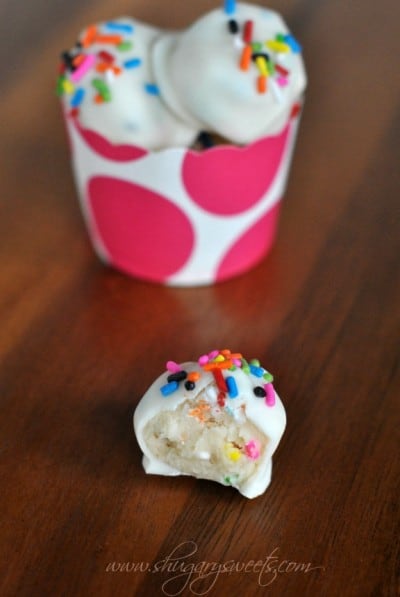 Funfetti Cookie Dough Truffles: delicious bite sized cookie dough treats, safe to eat!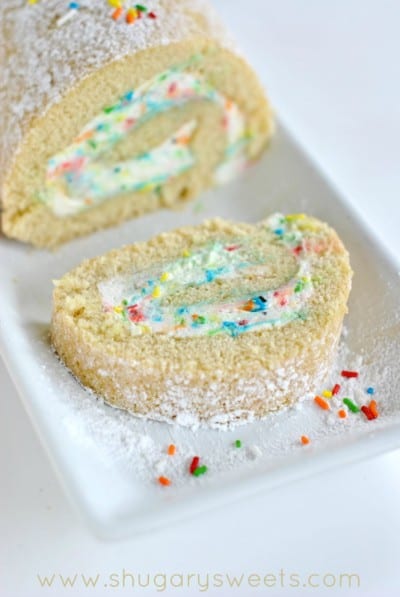 Vanilla Funfetti Cake Roll: vanilla sponge cake with extra sprinkles!