I'm pretty sure it's a well known fact that sprinkles make everything taste better. These Funfetti Shortbread Cookie Sandwiches are no exception to that rule! Filled with sprinkles and frosting, these are sure to disappear fast!
Be sure to try these reader favorite Chocolate Chip Sandwich Cookies to satisfy your next chocolate craving! Filled with rich chocolate buttercream frosting, you'll love to snack on these treats.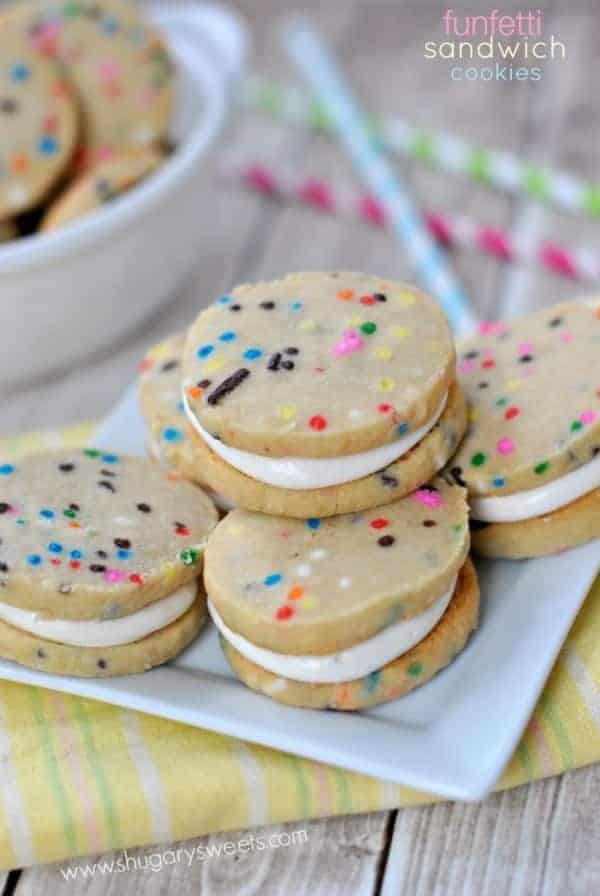 Why This Recipe Works
There's something about sprinkles that makes me smile. No matter the day, no matter the circumstances, sprinkles have a way of bringing cheer. Rainy days don't even stand a chance for getting me down when I have sprinkle cookies!
Add some sugar cookie frosting between two funfetti shortbread cookies and you've got a delicious treat!
The best thing about shortbread cookies is you can make them in advance and freeze the dough.
I like to roll my shortbread dough into a log shape and wrap it in plastic wrap. I then use an empty paper towel tube, sliced down lengthwise, to hold the roll of wrapped dough.
This helps it keep it's shape in the freezer. When you're ready to bake the cookies, remove from the freezer, unwrap, slice and bake. Add a few minutes extra if the dough is frozen. No need to thaw!
Shortbread cookies require no rising or leavening so the ingredients list is as short and simple as they come. All you have to do to turn them into a funfetti treat is fold in some sprinkles.
Easy, cheerful and always delicious!
Ingredient Notes
For the cookies:
Powdered sugar – Using powdered sugar in this recipe gives the cookies a delicate melt-in-your-mouth texture.
Unsalted butter – If using salted butter, reduce the amount of added kosher salt added to the dough.
Butter flavor – Optional but delicious, this extra ingredient adds so much buttery taste to these cookies.
All purpose flour – Measure your flour carefully for best results.
For the frosting:
Marshmallow cream – This comes in cans sometimes labeled as "Fluff."
Vanilla extract – Try making your own vanilla extract for an even deeper vanilla flavor.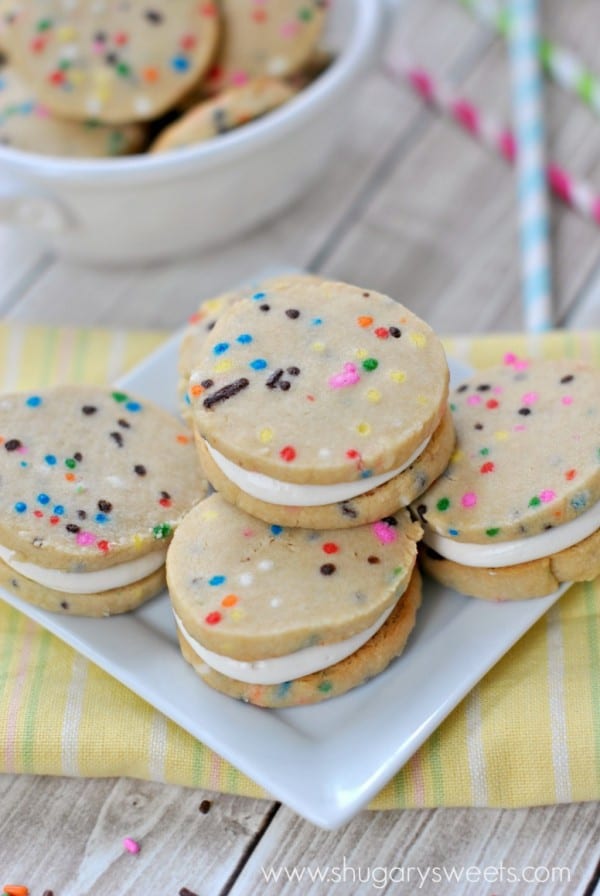 Easy Instructions
Cookie Dough. Make the cookies by beating together butter and powdered sugar, then mixing in flour, salt, sprinkles and butter flavor. Drop the dough onto a piece of plastic cling wrap and form into a log.
Freeze Dough. Wrap the log in plastic and freeze for at least 30 minutes. I slice a paper towel tube in half and use that to store the dough!
Slice and Bake. Once frozen, slice the dough into thin cookies and bake for about 10 minutes.
Filling. While the shortbread is cooling make the cookie filling by beating together all the frosting ingredients in an electric mixer. Scoop the frosting into a ziploc bag with the corner snipped off (or a frosting bag).
Assemble. Pipe the frosting onto one cookie, top with a second cookie and enjoy delicious shortbread cookie sandwiches!
Recipe FAQs
What sprinkles work best for funfetti cookies?
I prefer to use Jimmies sprinkles (the log shaped ones) which hold up well to heat. Round sprinkles like nonpareils would work too. I don't recommend sugar sprinkles as the color will bleed into the dough as they bake.
Can you make these without freezing the dough?
The dough doesn't have to be totally frozen for this recipe to work but it should be very cold! Chilled dough slices more evenly and helps the cookies hold their shape.
How long can you store the dough in the freezer?
Frozen shortbread dough should stay good for about 2 months if stored well wrapped. I'd double wrap my log with an extra layer of plastic wrap to preserve the freshness even more.
What is butter flavoring?
This handy ingredient come in bottles (like vanilla extract) and a small amount of it adds instant butter taste to any recipe. I use it to make the shortbread cookies even more buttery here but you can totally leave it out! The cookies will still taste wonderful.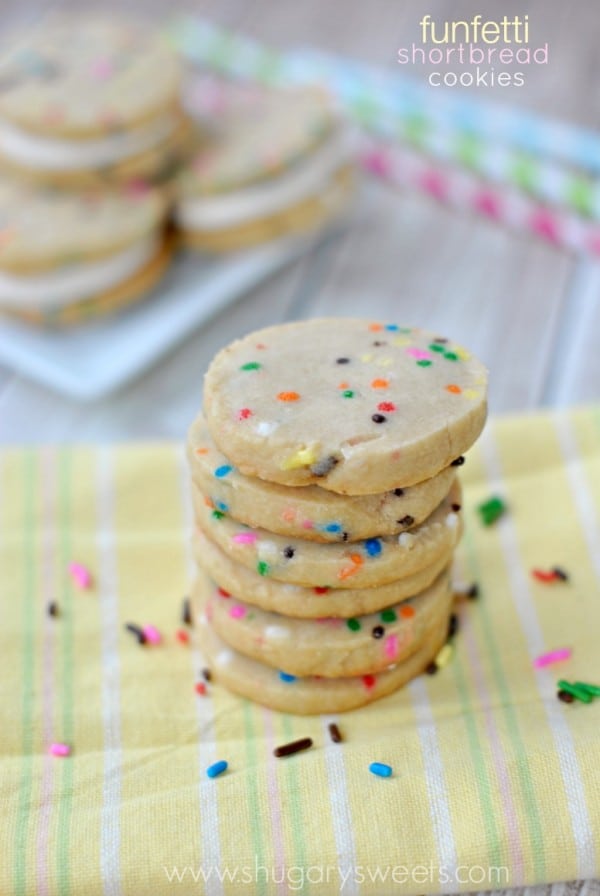 More Funfetti Recipes
Can you eat one of these cookies and NOT grin from ear to ear? Fufetti Shortbread Cookie Sandwiches are perfect for birthdays and other celebrations–or just to brighten your mood on a dreary day. Enjoy!