Funfetti cookie dough is rolled into tasty truffles in this easy dessert recipe. Dipped in white chocolate and covered in sprinkles, these Funfetti Truffles are a hit for birthday and graduation parties!
You don't need to wait for a special occasion to enjoy homemade truffles. It's easy to make truffle versions of all your favorite desserts, like s'mores truffles and pecan pie truffles.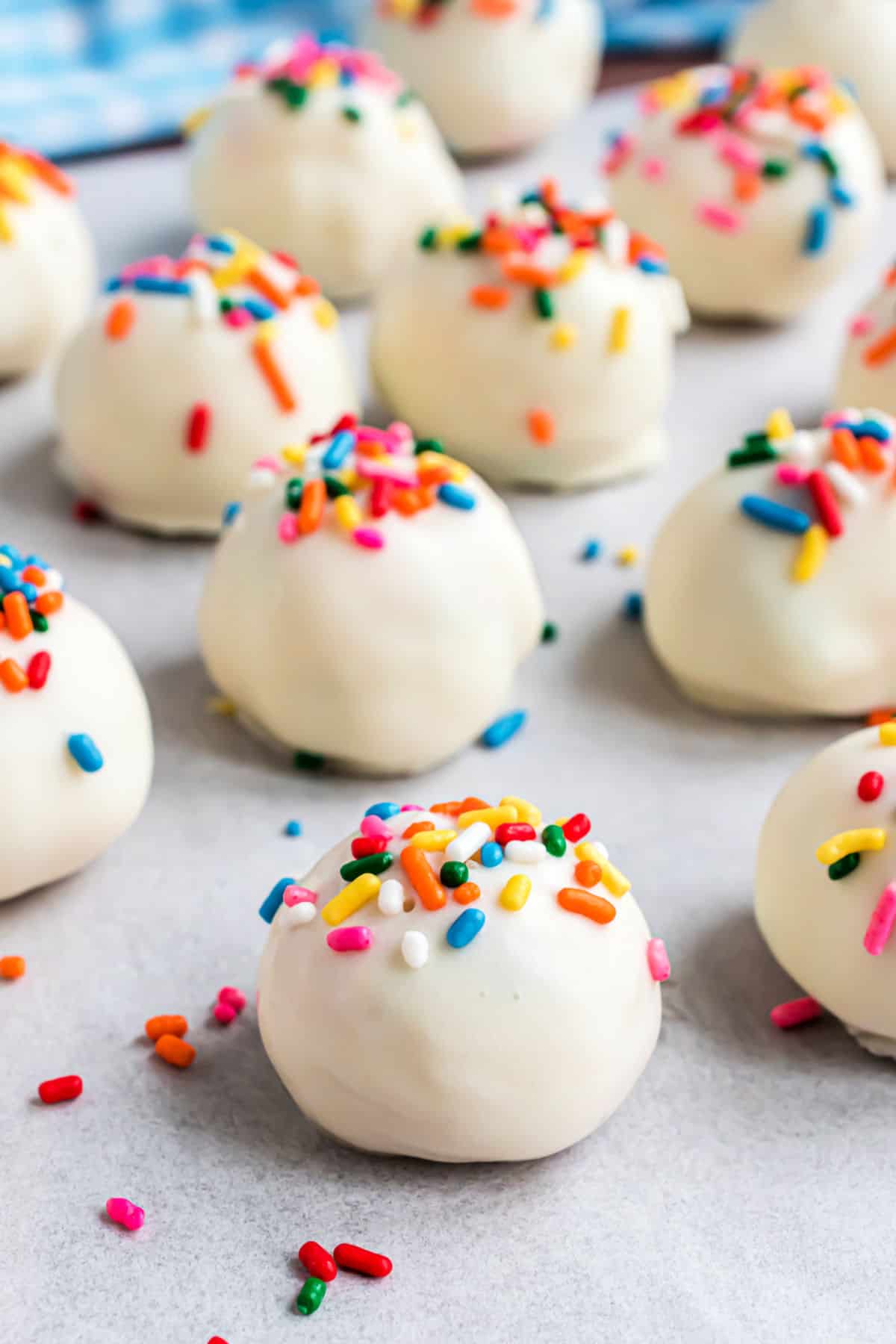 Why this Recipe Works
Sprinkles are a must in the summer. These truffles happened when I married my Funfetti cookies with Cookie Dough truffles.
It's cookie dough, Funfetti cake and truffles all at once!
The cookie dough contains no eggs so it's safe to eat raw.
You can use any color of sprinkles for different occasions.
Funfetti Cooke Dough Truffles are as fun to make as they are to eat!
Today's colorful festive truffles make a perfect homemade gift idea too. Wrap them up as a gift for teachers, grandparents or anyone who deserves a sweet treat.
Love Sprinkles? Try our Funfetti Blondies or Funfetti Shortbread next!
Ingredient Notes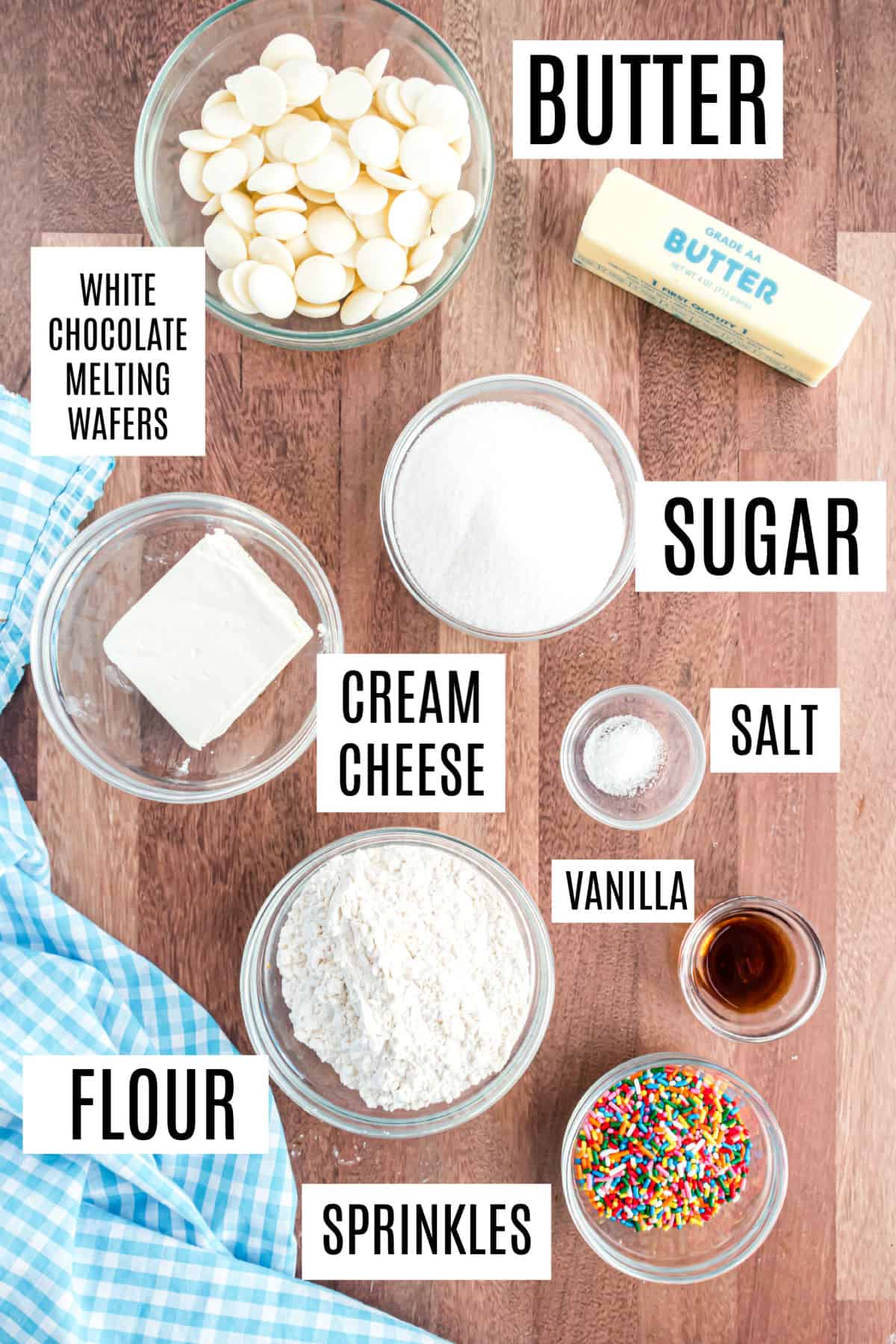 Cream cheese and butter. Let both ingredients soften for a few minutes on the counter so they are easier to incorporate into the cookie dough. Use our guide on how to soften butter quickly.
All purpose flour. Make sure to heat treat your flour before adding it to this recipe for food safety.
White chocolate melting wafers. I use Ghirardelli wafers. They melt and set perfectly with a delicious sweet flavor.
Sprinkles. You can use any variety and color of sprinkles for Funfetti Cookie Dough Truffles. I used multicolored jimmies style sprinkles for a familiar confetti look.
PRO TIP- We love making our own homemade vanilla extract, but if using store bought, be sure it's pure extract, not imitation (for best flavor).
Tips and Tricks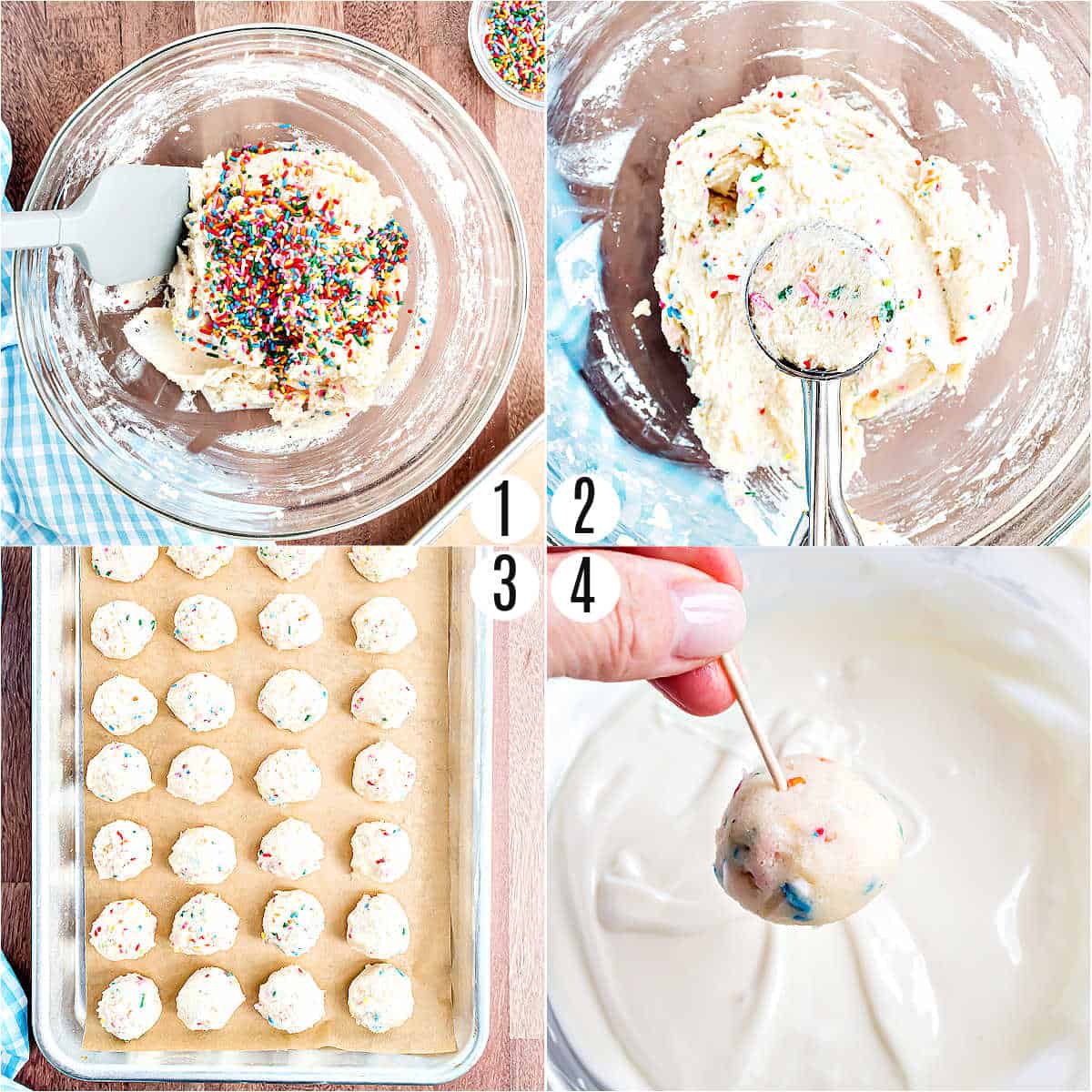 The most labor intensive part of this recipe is dipping frozen cookie dough balls into the melted chocolate. It's not difficult to do but it can be messy!
Here are a few tips to keep in mind when dipping truffles:
Freeze completely. Rolled cookie dough needs at least 2 hours in the freezer to become completely solid. If you don't give them enough time they will not hold their shape well when you try to dip them.
Place parchment paper or foil under your bowl. It will catch any stray chocolate sparing your counter tops from becoming a sticky mess.
Use a toothpick. Spear each frozen truffle ball with a toothpick for easy dipping that won't get your hands (quite as) messy.
Remove excess chocolate. Tap each dipped truffle against the side of the bowl gently before adding sprinkles. This helps the white chocolate coating set up in a smooth even layer.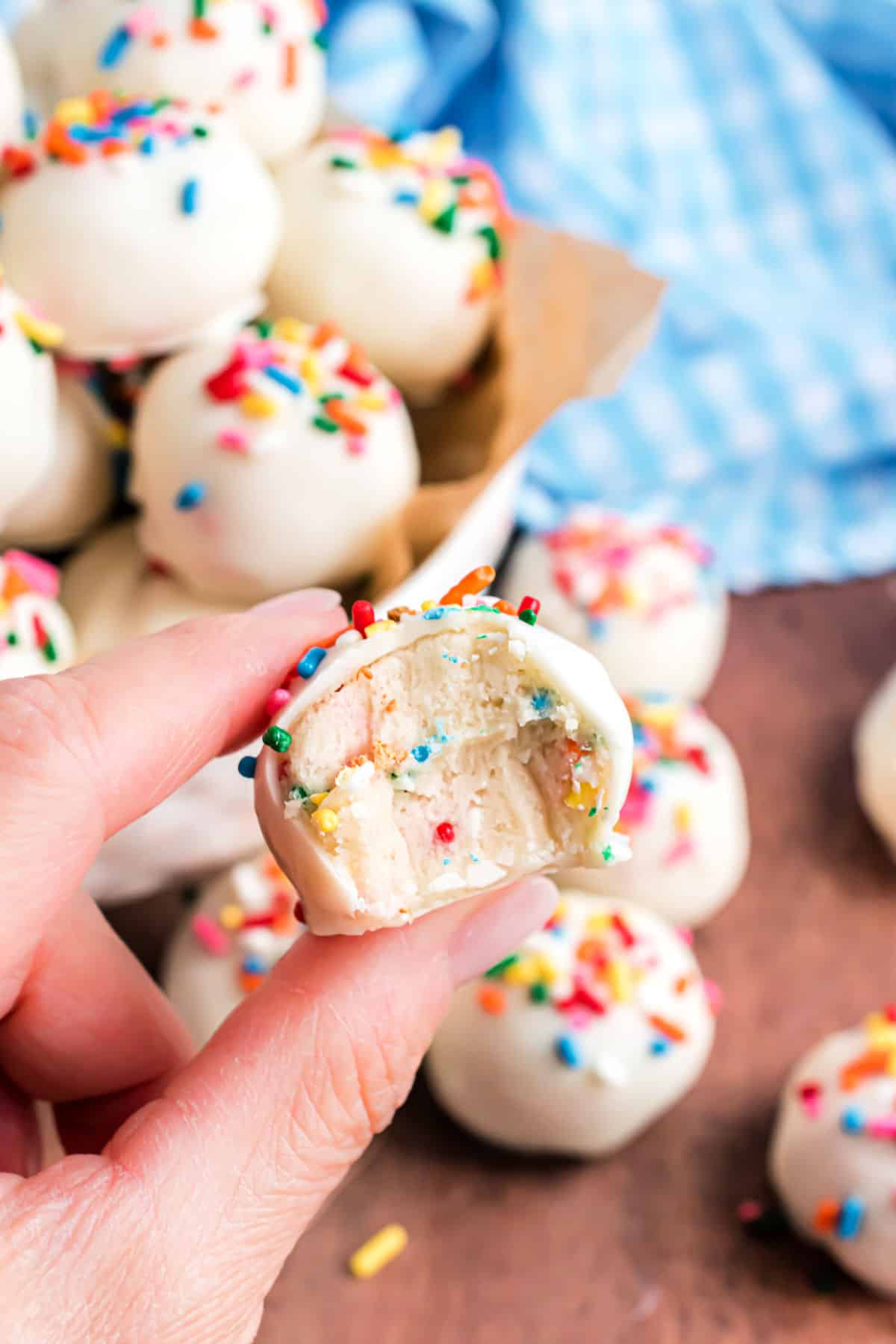 Recipe FAQs
What is heat treating flour and why is it important?
It's common knowledge that cookie dough with eggs is not safe to eat raw. But you might not realize that flour isn't safe to eat raw either.
Flour can contain bacteria and other pathogens you probably don't want entering your digestive system.
Baking the flour on its own for a few minutes in a hot oven kills those pathogens making the flour safe to eat. This process is called "heat treating." I wrote a whole post about it here!
Do Funfetti Cookie Dough Truffles need to be refrigerated?
Yes, these truffles should be kept chilled if you are not eating them right away. They will keep in the fridge for up to 5 days but my family can never resist eating them all long before then!
Can I use white chocolate chips instead of melting wafers?
Yes, you can use any kind of white chocolate for the coating on these truffles. White chocolate designed for melting—such as candy melts or vanilla bark—works best for truffles with a smooth, polished exterior.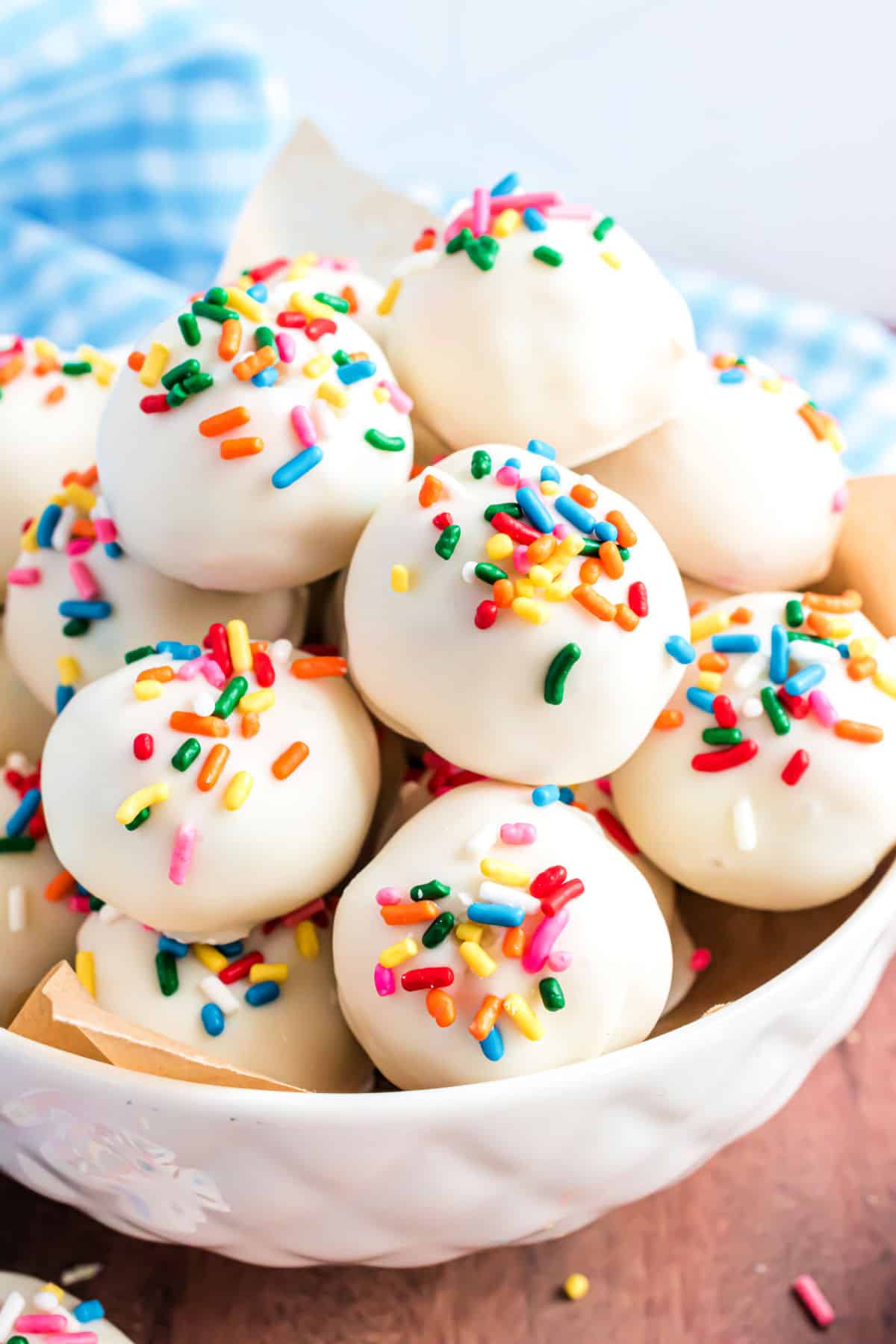 More Candy Recipes
Funfetti Cookie Dough Truffles are easy homemade truffles with sprinkles and a white chocolate coating. It's impossible to eat these without smiling!