This buttery, brown sugar Southern candy is such a treat. Pecan Pralines are a classic that you have to try! Sweet and salty candy perfection.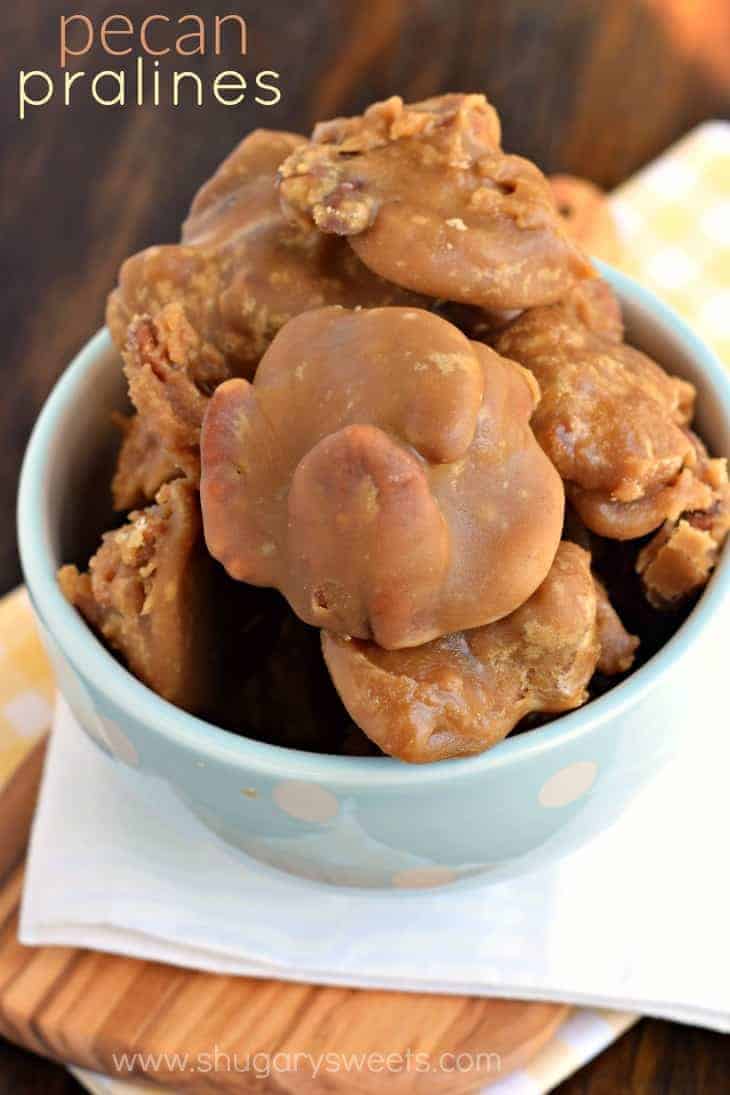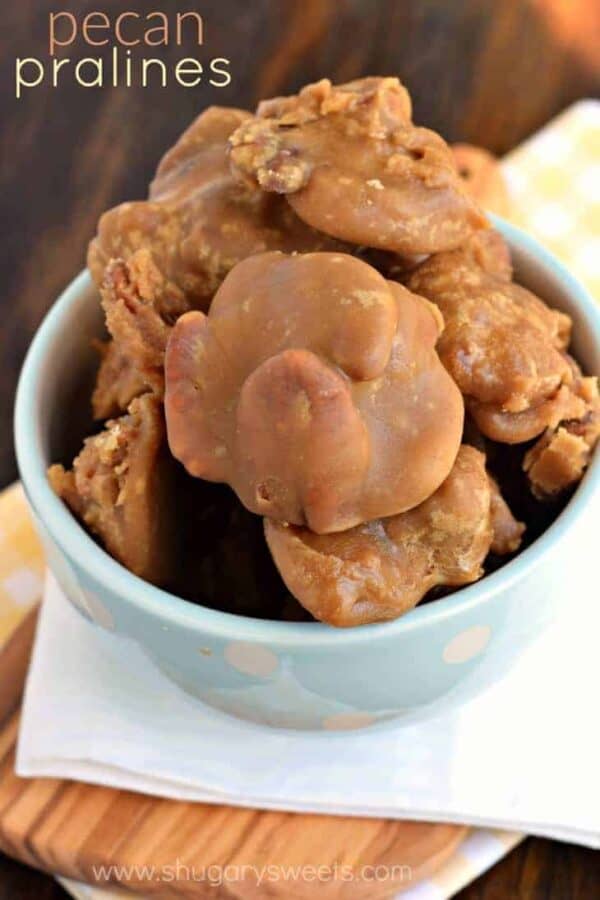 Why this Pecan Praline Recipe is Best
Prior to creating recipes, I had never heard of pralines. I mean, I have had Praline Ice Cream before…so I knew it was a candy coated nut…but what else?
You, my readers requested this recipe so I had to google "What is Praline Candy?"
In case you were wondering, praline candy originated in New Orleans and is a caramelized confection made with nuts and brown sugar. Some people choose to use almonds!
After giving this praline recipe a try, I can only say they are delicious. Melt in your mouth good.
The brown sugar caramelizes and firms up after you dissolve and boil the mixture.
Once you fold in your pecans you have to work fast to drop these onto parchment paper.
By the end, they were lumpy and weird looking, however they still taste amazing. I threw some of the lumpy ones in the picture, because you guys, I want to be real with ya. I want you to know that it's okay they don't LOOK perfect. After all, look at some of those in the bowl!
How to make Pralines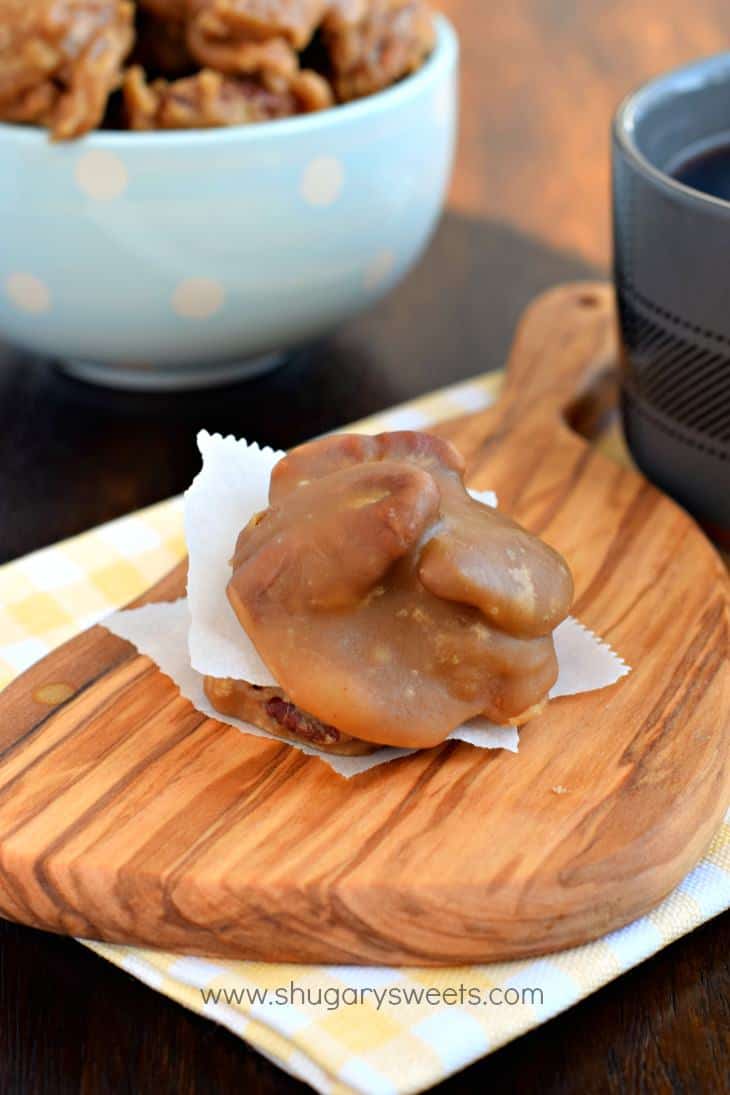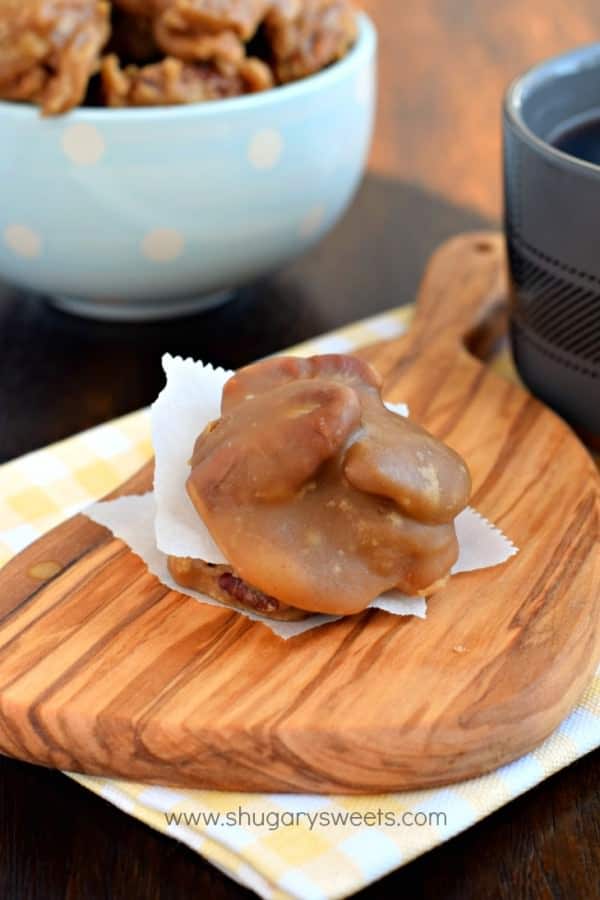 Step 1: In a heavy dutch oven over medium heat, combine brown sugar, heavy whipping cream, corn syrup and butter. Over medium heat, stirring constantly, bring to a boil.
Step 2: Bring your mixture to a boil and use a candy thermometer to watch the temperature.
PRO TIP: I love using a Thermapen for this! Super easy and handy (and great for meat too).
Step 3: Once your sugar mixture reaches soft ball stage or 235 degrees F, remove from heat and allow it to cool to 150 degrees F. Mine took about 25 minutes.
Step 4: When the pralines become the right temperature, add your pecans to the candy mixture with a wooden spoon until combined. Using two tablespoons, quickly drop mixture by spoonful onto parchment paper lined baking sheet.
Step 5: Allow pralines to cool and firm up (about 10-15 minutes). ENJOY!!
What you need to make this Praline recipe
If you want a quick glance at what's needed for today's recipe, look no further. For the printable recipe with measurements, scroll all the way down!
Ingredients:
Light Brown Sugar
Heavy Whipping Cream
Light Corn Syrup
Unsalted Butter
Pecans (pecan halves)
Tools:
Candy thermometer
Baking Sheet
Parchment Paper or wax paper
Large saucepan
Wooden Spoon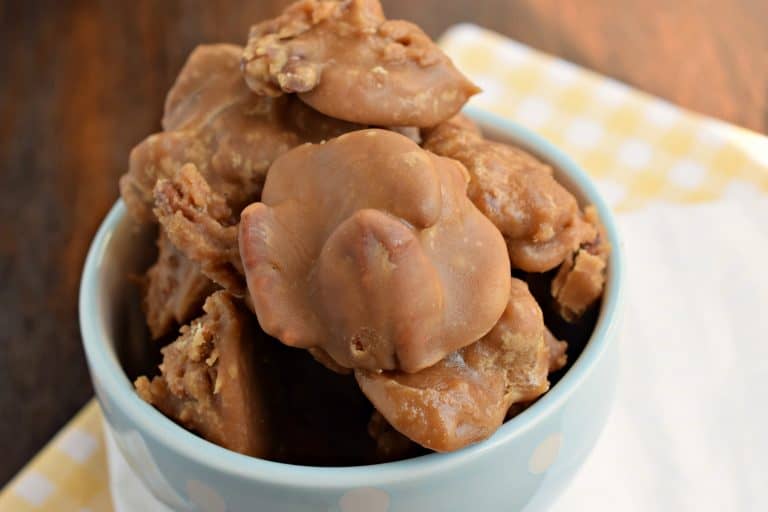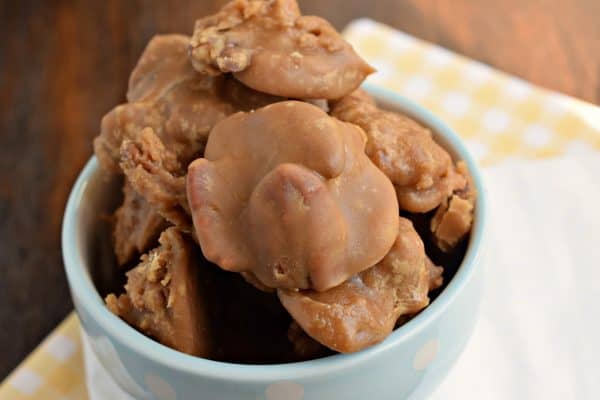 Tips and Tricks
As any southerner would tell you, don't make these on a humid day. For whatever reason, they just don't turn out.
When boiling the candy mixture, don't use a thin-walled pot, as it tends to overheat and cause the candy to cook to quickly.
Work fast when spooning the candy onto parchment paper. Just be careful as the mixture is very hot!
How to store Pecan Pralines
Once praline candy is cooled, store in an airtight container for up to 5 days. I like to line my container with wax paper (or parchment paper) and lay the candy in a single layer.
You can freeze Pralines the same way. Thaw overnight at room temperature and enjoy.
Holiday Favorites
English Toffee is a classic holiday candy: buttery candy poured over almonds, topped with milk chocolate and walnuts. Make it in a brownie bite pan to get the cutest toffee bites – perfect for gifting!
Copycat Salted Nut Roll Candy Bar Recipe is a candy store classic. You can make it at home, and give all your favorite people a homemade gift this year!
Classic candy from Ohio. Peanut Butter Buckeyes. Soft peanut butter filling dipped in chocolate! Be sure to make a batch for you next party!
Divinity Candy recipe is a Southern classic. Just one bite and you'll be hooked on this chewy, soft vanilla treat packed with crunchy pecans!
If you've never tried Saltine Toffee, now is the time! Crispy, buttery toffee with crackers, pecans and chocolate. So easy to make, too!
More Candy Recipes
This buttery, brown sugar Southern candy is such a treat. Pecan Pralines are a classic that you have to try! Sweet and salty candy perfection.