Pecan Pralines
This buttery, brown sugar Southern candy is such a treat. Pecan Pralines are a classic that you have to try!
Be sure to sign up for my email…new recipes in your inbox!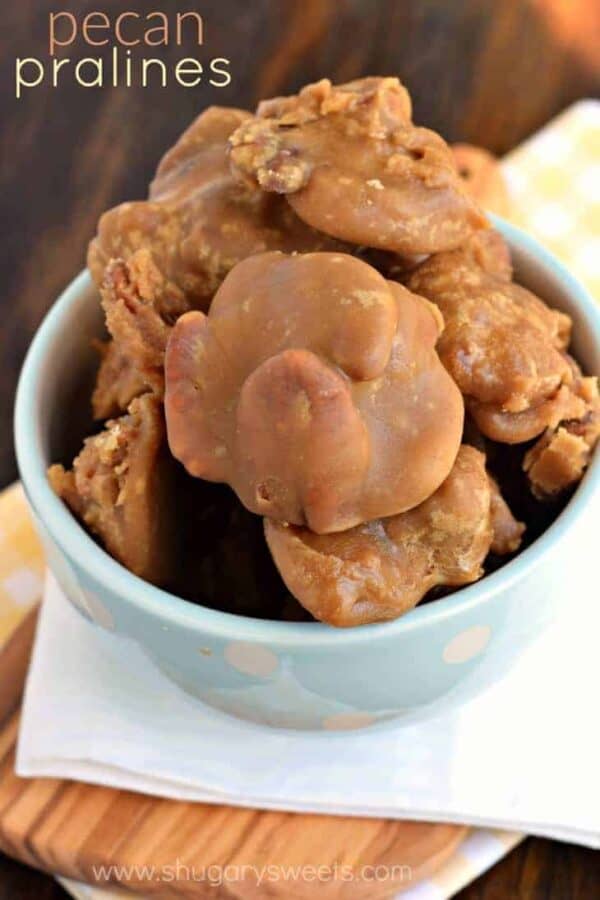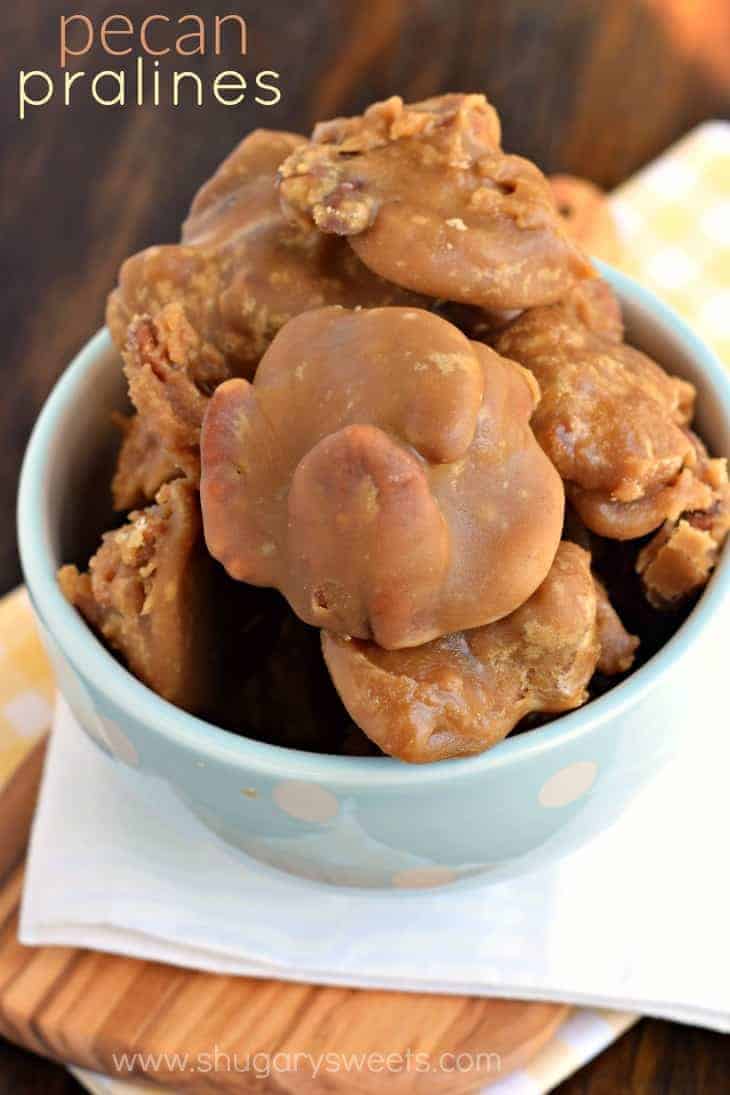 CLICK HERE TO PIN IT FOR LATER
I'm not a southerner. So forgive me when I say I have never ever tried a Pecan Praline in my life. However, I have some readers on the blog who keep telling me to try making them. They are begging  for a recipe. Which is funny, because you guys, there are hundreds (thousands) of recipes on the web for Pecan Pralines.
However, I felt it my duty to give these a whirl. After all, my favorite ice cream flavor is Pecan Pralines and Cream Ice Cream. TO DIE FOR.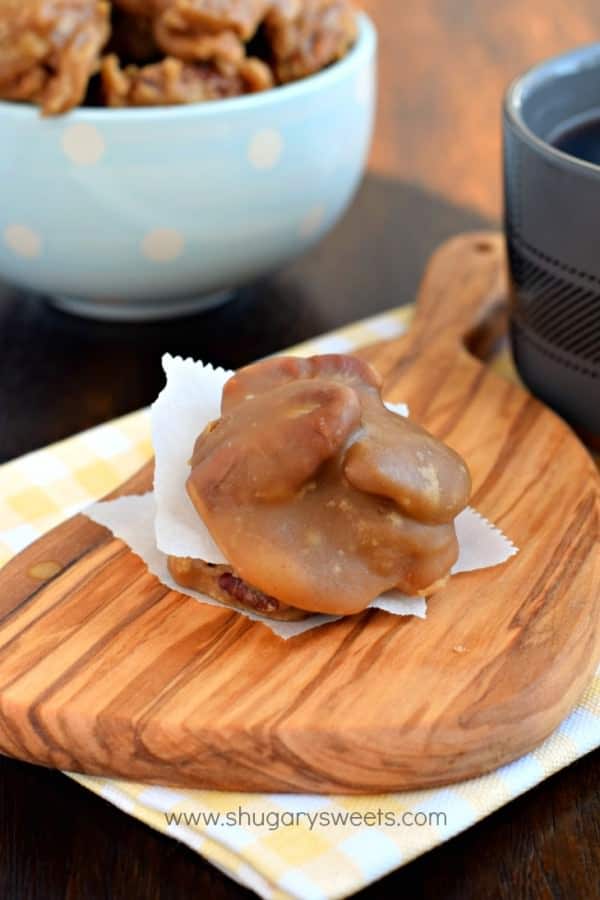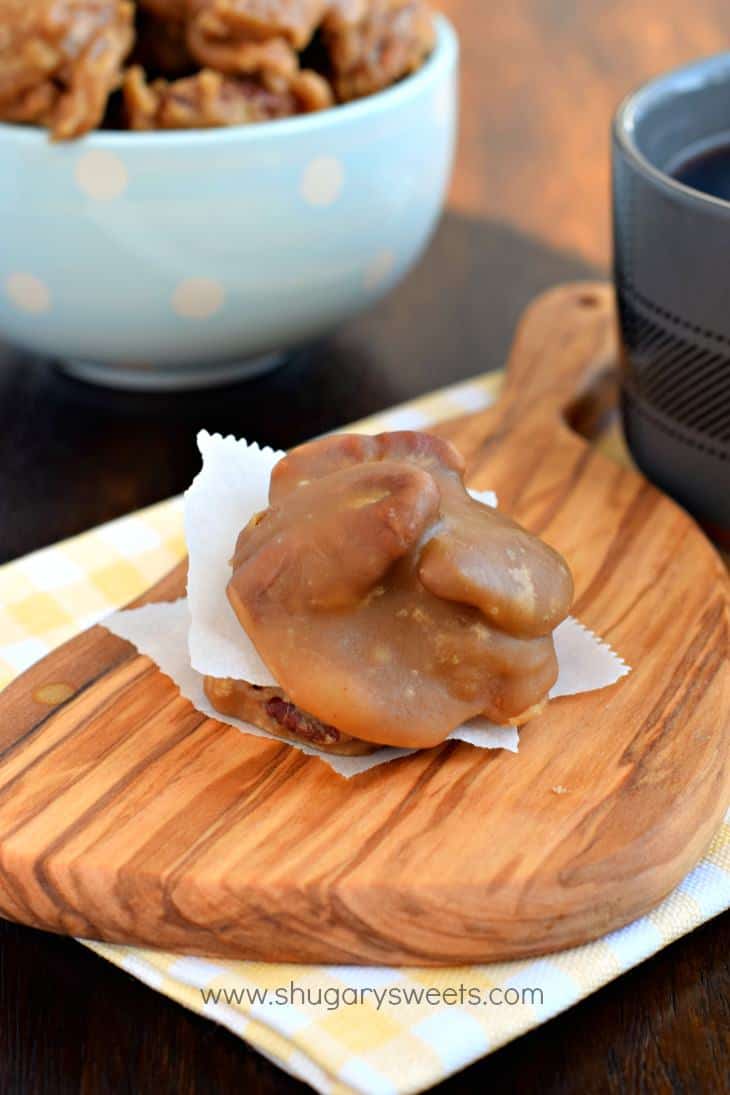 After giving these a try, I can only say they are delicious. Melt in your mouth good. The brown sugar caramelizes and firms up after you dissolve and boil the mixture. Once you fold in your pecans you have to work fast to drop these onto parchment paper.
By the end, they were lumpy and weird looking, however they still taste amazing. I threw some of the lumpy ones in the picture, because you guys, I want to be real with ya. I want you to know that it's okay they don't LOOK perfect. After all, look at some of those in the bowl J
Here's the thing. When it comes down to it at the end of the day, do they taste good? Yes. Yes they do. And I'm hoping that if you ARE a southern girl you can give these a try and let me know if I've come close to the classic treat. Is the flavor right? Is the texture right? Let me know!
A few tips for making the Pecan Pralines:
Bring your mixture to a boil and use a candy thermometer to watch the temperature. I love using a Thermapen for this! Super easy and handy (and great for meat too)
Once your sugar mixture reaches 236 degrees F, remove from heat and allow it to cool to 150 degrees F. Mine took about 25 minutes.
Once it is the right temperature, add in your pecans with a wooden spoon until combined. Using two tablespoons, quickly drop mixture by spoonful onto parchment paper lined counter top.
Allow pralines to cool and firm up (about 10-15 minutes). ENJOY!!
Check out some of my other favorite truffle and candy recipes! Be sure to stop over at Food Fanatic to print the Pecan Pralines recipe!


**There may be affiliate links in this post! By clicking on them, or purchasing recommended items I may receive a small compensation. However, I only recommend products I love! Thank you for supporting Shugary Sweets! See my disclosure policy for more info**