Red Velvet Cake Balls with cream cheese frosting, dunked in sweet white chocolate are the perfect Fall treat! Endless possibilities!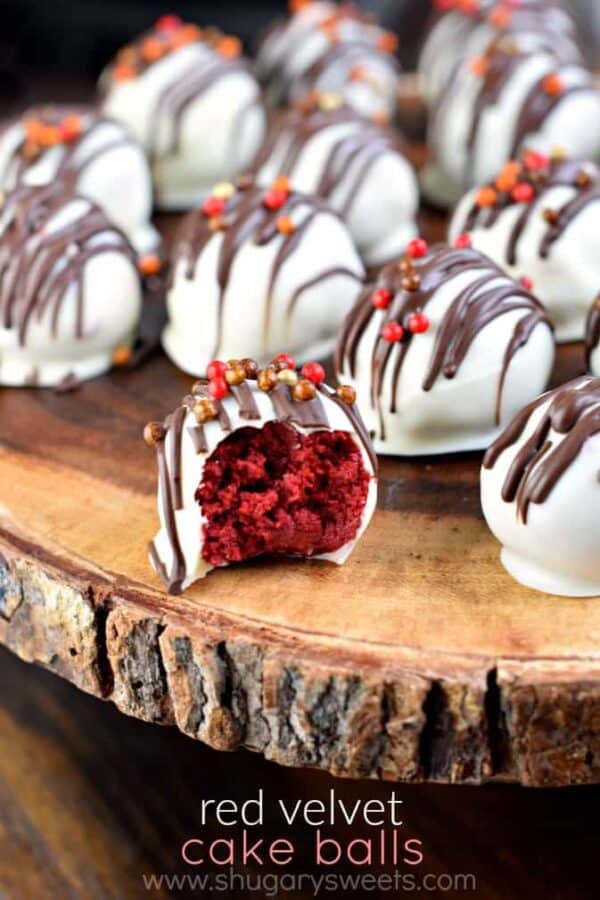 There are some gorgeous cake balls on the internet. I'm talking about stunning looking themed cake balls.
Here's the thing…I don't have the talent or the patience to do those things. Especially when it's something that will be eaten in literally 2.1 seconds.
I did, however, want to make a fun Thanksgiving treat that you can add to your dessert table. I mean, afterall, you can't live on pumpkin pie alone. (no matter how hard I try). You need a dessert that as you walk by the table ten times, you can just keep grabbing a treat!
How to Make Red Velvet Cake Balls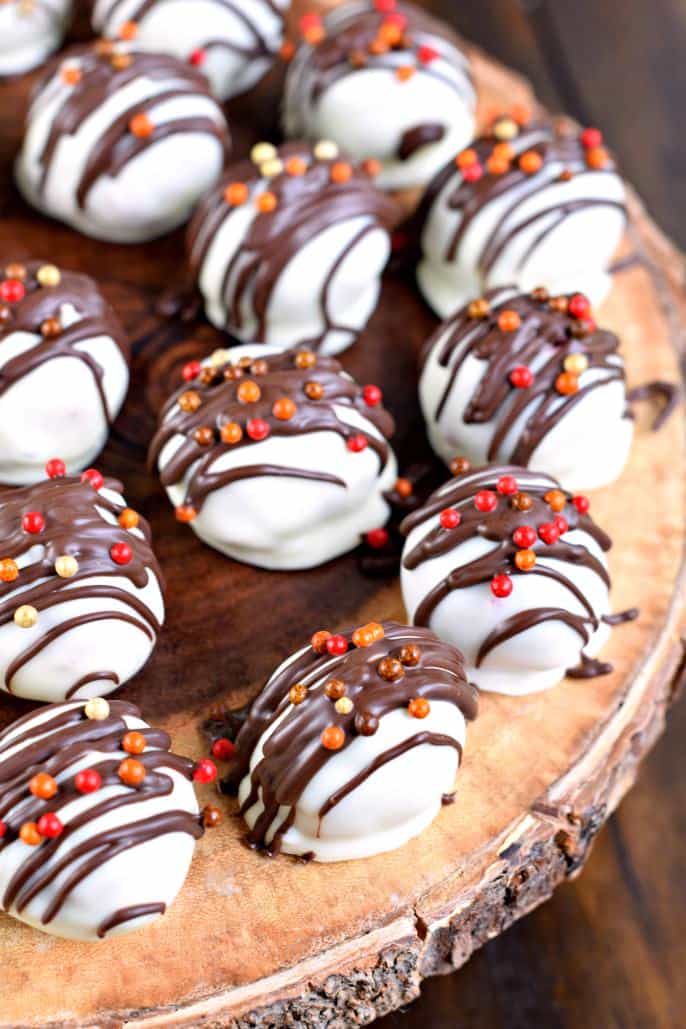 The nice thing about cake balls is you can customize the flavor any way you like. Not a fan of Red Velvet Cake? Substitute a spice cake with the cream cheese frosting! Or choose chocolate cake with chocolate frosting. Seriously, just stand in the baking aisle at the grocery store and look at all the possibilities!
I thought the red velvet would look "Fall-ish" with the chocolate coating and Fall sprinkles! I even used this same recipe when making these SPOOKY EYEBALL cake balls for Halloween!
How to make cake balls:
Bake your cake in a 13×9 baking dish according to your package directions. If your edges look a little browned, you can slice them off. I keep everything, no waste, haha! But if you're going for a lighter cake (like a spice cake), the dark edges may show when you crumble the cake. Totally your call (I'm not a perfectionist so it doesn't bother me one bit)!
Dump your cake into a large bowl. Crumble it up while it's still warm (not hot). Add in 1 cup canned frosting (I chose cream cheese frosting). If you add the whole can, it's too much. 1 cup is just enough to moisten the cake and allow it to form into balls.
I made my cake balls about 1 1/2-2 inches in diameter. This resulted in 48 cake balls. You can go smaller if you prefer.
Place all your cake balls on a parchment paper lined baking sheet and place it in the freezer for at least an hour. Frozen cake balls are much easier to dip in melted chocolate…they won't fall apart!
Speaking of chocolate…use GOOD chocolate. I love using Ghirardelli Melting Wafers. They melt smooth, harden quickly without melting on your fingers, and they taste amazing!
I use the toothpick method for dipping my cake balls (you can see it in this video). Drizzle with melted dark chocolate and immediately add sprinkles, if desired.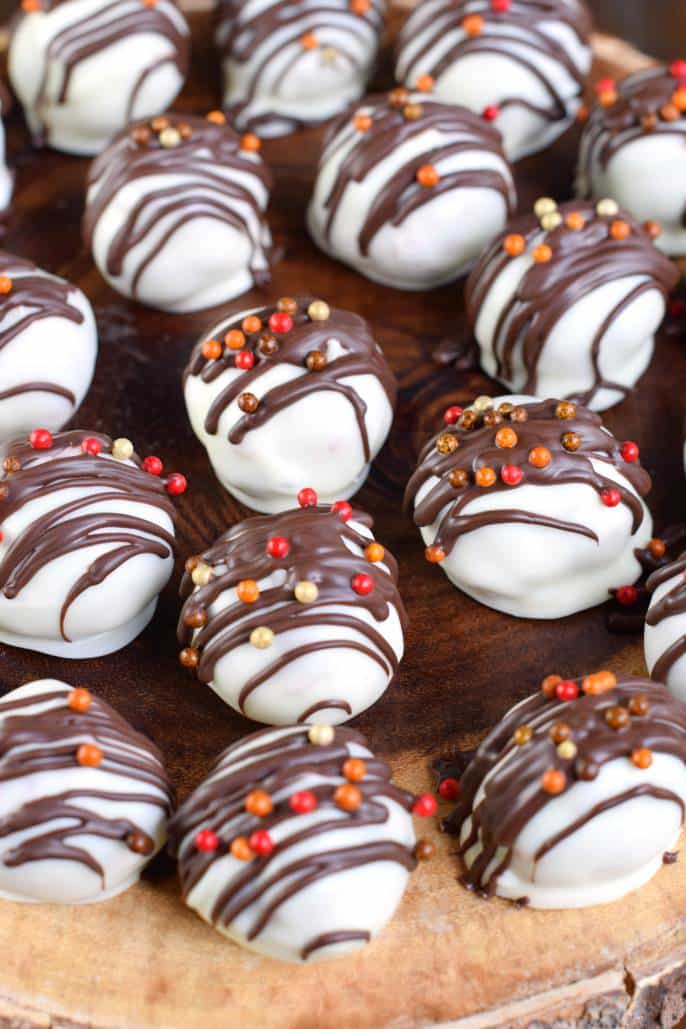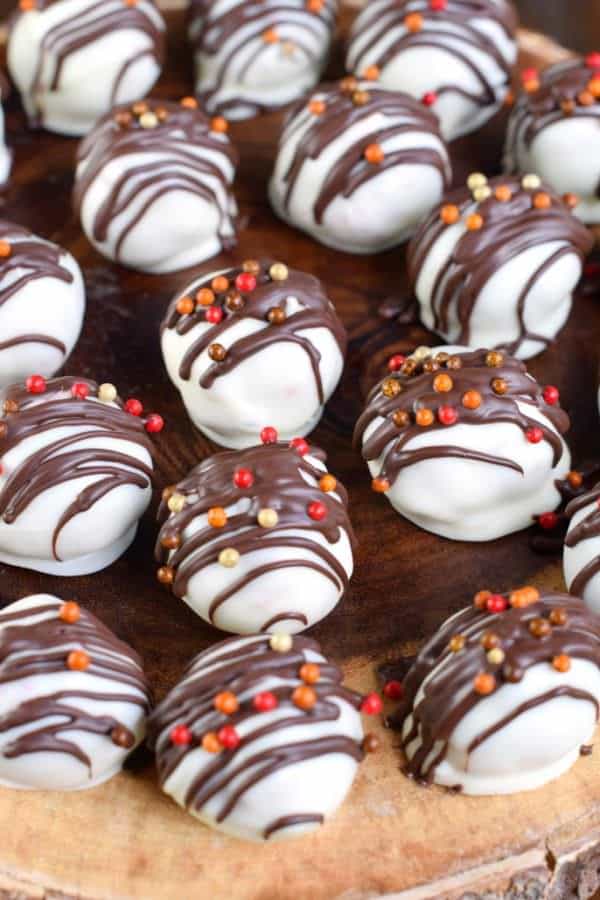 What's on your Thanksgiving dessert table?
If you are looking for additional recipes…may I suggest these Pecan Pie Truffles? Or these adorable Turkey Rice Krispie Treats (see I can make cute treats!).
I created a fun little group on facebook and I'd love for you to join in! It's a place where you can share YOUR favorite recipes, ask questions, and see what's new with Shugary Sweets (so that you never miss a new recipe)! If you'd like to check it out, you can request to join HERE.
Be sure to follow me on Instagram and tag #shugarysweets so I can see all the wonderful SHUGARY SWEETS recipes YOU make!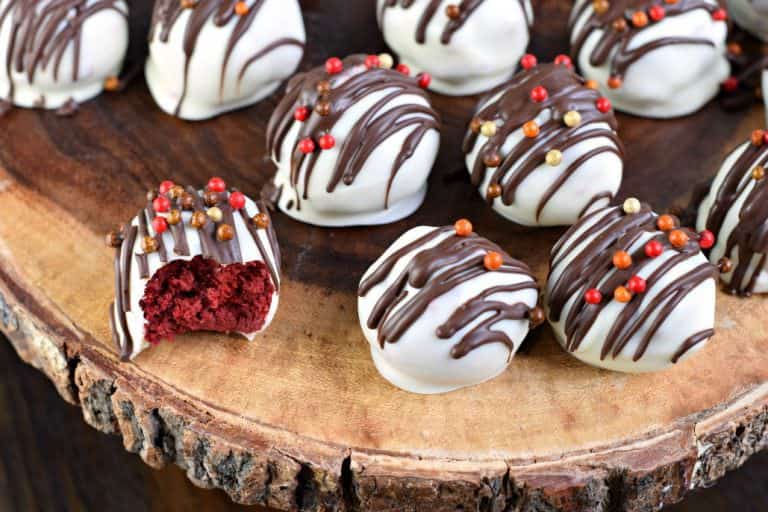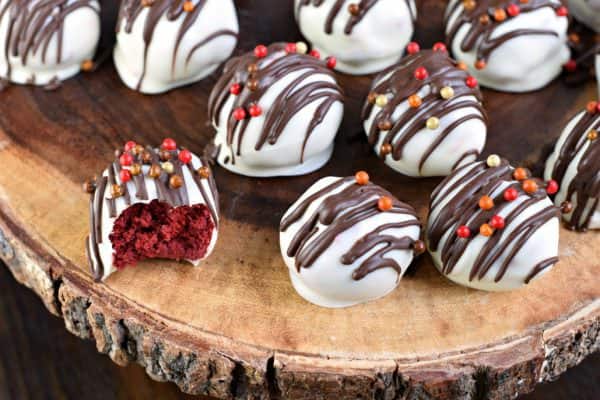 Connect with Shugary Sweets!
Be sure to follow me on my social media, so you never miss a post!
Facebook | Twitter | Pinterest | instagram
Red Velvet Cake Balls recipe:


Today's recipe for Red Velvet Cake Balls was originally published on Novemeber 7, 2016.
Red Velvet Cake Balls with cream cheese frosting, dunked in sweet white chocolate are the perfect Fall treat! Endless possibilities!