Easy Peppermint Truffles with a rich, decadent chocolate center! The perfect Christmas candy recipe. No candy thermometer needed.
Once you find out how easy it is to make homemade truffles, you'll want to try all of our truffle recipes. Eggnog Truffles and Pumpkin Pie Truffles are two more favorites for the holiday season.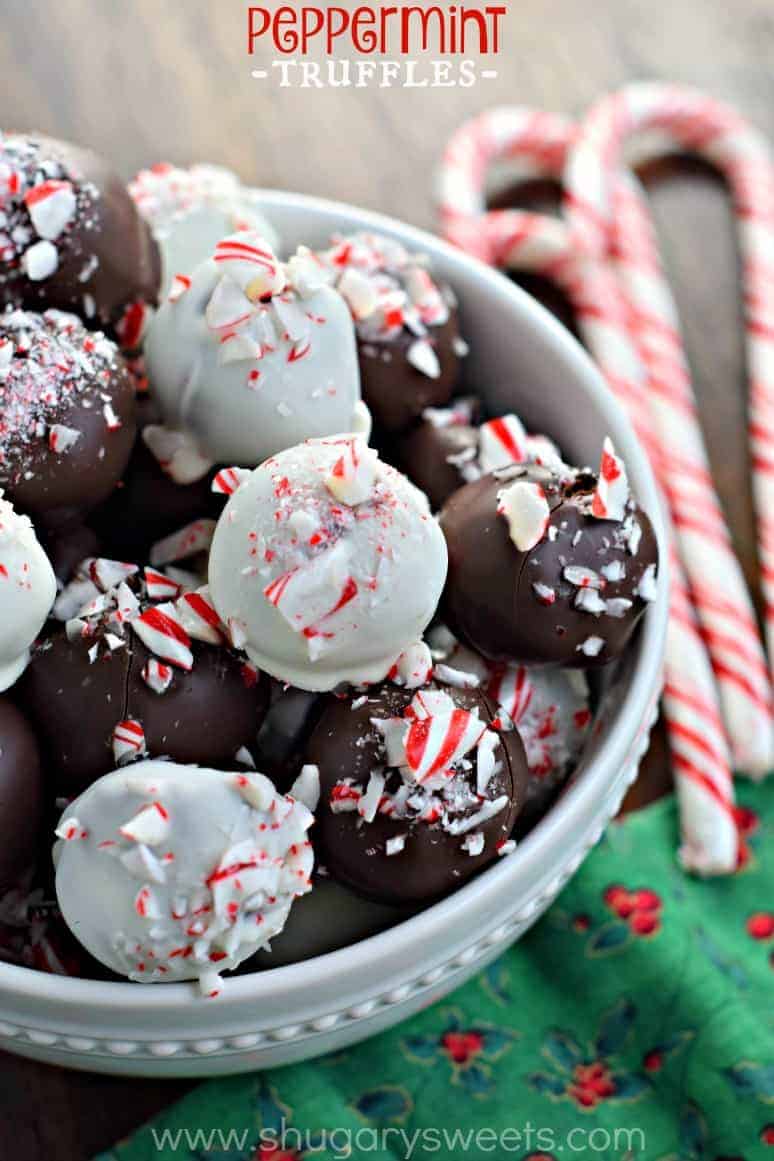 Why This Christmas Candy is Best
Peppermints and chocolate. Does anything taste MORE like Christmas than that?
These Peppermint Truffles have a rich cocoa flavor flecked with crunchy peppermint pieces.
We use both white chocolate AND dark chocolate.
You only 5 ingredients and NO candy thermometer!
Truffles are a great way to us broken or crushed candy canes!
These Peppermint Truffles are so simple to make but the joy they bring me is enormous. As a gift for a friend, a party dessert or an addition to your annual cookie trays, this homemade candy is guaranteed to put you in the holiday spirit.
Ingredient Notes
Ghirardelli chocolate morsels – These are melted with heavy cream to create the creamy truffle centers.
Chocolate melting wafers – We use both white and dark chocolate for variety. If you prefer to use all white or all dark, go for it!
Peppermint candy canes – Crushed with a rolling pin or mallet, the peppermint pieces add crunch and cool minty flavor to chocolate truffles.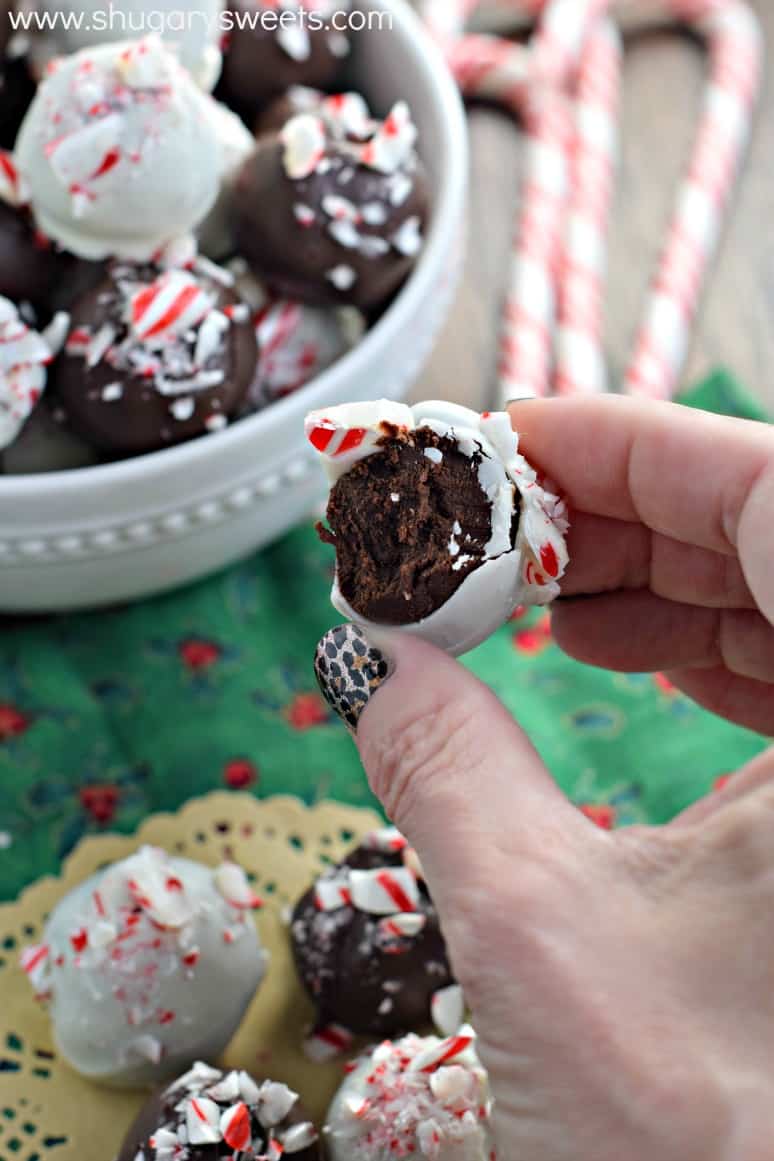 Easy Assembly
Many people—even experienced bakers—think truffles are difficult to make.
I'm here to demystify it for you. You don't need any special equipment or professional confectionary skill when you use this method.
The first step is to melt chocolate chips and heavy cream together in the microwave. Refrigerate this mixture for an hour, then drop balls of it onto a baking sheet. Freeze until solid.
From here, you can assemble the truffles right away or keep them frozen for later.
Here's how to assemble truffles:
Melt the chocolate and white chocolate wafers in separate bowls.
Use a toothpick to dip the frozen truffle centers into melted chocolate.
Drop the dipped truffles onto the baking sheet. Press candy cane pieces on top right away before the chocolate begins to harden.
That's it! Told you it was easy.
Tips and Tricks
After dipping the truffles in chocolate, tap off excess melted chocolate on the side of the bowl, or with a spoon. This gives the truffles a neater appearance.
Do not leave the mixture for the truffle centers in the fridge for too long. You want it firm, but still soft enough to scoop into balls.
If you won't be assembling the truffles right away, transfer the frozen centers to Ziploc freezer bags, then return them to the freezer until ready to use.
Not a fan of peppermint? Skip the candy cane topping to make plain chocolate truffles instead!
Recipe FAQs
Do homemade truffles need to be refrigerated?
These peppermint truffles are fine to store at room temperature. You can chill them if your kitchen runs warm and you find the chocolate coating is beginning to soften.
I want my truffles faster. Can I skip freezing the centers?
Do NOT skip the freezing step! Freezing keeps the centers from melting when dipped in the warm melted chocolate.
Can I use chocolate chips instead of melting wafers?
You can, but the results won't be as good. Melting wafers are tempered so that the chocolate sets up smooth and clean. Chocolate morsels used for baking have added ingredients that interfere with the "setting" process of melted chocolate.
How much chocolate filling do you need for each truffle?
I used a measuring spoon to measure out 1 tablespoon of filling for the centers. After freezing and dipping, the truffles are a little bigger than 1 inch in diameter each.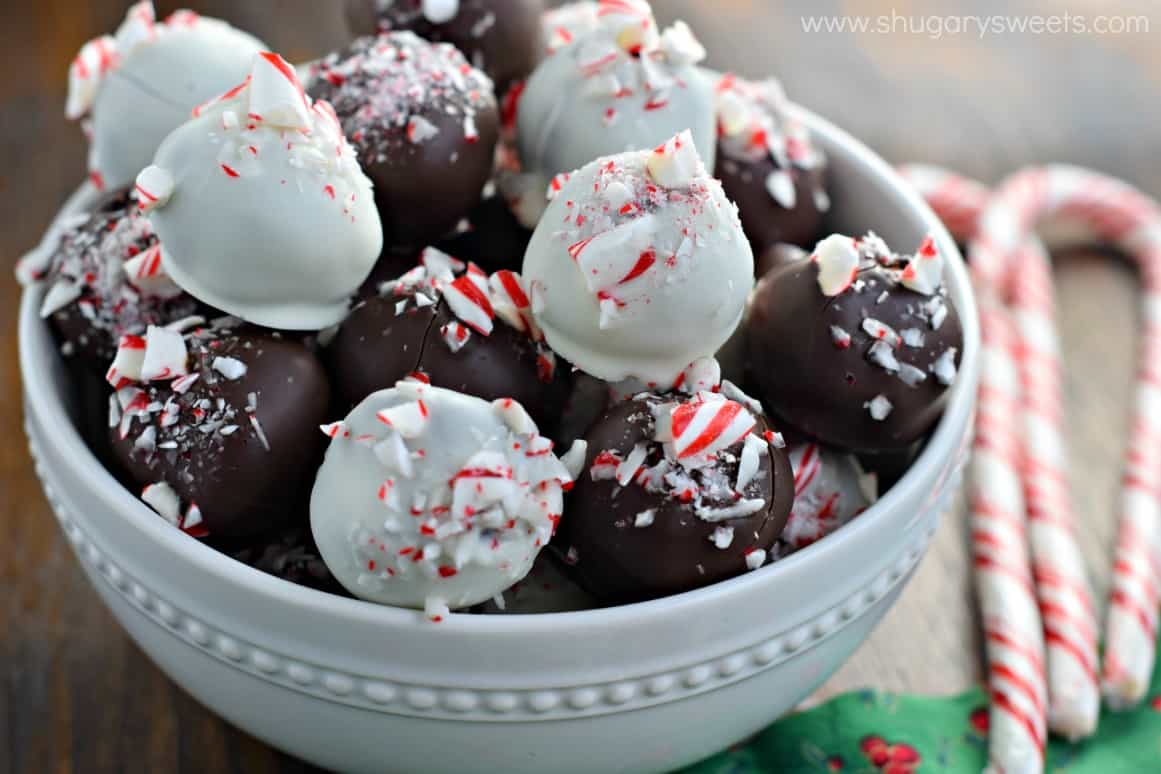 More Holiday Recipes