Pumpkin Truffles – The classic fall pie bite sized and coated with white chocolate! Pass around a plate of Pumpkin Pie Truffles after Thanksgiving dinner this year.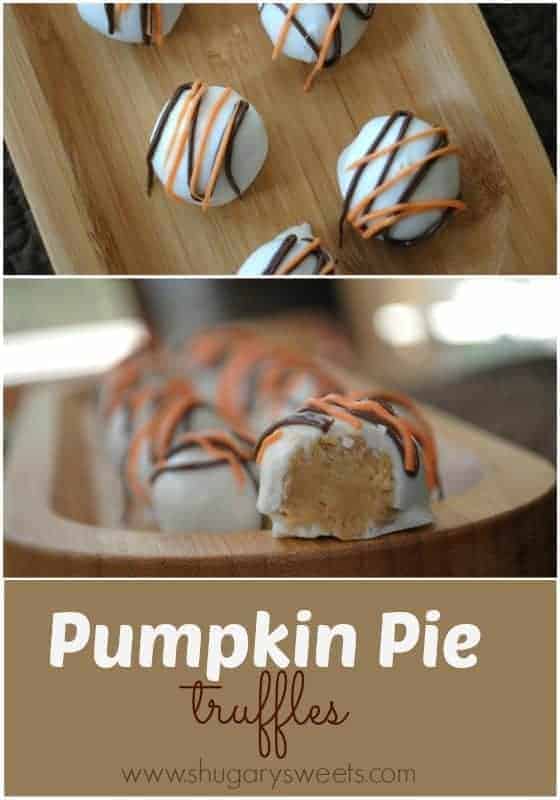 Everyone loves truffles. Almost as much as everyone loves pie.
Why not surprise your Thanksgiving guests with these cute little bites of pumpkin pie to finish the meal? These are easy to make and even easier to transport.
When you want the great taste of pie but don't want to mess with rolling a crust, baking, or cutting it into pieces, it's Pumpkin Truffles to the rescue!
Pumpkin Truffles
From around September to January, I go crazy with the pumpkin recipes. I can't help it. Pumpkin is so versatile that you can use it in everything from No Bake Cheesecake to Smoothies.
I don't hate that it adds Vitamin A and some fiber to my desserts, either! Not that I eat dessert for the health benefits, but if you're going to have truffles, it's nice to know you're squeezing in some vitamins, too.
The pumpkin recipe I'm sharing today can be made in two ways:
Pumpkin Pie Truffles
or
Pumpkin Pie Fudge
Whether you're making it as fudge or as truffles, it starts with the same ingredients and method.
First, you mix canned pumpkin with brown sugar, white sugar, butter, cream and pumpkin pie spices in a sauce pan. Let it boil for 10 minutes while stirring, then remove from heat.
Next, stir in white chocolate, marshmallows and vanilla. Mix to melt the chocolate, then transfer to a stand mixer to beat until smooth. If you have a handheld electric mixer, you can also beat this mixture right in the pan.
Pumpkin Fudge
If you want to make fudge: simply pour the fudge mixture into a square baking dish lined with parchment paper. Let cool until set (at least 1 hour), then cut into bite sized pieces.
Easy and delicious!
Turning the fudge into cute pumpkin truffles just takes a couple more steps.
How to Make Pumpkin Truffles
Place the fudge in the fridge to cool for about 1 hour. I often just put the whole mixing bowl right in the fridge.
Once firmed, use a small cookie scoop or tablespoon to scoop chilled fudge into bite sized balls. Place on a parchment lined cookie sheet and freeze for one hour.
Last step: Dip the truffles into melted candy!
Melt vanilla candy coating according to package directions. Use a toothpick to dip each frozen truffle ball into the melted candy, then tap off excess coating on the edge of the bowl to let it run off.
Place the dipped pumpkin truffles back on the baking sheet and refrigerate until ready to serve!
Decorating Pumpkin Truffles
You can serve these truffles with just the plain white exterior and they look good and taste incredible. However, I like to dress them up a bit with orange and black drizzle for a POP of color.
For the optional drizzle:
Melt dark chocolate morsels and orange candy pieces in separate dishes. Transfer each to a ziploc bag with a corner cut out. Drizzle the mixture over the truffles and let them sit until firm.
How to Store
These keep best if stored in the fridge! I love the way these delicious pumpkin morsels taste cold. They'll keep well this way for up to a week.
You can freeze these, too! Once set, transfer to a freezer safe bag or container, making sure the truffles aren't touching each other. Keep in the freezer for up to 6 weeks for best flavor.
When ready to eat, remove from the freezer and let them stand until soft enough to bite into (about 30 minutes).
Tips & Tricks
Minimize the mess: Parchment paper is a life saver for those of us who love making truffles but hate sticky messes. Always line your prep surfaces with parchment when you're dealing with dipping things into melted chocolate. Clean up is a breeze!
Shaping truffles: If your truffles aren't coming out exactly round, use your hands to gently shape them into round balls before freezing on the baking sheet.
Chocolate coating: Milk or dark chocolate candy coating could easily substitute for the vanilla candy wafers in this recipe. The truffles will have less of a strong "pumpkin pie" taste but chocolate + pumpkin is always a delicious choice, too.
As a Halloween treat or Thanksgiving dessert, everyone loves Pumpkin Truffles!
Pumpkin Pie Truffles
Ingredients
1 1/2 cup brown sugar
1 1/2 cup sugar
3/4 cup butter
1/2 cup heavy cream
1/2 cup canned pumpkin puree
pinch of salt
1 tsp cinnamon
1/2 tsp ground ginger 1/2 tsp ground nutmeg
1/2 tsp ground cloves
1/4 tsp allspice
3 cup white chocolate morsels
20 marshmallows (regular sized)
1 tsp vanilla extract
24 oz vanilla candy coating
Instructions
In large pot, mix sugars, butter, milk, pumpkin, cinnamon, salt, ginger, nutmeg, cloves and allspice. Stir and bring to a boil. Continue to boil over medium heat for 10 minutes. Remove from heat.
Stir in white chocolate morsels, vanilla, and marshmallows until melted. Mixture will get thick and dull. Pour into a mixing bowl (or use a hand-held mixer) and beat for about 2 minutes until smooth consistency.
If making fudge, pour into a parchment lined 13x9 pan. Set aside to cool. Cut into bite sized pieces.
If making truffles, place mixing bowl with fudge in refrigerator to set about 60 minutes. (To speed set, I usually pour the mixture on a parchment paper lined baking sheet. Refrigerate or freeze, then cut into cubes to roll as a ball.)
Using a small scoop, or tablespoon, scoop out balls of fudge, roll, and place on baking sheet. Freeze truffles for an hour before dipping.
Once all fudge is rolled, melt the candy coating. Using a toothpick, dip each truffle into the melted chocolate, tap the side of the dish to let the excess run off, then set on a parchment lined baking sheet. Repeat for all truffles.
I like to dress them up a bit so I melted 1/4 cup dark chocolate morsels, and 1/4 cup orange candy melts in a dish. Melt in microwave (I did 30 second intervals), and pour into a ziploc bag. Snip off the end and drizzle over the white chocolate truffles.
Refrigerate for best flavor!