Pumpkin Pie Truffles – The classic fall pie bite sized and coated with white chocolate! Pass around a plate of Pumpkin Spice Truffles after Thanksgiving dinner this year.
If you love homemade candy for the holidays, be sure to give our Pecan Pie Truffles a try too!! Or for more of a classic recipe, our easy Chocolate Truffles are a hit year round.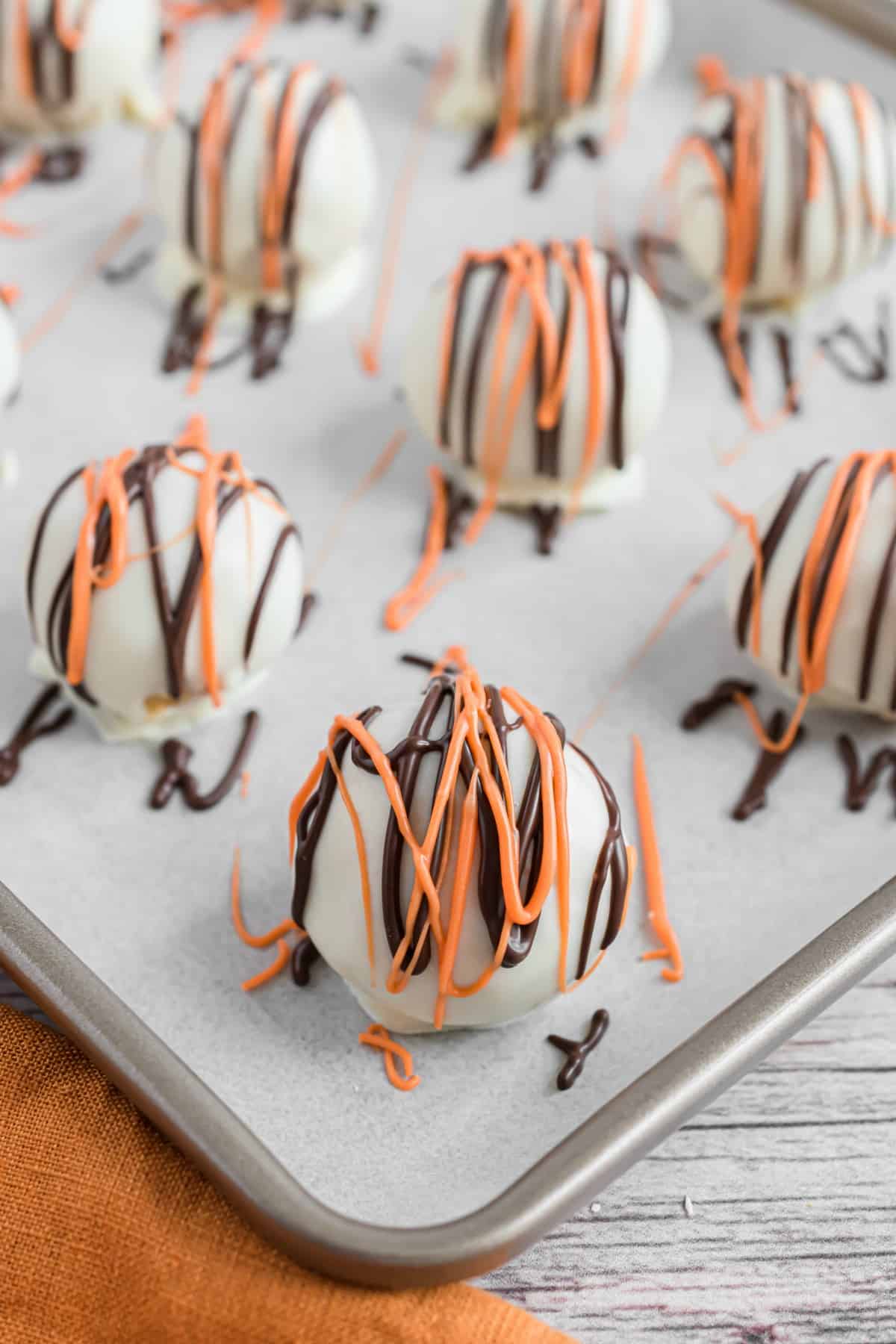 Why this Recipe is Best
Everyone loves truffles. Almost as much as everyone loves pie.
Why not surprise your Thanksgiving guests with these cute little bites of pumpkin pie to finish the meal? These are easy to make and even easier to transport.
When you want the great taste of pie but don't want to mess with rolling a crust, baking, or cutting it into pieces, it's Pumpkin Truffles to the rescue!
Real pumpkin in every bite!
Smooth, creamy texture.
Can be made as pumpkin fudge!
Make ahead dessert idea for the holidays!
Ingredient Notes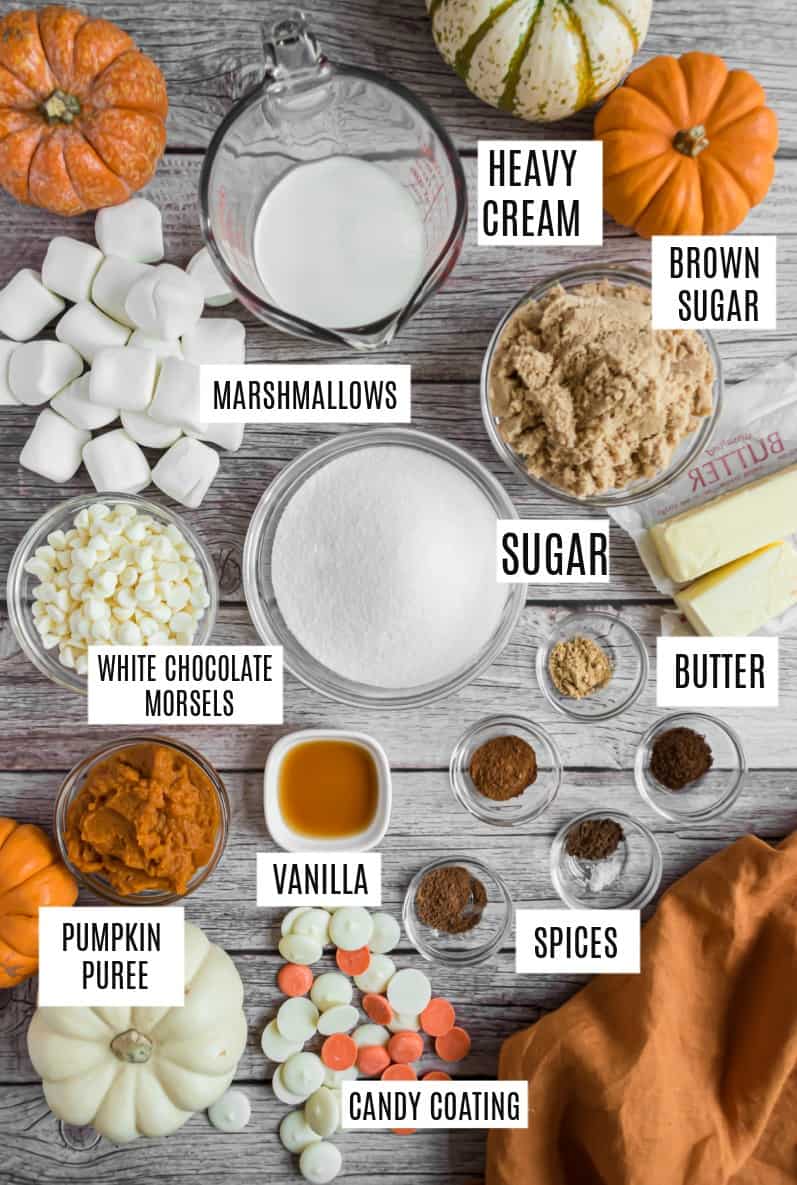 Pumpkin Puree– I find that canned pumpkin has less moisture than homemade, so that makes a difference in how it sets up properly! Be sure to choose pure pumpkin puree not pumpkin pie filling.
Sugar– can't have candy without sugar! Today's recipe uses a combination of brown sugar and granulated sugar.
Spices– cinnamon, ginger, nutmeg, cloves, and allspice. Or swap all of those for 3 teaspoons of pumpkin pie spice blend!
White chocolate morsels– don't go off brand here, as taste matters. I love using Ghirardelli white chocolate morsels!
White Chocolate melting wafers– again, you can choose the cheap stuff, but I highly suggest for best results to use Ghirardelli white chocolate melting wafers. My second choice would be Vanilla Candiquik.
Step by Step Instructions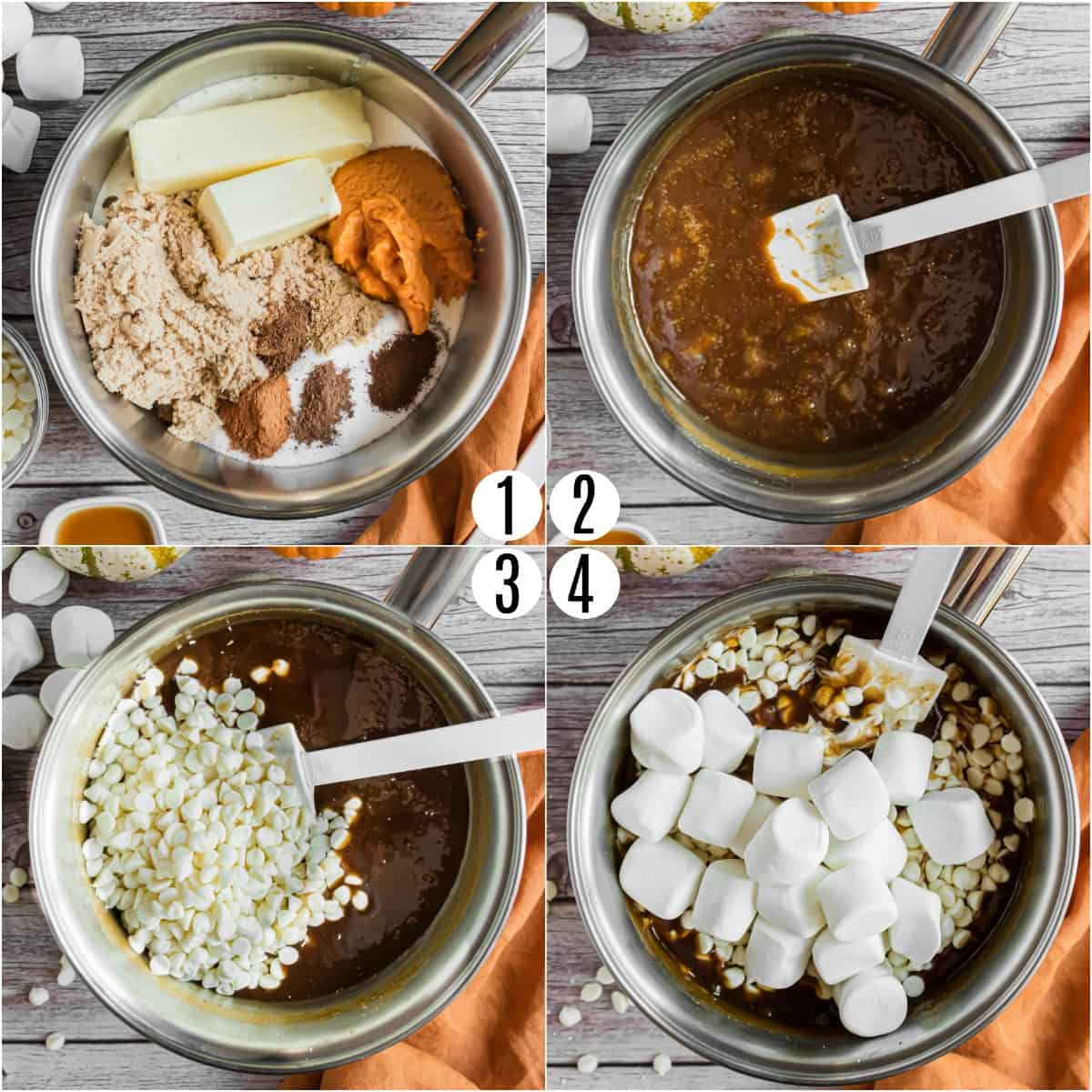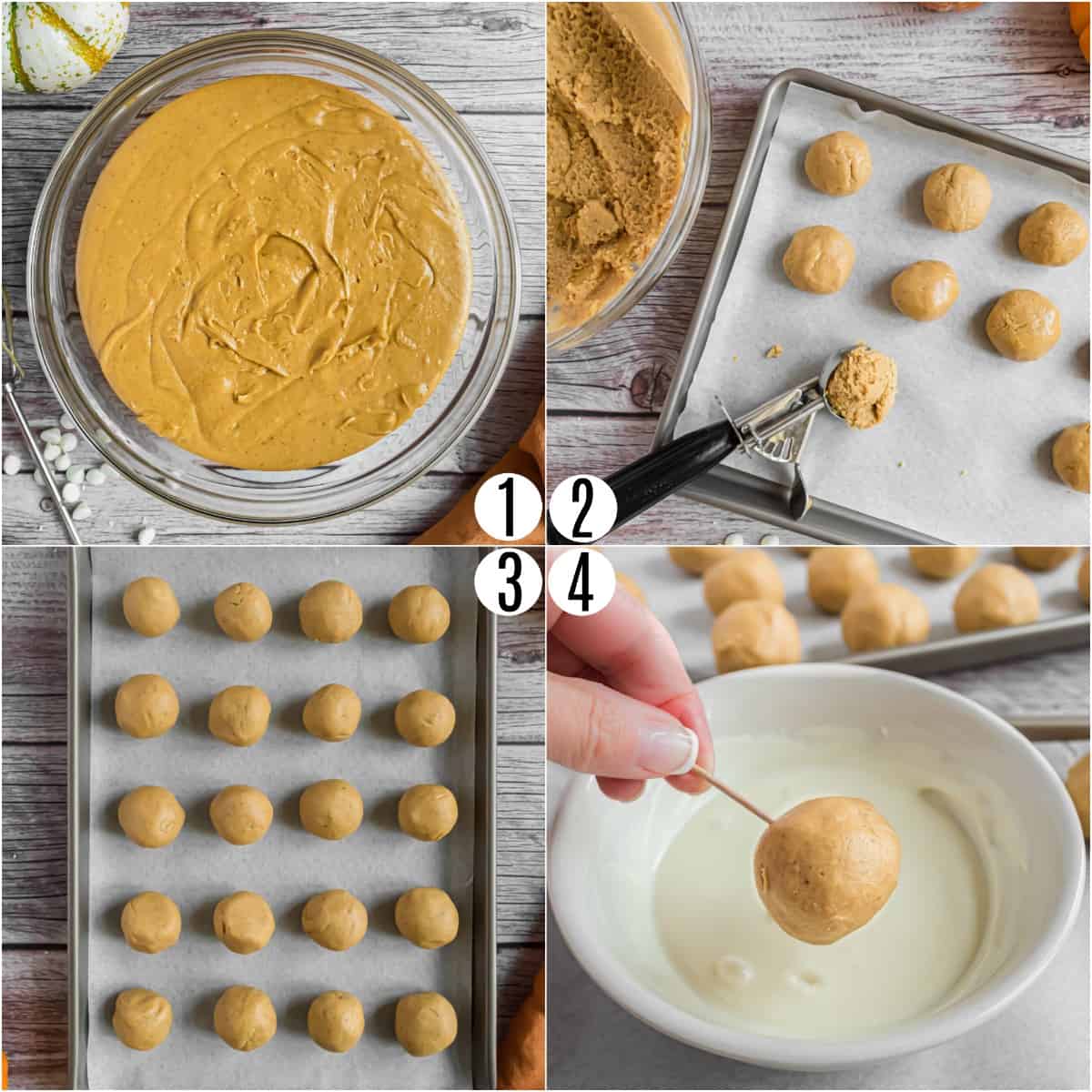 1. Make the filling. Bring the pumpkin mixture to a boil for 8-10 minutes. Add the white chocolate, marshmallow and vanilla. Whisk until smooth.
2. Chill the truffle filling. Refrigerate the truffle filling for one hour (or up to 24 hours) before moving to the next step.
3. Shape the truffles. Using a 1Tbsp cookie scoop, shape truffles into balls and place on parchment paper lined baking sheet.
4. Freeze or chill truffles. After shaping the truffles, freeze or chill for one hour.
5. Dip in white chocolate. Using a toothpick, dip frozen (chilled) truffle into melted white chocolate. Tap the side of the bowl to remove excess coating and return the truffle to baking sheet to set.
6. Decorate. Drizzle with melted dark chocolate and melted orange candy wafers for a fun fall look!
Recipe FAQs
How do you store Pumpkin Pie Truffles?
Once your pumpkin pie truffles have been dipped, store in airtight container in the refrigerator for up to one week.
Can you freeze pumpkin truffles?
Yes! Freeze pumpkin truffles in airtight container or ziploc freezer bag for up to 2 months, for best flavor. Thaw in refrigerator.
What kind of chocolate is best for truffles?
Make sure you choose a good melting chocolate with delicious flavor. I choose Ghirardelli melting wafers because they taste amazing, and they melt smooth which makes for easy dipping!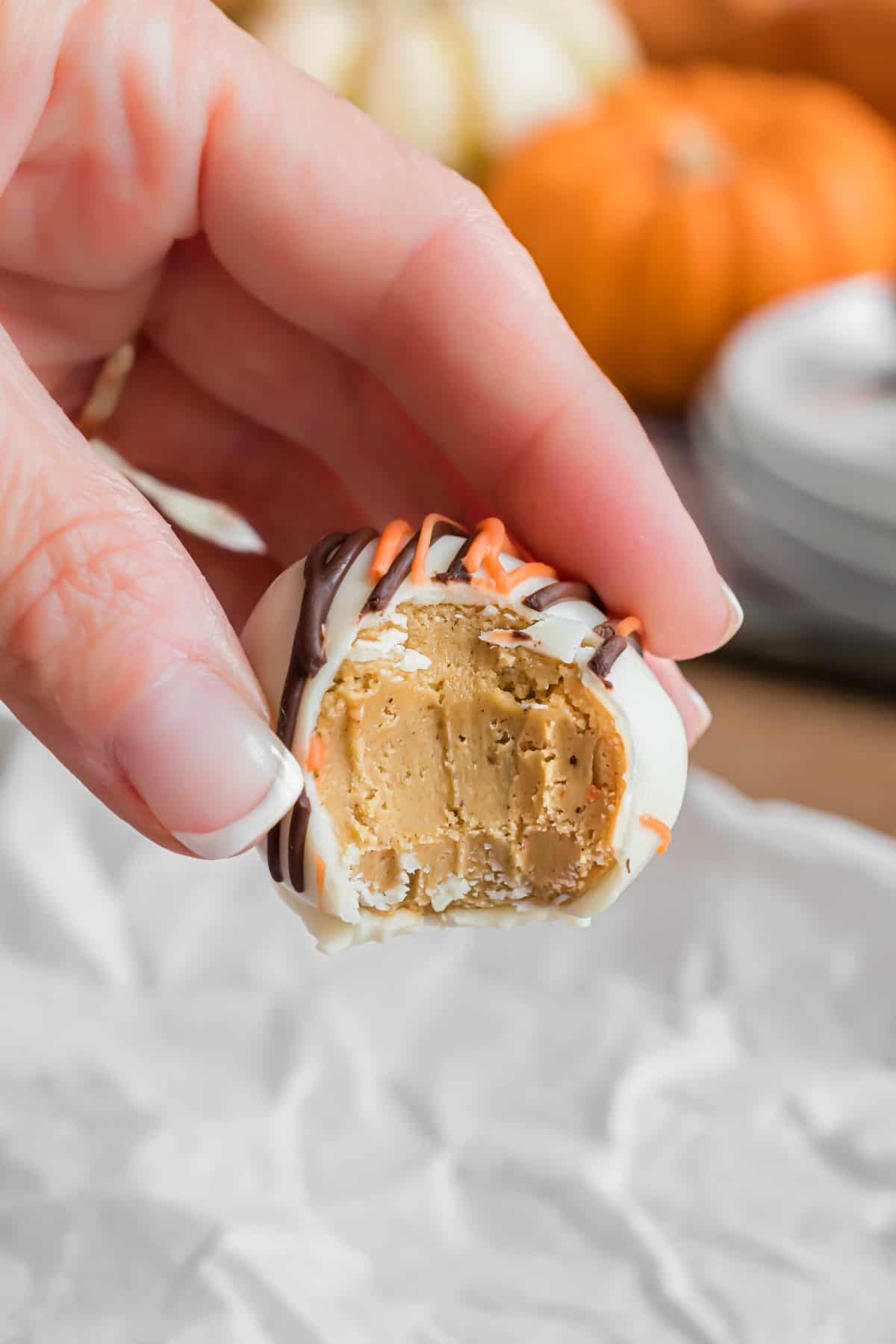 Tips & Tricks
Minimize the mess: Parchment paper is a life saver for those of us who love making truffles but hate sticky messes. Always line your prep surfaces with parchment when you're dealing with dipping things into melted chocolate. Clean up is a breeze!
Shaping truffles: If your truffles aren't coming out exactly round, use your hands to gently shape them into round balls before freezing on the baking sheet.
Chocolate coating: Milk or dark chocolate candy coating could easily substitute for the vanilla candy wafers in this recipe. The truffles will have less of a strong "pumpkin pie" taste but chocolate + pumpkin is always a delicious choice, too.
Cookie topping: Skip melted dark chocolate and orange coating and sprinkle with crushed gingersnap cookies or graham cracker crumbs immediately after dipping in white chocolate.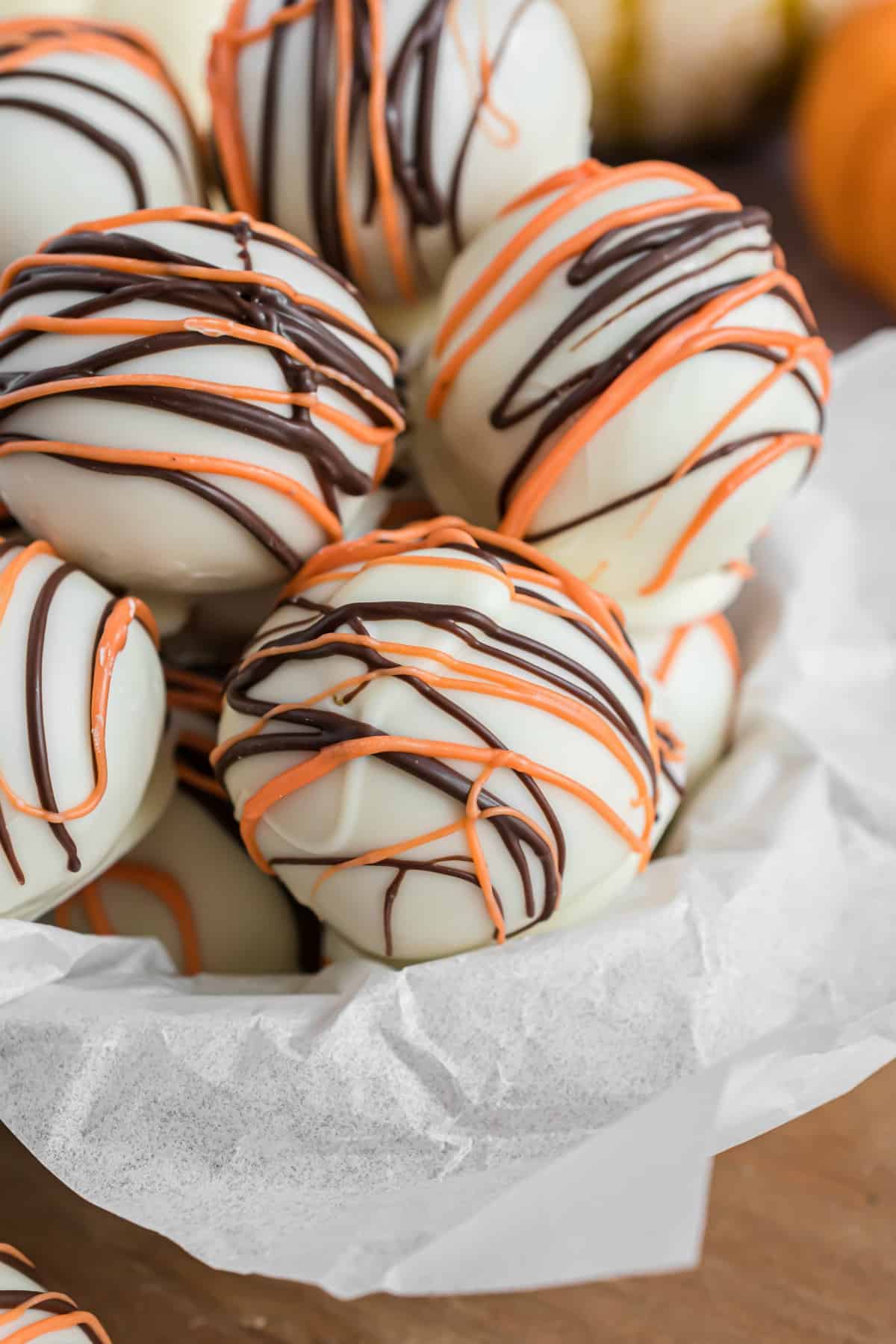 As a Halloween treat or Thanksgiving dessert, everyone loves Pumpkin Truffles!