Looking for something different to serve this holiday season? How about some Pecan Pie Truffles! Easy to make and reminiscent of the classic pecan pie, these nutty truffles fly off the table faster than you can say "pecan".
Our readers love fun twists on a classic pecan pie. For example, you can make this layered Pecan Pie Cake or give these delicious Pecan Pie Cheesecake Bars a try this holiday season!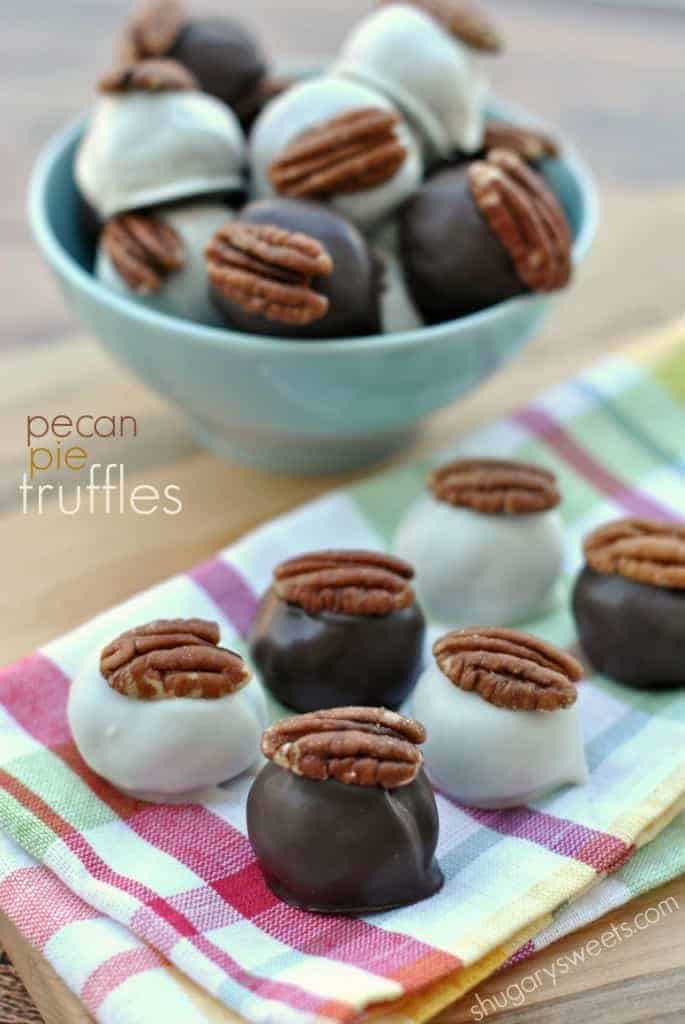 Easier than Pecan Pie
How do you feel about Pecan Pie?
Some of my friends say they can't imagine Thanksgiving without it.
Then I have those folks in my circle who take a hard pass on Pecan Pie and skip straight for the Pumpkin Pie, Apple Pie or the Pumpkin Cheesecake.
These truffles, along with being a little different than your typical holiday dessert, are the perfect compromise.
Pecan Pie bar lovers get the nutty crunch and caramelized taste of the traditional pie. Chocolate addicts like me get their fix.
Plus, truffles make a great handheld dessert option! No plates or utensils required.
Ingredient Notes
Pecans – You'll need pecans to create the body of the truffle AND extra pecan halves for topping each one. Toast the pecans for best flavor!
Corn syrup – Karo light corn syrup, along with brown sugar, makes these taste just like everyone's favorite pecan pie, while helping the nuts hold together.
Wafer cookies – Nilla wafers or a similar vanilla cookie are perfect
Candy coating – I use both chocolate melting wafers and vanilla wafers for dipping the truffles to give them some variety. You can use all chocolate or all vanilla if preferred.
Step by Step Instructions
STEP 1. Make the truffle centers
Pulse the pecans and the cookies in a food processor to form crumbs. Mix the crumbs with the corn syrup, brown sugar and vanilla in a bowl using a spoon.
STEP 2. Freeze
Scoop this filling by the tablespoon on to a parchment lined baking sheet. Use your hands to form each scoopful into a smooth ball shape. Freeze for 30 minutes or until firm.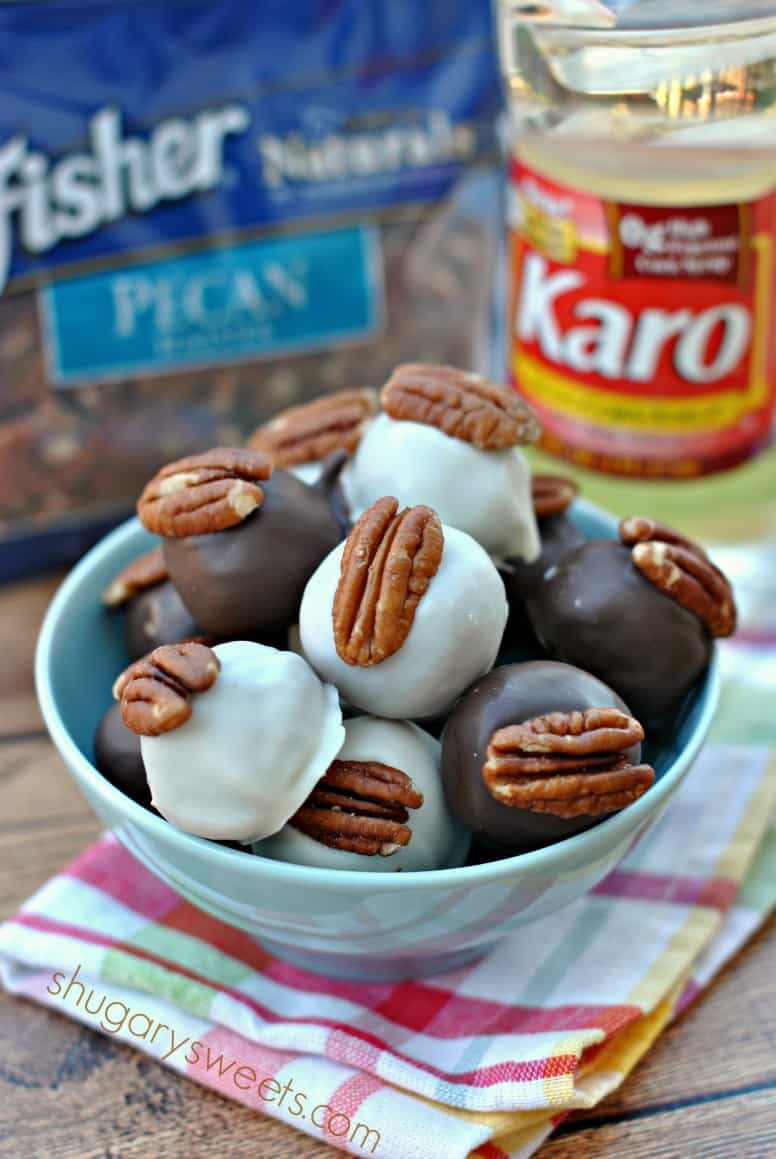 STEP 3. Dip
Melt the candy wafers in separate bowls. Use a toothpick to dip the frozen truffle centers into the candy coating. I did half of them in the vanilla and half in chocolate.
While the chocolate is still soft, top each truffle with a pecan half (to cover the toothpick hole).
STEP 4. Set
Put the dipped truffles back on the baking sheet and let set until the chocolate is firm! Enjoy immediately or transfer them to an airtight container.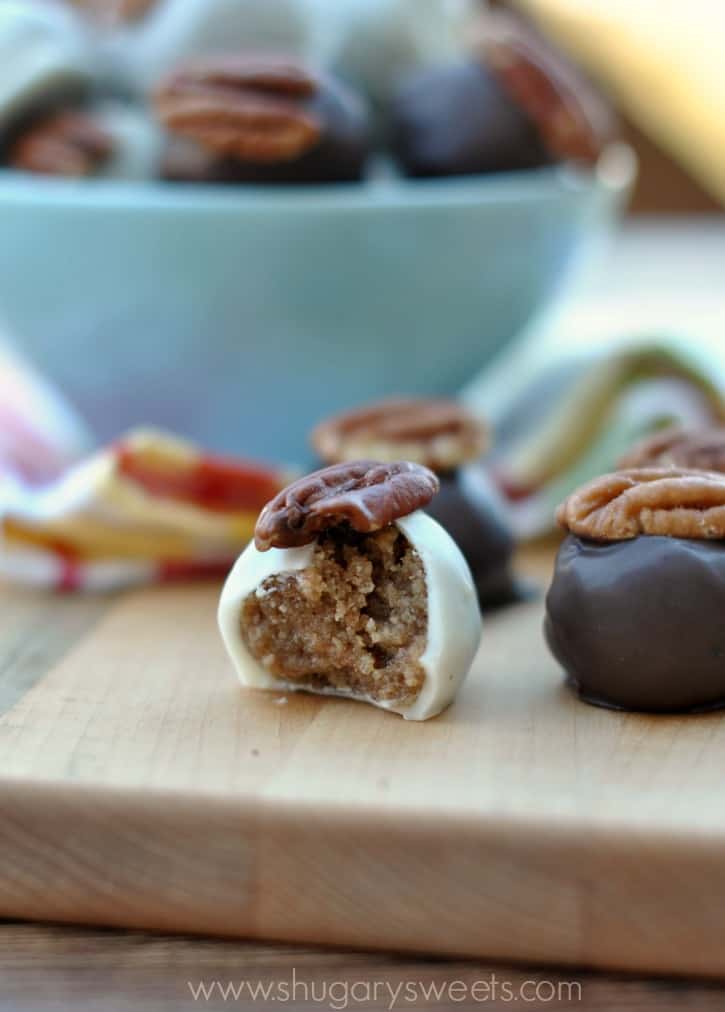 Recipe FAQs
Why is my pecan mixture crumbly?
This is normal! Use your hands to press the mixture together as you're forming the truffle balls. The corn syrup get sticky from the warmth of your hands and help the balls hold together.
Can I make pecan pie truffles without the corn syrup?
I have yet to find any ingredient that works as well as corn syrup, both for mimicking the flavor of classic pecan pie recipes and for holding the truffles together.
Do pecan pie truffles need to be kept in the refrigerator?
Nope! While I like truffles cold, you can definitely keep these at room temperature and they'll be just fine.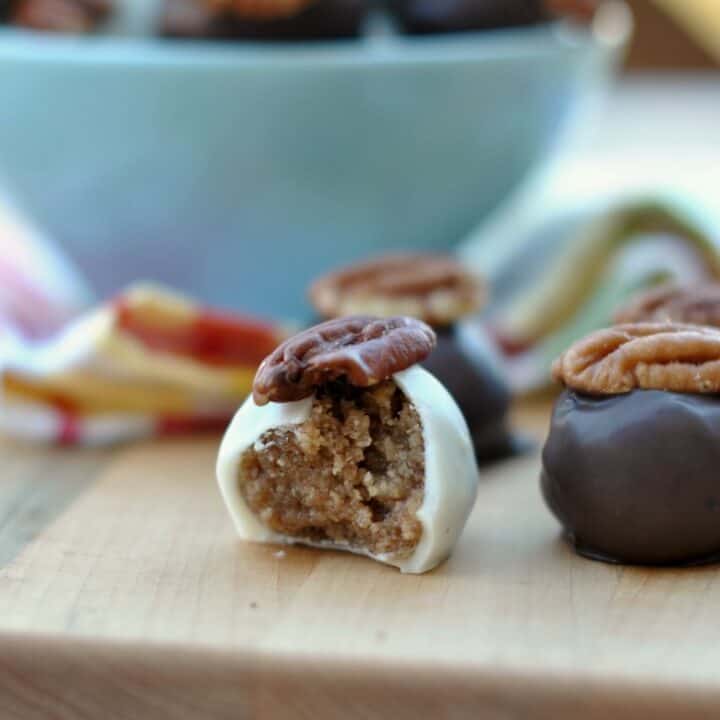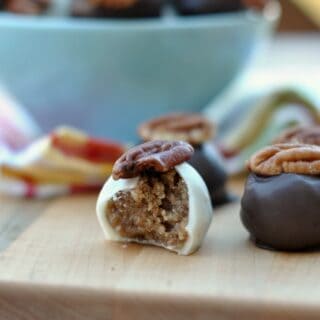 Pecan Pie Truffles
Looking for something different to serve this holiday season? How about some Pecan Pie Truffles!
Ingredients
2 ½

cups

pecans

1

cup

vanilla wafer cookies

¾

cup

light brown sugar

packed

⅓

cup

light corn syrup

1

teaspoon

pure vanilla extract

10

ounce

Ghirardelli white chocolate wafers

10

ounce

Ghiaradelli dark chocolate wafers

40

pecan halves
Instructions
In a food processor, pulse pecans and cookies until fine crumbs. Pour into a large bowl. Add brown sugar, corn syrup and vanilla extract. Mix with a spoon until fully combined.

Using a one tablespoon scoop, drop scoops onto a parchment paper lined baking sheet (that is freezer safe). Once all scoops have been formed, roll each scoop into a nice smooth ball with your hands. Transfer baking sheet to freezer for about 30 minutes.

When ready, melt white chocolate and dark chocolate wafers in separate bowls according to package directions.

Using a toothpick, dip cold truffle into either vanilla or chocolate. Tap on side of bowl to remove excess. Place back on parchment paper, remove toothpick and top with a pecan halve (to cover the toothpick hole). Repeat until all truffles are dipped.

I like to work in two stages. It's easier if the truffles remain very cold. So I do half of them while the other half is still in the freezer. Then I work on the second half.Store truffles in an air tight container for up to 10 days. I like them best served cold, but room temperature is delicious too!
Notes
Crumbly: When making the truffles, the mixture will be crumbly. Use the heat from your hands to bring the truffle together by rolling it between your hands (will get sticky).
Make ahead: You can keep the truffle centers frozen for a couple of days before dipping in the chocolate. If you're making the centers ahead of time, transfer them to a container once set to avoid a "freezer burn" taste.
Work in batches: The chocolate sets up much quicker if the truffle centers are still ice cold from the freezer. I like to work in two batches. Dip half the truffles in the chocolate coating while the other half stays in the freezer. Then repeat with the second batch.
Toast the Pecans: for best flavor, use our guide on how to toast pecans, prior to assembling!
Storing: You can store these either in the fridge to enjoy cold OR at room temperature, tightly covered. I love them best cold! Enjoy within a week for best flavor and texture.
See blog post for more tips and tricks.
Nutrition
Serving:
1
truffle
,
Calories:
176
kcal
,
Carbohydrates:
20
g
,
Protein:
2
g
,
Fat:
10
g
,
Saturated Fat:
3
g
,
Polyunsaturated Fat:
7
g
,
Cholesterol:
1
mg
,
Sodium:
64
mg
,
Fiber:
2
g
,
Sugar:
14
g
I promise that these creative Pecan Pie Truffles will be the talk of the holiday gathering this year! Bite sized desserts don't get any better than this.