Looking for something different to serve this holiday season? How about some Pecan Pie Truffles!
**This post is sponsored by Fisher Nuts. I am excited to be partnering with them this year and bringing you all some delicious recipes! **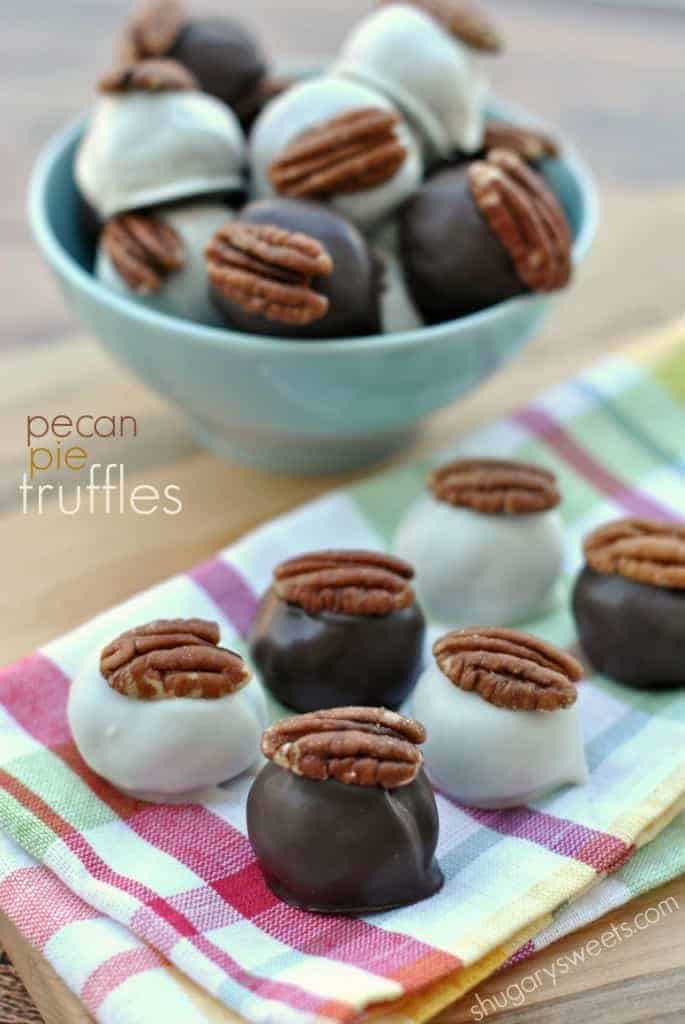 Click HERE to save recipe to Pinterest
Here I am just two weeks away from Thanksgiving, sharing some delicious holiday recipes with you all, and I've been playing tricks on my husband for 10 days now.
You see, if it were up to me, my Christmas tree would be up the day after Halloween. I love Christmas. I love my decorations. I love the music. And I love the meaning behind the holiday.
Don't get me wrong, I love Thanksgiving too. But for me, Thanksgiving is a day to be Thankful, eat turkey, lots of pie and enjoy family and friends. It's not really a "season." It's more of a reminder day. A reminder day that happens to fall in MY Christmas season.
Oh, you think I'm wrong about it being Christmas season? Have you walked into a Target store yet??? My local radio station is playing Christmas music 24/7 already. And….
I've been putting up my decorations. For 10 days. I've been sneaking a few here and there. Until suddenly, most of decorations are up (minus the tree of course)!
I kid you not people, it's quite funny. My end tables are covered in holiday picture frames, my mantle has some reindeer and the three wise men. My dining room is screaming red and green…and my husband hasn't even noticed.
My kids? Yeah, they're in on it with me! Although I suppose after this blog post my husband will finally "see" it. He actually does read my blog after all.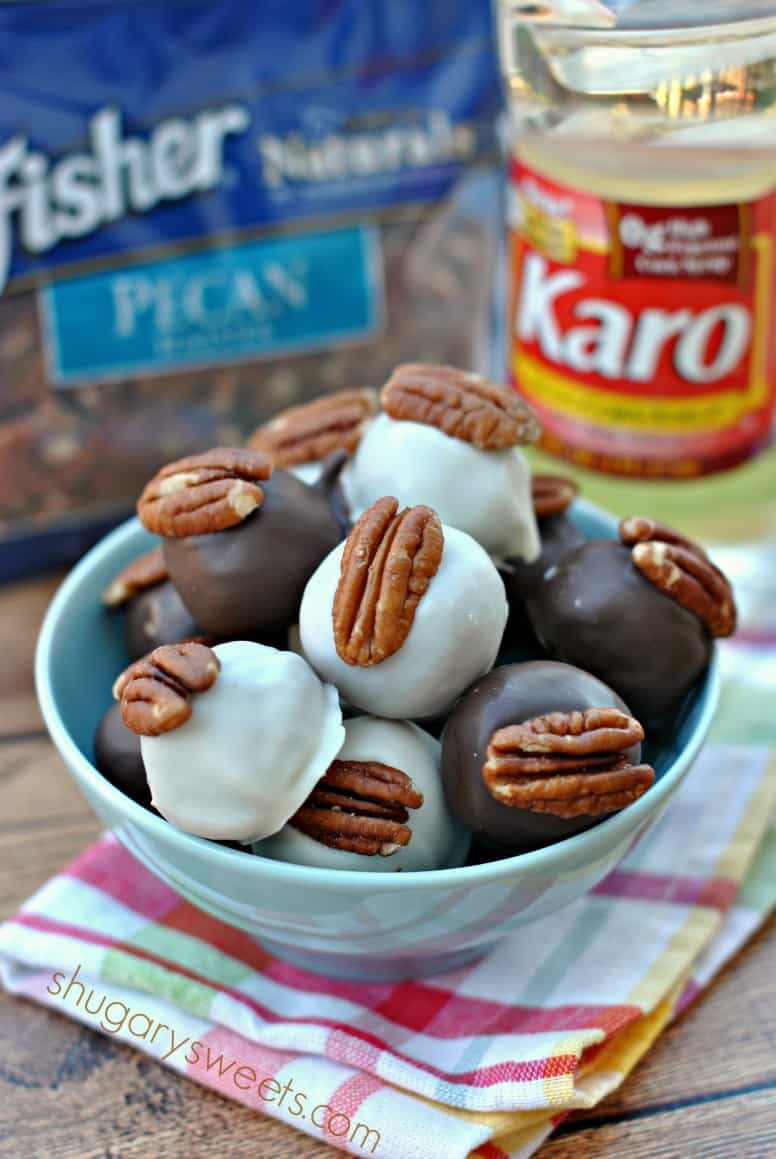 So, to make him happy, let's talk PIE. I love pumpkin pie this time of year. Well, technically I love ALL things pumpkin this time of year, but I especially love pie. And, if you've been following my blog for any period of time, you will notice there are no homemade pie crust recipes around here. My blog is not OOZING with pie recipes. I, dear friends, am "Pie Crust Challenged."
There. I admitted it. A couple years ago I made some Pumpkin Pie Truffles. They are still requested by my husbands work this time of year. But I thought, why not a pecan pie truffle? It screams Thanksgiving!
Fisher Nuts and Karo Syrup have joined forces this year to bring you some delicious recipes! Including, 3 Nut Pie, Caramel Apples, and Perfect Pecan Bars. As a Fisher Nuts brand ambassador, I was asked to create a recipe using these two holiday essential products. My first thought was to make a pecan pie. But since I am pie crust challenged it only made sense to skip the pie and go straight to candy.
The centers of these truffles are soft and nutty, with the right balance of pecans, corn syrup, brown sugar and vanilla wafer cookies! I couldn't decide if I wanted to dip them in vanilla or chocolate candy coating, so I went for both! I love they way they turned out, both in presentation AND in taste!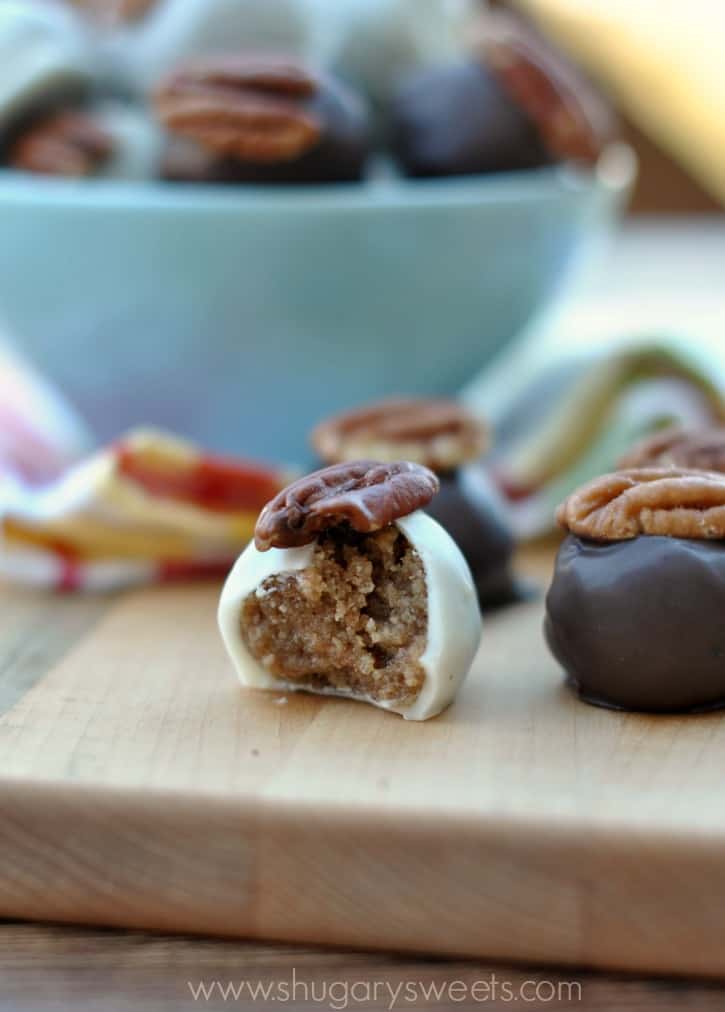 This year while planning YOUR holiday menu, think Fisher.
Connect with Fisher Nuts:
website | facebook | pinterest
Be sure to follow my "Let's Give Thanks" Pinterest board for more Thanksgiving ideas!
What is YOUR favorite way to use Fisher Nuts and Karo corn syrup?
I created a fun little group on facebook and I'd love for you to join in! It's a place where you can share YOUR favorite recipes, ask questions, and see what's new with Shugary Sweets (so that you never miss a new recipe)! If you'd like to check it out, you can request to join HERE.
Connect with Shugary Sweets! 
Be sure to follow me on my social media, so you never miss a post!
Facebook | Twitter | Google+ | Pinterest | instagram 
Sign up to receive an email in your inbox for each new recipe:
Yield: 36-40 truffles
Pecan Pie Truffles
Looking for something different to serve this holiday season? How about some Pecan Pie Truffles!
Ingredients
2 1/2 cup Fishers pecans
1 cup vanilla wafer cookies
3/4 cup light brown sugar, packed
1/3 cup Karo light corn syrup
1 tsp pure vanilla extract
8oz vanilla candy coating
8oz chocolate candy coating
40 pecan halves
Instructions
In a food processor, pulse pecans and cookies until fine crumbs. Pour into a large bowl. Add brown sugar, corn syrup and vanilla extract. Mix with a spoon until fully combined.
Using a one tablespoon scoop, drop scoops onto a parchment paper lined baking sheet (that is freezer safe). Once all scoops have been formed, roll each scoop into a nice smooth ball with your hands. Transfer baking sheet to freezer for about 30 minutes.
When ready, melt vanilla and chocolate candy coating in separate bowls according to package directions.
Using a toothpick, dip cold truffle into either vanilla or chocolate. Tap on side of bowl to remove excess. Place back on parchment paper, remove toothpick and top with a pecan halve (to cover the toothpick hole). Repeat until all truffles are dipped.
I like to work in two stages. It's easier if the truffles remain very cold. So I do half of them while the other half is still in the freezer. Then I work on the second half. Store truffles in an air tight container for up to 10 days. I like them best served cold, but room temperature is delicious too!
Notes
**Mixture will be crumbly. Scoop your 1Tbsp ball into your hands and press it together until it sticks. The warmth of your hands will get the corn syrup sticky and bind the truffle into a ball.

Today's recipe for Pecan Pie Truffles was originally published on Shugary Sweets on November 12, 2013 and has been republished in November 2018
**This is a sponsored post on behalf of Fisher Nuts. I was compensated for my time, however all opinions expressed are 100% my own!