Pecan Pie Brownies have a thick, fudgy brownie base topped with sweetened syrupy pecan pie topping for a delicious dessert mash-up!
If you love brownies, you'll have to try our reader favorite: the M&M Brownie! OR give my favorite salted caramel brownies a try next!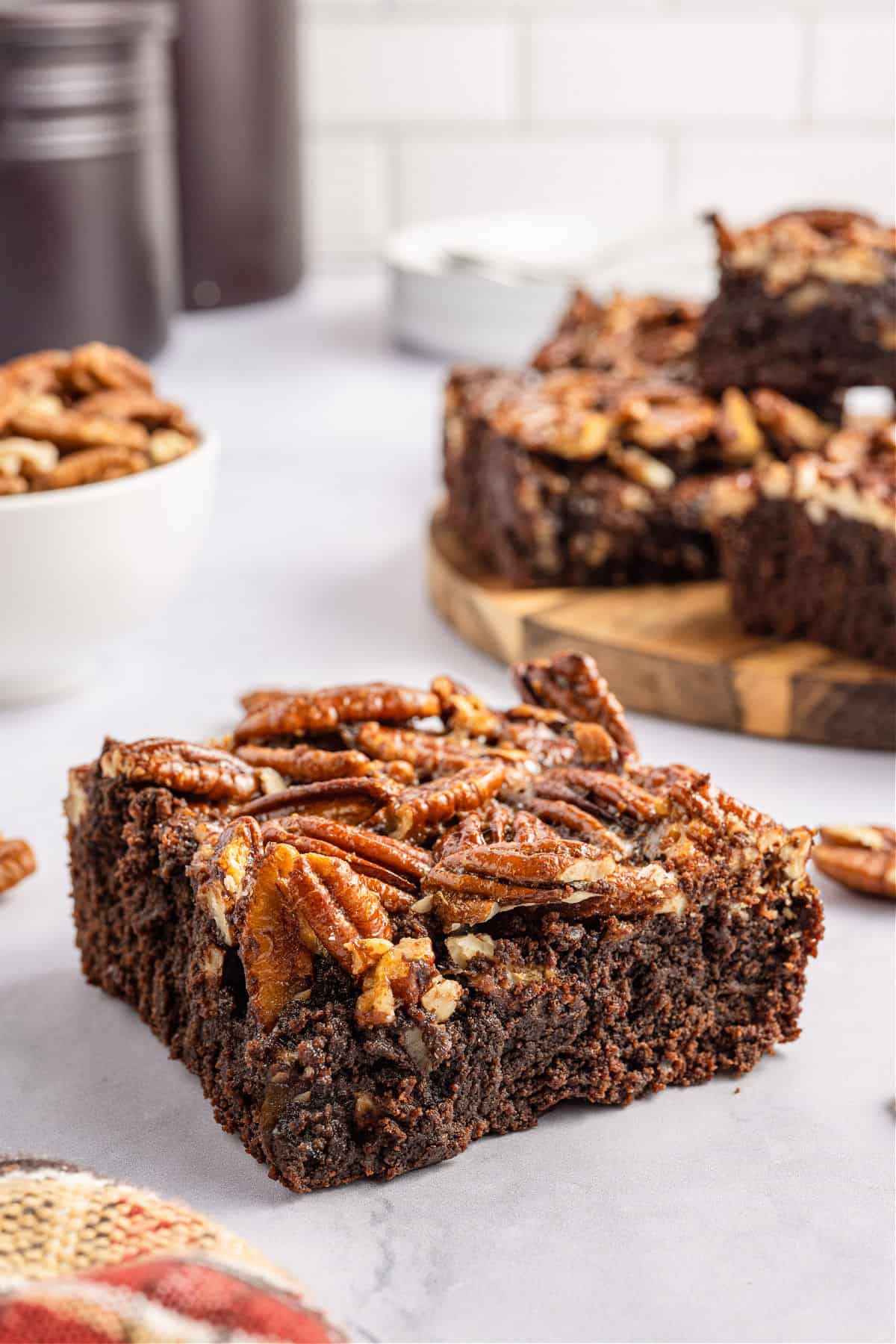 Why Pecan Pie Brownies are Best
Fudgy brownies are paired with a crunchy pecan pie topping for a dessert bar that will have everyone raving!
This dessert is great for serving to family and friends and makes a great gift for neighbors or for a bake sale!
When you can't decide between pecan pie and brownies, have them both! This is the perfect dessert to serve on Thanksgiving with a pumpkin pie too.
Ingredient Notes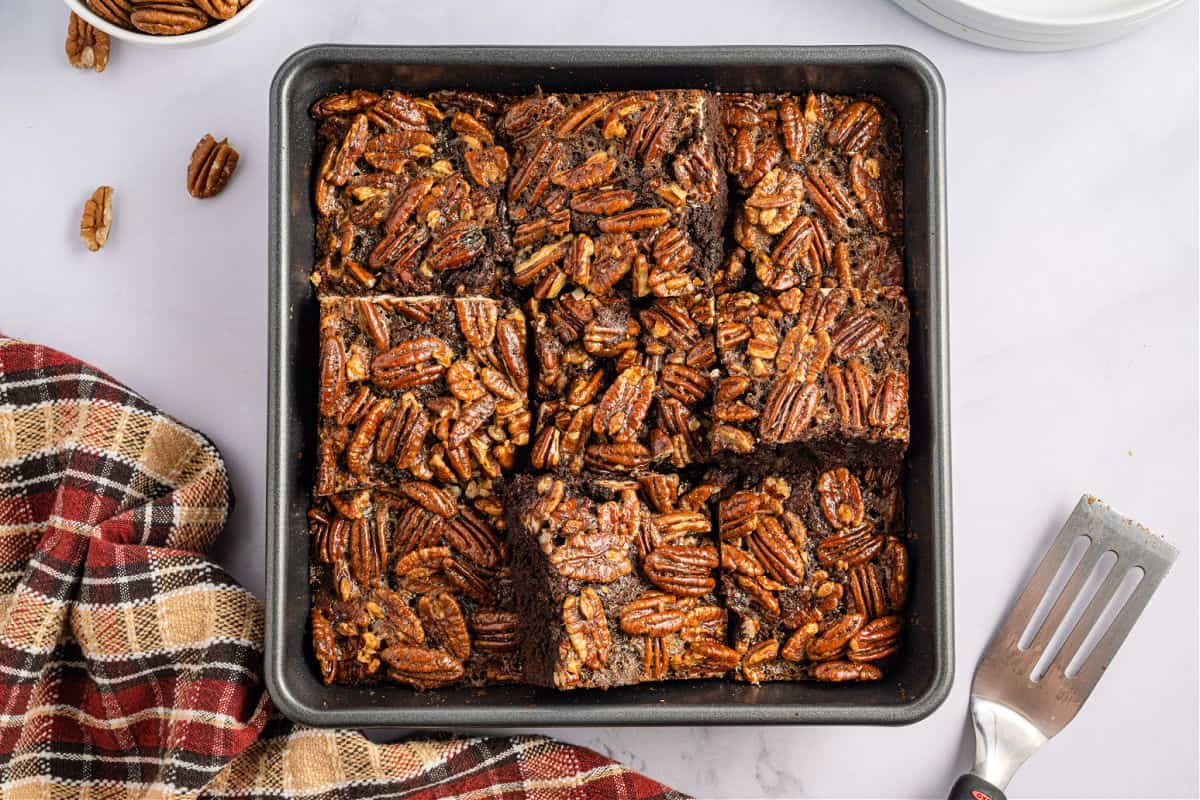 Easy Instructions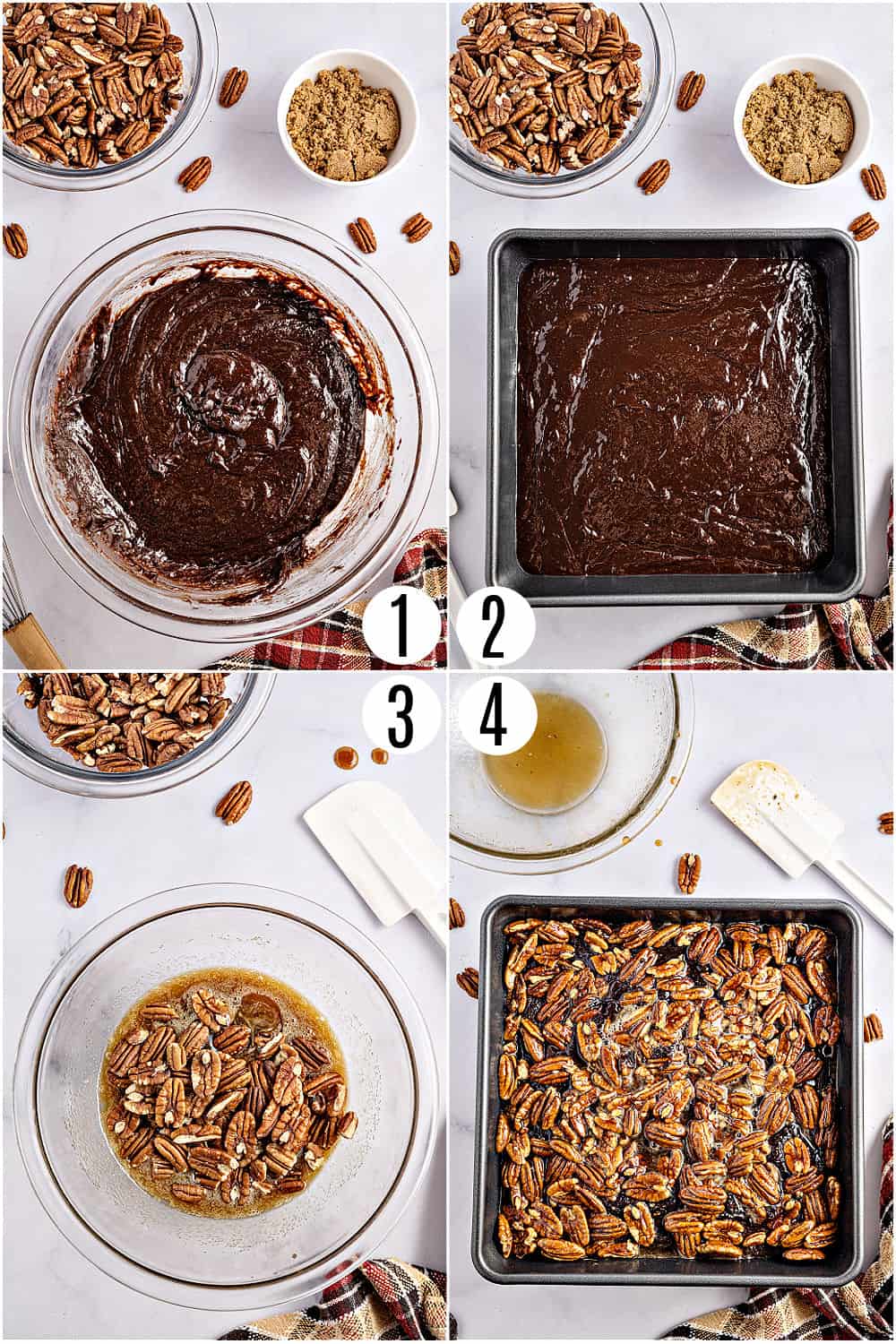 Combine wet ingredients. Melt the butter then add the chocolate chips and sugar. Stir until the chocolate is melted and the sugar is blended. Add the eggs, one at a time, then the vanilla.
Dry ingredients. Add the cocoa powder, flour, salt, and baking powder. Stir until JUST combined. Do not overmix.
Bake the brownies. Transfer brownie batter to a parchment paper lined 9-inch baking dish and bake at 350 for 20 minutes.
Make the pecan pie topping. Whisk the corn syrup, maple syrup and brown sugar together then add the egg and vanilla extract and whisk until combined. Coat the pecan halves in the syrupy mixture until coated.
Top the brownies and finish baking. Add the pecan pie topping to the partially baked brownies. Bake for another 25-30 minutes then let cool.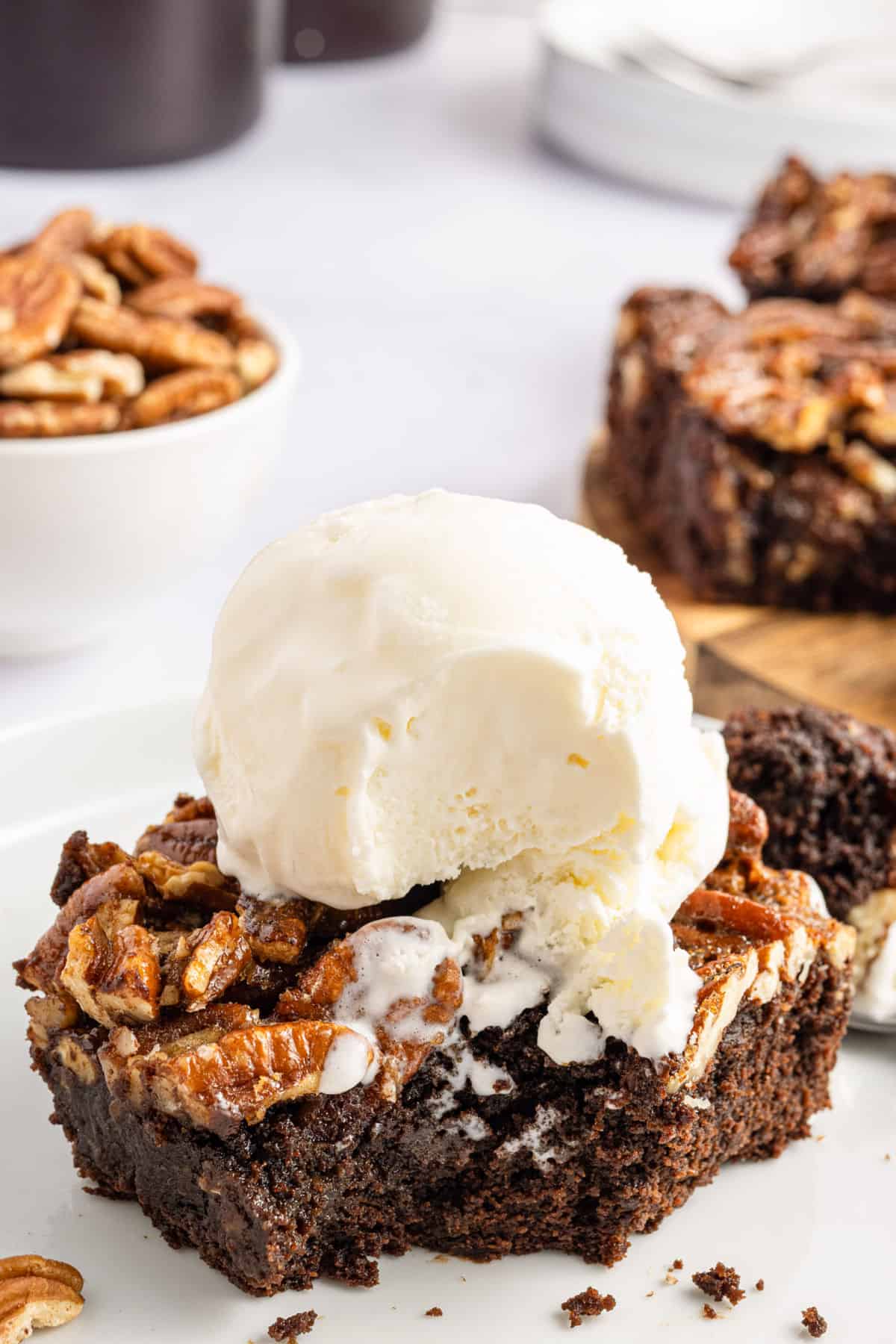 Tips and Tricks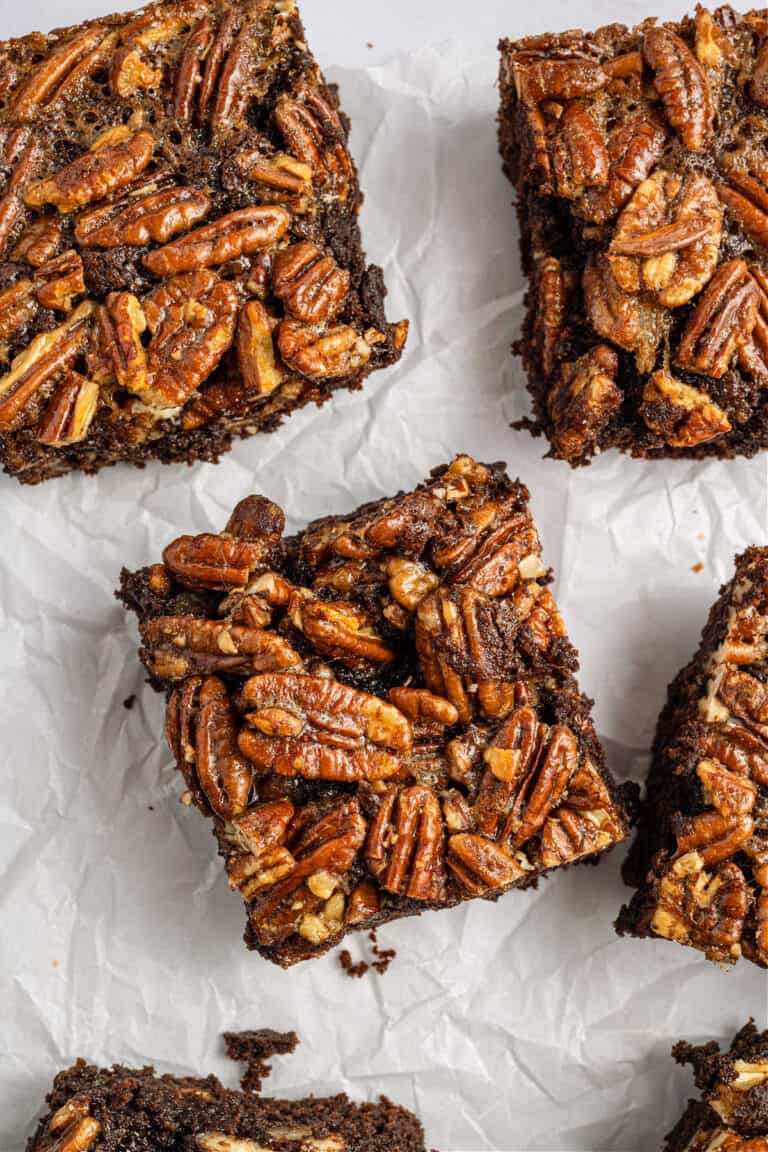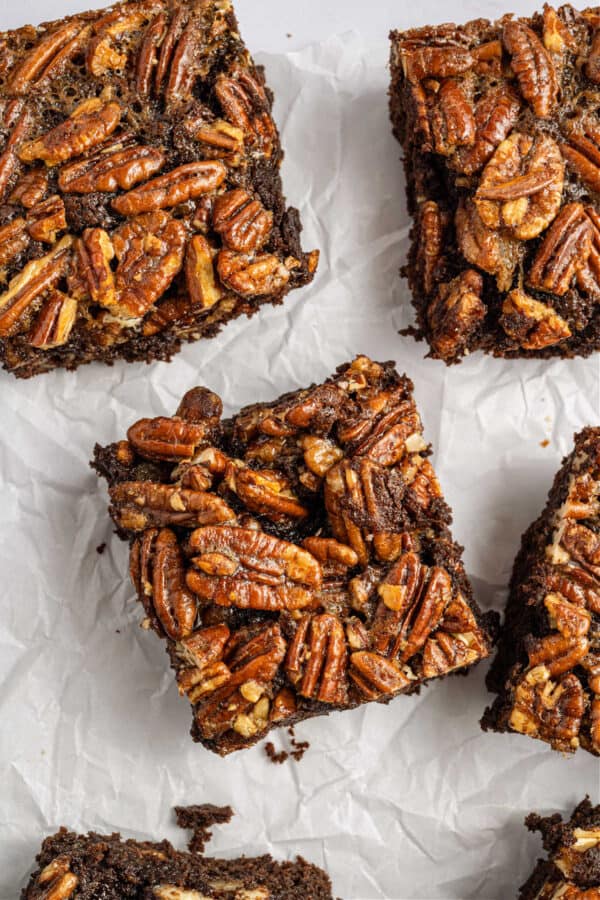 Recipe FAQs
How do I make fudgy brownies?
Fudgy brownies require a high fat to flour ratio, like this recipe has. And be sure not to overbake the brownies so you have a fudgy center.
Can I use a boxed brownie mix for this recipe?
Yes, you can substitute a store-bought brownie mix for the brownie base in this recipe and add the pecan pie topping. (But our homemade brownies are so easy and SO delicious!)
How do I store Pecan Pie Brownies?
Pecan Pie Brownies can be stored in an airtight container at room temperature for up to 5 days. Or store them in a covered container in the refrigerator for up to 5 days.
Can I freeze brownies?
Yes! You can freeze brownies for up to 3 months. Once baked and cooled completely, you can either slide the whole pan of brownies into an airtight freezer container. Or, cut them into squares and freeze in smaller servings. Thaw in the container at room temperature overnight.
More Brownie Recipes