No need to bake your cookie dough anymore. Make some Peanut Butter Cookie Dough Bars with a PB Chocolate frosting and call it done. This egg free cookie dough recipe is 100% safe and 100% delicious.
Sometimes you crave peanut butter cookies. Sometimes you crave chocolate chip cookies. And sometimes you just want to eat the cookie dough. Today brings it's all together in one dessert.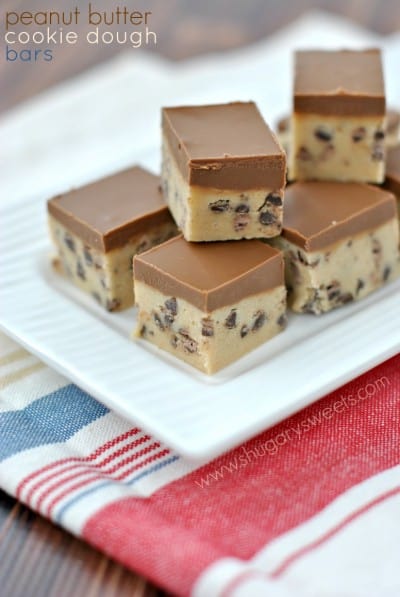 Why Eat Cookie Dough
The long standing traditions of sneaking bites of cookie dough from the mixing bowl while making cookies proves that there's just something about cookie dough that's extra appealing.
Maybe it's the soft texture that instantly releases the sweet buttery flavor, or just the fun of eating something you're not "supposed" to eat, but everyone LOVES cookie dough!
That said, we know that eating raw eggs poses plenty of health risks. Since most cookie dough recipes contain at least an egg or two, you've gotta get creative to get your cookie dough fix!
That's where this recipe comes in. I created a completely egg-free peanut butter cookie dough that you can chill, slice and eat, with no baking required.
Of course, I also added a later of chocolate peanut butter topping to make them even more indulgent! These cookie dough bars are every cookie dough lover's dream dessert.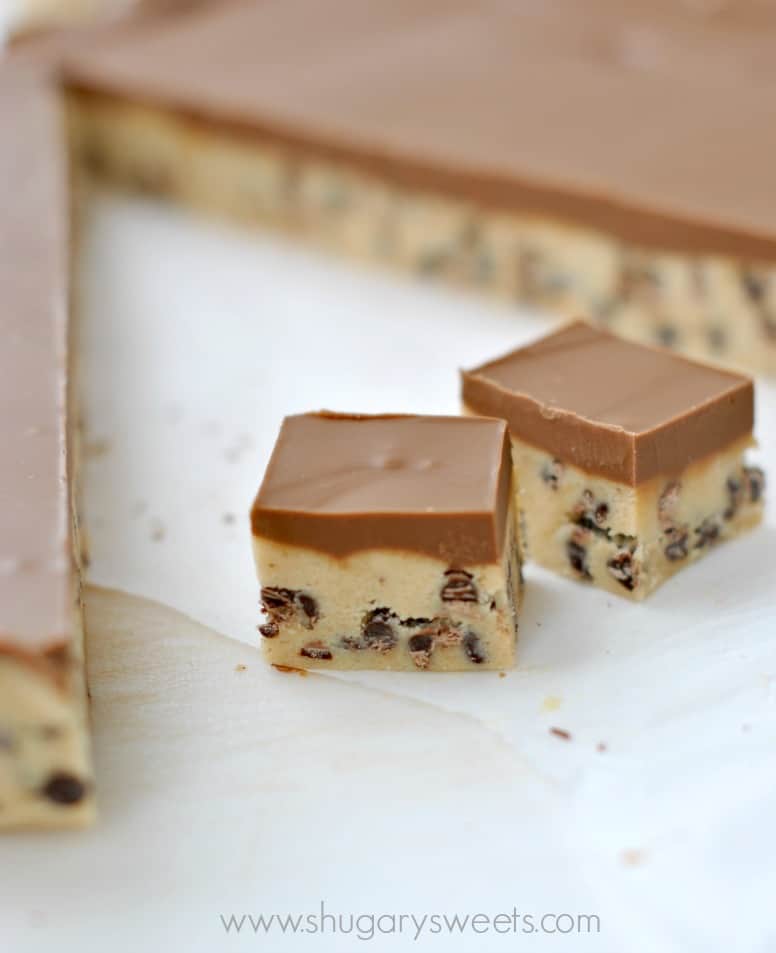 Ingredient Notes
Sweetened condensed milk – NOT regular milk or evaporated milk
Peanut butter – Creamy shelf-stable peanut butter works best in this recipe.
Chocolate chips – I used mini morsels for the cookie dough and regular sized for the topping. Want even more peanut butter? You can substitute peanut butter morsels in the cookie dough portion of the recipe.
Butter – Using unsalted butter allows you to control the salt in the finished treats!
Flour– be sure to heat treat the flour before using!
How to cook raw flour
One note before we get to making the Peanut Butter Cookie Dough Bars: you need to cook the raw flour first to make sure any unsafe bacteria are killed.
You can do this in a couple of ways. My favorite way is to heat the flour in the microwave.
Put the flour in a microwave safe bowl and heat it for 30 seconds at a time, stirring between intervals, until the flour reaches 160 degrees F.
You can also toast your flour in a 350 degree oven for about 5 minutes to make it safe to use in these raw cookie dough bars.
Once your flour has been heated enough to kill any nasty microbes lurking around, let it cool completely, then get ready to make the best-ever Peanut Butter Cookie Dough Bars!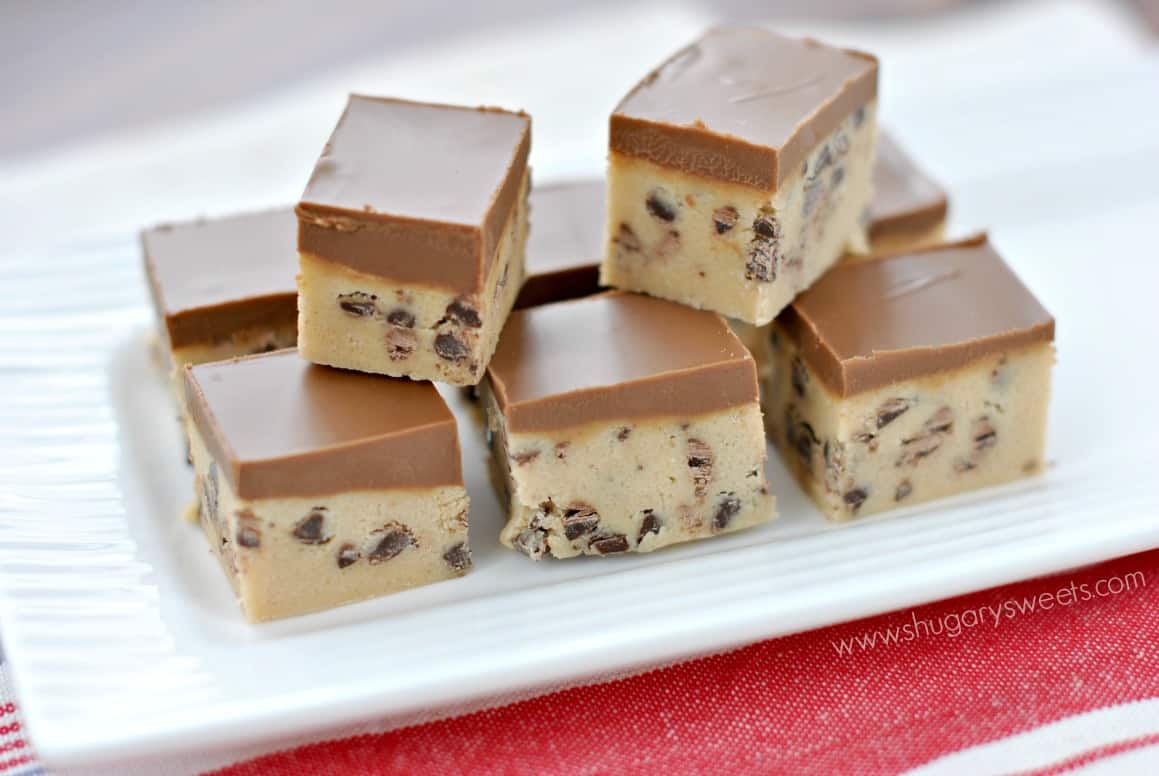 Step by Step Instructions
STEP 1. Make the cookie dough
Cream together butter and brown sugar until well combined. Add the peanut butter and vanilla extract and continue to mix until the mixture gets fluffy. Now add the flour and condensed milk and beat to combine. Fold in the chocolate morsels.
Press the dough into a baking dish.
STEP 2. Topping
Melt the other chocolate morsels and the remaining peanut butter together in the microwave and then stir to make sure everything is fully combined. Spread the mixture evenly over the cookie dough.
STEP 3. Chill
Place the pan in the refrigerator and chill for at least 3 hours or as long as overnight. Once firm, cut the bars into bite sized pieces and enjoy!
Recipe FAQs
Do you have to cook flour before using it in cookie dough?
For food safety reasons, the answer is yes. Consuming raw flour is not advisable!
What size pan should I use?
I tested this recipe using a square 8 x 8 baking dish. Other sized pans will work too, it'll just change the thickness of the bars.
Can you bake this cookie dough?
No, this cookie dough recipe contains no baking soda so it wouldn't work baked in the oven. It was specifically designed to be enjoyed raw!
Tips and Tricks
Store your Peanut Butter Cookie Dough Bars in a covered container either at room temperature or in the fridge. They'll stay good for about a week.
Make sure to spread the chocolate topping in an even layer over the cookie dough. Use a flat spatula or the back of a spoon to make sure all the parts of the dough are covered.
If you want a straight up peanut butter cookie taste, feel free to leave the chocolate chips out of the dough or replace them with peanut butter morsels.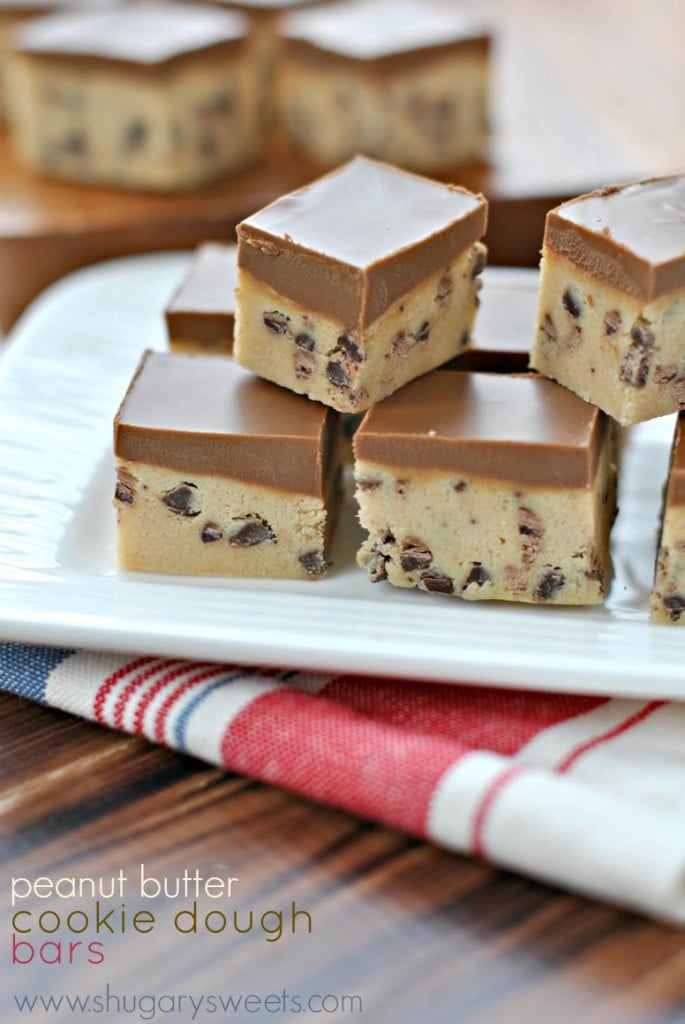 Cookie dough addicts rejoice! No more risking your health to sneak bites of delicious raw cookie dough.
Peanut Butter Cookie Dough Bars are the nutty, sweet and almost addictively tasty dessert that every peanut butter and chocolate lover dreams of!
More Cookie Dough Desserts