Who can resist sweet bites of cookie dough filled with Reese's pieces? Peanut Butter Cookie Dough Truffles have all the peanut butter and chocolate flavor you crave!
Homemade Truffles are easier to make than you think. My Easy Chocolate Truffles recipe can turn anyone into a homemade candy maker.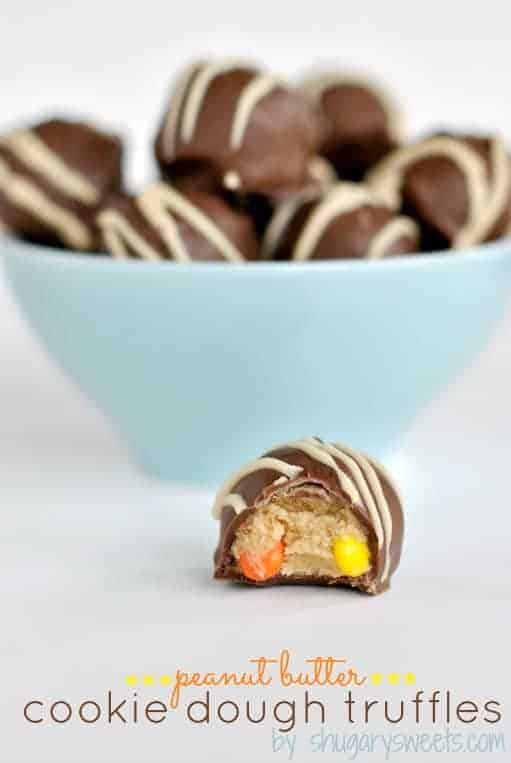 Why this Recipe Works
Love cookie dough? There's no egg in this truffle, so you can gobble as many as you like.
They truly taste like peanut butter cookie dough.
I added more Reese's pieces because, well, I couldn't think of a good reason NOT to. Once the peanut butter dough center is ready, I just dipped them in chocolate and added peanut butter drizzle.
These are every bit as decadent and delicious as the fanciest peanut butter cookie truffles from your favorite candy shop. Now you can make them yourself for a fraction of the cost!
Don't forget to try our original recipe for chocolate chip cookie dough truffles next!
Ingredient Notes
Creamy peanut butter. We prefer regular shelf stable peanut butter in this recipe, as opposed to natural styles.
Mini Reese's pieces. Look for these in the baking aisle near the chocolate chips. M&Ms baking bits can be substituted if you prefer more chocolate to peanut butter.
Chocolate melting wafers. I recommend a quality chocolate designed for melting, like these.
White chocolate. Use white chocolate melting wafers or melted vanilla bark for the drizzle.
Easy Instructions
Beat together all the ingredients for the cookie dough center. Fold in Reese's pieces.
Scoop the cookie dough into balls and arrange on a parchment lined baking sheet. Freeze for 2 hours.
Use a toothpick to dip each truffle into the melted chocolate coating.
Stir together melted white chocolate with peanut butter. Drizzle over the truffles. Let set for about 10 minutes.
Enjoy!
Tips and Tricks
Don't forget to heat treat the flour before using!
Store peanut butter cookie dough truffles in the refrigerator. Enjoy within 2 weeks.
Dip the truffles in white chocolate instead of milk chocolate for a delicious twist!
Keep the frozen truffle centers in the freezer until just before you're ready to dip them. You want them to hold their shape while you coat them in the chocolate.
Recipe FAQs
Why do you have to heat treat flour first?
Heat treating kills off any dangerous microbes that might be lingering in your flour. In most recipes, the flour is heated while the dessert bakes.
Since this is a no bake recipe it's important to take the extra step of baking the raw flour in the oven for a few minutes to make it safe to eat.
Can I use melted chocolate chips instead of melting wafers?
I don't recommend using chocolate chips for melting. They contain added ingredients that keep the chocolate from melting and setting up smoothly.
Could I make the peanut butter cookie dough balls ahead of time?
Yes, you can make the peanut butter cookie dough balls up to 1 month ahead of time. After freezing for 2 hours, transfer them to a freezer bag. Keep frozen until ready to dip in chocolate.
Cookie dough meets chocolate and peanut butter in this spectacular recipe. Peanut Butter Cookie Dough Truffles are easy to make and even easier to pop into your mouth!