Trinidads – Dark chocolate truffles with toasted coconut taste so much better when you make them yourself! Spend a fraction of what you'd drop at the candy counter with this easy to follow recipe.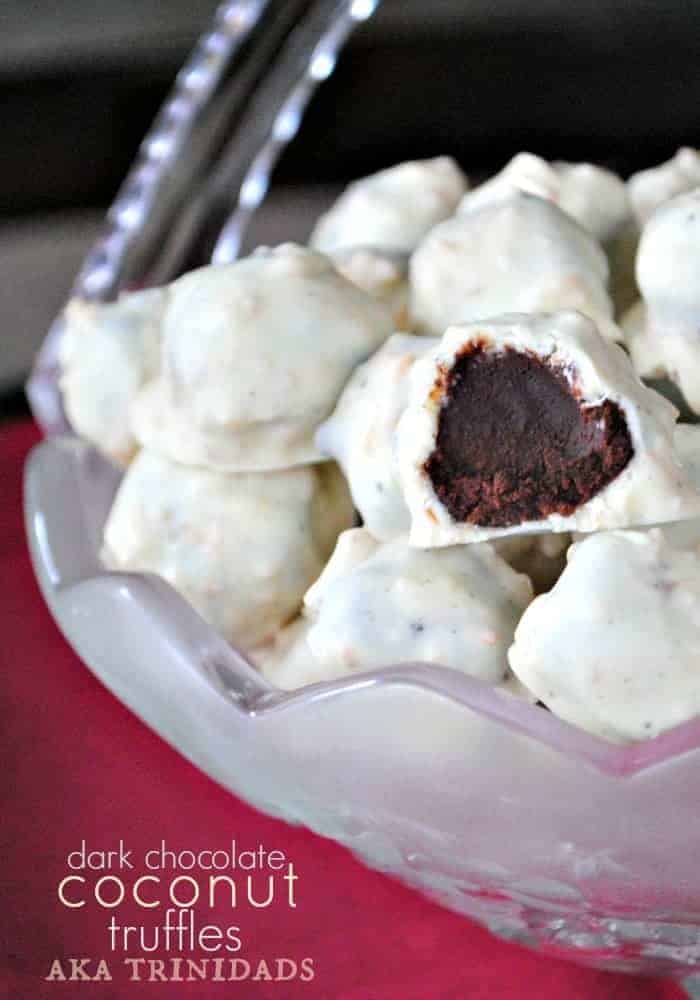 Have you ever had a Fannie May Trinidad? Dark chocolate truffles inside a crispy white chocolate and toasted coconut coating are my mom's favorite candy.
Fannie May Trinidads
Being from Chicago I have been blessed to experience some darned good chocolate. Fannie May chocolates have always been a part of my family's Christmas celebration.
My grandma always bought their chocolate Santas to put on each kid's plate at Christmas dinner. She does the same with chocolate turkeys at Thanksgiving.
There are always several boxes of mint meltaways and mixed chocolates passed around before dessert. As a kid, I always volunteered to be the one to pass them around to the adults first–so I could sneak an extra one or two from the box with nobody noticing, of course.
But my mom always had her favorite: Trinidads. She had good taste. They're spectacular! I find myself craving them whenever I'm in the mood for a chocolate and coconut candy.
Chocolate Truffles with Toasted Coconut
Those of you who have read the blog for a while will recall that I can't resist trying to recreate my favorite store bought treats at home. In most cases, I can find a way to get the same great taste while spending far less.
As much as I love the ritual of going to the counter at a Fannie May store and selecting my chocolates, I do NOT love emptying my wallet for the sake of candy.Not when it's so easy to make a delicious copycat Trinidad recipe in my own kitchen!
Plus, you get the satisfaction of knowing you made the candies with your own hand. This makes them wholesome which makes them good for you. (Just go with me here.)
In any case, everyone deserves good chocolate in their life. These chocolate truffles are rolled in a white chocolate candy coating and flecked by toasted coconut, just like the originals.
How to Make Trinidad Truffles
Melted dark chocolate, white chocolate wafers, heavy cream, coconut flakes and butter are all you need to make this chocolate truffles recipe!
The first step is toasting the coconut flakes in the oven.
To make the toasted coconut:
Spread the coconut flakes on a baking sheet and bake at a low temperature until the tips are brown and crispy, stirring about half way through the cooking time. In my oven, this takes about 15 minutes.
Melting the dark chocolate:
Heat the heavy cream in a sauce pan until warm but not boiling. Melt in the butter and the dark chocolate morsels (or bar) until the mixture is smooth with no lumps remaining.
Pour the melted chocolate mix into a glass bowl and refrigerate for at least an hour. This helps firm up the chocolate so it'll hold its shape as a truffle.
Assemble the truffles:
Scoop the chilled chocolate mixture into one inch balls and place on a parchment lined cookie sheet to freeze. Mine usually take 1 – 2 hours to freeze solid.
Just before the truffles are frozen through, get the white chocolate ready.
For the white chocolate coconut layer:
Melt white chocolate wafers according to package directions (I used the microwave). Stir in the toasted coconut.
Use a toothpick to dip each dark chocolate truffle into the melted white chocolate. Tap each dipped truffle on the side of the bowl to shake off excess.
Place dipped truffle on parchment lined baking sheet. Refrigerate dipped truffles 30 minutes to set completely. Enjoy cold!
Storing truffles
Store copycat Trinidads in covered container until ready to serve! You can freeze these, too, if you like. Use a freezer safe sealed container to keep them tasting fresh for up to 3 months.
I love the way these taste when they're cold from the fridge. If you're serving them from frozen, let them soften for a few minutes on the counter first.
Tips for Chocolate Truffles
After dipping the chocolate balls, re-dip toothpick in white chocolate and touch up each truffle so no toothpick holes are seen.
If desired, you can sprinkle a little extra toasted coconut over the truffles after dipping to give them even more coconut crunch.
Be sure to use real heavy cream as opposed to lower fat substitutes in this recipe.
Copycat Trinidad Recipe
You don't need to have tried Fannie May candies to love these truffles! In honor of my mom and grandma, these will definitely make an appearance on our Christmas table.
I love giving homemade candy as gifts any time of year, too. A jar of Chocolate Truffles presented as a token of appreciation makes everyone smile!
Are you ready to make some divine homemade Trinidad truffles? Skip a trip to the candy store and give this recipe a try!
Dark Chocolate with Coconut Truffles
Ingredients
7oz bag sweetened coconut, shredded
16 oz Ghirardelli dark chocolate bars (or morsels)
2/3 cup heavy cream
3/4 cup unsalted butter
16 oz Ghirardelli white chocolate melting wafers
Instructions
On large baking sheet lined with parchment paper, spread out coconut. Toast in a 250 degree oven for 15-20 minutes, mixing and turning halfway through. Set aside to cool. (store in ziploc if not ready to use)
In large saucepan, heat heavy cream until very warm (not boiling). Add in butter and melt completely on low heat, stirring constantly. Add in chocolate bars or morsels and stir continuously until smooth.
Remove from heat and pour into a shallow glass bowl. Refrigerate for at least 1 hour.
Remove from refrigerator and scoop chocolate in one teaspoon sized balls. Place each truffle on a parchment lined cookie sheet. Repeat ball making until all mixture is used. Freeze truffles one to two hours.
Melt white chocolate wafers in microwave safe bowl, for 1 minutes, stir until smooth. Stir in 1 1/4 cup of toasted coconut.
Using a toothpick, dip each truffle into white chocolate, tapping toothpick on side of bowl to shake off excess. Place dipped truffle on parchment lined baking sheet. Re-dip toothpick in white chocolate and touch up each truffle so no toothpick holes are seen.
Refrigerate dipped truffles 30 minutes to set completely. Enjoy cold! Store in covered container in refrigerator or freeze in airtight container until ready to serve.