This Coconut Macaroons Recipe creates cookies that are perfectly soft on the inside with crispy edges. You'll love the sweet coconut flavor of these chewy cookies, plain or dipped in melted chocolate!
We can't get enough of the delicious pairing of chocolate and coconut. Try these homemade Coconut Truffles next! Or give our deliciously moist Coconut Cake recipe a try soon.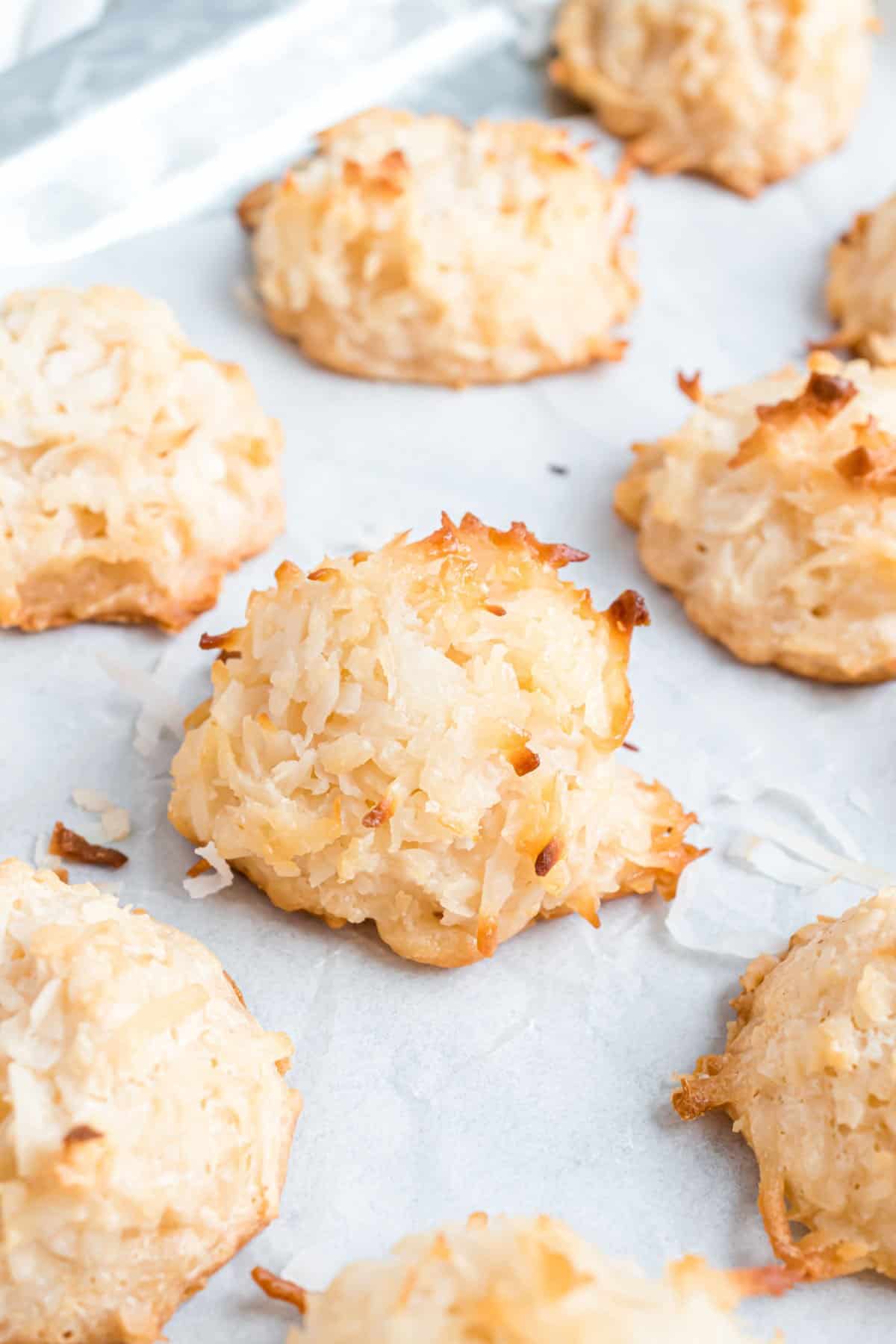 What are Macaroons
Coconut Macaroons are cookies made with shredded coconut and whipped egg whites. They're moist and chewy in the center with a golden brown, slightly crispy exterior.
Coconut Macaroons are naturally gluten free and grain free; no flour needed! In this recipe, we dipped our homemade macaroons in melted chocolate for an extra delicious finishing touch.
Don't confuse Macaroons with Macarons!
Although both have beaten egg whites as a crucial ingredient, macarons are made with finely ground almonds and have a much different taste, appearance and texture.
If you want to learn how to make macarons, I've got the perfect beginner friendly macaron recipe for you.
Today, we're talking about the meringue based cookies that are much more forgiving and easy to make: Coconut Macaroons with or without chocolate!
Ingredient Notes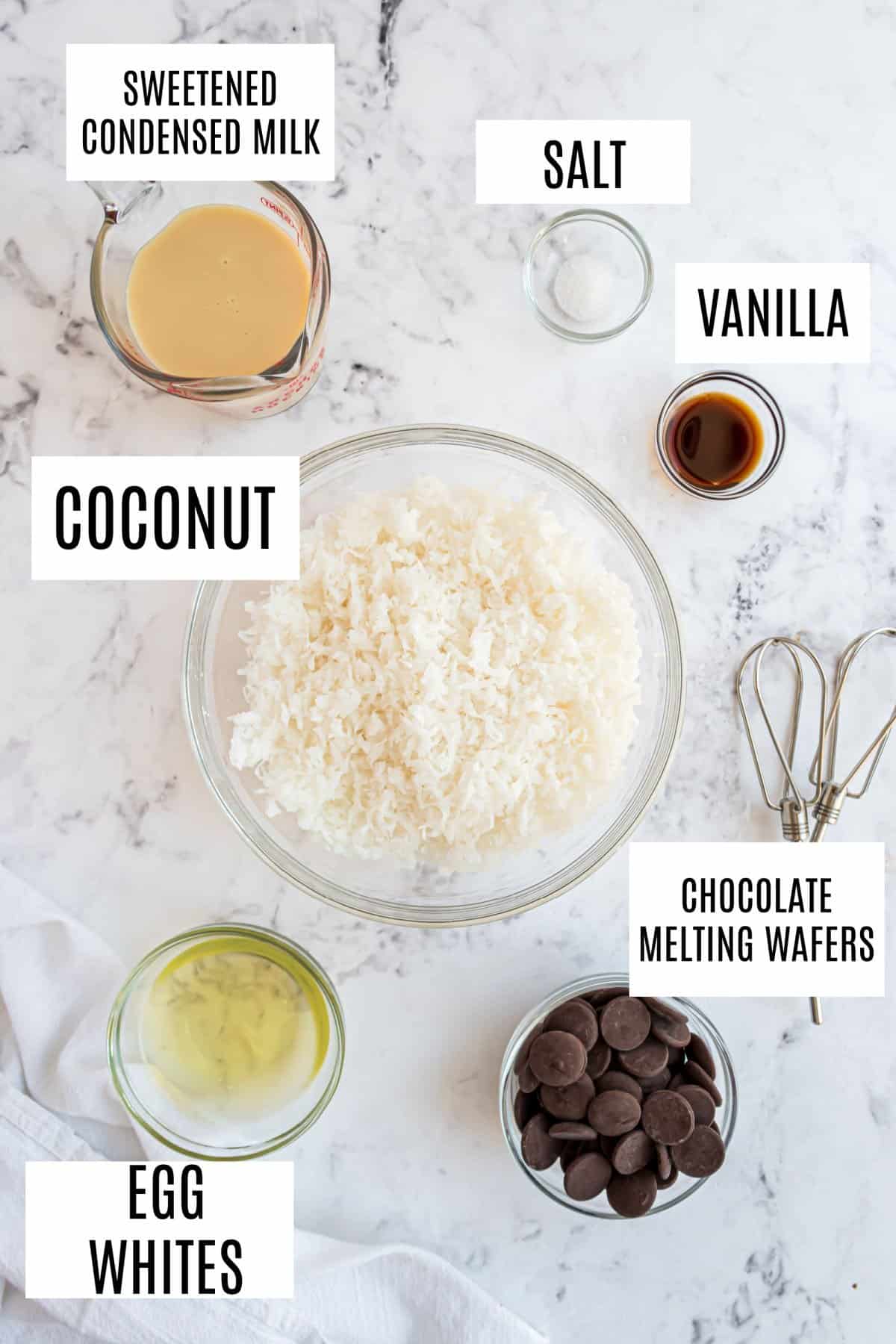 Sweetened flaked coconut is the primary source of flavor in these macaroons. As the cookies bake, the coconut becomes golden brown and crisp. Be sure to break up any clumps before starting.
Sweetened condensed milk – This is NOT the same as evaporated milk. Make sure to check the label on your can to ensure you're using the right one!
Egg whites are beaten to stiff peaks, binding the coconut mixture together and make the center of the macaroons soft and chewy.
Salt and Vanilla- We use our homemade vanilla extract, but if you're using store bought, be sure to choose PURE vanilla. I always use kosher salt in baking, it's larger flakes and has better flavor than table salt.
Dark chocolate melting wafers – This is optional for dipping the baked cookies. I love Ghirardelli brand melting wafers. The chocolate firms up quickly and tastes wonderful.
Tips and Tricks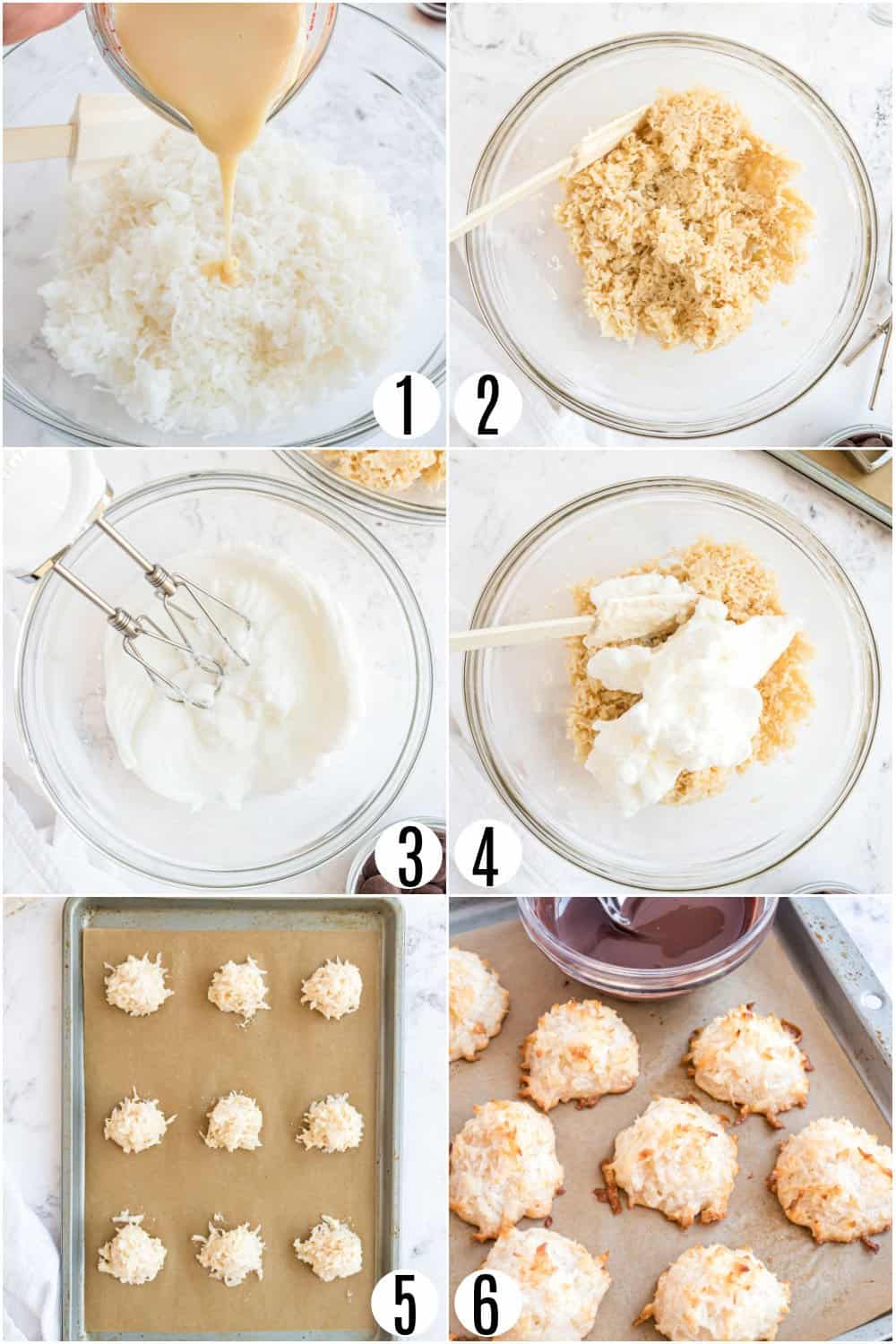 Wondering what to do with leftover egg yolks? Save them and make a batch of homemade lemon curd!
Storing: Store coconut macaroon cookies in an airtight container at room temperature. They stay good for up to 7 days.
Freezing: Wrap the cookies individually in plastic wrap or foil, then place in a freezer safe container. Frozen macaroons will keep well for up to 3 months.
Use a cookie scoop: Portioning out dough with a 1 tablespoon scoop ensures evenly sized and shaped cookies.
Don't over mix. When adding the stiff egg whites to the coconut, be careful not to mix too vigorously. This causes the egg whites to deflate. Use a large spatula or spoon to gently fold in the egg without stirring.
Coconut macaroons are perfect for Passover! These contain no grains or leavening so they are generally considered kosher for Passover.
Dip in chocolate. Use good quality chocolate chips or melting wafers to dip your cooled macaroons. Or drizzle the chocolate over the tops!
Stock up on coconut. You'll want extra so you can whip up an easy Impossible Coconut Pie.
Just add brownies. You heard me right. Stuff this filling in our easy coconut brownies for a unique, but delicious treat.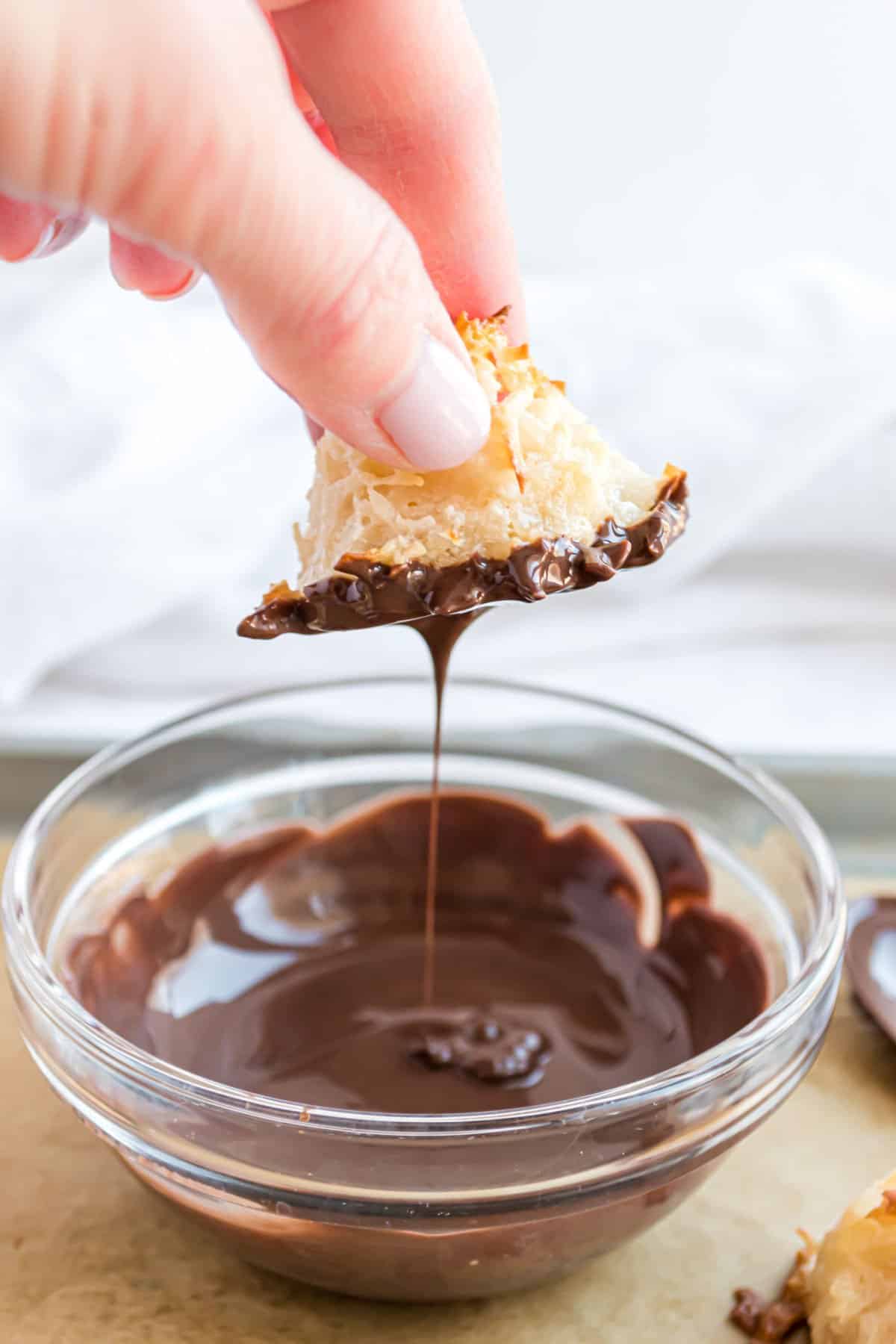 Recipe FAQs
Are macaroons the same as macarons?
Macaroons and macarons are two very different cookies! Macarons are a meringue based cookie made with almond flour and no coconut. We have a handy guide for how to make macarons where you can learn all about the delicate French treats. We love both kinds of cookies, but macaroons are undeniably less tricky to make.
Can I use egg whites from a carton?
I recommend using fresh egg whites for making coconut macaroons. Egg whites from a carton are often more difficult to form into tall peaks.
What causes coconut macaroons to become runny?
If your macaroons are runny, it's usually because the egg whites were not beaten into stiff peaks. They can also get runny if you overmix the dough, causing the egg whites to deflate.
What are stiff peaks?
The u0022stiff peaku0022 stage happens after egg whites turn from yellow and foamy to white and frothy. They will begin to form tips that don't fall down when you take the beater out of the bowl. If you turn the mixing bowl upside down, the stiffened egg whites will stay put.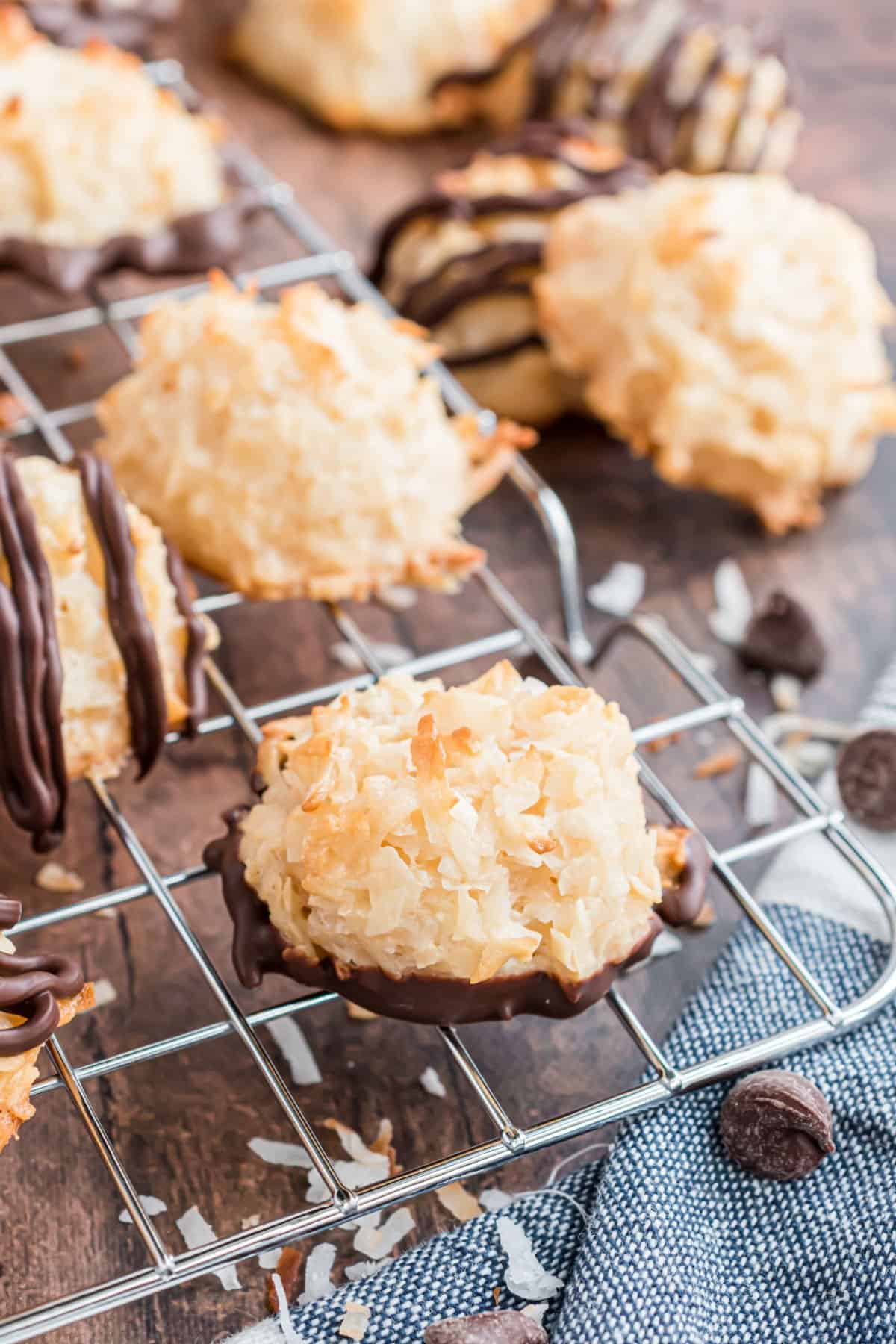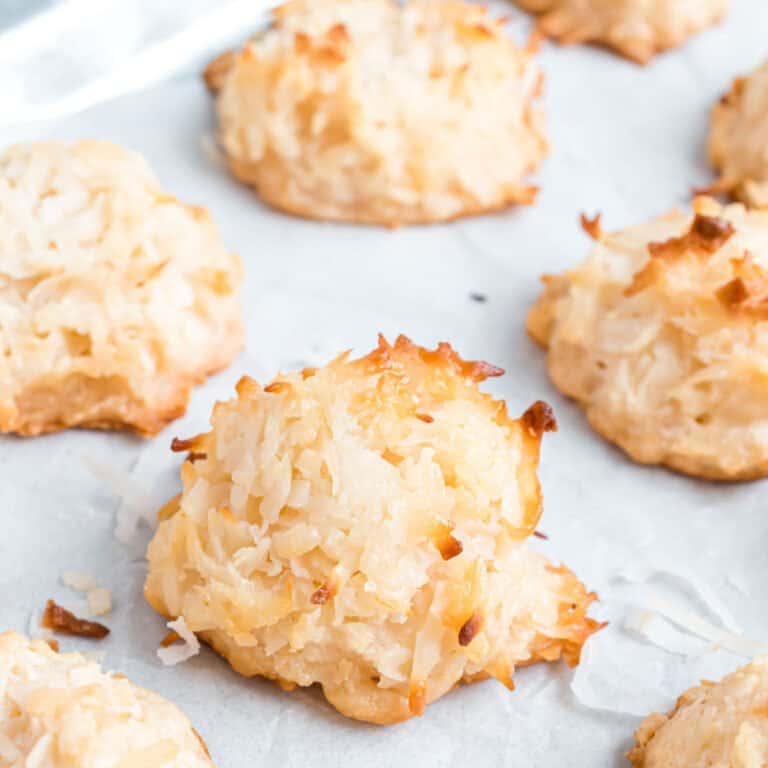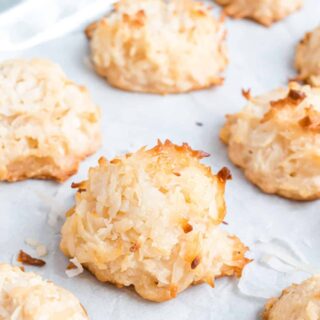 Coconut Macaroons Recipe
These Coconut Macaroon Cookies are perfectly soft on the inside with crispy edges. You'll love the sweet coconut flavor of these chewy cookies, plain or dipped in melted chocolate!
Ingredients
1

bag

14 ounce

sweetened flaked coconut

¾

cup

+ 2 tablespoons sweetened condensed milk

1

teaspoon

vanilla extract

2

large egg whites

room temperature

¼

teaspoon

kosher salt

¾

cup

dark chocolate melting wafers

optional
Instructions
Preheat the oven to 325°F. Line a baking sheet with parchment paper. Set aside.

In a medium bowl, mix together the coconut, sweetened condensed milk, and vanilla extract by hand using a wooden spoon. Set aside.

In a medium mixing bowl, beat egg whites and salt, with a hand mixer, until stiff peaks form.

Fold the egg whites into the coconut mixture until fully incorporated.

Using a 1 Tablespoon scoop, place mounds of coconut mixture onto the prepared baking sheet, spacing about 1-inch apart.

Bake for 21-23 minutes, until the tops and edges are golden brown. Do not overbake!

Let cool on the pans for a few minutes, then transfer to a wire rack to cool completely.

If dipping the coconut macaroons in chocolate, place the chocolate melting wafers in a microwave safe bowl and heat on high for 1 minute. Stir until the chocolate has completely melted and is smooth. Dip the bottoms of the cookies into the chocolate and place on parchment paper to set. The melted chocolate can also be put in a ziploc baggie with the corner cut off for easily drizzling.
Notes
Storage: These cookies are best kept at room temperature, in an airtight container for up to 7 days (or uncovered at room temperature for up to 3 days.)
Freezing: The cookies may be individually wrapped (after baking and cooling completely) and frozen in an airtight container for up to 3 months. When ready to thaw, remove the cookies from the container and let them come to room temperature.
Macaron vs Macaroon. Two very different cookies! Learn how to make Macarons with our easy guide!
This is a moist and chewy cookie that gets better as the days go by. Naturally gluten free! Good cookie for Passover because they contain no grains or levening.
Can egg whites from a carton be used? I recommend using the real deal. Egg whites in the carton are sometimes challenging to get to the stiff peak stage. And some readers will confuse egg whites and egg beaters, which are not the same thing. In this case, fresh egg whites are best.
What are stiff peaks and how long does it take to get there? When you first begin to beat the egg whites, they will look foamy. Around the minute mark of beating, the eggs will start to get more frothy and white. Stiff peaks are reached when the beaters can be lifted out of the mixing bowl and the whites will form tips that don't bend down when the beater is turned upright. The mixing bowl can also be turned upside down and the eggs will stay put. It depends on how fast the mixer is going, but this should take somewhere between 2-4 minutes. If the egg whites aren't beaten to stiff peak stage, the coconut macaroons will turn out runny.
Don't overmix the whites when folding them into the coconut mixture. This can deflate the whites and cause them to separate from the cookie mixture causing puddles to form under the macaroons.
Allow the cookies to cool slightly to set before transferring them to a cooling rack. If they are moved too soon, they will stick to the parchment paper.
Nutrition
Serving:
1
cookie
,
Calories:
45
kcal
,
Carbohydrates:
5
g
,
Protein:
1
g
,
Fat:
2
g
,
Saturated Fat:
2
g
,
Polyunsaturated Fat:
1
g
,
Cholesterol:
1
mg
,
Sodium:
24
mg
,
Fiber:
1
g
,
Sugar:
4
g
If you love coconut, it doesn't get any better than these homemade chocolate-dipped Coconut Macaroons! Naturally gluten free, these cookies are easy to make with the best sweet chewy center.