Strawberry Macarons – The classic meringue cookie baked to perfection with a strawberry buttercream filling. A white chocolate drizzle add the finishing flair to these French cookies!
Once you learn how to make macarons, there's no end to the flavor variations you can create! This delicious strawberry macaron recipe is a new favorite. Try our lemon macarons next, they have a homemade lemon curd filling!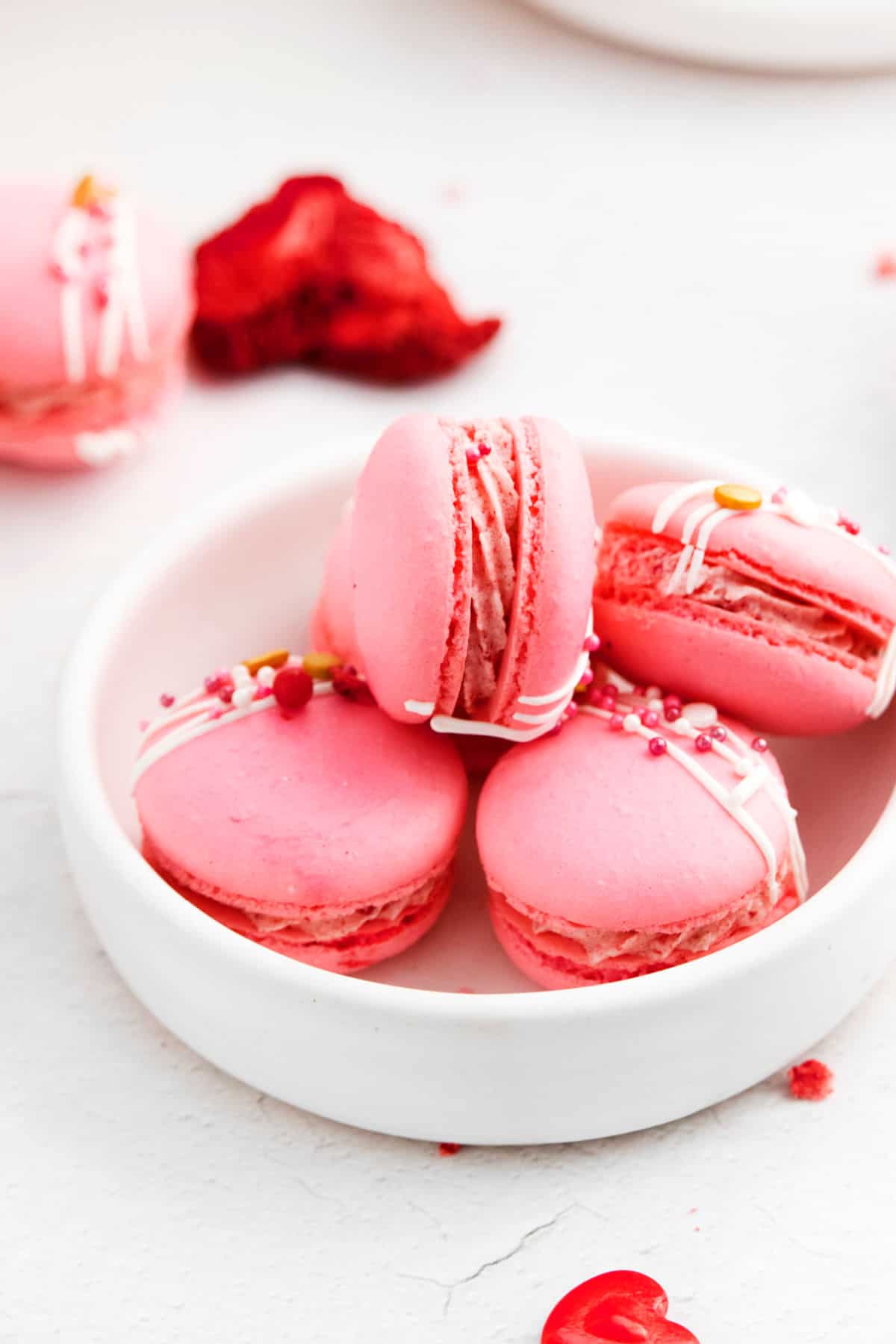 Why this Recipe Works
Macaron recipes have a reputation for being finicky. Like any delicate dessert made with meringue, they require a bit more precision than your average cookie.
This recipe makes it easier by including cream of tartar. This handy ingredient helps stabilize the egg whites.
The cream of tartar make it easier to whip air into the egg whites, resulting in higher stiffer meringue peaks. It also adds a little leavening power to the macarons, holding everything together.
As a result, the macarons bake up with a perfect texture. A bit of crispiness on the edges that yields to a light, melt-in-your mouth crumb.
To make Strawberry Macarons, freeze dried strawberries are added to beaten egg whites to create a strawberry meringue filling. You spread a layer of strawberry meringue between two baked macaron cookies.
Each bite is filled with delicate strawberry flavor and all the great taste you love in a classic macaron!
Don't confuse today's macaron cookie with macaroons! Two very different treats.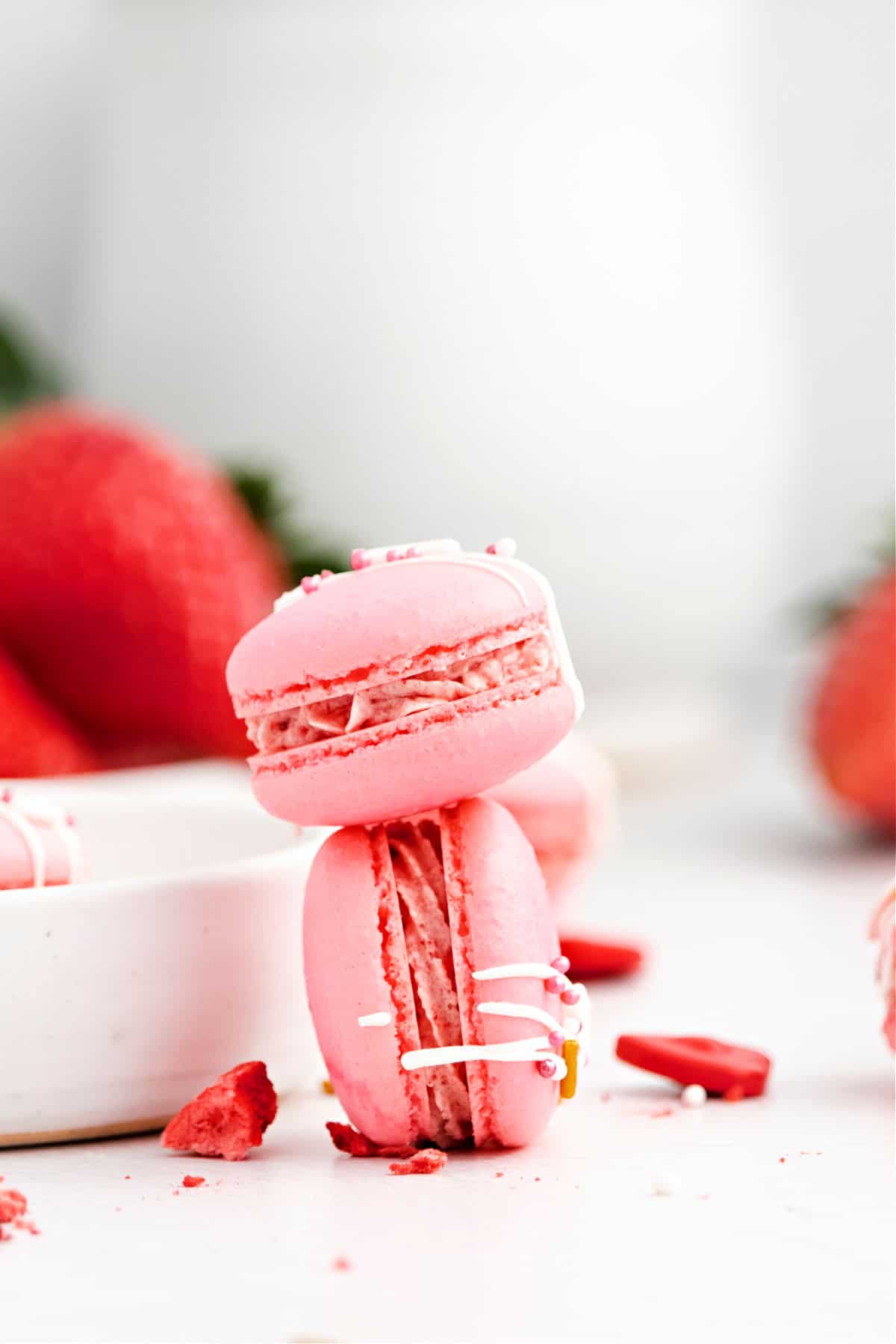 Ingredient Notes
Cream of Tartar. You can find this in powdered form in the baking aisle. If you don't have it, you can make the recipe without cream of tartar. It just might take longer to beat the egg whites.
Freeze dried strawberries. These have a higher concentration of natural sugars than fresh or frozen berries, with much less moisture. You'll pulse them in the food processor to make a powder before adding them to the filling. (You may recall me using these in my favorite Strawberry Frosting recipe)
Almond flour. Not to be confused with almond meal. I use superfine almond flour found in the baking aisle, or sometimes the gluten free section of the store. Do not substitute with wheat flour, you do not want to develop gluten with the egg whites.
Gel food coloring. This ingredient is optional but can be used to add a pretty pink hue to your strawberry macarons.
Step by Step Instructions
STEP 1. Make the macaron batter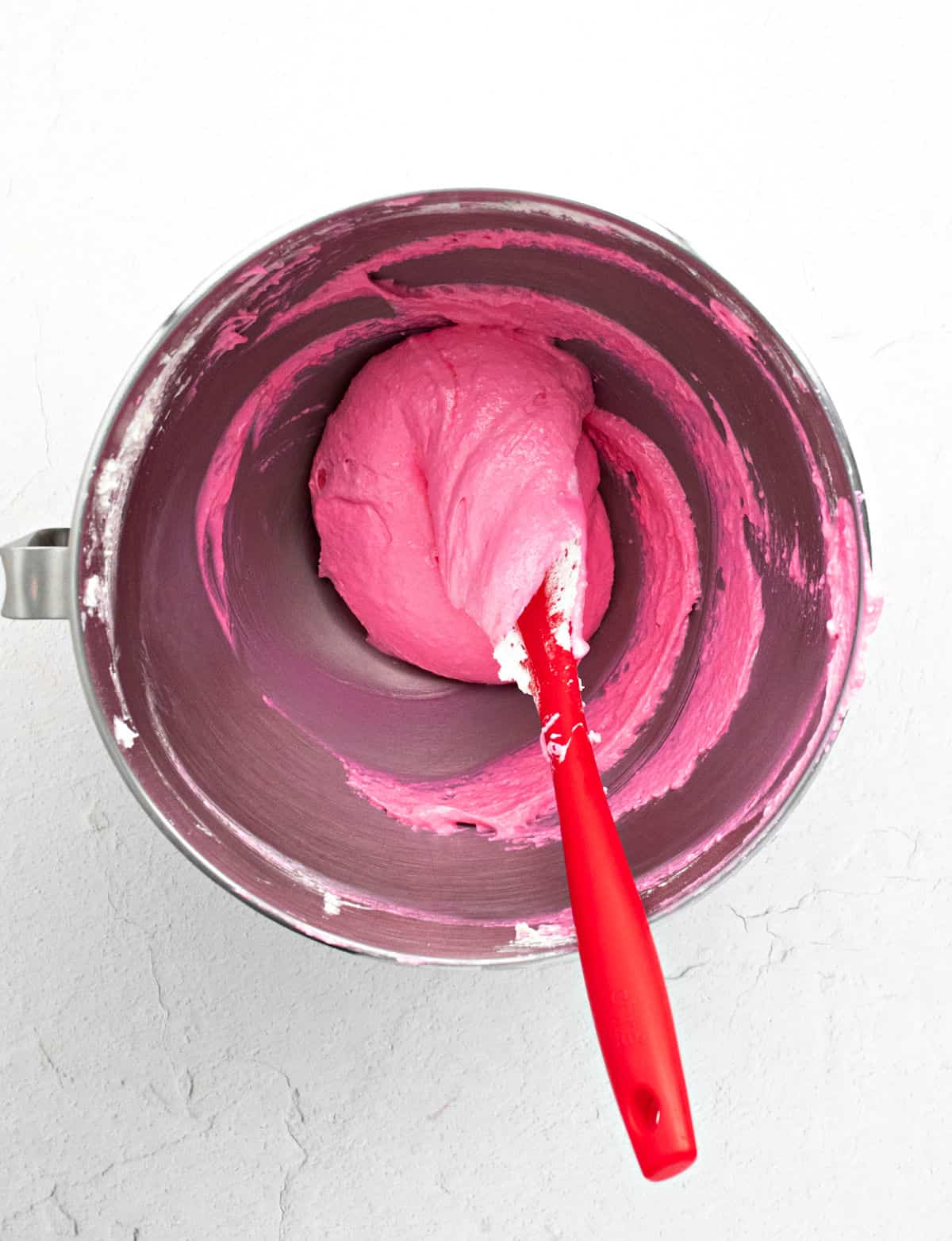 Whisk egg whites in a stand mixer on low speed. When they become frothy, add the cream of tartar and whisk on medium speed.
Add in the sugar a spoonful at a time and continue whisking. Beat on medium high speed until the egg whites form stiff peaks.
In a separate bowl, sift together the almond flour and powdered sugar. Gently fold the sifted mixture into your egg whites.
If you're using gel food coloring, add it once the dry ingredients have been completely incorporated.
Now you'll "smush" he batter against the sides of the bowl with a spatula to deflate it slightly. Keep folding until the macaron batter is thick and stretchy, like lava.
Test the meringue by drawing a figure 8 with the batter. The stream of batter should flow without breaking. If it breaks, smush and fold it again and repeat until the right consistency is achieved.
Transfer it to a piping bag fitted with a round tip.
STEP 2. Bake the macaron shells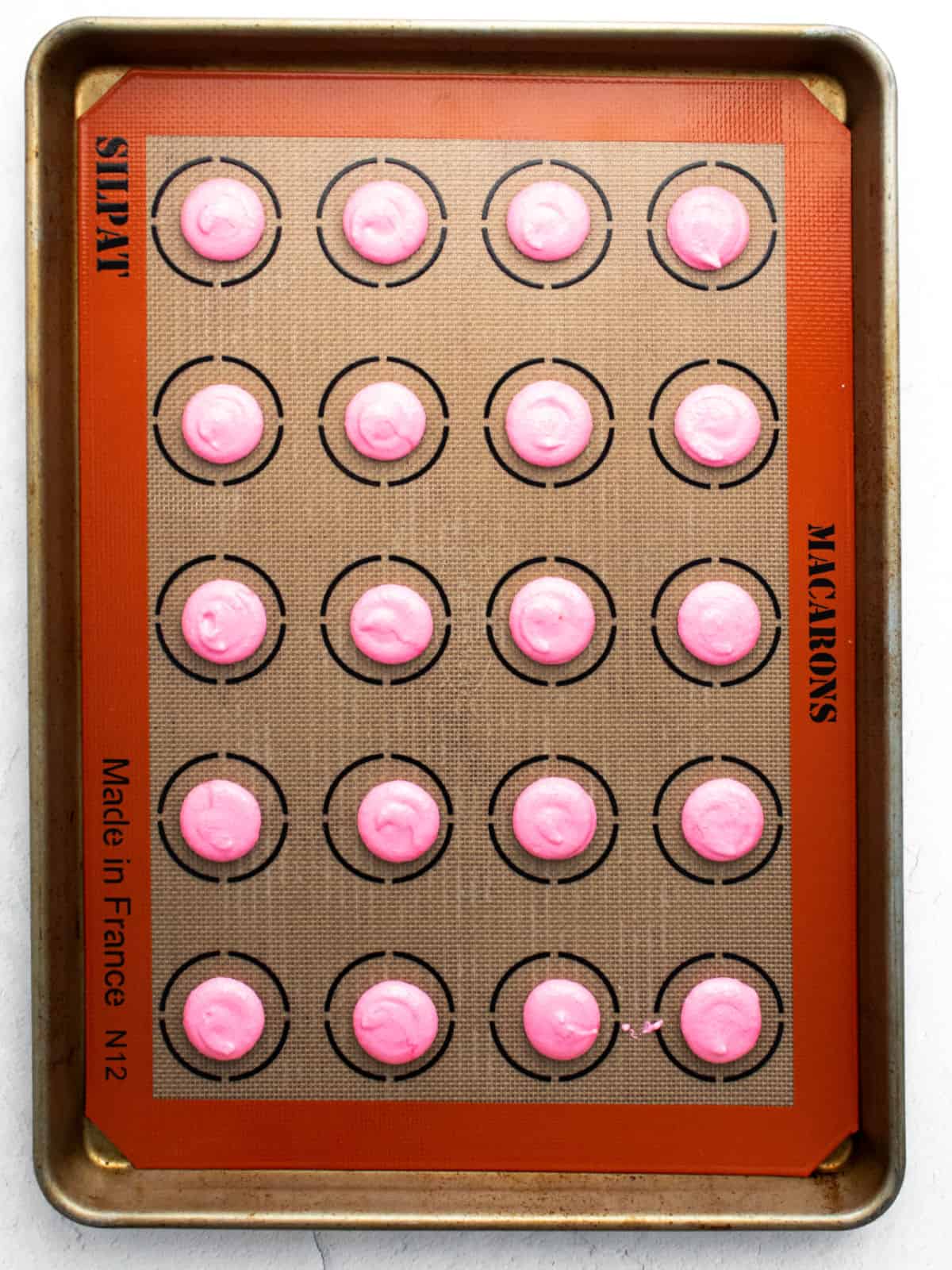 Pipe macarons in round shapes onto a parchment lined baking sheet. Let the unbaked macarons rest until a thin "skin" forms on top. Meanwhile, preheat the oven to 325 degrees F.
Bake for 7 minutes. Rotate the baking sheet in the oven and bake for another 7 minutes. Remove from the oven and let the macarons cool completely on the baking tray.
STEP 3. Make the strawberry macaron filling
Pulse the freeze dried berries in the food processor to form a powder. Heat water to medium-high heat in a sauce pan then place a heat safe bowl over the water.
Whisk eggs whites and sugar in the bowl over the saucepan until the sugar dissolves. Transfer the egg whites to the stand mixer and beat to form stiff peaks.
Add butter one tablespoon at a time to incorporate it with the meringue. Then stir in the freeze dried strawberries. Place the filling in a frosting bag.
STEP 3. Assemble the Strawberry Macarons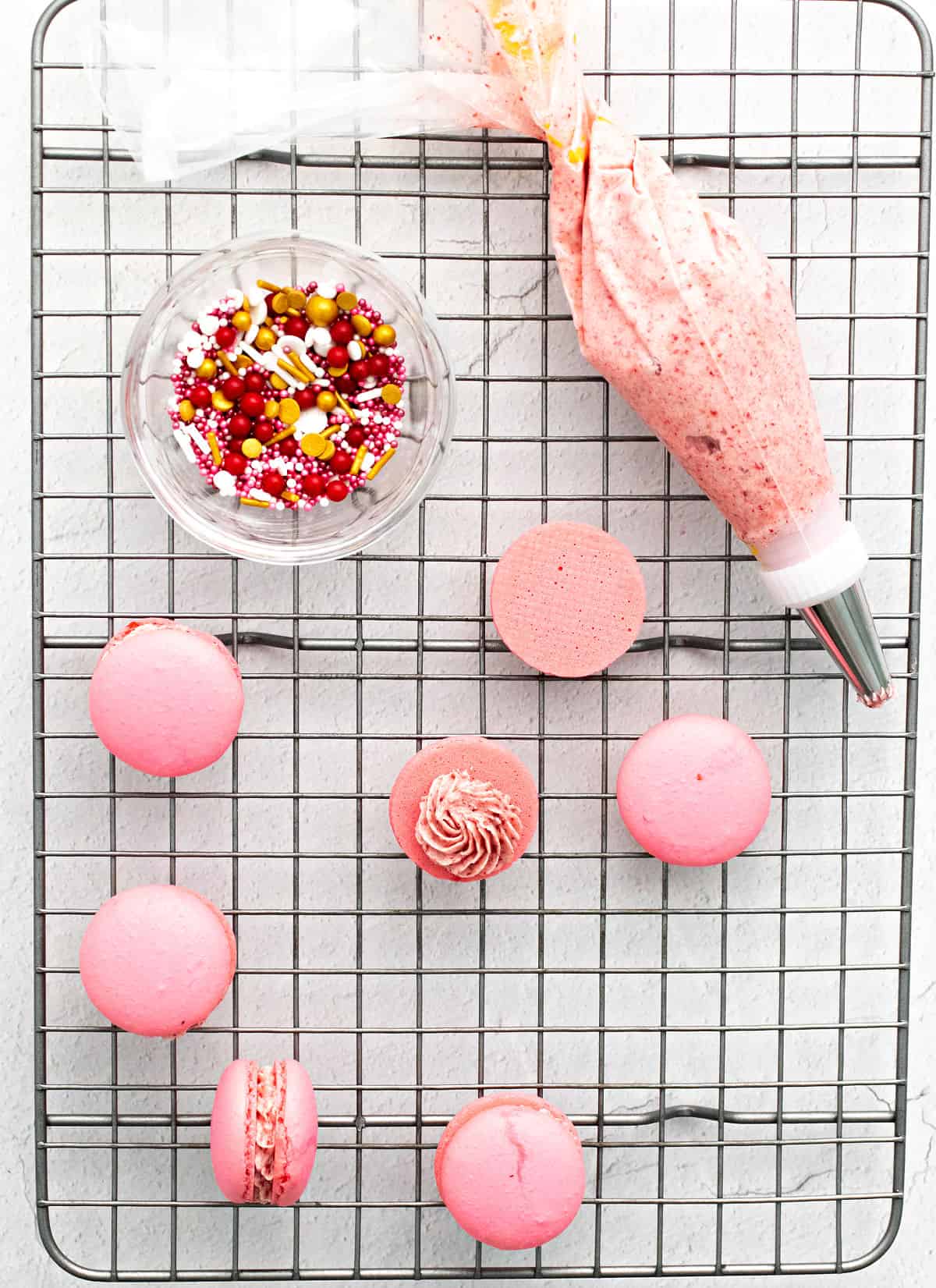 Match the macarons into equally sized pairs. Pipe a dab of strawberry filling onto one of the macarons. Press the second cookie gently onto the first.
Repeat until all the macarons have been assembled. Drizzle melted white chocolate over the macarons and add sprinkles if you like!
Let the chocolate harden for a few minutes, then transfer to an airtight container.
STEP 4. Age the macarons
Store the macarons in the fridge overnight before serving. This step helps soften the macarons making them even more delicious!
Tips and Tricks
Use an electric mixer. A stand mixer is my preferred tool for whipping egg whites to make meringue. You can use the whisk attachment for beat the egg whites, then switch to a paddle attachment when mixing butter into the filling.
How to keep strawberry filling from breaking. If your filling begins to break when adding the butter, microwave 1/4 cup of the filling to melt it. Then, add the melted filling back to the rest while mixing until it comes together.
Bring strawberry macarons to room temperature before serving. This gives them the best consistency and flavor.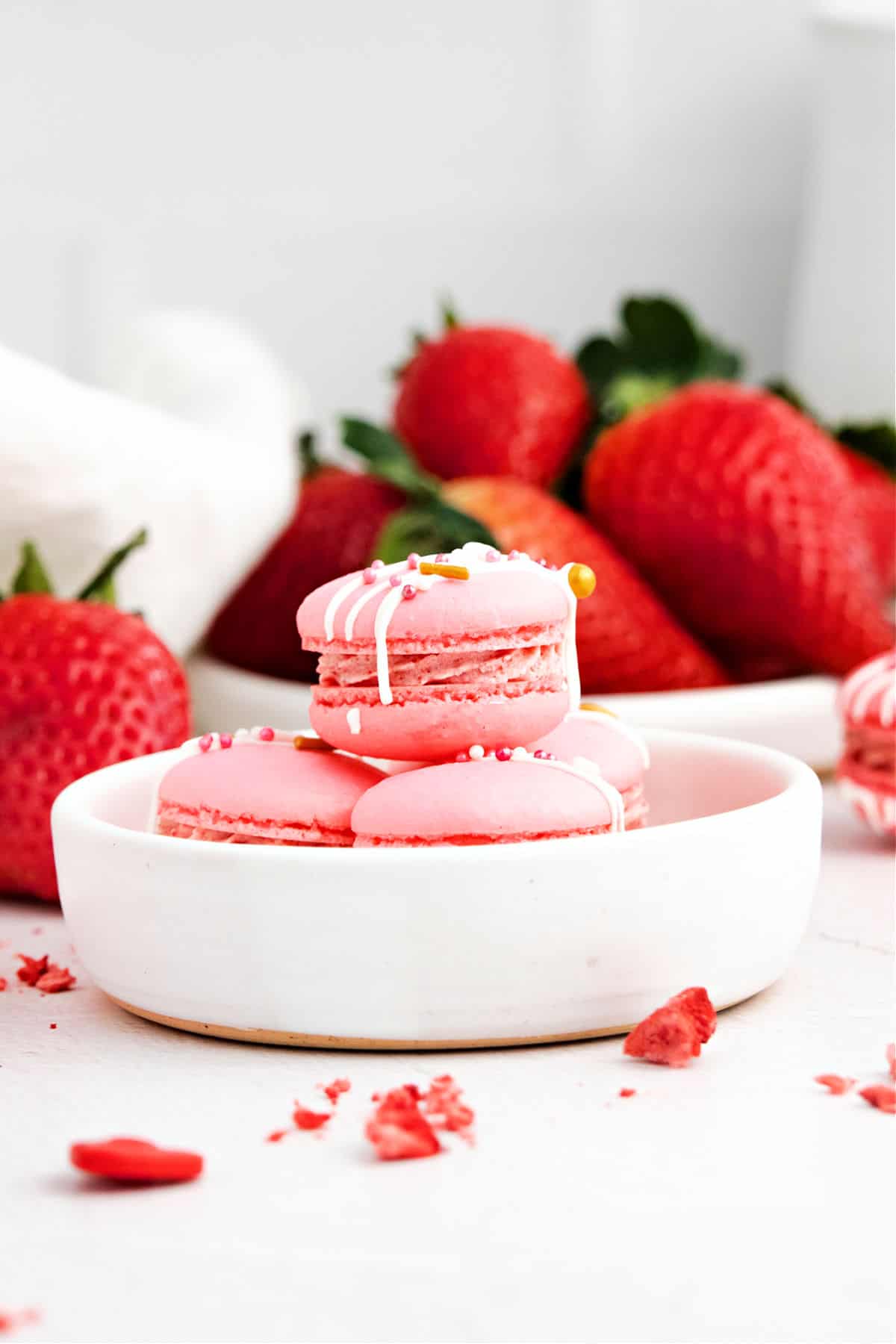 Recipe FAQs
What does it mean for macaron batter to have a "lava consistency"?
The lava consistency or lava stage of macaron batter means it's ready to bake. It will flow off of your spatula in ribbons without breaking or plopping. The amount of folding needed to achieve this consistency depends on factors like climate, air moisture, and meringue stiffness. That's why it may take different amounts of folding and smushing each time you make the macarons.
How much food coloring do you add to the batter?
I added 1/8 of a teaspoon of Wilton Pink Gel coloring to make the Strawberry Macarons pink.
Can I use regular flour in Macarons?
No, regular flour will not work in macaron recipes. Regular flour will interact with the egg whites and develop gluten. Almond flour creates that light and crisp texture.
Can I make macarons using another flavor?
Yes, you can change up the flavors of macarons by using different freeze dried fruit. Run it through your food processor to form a powder and add to the recipe as directed.
Can macarons be eaten without chilling in the fridge?
Yes, you can eat these right away after cooling, however the texture will be more crispy. Aging helps the macaron cookies soften.
You'll love the amazing sweetness and texture of this Strawberry Macarons recipe! The perfect elegant treat to impress all your family and friends.