Pistachio Macarons bring a little nuttiness to the dainty French cookie! Decadent meringue based cookies are held together with a pistachio buttercream frosting. Impress your family and friends with these perfect homemade macarons.
I love making perfect delicate macaron cookies in all kinds of flavors. Read my ultimate guide for How to Make Macarons for all the tips and tricks you need!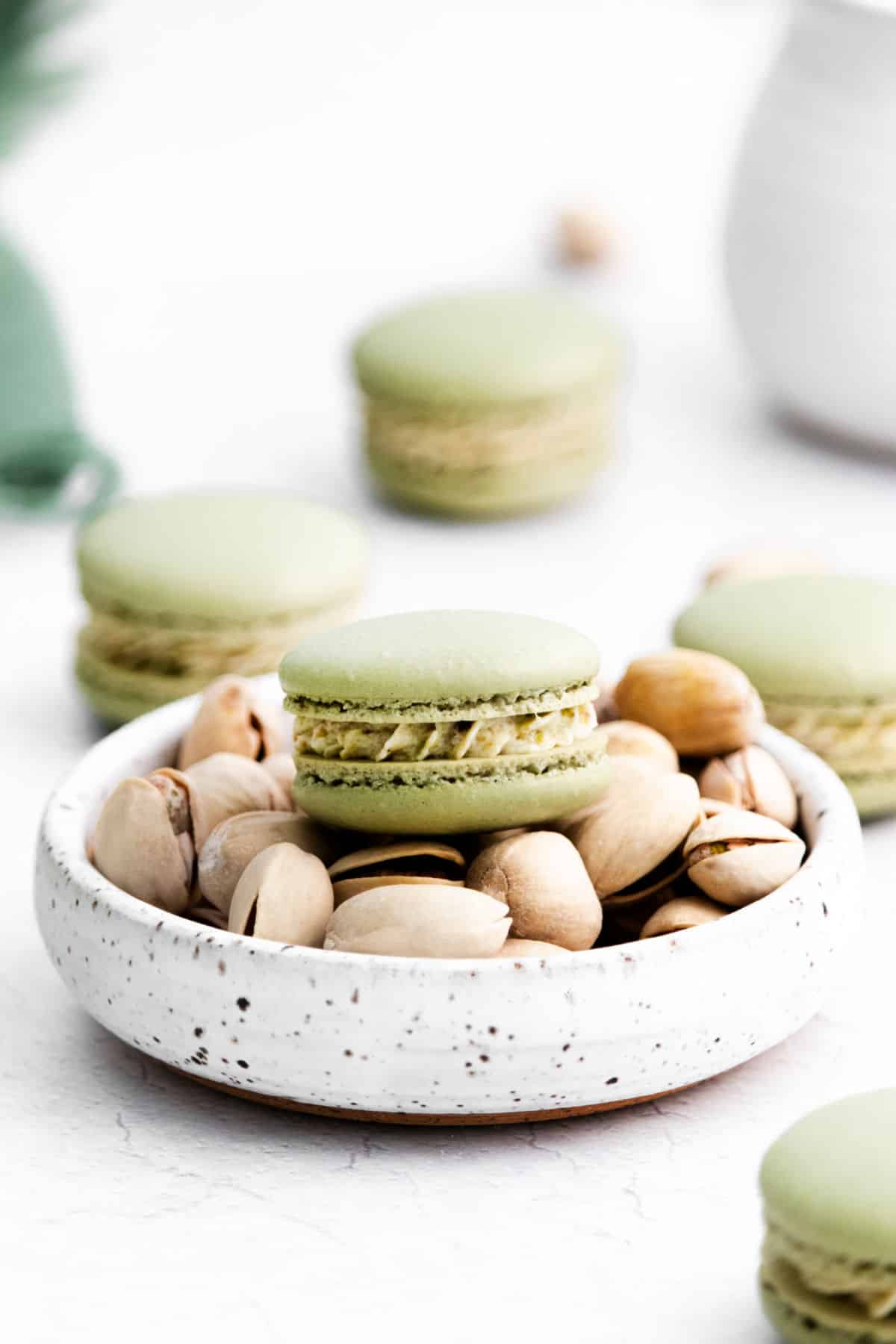 Why this Recipe Works
Let's get one thing out of the way: macarons take a little care and attention. They're not the most forgiving of cookies to make–which is one of the reasons they're so impressive!
But never fear. With a good recipe you CAN make homemade macarons! And this Pistachio Macarons recipe is the BEST.
What's life without a little challenge, right?
The combination of almond flour, caster sugar and egg whites in the shells creates a cookie that's everything a macaron should be. They're sweet with a crunchy exterior that melts in your mouth as you take a bite.
Ground pistachios blended right into the buttercream filling add an amazing nut flavor to the sweet filling. These are macarons worth swooning over!
Ingredient Notes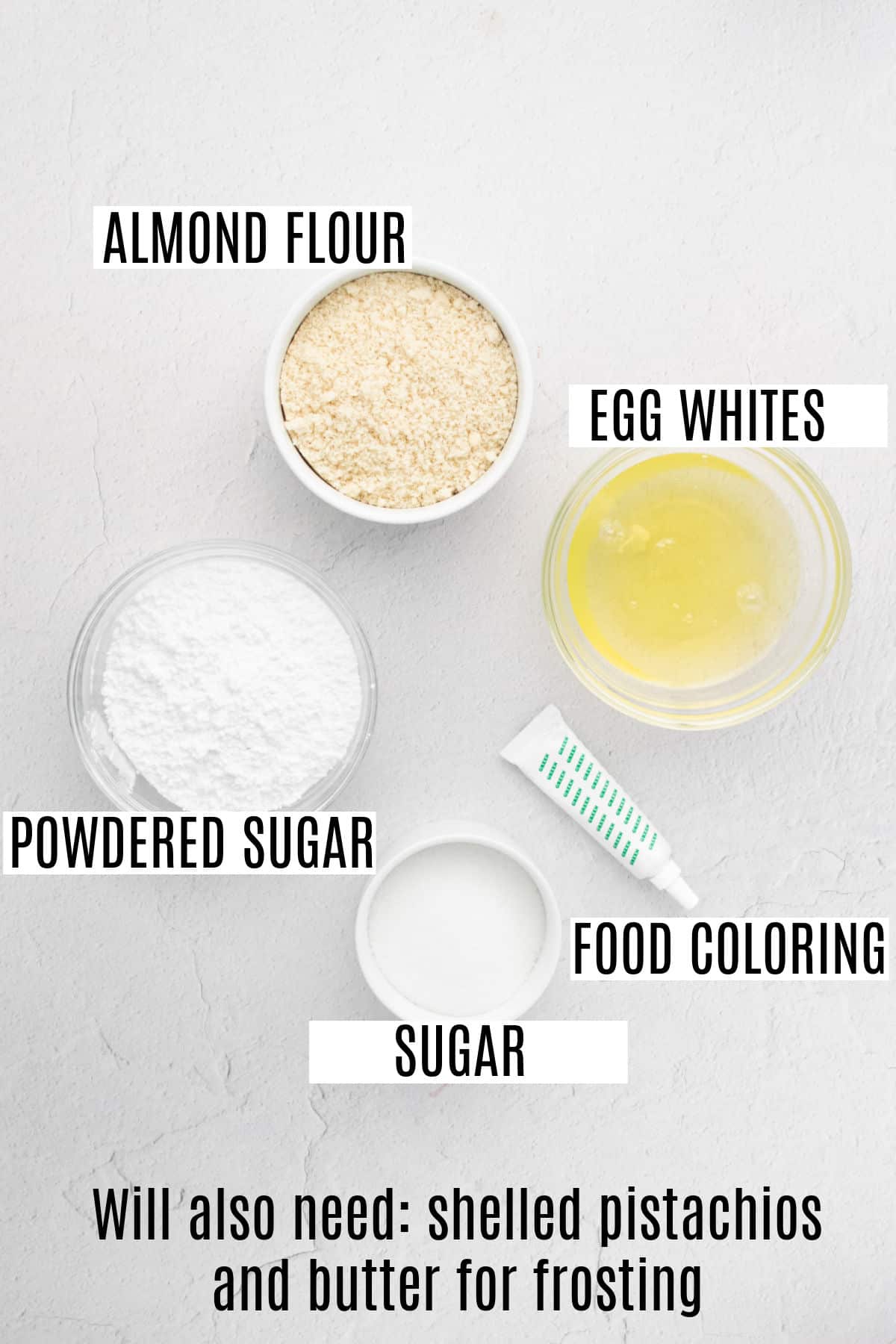 Almond flour. Not to be confused with coarser almond meal, this flour is an essential ingredient in any macaron. I use Besti Super Fine Almond Flour for best results.
Gel food coloring. This is optional if you'd like to add some green pistachio color to your shells.
Cream of tartar. Using cream of tartar helps create stiff peaks more quickly and consistently. If you don't have it, go ahead and make the recipe without.
Pistachios. If you buy them in shells, remove the shells before using.
Tips and Tricks
Use a metal bowl: Making meringue in a glass bowl results in stiffer peaks as the egg whites stabilize. More air will be incorporated too, giving the pistachio macarons the best consistency.
Measure precisely: I recommend a kitchen scale for this recipe if possible. The more precise your measurements, the better your results.
Check your oven temperature: Investing in an oven thermometer will help all your homemade treats turn out better! Most home ovens don't measure temperature accurately. The proper oven temperature is essential when making macarons.
Use two sheet pans: Bake the macaron shells on two sheet pans (one stacked on top of the other. This helps with insulation so the bottoms of the shells don't become over heated. Good quality aluminum pans yield best results.
Use the 'Figure 8' test: During the macaronage stage of the instructions, doing the 'Figure 8 test' after every fold helps ensure you reach the perfect lava-like macaronage consistency. Draw a figure eight with the macaron batter. If it flows smoothly off the spatula, it's ready to pipe onto the baking sheet.
Give our lemon macarons a try next! Filled with a homemade lemon curd frosting.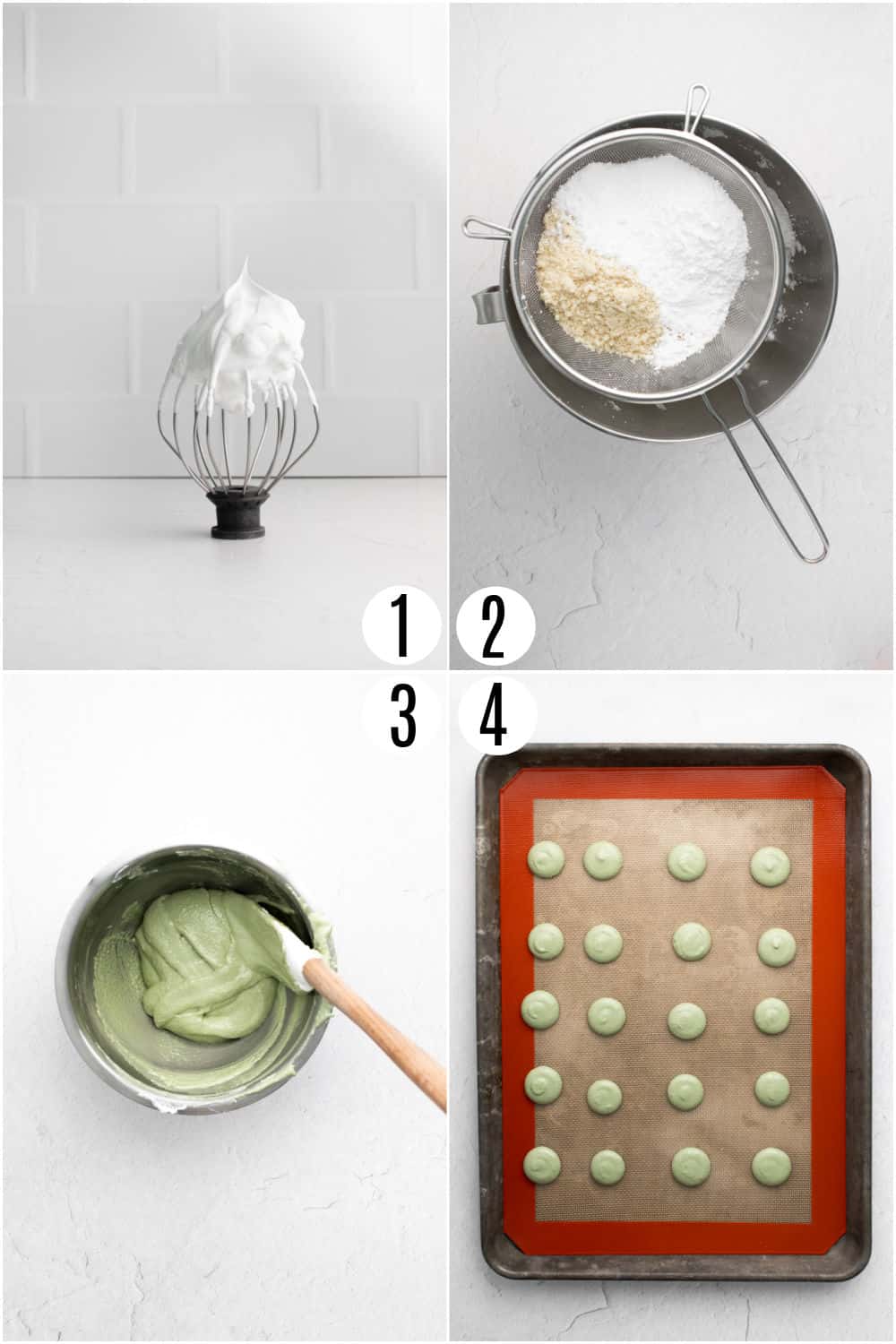 Recipe FAQs
What's the difference between soft peaks and stiff peaks when making meringue?
There's a simple test to determine soft peaks vs stiff peaks: soft peaks will lean to the side of the bowl. You'll notice a curl at the top. Stiff peaks will stand upright and point upward.
My almond flour looks wet and oily. What can I do about it?
If your almond flour seems damp when you open the package, transfer it to a baking sheet. Bake at 300 F for 8 to 10 minutes to dry it out.
My pistachio macaron filling got crumbly. How can I fix it?
If your filling breaks or crumbles when mixing, microwave 1/4 cup of the buttercream to melt it. Return the melted filling to the bowl and mix it back in with the rest.
Why did my filling get thin and watery?
If your filling got watery, it means the butter probably melted. Place the bowl of filling in the fridge for a few minutes to let it firm up.
Do you have to age the pistachio macarons before eating them?
No one will come arrest you if you eat these macarons right away, but trust me: waiting until the next day makes them SO much better!
Plan ahead of time to make the pistachio macarons the day before you want to serve them. You won't regret it!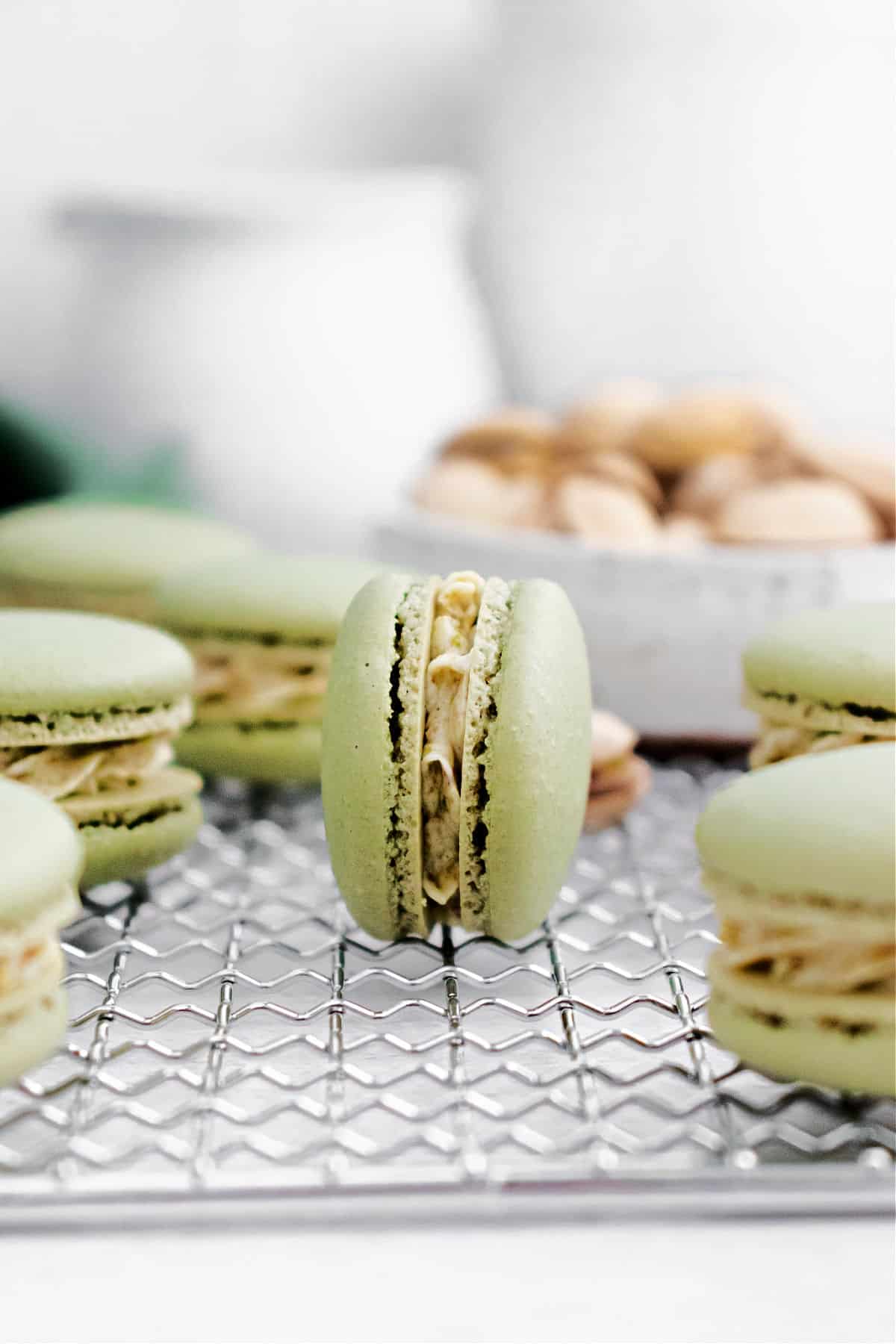 Once you try this delicious Pistacho Macaron recipe you'll be convinced: pistachios and macarons were made for each other! Follow my instructions for deliciously perfect meringue cookies every time.