Indulge in these Lemon Macarons with lemon curd filling. Zesty lemon flavor meets sweet macarons in this elegant and cheerful cookie! I'll share tips and tricks to make this sweet magical macaron cookie.
I've been on a macaron kick lately! Use my guide for How to Make Macarons for macaron success every time. Our Strawberry Macarons are a huge hit for the holidays.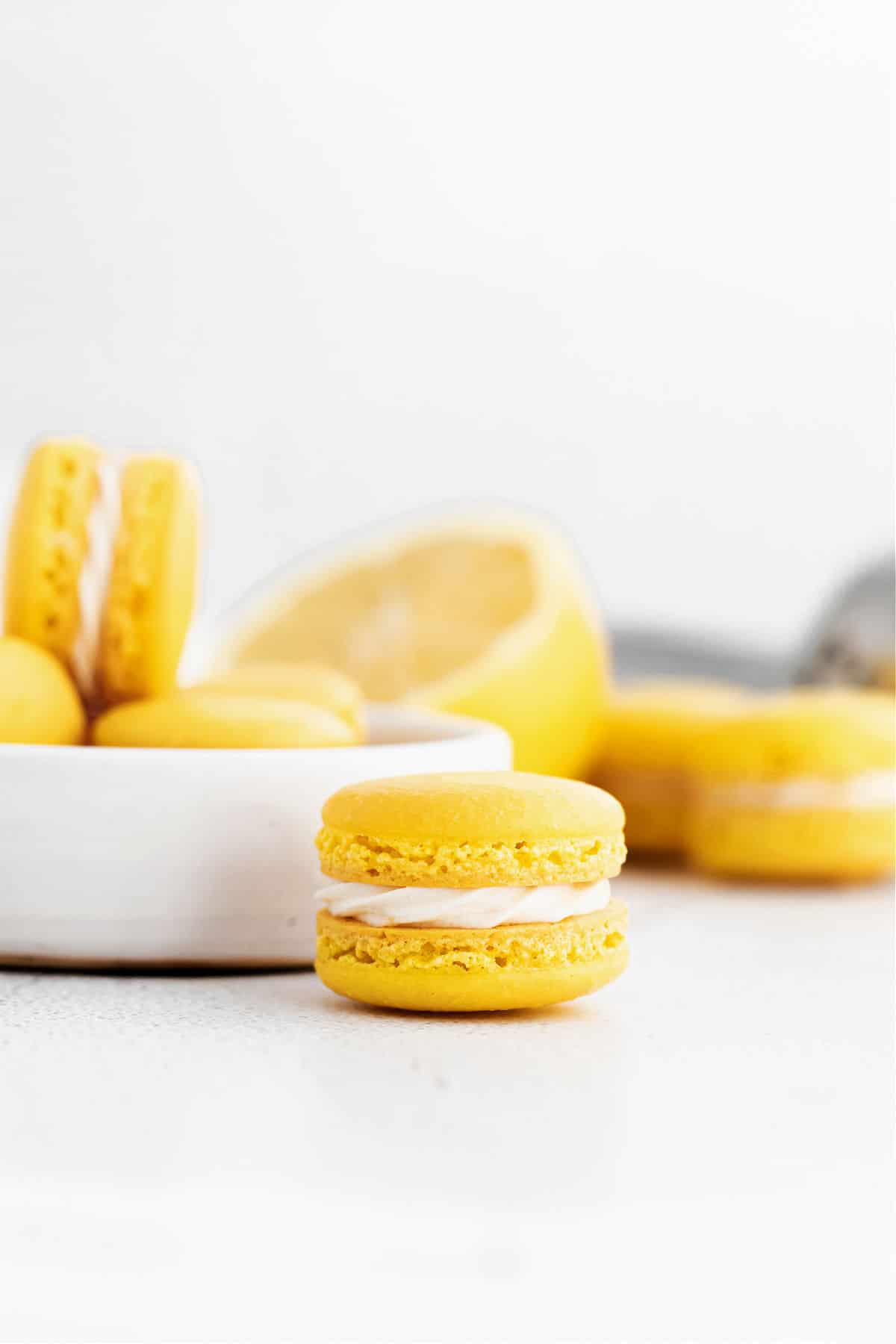 Why this Recipe Works
Not all macaron recipes are created equal. If you've made unsuccessful attempts at homemade macarons in the past, you're not alone!
This recipe walks you through each and every step of make perfect lemon macarons. Need a few more reasons to try this recipe?
No wasted egg yolks. If you make Homemade Lemon Curd for the filling, you can use the yolks you already separated from the egg whites in the meringue.
Amazing lemon flavor. Using both lemon curd AND extra lemon zest in the filling gives these a bright fresh citrus taste. Nothing artificial tasting here!
Perfect texture. The macarons have a crisp outer layer that yields to a soft and fluffy inside.
As a reminder, these french macarons are very different for our macaroons recipe! Those are coconut cookies made with egg whites as well.
Ingredient Notes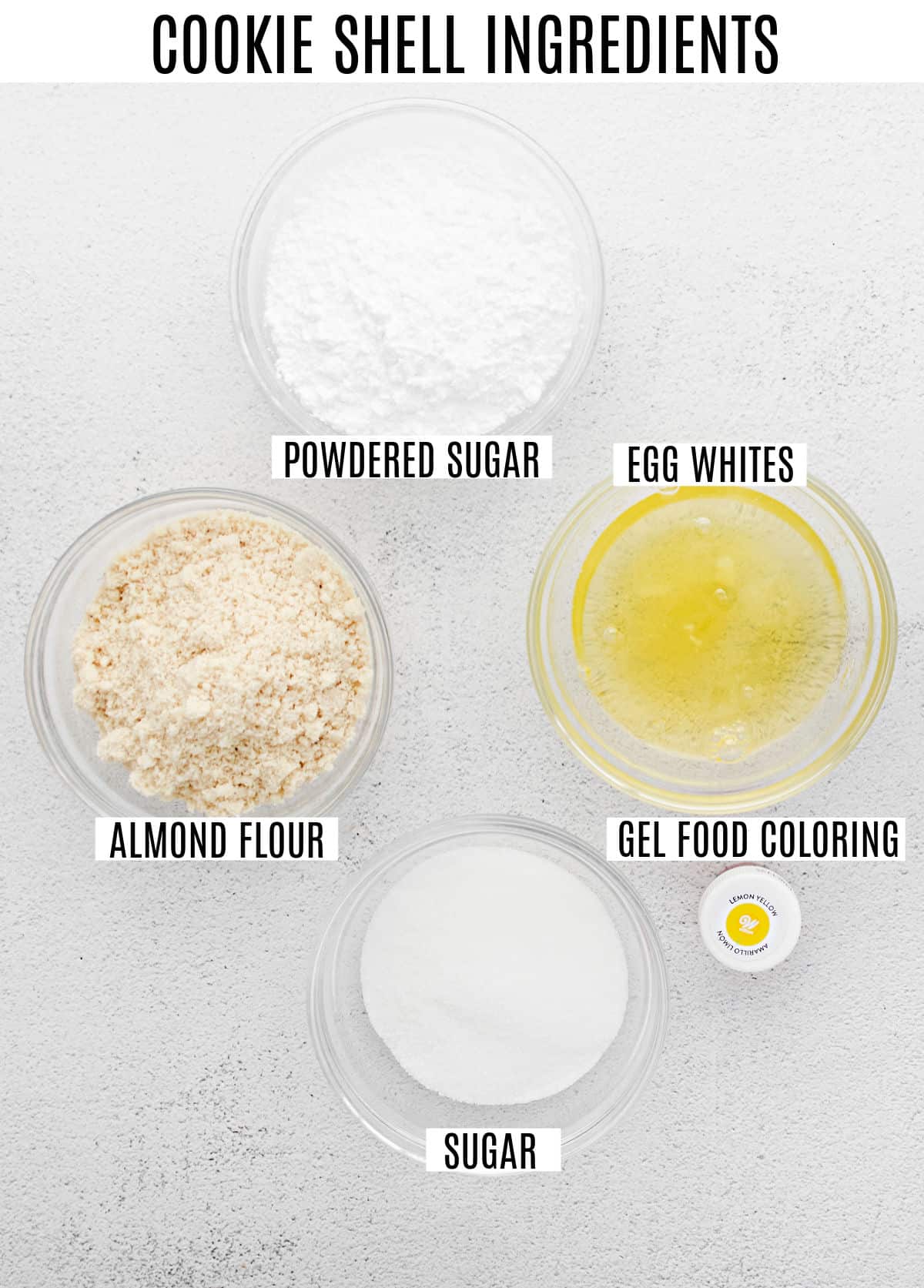 Lemon curd. I love homemade lemon curd but store bought can be used if preferred.
Almond flour. Use superfine almond flour (not to be confused with almond meal) in the macaron shells. This is our favorite brand on Amazon.
Cream of tartar. This ingredient is optional but makes it much easier to whip the egg whites into stiff peaks.
Powdered sugar. You can also use caster sugar if you prefer. If you ONLY have granulated sugar, pulse it in a blender or food process until fine in texture.
Food coloring. To get the beautiful lemon hue, use a gel food coloring. Liquid food colorings require MORE, and they will destabilize the stiff peaks of egg whites.
Fresh lemon. You'll want to use fresh lemon zest in our filling!
Tips and Tricks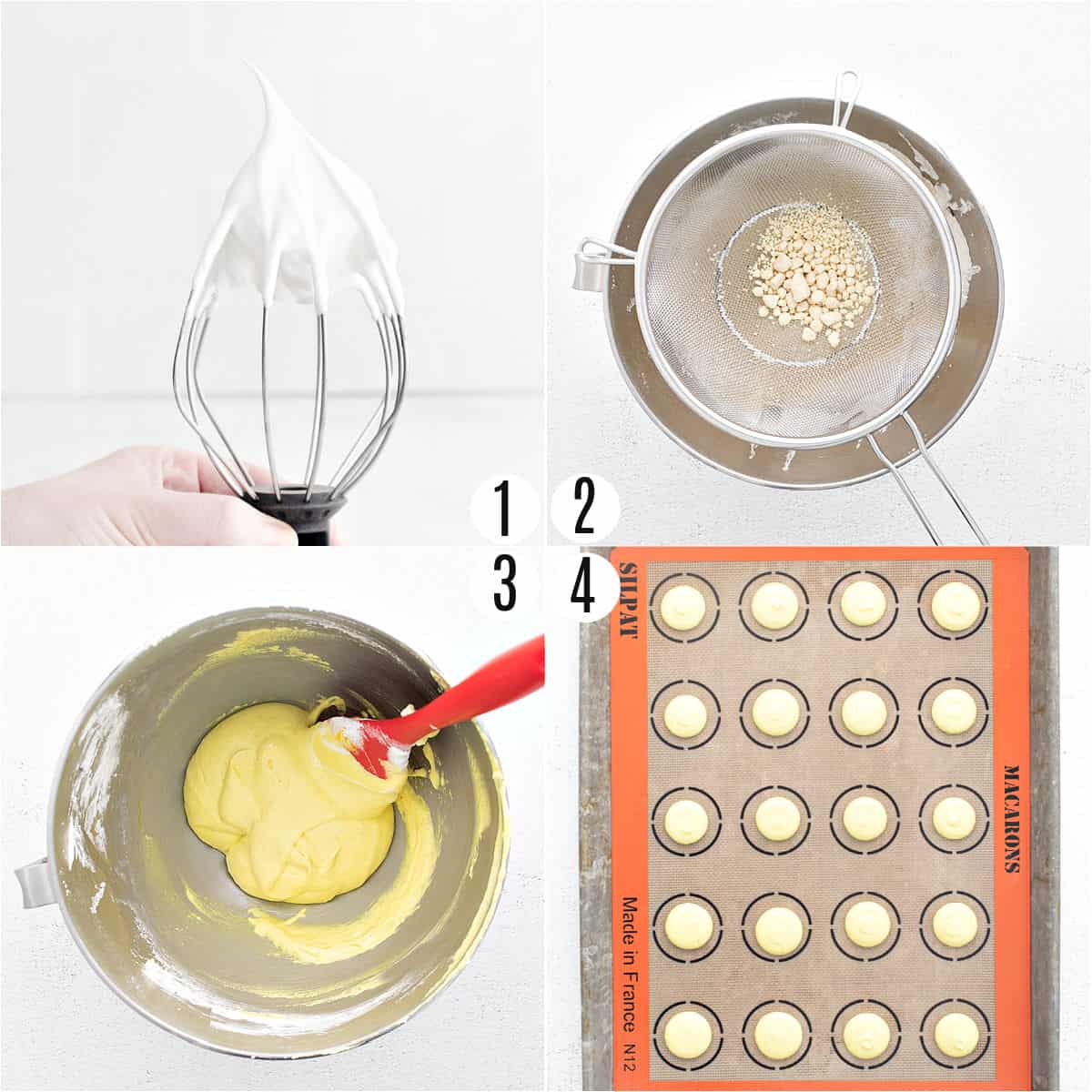 Test macaronage. Before piping the macaron shells onto the baking sheet, use the "figure 8" trick to test the consistency of the macaronage. Trace a figure 8 with the batter after each fold. It should flow off the spatula in ribbons, like lava.
Use a metal bowl. A cold metal bowl helps meringue stiffen.
Soft vs. Stiff Peaks: A soft peak leans to the side and curls at the top. A stiff peak stands straight up with the peak pointing upwards.
Check oven temperature. Most home ovens don't have accurate temperature gauges. Investing in an oven thermometer helps guarantee you bake the macaron shells at the correct temperature.
Sheet Pans. My number one trick for perfect macarons is to double up your sheet pans! I use USA Pans— good quality aluminum pans— and I double them to insulate the macarons and prevent the bottoms from becoming overheated (which could lead to browning and/or spreading).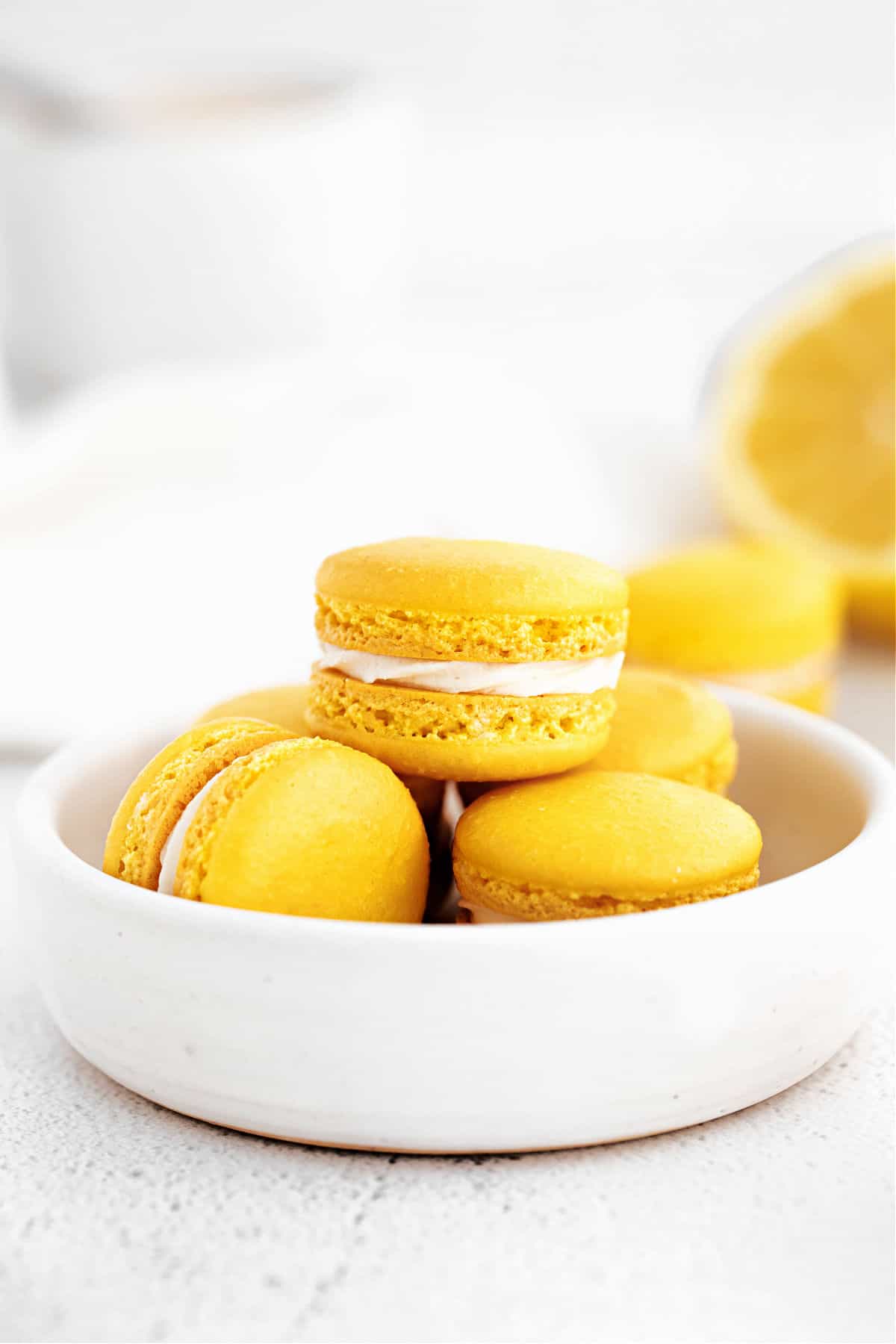 Recipe FAQs
What's the difference between soft and stiff peaks?
Soft egg white peaks will curl at the top. Stiff peaks should have a point that stands straight up and does not lean.
Why are my macaron shells hollow?
If your macaron shells are hollow after baking the culprit is usually overwhipped egg whites. Over beating breaks up some of the proteins in the egg white.
Avoid this by beating your meringue just until you see the first stiff peaks form.
Why are my macarons flat?
If your macaron shells spread outward instead of rising upward as they bake, you may have under whipped your egg whites.
How to prevent my macarons from browning?
If your macarons tend to brown on top: Cover the top of the pan with aluminum foil half way through baking.
If the bottoms of your macarons are browning: Add another sheet pan underneath the first one. This insulates the bottom of the shells to prevent browning.
How long do you have to age macarons?
Lemon Macarons will taste best if you let them rest overnight before enjoying. They keep well in the refrigerator for up to 2 days.
Want even more tips and tricks for making homemade macarons? Don't forget to read my complete step by step guide for mastering these delicately delicious French treats.