Learn how to make Coconut Truffles at home! These chocolate-dipped treats have a soft, creamy coconut center and a sprinkle topping for extra flair. Homemade truffles are the perfect gift for any occasion–but they taste so good you might not want to share!
Skip the store bought candy and make your own instead. If you like this Coconut Truffles recipe, add these Pecan Pie Truffles to your list next. Or give our decadent Samoa Truffles a try.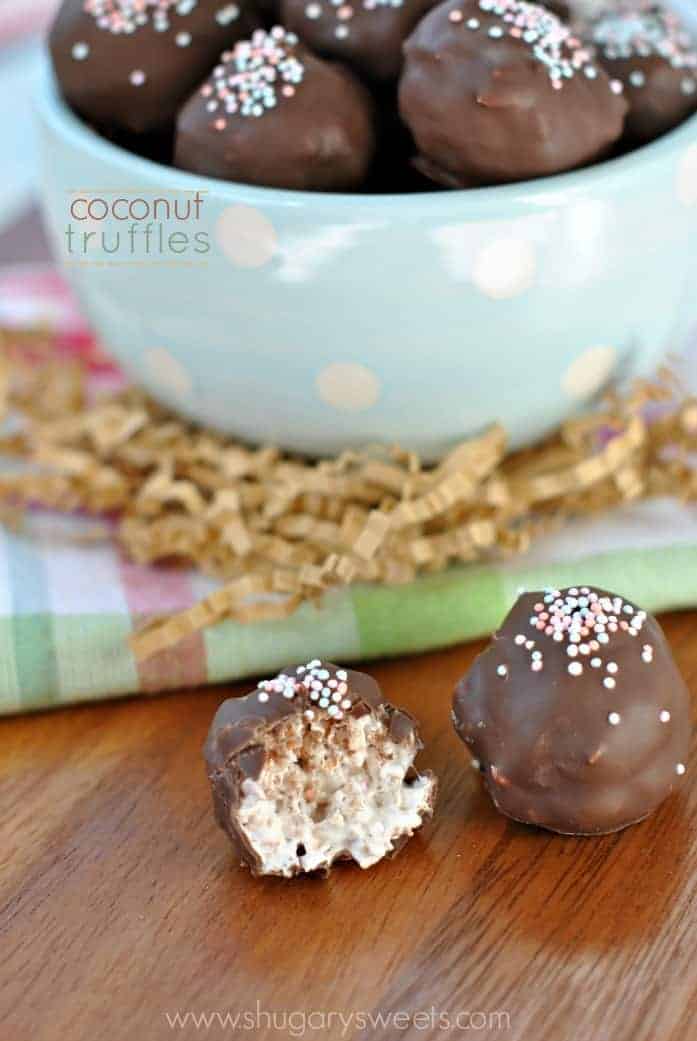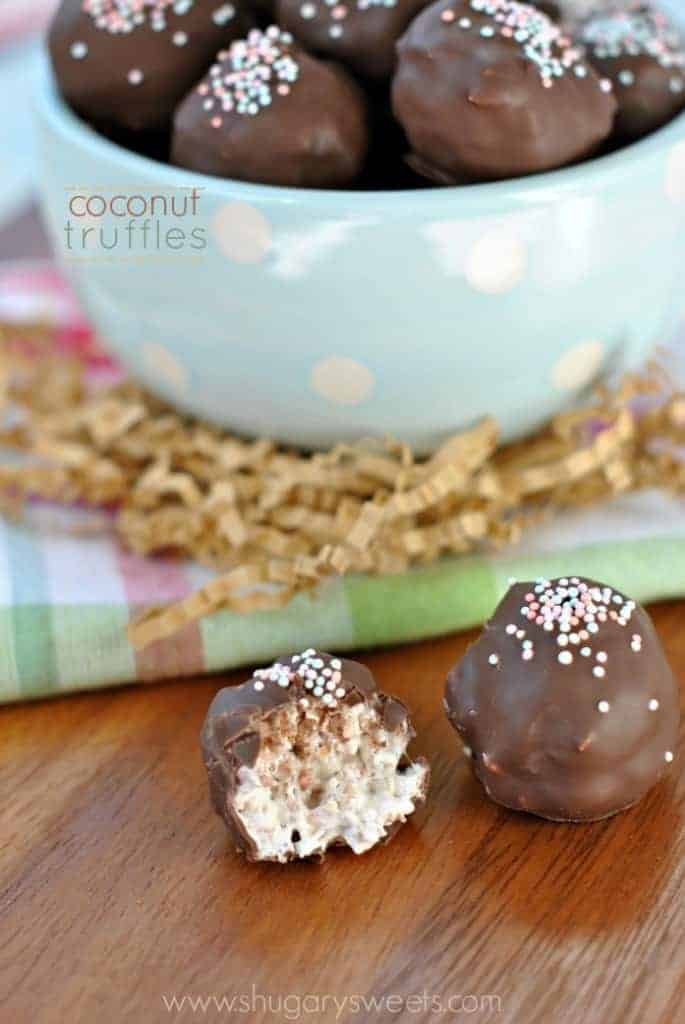 Why this Recipe Works
Whether you wrap them up for someone special or keep them all to yourself, you need to make these Coconut Truffles.
You only need FOUR ingredients to make these truffles. Five, if you count the sprinkle garnish. How easy is that?
This truffles recipe uses dark chocolate melting wafers for a soft, smooth and rich chocolate exterior.
Toasted coconut flakes and marshmallow fluff create a heavenly combination of flavors and textures at the center.
Homemade truffles are a perfect gift for any occasion!
Ingredient Notes
Marshmallow Cream. Also known as "fluff", find jars near the marshmallows in most grocery stores. Or order some online!
Chocolate Melting Wafers. Use a good quality brand, like Ghirardelli for best results. Melting chocolate is specifically tempered to result in a smooth, soft finish, unlike chocolate chips or candy bars.
Easy Instructions
STEP 1. Toast the coconut
Place sweetened coconut flakes in an even layer in a skillet. Stir them over medium-low heat until most of the flakes are golden brown.
Remove the toasted coconut and let it cool.
STEP 2. Make truffle centers
Combine the cooled coconut with marshmallow fluff. Refrigerate the mixture for about 30 minutes.
Scoop balls of the chilled mixture onto a baking sheet. Return to the fridge and chill for another hour.
STEP 3. Dip in chocolate
Melt the chocolate wafers according to package directions. Use a toothpick to dip the chilled coconut balls into the chocolate.
Place the truffles on parchment paper and top with sprinkles before the chocolate sets.
Tips and Tricks
How to store: Coconut Truffles should be kept in an airtight container at room temperature. Enjoy within about 2 weeks for best taste.
Make sure your skillet is large enough. The coconut should fit in the pan in an even layer to ensure even toasting.
Stir frequently. Coconut flakes can quickly turn from fragrant and golden to bitter and burnt. Stir regularly and watch carefully.
Recipe FAQs
Can I freeze homemade Coconut Truffles?
Yes, you can freeze these coconut truffles for longer storage. Let them thaw in the refrigerator before serving.
I don't have melting wafers! What can I use instead?
If you can't find chocolate melting wafers, you can create similar results by mixing 1 tablespoon of vegetable oil into 1 cup of melted chocolate chips. The chocolate might not be quite as smooth as melting wafers, but your truffles will still taste great. And that's what matters!
Can I make these truffles with milk chocolate or white chocolate?
Milk or white chocolate would taste wonderful as a substitute for dark chocolate, if you prefer!
More Easy Dessert Recipes
Coconut and chocolate are match made in heaven. When you combine them in easy homemade Coconut Truffles, the results are almost too good to believe!