If you love Caramel deLites or Samoa Girl Scout Cookies, then these easy Samoa Truffles are going to drive your taste buds crazy!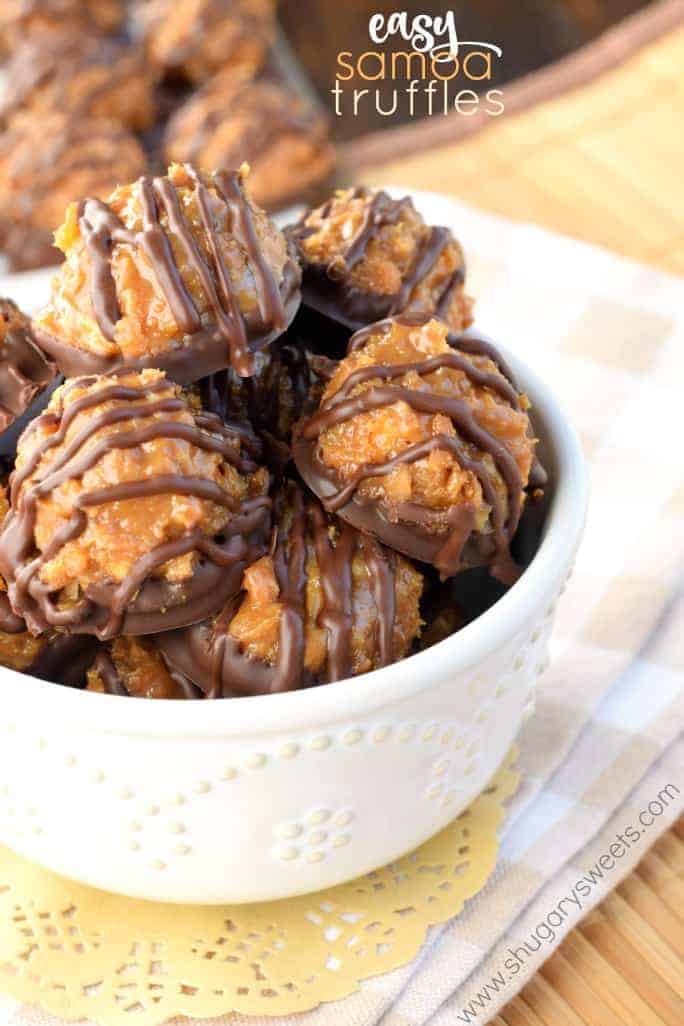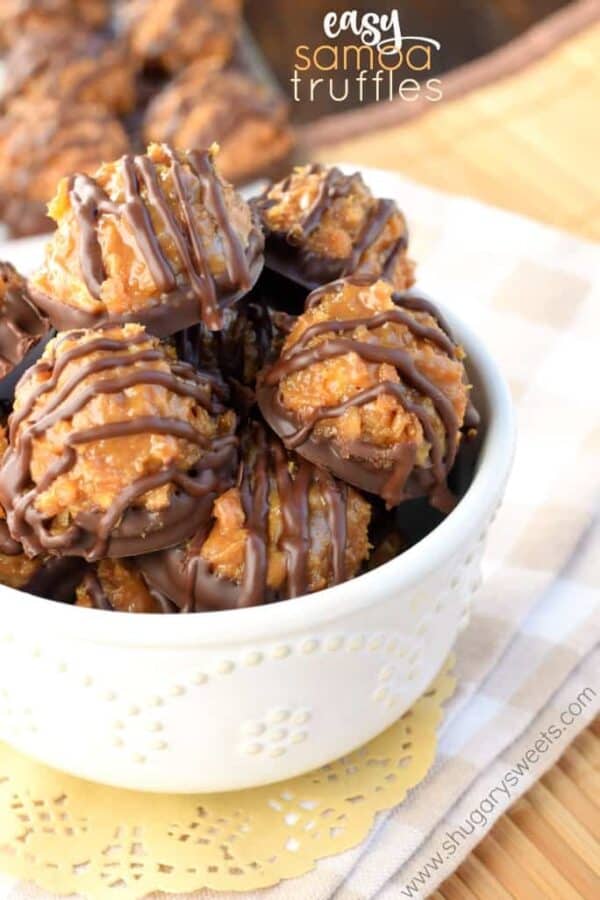 Raise your hand if you LOVE Girl Scout Cookies. Through the years I've been slightly obsessed. And each member of my family has a favorite flavor.
Mine, obviously, is the box of Samoas. I think now they are called Caramel deLites (or maybe it's by region?).
Anyway, I love to stock up and keep a box in my freezer. And normally, between me and my husband we tend to overbuy. Each of us saying yes independently to any girl who asks. And let's not forget the girls at the grocery store every weekend…I've fallen for that trap too!
Did you know that you can now DONATE your boxes to US troops? So that's the option I've been choosing every time I'm asked this year.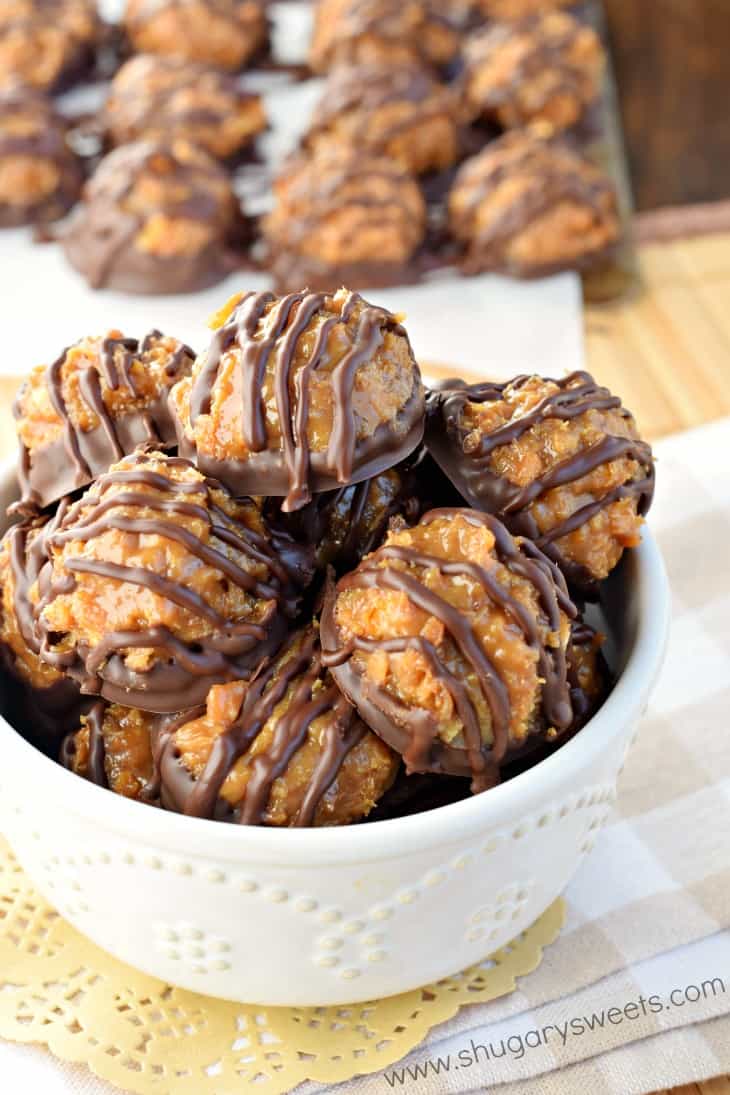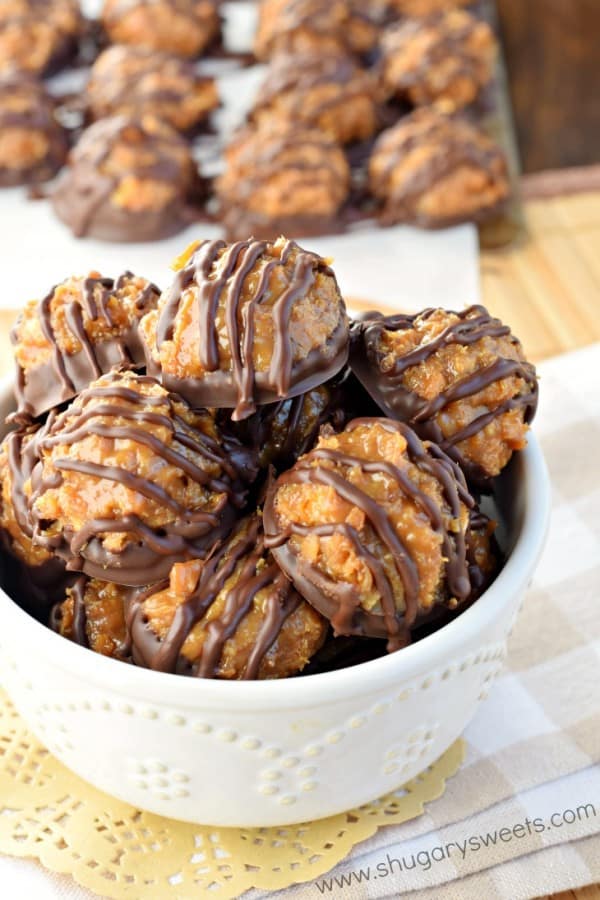 But then I panicked. The thought of ZERO boxes of Samoas in my freezer, for you know, the sweet tooth emergencies, it scared me.
That's where these Samoa Truffles came into play. A sweet, delicious truffle packed with the best parts of my favorite cookie, in an easy to eat truffle. And….these can be stored in the freezer. Perfect, right?
So moral of today's story. Buy some Girl Scout Cookies (it's the right thing to do!) and donate them to our troops (an even better thing to do!). Then whip up a batch of these Samoa Truffles and you'll feel happy that I made this decision for you!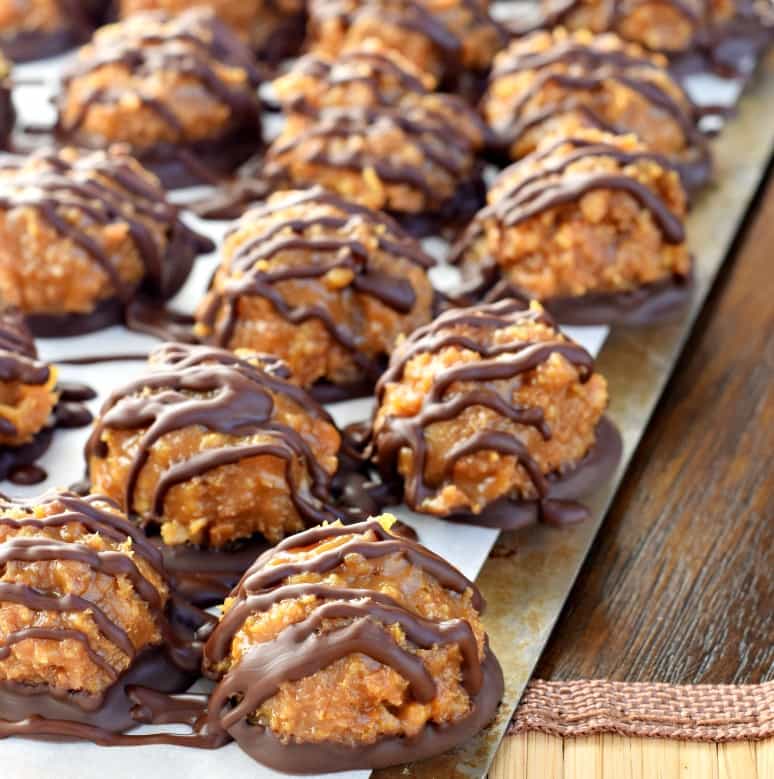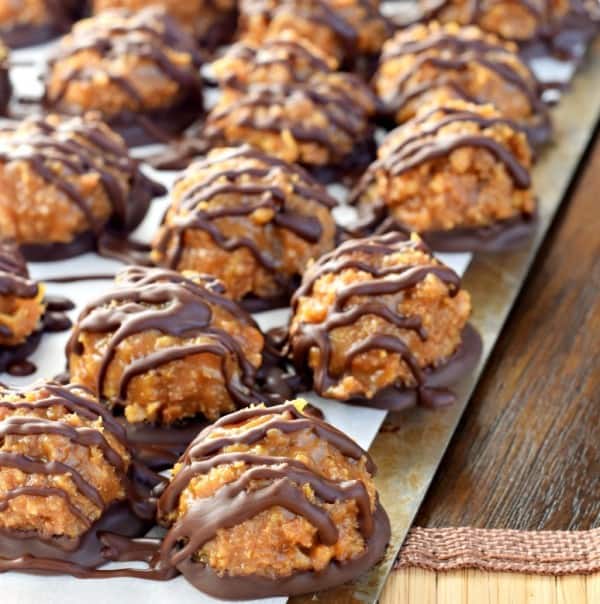 Connect with Shugary Sweets! Be sure to follow me on my social media, so you never miss a post!
Facebook | Twitter | Pinterest | instagram
Yield: 72 truffles
Samoa Truffles
Ingredients
7 oz sweetened, shredded coconut
1 can dulce de leche (14 oz)
1 can sweetened condensed milk (14 oz)
1 box (11oz) Nilla Wafer cookies, crushed (about 2 cups crushed)
16 oz Ghirardelli dark chocolate wafers
Instructions
On a large baking sheet, spread coconut into a single layer. Bake in a 350 degree oven for 10-15 minutes, until lightly browned. Be sure to turn and flip the coconut every 5 minutes. Remove from oven.
In a bowl, combine coconut, dulce de leche, sweetened condensed milk and cookie crumbs. Stir until well combined.
Line a baking sheet with parchment paper. Scoop one tablespoon of mixture (I use this scoop) onto the parchment paper. Repeat until all mixture is used. Place baking sheet in freezer and freeze for about 30 minutes.
Melt chocolate wafers according to package directions (about 1 1/2 minutes in microwave, stirring every 30 seconds). Dip bottom of each truffle in melted chocolate and return to parchment paper.
Once all truffles are dipped, put the remaining chocolate into a small ziploc bag. Snip off the corner and drizzle over truffles. Store in refrigerator (or freezer) in airtight container.
Notes
**Make sure you are using 1 can of dulce de leche (the thick caramel). Many people who have had issues with this spreading are not using the right can. You can see the correct product here!
Love today's Samoa Truffle? Here are a few more Girl Scout inspired recipes: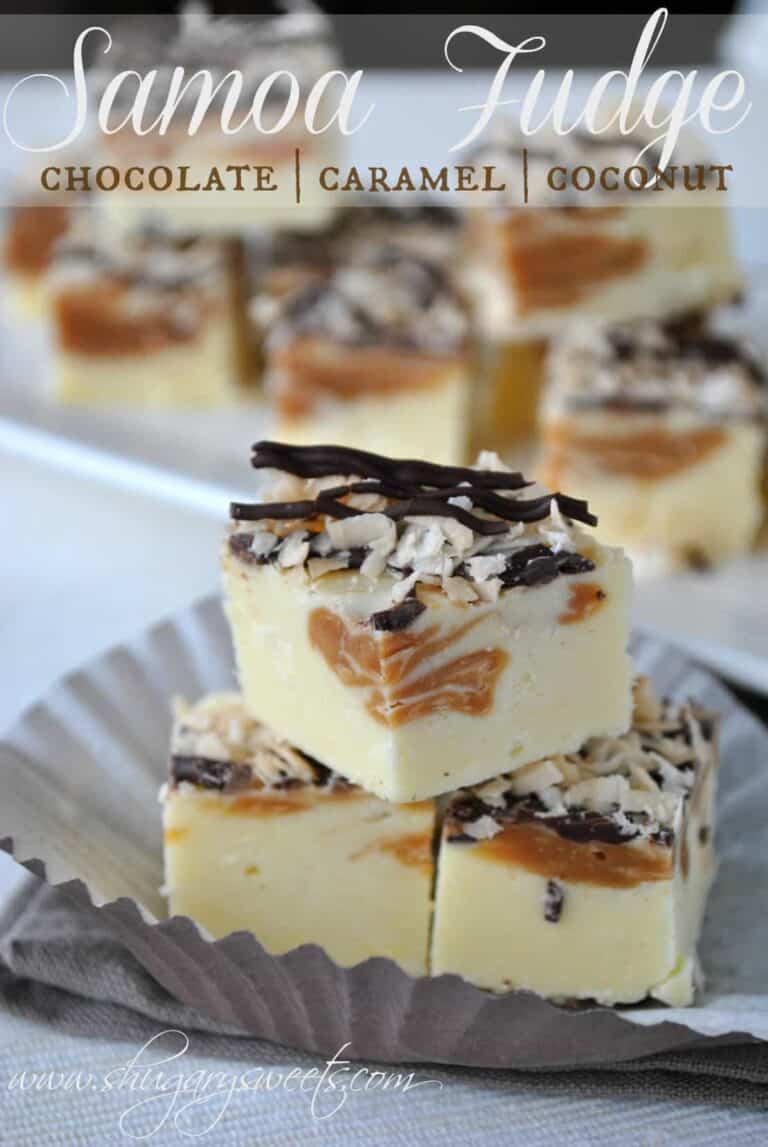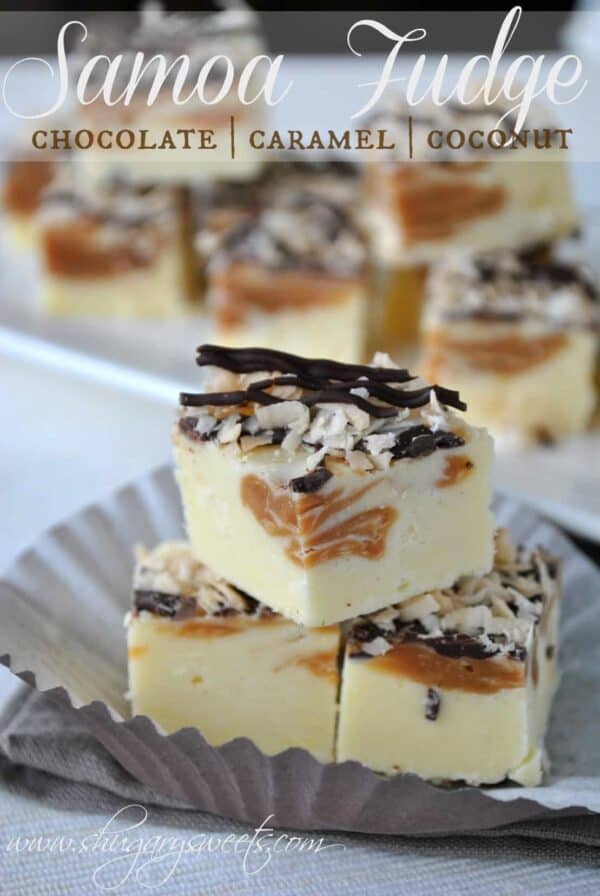 Samoa Fudge: this creamy fudge packed with coconut, caramel and chocolate is a take on the classic cookie!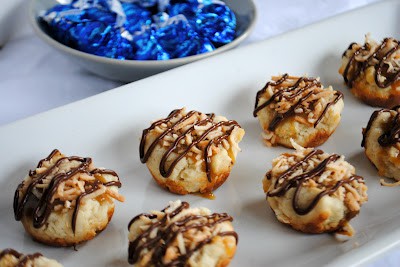 Samoa Cookie Cups: delicious shortbread cookie cup with a surprise center!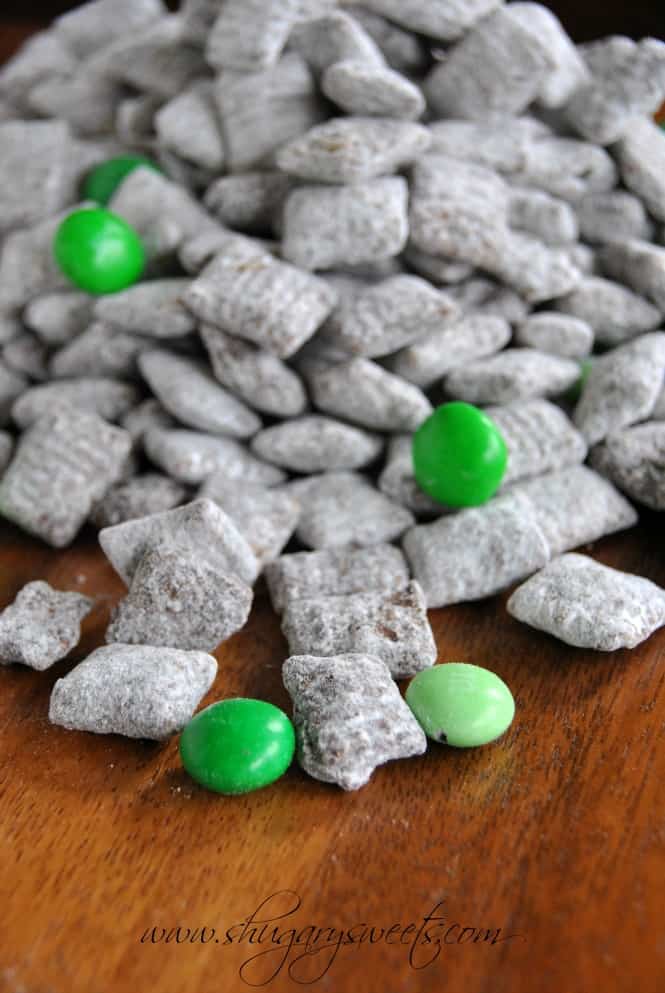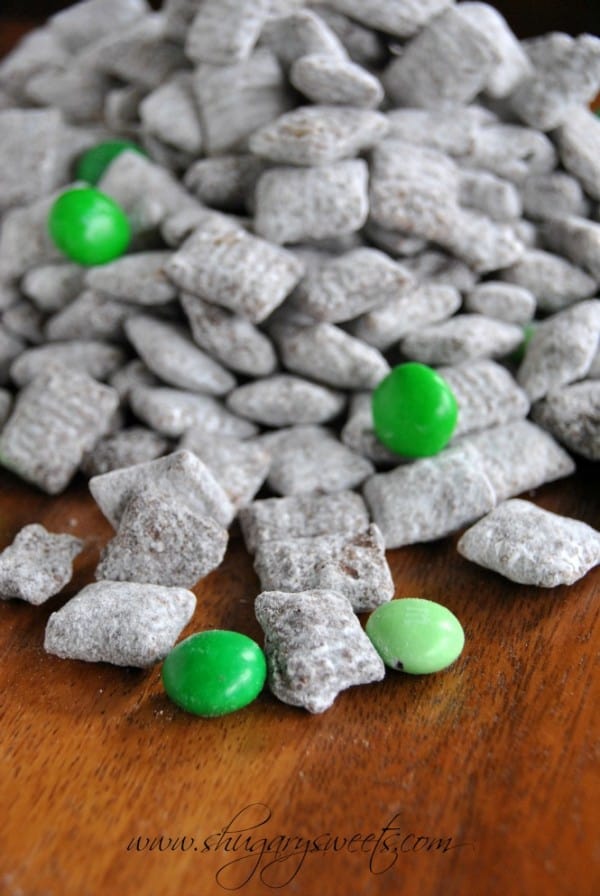 Thin Mint Puppy Chow: no actual cookies are used to make this muddy buddy treat!
I think you'll love these Samoa treats from my friends:


**There may be affiliate links in this post! By clicking on them, or purchasing recommended items I may receive a small compensation. However, I only recommend products I love! Thank you for supporting Shugary Sweets! See my disclosure policy for more info**