If you love Caramel deLites or Samoa Girl Scout Cookies, then these easy Samoa Truffles are going to drive your taste buds crazy! These taste like your favorite girl scout cooking made in bite size truffle form.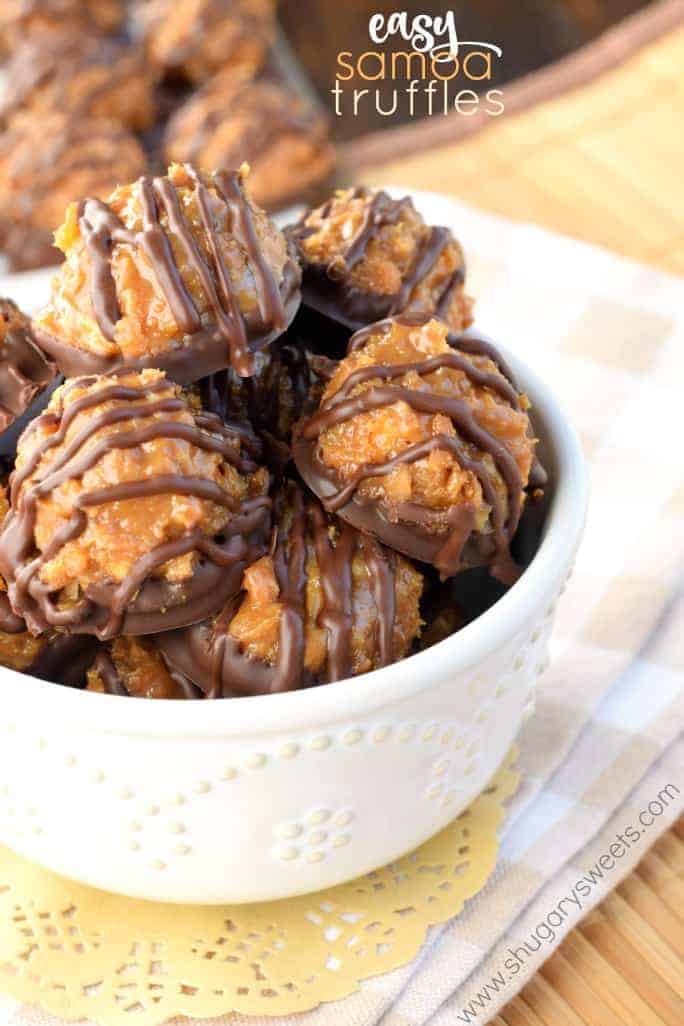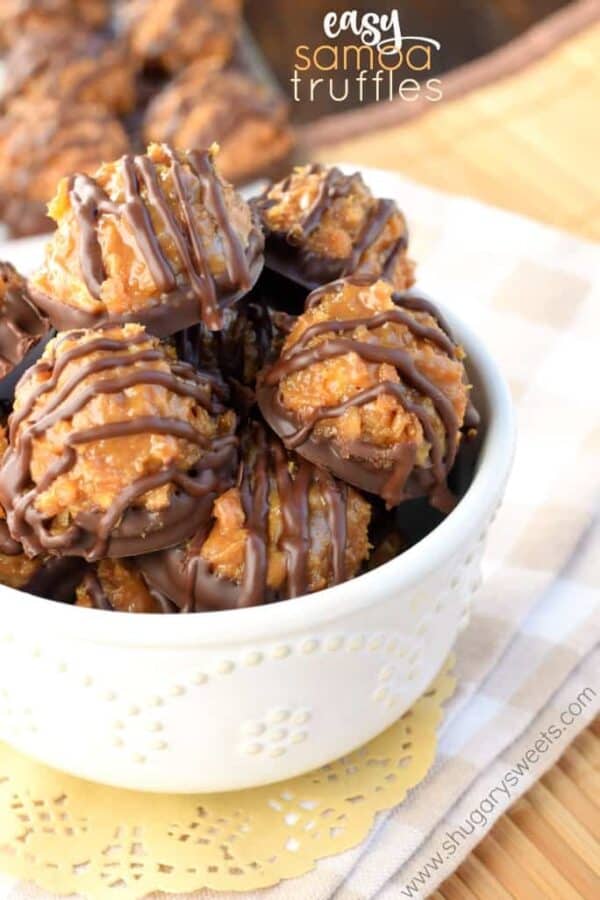 Raise your hand if you LOVE Girl Scout Cookies. Through the years I've been slightly obsessed. And each member of my family has a favorite flavor.
Mine, obviously, is the box of Samoas. I think now they are called Caramel deLites but maybe it varies by region.
Girl Scout Cookies
Anyway, I love to stock up and keep a box or two in my freezer for when Girl Scout cookie season ends. Normally, we tend to overbuy.
Both my husband and I will say "yes" independently to any Girl Scout who asks. And let's not forget the girls at the grocery store every weekend…I've fallen for that trap too! In any case, by the end of the spring, our cupboards and freezer are bursting with boxes of our favorite cookies!
At least it's for a good cause, right?
To keep our sugar crashes more manageable this year, I opted to donate cookies to U.S. Troops. Did you know that the Girl Scout program lets you choose this as an option when you order cookies?
It made me happy knowing I could make someone's day AND I got to still say "yes" to anyone in a green vest who asked!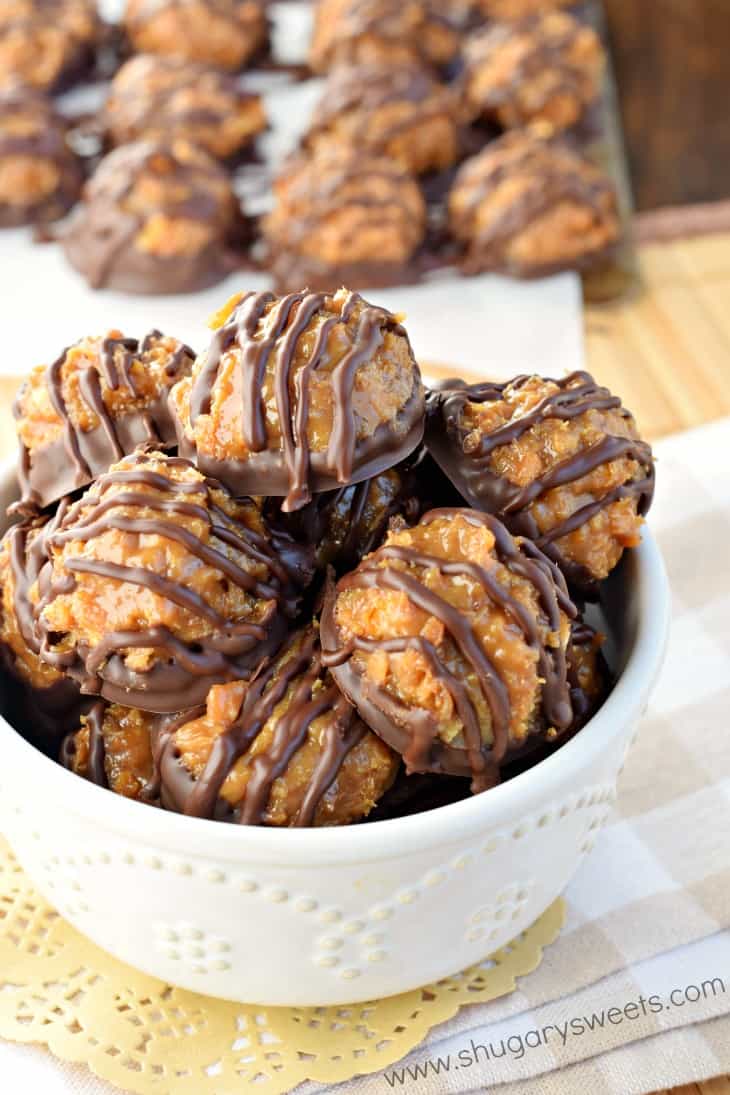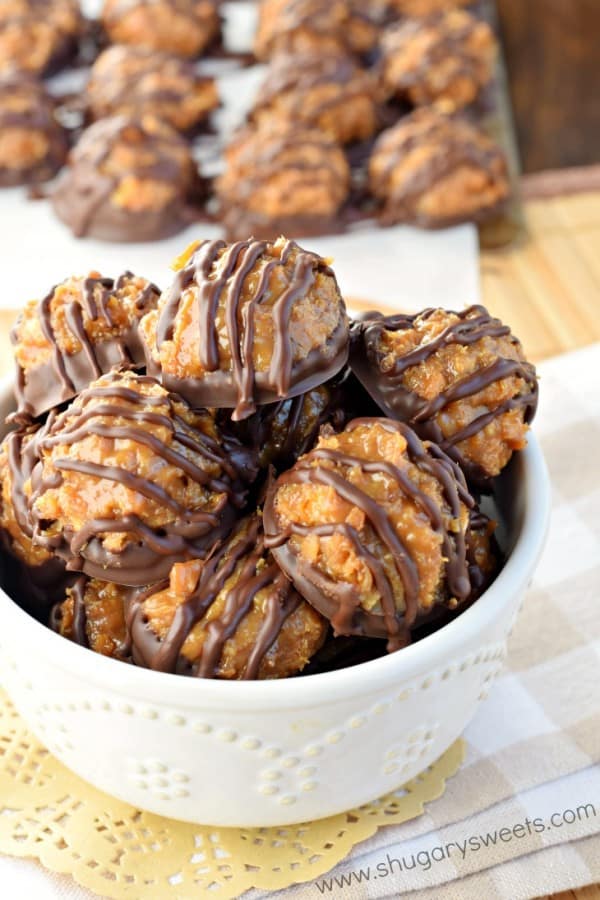 But then I panicked. The thought of ZERO boxes of Samoas in my freezer for sweet tooth emergencies scared me.
That's where these Samoa Truffles came into play. A sweet, delicious truffle packed with the best parts of my favorite cookie, in an easy to eat truffle. And….these can be stored in the freezer. Perfect, right?
Samoa Truffles
This truffle is the delicious marriage of coconut, chocolate and caramel. I used a can of dulce de leche sauce for a thick, toothsome caramel texture that is even better than the caramel in Samoas.
Some crushed wafers, melted chocolate and sweetened coconut flakes turned the caramel sauce into delicious cold truffles, perfect for popping into my mouth whenever a Samoa craving strikes!
How to Make Coconut Caramel Truffles
First, you're going to toast your coconut flakes! This gives them a nutty flavor and a little bit of crispiness.
To toast coconut: Spread it out in a single layer on a large baking sheet. Bake for 10 – 15 minutes, flipping the coconut flakes after every 5 minute increment, until they are golden brown.
Meanwhile, mix together Nilla wafer cookie crumbs with dulce de leche and sweetened condensed milk. Add in the coconut flakes when they're done toasting and mix until well combined.
To form the Samoa truffles:
Scoop the mixture by the tablespoonful onto a parchment lined cookie sheet. Freeze the truffles for 30 minutes.
Last but not least: the chocolate drizzle! 
Melt dark chocolate wafers in the microwave. Mine took 3 rounds of 30 seconds each (stirring between each one) to get smooth and melty.
Dip the bottom of each frozen truffle into the melted chocolate. When all the truffles are dipped, pour the remaining chocolate into a ziplog bag. Snip a whole in one corner of the bag and drizzle the chocolate over the top of all the truffles.
How to Store Truffles
Keep Samoa truffles in an airtight container in the fridge or freezer. I love the way these taste cold! So delicious on a hot summer day.
Tips & Tricks
Make sure you're using canned dulce de leche in this recipe! Bottled caramel sauce will NOT work! I recommend this brand.
If you don't have candy wafers, dark or semi sweet chocolate chips will work as a substitute.
These keep well in the fridge for about 2 weeks and in the freezer for up to 3 months. I find it hard to resist eating them all within a matter of days, though. They're just that good.
So moral of today's story:
Buy some Girl Scout Cookies (it's the right thing to do!).
Donate them to our troops (an even better thing to do!).
Whip up a batch of Samoa Truffles (a delicious thing to do!)
Don't you wish all decisions were this easy?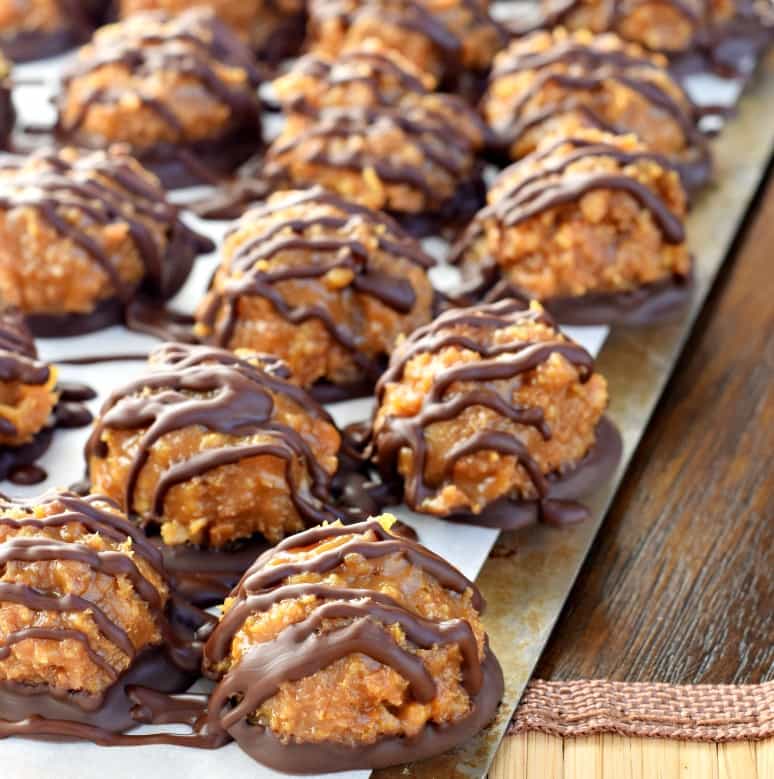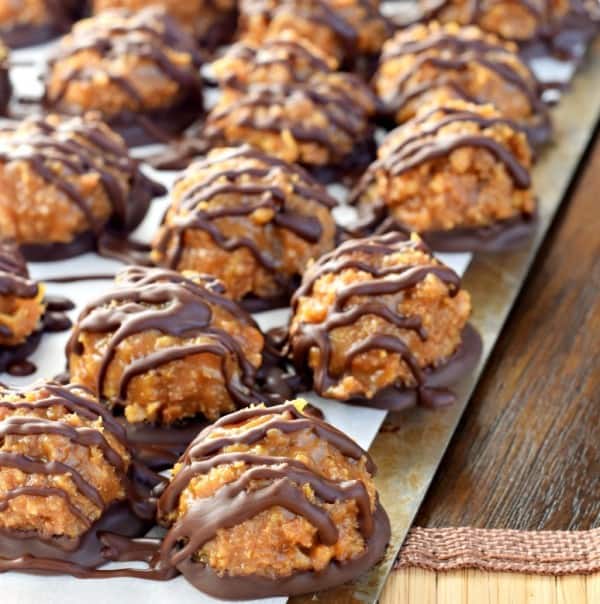 Connect with Shugary Sweets! Be sure to follow me on my social media, so you never miss a post!
Facebook | Twitter  | Pinterest | instagram 
Love today's Samoa Truffle? Here are a few more Girl Scout inspired recipes: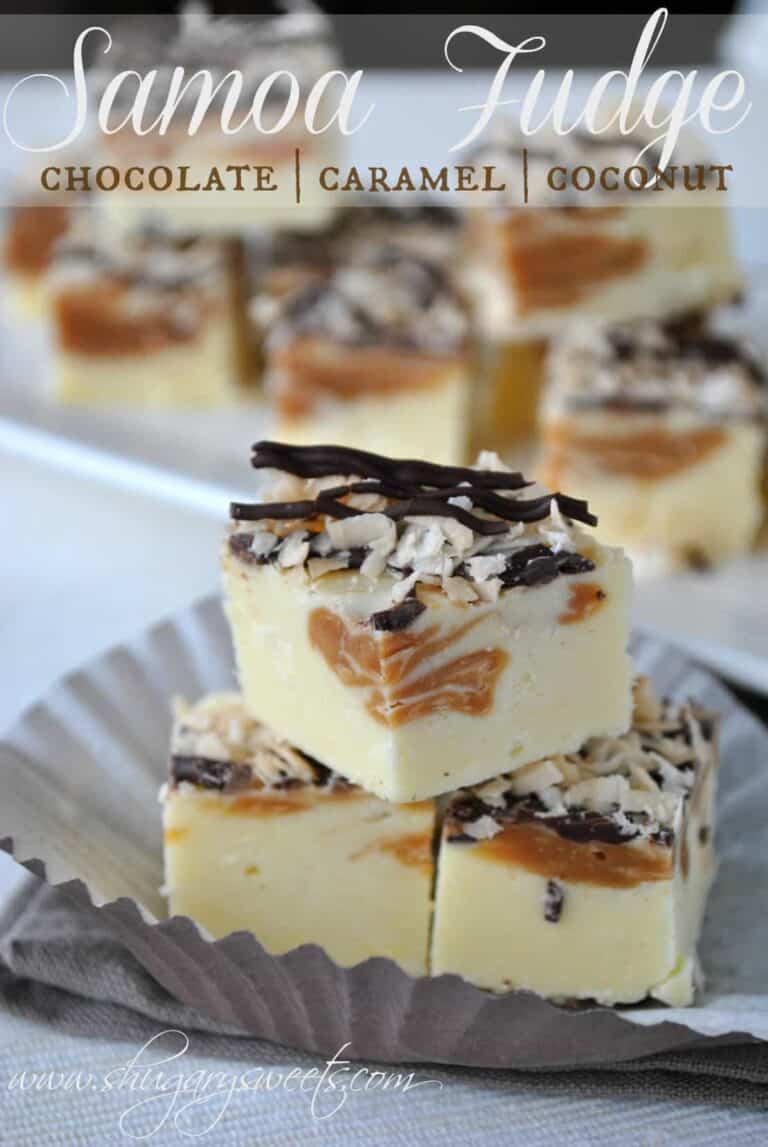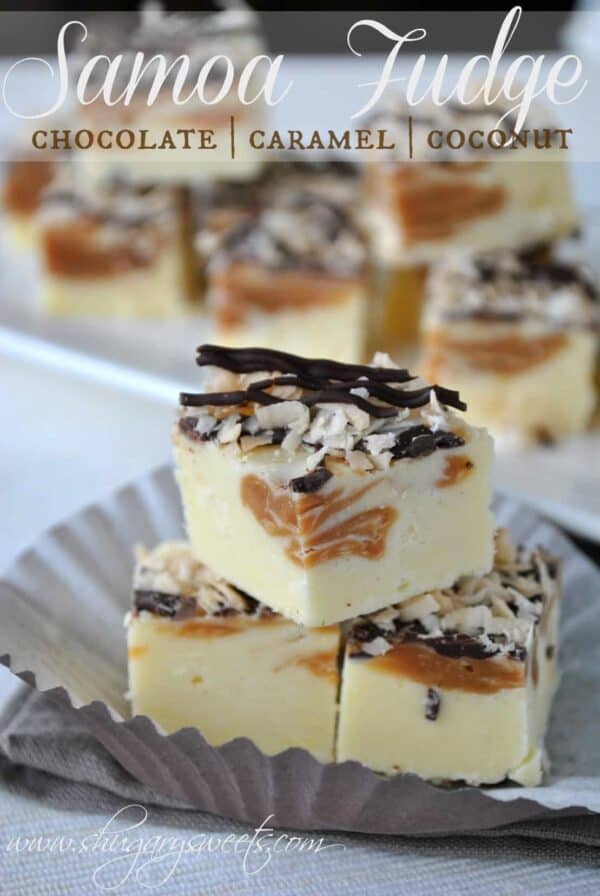 Samoa Fudge: this creamy fudge packed with coconut, caramel and chocolate is a take on the classic cookie!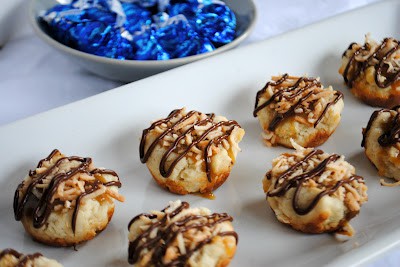 Samoa Cookie Cups: delicious shortbread cookie cup with a surprise center!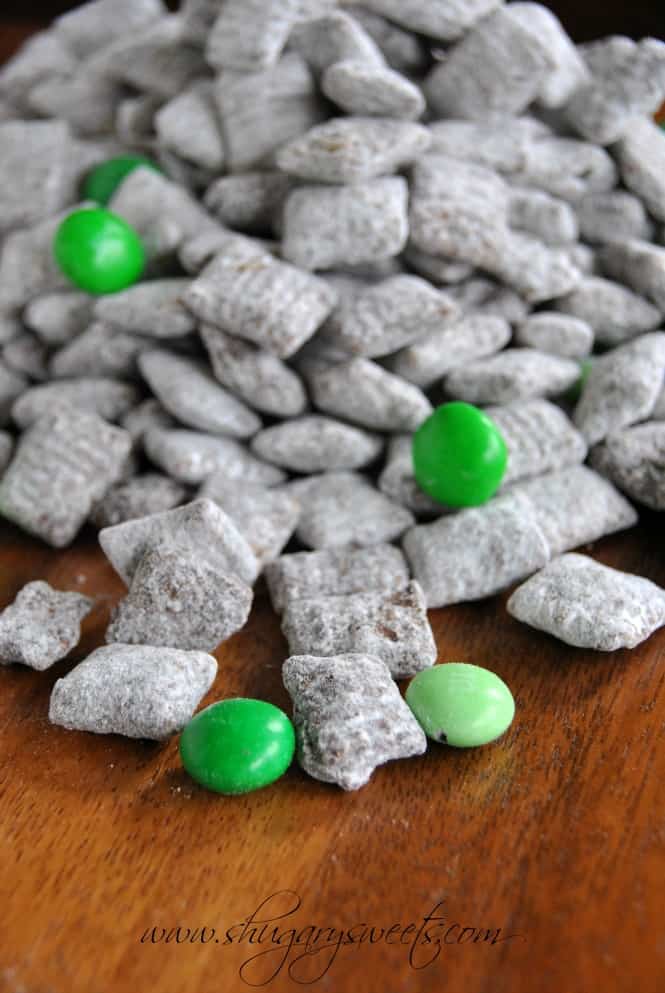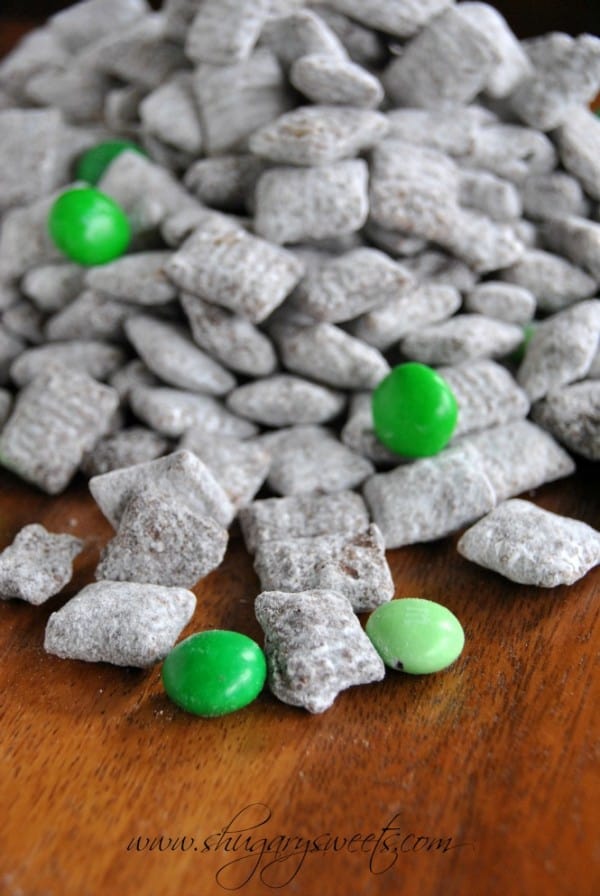 Thin Mint Puppy Chow: no actual cookies are used to make this muddy buddy treat!
I think you'll love these Samoa treats from my friends:


 **This post may contain affiliate links which won't change your price but will share some commission. See my disclosure policy for more info**