What do you do when you're craving Samoa Cookies but there's not a girl scout in site? Make this copycat girlscout cookie recipe at home! They may look different, but these Coconut Kiss Cookies have all the key flavors!
Raise your hand if you enjoy Girl Scout Cookies? Yeah, mine are both in the air right now. We made these Samoa Truffles which mimic the flavor of my favorite GSC! Or give our coconut macaroons a try next!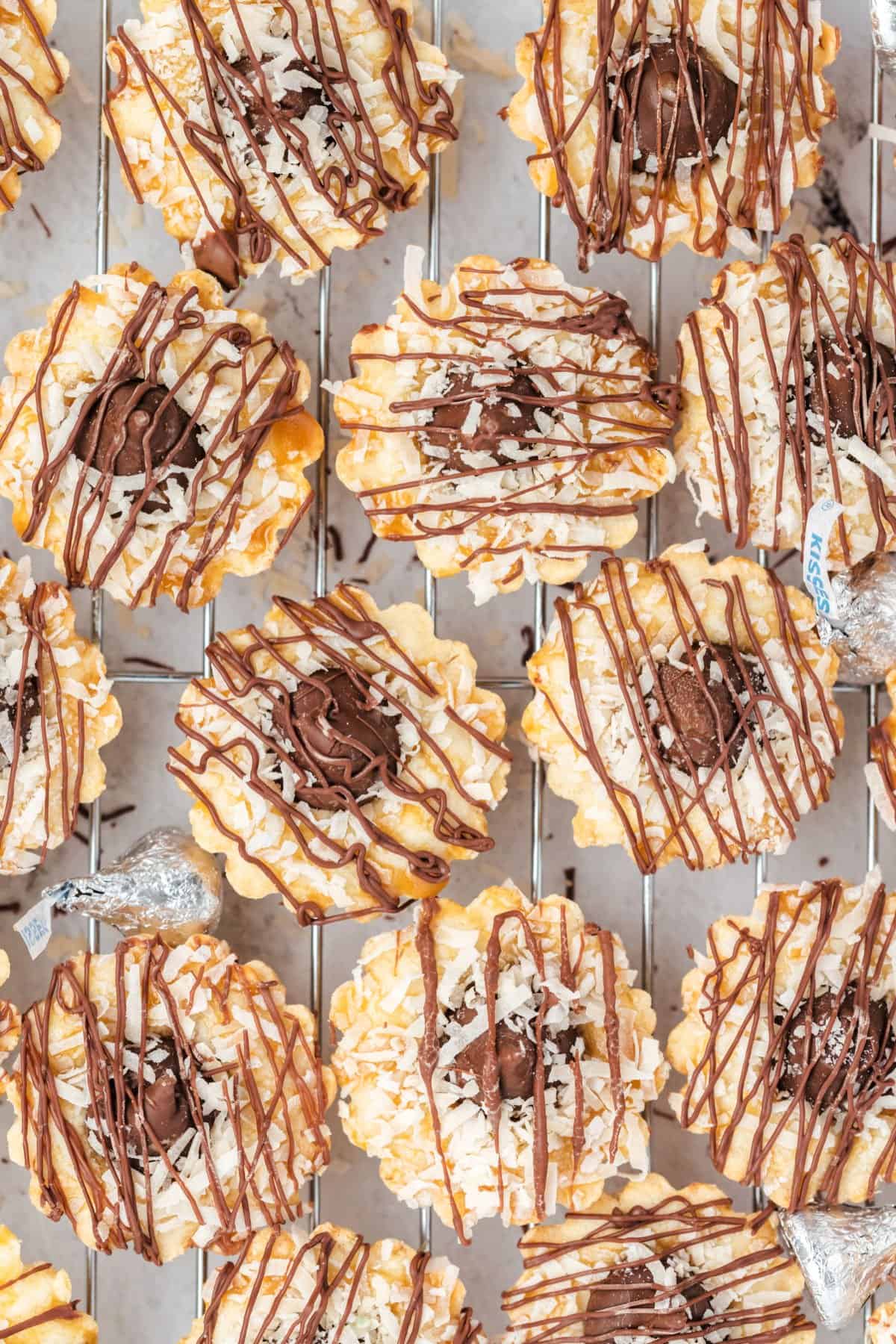 Why this Recipe is Best
Leave one of these out and the Samoa is incomplete! It's all about the harmony between the textures and flavors.
Can be made in individual mini tart pans, or a mini muffin pan!
Sweet sugar cookie base.
Chocolate kiss center (like a peanut butter blossom)!
Caramel, chocolate, and coconut topping.
How to Make Coconut Kiss Cookies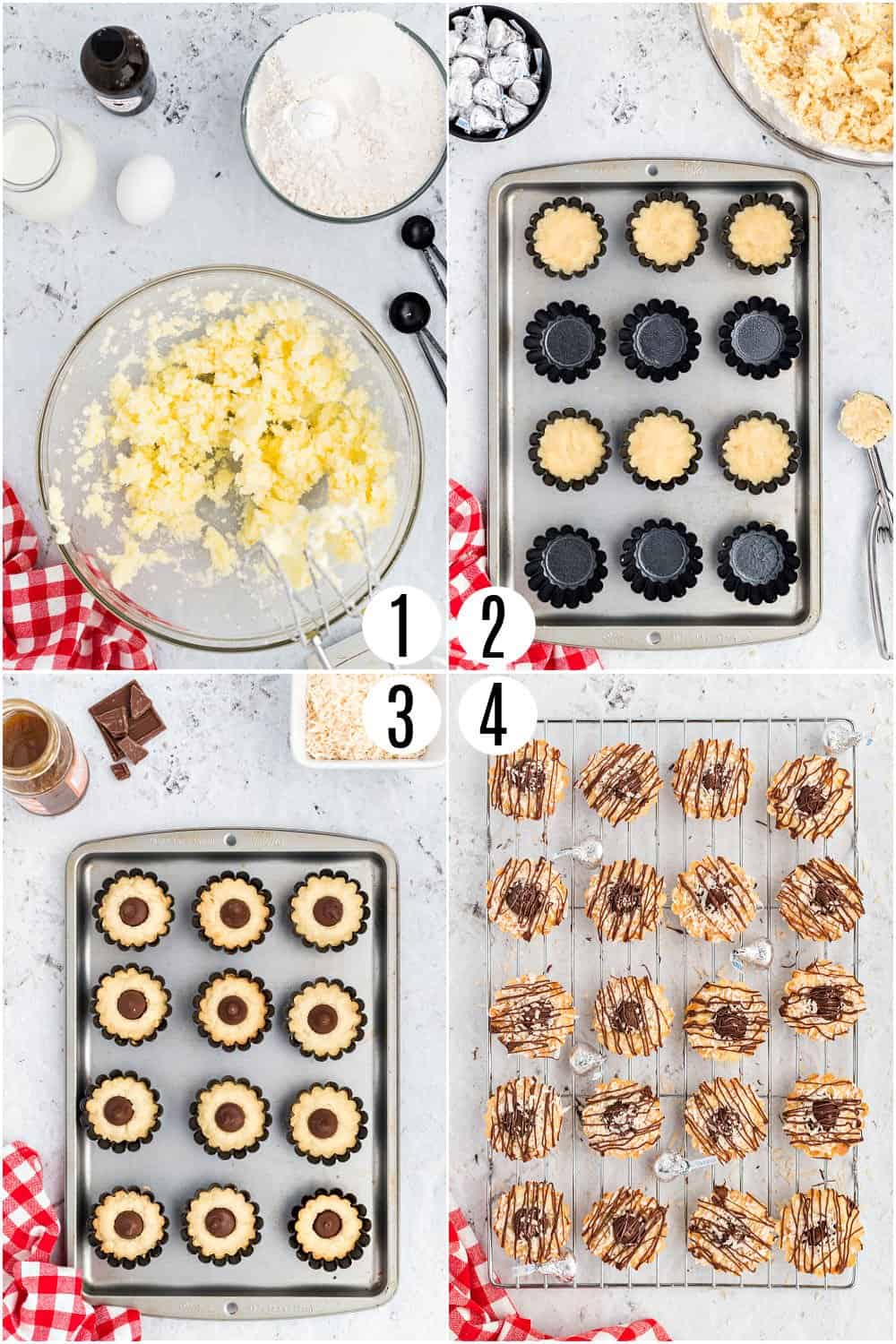 It's surprisingly easy to make copycat Girl Scout cookies. There are a few steps involved but the results are more than worth it!
Toast the coconut: Use our easy guide on how to toast coconut.
Make the cookie dough: Use your hands to pinch off tablespoon sized balls of dough. Press the dough balls into a mini tart pan (or mini muffin pan) and bake for 10 minutes.
After removing from the oven, Immediately press a Hershey kiss into center of each cookie. Let the cookies cool about 5 minutes in the pan, then slide them onto a wire rack or parchment paper.
PRO TIP: Make sure the cookies cool completely before you add all the toppings!
Add the toppings: Combine caramel sauce with flour in a bowl. Drizzle the sauce over the cooled cookies, then sprinkle with the toasted coconut flakes. Press the flakes into the caramel if necessary to make sure they stick.
Finally, drizzle the cookies with melted chocolate and let them set until the chocolate firms.
Pour yourself a big glass of milk or dalgona coffee and enjoy these sweet caramel coconut cookies!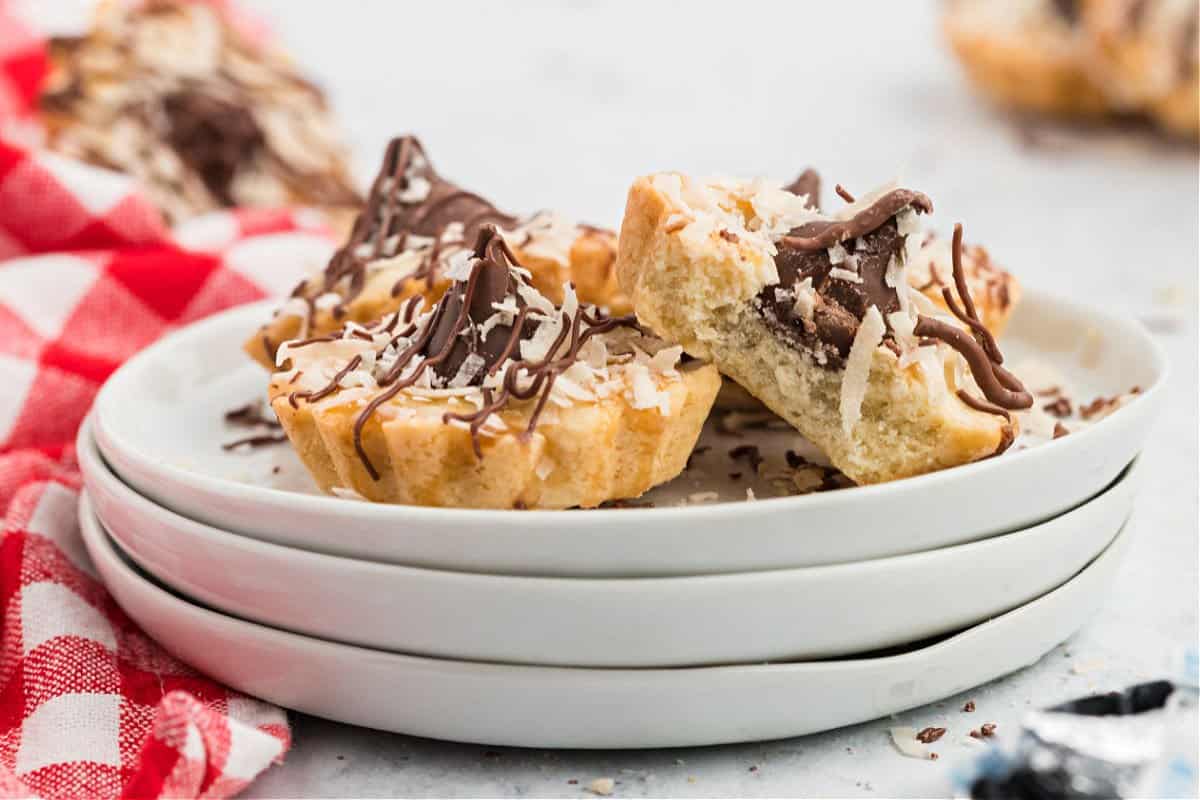 Tips and Tricks
Use a non-stick mini tart pan if possible. If your tart pan isn't non-stick, spray it with baking spray before adding the cookie dough.
Can you make these without a tart pan? Yes! A mini muffin pan is a perfect substitute.
Caramel sauce: I used Hershey's caramel topping for the caramel sauce. Any kind of caramel you'd drizzle on an ice cream sundae will work.
Store cookies in airtight container in refrigerator or room temperature. We love these chilled!
Freeze cookies in airtight container with parchment paper between layers.
Love coconut? Try our delicious, moist coconut cake recipe!
Enjoy the satisfying combination of chocolate, caramel and coconut all year long with this easy Coconut Kiss cookies recipe.