What do you do when you're craving Samoa Cookies but there's not a girl scout in site? Make this copycat girlscout cookie recipe at home!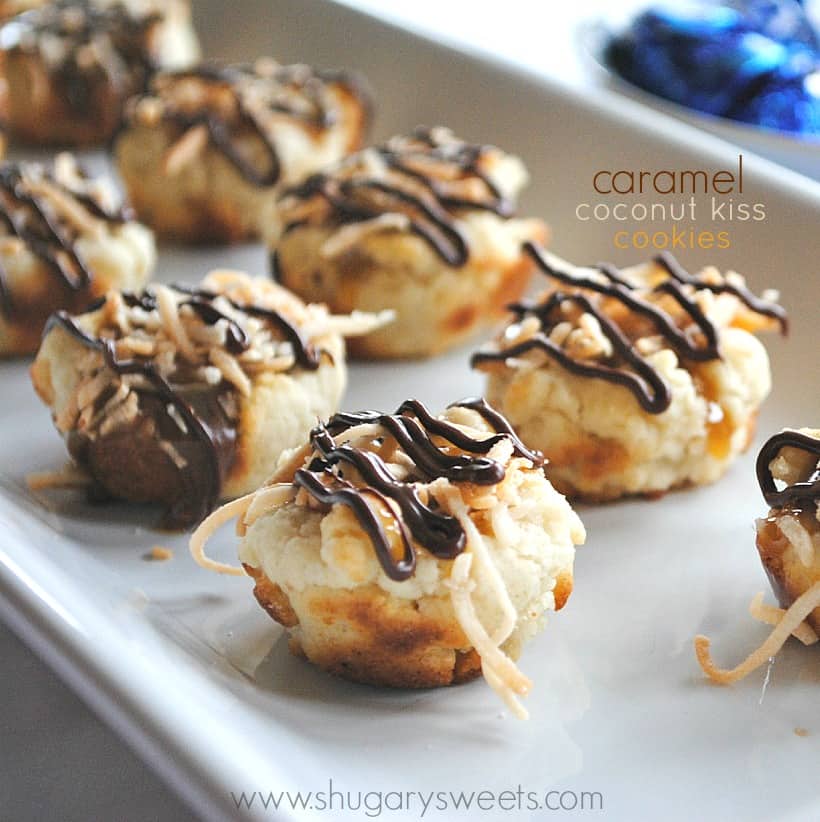 Raise your hand if you enjoy Girl Scout Cookies? Yeah, mine are both in the air right now.
Girl Scout Cookies
So last week I had a serious craving for some Girl Scout Cookies, specifically Samoa Cookies. I knew I had ordered several boxes, but they hadn't arrived yet. I decided to take matters into my own hands.
As fortune would have it, I happened to have just purchased a bag of Hershey's Coconut Kisses the day before. Using my trusty sugar cookie recipe, I made cookie cups and pushed the kiss into the center when they were done baking.
To give them the flare of a Samoa Cookie, I drizzled on some thickened caramel and chocolate and added flakes of toasted coconut. Voila!
Needless to say, the evening I made these our doorbell rang and sure enough our Girl Scout Cookies were delivered, including a couple of boxes of Samoas.
Wanna know a secret? I like these copycat girl scout cookies better! Maybe because of the additional coconut kiss in the center of each one. . . or maybe because this recipe makes a good 4 dozen cookies! There was plenty to go around.
Samoa Cookies
What makes Samoas so irresistible to me is the combination of tastes going on in a single cookie. You've got a crunchy sugar cookie base, a layer of rich chocolate, some gooey caramel and the crisp flakes of coconut.
Leave one of these out and the Samoa is incomplete! It's all about the harmony between the textures and flavors.
Yes, I took my copycat girl scout cookies a step further by adding a coconut kiss. It gives each cookie a creamy center the original Samoas don't have.
Everyone who tasted these cookies was surprised and delighted to find the chocolate coconut surprise in the middle!
How to Make Samoas
It's surprisingly easy to make copycat girlscout cookies. There are a few steps involved but the results are more than worth it!
Toast the coconut:
This step is essential for browning and crisping the soft coconut flakes! Lay the coconut on your baking sheet and place in 225 degree oven for 10 minutes. Stir and flip the coconut flakes then bake for another 10 – 20 minutes or until lightly toasted.
Let the coconut cool while you make the cookie dough.
Make the sugar cookies:
Cream butter and sugar together in a bowl, then add eggs, milk and vanilla. Stir in flour, salt and baking powder and mix until everything is combined into a cookie dough.
Use your hands to pinch off tablespoon sized balls of dough. Press the dough balls into a mini tart pan and bake for 10 minutes.
After removing from the oven, Immediately press a Hershey coconut kiss into center of each cookie. Let the cookies cool about 5 minutes in the pan, then slide them onto a wire rack or parchment paper.
Make sure the cookies cool completely before you add all the toppings!
Add the toppings:
Combine caramel sauce with flour in a bowl. Drizzle the sauce over the cooled cookies, then sprinkle with the toasted coconut flakes. Press the flakes into the caramel if necessary to make sure they stick.
Finally, drizzle the cookies with melted chocolate and let them set until the chocolate firms.
Pour yourself a big glass of milk or iced coffee and enjoy these sweet caramel coconut cookies!
Storing Homemade Samoa Cookies
You can let these set up in the fridge or room temperature. I, personally, enjoy the way these taste when they're cold so I set and store them in the refrigerator.
Samoas freeze beautifully, too! Freeze them with a layer of wax paper between rows of cookies to ensure they don't end up stuck together. They'll keep well in the freezer for a couple of months.
Tips and Tricks for Making Samoa Cookies
Use a non-stick mini tart pan if possible. If your tart pan isn't non-stick, spray it with baking spray before adding the cookie dough.
Can you make these without a tart pan? Yes! A mini muffin pan is a perfect substitute.
Caramel sauce: I used Hershey's caramel topping for the caramel sauce. Any kind of caramel you'd drizzle on an ice cream sundae will work.
There you have it. Now you don't have to wait for the girls in green to knock on your door to get your Samoa Cookies fix!
Enjoy the satisfying combination of chocolate, caramel and coconut all year long with this easy copycat girlscout cookies recipe.