Caramel Coconut Kiss Cookies
Delicious, Ca
ramel Coconut Kiss Cookies
…copycat of the Samoa girl scout cookie!
Be sure to follow me on Bloglovin'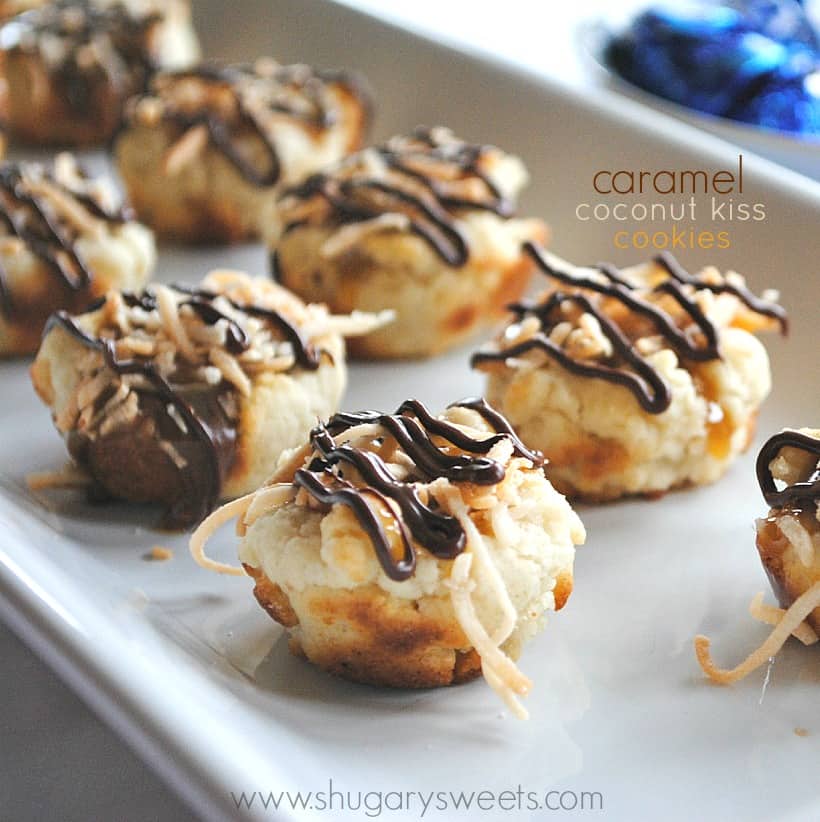 Raise your hand if you enjoy Girl Scout Cookies? Yeah, mine are both in the air right now.
So last week I had a serious craving for some Girl Scout Cookies, specifically Samoas. I knew I had ordered several boxes, but they hadn't arrived yet. I decided to take matters into my own hands.
See, not more than 24 hours earlier I bought a bag of Hershey's Coconut Kisses. Using my trusty sugar cookie recipe, I made cookie cups and pushed the kiss into the center when they were done baking. Drizzle on some thickened caramel and chocolate, and add the toasted coconut. Voila!
Needless to say, the evening I made these our doorbell rang and sure enough our Girl Scout Cookies were delivered! (Shhhh, don't tell but I like these better!! Could be because it makes about 4 dozen cookies)
I think you will enjoy these too, and they freeze nicely too!
Connect with Shugary Sweets! Be sure to follow me on my social media, so you never miss a post!
Pinterest | instagram | Bloglovin'
Caramel Coconut Kiss Cookies
Ingredients
For the cookie:
1 cup unsalted butter, softened
1 cup sugar
1/4 cup milk
1 egg
1/2 tsp vanilla extract
1/2 tsp kosher salt
1 1/2 tsp baking powder
3 cup flour
For the topping:
48 Hershey kisses, coconut (or regular)
1 cup sweeteened shredded coconut, toasted
1/4 cup milk chocolate, melted
1/2 cup Hershey caramel topping
1 Tbsp flour
Instructions
To toast coconut, lay on baking sheet and place in 225 degree oven. Bake for about 20-30 minutes, turning every 10 minutes, until toasted. Set aside to cool.
In large mixing bowl, cream the butter and sugar together several minutes. Add egg, milk and vanilla extract. Add in the flour, salt and baking powder.
Using hands, pinch off large tablespoons of dough. Press into tart pan. Bake in a 350 degree oven for about 10 minutes. Immediately press a hershey coconut kiss into center. Allow to cool in pan 5 minutes before removing. I use non stick tart pans, if yours tend to stick spray with baking spray first.
In small bowl, mix caramel topping with flour. Set aside.
When cookies are cool, first drizzle with caramel sauce. Sprinkle toasted coconut onto the caramel, pressing lightly. Drizzle with melted chocolate. Allow to set. I like these cookie cold, so I set them in the refrigerator. Enjoy!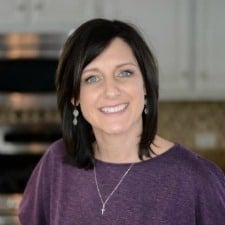 Aimee is a dessert lover (specifically rice krispie treats), workout enthusiast, self-taught foodie, and recipe creator. Her recipes have been featured in over 15 magazines, and her passion is to share her love of cooking with the everyday home cook! Learn more about Aimee.