Making homemade toasted coconut is easy as can be! Learn how to toast coconut on the stove top in a skillet or in the oven with delicious results.
There's nothing quite like the taste of freshly toasted coconut flakes. Sprinkle them on Coconut Cake or Coconut Banana Bread for that perfect finishing touch!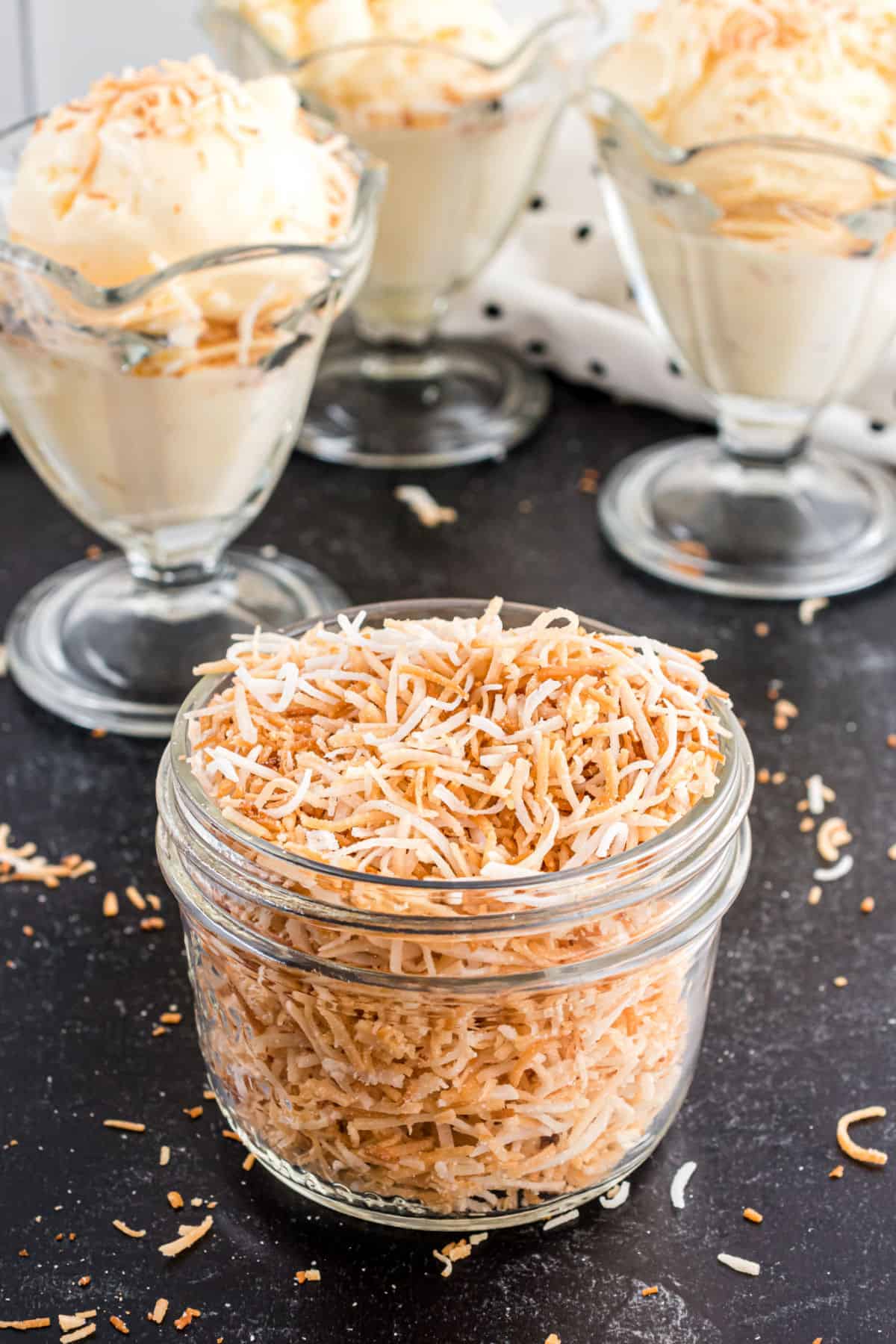 Why this Recipe Works
Plain shredded coconut is delicious. But toasting it takes it to a whole 'nother level!
Nutty flavor. Toasting your coconut brings out the natural nuttiness of coconut. It adds a complex dimension to all your baked goods.
No preservatives. Store bought toasted coconut has all kinds of additives to keep it fresh. When you make your own, you get nothing but the pure toasty coconut flavor!
Works with unsweetened or sweetened coconut.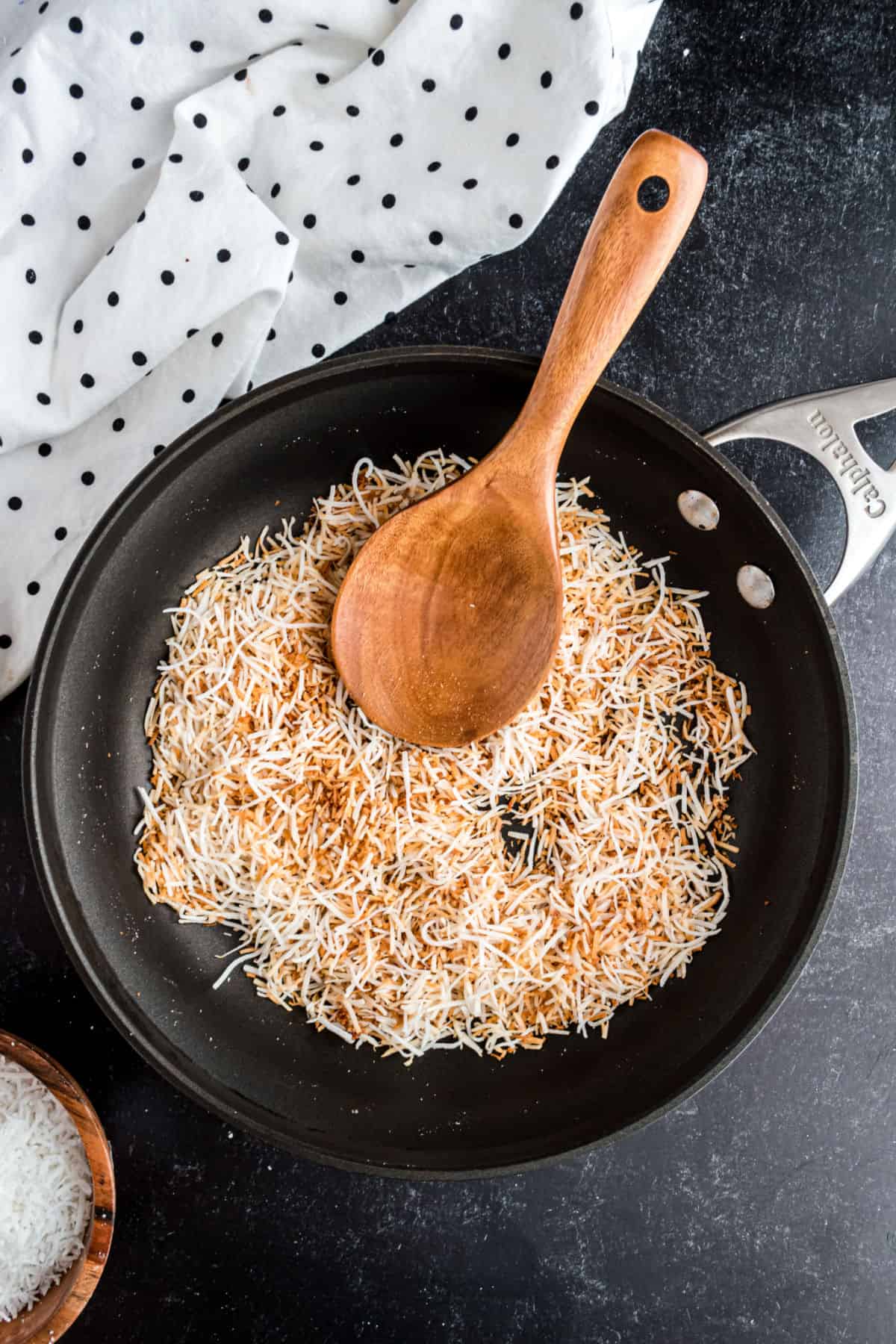 How to Toast Coconut in a Skillet
Toasting coconut on the stove top is the quickest method. And the easiest to watch, so you don't have burnt coconut.
Use a large skillet that can fit all the shredded coconut in a single layer. Turn the stove onto medium-low heat. Stir frequently as the coconut toasts.
Continue toasting for 3 to 5 minutes, or until the coconut is lightly browned and fragrant.
Let the toasted coconut cool completely on parchment paper before using.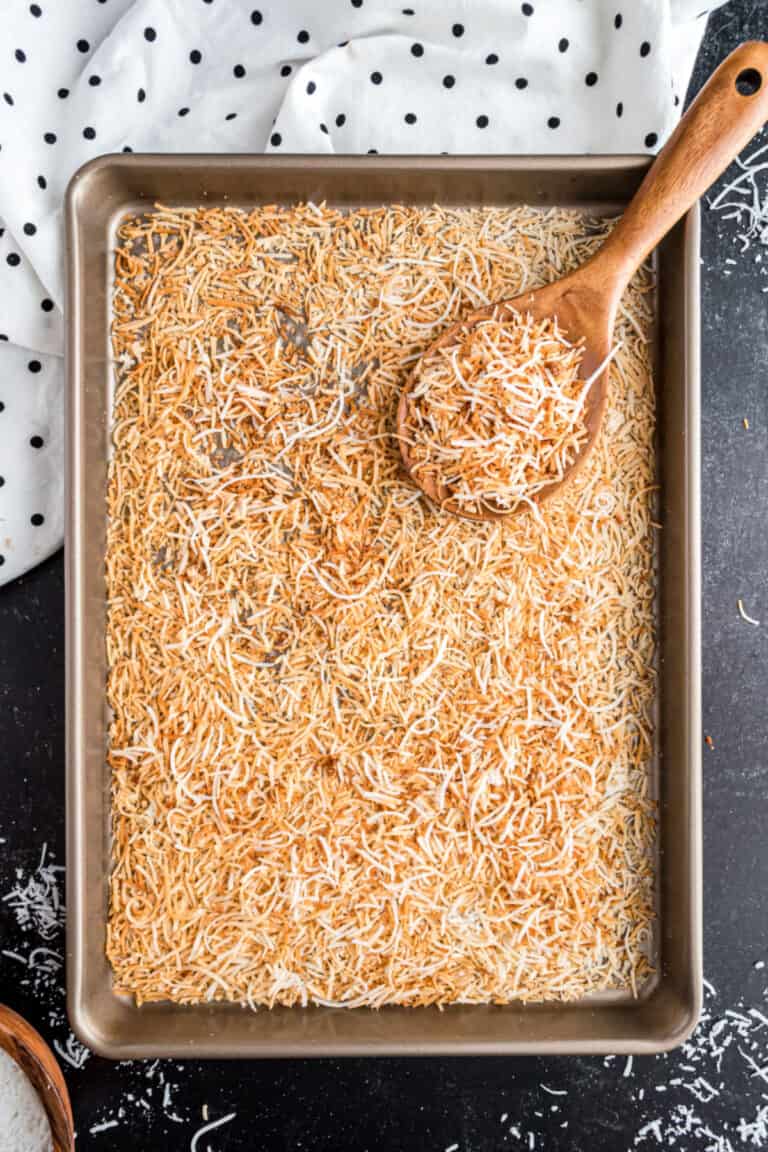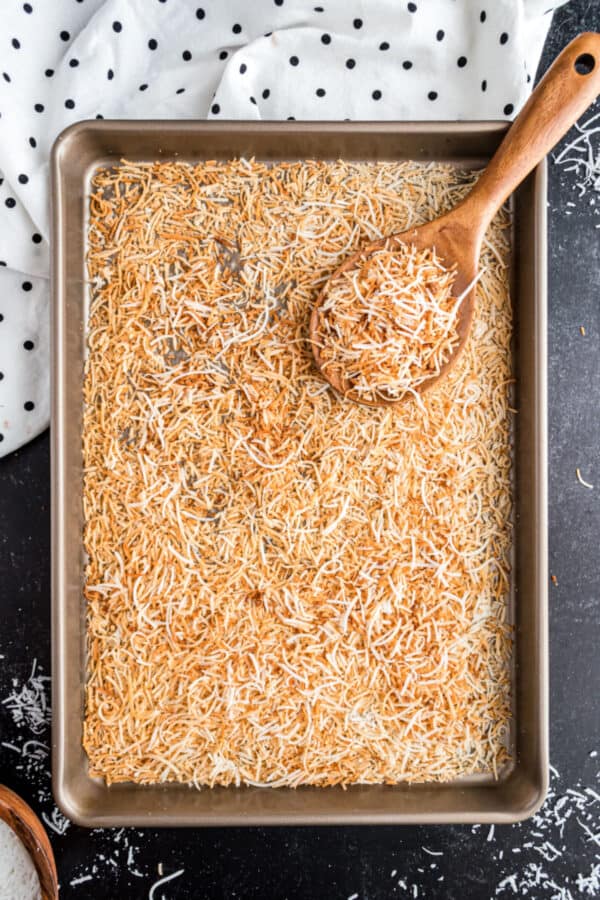 How to Toast Coconut in the Oven
Preheat the oven. While it warms up, lay the coconut on a rimmed baking sheet. Distribute the coconut flakes in an even layer.
Bake for 6 to 8 minutes. Give the flakes a stir at the half way point and keep stirring frequently to prevent burning.
When the coconut is lightly browned, remove from the oven. Transfer the coconut to sheet a parchment paper and allow to cool completely.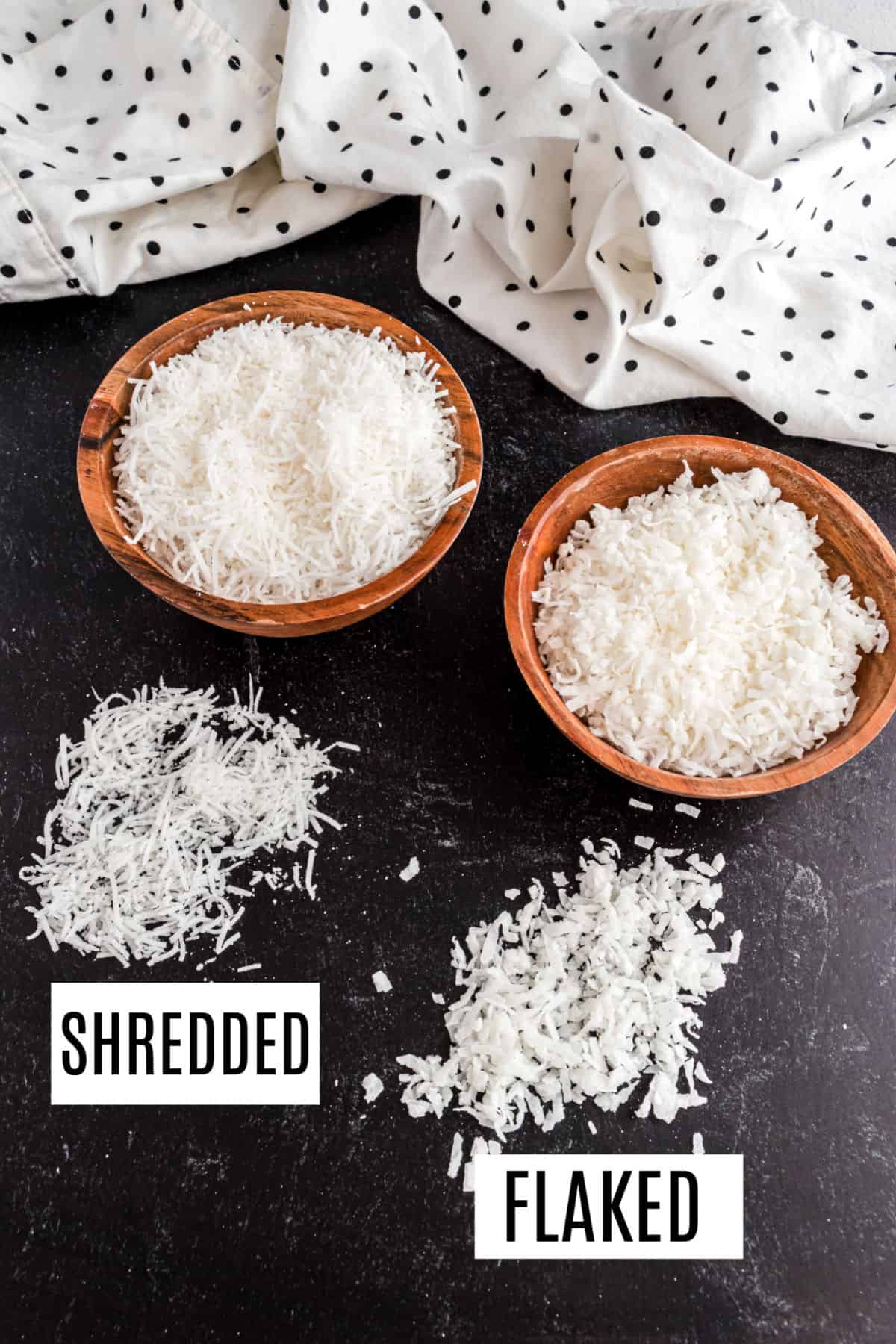 Tips and Tricks
Keep close watch. Coconut toasts very quickly. It only takes a few seconds for it to go from "toasted" to burnt.
Sweetened coconut cooks faster. Sugar speeds up the toasting process. If you're using unsweetened flakes, you may need a bit more toasting time.
Storing. Leftover toasted coconut can be stored in an airtight container in a dry, cool place.
Do not refrigerate. Chilling the toasted coconut will make it soggy.
Use a large enough pan. The coconut should fit in an even layer without much overlap. This helps it toast evenly and crisp up a bit.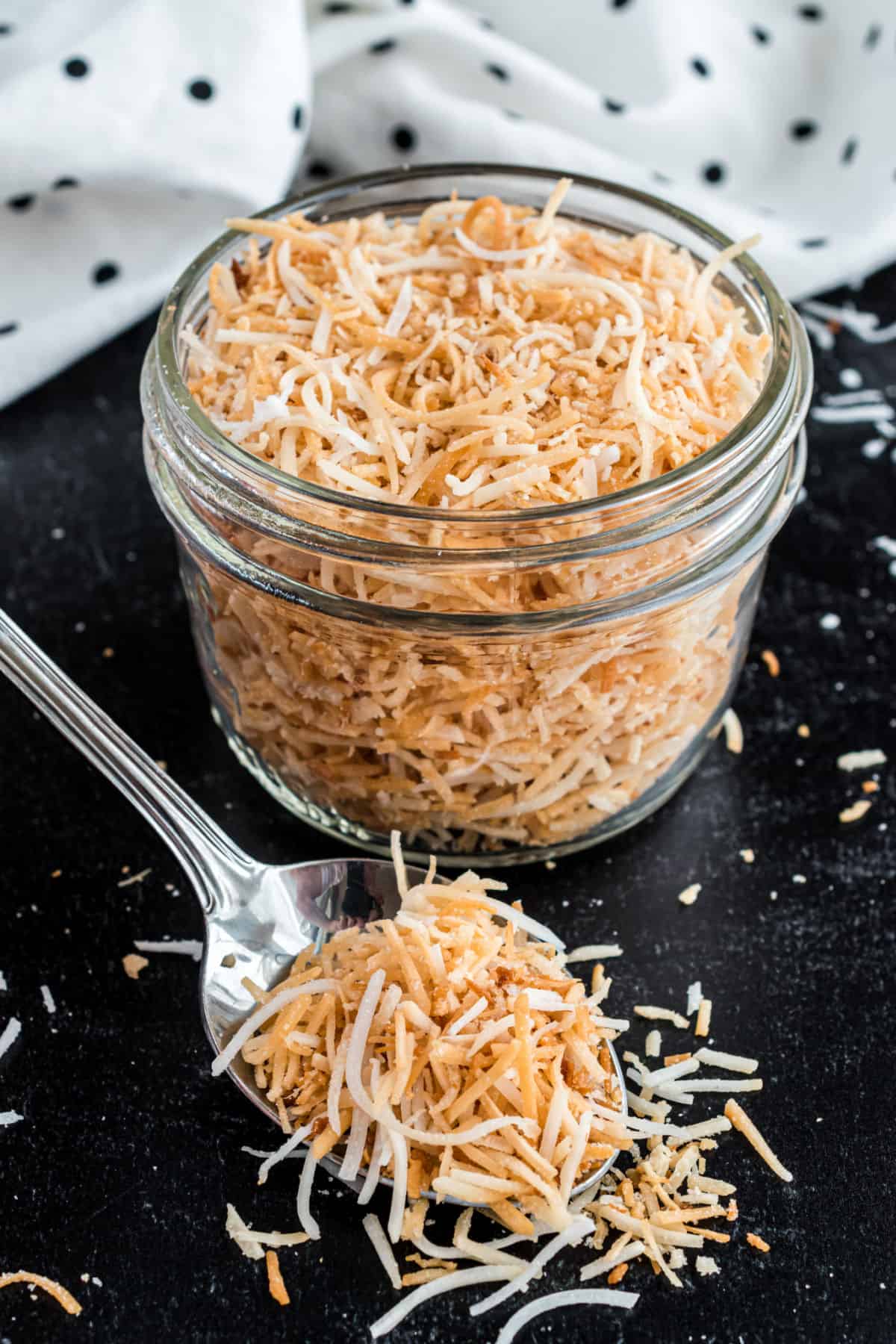 Recipe FAQs
How do you use toasted coconut?
Toasted coconut is fabulous in all kinds of desserts and pastries. Sprinkle it on yogurt or garnish for a fruit salad. We've also been known to enjoy it on our oatmeal and ice cream.
How long does toasted coconut keep?
Stored properly, your homemade toasted coconut stays good for about a month.
Do you use sweetened or unsweetened coconut?
I have made this recipe with both. Unsweetened coconut (obviously) will have a less sweet flavor profile and is less easy to burn.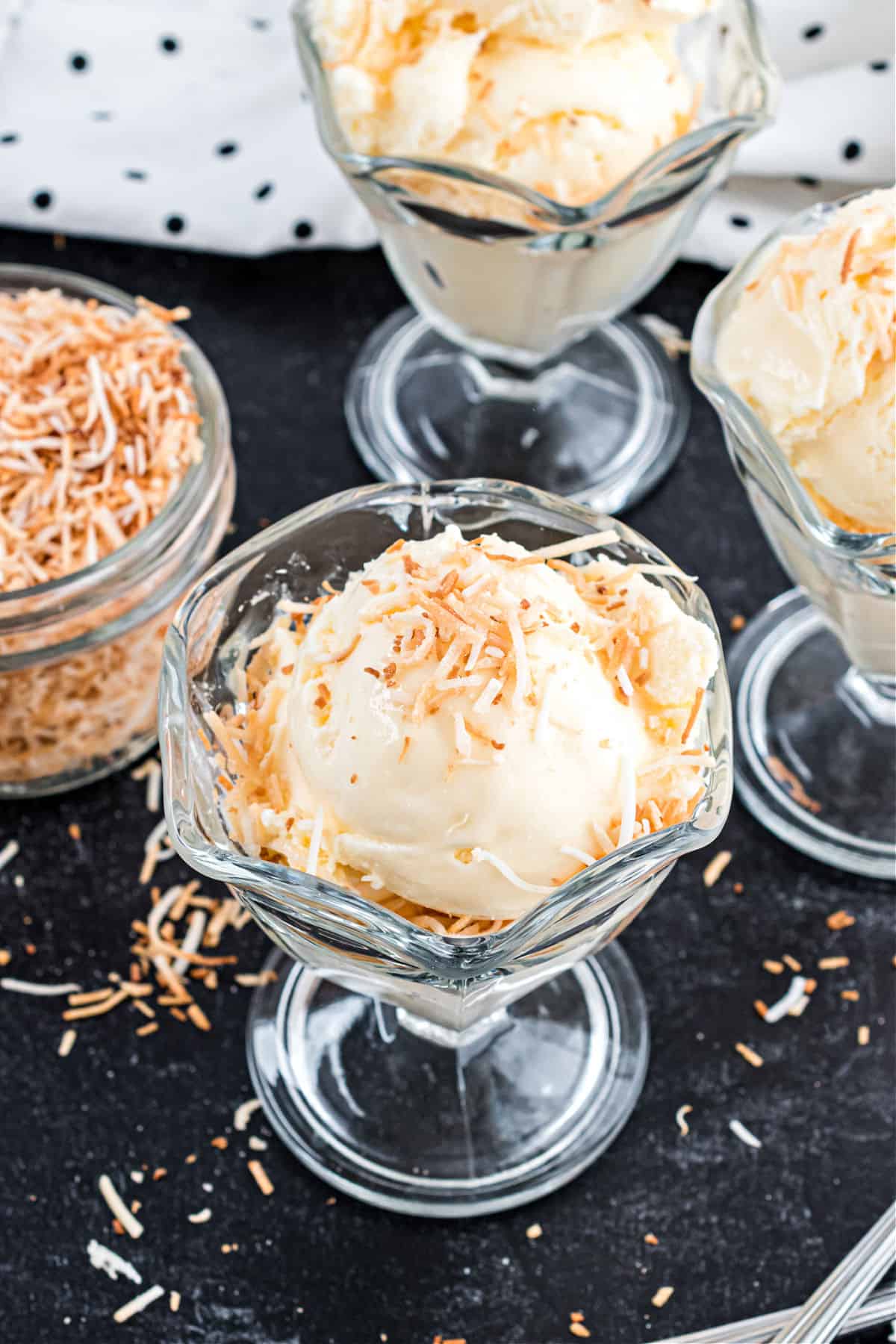 Serving Suggestions
How will you enjoy your homemade freshly Toasted Coconut?
There are so many ways to enjoy toasted coconut. Serve on a yogurt parfait, or sprinkle on our delicious fruit salsa.
Don't forget to add it on top of a bowl of vanilla ice cream!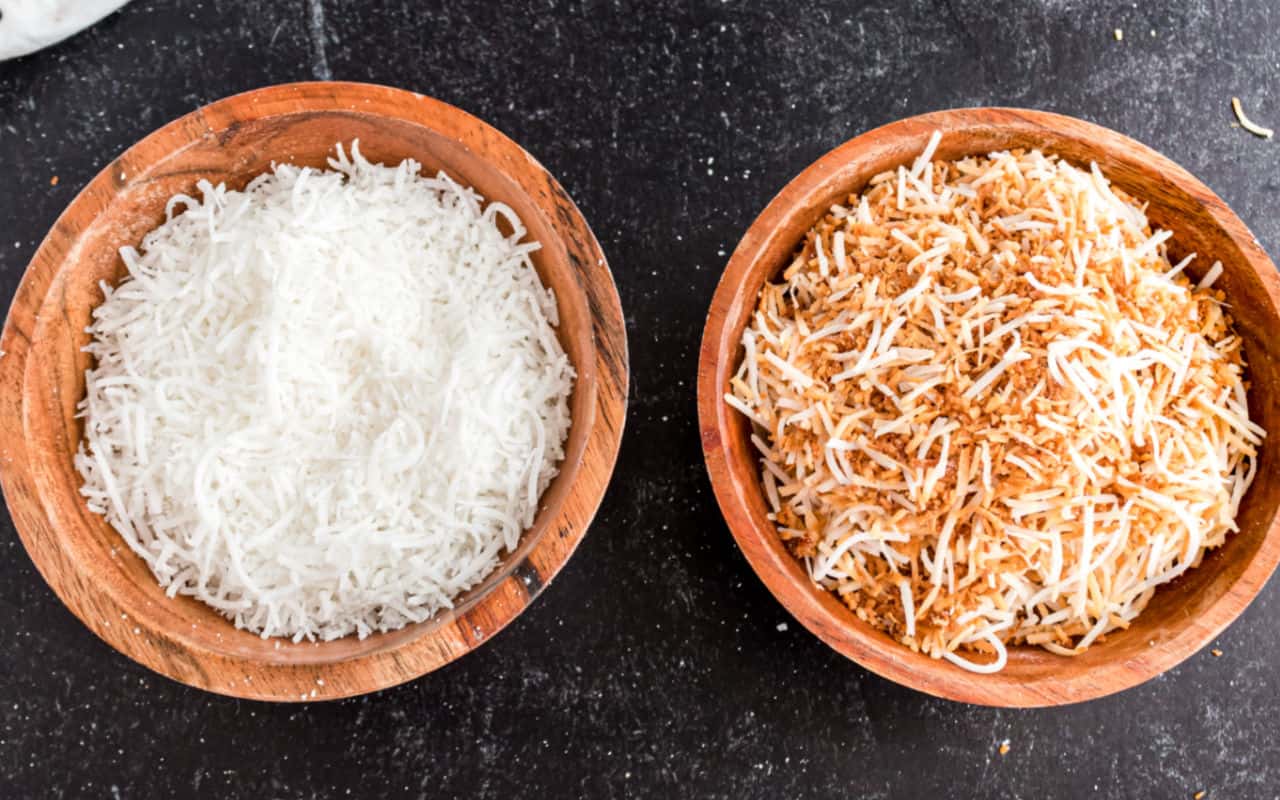 More Recipes to Enjoy
Love this recipe? Please leave a 5-star 🌟🌟🌟🌟🌟rating in the recipe card below & a review in the comments section below!