Samoa Fudge – The coconut caramel delite in the form of creamy homemade fudge! If you love the taste of Samoas girl scout cookies, stop everything and give this easy fudge recipe a try!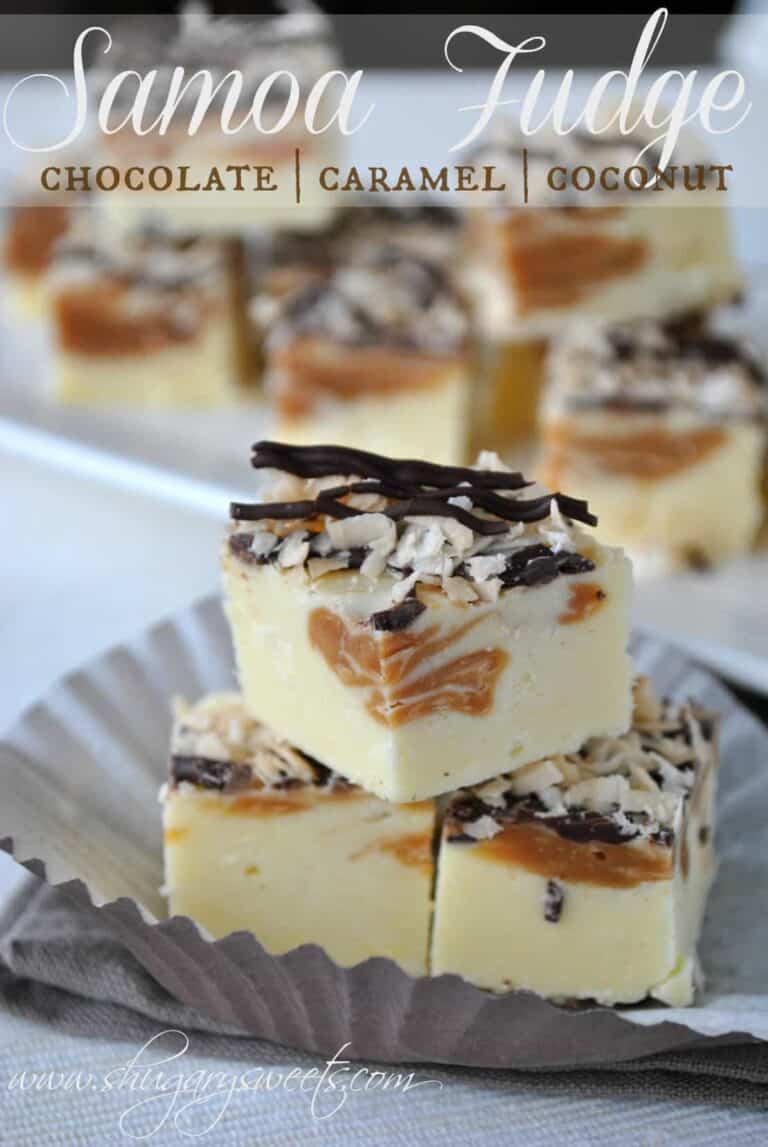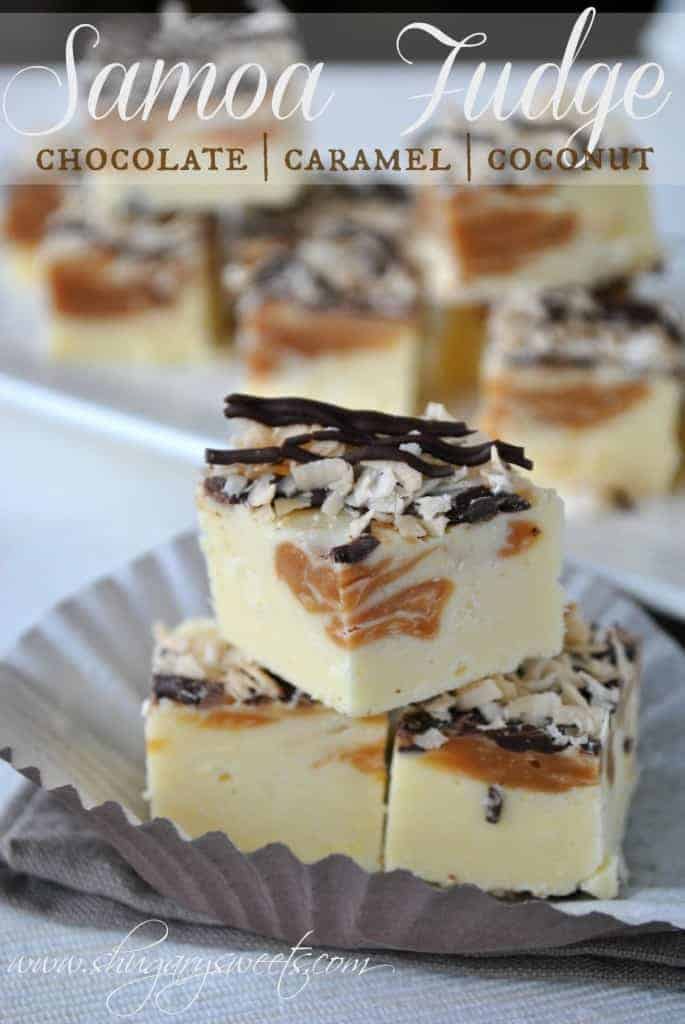 What are Samoa Cookies
This fudge is my twist on a girl scout cookie. My FAVORITE of all girl scout cookies.
Samoas. Or Caramel deLites.
That's right – once you know how to make vanilla fudge, you can even make it taste like a cookie!
Samoa Cookies are a classic cookie sold by Girl Scouts each year. In some region's they're also known as Caramel deLites.
Whatever you call them, they are amazingly delicious. A buttery cookie ring covered in sugared flakes of coconut with caramel and a chocolate drizzle.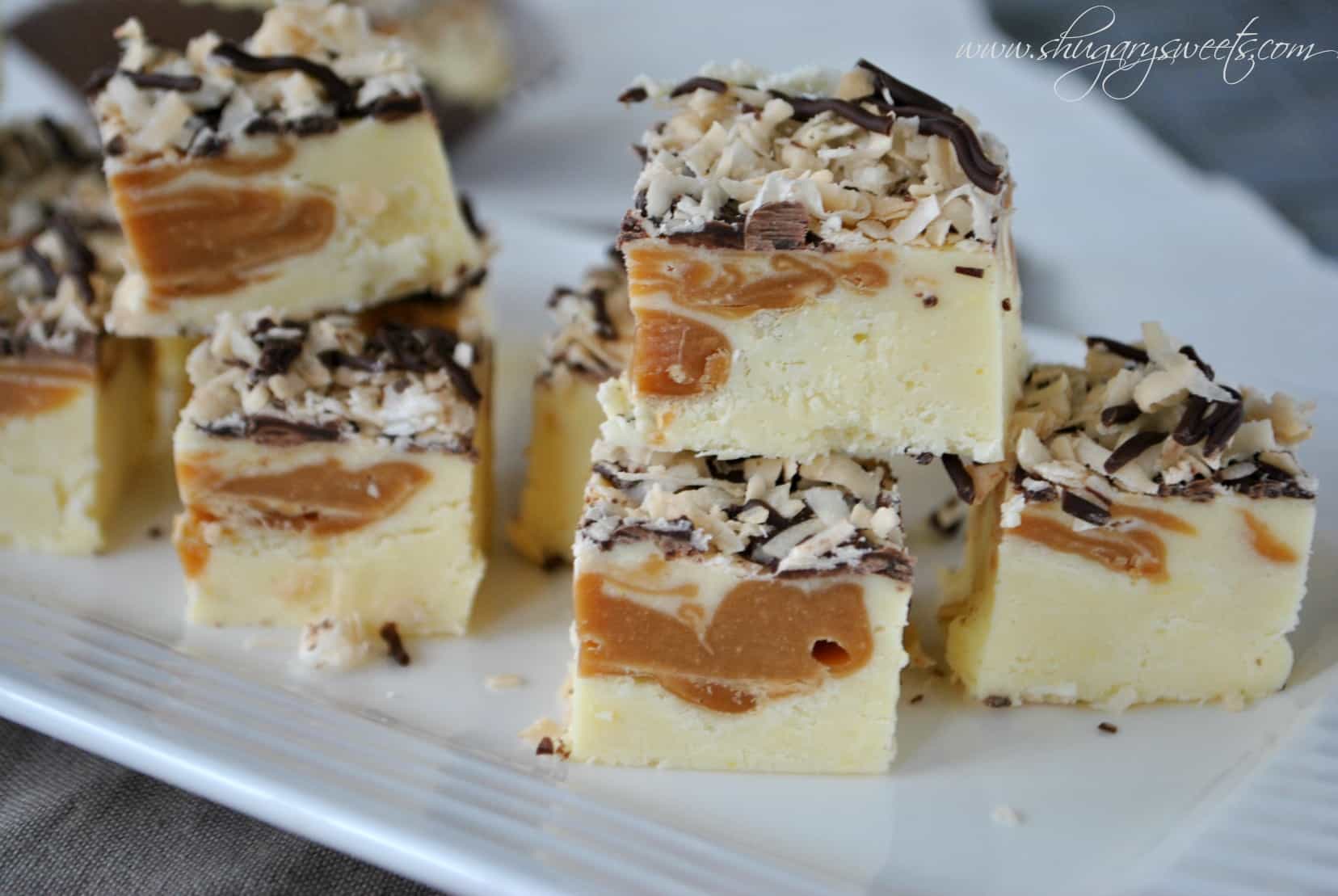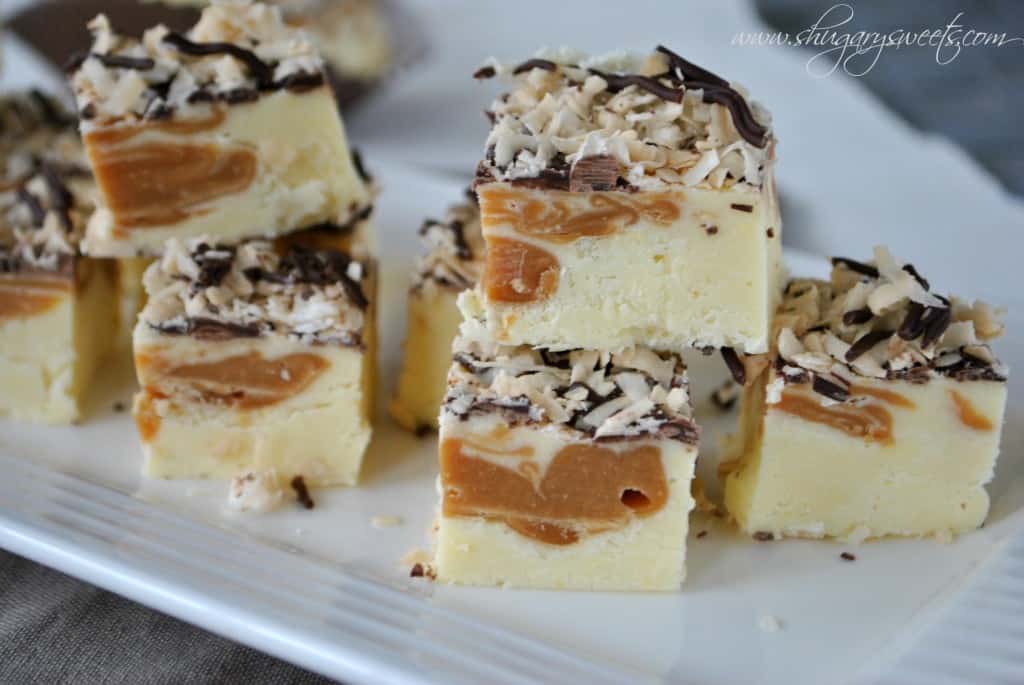 Ingredient Notes
Coconut pudding mix. I used this to give the fudge a creamy coconut and white chocolate flavor.
Caramel bits. I used Kraft baking bits. They get swirled through the fudge before it sets.
Marshmallow fluff. This is my secret for velvety smooth fudge without needing to use a candy thermometer!
Coconut flakes. You'll need sweetened coconut flakes to complete this Samoa Fudge recipe.
Step by Step Instructions
STEP 1. Toast coconut
Toast the coconut flakes according to this recipe on how to toast coconut. Use either the oven or skillet method! Let them cool while you prepare the rest of the ingredients.
STEP 2. Melt caramel
Place the caramel bits in a microwave safe bowl with a spoonful of heavy cream. Heat in the microwave in 30 second intervals. Stir until smooth and creamy.
STEP 3. Make fudge
Melt the butter with cream, sugar and salt over medium high heat. Bring it to a boil and stir constantly for 5 minutes.
Pour the boiled mixture into the bowl of a stand mixer. Whisk it with the pudding mix, marshmallow fluff and white chocolate morsels until smooth.
STEP 4. Add caramel swirl
Pour the fudge mixture into a lined baking dish. Cover the top with caramel and use a knife to swirl it into the fudge.
Let the caramel fudge chill in the fridge for at least 2 hours, until set.
STEP 5. Add coconut and chocolate topping
Drizzle melted semi sweet chocolate morsels over the fudge. Sprinkle the toasted coconut to coat the fudge.
Cut into pieces and enjoy immediately or store in the refrigerator until ready to eat.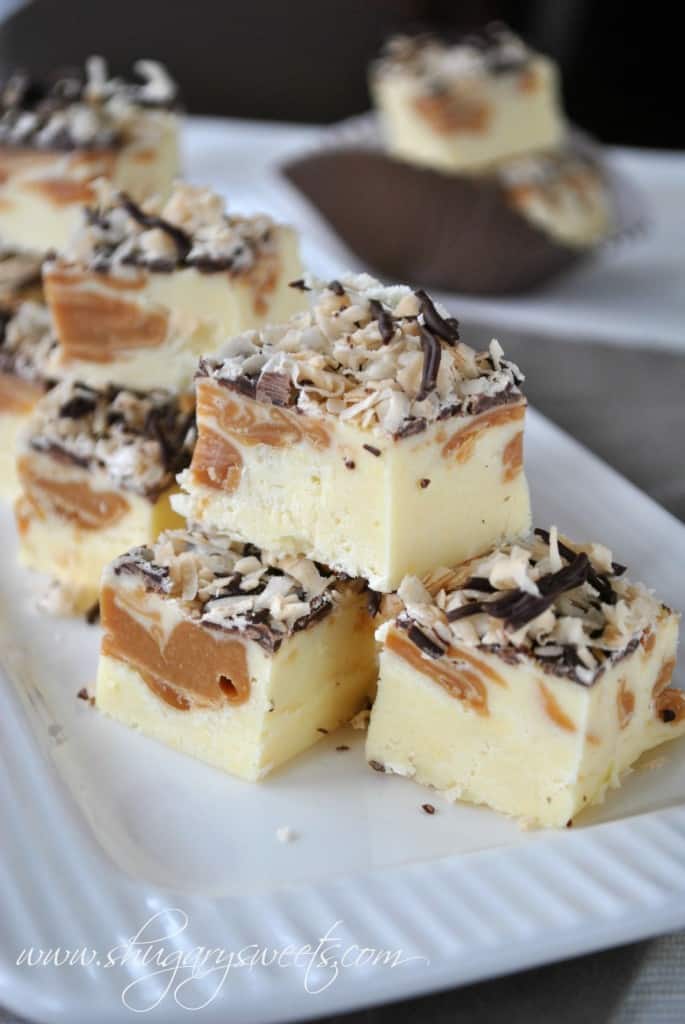 Tips and Tricks
The caramel will be THICK when melted. This might make the top of the fudge look lumpy at first. Don't worry–it'll settle to a smoother finish as it chills.
Use a stand mixer or electric beaters to thoroughly incorporate the fudge ingredients, making everything smooth and combined.
For a straight up caramel fudge, leave off the toasted coconut and chocolate.
Store this fudge covered in the fridge to keep it fresh and enjoy within 2 weeks. Mine never lasts that long because we can't resist "just one more" bite!
Recipe FAQs
Do you need a candy thermometer to make this fudge recipe?
No, you do not need a candy thermometer to make this Samoa Fudge recipe.
Are sweetened or unsweetened coconut flakes best?
Sweetened coconut flakes are best for authentic "Samoa cookie" flavor. Unsweetened flakes could be used, but the fudge topping obviously will not be as sweet.
Do you make the pudding before adding it to the fudge?
No, you add the pudding mix straight from the package in powdered form to this fudge recipe.
More Easy Recipes
Get that caramel, chocolate and coconut combo year round in this Samoa Fudge recipe! It tastes just like the addictively delicious girl scout cookies delivered to your mouth in perfect bites of fudge.