These copycat Kit Kat bites are a homemade version of my favorite candy bar. Milk chocolate and crispy rice cereal come together in a bite-sized treat you can enjoy anytime!
Making candy at home is easier than you might think. If you like Three Musketeers bars, give this cool whip candy recipe a try next. Or try our coconut truffles, they taste like mounds candy bars!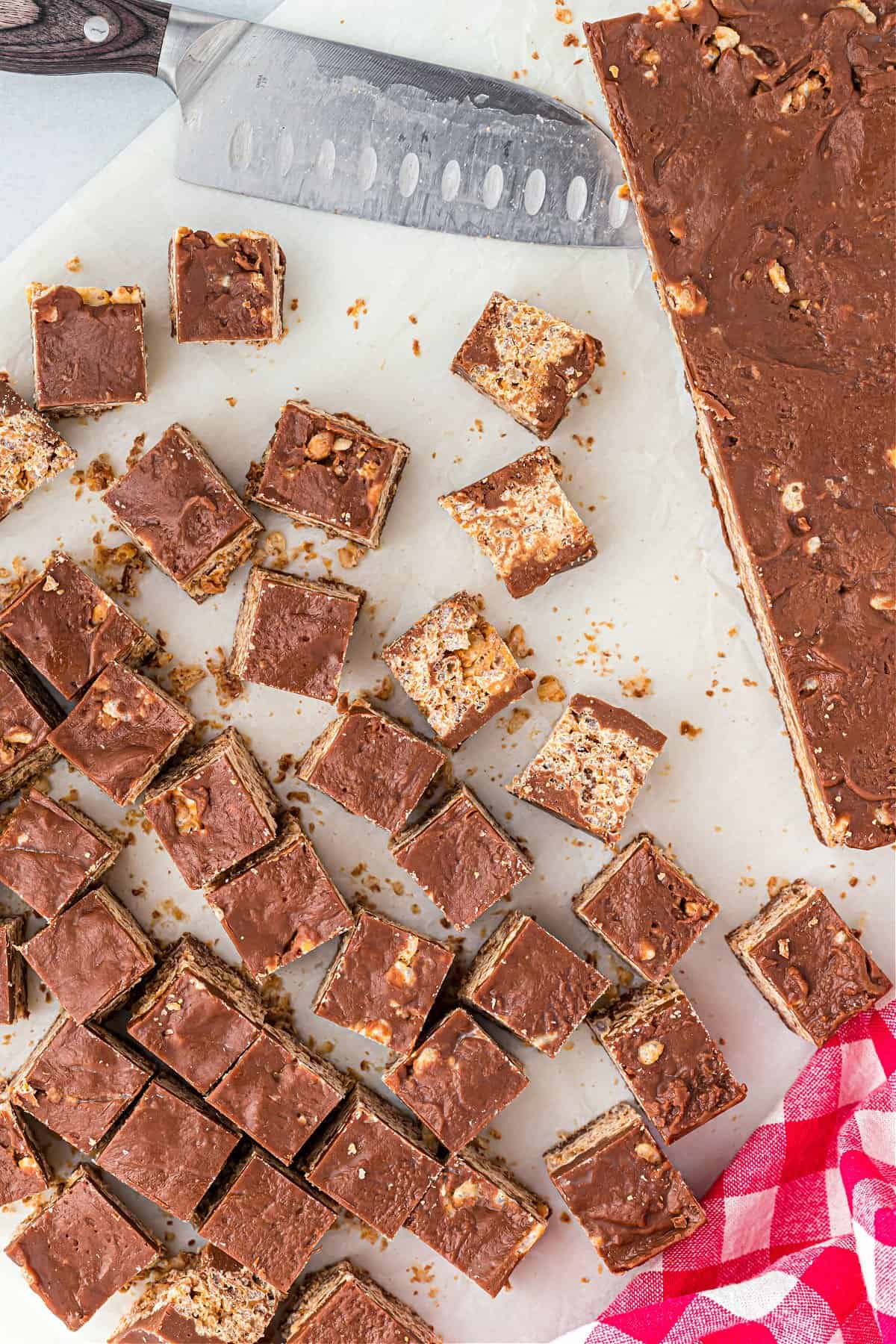 Why This Candy is Best
Kit Kat bars are perfect for sharing—and these copycat Kit Kat bites are no different!
Instead of chocolate-dipped wafers you can break off and hand to a friend, these kit kats are cut into bite sized pieces. In theory that means you can eat MORE of them, right?
After making these chocolate candy bites a few times, I think I might actually like them more than the original! They have all the best parts of a kit kat plus a few elements of other candy bars I love.
Chocolate layers on the top, bottom AND center.
Chewy peanut butter and butterscotch (like a Watchamacallit).
Easy to make. No candy thermometer needed.
Perfect for sharing!
If you love homemade candy recipes, be sure to try our peanut butter cups. They taste even better than Reese's!
Ingredient Notes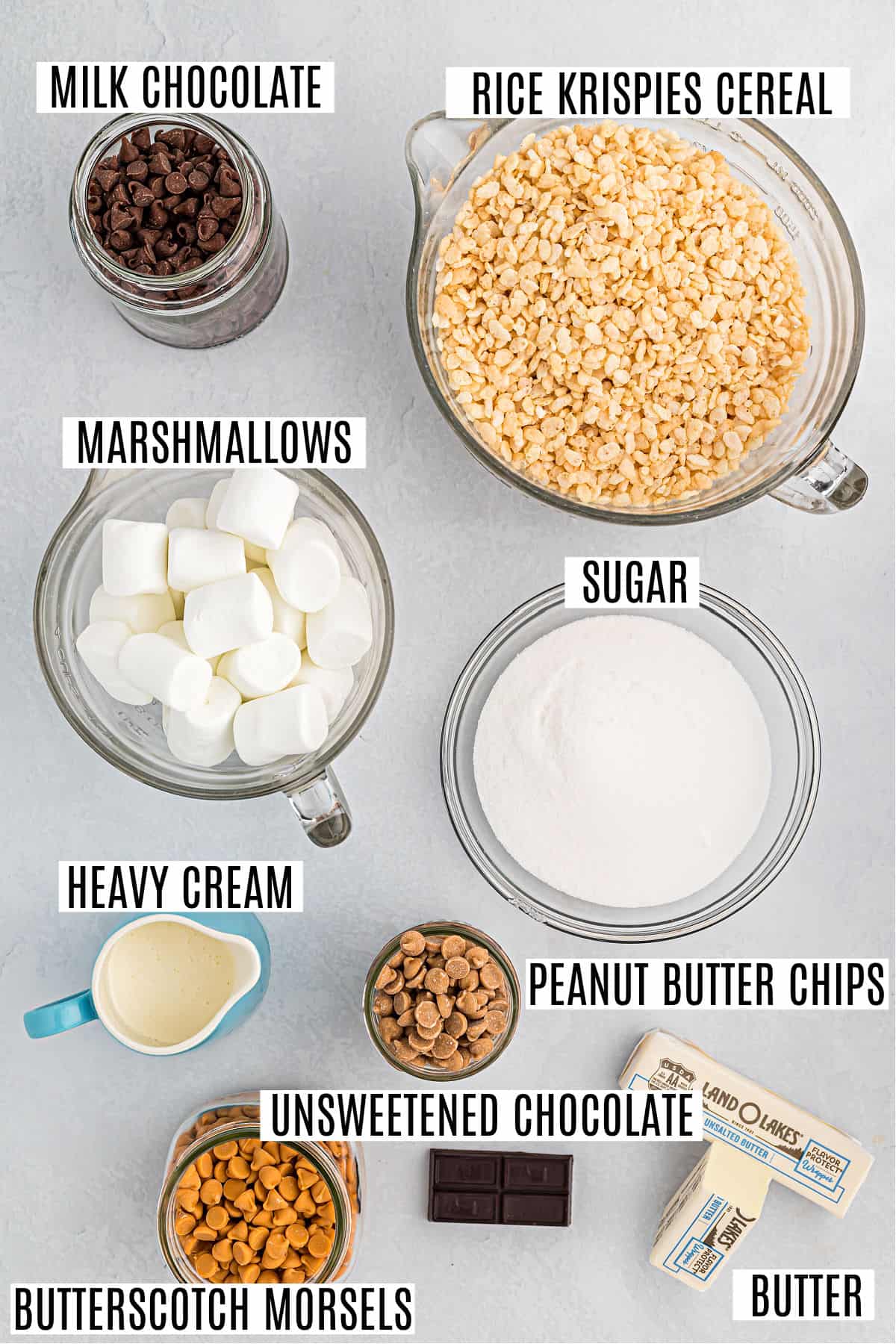 Here's what I used to make my homemade Kit Kat bites:
Unsalted Butter – Using unsalted allows me to control the saltiness of the candy bars.
Heavy cream – Dissolves the sugar for a creamy candy base.
Sugar – Sweetens the candy.
Marshmallows – Makes the center softer and chewier. Use our homemade marshmallows for a delicious twist.
Milk chocolate morsels – It's not a copycat Kit Kat without chocolate!
Unsweetened baking chocolate – For an even richer chocolate flavor.
Rice Krispies cereal – Imitates the crunchy wafer center of original Kit Kats.
Butterscotch morsels – Gives the rice cereal a richer, sweeter flavor.
Peanut butter morsels – The hint of nuttiness adds the perfect "extra something" to the kit kat bites.
Tips and Tricks
Store the Kit Kat bites in a tupperware container in the fridge. They stay wonderfully crispy even a few days later!
Use a a very sharp knife to cut these bars! You want smooth and even edges. Your go-to knife for cutting Rice Krispy Treats will work well here, too.
Keep an eye on the butter and sugar while it's boiling! Spilled over boiled sugar makes for a sticky mess.
Recipe FAQs
What can I use instead of peanut butter chips?
If you don't like peanut butter, swap out the peanut butter morsels for more butterscotch morsels in this copycat kit kat bites recipe. Or visa versa!
Why did my peanut butter and butterscotch mixture get hard?
The melted morsels may "seize" if heated for too long. You can prevent this my microwaving the mixture for 15-20 seconds at a time, stirring after each increment. Remember the morsels will continue to melt after you remove them from the microwave.
Unfortunately, once the melted mixture seizes (hardens) it's impossible to fix. You will have to throw it out and start again.
Can I freeze kit kats?
Yes, you can freeze these kit kat candy bites. Thawing may affect the texture and make the center less crispy. I prefer to store them in the refrigerator where they keep well for about 5-7 days!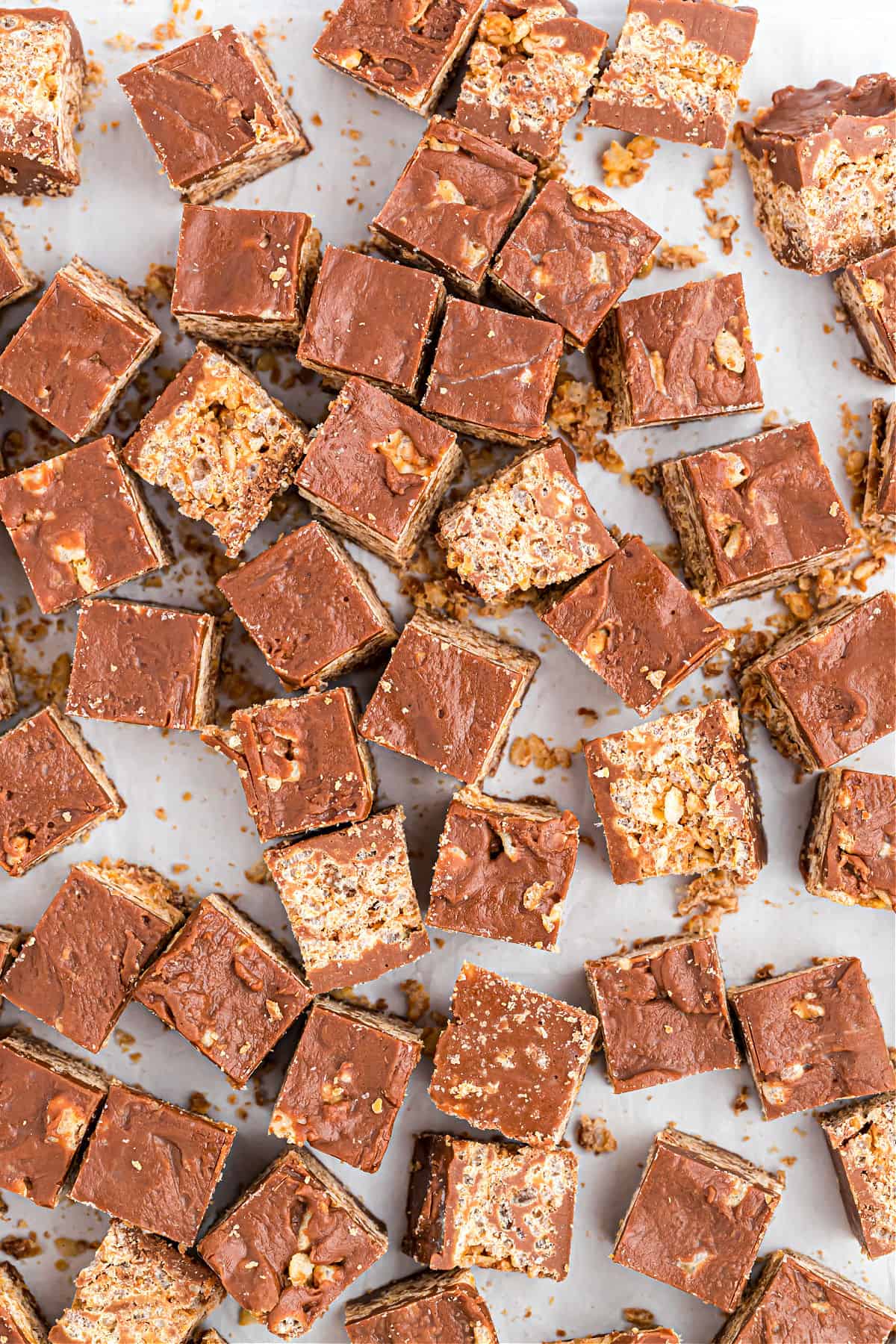 More Copycat recipes
A completely satisfying knock off of the brand name chocolate bar, Homemade Kit Kat bites are an easy no-bake treat.