Cookie Dough Truffles with the cool flavor of Andes mint! These candies are inspired by chocolate chip cookie dough and everyone's favorite chocolate covered mints.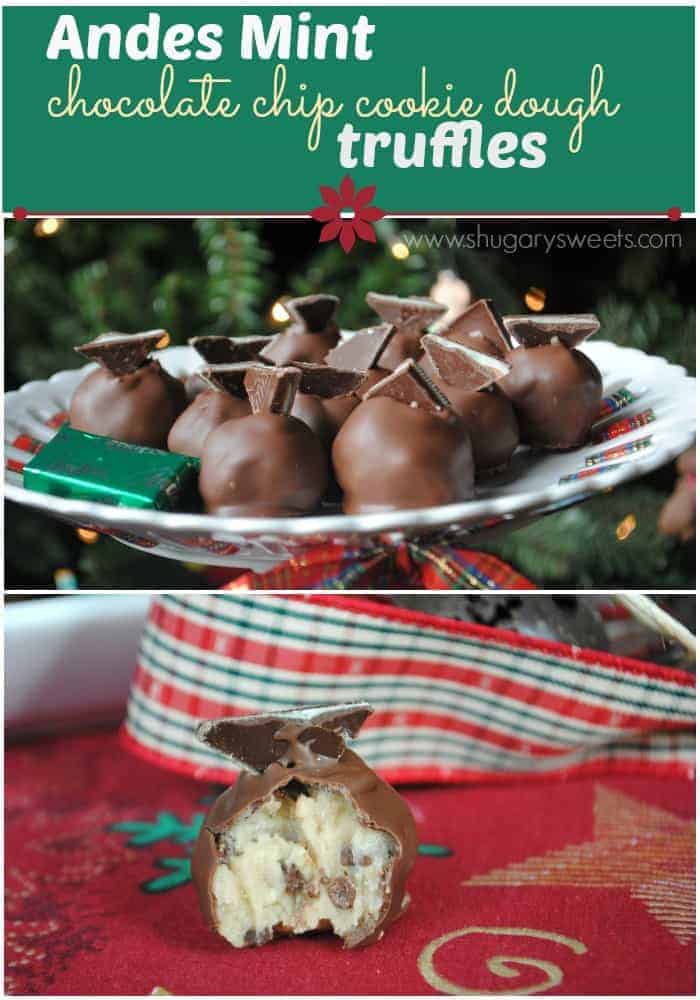 Homemade Cookie Dough Truffles
Don't these Cookie Dough Truffles look so tasty? Yep, they are! I had been thinking about making my Chocolate Chip Cookie Dough Truffles for the holidays, and spruced them up a little for the season!
I am in love with these. No really. My kids would even say, "then why don't you marry them?"
Okay, so it's a different kind of love. More like, "I just want to sit next to the Christmas tree with a plate of you in front of me forever."
I love cookie dough truffles because they're a socially acceptable way to consume balls of cookie dough. Serve scoops of raw cookie dough to your friends and they look at you like you're off your rocker. Dip them in a shell of melted chocolate first and you're a hero.
It probably helps that the cookie dough center of these truffles is egg free and therefore completely safe to eat raw. For my cookie dough truffles I use, cream cheese and butter as a base, whipped with brown sugar, vanilla and flour.
In the original version of my cookie dough truffles, I used traditional chocolate chips. For this minty holiday version, I swapped those for Andes Mint Pieces!
After freezing this dough center into balls, I dipped them in melted chocolate bark and let them set to form a delicious homemade candy. Just as good as anything you'd buy at a specialty store, if not better–and for for less per truffle than you'd spent at a candy counter.
Andes Mint Truffles
Anyone who loves the combo of chocolate and peppermint will positively swoon over these truffles. They have the perfect hint of mintiness without dominating the chocolate flavor.
While I initially created this adaption of the recipe for the holiday season, I can't imagine anyone would be sad to eat these anytime of year. I mean, we're talking cookie dough + melted chocolate + andes mints in truffles form. It's a guaranteed hit!
We ate most of them all on their own, straight out of the fridge. Next time, I want to try adding a few to a bowl of vanilla ice cream. Maybe with a little extra chocolate sauce over everything, because more chocolate is always a good idea, right?
Andes Mints
Did you know Andes makes baking pieces with their classic chocolate mint flavor? They ideal for using in all kinds of baked treats.
If you don't have–or can't find–the Andes Mint baking pieces, feel free to substitute regular Andes Mints. Just chop them into small pieces before folding them into your cookie dough truffles.
Tips for Making Truffles
As far as homemade candies go, this method for making cookie dough andes mint truffles is about as easy as it gets! A few of my tips and tricks for making your truffles the very best they can be:
Mixer: Use an electric beater or stand mixer to beat the cookie dough ingredients together, if possible. This gets the cookie dough well mixed without being dense. The dough almost melts in your mouth when you bite into these!
Scooping cookie dough: I use this pro cookie dough scoop for even and perfectly round truffles. An ice cream scoop works well, too.
Don't rush the freezing: When you're impatient to enjoy some truffle goodness, I know it can be tempting to cut the freezing time short. Leave the cookie dough balls in the freezer for at least an hour. If you don't get them hard enough they will soften too much when dipped in the melted chocolate and not hold their shape as well.
Dipping in chocolate: Use a toothpick to dip the frozen cookie dough balls into the layer of chocolate. Tap the freshly dipped truffles on the side of the bowl to remove any excess chocolate.
Setting: I recommend letting these set on a cookie sheet with parchment paper. When set you can transfer them to a serving plate or container, then just toss the parchment paper. No mess!
Garnish: To make your truffles look even more appealing, top each with an additional small piece of Andes candy. Other garnishes, like green sprinkles or drizzled white chocolate would also be wonderful.
How to Store Cookie Dough Truffles
Because of the cream cheese in this recipe, you should keep the truffles in the fridge until you're ready to eat them. They will keep well in the fridge for up to 5 days.
Can you freeze cookie dough truffles?
Yes! These are a great make ahead homemade candy to freeze. Make a few batches at once and store them in the freezer. Then, when you want to spoil someone with a gift of homemade truffles, you're already prepared!
These will keep in the freezer for about 3 months.
More Easy Candy Recipes
The out of the this world combination of chocolate and mint makes these easy Cookie Dough Truffles irresistibly good!